Nie masz żadnych produktów w koszyku.
Funkcje
Specyfikacja
Nagrody
Galeria
Wsparcie klienta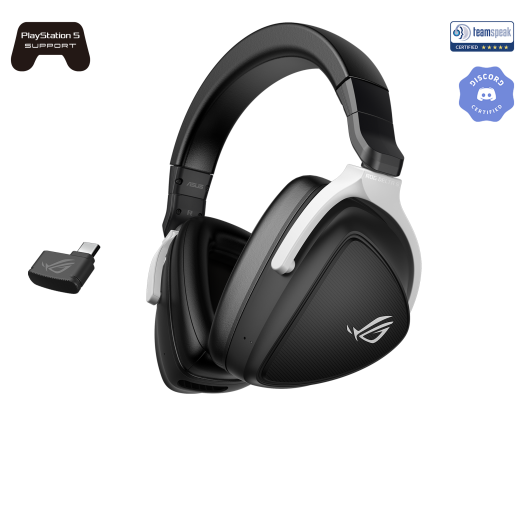 ROG Delta S Wireless
Lekki, bezprzewodowy zestaw słuchawkowy dla graczy z łącznością 2,4 GHz i Bluetooth, 50-milimetrowymi sterownikami ASUS Essence, mikrofonami z kształtowaniem wiązki ze wspomaganiem SI i technologią redukcji szumów SI, kompatybilny z komputerami PC, Mac i konsolami PlayStation® 5, Nintendo Switch™
Tryby połączenia bezprzewodowego 2,4 GHz i Bluetooth® o niskim poziomie opóźnień zapewniają większą swobodę
Konstrukcja z ekskluzywnymi, 50-milimetrowymi przetwornikami Asus Essence oraz szczelnymi komorami zapewniająca wciągające wrażenia dźwiękowe
Mikrofony kształtujące wiązkę ze wspomaganiem SI i redukcją szumów SI zapewniają wyjątkowy odbiór głosu i redukują 500 milionów rodzajów szumów tła, umożliwiając wyraźną komunikację głosową w trakcie rozgrywki
Szybkie ładowanie zapewnia trzy godziny użytkowania po 15 minutach ładowania, a łączny możliwy czas pracy na baterię sięga 25 godzin – co pozwala na nieprzerwaną rozgrywkę
Lekka konstrukcja z ergonomicznymi poduszkami nausznymi w kształcie litery "D" dla długotrwałego komfortu podczas użytkowania
Szeroka kompatybilność obejmuje komputery PC, Mac, konsole PlayStation® 5, Nintendo Switch™ oraz urządzenia mobilne
Recenzje wideo
Ultimate $5000 Gaming Setup 2022! [ASUS PG48UQ, RTX 3090, Peripherals & More!]
The Most Excessive Gaming Setup... Ever.
The Delta S Wireless is one of the latest additions to Asus' ROG range of peripherals. It's packed full of features like AI noise cancellation, fast charging, multiple connectivity options and 50mm drivers.
In conclusion, the ASUS ROG Delta S Wireless is a gaming headset that delivers good audio quality in a solidly-built wireless package.
[Review] The new ROG Delta S Wireless!
I'm TRYING TO MAKE TOP 1 MIRROR KEYBOARD AFTER 5 YEARS OF PLAYING HANDSET!
Wireless gaming peripherals terbaru dari ROG! Jom kita tengok
Saya uji keberkesanan Asus AI Noise Cancellation samada Gimik Marketing atau Betul-Betul Berfungsi. Guna Kipas gred industri untuk hasilkan bunyi bising!
The latest 2022 ROG gaming gear designed for gamers!
ROG Delta S Wireless, a headset with crystal-clear sound and unbeatable connectivity
クセが強いハイテクヘッドセット..君に使いこなせるか? ROG Delta S Wireless
Review ROG Delta S Wireless version Upgrade Support Bluetooth
The New ROG Gaming Gear Good design and Accurate response
Super compatible with any gaming platform, they can also be connected to the phone thanks to Bluetooth. The design is super ergonomic and the headset is really comfortable. The battery life is around 25 hours, perfect for long gaming sessions.
A large over-the-head model ASUS ROG DELTA S Wireless and also True Wireless earbuds ASUS ROG CETRA TRUE WIRELESS, which will not get lost even on the street!
Asus ROG Smart Game Products from
Crime Boss 💰🚔 Gang game experience
Due to its performance, the ASUS ROG Delta S Wireless has earned the AX Platinum Award.
Delta S Wireless, as a model with a very small mass, has an excellent autonomy of 25 hours, and a fast charge option is also supported, where for e.g. 15 minutes of charging gives you 3 hours of normal use.
What is very important with gaming headsets is the sound quality, of course, and the Delta S Wireless has a very strong gaming DNA, when I say that I mean a completely flat or flat basic sound profile.
Porównanie produktów
Produkt został dodany do porównania. Dodaj maks. 4 produkty lub wyświetl porównanie wybranych produktów.
ASUS Footer