Nie masz żadnych produktów w koszyku.
Funkcje
Specyfikacja
Nagrody
Galeria
Gdzie kupić
Wsparcie klienta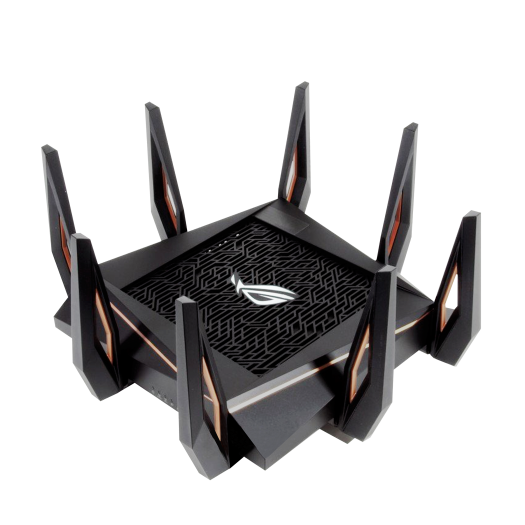 ROG Rapture GT-AX11000
Trzyzakresowy router gamingowy typu AX11000 pracujący – Pierwszy na świecie router Wi-Fi klasy 10-gigabitowej, wyposażony w czterordzeniowy procesor, gniazdo gamingowe 2.5G, PS5 compatible, funkcję DFS, wtfast, Adaptive QoS, AiMesh do systemów bezprzewodowych typu mesh oraz pakiet zabezpieczeń sieciowych AiProtection Pro
Standard Wi-Fi następnej generacji – Połączenia Wi-Fi w standardzie 802.11ax dla lepszej wydajności, wyższej przepustowości i większego zasięgu.
Ultraszybkie prędkości połączeń Wi-Fi – Dzięki połączeniom bezprzewodowym z prędkością 11 000 Mb/s z łatwością obsłuży nawet najbardziej obciążone sieci.
Funkcja trzystopniowego przyspieszenia gry – Przyspiesza wymianę pakietów danych z gry na każdym etapie ich drogi – od urządzenia aż do serwera gry.
Sprzęt gotowy do bitwy – Czterordzeniowy procesor o taktowaniu 1,8 GHz oraz gniazdo 2.5GBase-T dla zapewnienia najwyższej wydajności.
Bezpieczeństwo sieci jak na pierwszej linii frontu – Neutralizuj ataki z Internetu zanim zagrożą one Twojej sieci.
Recenzje wideo
If you are on the lookout for a router, look no further.
World's first 10 Gigabit Tri-band WiFi Gaming Router
🤖🤖 ROUTER GAMING CANGGIH DARI MASA DEPAN🤖🤖 - Review Router ASUS ROG Rapture AX11000
If you need one of the most steroid-rich gaming routers on the market, I think you will find for him a place on the shelf and money in the stash.
Porównanie produktów
Produkt został dodany do porównania. Dodaj maks. 4 produkty lub wyświetl porównanie wybranych produktów.
ASUS Footer