Nie masz żadnych produktów w koszyku.
Funkcje
Specyfikacja
Nagrody
Galeria
Wsparcie klienta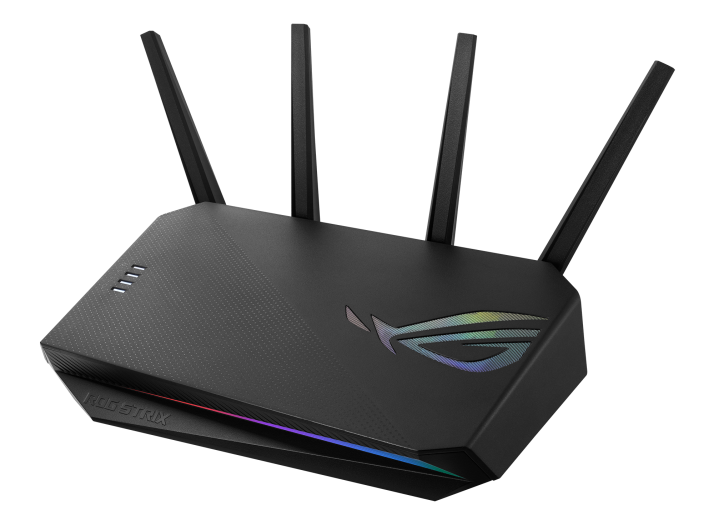 ROG STRIX GS-AX5400
Dwuzakresowy router gamingowy GS-AX5400 z Wi-Fi 6, kompatybilny z PS5, tryb rozgrywki mobilnej, technologia VPN Fusion, darmowy pakiet ochrony internetowej na całe życie, technologie Instant Guard, Gear Accelerator, dedykowany port gamingowy, Adaptacyjny QoS, funkcja przekierowania portów, ASUS Aura RGB
Nowa generacja Wi-Fi 6 – ciesz się ultraszybkimi połączeniami z prędkościami dochodzącymi do 5400 MB/s na kanałach 160 MHz Wi-Fi 6
Całkowicie zoptymalizowana rozgrywka – tryb rozgrywki mobilnej, dedykowany port gamingowy oraz technologia przyspieszenia urządzenia (Gear Accelerator) umożliwiają Ci zoptymalizowanie każdego typu rozgrywki na Twoim urządzeniu mobilnym, konsoli lub komputerze
VPN Fusion – możesz korzystać z sieci VPN równocześnie ze standardowym połączeniem z Internetem, co zapewni ci maksymalną szybkość również wtedy, gdy inni użytkownicy sieci będą używać VPN
Większa prywatność w każdym miejscu – technologia Instant Guard zabezpiecza publiczne połączenia Wi-Fi w każdym miejscu na świecie przy korzystaniu z routera GS-AX5400 – za jednym kliknięciem
Obsługa technologii ASUS AiMesh – stwórz elastyczną, płynnie pracującą sieć dla całego domu przy zastosowaniu routerów kompatybilnych z AiMesh
Recenzje wideo
When you plug this network router into your modem via Ethernet, you get plenty of fast ports and a very strong wireless network. It is possible to connect from points that did not receive Wi-Fi before, and to fix slow or problematic networks.
This router has a lot of very good features.
To provide drives with fast internet and close several specific tasks, such as support for Wi-Fi 6 and a special game mode, we decided to update the router.
ASUS ROG Strix GS-AX5400 router is an excellent gaming router - beautiful as usual, but besides that, it's also functional.
The design and structure of the monitor is simply ROG. I cannot describe it any better way. It looks fantastic.
Video review from the channel HDTanel. Rating 10/10
Video review from the channel TheTanelChannel. Rating 10/10
Video review from the channel Zhan-Zhak obzor
Video review from the channel Konsumer
Video review from the channel Nedoleris (YT ROG Baltics)
Video review from the channel ASUS ROG BALTICS
Considering it behaved almost like it was on a cable, this ASUS router takes my GOLD medal!
Porównanie produktów
Produkt został dodany do porównania. Dodaj maks. 4 produkty lub wyświetl porównanie wybranych produktów.
ASUS Footer