Caracteristici
Specificatii
Premii
Galerie
Suport
ROG backpack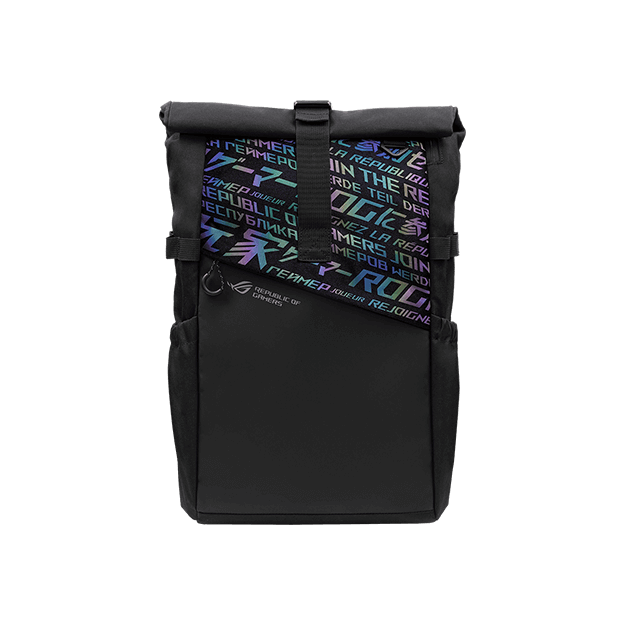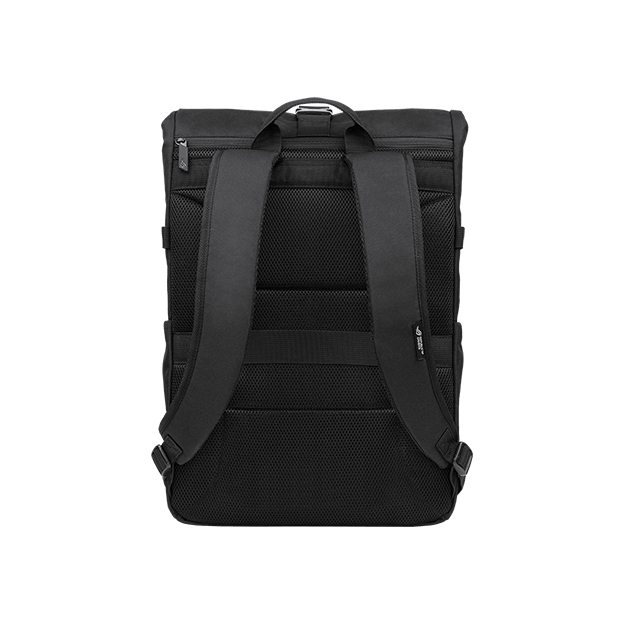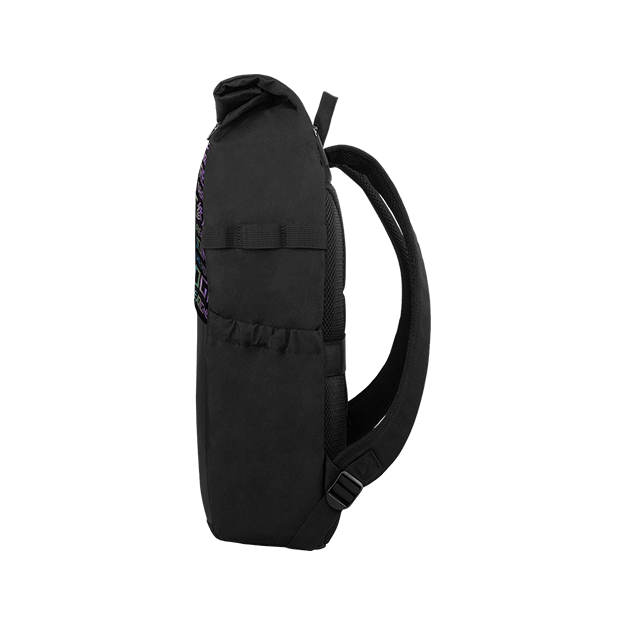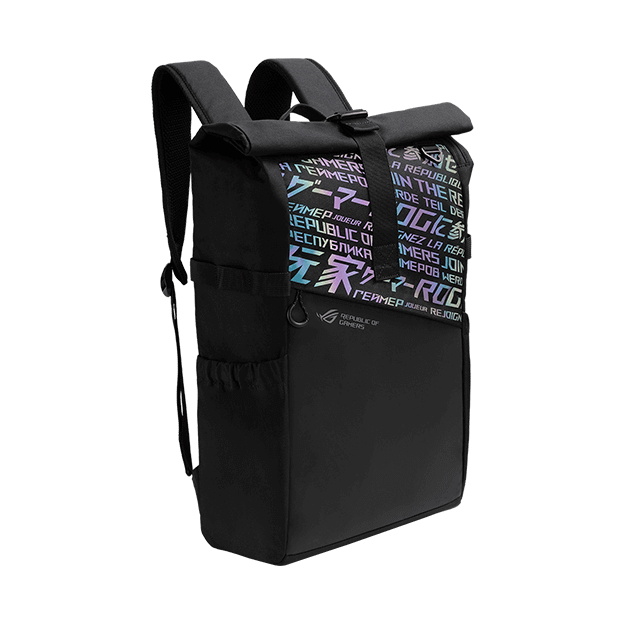 ---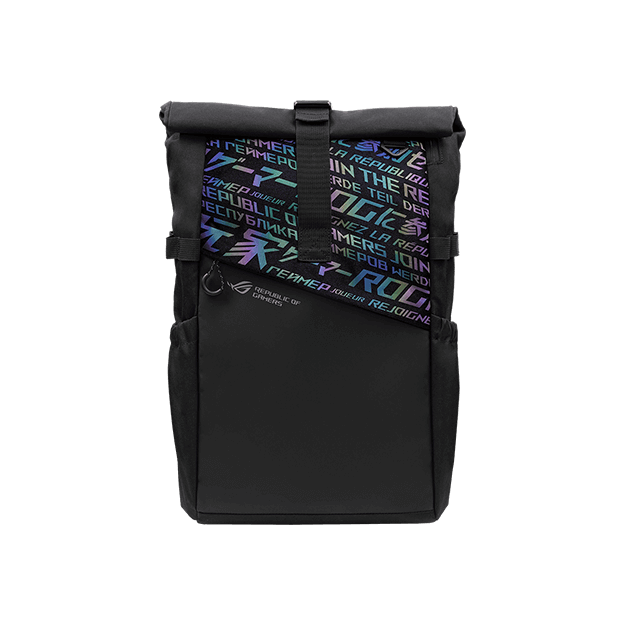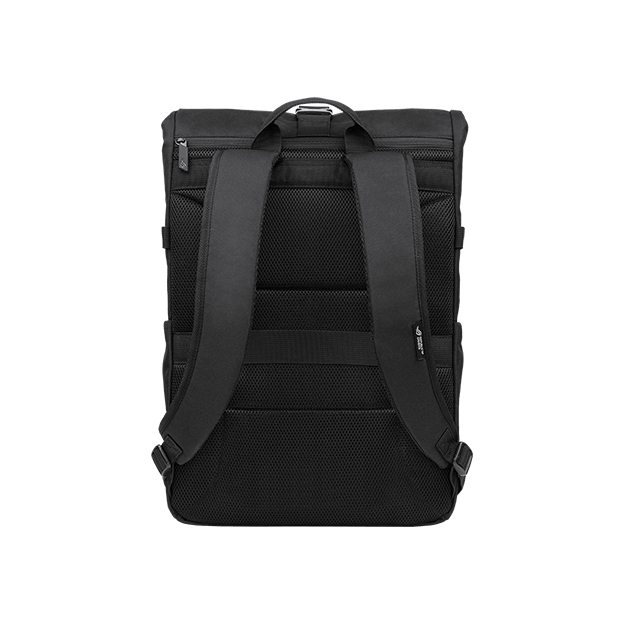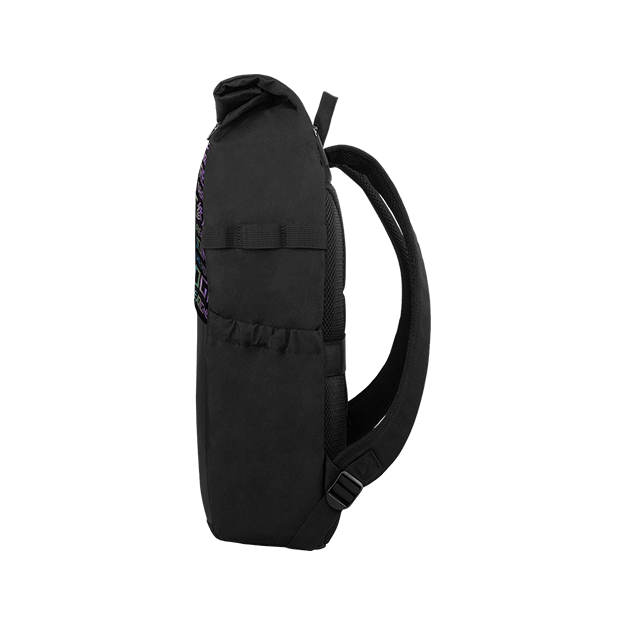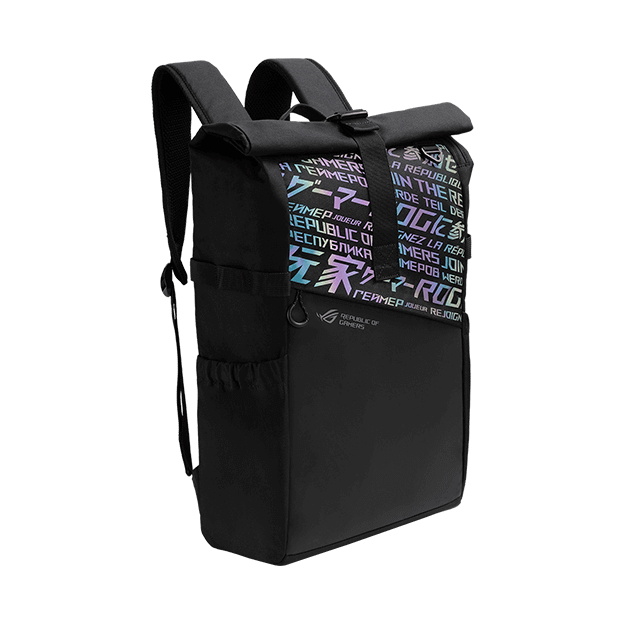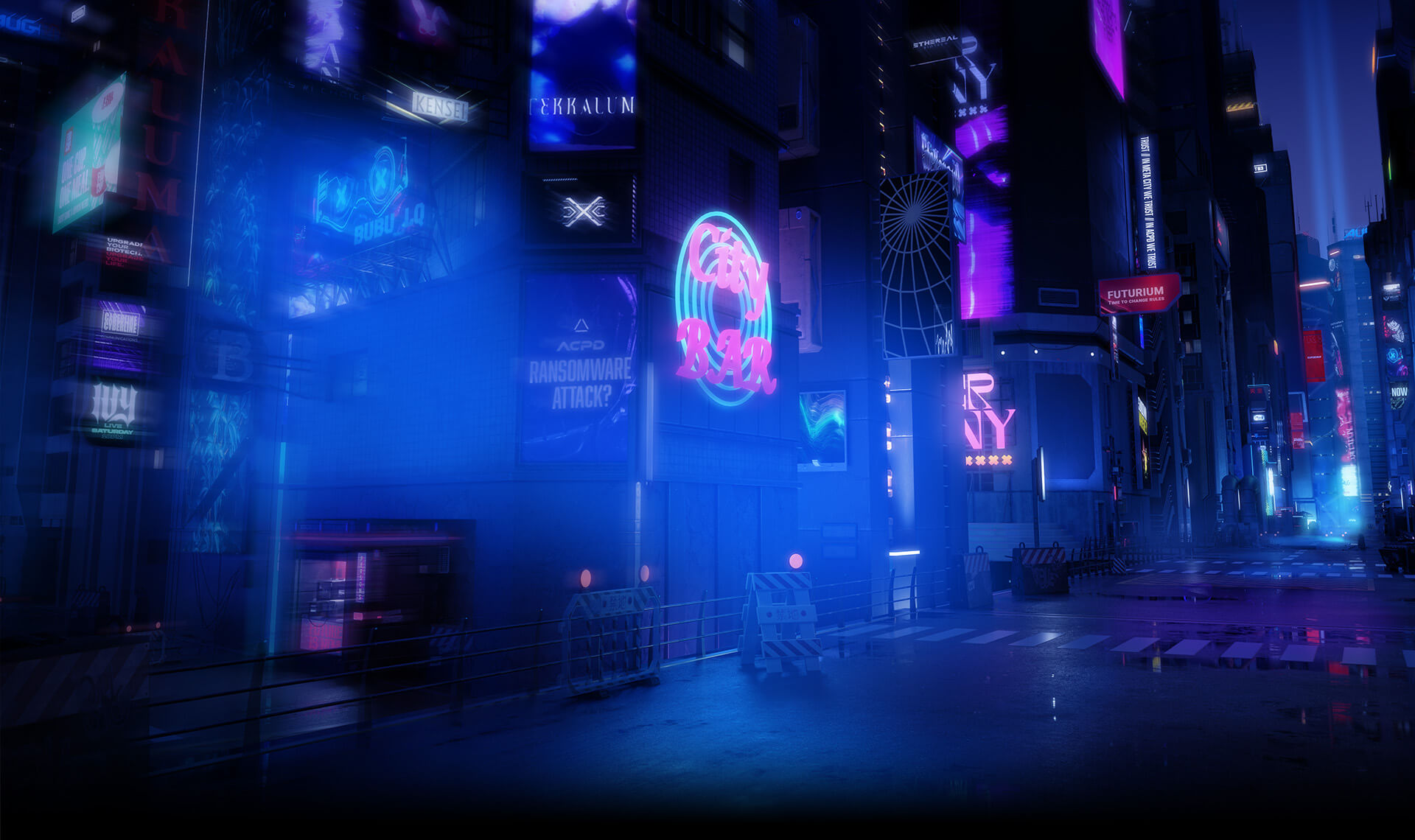 ROG Strix Scar 18
BEAT THE BEST. BREAK ALL LIMITS.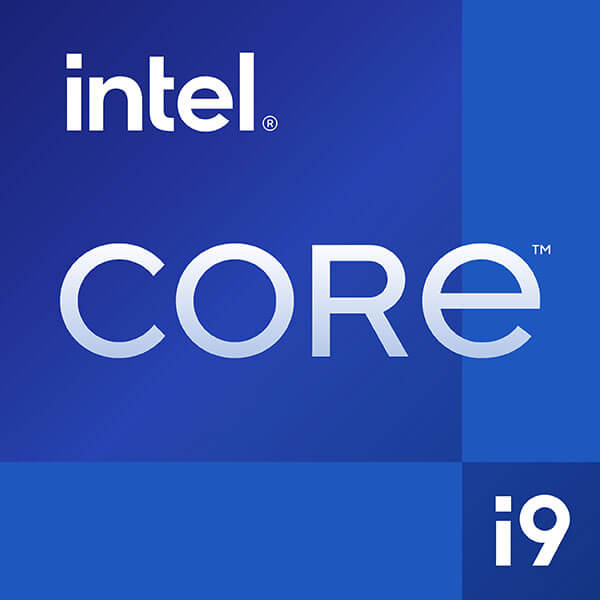 PERFORMANTA
Apogeul Performantei
---
Dominati campul de lupta in Windows 11 Pro cu noul ROG Strix SCAR 18. Introducand pentru prima data un ecran de 18 inci in gama SCAR, inamicii se vor vedea mai clar ca niciodata. Alimentat de un procesor pana la Intel® Core™ i9-13980HX Gen 13 si o placa grafica pana la NVIDIA®GeForce RTX™ 4090 Laptop GPU cu un TGP maxim de 175 W, SCAR 18 se descurca cu usurinta chiar si cu cele mai solicitante jocuri. De asemenea, vine cu un comutator MUX dedicat cu suport pentru NVIDIA Advanced Optimus, permitandu-va sa valorificati cu usurinta adevarata putere a GPU-ului dumneavoastra atunci cand jucati. Cu suport de pana la 64 GB de RAM DDR5 si pana la 4 TB spatiu de stocare PCIe Gen4x4, SCAR 18 poate rula un joc, poate face streaming si poate crea continut cu usurinta in acelasi timp, fara efort. Pentru cel mai bun laptop pentru jocuri, nu cautati mai departe de Strix SCAR 18.



Windows 11 Pro

Sistem de Operare

Pana la Intel® Core™

i9-13980HX

Procesor

Pana la NVIDIA® GeForce

RTX™ 4090

Laptop GPU

Pana la

4TB PCIe 4.0

In RAID 0

NVIDIA®

Advanced Optimus




Pana la

64GB

DDR5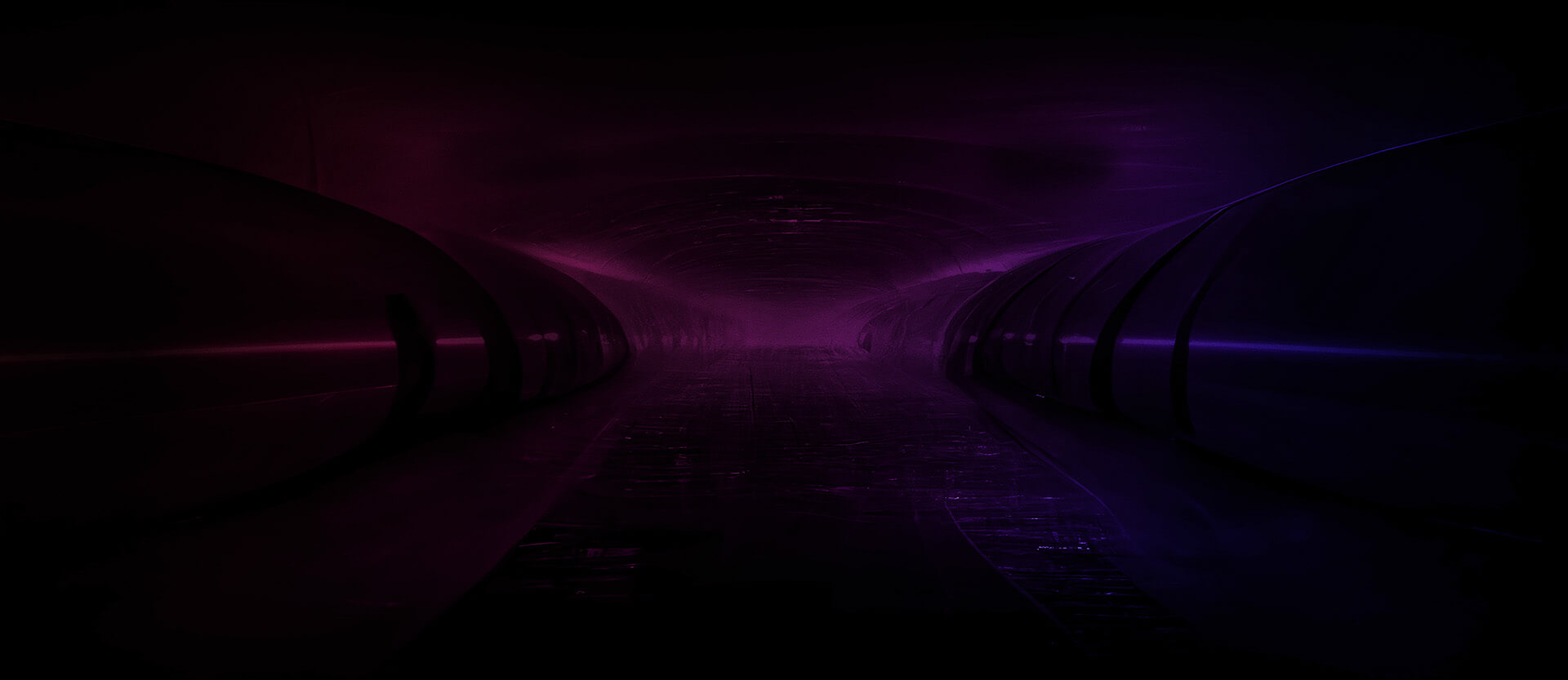 Ceasuri la limita

CPU
CPU
Puterea intalneste eficienta
---
Rulati orice joc sau demarati orice proiect cu un procesor pana la Intel® Core™ i9-13980HX, cu un TDP de pana la 65 W si o arhitectura hibrida construita de la zero pentru Windows 11. Cu pana la 8 nuclee de performanta si 16 nuclee eficiente, jocurile AAA sunt redate impecabil, iar streamingul se face fara efort.



24 Nuclee

16 Nuclee E + 8 Nuclee P




32

Thread-uri

Pana la

175W

PL2 Modul Manual

Pana la

65W

TDP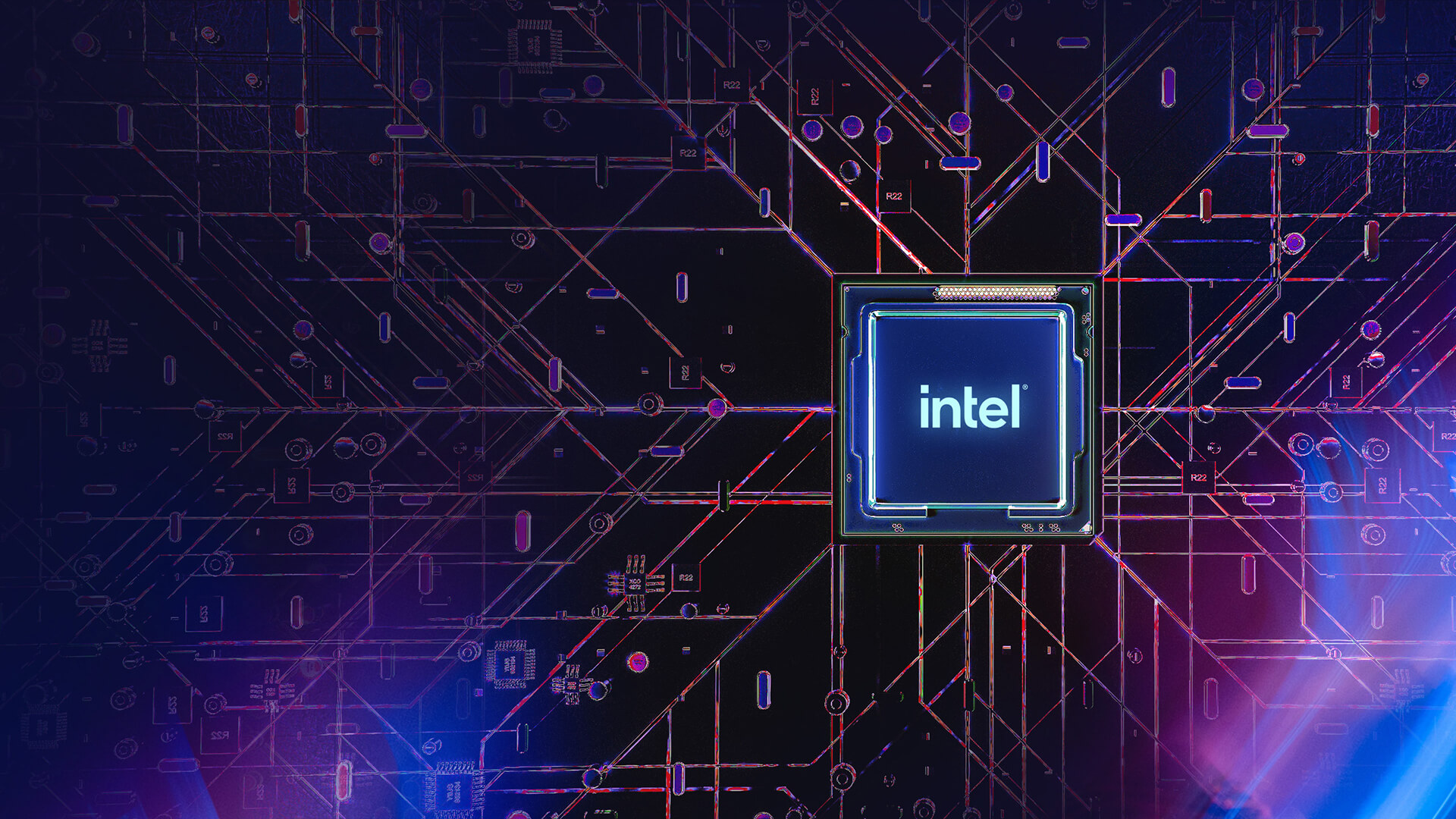 GPU
GPU
Grafica Dezlantuita
---
Componentele de top necesita putere, mai ales cand vine vorba de maximizarea performantei placii grafice. Alimentat de NVIDIA DLSS 3, arhitectura Ada Lovelace ultra-eficienta si tehnologiile Max-Q, placa grafica de pana la NVIDIA®GeForce RTX™ 4090 Laptop GPU va fi complet dezlantuita cu un TGP maxim de 175 W cu Dynamic Boost.
Pana la NVIDIA® GeForce

RTX™ 4090

Laptop GPU

Max TGP

175W

Cu Dynamic Boost

NVIDIA®

Advanced Optimus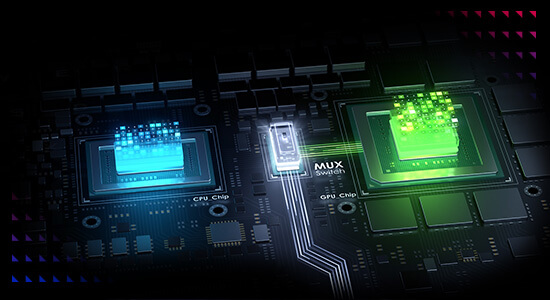 NVIDIA® Advanced Optimus
Cu tehnologia avansata NVIDIA® Optimus, laptopul poate directiona automat cadrele de pe GPU-ul dedicat direct pe afisaj folosind un comutator MUX, ocolind grafica integrata. Aceasta cale imbunatateste performanta cu 5-10% in comparatie cu laptopurile fara un comutator MUX, asigurandu-va ca obtineti cea mai buna experienta de joc, totul fara a fi nevoie sa atingeti un singur buton. Aceasta comutare automata pastreaza, de asemenea, durata de viata a bateriei sistemului dumneavoastra, deoarece poate trece dinamic intre GPU-ul dedicat, de mare putere, si GPU-ul integrat de putere mai mica. Indiferent de ceea ce faci, sistemul tau va comuta la modul cel mai optim, fara a fi nevoie sa ridici un deget.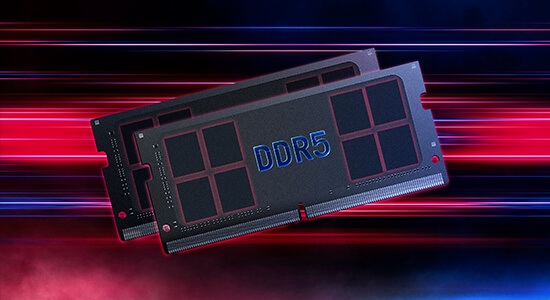 Memorie ultra-rapida DDR5
Folosind noul standard DDR5, bucurati-va de un salt urias de performanta in generatie la 4800Mhz, cu timpi de scriere cu 50% mai scurti decat laptopurile echipate cu DDR4. Aceasta memorie ultra-rapida face ca toate aspectele laptopului sa se simta fluide, de la jocuri intense pana la navigarea pe web.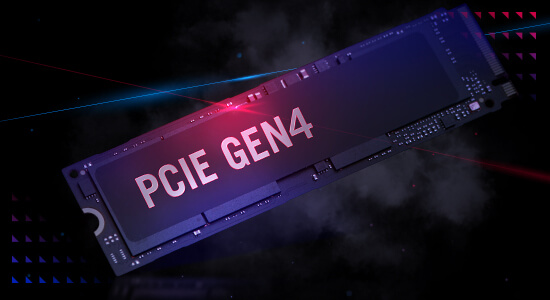 Mai bun. Mai rapid. Mai puternic.
Dati curs chiar si celor mai vaste proiecte cu incredere, datorita unui SSD PCIE Gen 4 configurat in RAID 0. Cu o viteza bruta de pana la 7000 MB/s, fisierele masive si lumile detaliate din jocuri se vor incarca intr-o clipa.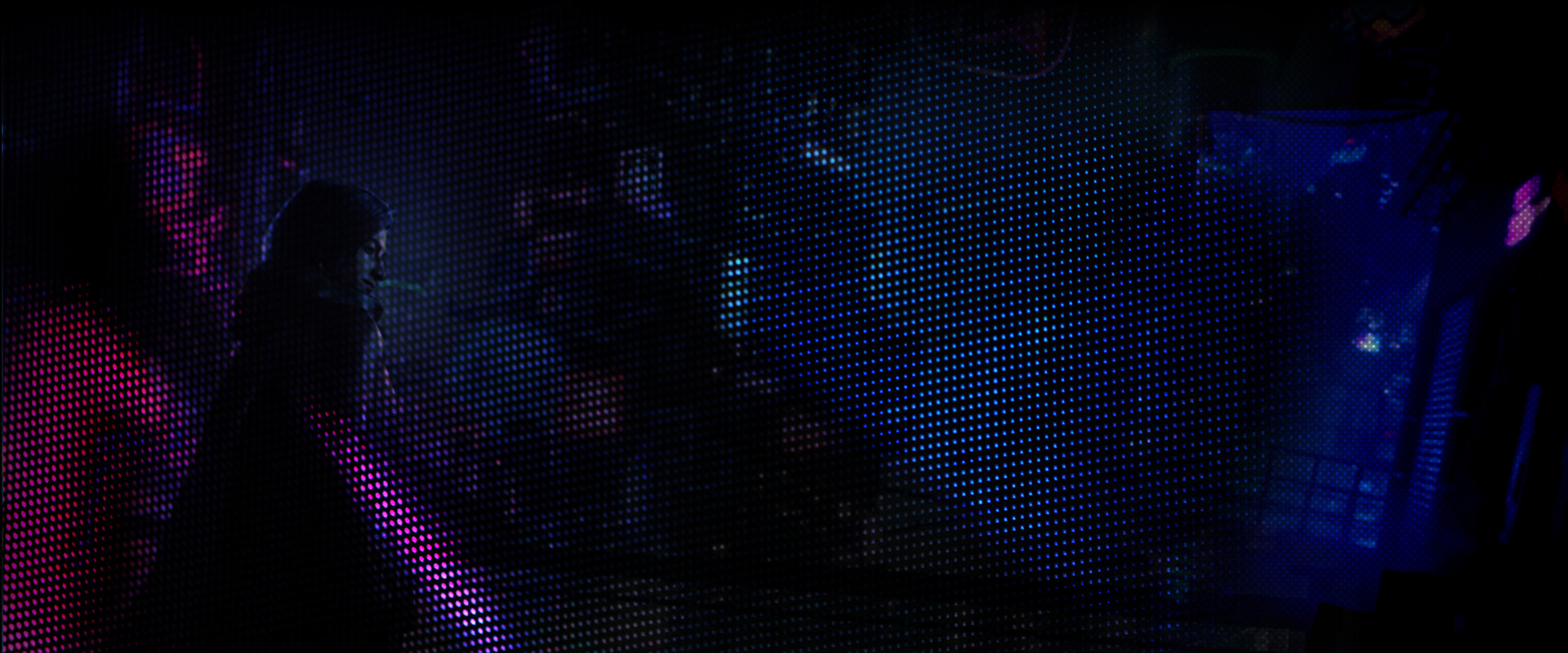 Sisteme laptop din seria GeForce RTX 40
Mai mult decat rapide, pentru Gameri si Creatori
Performanta alimentata de AI si grafica reala*

Obtine un salt cuantic in performanta in jocuri si aplicatiile creative cu AI & DLSS 3 si redati lumi virtuale realiste cu tehnologia Full Ray Tracing.

Accelereaza-ti ideile

NVIDIA Studio duce proiectele creative la urmatorul nivel. Deblocheati accelerarea RTX si AI in cele mai bune aplicatii creative. Drivere NVIDIA Studio, pentru o stabilitate maxima si o intreaga suita de instrumente exclusive va stau la dispozitie pentru a va accelera creativitatea.

Putere si performanta optimizate

NVIDIA Max-Q este o suita avansata de tehnologii bazate pe inteligenta artificiala ce optimizeaza sistemul pentru o eficienta maxima. Acest lucru aduce in prim-plan laptop-uri extrem de rapide, subtiri, silentioase si cu o autonomie uimitoare a bateriei.
*Imagine Cyberpunk 2077 capturata pe un desktop cu noul Ray Tracing: Modul Overdrive ACTIVAT, afisat doar in scopuri ilustrative. Performanta reala variaza in functie de sistem.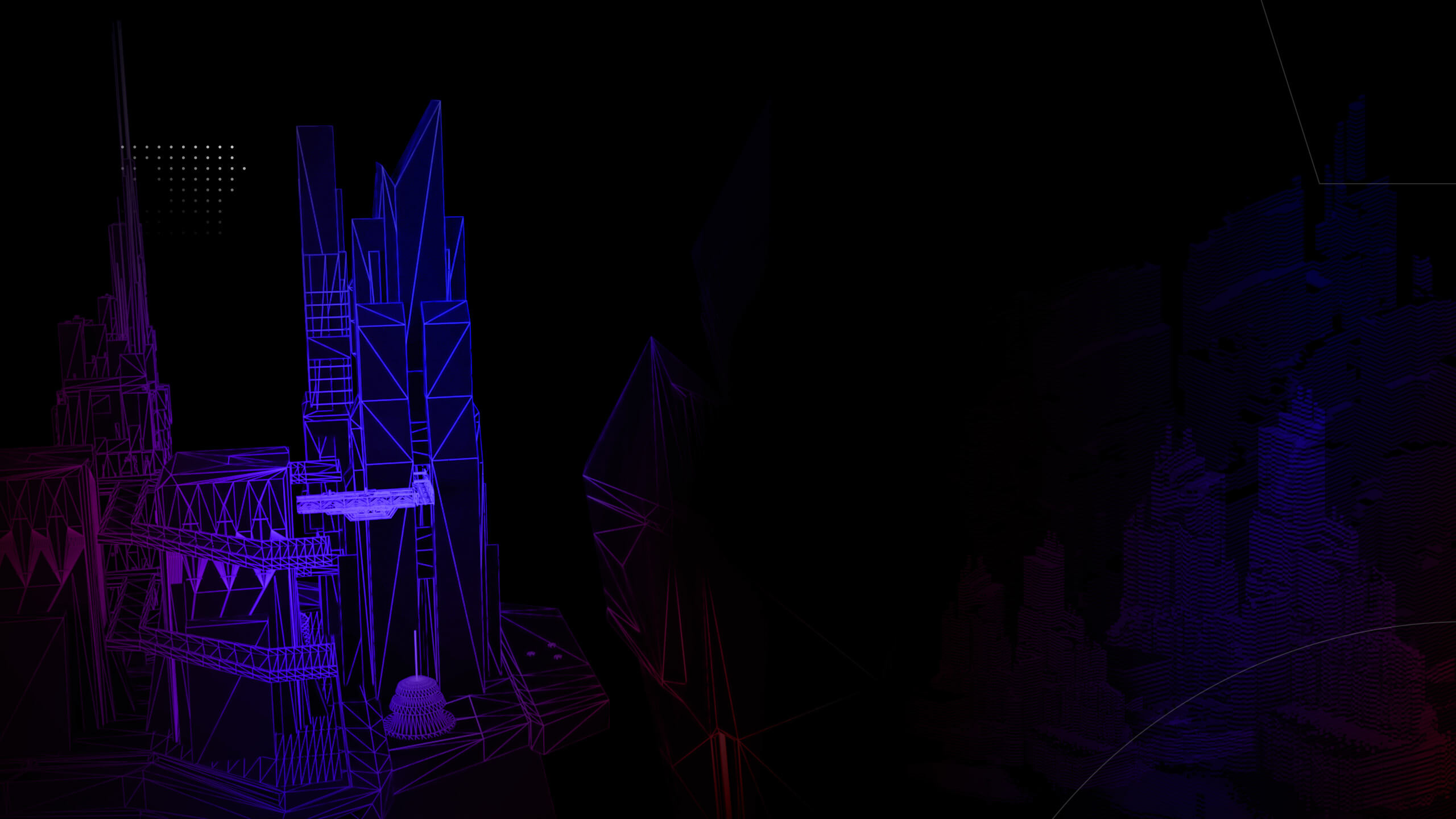 MOTOR DE JOC
Joaca-te. Fa stream. Creeaza.
---
Seria SCAR este construita de la zero pentru jucatori – si, desigur, pentru dezvoltatori de jocuri. Strix SCAR 18 poate rula cele mai recente motoare de joc, permitandu-va sa va deblocati creativitatea si sa va incercati aptitudinea in a dezvolta urmatorul joc grozav. Indiferent daca sunteti un artist digital, un streamer, un editor video sau va ocupati de animatie si dezvoltare de jocuri, Strix SCAR 18 are toata puterea de care aveti nevoie pentru a va duce creatiile la urmatorul nivel. Dispunand de un procesor de pana la Intel® Core™ i9 si de o placa grafica pana la NVIDIA® GeForce RTX™ 40 Series Laptop GPU, proiectele complexe din platformele de dezvoltare populare, cum ar fi Unity si Autodesk, se vor randa intr-o clipa. Ai ceea ce este necesar pentru a fi cel mai bun pe campul de lupta, dar esti gata sa-l proiectezi pe urmatorul?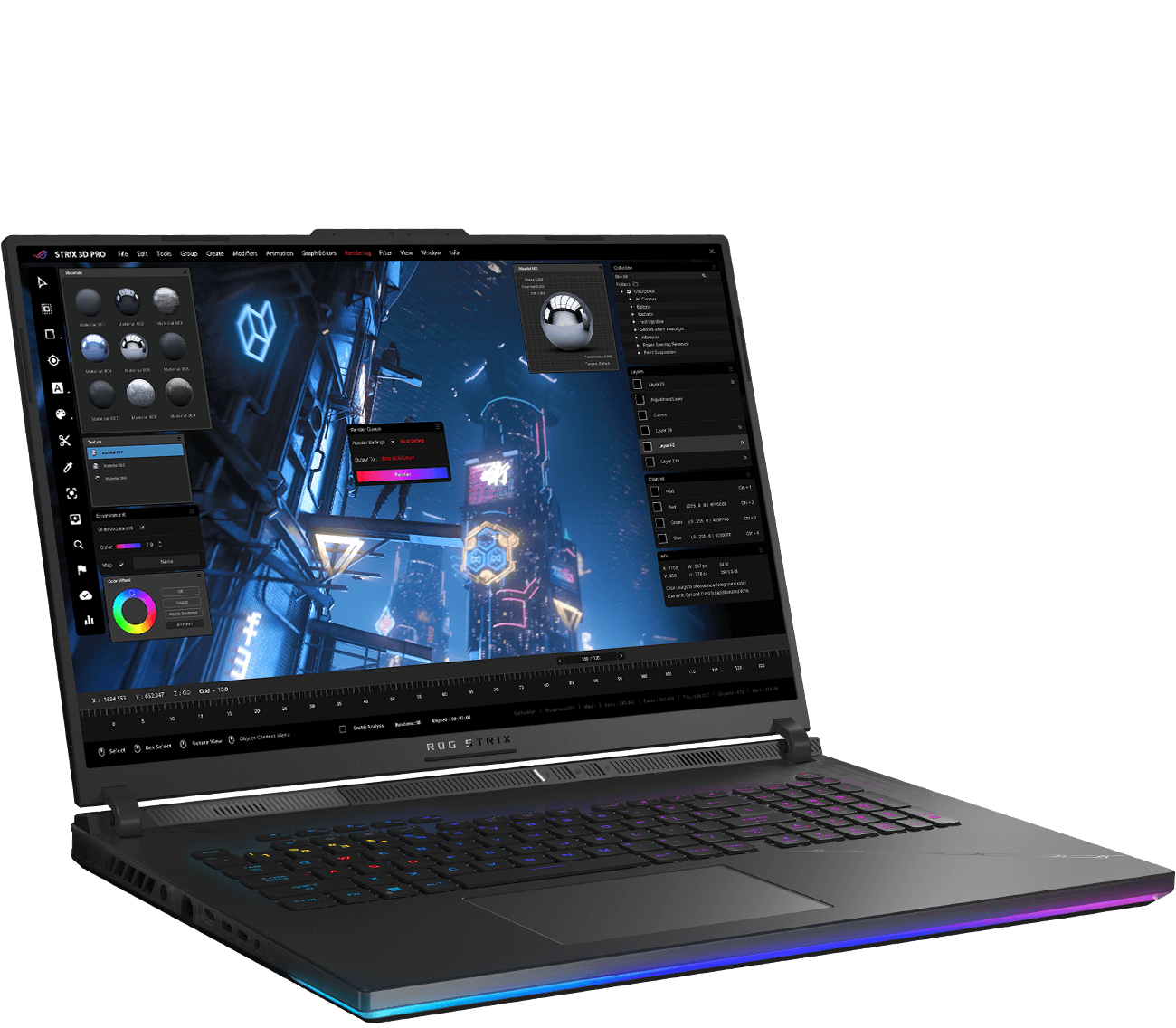 RACIRE

---
Pentru a gazdui componente atat de puternice, carcasa si placa de baza ale lui Strix SCAR 18 au fost ambele reproiectate pentru a gazdui noul nostru radiator de latime completa, in timp ce lamele de cupru au fost mutate mai aproape de orificiile de evacuare pentru o racire si mai eficienta. Acest radiator unic este construit din trei sectiuni diferite, inconjurand placa de baza cu lamele dens divizate pe o suprafata totala de 195.509 mm², o crestere cu 82,5% fata de Strix SCAR 17 din 2022. Acest design maximizeaza calea disponibila pentru ca aerul cald sa iasa din interiorul laptopului, crescand drastic racirea generala.

De obicei, majoritatea sistemelor de gaming au un sistem de racire cu doua ventilatoare, dar SCAR 18 a reusit sa impinga si mai mult nivelul de performanta odata cu introducerea unui al treilea ventilator care ajuta la mentinerea GPU-ului si a VRAM-ului rece. Impreuna cu sapte conducte de caldura si metalul lichid Conductonaut Extreme aplicat atat pe CPU, cat si pe GPU, sistemul de racire al lui SCAR 18 este o minune a ingineriei.



Tehnologie

Tri-Fan




Tevi de aerisire

Full-surround

Temperaturi cu

15 °C mai joase

pe CPU & GPU

Strabatut de

7 conducte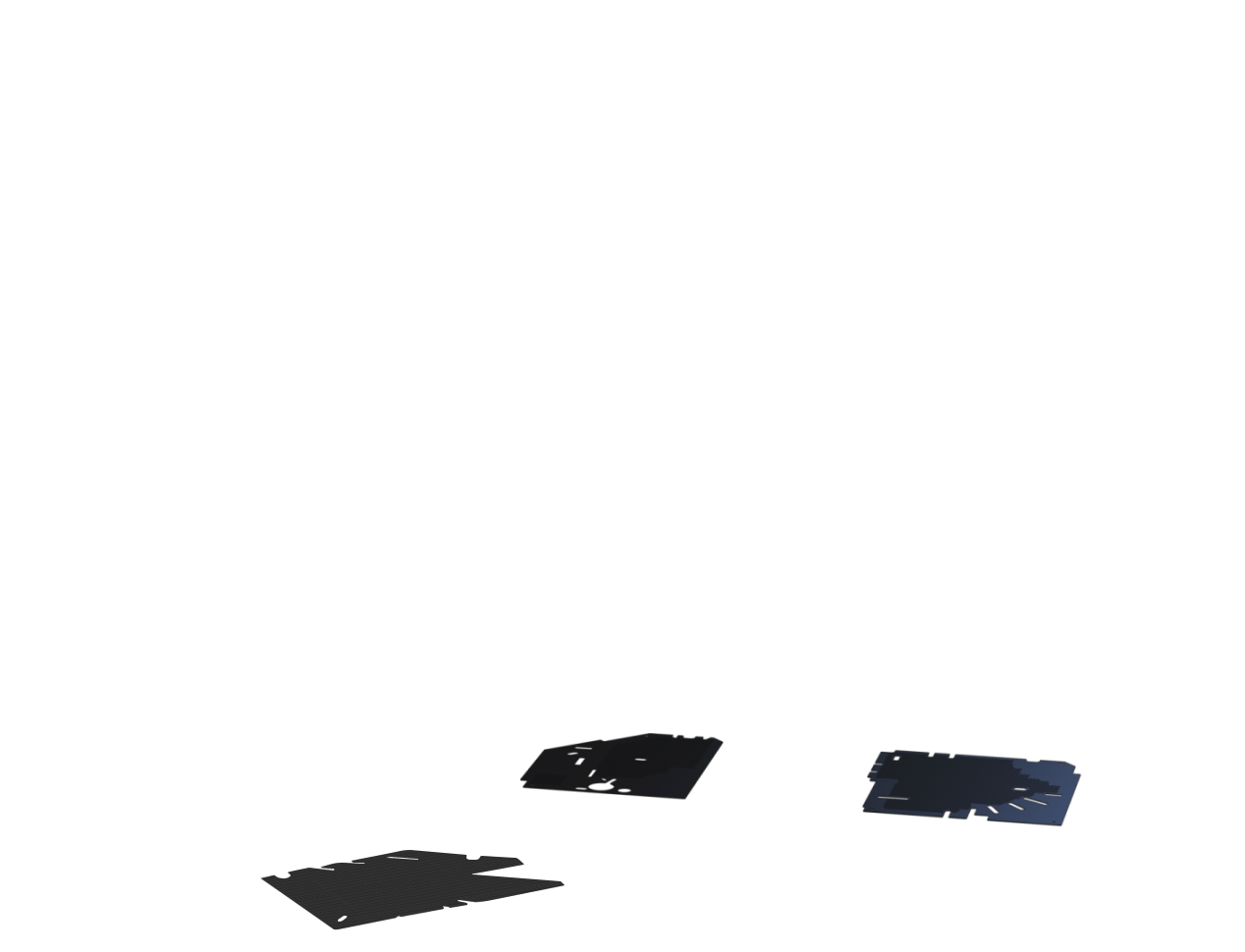 Tevi Full-Surround
Aerul cald trebuie sa circule, asa ca am reproiectat orificiile de evacuare ale lui SCAR 18 pentru a-i oferi cel mai bun debit posibil. Pe langa faptul ca intreaga parte din spate a laptopului este acum un orificiu de evacuare, SCAR 18 isi pastreaza orificiile de ventilatie laterale, oferindu-i o oportunitate facila de a scoate aerul cald din sistem. Am mutat chiar si radiatoarele mai aproape de orificiile de ventilatie, oferind aerului cald o cale directa spre exteriorul laptopului, evitand orice recirculare.
Radiator cu latime completa
SCAR 18 dispune de 414 lame pe radiatoare, fiecare stiva captusita cu lamele de cupru ultra-subtiri, de pana la 0,1 mm. Acest lucru permite o densitate mai mare si o rezistenta mai mica a aerului, cu o suprafata totala de 195.509 mm², o crestere cu 82,5% fata de SCAR 17 din 2022. Aceasta constructie din cupru are noul design in latime completa, care este dublu fata de dimensiunea unui radiator normal, acoperind intregul spate al laptopului.
Tehnologie Tri-Fan
In centrul fiecarui laptop performant se afla o solutie excelenta de racire. Noua noastra tehnologie Tri-Fan directioneaza aerul prin decupaje calculate cu precizie in sasiu, trimitand fluxul de aer direct catre componentele interne pentru a le mentine reci in toate conditiile. Un al treilea ventilator auxiliar ajuta, de asemenea, sa trimita caldura suplimentara de la GPU direct catre radiatoare, mentinand laptopul rece in timpul sedintelor prelungite de vizionare a filmelor sau sesiunilor de jocuri.
Conductonaut Extreme Liquid Metal
Incepand din 2022, anumite modele ROG au prezentat solutia de ultima ora Conductonaut Extreme de la Thermal Grizzly, care imbunatateste si mai mult transferul de caldura al metalului lichid. In comparatie cu pastele termice traditionale, acest compus pe baza de indiu si galiu ofera o conductivitate de 17 ori mai mare, in plus, fata de reducerea temperaturii de pe CPU si GPU de pana la 15 grade. Folosit exclusiv de ROG, acest material ofera cel mai mare transfer termic disponibil pe un laptop.
*imbunatatiri ale temperaturii in comparatie cu compusul termic din generatia anterioara, asa cum a fost testat intern de ASUS. Conductivitate termica in comparatie cu standardul industrial.
Pana la 7 conducte termice complete
Designul termic cuprinzator al lui Strix SCAR 18 include un distribuitor extins de caldura care absoarbe caldura de la CPU, GPU, VRAM si VRM. Cu 7 tevi de aerisire si o crestere a acoperirii totale de la 29% la 33% a placii de baza in comparatie cu ultima generatie, aceasta solutie termica extinsa ajuta la sustinerea si extinderea performantei generale, a fiabilitatii si a duratei de viata a sistemului.
Racire Ambientala de 0dB
Bucurati-va de o racire cu adevarat silentioasa la sarcini usoare de lucru cu tehnologia 0dB. In modul de functionare Silentios, sistemul de racire opreste toate ventilatoarele in timpul sarcinilor de zi cu zi pentru a disipa caldura pasiv. Acest lucru va permite sa va concentrati asupra muncii si sa va scufundati in vizionarea filmelor cu cat mai putine distrageri. Daca temperaturile CPU sau GPU cresc, ventilatoarele se pornesc din nou automat.
Filtru de Praf
Introdus pentru prima data pe Zephyrus G14, ROG Strix SCAR 18 are un filtru de praf pe orificiile de admisie. Praful si fibrele se pot aduna in interiorul masinii, captand caldura si provocand performante scazute in timp. Un filtru ajuta la pastrarea prafului, permitand procesorului si GPU-ului sa respire mai usor pentru ani de functionare eficienta si stabila.
*Testari interne intr-un mediu simulat cu praf.
Lamele subtiri de 0.1mm
Energia termica este disipata de patru radiatoare, fiecare avand lamele din cupru ultra-subtiri de aproape de 0,1 mm. Aceste lamele au jumatate din dimensiunea solutiilor tipice, permitand o densitate mai mare pentru disiparea caldurii si o rezistenta mai scazuta a aerului pentru a permite un flux mai lin. Cu pana la 414 lamele de radiatoar cu o suprafata totala de 107.131 mm², caldura iese din sistem incredibil de eficient, permitand componentelor sa functioneze mai bine, pentru mai mult timp.
Tastatura CoolZone
Sesiunile de joc extinse pot incalzi componentele interne si pot face tastatura calda la atingere. Pentru a va pastra degetele reci, micile orificii de ventilatie din jurul tastelor WASD permit ventilatoarelor sa atraga aer rece in sasiu de sus.
Profile de Scenarii
Modurile noastre, Silentios, Performanta si Turbo sunt doar inceputul. Profilurile de scenariu permit sistemului dumneavoastra sa comute automat intre aceste moduri in functie de aplicatia pe care o rulati, alaturi de alte setari vitale ale sistemului. Comutati automat intre configuratiile de iluminare, dezactivati tasta Windows si touchpad-ul in timpul jocurilor si automatizati dupa cum doriti. Armory Crate va efectua ajustari intr-o clipa pentru a se potrivi cel mai bine sarcinii in cauza.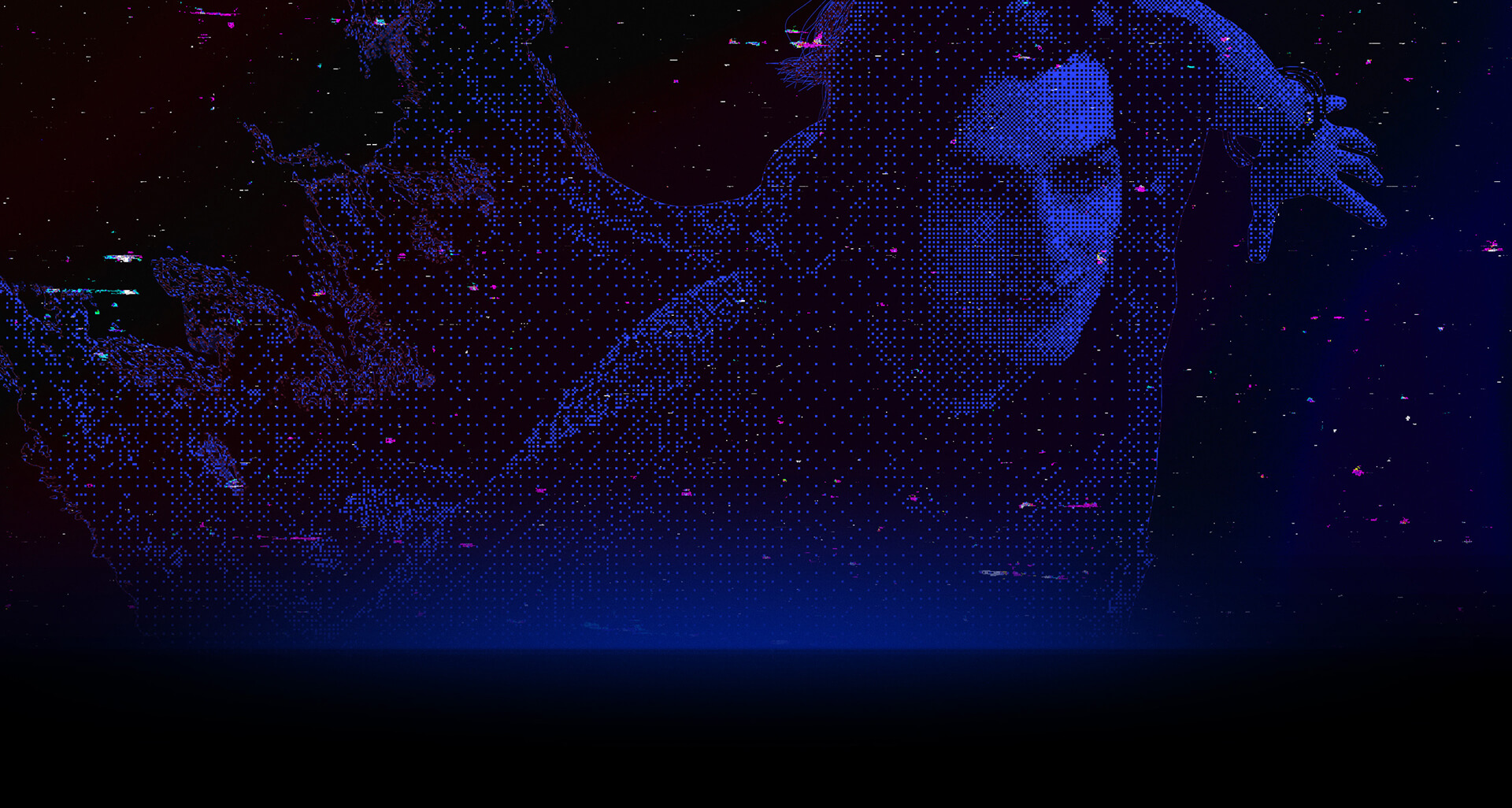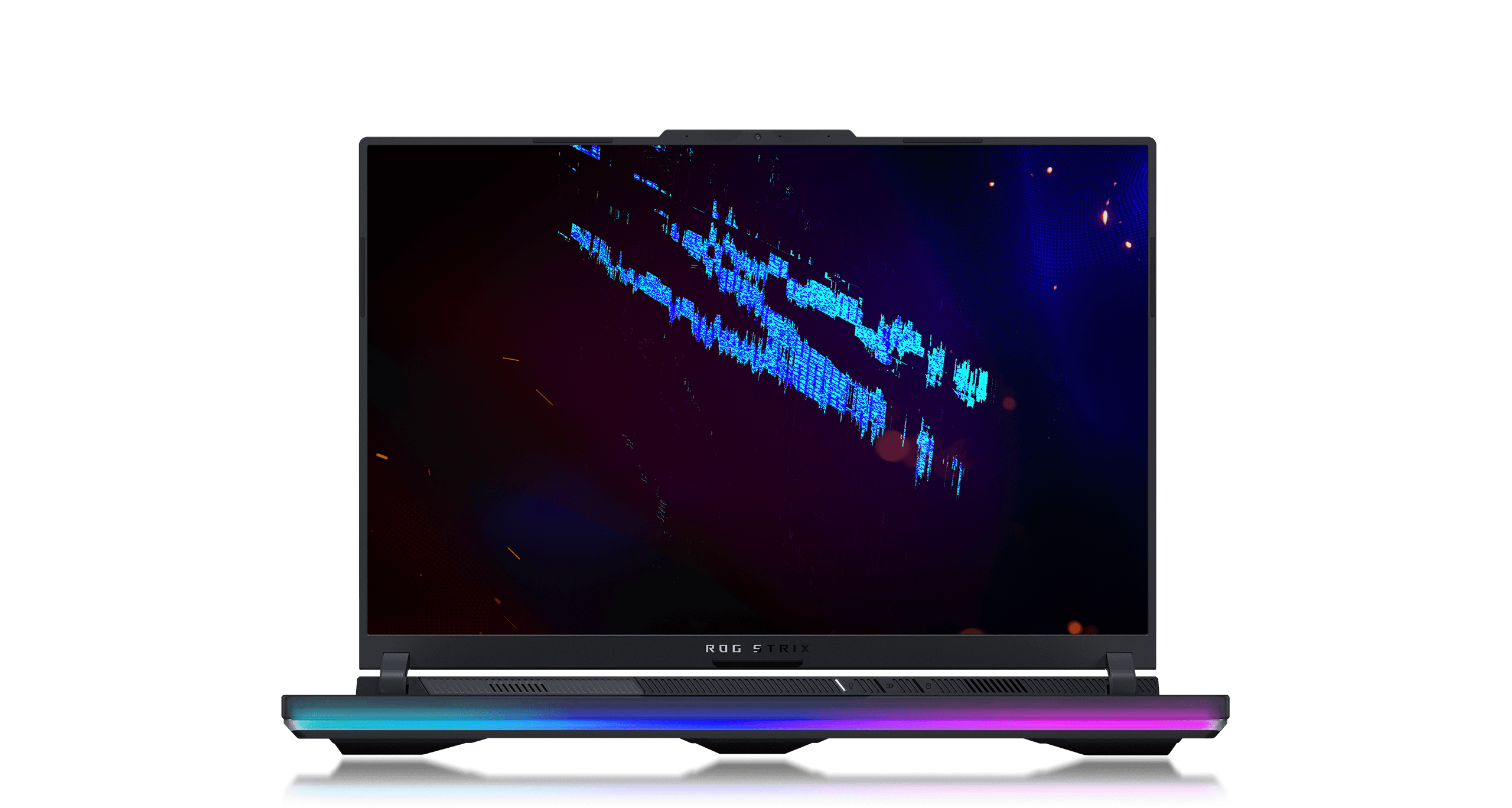 DISPLAY

---
Pentru jucatorii care au nevoie de cea mai buna claritate a miscarii si a imaginii, SCAR 18 ofera un afisaj Nebula incredibil. Cu o rata de reimprospatare de 240 Hz, acoperire DCI-P3 de 100% si o luminozitate uimitoare de 500 de niti pentru o experienta de joc uimitoare. Panoul QHD de 18 inci, cu raport de aspect 16:10, ofera un negru uimitor si face continutul parca sa iasa din ecran, indiferent daca vizionati un film sau jucati un shooter in arena cu miscari rapide. SCAR 18 poate fi echipat si cu un ecran Full HD de 165 Hz, fiecare optiune oferind culori fantastice, Dolby Vision, suport Adaptive-Sync si un raport ecran-corp de 89% pentru o experienta stelara de joc si de vizionare.
Ecran

16:10 QHD

240Hz/3ms

Rata de Refresh

500 Niti

Luminozitate

Tehnologie

100% DCI-P3
16:10

Raport de aspect

165Hz

FHD

Tehnologie

Adaptive Sync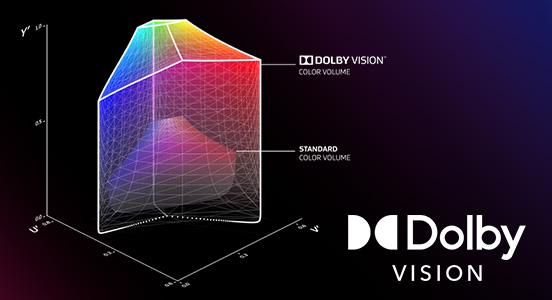 Tehnologia Dolby Vision®
Scena cu scena, cadru cu cadru, Dolby Vision face continutul media sa arate mai bine. Tehnologia imbunatateste videoclipurile standard 4K cu gama dinamica inalta (HDR), ajustand dinamic imaginile pentru a fi mai bogate, mai luminoase si mai pline de viata. Creatorii isi pot filma si edita stream-ul, videoclipurile si orice alt continut intr-un format folosit in mod obisnuit de profesionistii din industrie.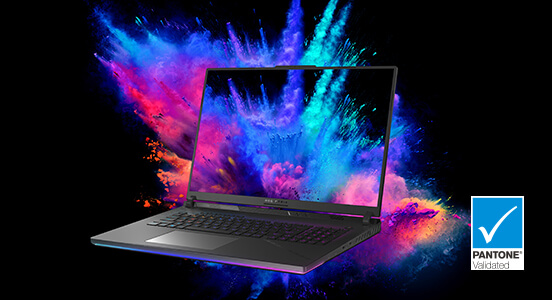 Validarea de culoare Pantone®
Fiecare afisaj la nivel IPS este calibrat din fabrica pentru a se asigura ca toate culorile sunt exacte pentru paleta Pantone®. Artistii, designerii si creatorii de continut pot adauga un plus de inalta calitate portofoliilor lor si se pot bucura de imagini mai bogate in jocuri, toate pe aceeasi configuratie.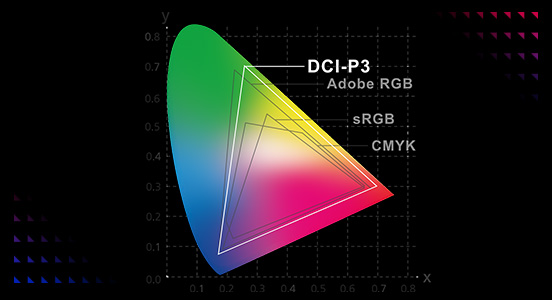 Plaja de culoare 100% DCI-P3
In timp ce plaja de culoare sRGB este standardul pentru majoritatea imaginilor digitale, acesta reprezinta doar aproximativ 75% din spectrul DCI-P3 utilizat pentru realizarea de filme profesionale. Ecranele cu acoperire completa DCI-P3 ofera o gama larga de culori pentru imagini mai vibrante, permitandu-va sa vedeti filme si alte medii exact asa cum au fost menite sa fie experimentate.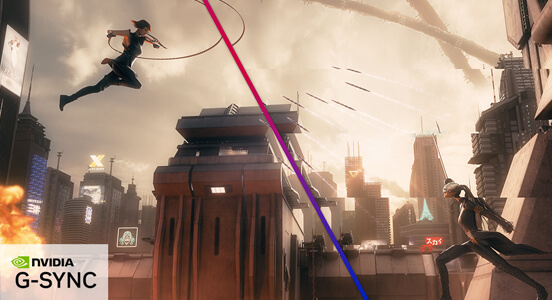 NVIDIA® G-SYNC®
Nimic nu intrerupe imersiunea in joc precum frame-urile scazute si ruperile de ecran. Placile grafice redau cadre la viteze variabile, dar afisajele se reimprospateaza, de obicei, la un timp constant, astfel incat acestea nu se vor sincroniza intotdeauna, provocand ciocniri vizibile si artefacte care te scot din actiune. Cu NVIDIA G-SYNC, rata de reimprospatare a afisajului se sincronizeaza cu rata de cadre a placii grafice pentru a elimina ruperile de ecran, a minimiza frame-urile scazute si a reduce decalajul semnalului de intrare. Pregateste-te sa experimentezi jocurile, care vor arata si se vor simti mai natural ca niciodata.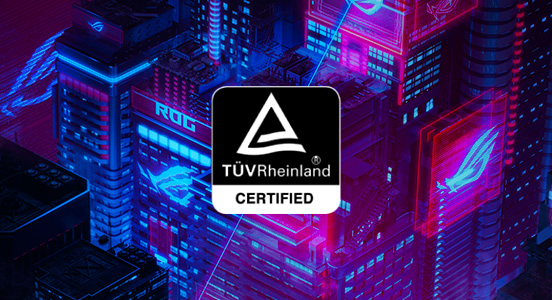 Certificarea TÜV Rheinland
Display-urile Nebula sunt certificate TÜV Rheinland®, avand siguranta ca sunt in conformitate cu rata de lumina albastra scazuta si sunt fara reflexie, prevenind oboseala ochilor in timpul sesiunilor lungi de joc sau in procesul de creare de continut.
DESIGN CENTRAT SPRE GAMING
Proiectat pentru a invinge
Construit pentru victorie
---
Republic of Gaming a fost construita de cei ce iubesc jocurile video. Toate modelele si deciziile ROG sunt aprobate punand jucatorii pe primul plan, de la designul sasiului, integrarea luminii, controalele software si functiile macro. Aceste caracteristici exclusive de design ROG nu numai ca va ofera un avantaj competitiv, dar va asigura ca nu va veti amesteca niciodata in multime.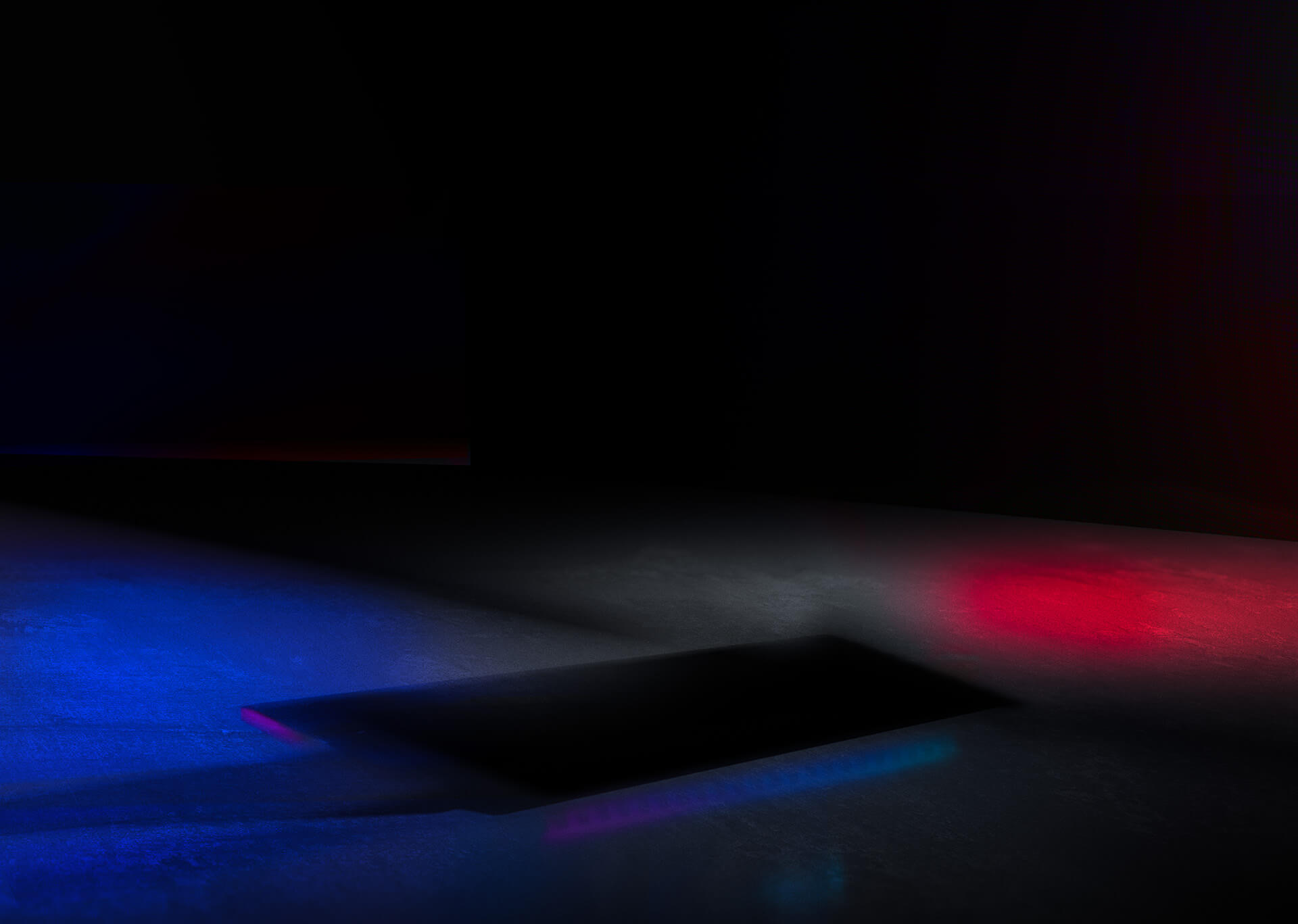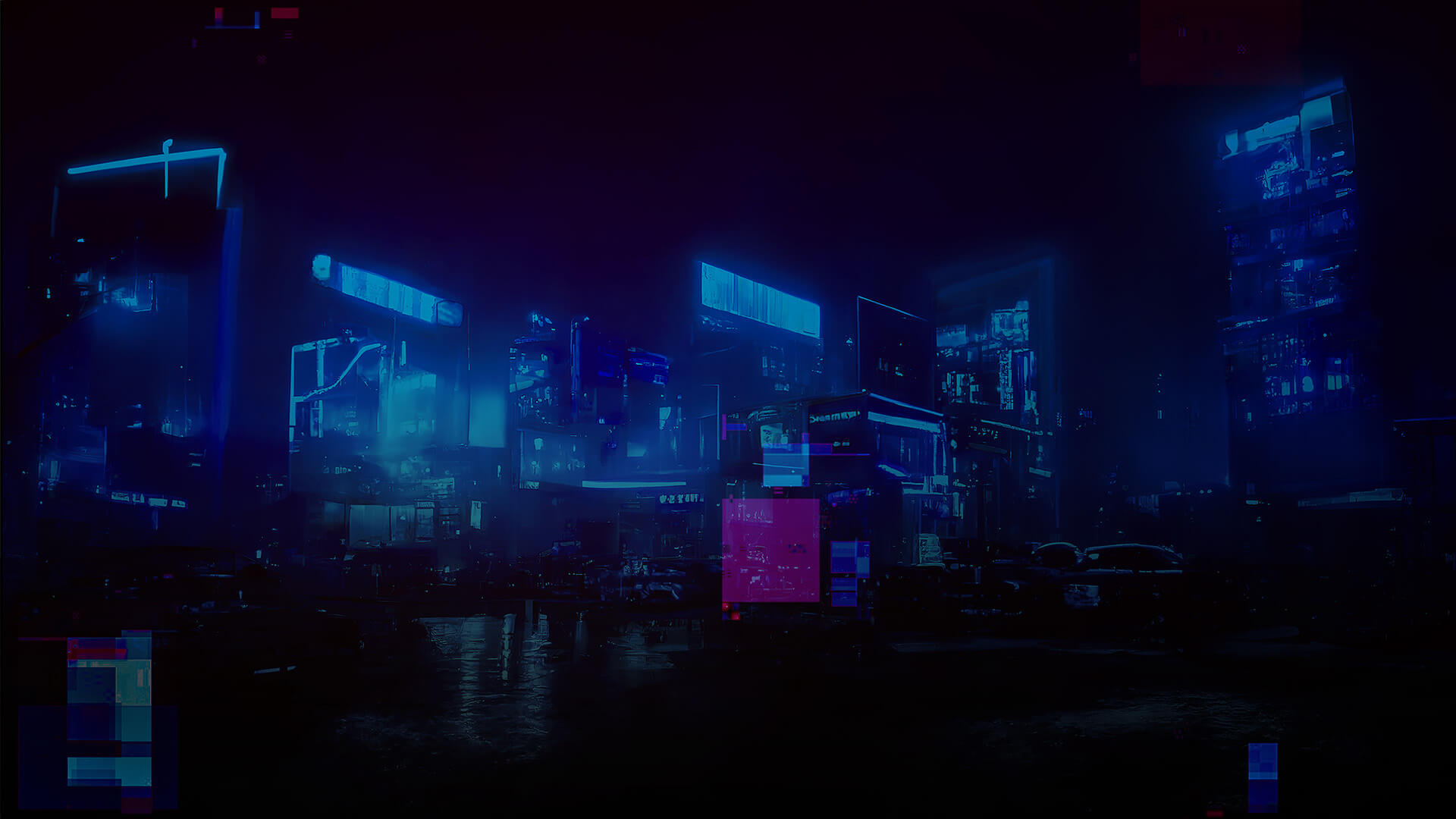 SOFTWARE
Personalizare nesfarsita
---
Personalizare nesfarsita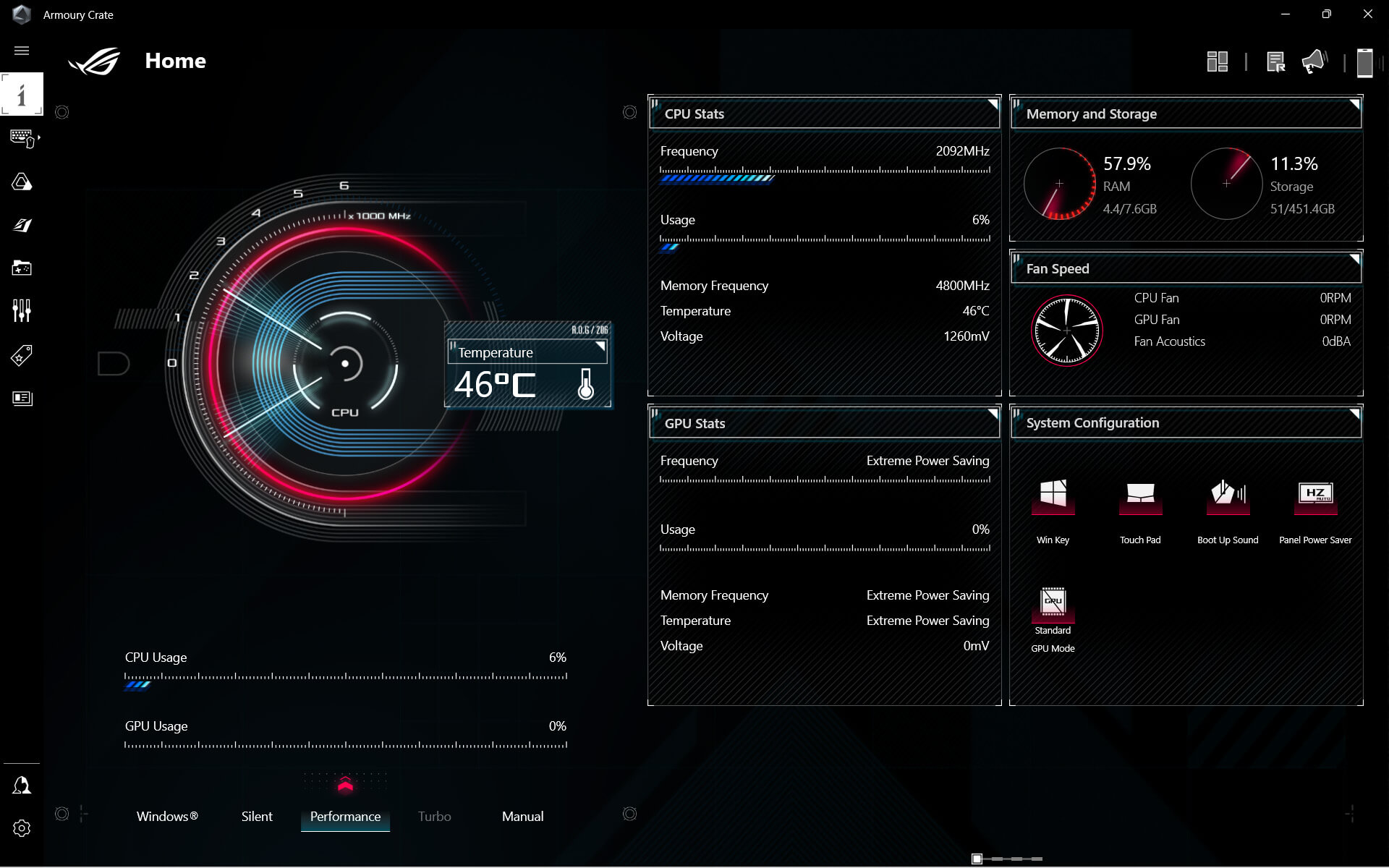 Cand doriti sa modificati setarile, sa monitorizati temperaturile sau sa modificati setari amanuntite in laptop, Armory Crate este centrul dumneavoastra de comanda. Monitorizarea in timp real va permite sa vedeti ce fac GPU-ul, procesorul si memoria. Lumina RGB poate fi ajustata pentru fiecare joc cu ajutorul lui Aura Sync. Profilurile pentru ventilatoare si alimentare va permit sa schimbati acustica, furnizarea de energie si caracteristicile termice ale laptopului din mers, iar ofertele exclusive de jocuri iti vor mentine biblioteca completa tot timpul.
Moduri de performanta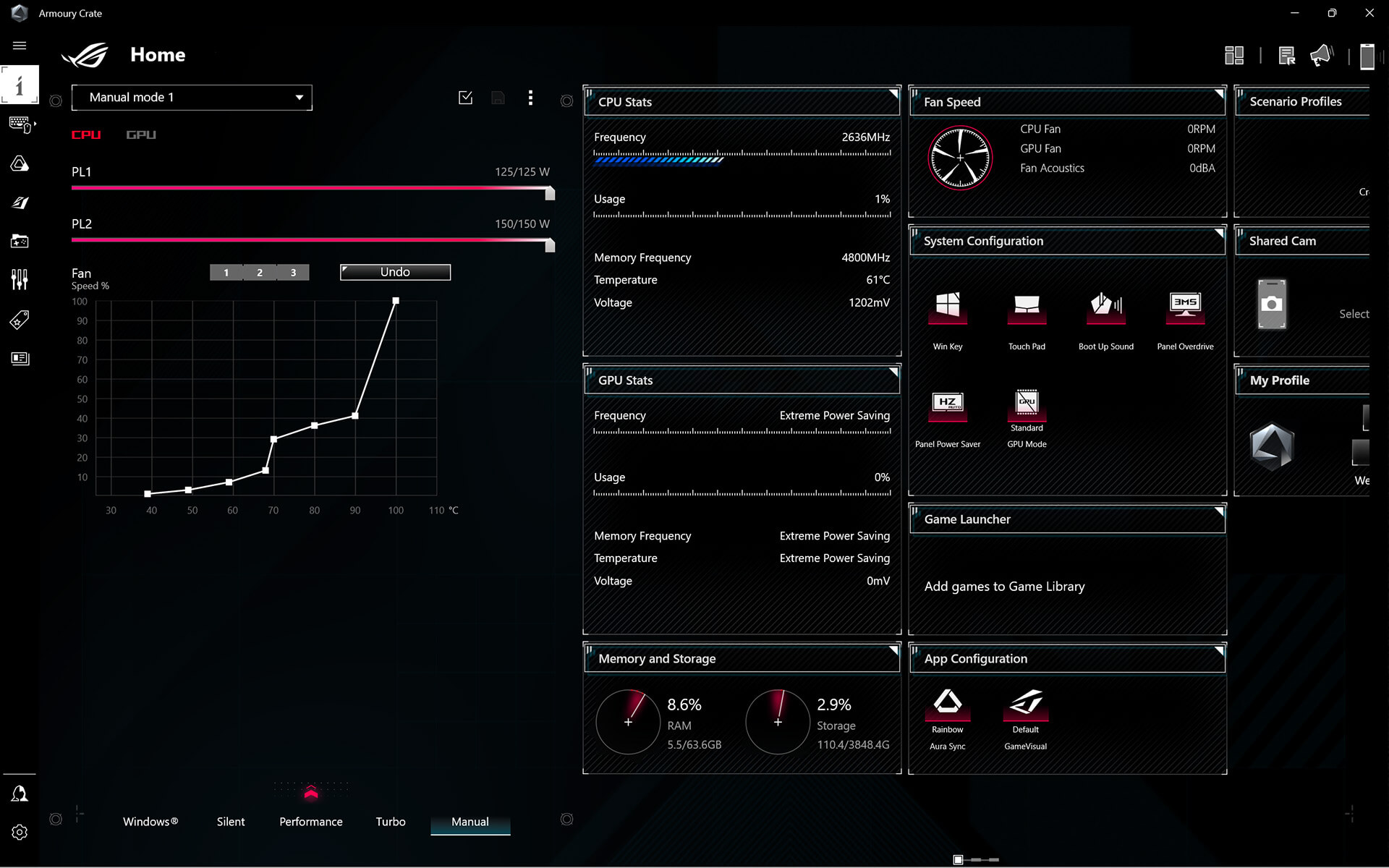 Mai mult decat simple profiluri ale ventilatorului, modurile de performanta ale Armory Crate servesc la transformarea masinii dumneavoastra dintr-un browser de web silentios, care consuma putere scazuta, intr-o statie de lupta completa pentru jocuri cu putere maxima. Iar pentru cei care necesita un control si mai amanuntit, modul manual elimina toate restrictiile si va permite sa creati un profil personalizat care se potriveste exact nevoilor dumneavoastra. Pentru mai multe informatii despre modurile de performanta, consultati ghidul nostru complet aici.
Taste Macro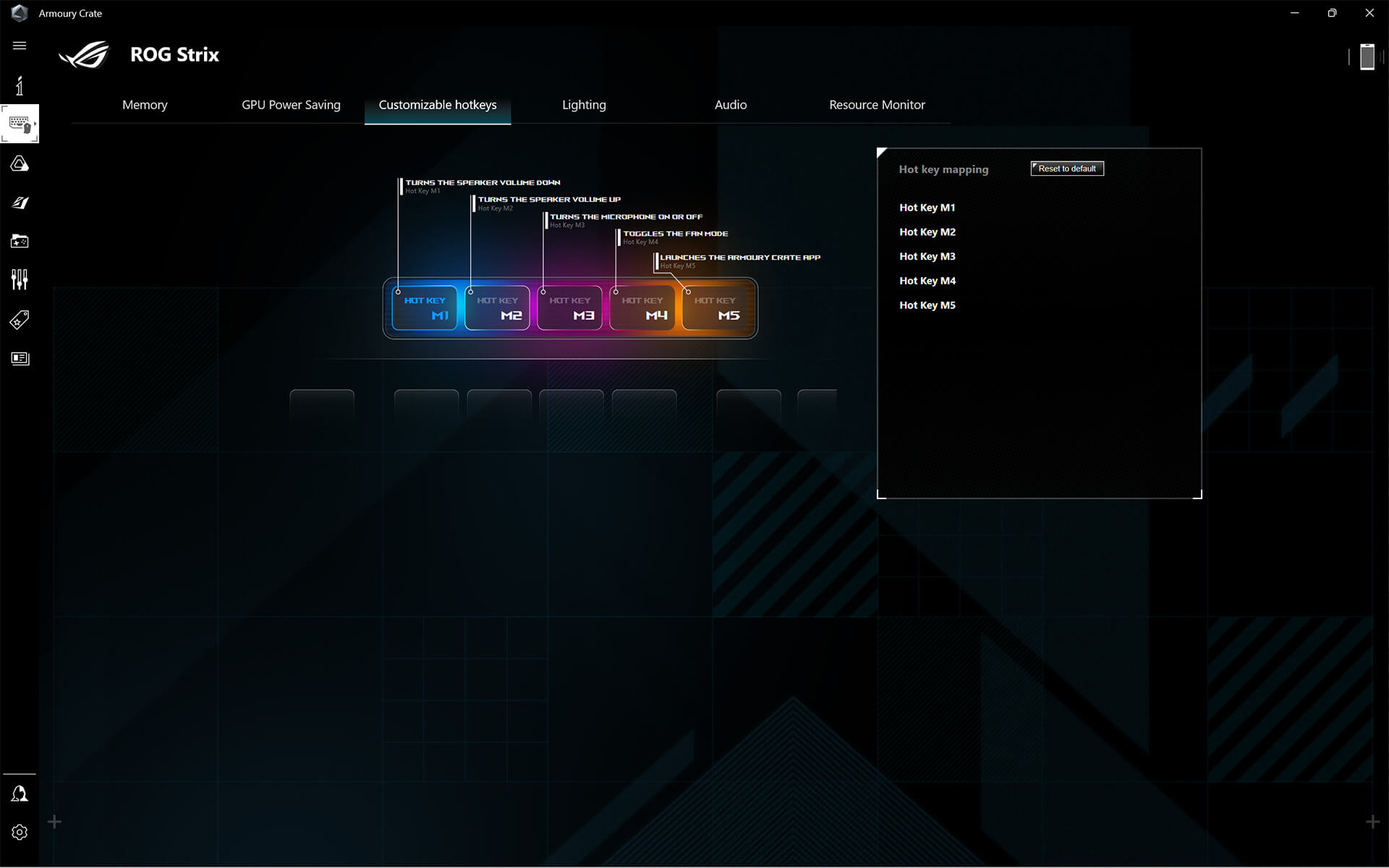 Armory Crate accepta, de asemenea, personalizarea completa a tastelor rapide dedicate. In mod implicit, acestea actioneaza ca control de volum, dezactivare microfon si o lansare rapida pentru Armory Crate, dar cu cateva ajustari le puteti face sa functioneze pentru dumneavoastra. Creati o tasta functionala pentru comutare rapida atunci cand este necesar, o macrocomanda pentru combinatii complicate de butoane sau chiar un buton de lansare rapida pentru aplicatia dorita. Personalizati-va laptopul in mod unic.
Vizualizare in jocuri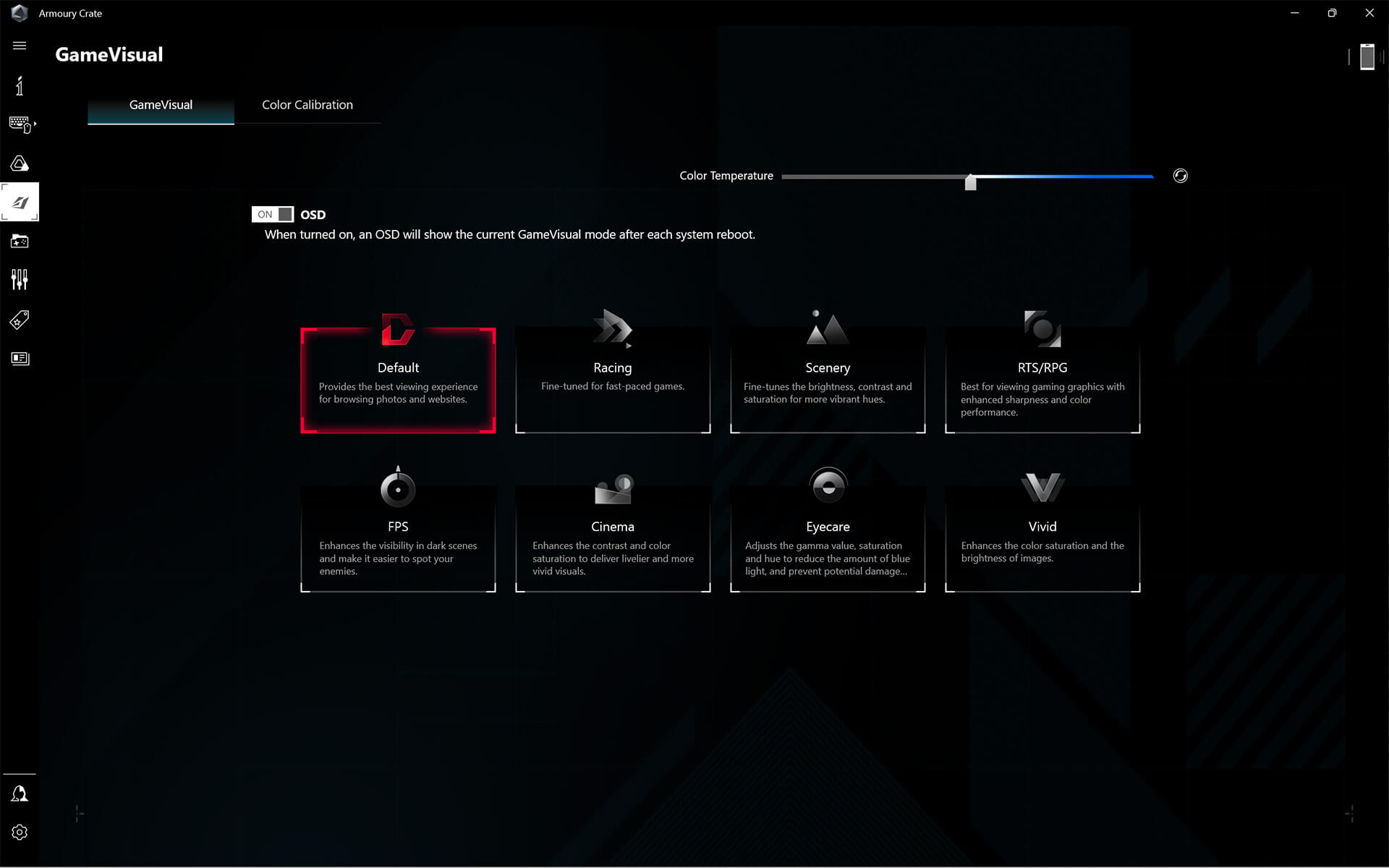 Software-ul ROG GameVisual ofera sase moduri grafice reglate expert, concepute pentru a va optimiza experienta vizuala pentru anumite genuri de joc. Modul First Person Shooter (FPS), de exemplu, imbunatateste vizibilitatea in medii intunecate, permitandu-va sa obtineti o perspectiva asupra oricaror inamici care pandesc in umbra. Utilizati GameVisual pentru a obtine cea mai buna experienta pentru fiecare joc din biblioteca dumneavoastra.
Aura Creator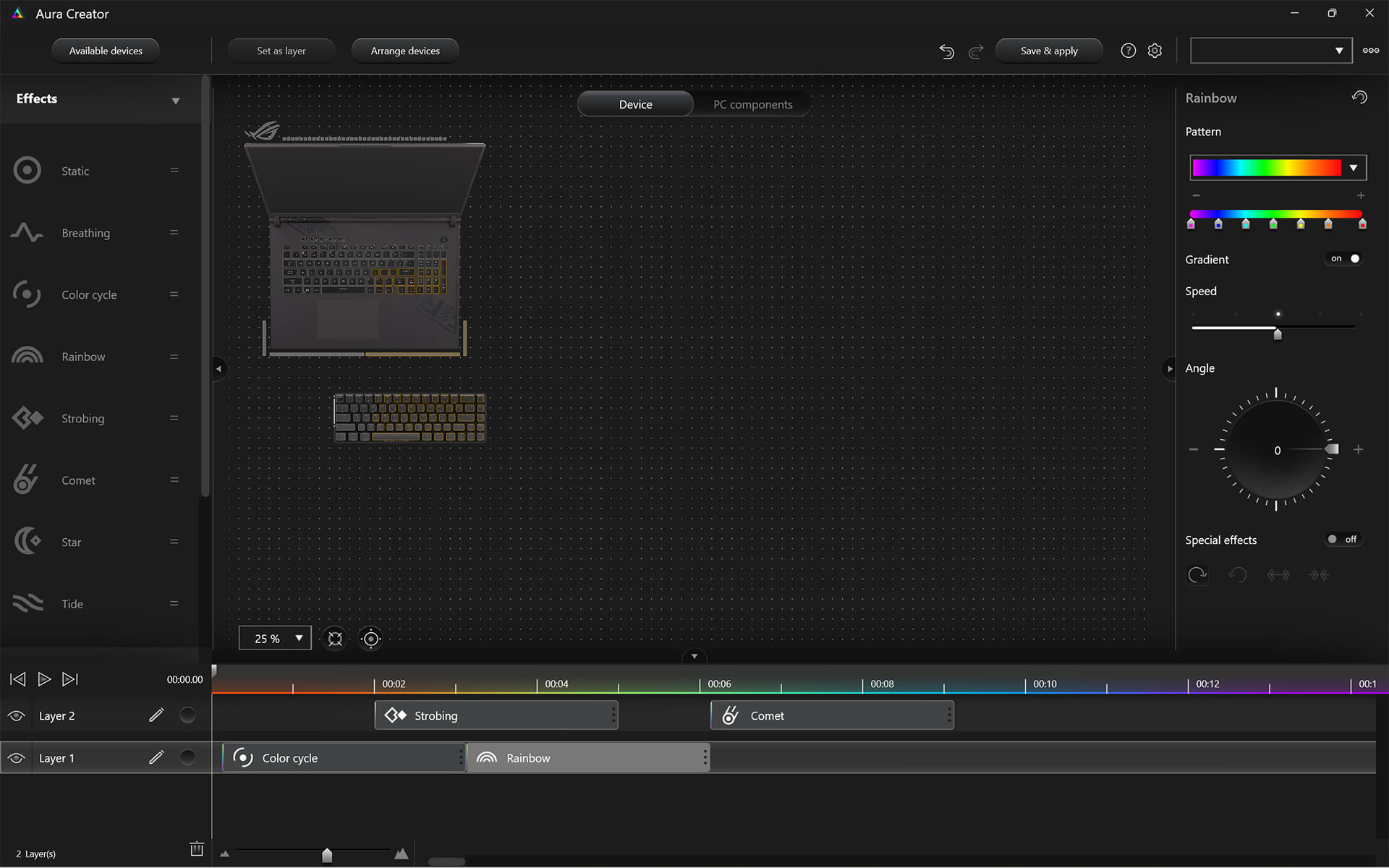 Personalizati iluminarea RGB pe periferice compatibile Aura pentru a se potrivi stilului dumneavoastra de joc. Panoul de control usor de utilizat al lui Aura Core va permite sa modificati un spectru stralucitor de efecte de iluminare si culori, pe langa schimbarea modurilor de iluminare prestabilite, puteti, de asemenea, sa activati Aura Sync pentru a potrivi culorile si efectele pe mai multe dispozitive.
Aura Wallpaper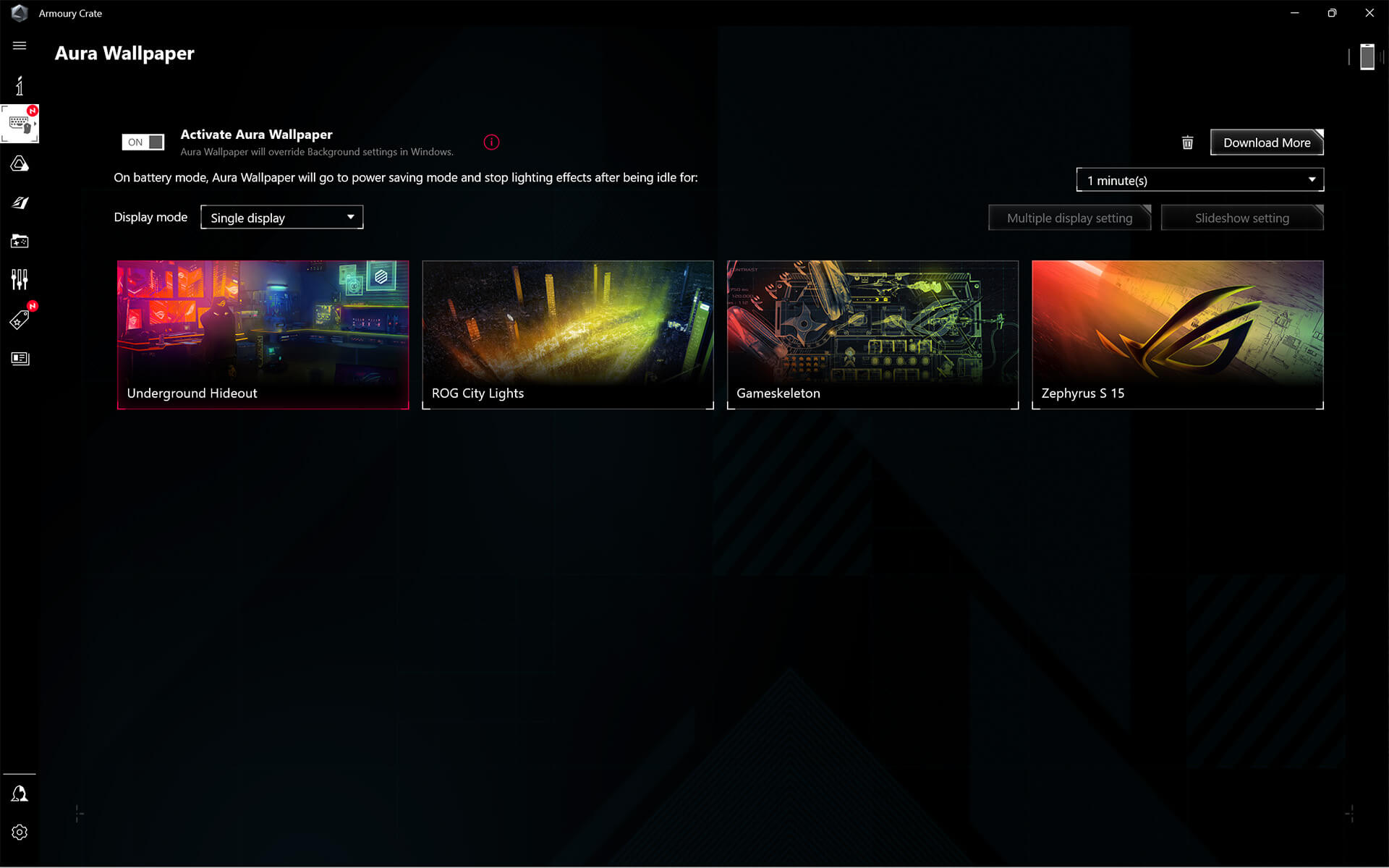 Aceasta functie nou-nouta din Armory Crate 5.0 va permite sa sincronizati un tapet animat de pe desktop cu iluminarea RGB a laptopului. Alegeti intre mai multe imagini de fundal cu tematica ROG si efecte RGB pentru a oferi platformei dvs. un aspect complet unificat. Imaginile de fundal suplimentare pot fi descarcate direct din Armory Crate, iar aplicatia poate fi controlata cu usurinta din bara de sistem Windows.
Profiluri de scenariu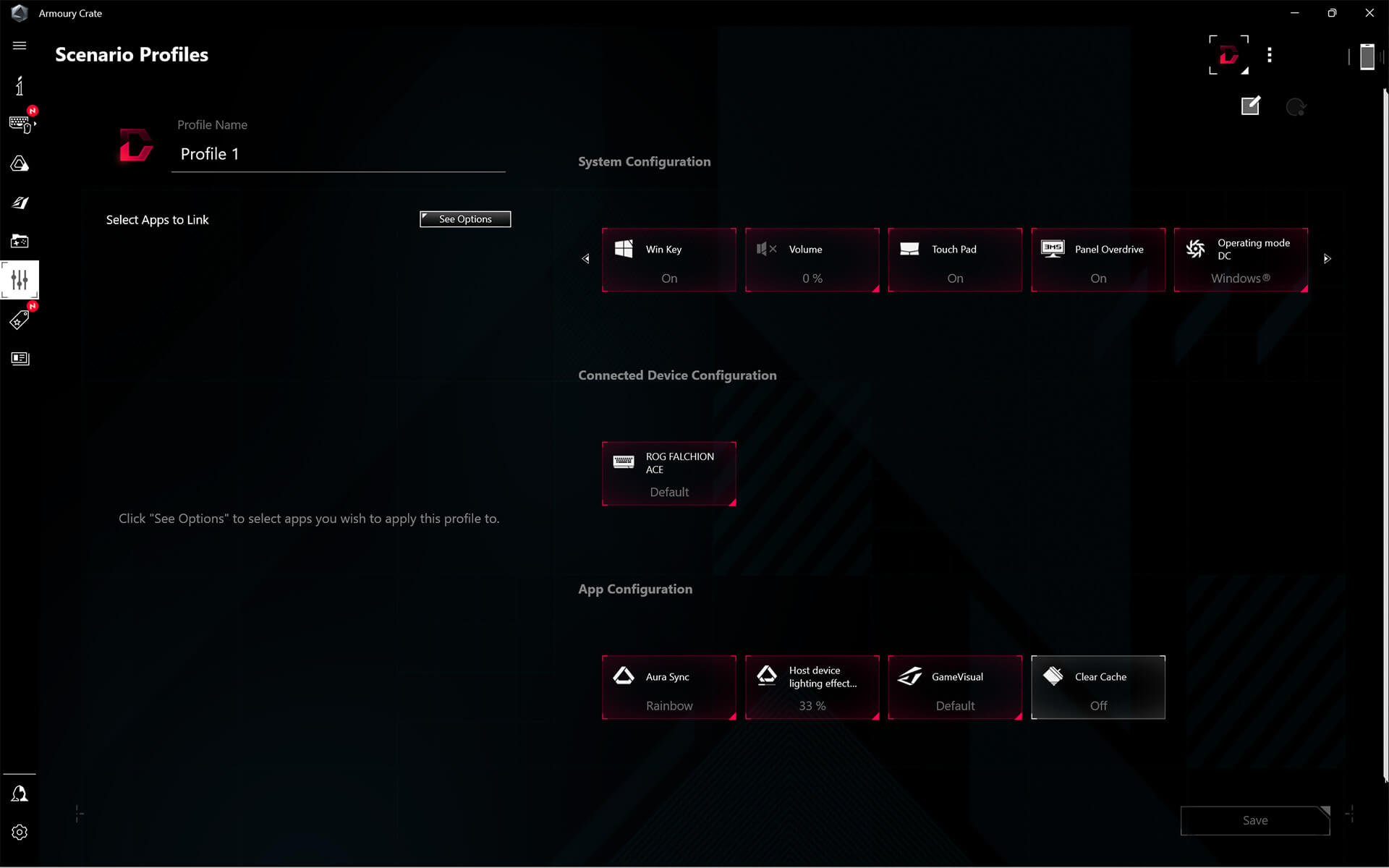 Comutarea automata intre modurile Silentios, Performanta si Turbo este doar inceputul pentru profilurile de scenariu. De asemenea, puteti defini preferintele specifice aplicatiei pentru alte setari vitale ale sistemului, cum ar fi configuratia de iluminare, daca tasta Windows sau touchpadul sunt activate si ce profil GameFirst VI si Sonic Studio III sa utilizati. Armory Crate efectueaza ajustari intr-o clipa pentru a se potrivi cel mai bine sarcinii in cauza si veti putea configura fiecare profil exact asa cum doriti.
Personalizare nesfarsita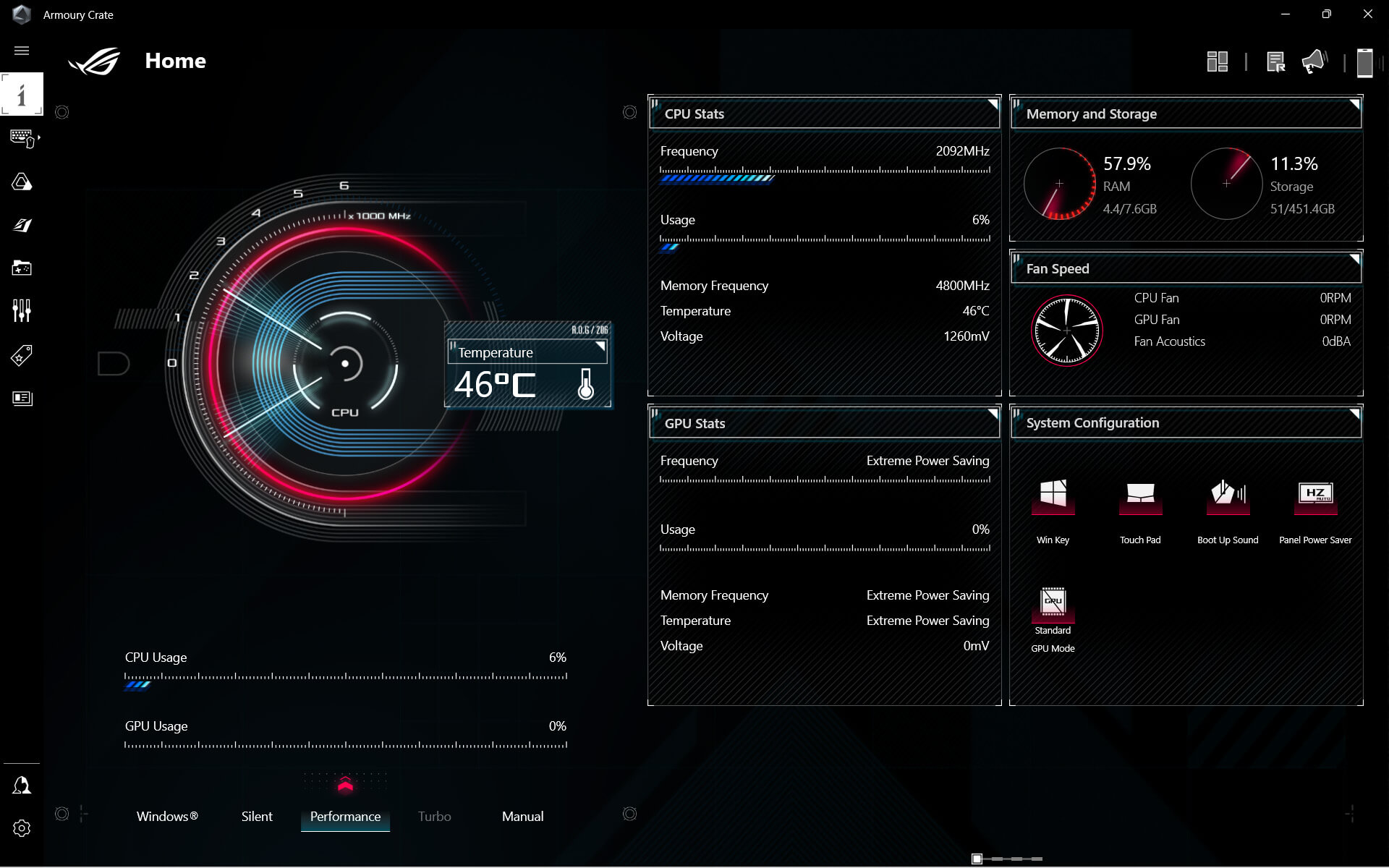 Moduri de performanta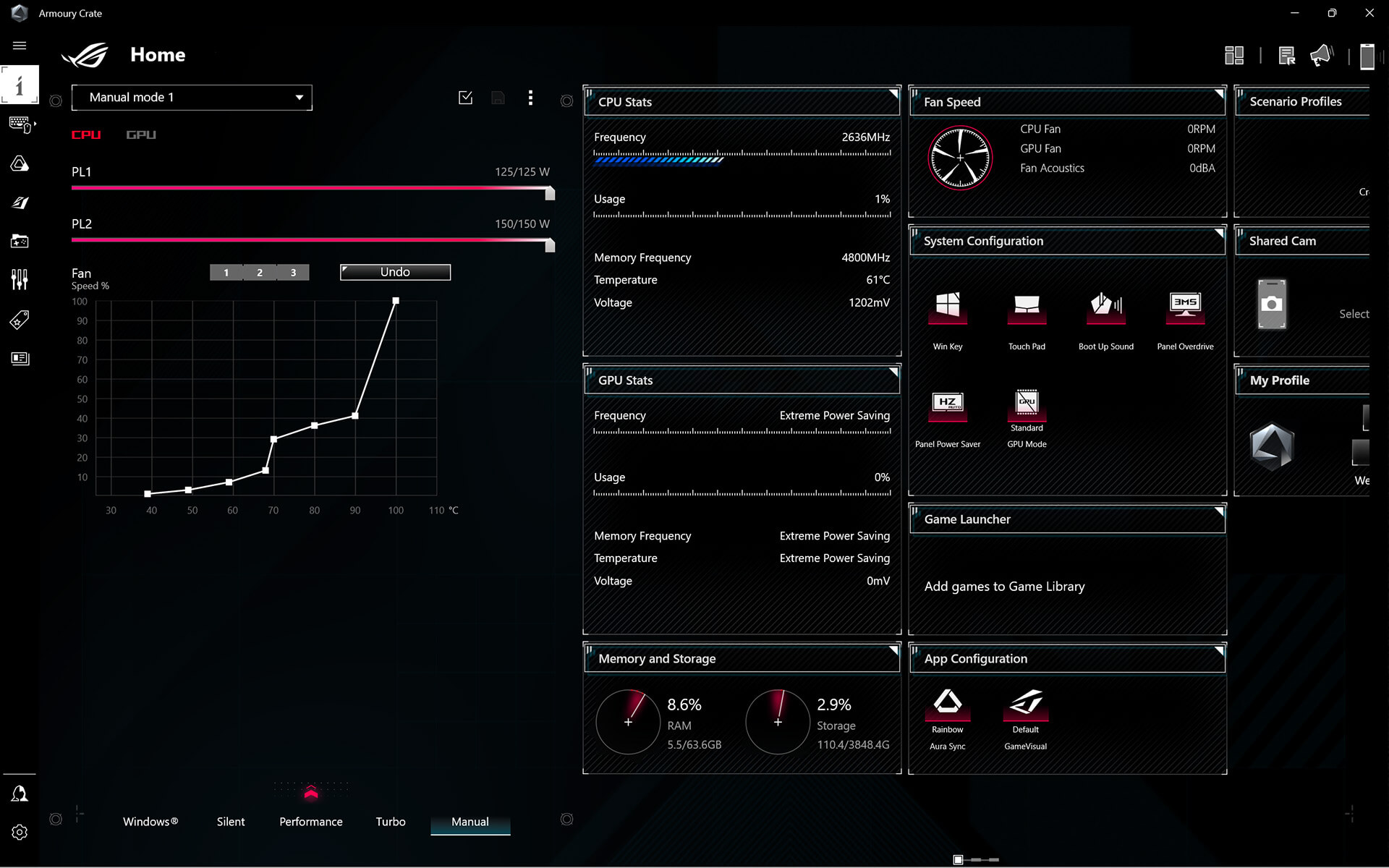 Taste Macro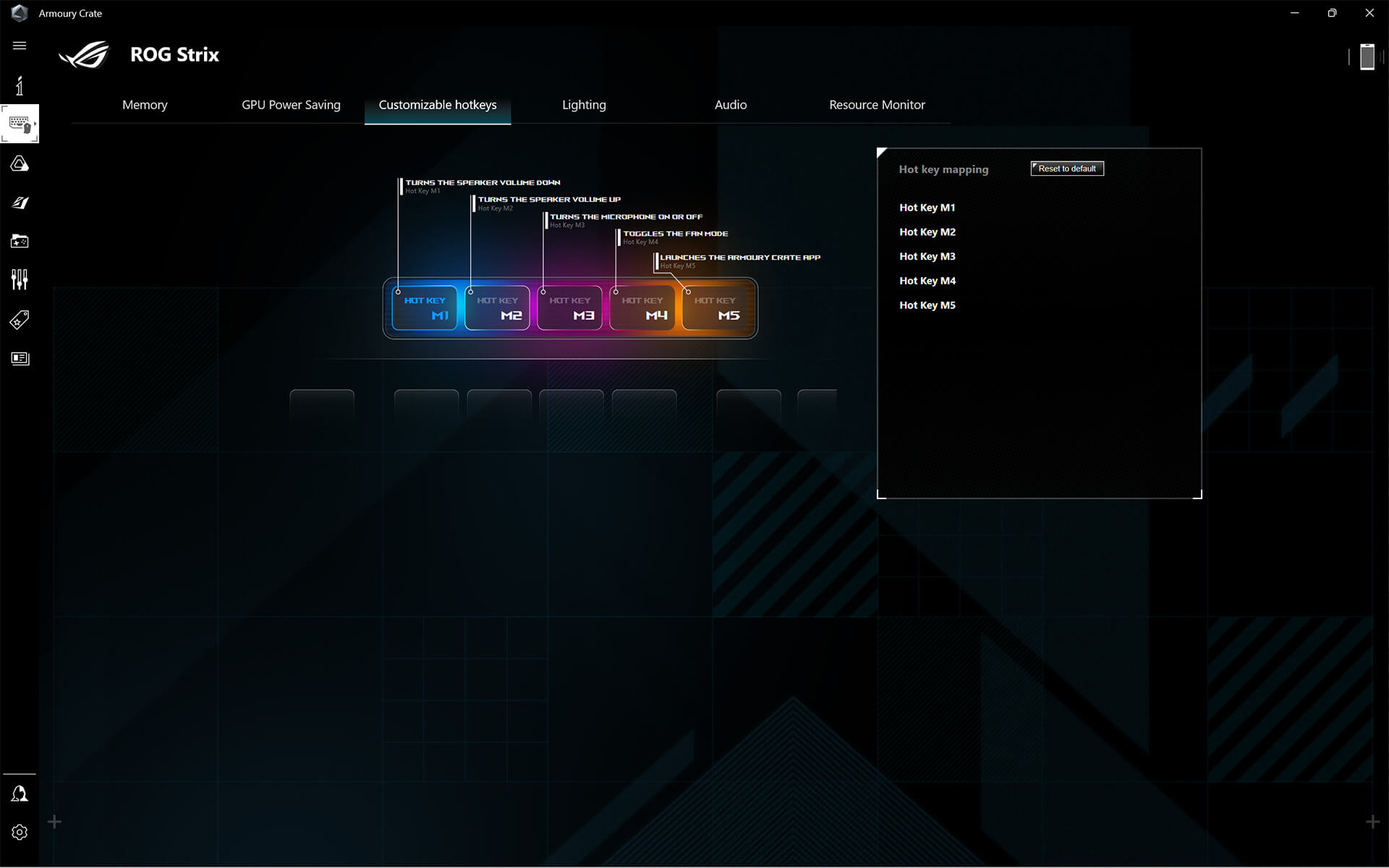 Vizualizare in jocuri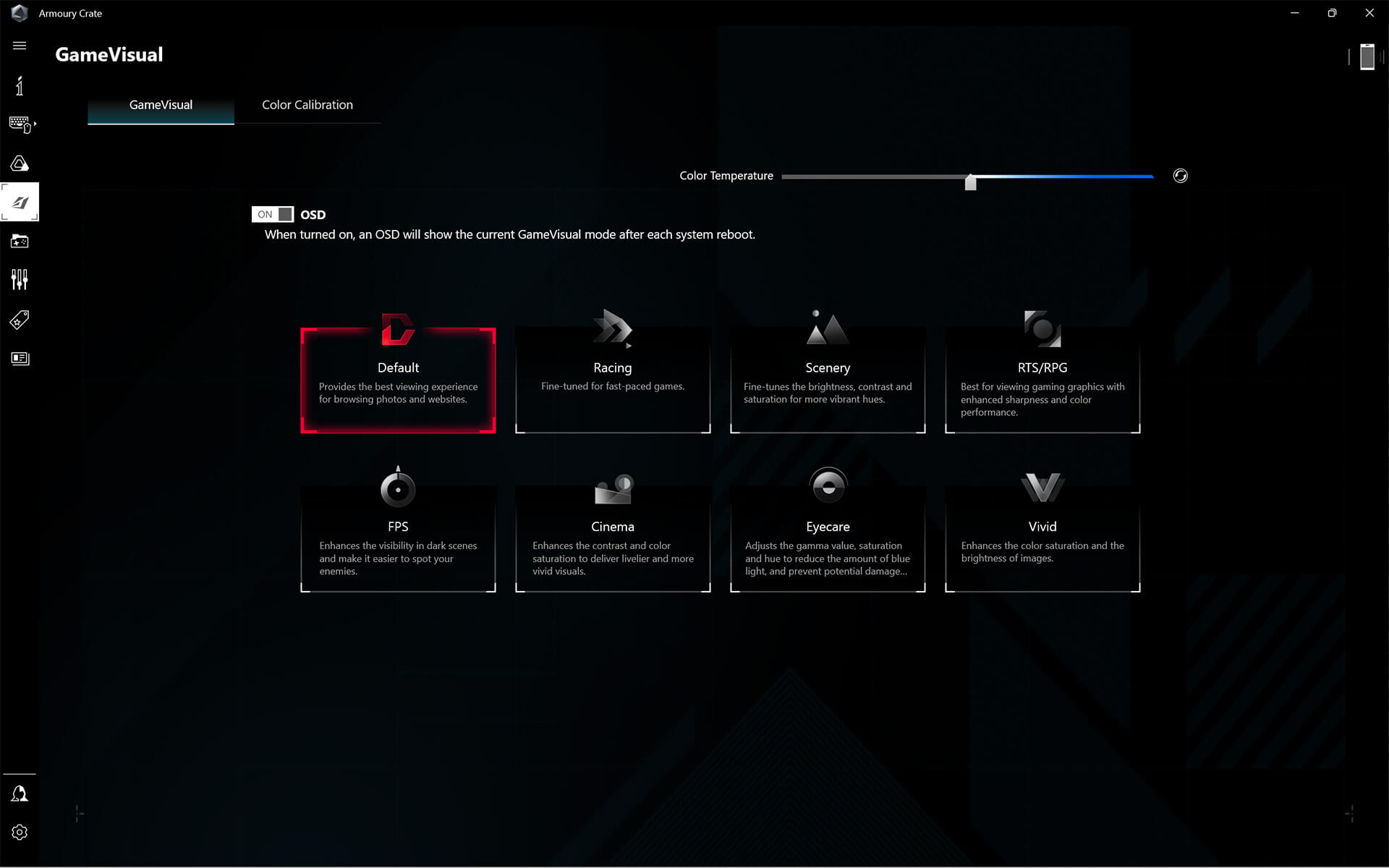 Aura Creator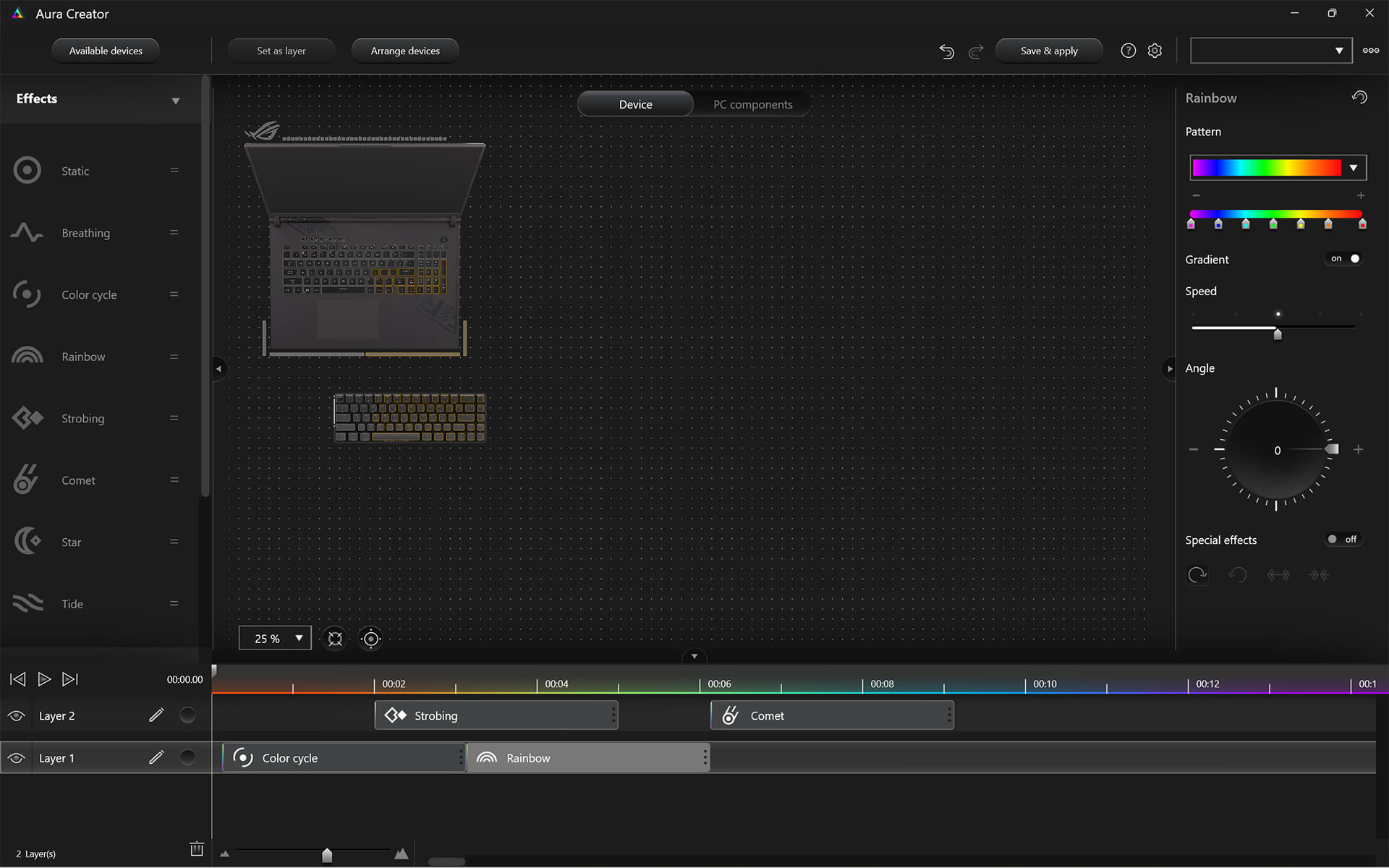 Aura Wallpaper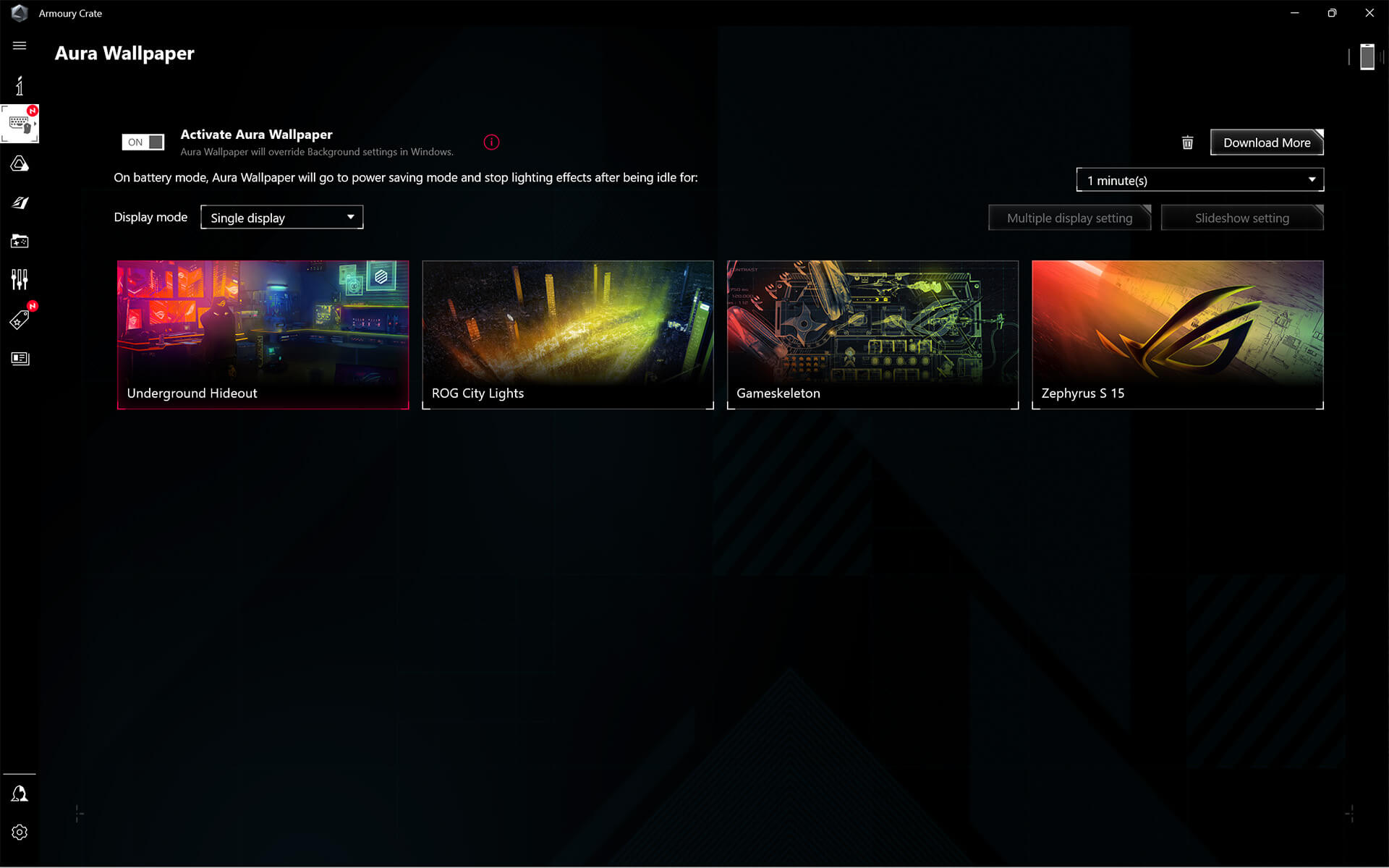 Profile de scenariu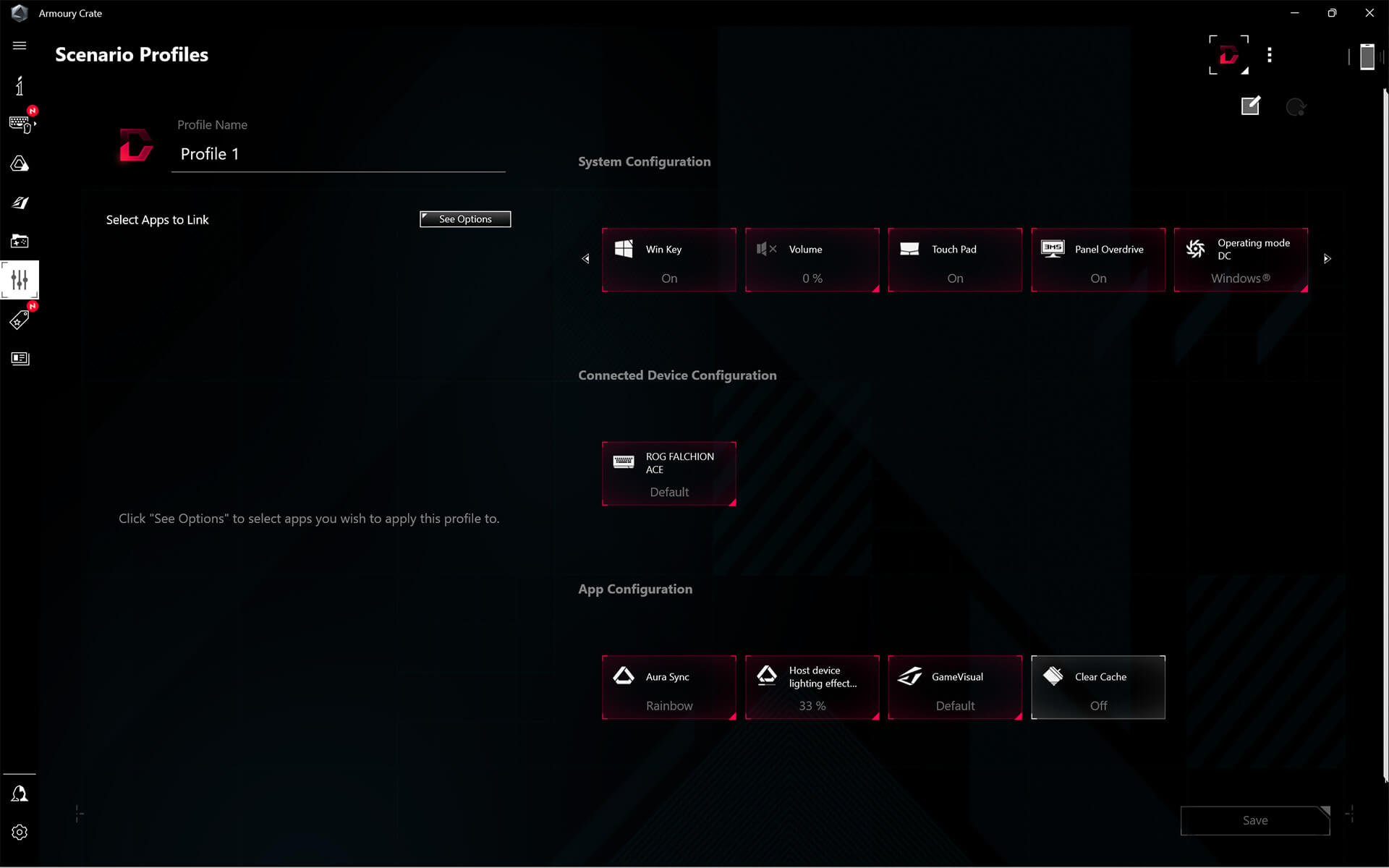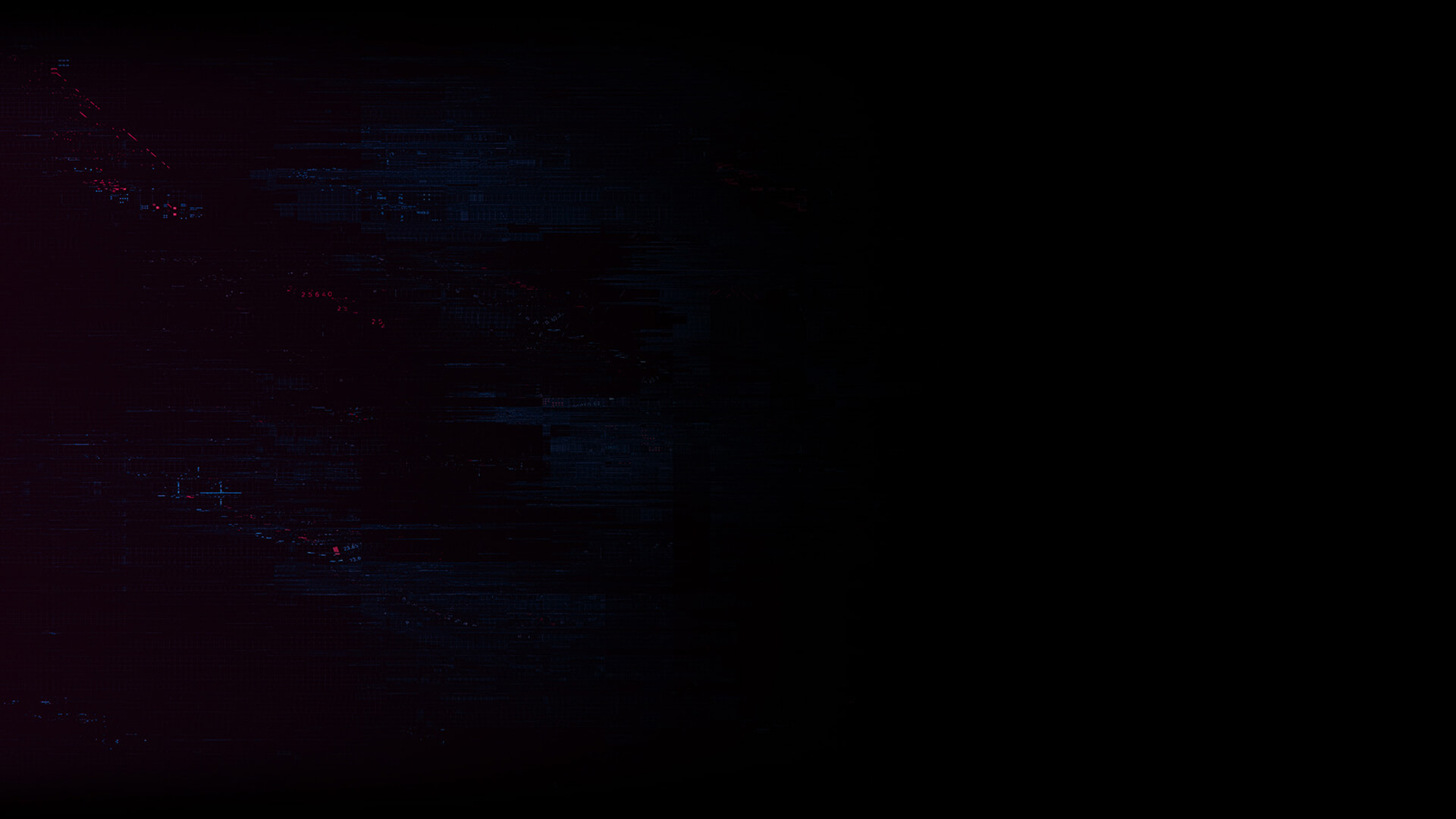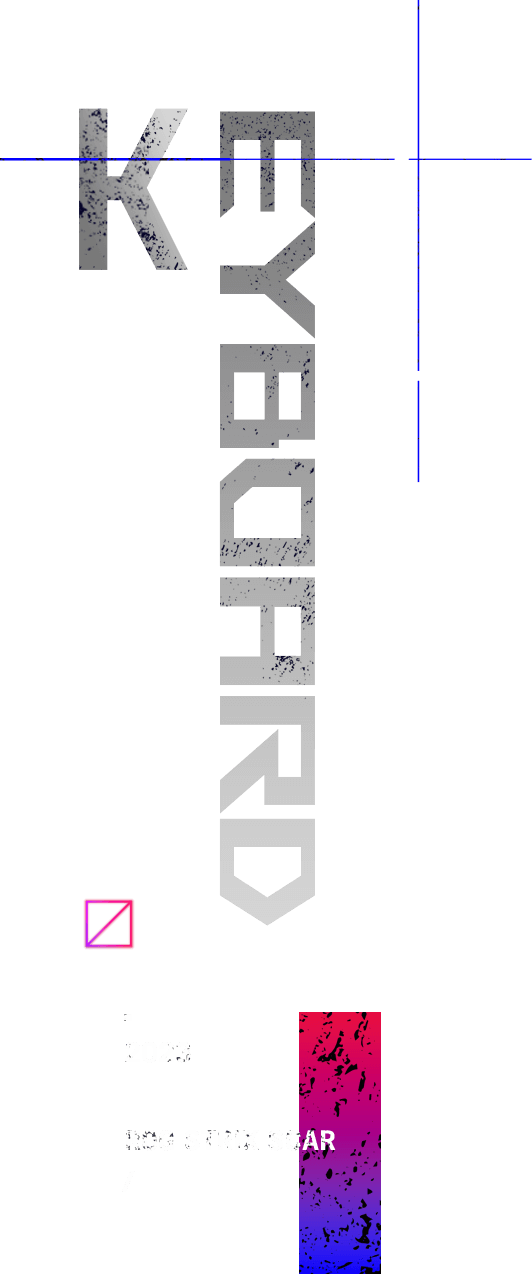 Diferenta dintre victorie si infrangere poate fi decisa printr-o singura apasare de tasta, asa ca SCAR 18 vine o tastatura profesionista, de nivel esports, conceputa pentru a asigura victoria. Construite pentru a rezista, comutatoarele de la tastatura lui Strix SCAR sunt evaluate pentru a rezista la peste 20 de milioane de apasari, iar apasarea multipla garanteaza ca sistemul dumneavoastra nu va pierde niciodata comanda, chiar daca apasati mai multe taste simultan. SCAR are o tastatura de dimensiune completa, cu controale media dedicate si taste rapide dedicate care sunt reglate pentru volum si comenzile Armory Crate in mod implicit, dar pot fi personalizate pentru diferite functii sau comenzi macro. Cu RGB-ul per tasta si o personalizare completa in Aura Sync, SCAR va avea intotdeauna aspectul optim si se va potrivi starii dumneavoastra.



RGB

Per-tasta




Tastatura

De marime intreaga




Scurtaturi

In Jocuri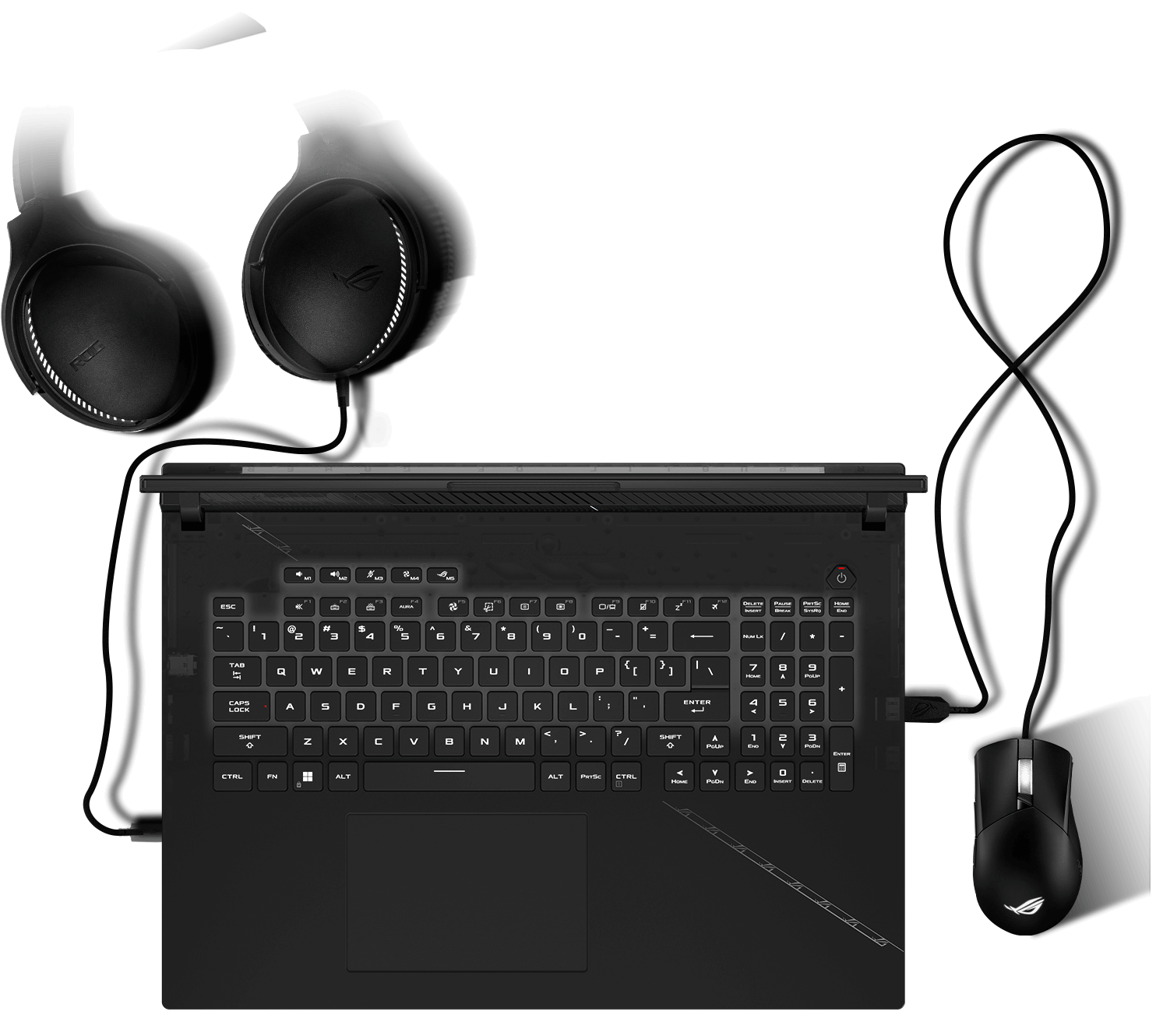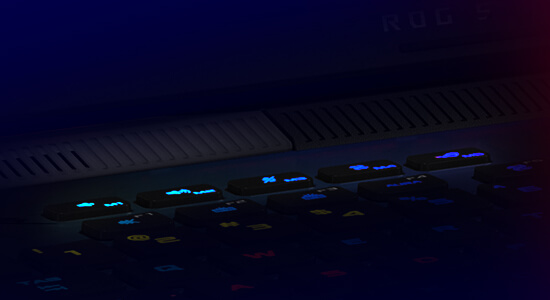 Taste rapide dedicate
Tastele rapide dedicate pentru jocuri se afla chiar deasupra partii stangi a tastaturii pentru acces rapid la comenzile de volum si dezactivare a microfonului, moduri de operare si Armory Crate. De asemenea, sunt complet personalizabile si pot fi programate pentru a lansa aplicatii, setate ca tasta functionala sau pot fi utilizate ca o comanda macro. Strix SCAR are toate instrumentele de care aveti nevoie pentru victorie.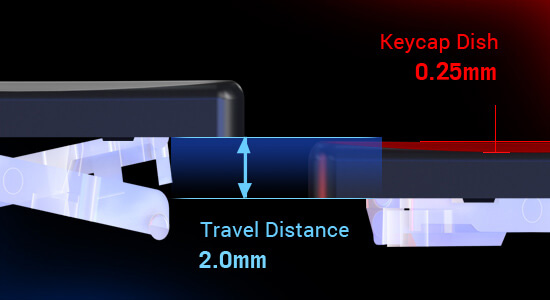 Tehnologia Overstroke
Tehnologia exclusiva ROG Overstroke inregistreaza apasarile de taste mai devreme in cursa de apasare a tastei, permitand o experienta mai receptiva pentru jocuri si pentru lucru profesional. Declansarea mai devreme inseamna comenzi mai rapide, fara efort, cu o precizie mai mare.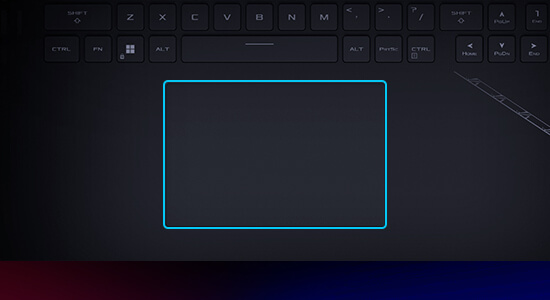 Touchpad marit
Imbunatatiti confortul si utilizarea de zi cu zi cu un touchpad cu 10% mai mare si nou pentru anul 2023. Touchpad-ul lui SCAR 18 vine si cu un strat de sticla pentru o senzatie mai premium. Mai mult spatiu inseamna o precizie mai mare, impreuna cu miscari si gesturi mai confortabile ale mainii in timp ce navigati.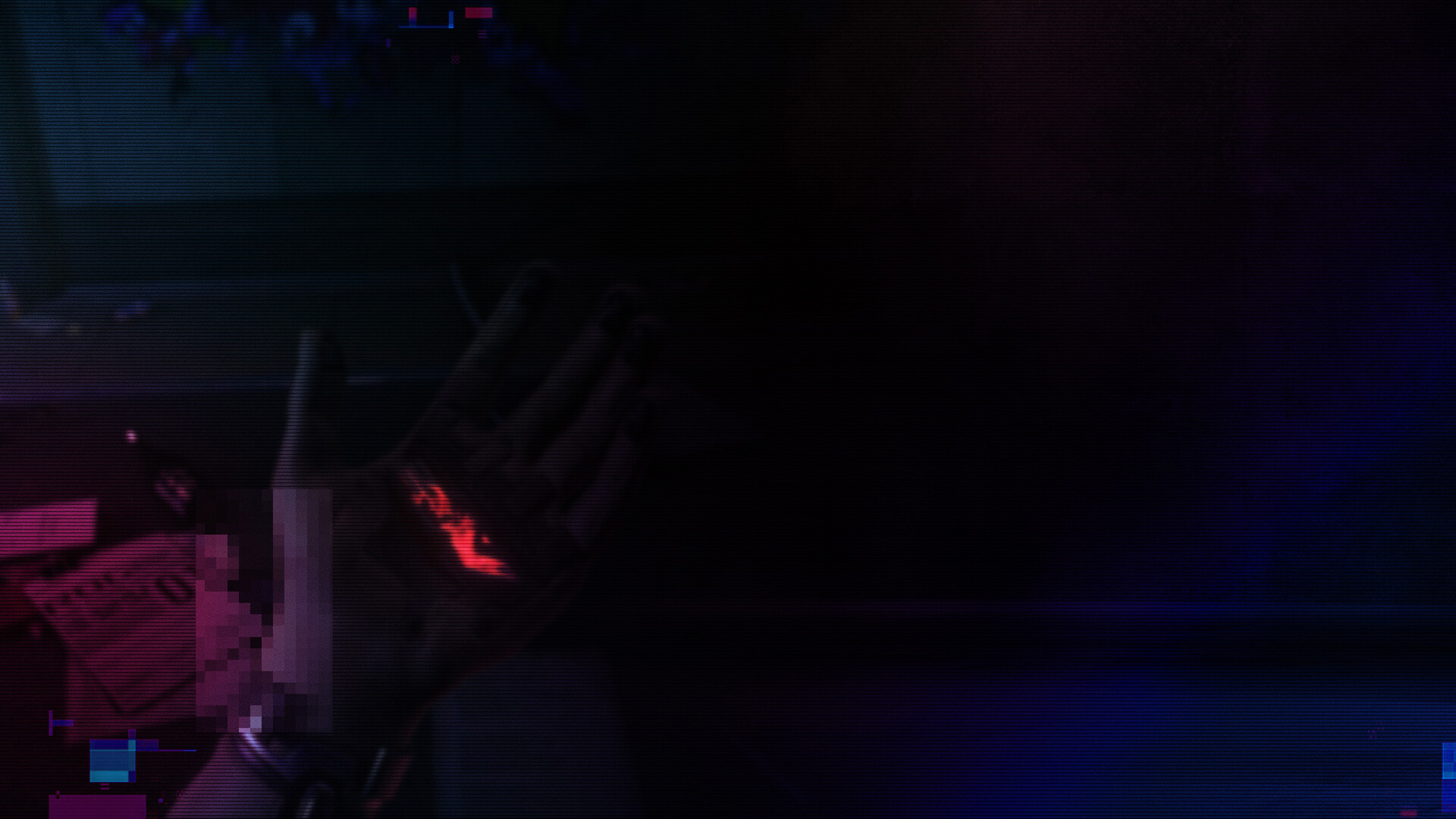 Strix SCAR 18 2023 continua sa intruchipeze stilul distinct ROG. Cu designul ascutit al sasiului, accentele RGB unice si o atmosfera distincta de joc, un laptop Strix va iesi mereu in evidenta din multime. Nou pentru 2022, Strix SCAR are un panou RGB luminos pe spate, care, impreuna cu iluminarea RGB per tasta de pe tastatura si bara luminoasa, fac din laptop un simbol al puterii de joc din orice unghi.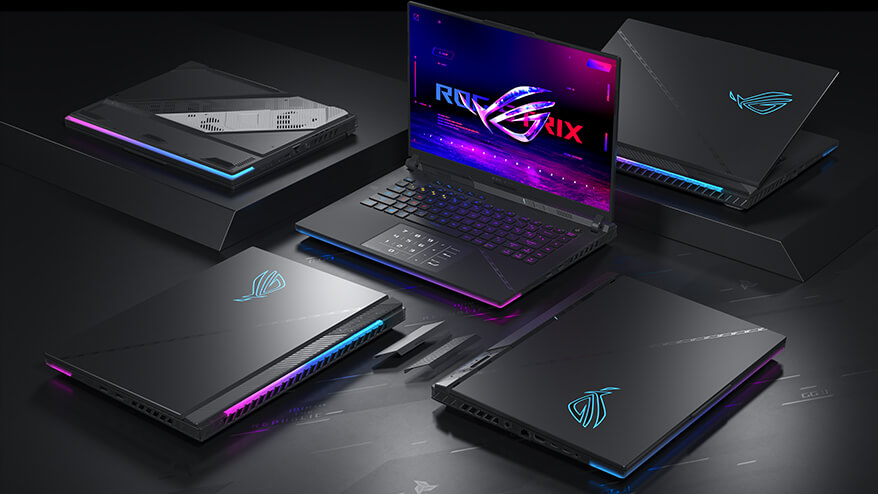 Priveste dincolo de voal

Continuand sa depaseasca limitele designului material, Strix SCAR 18 dispune de o tastatura unica ROG semi-translucida de cand a fost introdusa pentru prima data in 2020. SCAR va ofera o perspectiva asupra componentelor interne puternice care il fac o masinarie de gaming emblematica, in timp ce, din nou, este pionier in domeniul designului.

Poarta-ti armura

Capacele de armura personalizabile ale lui Strix SCAR 18 sunt unul dintre elementele sale de design. Securizate magnetic, aceste capace incluse va permit sa va asigurati ca SCAR 18 va reflecta personalitatea si ca vor rezista odata cu tine in timp. De asemenea, va puteti crea propriul dumneavoastra design unic 3D printed Armor Caps.

Stil pe muchie de laser

Strix SCAR 18 are nevoie de un sasiu care sa reflecte puterea sa imensa. Am introdus in 2022 un strat nou-nout anti-amprenta, lasand SCAR 18 sa arate mai intunecat si mai curat in orice moment. Folosind o lustruire cu laser de mare putere pe stratul de acoperire, logo-ul ROG iese in evidenta cu mandrie in contrast, asigurandu-se ca laptopul face o declaratie indrazneata oriunde s-ar afla.

Uimeste din orice unghi

Atentia la detalii diferentiaza acest laptop de concurenta. Filosofia noastra de design 360° pune elemente subtile, dar distinctive in fiecare parte a sistemului. Designul cu matrice de puncte aflat deasupra capacului se reduce pentru a intalni orificiile de ventilatie cu delimitari incrucisate de sub baza. Un maner expansiv din cauciuc tine laptopul ferm pe loc si il face mai usor de transportat. Elementele tipografice din jurul ornamentului aratand subtil mandria dumneavoastra fata de ROG.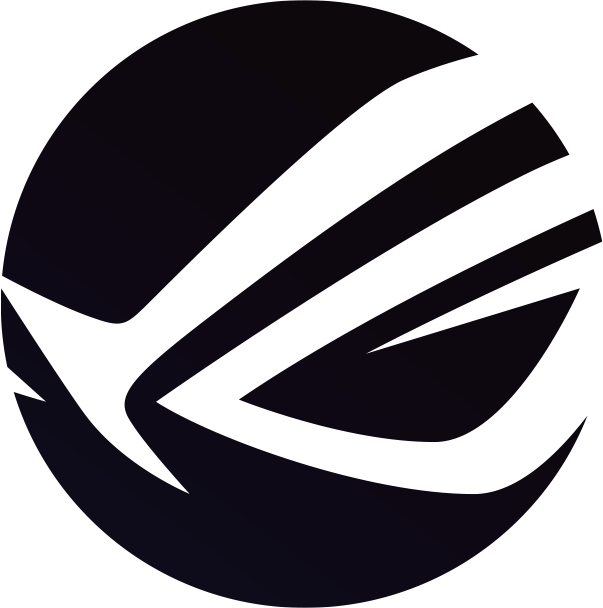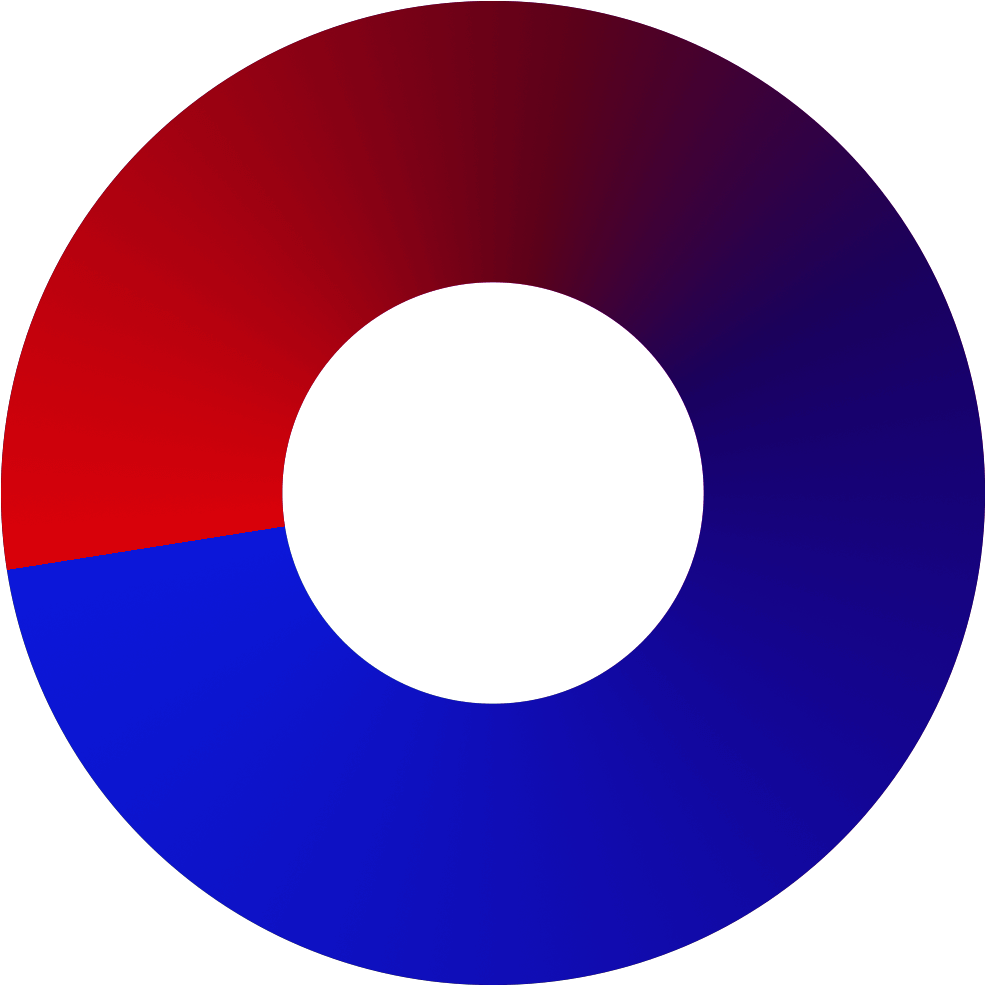 IMERSIV
IMERSIV
IMERSIV
IMERSIV
IMERSIV AUDIO
Sunet de calitate de studio
---
Difuzoarele cu putere Dolby Atmos includ doua tweetere si doua woofer-uri cu orientare in jos pentru a crea un sunet autentic in jocurile tale. Semnalul audio de inalta calitate va asigura ca veti auziti muzica la aceeasi calitate in care a fost inregistrata. Anularea zgomotului cu AI in doua directii proceseaza atat sunetul de intrare, cat si cel de iesire pentru a filtra orice zgomot de fundal neregulat, asigurandu-va ca apelurile, conversatiile si streamul dumneavoastra sunt transmise fara distragere.
4X

Difuzoare Smart Amp

5.1.2 Canale

Sunet Virtual Surround

Sistem

Anularea Zgomotului in doua sensuri cu AI
Anularea zgomotului cu AI in doua sensuri

Tehnologia noastra avansata de anulare a zgomotului in doua directii cu AI ruleaza pe procesor, ceea ce elibereaza GPU-ul pentru a atinge FPS-uri mai mari. Functioneaza cu orice dispozitiv de intrare si, de asemenea, cu conexiuni in aval, permitandu-va sa eliminati zgomotul nedorit atat de la propriul microfon, cat si de la semnalele de intrare. Setarile de anulare a zgomotului pot fi chiar personalizate in functie de program, filtrand aplicatii specifice, cum ar fi chatul vocal, fara a afecta sunetul jocului pe care il doriti neatins.

Boxe quad cu Dolby Atmos

Doua tweetere si doua woofer-uri alimentate de Smart Amp ofera un sunet mai bogat, cu volum de 2,8 ori mai mare, bas de 3 ori mai puternic si pana la de 3 ori gama dinamica a alternativelor. Aceasta configuratie cu patru difuzoare ofera un semnal surround captivant optimizat de tehnologia Dolby Atmos pentru a oferi un sunet echilibrat, multidimensional pe intregul spectru, fara a pierde claritatea sau detaliile.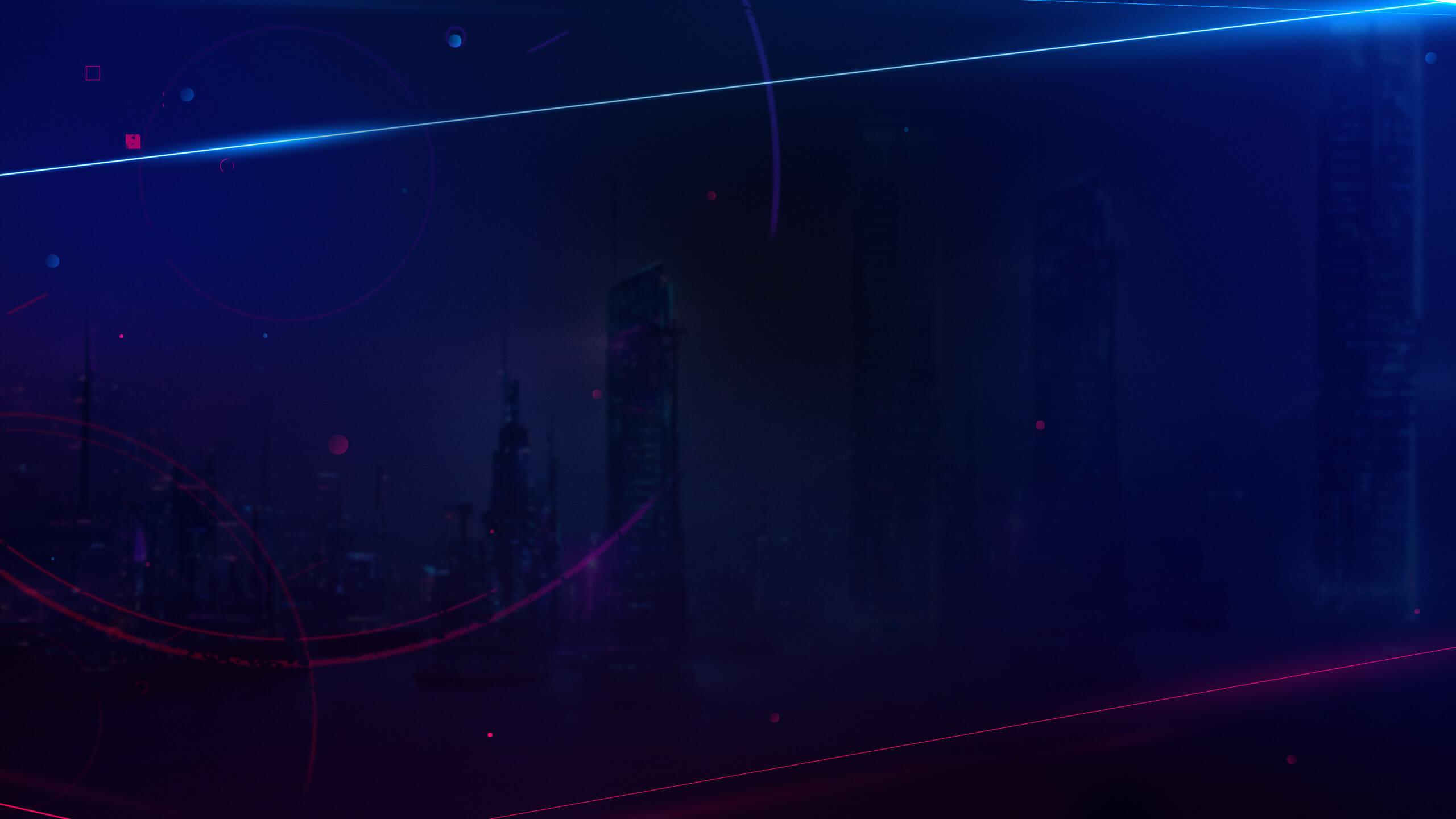 PERFORMANTA
Anduranta zilnica
---
Strix SCAR 18 este gata sa atinga limitele. Dispunand de o baterie de 90Wh, laptopul poate naviga cu usurinta pe internet ore in sir departe de priza, inainte de a avea nevoie de o reincarcare. Pentru flexibilitate in deplasare, incarcarea USB Type-C este acceptata pana la 100 W. Cand se incarca folosind adaptorul de alimentare de 330 W furnizat, SCAR 18 se poate reincarca de la zero la 50% in doar 30 de minute.



Baterie

90Wh

Incarcare Rapida

Type-C

CONECTIVITATE
Ramai Conectat
---
In jocurile multiplayer moderne, este imperativa o conexiune stabila la internet. Strix SCAR 18 este gata sa se alature luptei cu un port RJ45 dedicat, precum si cel mai recent standard wireless, Wi-Fi 6E. In retelele acceptate Wi-Fi 6E, bucurati-va de acces la cea mai noua banda wireless, fara interferente de la celelalte dispozitive wireless din casa dumneavoastra, asigurandu-va ca nu ramaneti niciodata in intarziere asteptand.
2.5G LAN

Conexiune rapida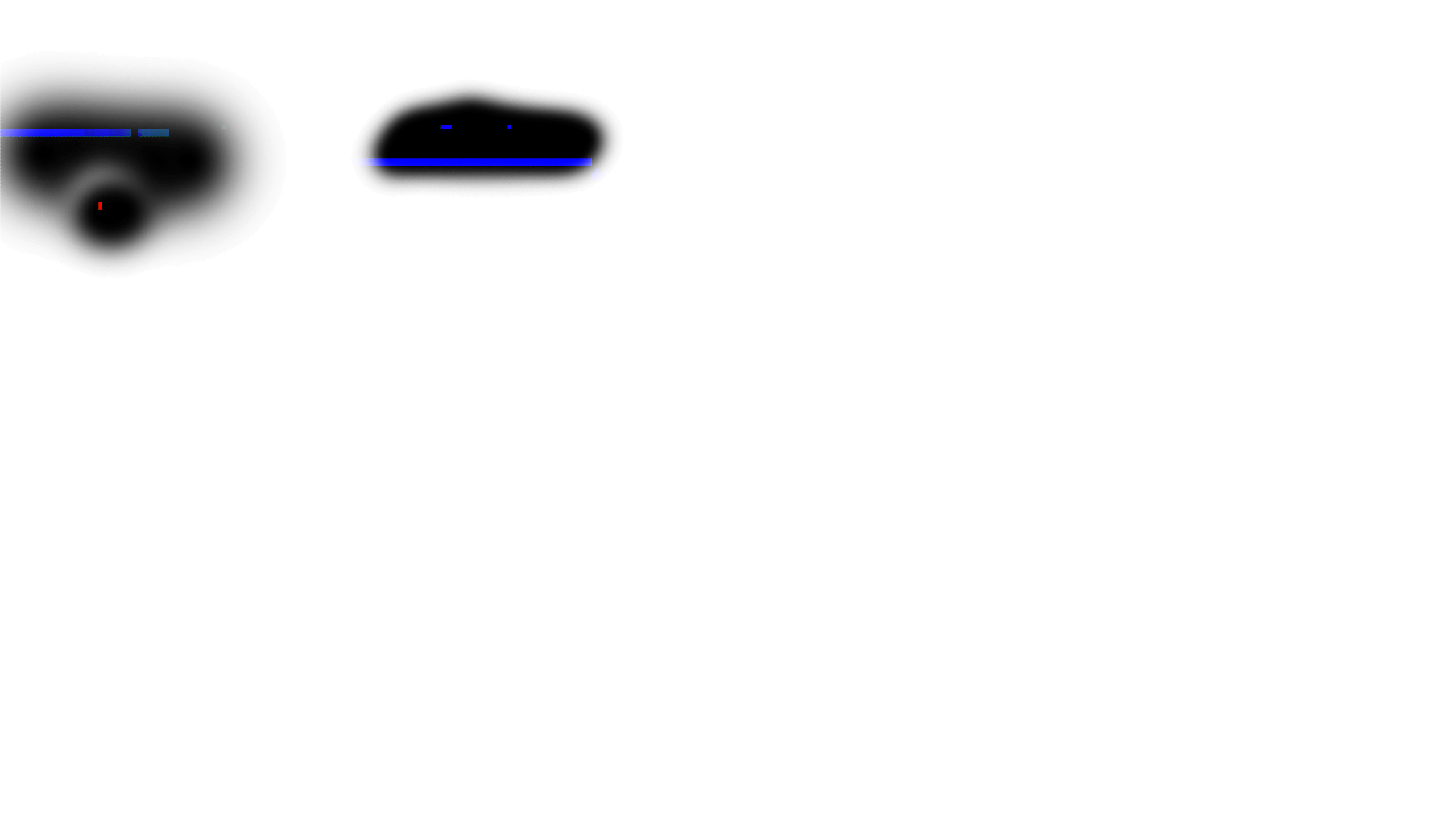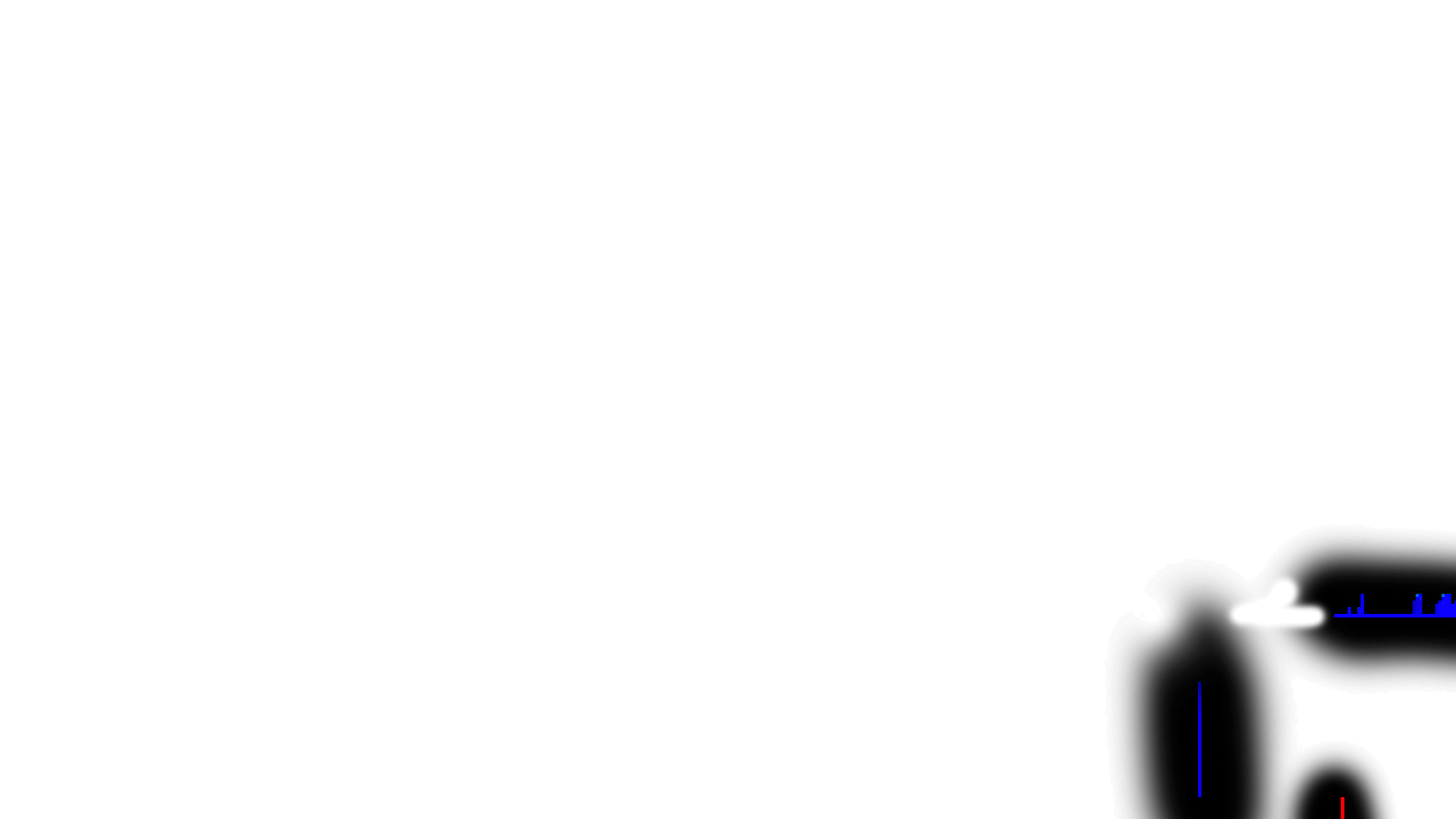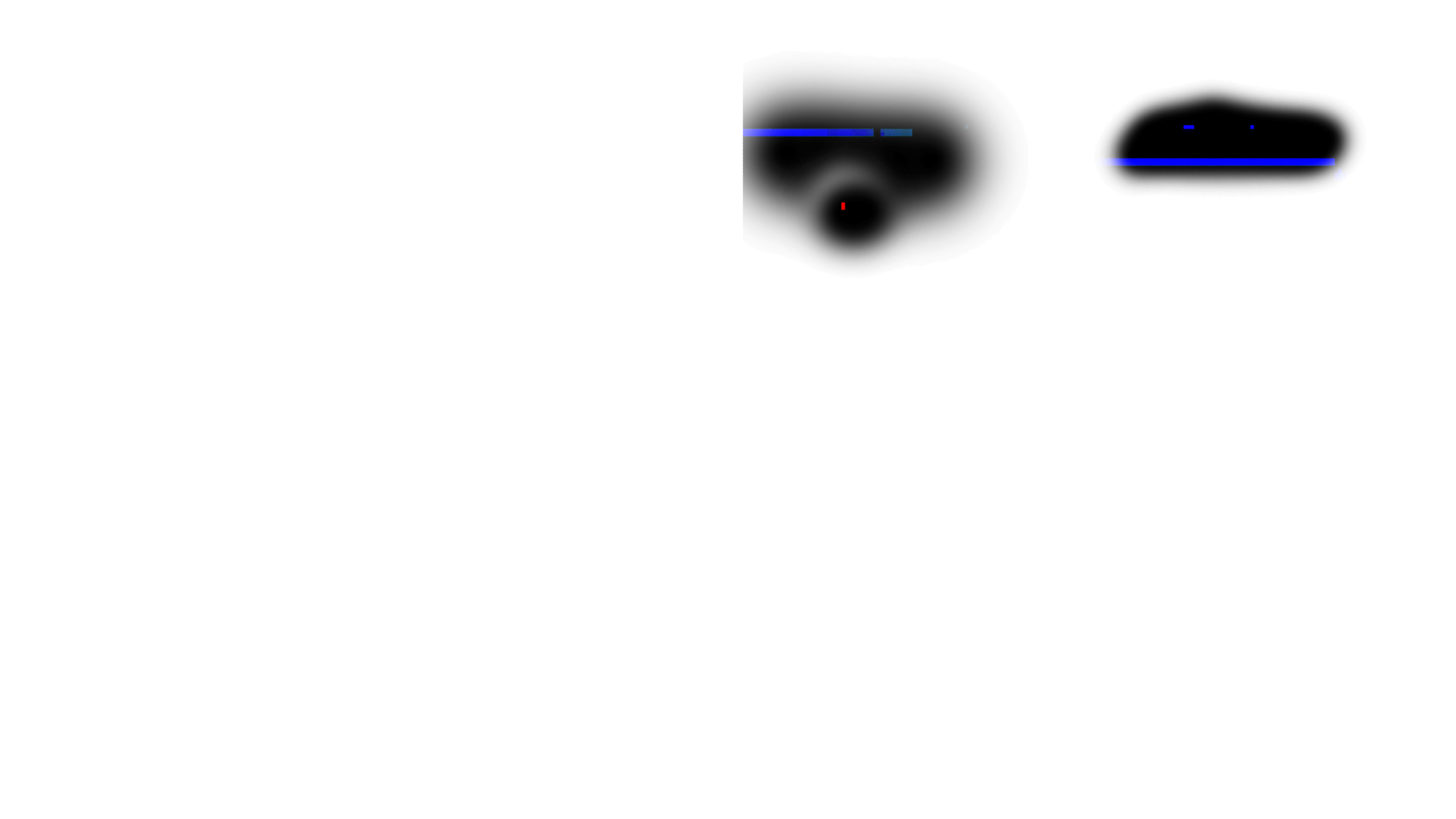 Power
2.5G LAN RJ-45 jack
HDMI (2.1)
USB3.2 Gen2 Type-C cu Thunderbolt™ 4(support DisplayPort)
USB3.2 Gen2 Type-C (suporta DisplayPort si incarcator PD)
Audio jack
USB 3.2 Gen2 Type-A
USB 3.2 Gen2 Type-A

PERFORMANTA
Gata de lupta
---
Cand trebuie sa va conectati la un ecran mai mare, GPU-ul dedicat alimenteaza un port HDMI 2.1 pentru cele mai recente televizoare si monitoare, crescand latimea de banda totala de la 18 la 48 Gbps si acceptand continut de pana la 4K la 120Hz si 8K la 60Hz. Doua porturi USB Type-C permit o conectivitate cuprinzatoare - unul pentru DisplayPort si alimentare, iar al doilea cu suport Thunderbolt 4.
Nu plecati de acasa fara accesoriile de gaming ROG. Pastrati la indemana precizia si controlul superior cu mouse-ul ROG Gladius III compatibil cu Aura Sync. Ridicati nivelul experientei audio cu castile comode si confortabile ROG Fusion II 300, perfecte pentru a va scufunda intr-un sunet bogat, de inalta fidelitate. Pentru a duce toate aceste echipamente la destinatie cu bine, asigurati-va ca aveti un rucsac ROG durabil.
*Perifericele pot varia in functie de regiune. Va rugam sa verificati cu furnizorii locali pentru oferte exacte.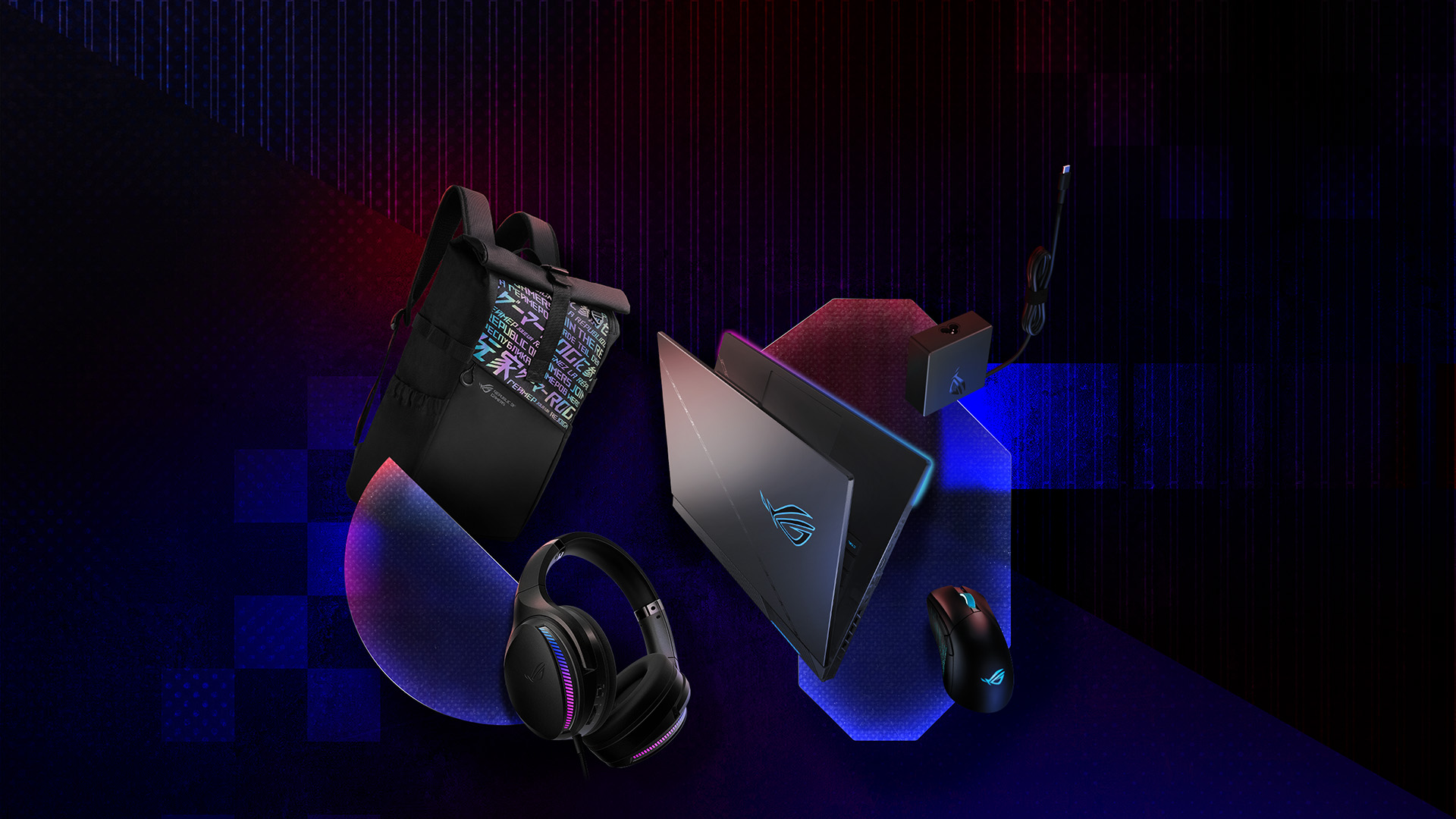 Xbox Game Pass
---
Descopera urmatorul tau joc preferat
Jucati peste 100 de jocuri de inalta calitate cu prietenii pe computer, consola, telefon sau tableta la un pret lunar redus.* Cu jocuri adaugate tot timpul, va exista intotdeauna ceva nou de jucat.
*Se aplica termeni si excluderi. Catalogul de jocuri variaza in timp, in functie de regiune si de dispozitiv. Vizitati
xbox.com/gamepass
and
https://www.ea.com/eaplay/terms
, pentru detalii. Xbox Cloud Gaming: se aplica limite de streaming. Necesita controler compatibil (vandut separat), dispozitiv compatibil si aplicatie Xbox Game Pass; vezi cerintele de sistem. Cerintele de sistem variaza in functie de joc; performantele se amplifica cu sisteme de ultima generatie. **Sigla EA si Battlefield sunt marci comerciale ale Electronic Arts Inc. © FIFA este un drept de autor si/sau marca comerciala a FIFA. Toate drepturile rezervate. Fabricat sub licenta de Electronic Arts Inc. STAR WARS © & TM 2019 Lucasfilm Ltd. Toate drepturile rezervate.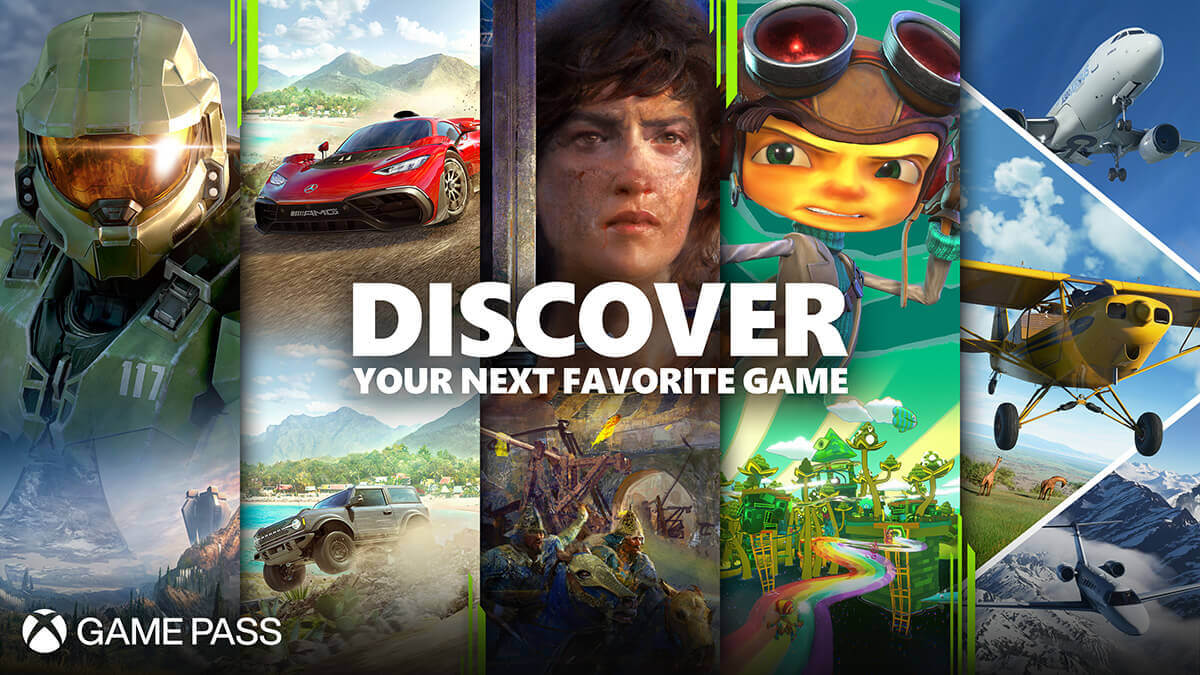 Recenzii Video
2023 ROG Strix SCAR 16/18 Product Video
This thing is one of the best laptops for sure at CES 2023! Probably top 3 laptops
This thing is one of the best laptops for sure at CES 2023! Probably top 3 laptops
SCAR 16 is an absolute beast somehow in this well it's not exactly small or thin or light, but for the amount of performance, it certainly is.
2023 ROG Strix SCAR 18 Review - This is NEXT-GEN! [RTX 4090]
ASUS have made their Scar gaming laptop bigger and better than ever this year with a new 18 inch version
A laptop that's faster than most gaming PC! We took a look at the Asus ROG Strix Scar 18, and see how it performs, and see what else does it offer!
ROG Strix SCAR 18 Benchmark Gaming
The all-new ROG Strix SCAR 18 is here. Featuring 13th gen Intel Core processor and NVIDIA RTX 40 series laptop graphics card, this powerful gaming laptop shall elevate your gaming experience unlike any gaming laptop.
If you're looking for a super high-performance laptop, then this new ROG Strix SCAR 18 is a good choice
The performance, the thermals, the looks, the design, all are combined to give you an ultimate experience
Review of ASUS ROG Strix SCAR 18 G834 with Core i9 and RTX 4090.
2023 ROG Strix Scar 16/18 최상의 경험, 토탈 게이밍 기어
ROG Strix SCAR 18 chính là phiên bản nâng cấp, lột xác một cách hoàn toàn của ROG Strix SCAR 17 SE
XEM KỸ LAPTOP HƠN TRĂM TRIỆU CÓ GÌ! - ASUS ROG Strix Scar 18: Intel Core i9 13980HX, RTX 4090
Đánh giá chiếc laptop MẠNH VÔ ĐỊCH THẾ GIỚI 2023: ASUS ROG Strix SCAR 18
Đánh giá Asus ROG Strix Scar 18 (2023): Intel 13th + RTX 4090. QUÁ KHỦNG KHIẾP!!
ASUS ROG STRIX SCAR 18 là mẫu laptop rất to lên đến 18 inch. Cấu hình KHỦNG NHẤT THẾ GIỚI hiện tại.
ASUS ROG STRIX SCAR 18 là chiếc laptop trang bị cực nhiều công nghệ khủng để hỗ trợ cho việc chơi game tốt nhất.
ới dòng laptop gaming mà còn xài màn hình 18 inch như thế này, rõ ràng ROG Strix SCAR 18 nằm ở phân khúc rất cao cấp và rất mạnh mẽ.
Một trong những con laptop mạnh mẽ nhất thế giới hiện nay sử dụng màn hình 18", CPU Intel Core i9-13980HX, GPU NVIDIA RTX 4090, RAM 64GB.
Laptop đầu tiên về Việt Nam trang bị thế hệ CPU Raptor Lake HX thế hệ 13 lẫn GPU Ada Lovelace RTX 40 series mới nhất.
It's too strong! For the ASUS ROG Strix SCAR 18 gaming notebook, the new 2023 model comes with the most extreme specification. Whether it's an Intel Core i9 Gen 13 CPU, an NVIDIA RTX 4090 graphics card, and a new design, arranging RGB lights to collect the machine, creating a magnificent palace. It can be said that it is the dream notebook of many people.
ROG Strix Scar 18 is considered the strongest gaming notebook at the moment. The screen is ROG Nebula. The new design device looks better. new cooling vents make heat dissipation better.
This is the most powerful notebook ROG has ever made. The screen is as good as the 18-inch Nebula Display, offering vibrant colors and a full range of connectivity ports. Very good cooling system
Gaming Notebook The flagship specification of the ASUS ROG brand, this model is STRIX SCAR 18 (G834), comes with the ultimate CPU - Intel Core i9-13980HX and GeForce RTX4090 graphics card, along with playing games that can be adjusted for many years. And the screen is big, vivid, 18 "high resolution and smooth, wide color gamut. Can be used for both gaming and semi-pro work .. But of course, this notebook is powerful and large. The weight has already surpassed 3Kg.
Summary for ROG Strix Scar 18 It is a strong gaming laptop. Considered the strongest gaming notebook on the market right now with a budget of over a hundred thousand baht, this one is the real end.
Responding to all applications, whether playing games or editing work In particular, editing saves quite a lot of work time.
The highlight is the speed and strength of the port quite complete. A little heavy Suitable for people who want a single device to finish all tasks.
The most powerful notebook But the weight is not suitable for portability. the price is quite high
It is a strong notebook with a big screen, but has to be exchanged with a heavy machine weight.
PURE INSANITY - RTX 4090 Gaming Laptops Are HERE! 😮 - Asus ROG Strix SCAR 18
2023 ROG Strix SCAR 16/18 - BEAT THE BEST. BREAK ALL LIMITS.
2023 ROG Nebula Display & ROG Nebula HDR - Fast. Bright. Vivid colors.
THE BIGGEST COMPETITION FOR YOU + ROG STRIX SCAR 18 is a BEAST!
Here, I present to you the Monster with ❗RTX4090❗ Rog Strix SCAR 18 😵
Scar 18 - Best Gaming Laptop of 2023 so Far?
A Monster Gaming Laptop... RTX 4090! - $3900 ROG Strix SCAR 18
New ASUS Gaming Laptops in 2023 are CRAZY!
I need to see inside... - Asus CES 2023
Beautiful and powerful unboxing!
The most powerful laptop on the market!
4K and 60 FPS in a laptop – is it real? | Review of the powerful ROG Strix SCAR 18 2023 laptop with i9 and RTX 4080.
ROG Strix SCAR 18 (2023) review. RTX 4090 for 180k hryvnias
Gaming laptop of the year! Although the year has just begun — ROG Strix SCAR 18
ROG STRIX SCAR 18 | RTX 4090, i9 13980HX, 18 inches
Some time ago we learned about the existence of the mobile RTX 4090 and now it has finally made it to the test in the SCAR 18 laptop from Asus together with the new Intel i9. Both are very interesting, but will it stand up to our assumptions?
We've never had a laptop like this before! The ASUS ROG Strix Scar 18 delivers a supercharged Intel i9 processor, Nvidia RTX 4090 graphics and two SSDs in RAID 0 - all powered by a 330W power supply! Of course, we tested the laptop, benchmarked it - and here are the results!
WHO THOUGHT THIS WAS A GOOD IDEA? He was right...
With the year 2023, new powerful laptops are coming to the market that claim the throne of the best you can buy. And so we're extremely happy that this year Asus has sent us their hot new Asus Strix Scar 18 to test out as well. It's equipped with a new 13th generation Intel processor and GeForce RTX 4090 graphics card, and if you're wondering just how powerful this machine is, you'll get your answer in our test.
You may own the best possible gaming laptop from last year. Maybe you own a PS5. Maybe you also own a solid newer gaming desktop.... I'll tell you right now that the ROG Strix 18, a laptop, is very likely far more powerful. ASUS has managed to masterfully curate the best and latest that Intel and NVIDIA have to offer, and the result is the most extreme I've ever seen.
Overview of ROG Nebula and ROG Nebula HDR displays
Video review from channel The ROCO
Video review from channel Di-Di
Video review from channel ALSER kz
Video review from channel QalamGO
Video review from channel ТЕХНОБЛОГ АЛИША
Video review from channel Nurchannel
Video review from channel stupidmadworld
the most powerful of all time: ROG Strix Scar 18
The beast of gaming ROG Strix Scar 18: First 18' laptop with RTX4090 in KSA
ASUS ROG Strix Scar 18 Powerful as a desktop
Video review from channel Texnoplov
성능 미쳤습니다!🤩 'CES 2023 ASUS 게이밍 노트북 총정리!'
Comparație Produse
Produsul adăugat tabelului comparativ. Adăugați pana la 4 produse sau vizualizați tabelul comparativ al produselor deja selectate.
VIZUALIZARE TABEL COMPARATIV
ASUS Footer