Introducing ROG certified products. Together, we're stronger!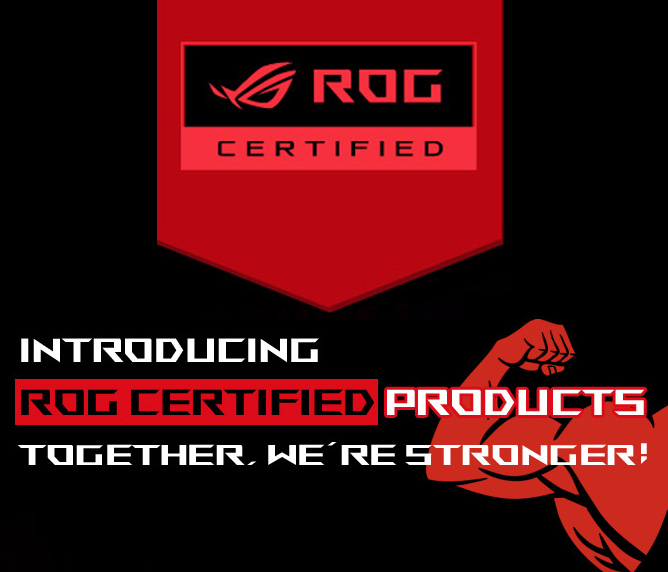 What?

ROG Certified Program encompasses third-party hardware such as chassis, memory and coolers. These components products have to undergo extensive testing and validation by ROG engineers, and only the very best succeed to become ROG Certified.

Why?

ROG demands that you have the best possible gaming experiences — always. So, we've been working closely with trusted partner companies to verify, test and certify products that work perfectly with ROG gear.

Who?

We've already partnered with many of the world's component-manufacturing superstars, including makers of memory modules, cases and cooling equipment — and more partners are being added all the time.

Where?

You'll find ROG Certified products through all your favorite outlets, be they online or real-world stores. ROG Certified product availability varies by region, and all purchase, warranty and service terms are specified by individual partner policies. Just look for your favorite manufacturers' goods — and then check to see if they've earned ROG Certified status!

How?

Email us your product proposal! If you would like your DIY component products to be ROG Certified or have any questions or ideas about ROG Certified program, please contact us at ROG_Certified@asus.com. ROG reserves the right to decide the eligibility of ROG Certified partners and products.

Our Partners
FAQ
1. How to identify ROG Certified products?

All ROG Certified products bear a clearly identifiable logo on both itself and the product packaging. The officially authorized ROG Certified logos are follows:

2. ROG Certified versus Aura Sync

Many ROG Certified products will also carry the Aura Sync logo, signifying complete readiness for Aura, the ASUS-exclusive RGB-lighting technology. Aura Sync is an assurance that a product has been tested for best compatibility with the onboard 4-pin RGB header(s) found on many ASUS/ROG motherboards, enabling the synchronized display of stunning illuminated effects. Where products are both ROG Certified and have been tested for ensured compatibility with Aura RGB lighting, both the ROG Certified and Aura Sync icons will be displayed.