Features
Tech Specs
Awards
Gallery
Köp
Support
Scenarier
Design
Prestanda
Cpu
Kylning
Skärm
Kontroll
Ljud
Bärbarhet
Anslutning
WiFi
Programvara
Paket
One Device. Infinite Play.
Att spela på en surfplatta har aldrig varit så här kraftfullt.
Retrofuturistisk design
Med en design som inspirerats av rymdkapplöpningen under 1900-talet har Flow Z13 många retrofuturistiska drag. Chassit är täckt med rymdskeppsinspirerade mönster, som ristats in i själva aluminiumlegeringen som har hög densitet. Efter att ha experimenterat med 39 olika processer, inklusive tio CNC-precisionssnitt och två anodiseringslager, valde vi legering 6063 som har en unik finish med en känsla av rymdens guldålder. Den förstklassiga anti-fingeravtrycksbeläggningen avvisar fingeravtryck och gör det enkelt att göra rent ytan.
Premium
Fingeravtrycksavvisande
170 graders justerbarhet
Ta med dig Z13 överallt. Det inbyggda stödet kan öppnas 170 grader, vilket säkerställer optimala betraktningsvinklar för dina favoritspel eller filmer, oavsett var du använder Z13.
En portal till kraft
Ett CNC-fräst fönster på chassits baksida gör att du kan ta en titt rakt in i maskinens moderkort, och ger även komponenterna mer frihet och utrymme än traditionella konstruktioner. Den här djärva nya designen ger en snygg RGB-belysning samtidigt som det gör att att chipkomponenter kan placeras på båda sidor av moderkortet, tack vare att större utrymme finns tillgängligt. Större komponenter än vanligt tillsammans med det dubbelsidiga moderkortet ger mycket högre prestanda än vanliga 13-tumsdatorer.
Surfplatta. Laptop. 2-i-1. Spela på ditt sätt.
Surfplatta. Laptop. 2-i-1. Spela på ditt sätt.
Precisionskontroll
Precisionskontroll
När det gäller vanlig mus- och tangentbordsinmatning är Z13 redo. En USB-A-port och trådlös anslutning gör att du smidigt kan ansluta din favoritmus. Skärmskyddet är också ett fullt fungerande tangentbord. Precision och exakthet för de spel som kräver det.
Känn vibrationerna
Känn vibrationerna
Z13 designades med robust stöd för handkontroller. Om den är PC-kompatibel kan du använda den med Z13. Med flera handkontroller kan du ta med dig dina spel när du är på språng med vännerna för lite klassisk action på delad skärm.
Pekkänslig
Pekkänslig
Med en 13-tums pekskärm stöds alla dina favoritspel för mobil och pekskärm. Njut av exakt och responsiv pekkontroll på den här otroligt kraftfulla surfplattan.
Smidig multitasking
Smidig multitasking
Flow Z13:s anslutningsmöjligheter gör den otroligt mångsidig. Känner du för att göra flera saker samtidigt med två externa skärmar? Låt de två USB Type-C-portarna göra jobbet åt dig. Du har till och med en USB Type-A-port för enheter med lägre bandbredd.
Ström i en anslutning
Ström i en anslutning
Även om Z13 är tillräckligt kraftfull för de flesta scenarier så har den ändå möjlighet att få lite extra styrka. Genom att ansluta en extern XG Mobile-GPU kan du utöka grafikkraften och portarna med en enda anslutning.
Obegränsade möjligheter
Obegränsade möjligheter
Med så här mycket kraft och bärbarhet är Flow Z13 en maskin som kan frodas i vilket scenario som helst. Den kan till exempel utnyttja sin kraft som är på nivå med en stationär dator – kombinerat med bärbarheten som surfplatta – och bli en drömstation för en mobil DJ. Anslut helt enkelt en DJ-kontrollenhet, som Pioneer DDJ-400, till det här bärbara monstret och bli showens stjärna. En enhet, obegränsade möjligheter
Surfplatta. Laptop. 2-i-1. Spela på ditt sätt.
prestandan
Kraft som trotsar sin klass
Njut av konsolkraft för spel när du är på språng. Med upp till en 14-kärnig Intel® Core™ i9-12900H CPU och upp till en GeForce RTX 3050 Ti Laptop-GPU i den här ultraportabla enheten i surfplatteformat kan du kombinera de bästa delarna av PC-spel med friheten att spela var som helst. Blixtrande snabbt 5200MHz LPDDR5-minne och upp till 1 TB PCIe® SSD-lagring gör Flow Z13 till den främsta surfplattan för att spela med Windows 11 Pro.
Upp till 14-kärnig
Intel® Core™ i9-12900H
De senaste
GeForce RTX™ 3050 Ti
cpu
Driv dina spel med upp till den senaste Intel® Core™ i9-12900H-processorn. Upp till 14 kärnor och 20 trådar är redo att hantera de senaste AAA-spelen.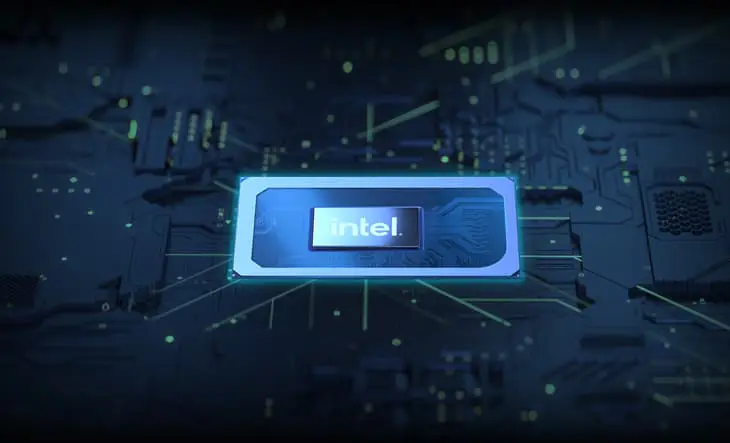 Kylning
Stolt hållning och djupa andetag
Trots att den har upp till en Core™ i9 CPU och upp till en RTX™ 3050 Ti GPU, gör Z13:s ultrakompakta form att den har mer kylutrymme än traditionella bärbara speldatorer. En surfplatta kräver inget gångjärn, så vi kan använda mycket större fläktar och en bredare ångkammare än man kan tro med Z13:s storlek. Och eftersom Z13:s värmealstrande komponenter står högt över skrivbordet när de används får de mer sval luft än vanliga bärbara datorer. Kombinationen med 0db-teknik gör att Z13 är helt tyst under lätt belastning, och förblir otroligt tyst även under full belastning.
Värmeavledande yta
50 % mer
Låt dig uppslukas av en ny värld.
Skärm
Vidga dina vyer
Flow Z13:s mångsidighet sträcker sig till ett urval av skärmar som skräddarsyr upplevelsen för seriöst spelande eller skapande. Välj 4K och fördjupa dig i Ultra HD-detaljer, eller välj Full HD med 120 Hz för superjämn spelgrafik. Båda kant-till-kant-skärmarna har ett högre bildförhållande på 16:10 med mer utrymme för verktygsfält och flikar. Pekkänsligheten och stödet för stylus balanserar den visuella upplevelsen med mer intuitiv inmatning för underhållning och kreativitet.
Kontroll
Oändlig mångsidighet
Flow Z13 designades med mångsidighet i åtanke. För en traditionell PC-spelupplevelse kan du ansluta din trådlösa favoritmus och använda vårt inbyggda tangentbord. Med n-key rollover, 1,7 mm slaglängd och enzons RGB med Aura Sync-stöd har tangentbordet samma uppsättning premiumfunktioner som våra andra bärbara ROG-datorer. För spel som stöds kan Z13 också smidigt ansluta med trådlösa handkontroller, för en helt ny form av ultraportabelt spelande. Parkoppla upp till fyra handkontroller för att ta med dig de bästa samarbetsspelen på delad skärm, vart du än ska. Oavsett hur du spelar kan Flow Z13 anpassa sig efter din stil.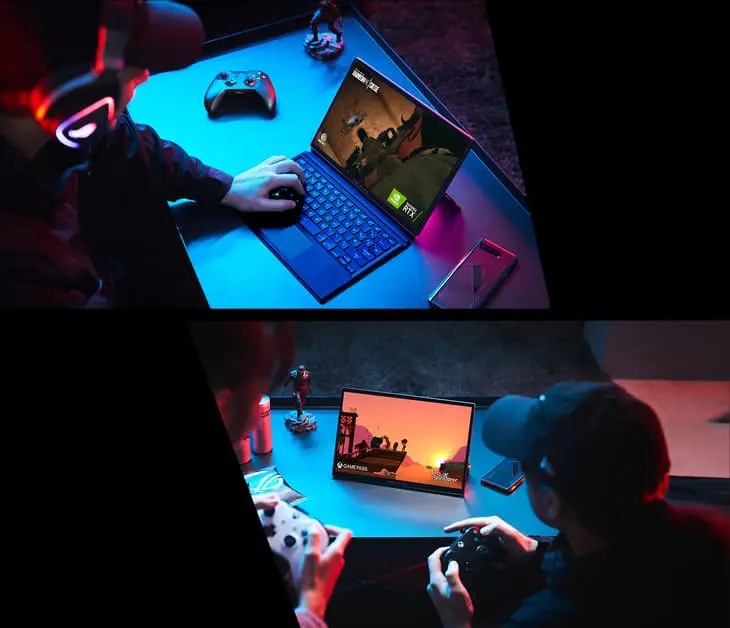 Ljud
Kristallklart ljud
Dubbla Smart Amp-högtalare med Hi-Res Audio och Dolby Atmos-stöd ger utmärkt stereoljud för ditt favoritinnehåll. För röstkommunikation garanterar tre mikrofoner med högt signal-till-brusförhållande och AI-brusreducering att kommunikationen är klar för både dig och dina lagkamrater, även i bullriga miljöer.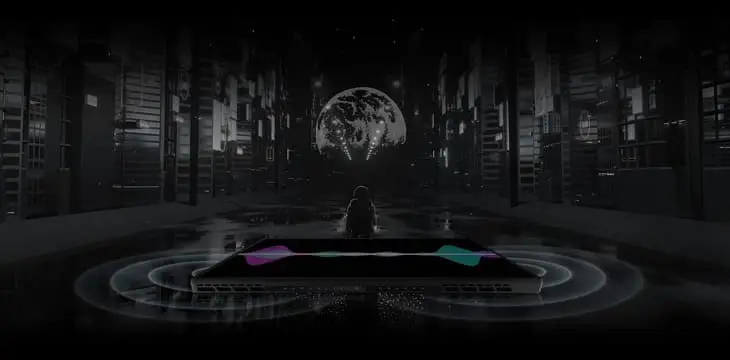 Bärbarhet
Batteri för hela dagen
Z13 är en riktig lättviktare och väger bara 1,1 kg och är 12 mm tunn. Det här extremt lätta chassit gör att Z13 är exceptionellt bärbar och passar även i små väskor. Den medföljande 100 W-adaptern väger bara 300 g, men trots sin smala storlek stöder den snabbladdningsteknik som kan ladda upp till 50 % av Z13:s batteri på bara 30 minuter.
50% på 30 minuter
Snabbladdning-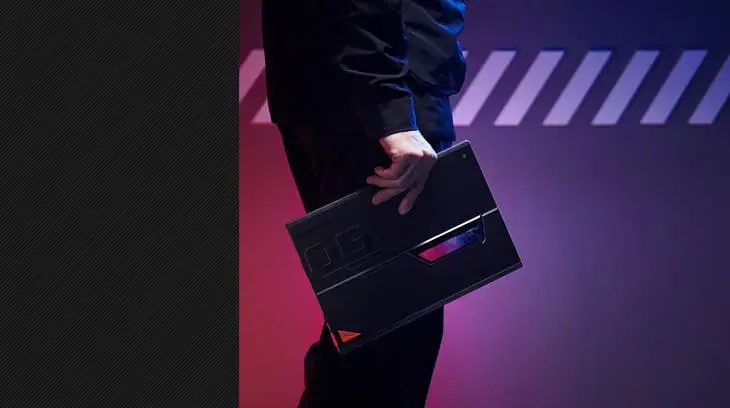 Anslutning
Robusta anslutningsmöjligheter
Glöm donglar: till skillnad från vissa andra tunna och lätta surfplattor är Flow Z13 full av anslutningsmöjligheter. Med en USB Type-A™-port och en särskild USB Type-C™ med stöd för Thunderbolt™ 4 har maskinen utmärkta alternativ även för externa enheter med höga hastigheter. När du är ansluten till XG Mobile är ytterligare portar tillgängliga, t.ex. DisplayPort™, HDMI och Ethernet. En microSD-kortplats är diskret gömd under maskinens stativ, för ytterligare lagring av spel och appar.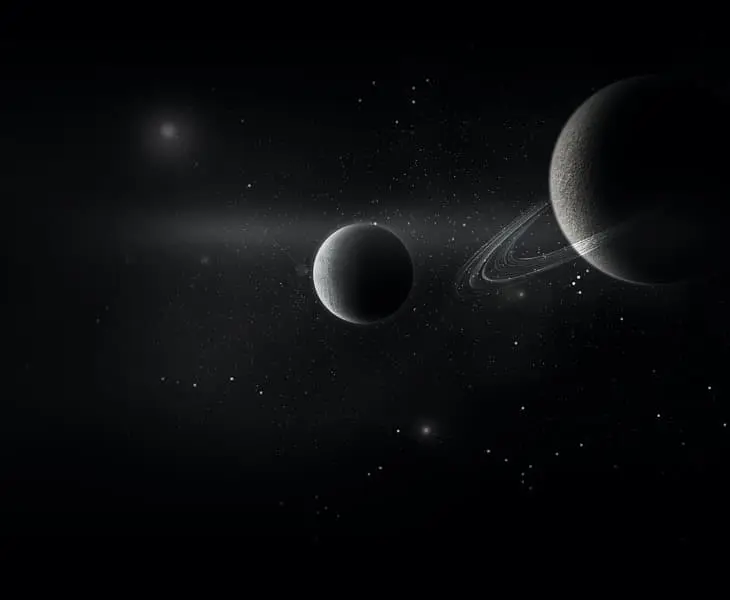 1

USB Type-C (stöd Thunderbolt 4, DisplayPort™ 1.4, Strömförsörjning ) *

2

Strömknapp med fingeravtryck

3

XG Mobile Interface (stöd DisplayPort™ 1.4, G-Sync och PD-laddning) **

4

Volymtangent

5

USB 2.0 Type-A

6

3,5 mm komboljuduttag

7

Micro SD-kortläsare

8

Tangentbordskontakt
Kamera + Wifi 6e
Se allt
Fånga livets händelser med dubbla kameror när du är på språng. Videochatta med vänner och familj med den främre kameran, eller ta bilder av världen med den bakåtvända kameran på 8 megapixlar. Stöd för den senaste WiFi 6E*-standarden säkerställer lägre fördröjning och bättre WiFi-anslutningar, även på nätverk med många anslutna enheter.
* WiFi-konfigurationen kan variera beroende på region.
Upp till
4X
nätverkskapaciteten för fler enheter
Upp till
3,5 X
fler 160 MHz-kanaler i 6 GHz-spektrum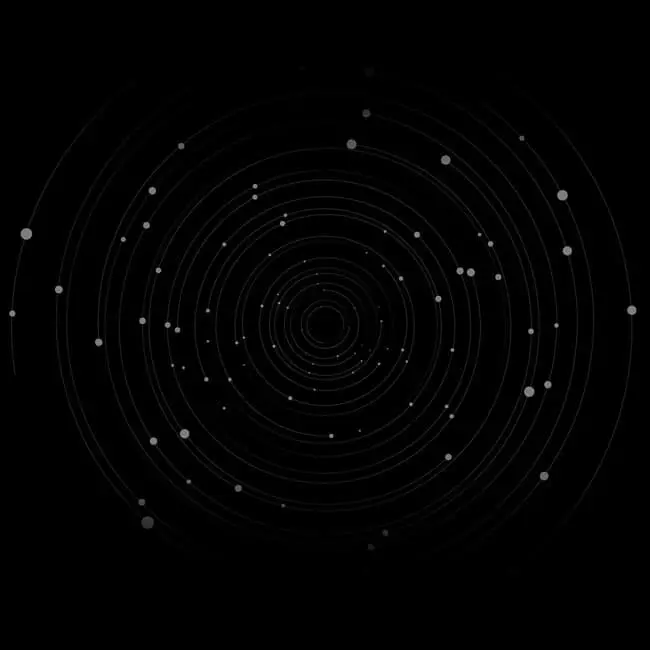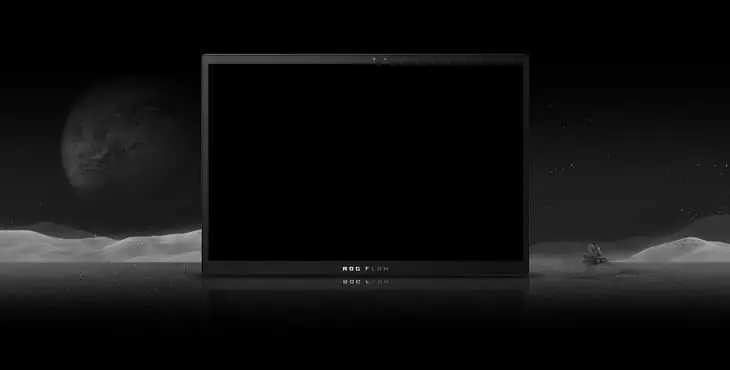 Programvara
Armoury Crate
Spelstil
Scenarioprofiler
Armoury Crate
ROG Armory Crate förenar system- och ljuskontroller så att du har viktiga inställningar nära till hands i ett enda verktyg. Du kan enkelt definiera och anpassa scenarioprofiler som automatiskt gör justeringar när du startar dina favorittitlar.
Spelstil
ROG GameVisual-programvaran erbjuder sex sakkunnigt inställda grafiska lägen som är utformade för att optimera din visuella upplevelse för specifika spelgenrer. First Person Shooter (FPS) -läge förbättrar till exempel synligheten i mörka miljöer, så att du får övertag på alla fiender som lurar i skuggorna. Använd GameVisual för att få den bästa upplevelsen för varje spel i ditt bibliotek.
Scenarioprofiler
Scenarioprofiler gör det enkelt att automatiskt växla mellan lägena Tyst, Prestanda och Turbo. Du kan också göra app-specifika inställningar för belysning, inaktivera Windows-tangenten eller pekplattan, och ställa in vilken GameFirst VI- och Sonic Studio III-profil som ska användas. Armoury Crate gör justeringar på ett ögonblick för att bäst passa uppgiften till hands, och du kan konfigurera dina profiler exakt hur du vill.
Upptäck ditt nästa favoritspel
Spela över 100 högkvalitativa spel med vänner på din PC, konsol, telefon eller surfplatta till en låg månadskostnad.* Det läggs till spel hela tiden, så det finns alltid något nytt att spela.
Paket
Skaffa ett paket
Gå inte hemifrån utan ROG-speltillbehör. Få överlägsen precision och kontroll med Aura Sync-kompatibla ROG Chakram Core eller ROG Strix Impact-möss. Förbättra din ljudupplevelse med det mjuka och bekväma ROG Delta-headsetet. Det passar utmärkt för att låta sig uppslukas i rikt, högkvalitativt ljud. Håll ditt batteri laddat med den smala och lätta ROG 100 W USB Type-C-adaptern. Se till att ta med en hållbar och vattentät ROG Ranger-ryggsäck så att du får med dig alla de här sakerna dit du ska.
* Medföljande kringutrustning kan variera beroende på region. Kontakta lokala leverantörer för specifika erbjudanden.
Video Reviews
The Ultimate Gaming Tablet PC? (ROG Flow Z13) + Gameplay [RTX 3050 Ti / RTX 3080]
2022 ROG Flow Z13 - One Device. Infinite Play. | ROG
OMG. This to me is the coolest gaming device that ASUS has put out in several years
This is so cool! I love the little window in the back
4K on a 13-inch display is a very tight pixel density, so that's gonna be a really nice viewing experience
Play Your Way - 2022 ROG Flow Z13 | ROG
Everything about the ROG Flow Z13 is unique, whilst keeping within the ROG design language
This is the most impressive tablet that I've come across.
It's probably one of the most impressive things to be whipped out on that stage, even for vegas
ASUS are taking portable gaming to the next level with their new Z13!
ROG Flow Z13 開箱與詳細評測 - 蘋果一直不敢出的產品,华硕盡然做了
Asus ROG Flow Z13 ialah sebuah peranti hybrid diantara laptop dan tablet. Korang boleh gunakan peranti ini dalam bentuk laptop ataupun tablet. Untuk spesifkasi ringkas peranti ini menggunakan kad grafik Nvidia RTX 3050, processor Intel i9-12900H dan datang terus dengan Windows 11.
Unboxing: ROG FLOW Z13 & XG Mobile
ROG Flow Z13 realizing the dream of owning a game console, laptop and tablet all at once
ASUS ROG Flow Z13: Unboxing The No-Nonsense Gaming Tablet
My one month experience with the ROG Flow Z13 in a novel storytelling point of view.
ROG FLOW Z13 has a retro futuristic design that uses spacecraft inspired machining and a full CNC-milled chassis design
ROG Flow Z13 开箱|性能小钢炮 + XG Mobile 火力全开,打起游戏来没有最爽 只有更爽
Who Asked for This? ROG Flow Z13 Windows Gaming Tablet
Definisi Baru Laptop Gaming, MINDBLOWN! Review Asus ROG Flow Z13 Intel Core i7 RTX3050
Want a Gaming laptop with high portability and top performance? Introducing ASUS ROG Flow Z13, X13 and X16 today, let's give you a summary of Flow series!
Want a machine that is equally capable of gaming and content creation? The ROG Flow Series is here to cater to your needs. Check out our video to find out the true potential of the ROG Flow Series
The laptop fits everyone. If you are a student or a creator, or if you want to use for work or watching movies, it is the best option.
So if you want to stand out with this device, & you want something powerful, then you should consider Flow Z13
The device is Pantone validated. If you want to use photoshop or use it for color-grading, then it has actual accuracy of the colors.
ASUS ROG Flow Z13 is easy to carry and can easily handle day to day work and casual usage.The gaming experience is amazing on the touch ASUS ROG Flow Z13
I really really like this laptop. What Flow Z13 can do is really fantastic. What happens when a brand is really passionate and driven by innovation? I think you can find the answer is the new ASUS ROG Flow Z13
ROG Flow Z13 looks like a tablet that can actually do it all
ASUS ROG Flow Z13, a team that breaks with everything pre-established both in design and functionality thanks to its adaptive modular design. ASUS has broken all our schemes achieving a team concept that combines in a single product the greater portability and power of larger teams, thanks to the implementation of a double graphics card, one internal and one external, and the tablet-type design of the team
It is a definitive all in one Portable and ambitious
Playing any game on the market at a certain quality is a joy. Using Lightroom or Photoshop is much better than I expected thanks to Alder Lake The performance is above the laptops on the market
Depending on the use and needs of each person, the ROG Flow Z13 can offer a very special gaming experience.
ASUS has not hesitated for a second to plant the seed of a revolution in the gaming notebook market.
Three very different teams, but at the same time very portable and light, to play wherever you want. Three super top teams
Comparison ASUS ROG Flow Z13, X13 and X16 with XG MOBILE
Review and experience using the best LAPTOP GAMING of this 2022
The ROG Gaming Tablet Unboxing!
The strongest gaming notebook PC with removable external GPU + keyboard has arrived [ROG Flow Z13]
The new ASUS gaming notebook PC with a new idea is too amazing ... [ROG Flow Z13]
[New generation gaming PC? ] A powerful gaming "tablet" PC equipped with the 12th generation Core i9 has been released, so let's use it.
니가 짱먹겠다 초슬림 고사양 게이밍노트북 ASUS ROG FLOW Z13 GZ301 2in1 국내최초리뷰
ASUS ROG Flow Z13 notebook + tablet, the most powerful gaming in the world right now!
The ROG Flow Z13 Gaming Tablet is insanely powerful at a price that isn't too powerful.
Tablet that is burdensome !! ASUS ROG Flow Z13 | Play games + work + editing
It is a tablet that is suitable for working people and still being gamers.
It is a tablet that can play games at a high level.
This is something that will change the way you think about playing the game to the next level. because nowadays it has computer equipment It's a gaming tablet.
It is ROG Flow Z13 designed with CPU Intel Core i9 Gen 12 like a good gaming notebook with a body weight of just less than 1.2kg.
It's the most powerful tablet in the world. It is like a gaming laptop it has. The CPU is powered by Intel Core i9 Gen 12 and this is the world's most powerful gaming tablet from ROG.
A battery to carry outside Average use is only 3 hours, which is a bit less. The SSD is a M.2 2230 type, if it's hard to find an upgrade And the speed of reading and writing data at the level of PCIe gen 3
THIS IS A REAL GAMING TABLET!
The real monster for gaming and with an impressive size for what you can give you... Unboxing a "gaming" with the best possible specs at this moment on the market, with the Asus signature.
We tested the ASUS ROG Flow X13, a device that is not quite a laptop, not quite a tablet, but it is the king of versatility!
The ROG Flow Z13 is a tablet that will put many laptops and some desktops in the pits. It's something really out of the ordinary.
The little cooling it has is enough for me to not have noticed thermal throttling and to have good, but good results on hardcore productivity.
A hybrid tablet? A laptop with a negative keyboard? This is the ROG Flow Z13!
THE BEST DEVICE OF THE YEAR!
i9-12900H + RTX 3050 Ti IN A TABLET!
Product Comparison
Product added to comparison. Add up to 4 products or proceed to view compare products selected.
ASUS Footer