Features
Tech Specs
Awards
Gallery
Köp
Support
&lt/Zephyrus G14&gt
Den här kraftfulla maskinen drivs av upp till AMD Ryzen™ 9-processorer och grafikkortet AMD Radeon™ RX 6800S för bärbara datorer med en MUX-omkopplare.
ROG Intelligent Cooling: En anpassad ångkammare och flytande metall ger kylning med 0 dB.
ROG Nebula Display™: bildformat på 16:10, QHD/120hz-panel, Pantone®-validering, 100% PCI-P3 och Dolby Vision® HDR.
Uppgraderad AniMe Matrix™ med mer levande animationer, samt nya funktioner och minispel.
Snabbladdning till upp till 50 % på 30 minuter, 100W USB Type-C laddning, och Wi-Fi 6E-stöd.
Fyra högtalare, 3D-mikrofoner för röstupptagning och Dolby Atmos®-stöd ger kristallklart ljud.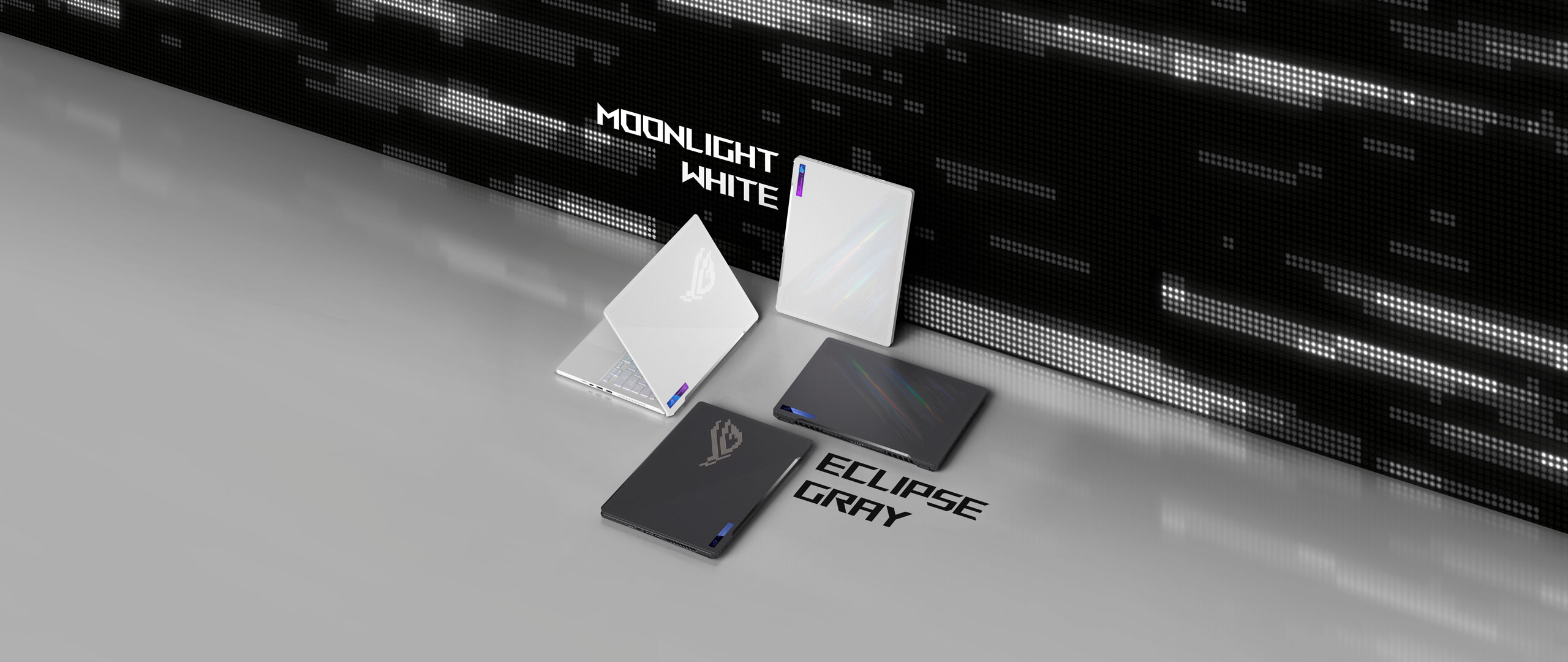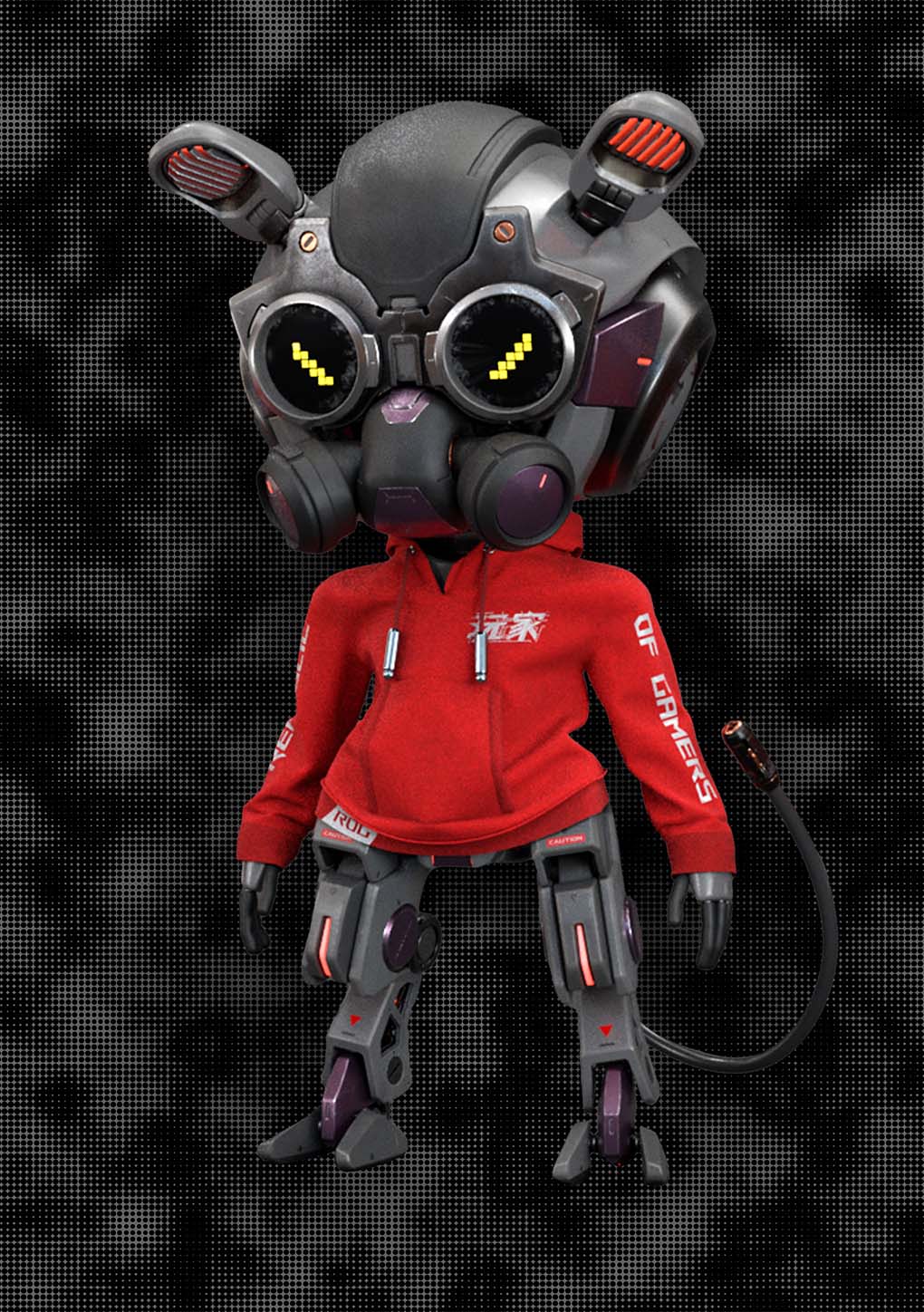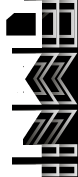 #AniMe Matrix
IN I MATRIX
Både AniMe Matrix™ och Virtual Pet OMNI har fått en uppgradering. Fler LED-lampor innebär fler animeringsmöjligheter, och OMNI är tillbaka med en mängd minispel, till exempel Slot Machine, Shoot'em Up och Whack-A-Mole. Spelen lyser också upp AniMe Matrix™ när du går gör framsteg, och höga poängresultat låser upp fler animationer till OMNI när han gör dig sällskap på skrivbordet.
ÄNDLÖSA ANPASSNINGAR
Gör Zephyrus G14 unik för dig med anpassningsbara animationsalternativ. Visa textmeddelanden eller systemaviseringar, ställ in matrisen så att den svarar i realtid på din ljudkälla, eller skapa en helt egen animation.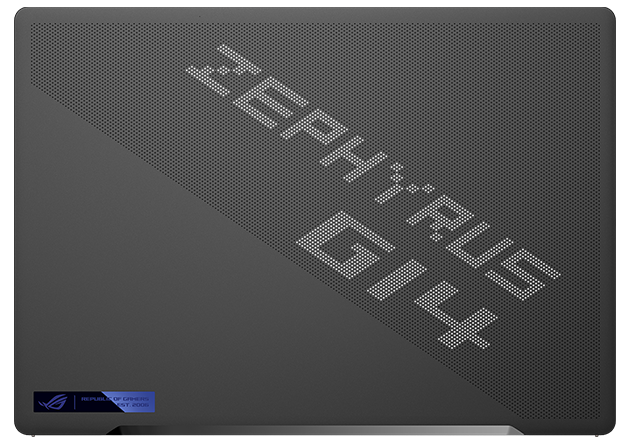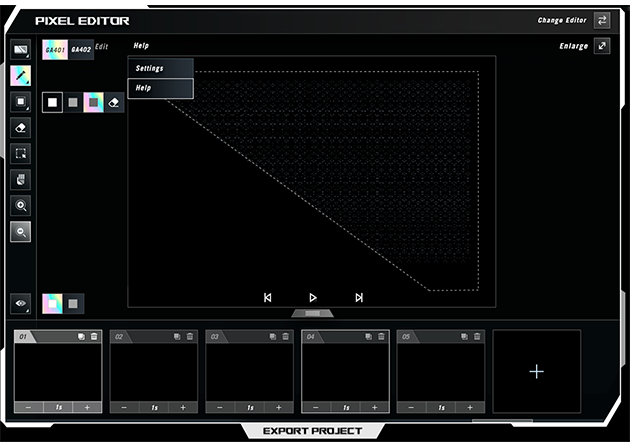 **Det krävs en PC för att spara anpassade animationer
#PRESTANDA
RENA AMD-MUSKLER
Nya 2022 Zephyrus G14 drivs av AMD och Windows 11. Med nya Ryzen™ 9-processorer och grafikkortet Radeon™ RX 6800S för bärbara datorer är det här rena AMD-kraftpaketet redo för allt det får hantera, oavsett om det är spel eller multitasking. G14 använder också AMD-tekniker som Smartshift och Smart Access Memory för att få en extra fördel. AMD Smartshift gör att CPU och GPU dynamiskt allokerar ström dit den behövs mest, och AMD Smart Access Memory ger CPU:n full tillgång till hela GPU:ns VRAM, vilket förbättrar prestandan i spel.
AMD
Radeon™ RX 6800S
-Grafik
5-10 % I SNITT
MUX-OMKOPPLARE
Prestandaökning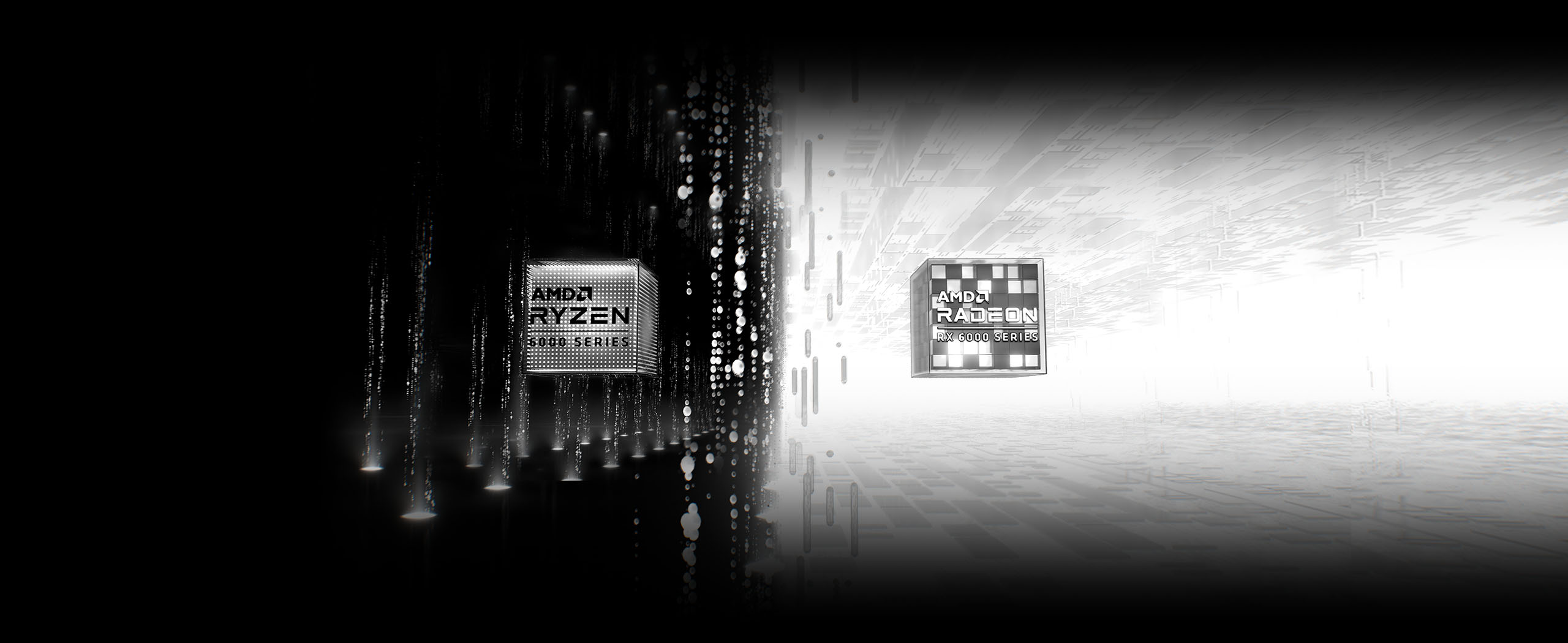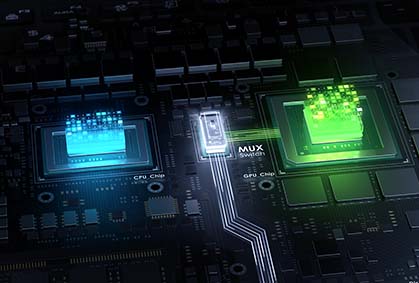 ROG MUX SWITCH
De flesta moderna bärbara speldatorer använder kraftfulla, dedikerade grafikchip för höga prestanda, men leder dem genom CPU:ns integrerade grafikenhet innan de når skärmen för att få bättre batteritid. Det hindrar din GPU från att leverera sin absolut bästa prestanda, så därför sätter vi en MUX-omkopplare i alla bärbara ROG-datorer som kommer 2022. För onlinespel kan du byta till ett direkt GPU-läge som minskar fördröjningen och ökar prestandan med i genomsnitt 5-10%.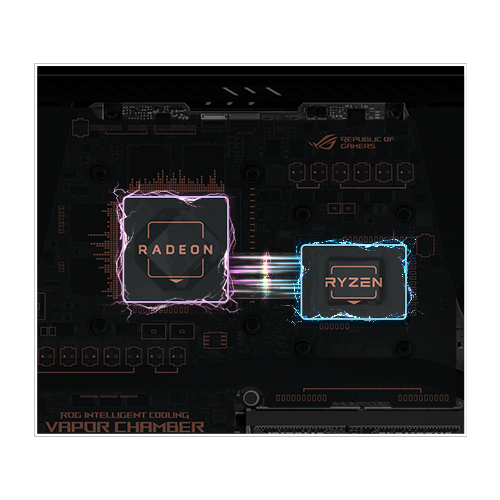 AMD SmartShift Max
AMD SmartShift-teknik gör att CPU:n och GPU:n kan kommunicera med varandra och allokera kraft dit det behövs, när det behövs. Med hjälp av maskininlärning kopplar SmartShift ihop CPU:n och GPU:n via Infinity Fabric så att båda komponenterna kan reagera snabbt på dynamiska arbetsbelastningar.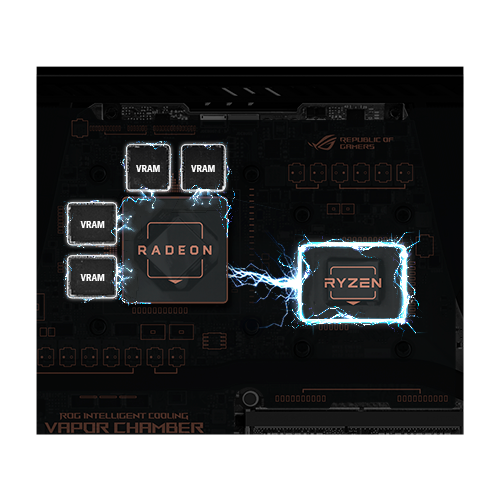 AMD Smart Access Memory
På traditionella Windows-datorer får CPU:n bara åtkomst till små delar av grafikminnet (VRAM:et) i taget. Tillsammans med AMD RX 6000-seriens grafikkort eliminerar Smart Access Memory den flaskhalsen genom att ge AMD Ryzen-processorerna full tillgång till VRAM:et för förbättrade prestanda.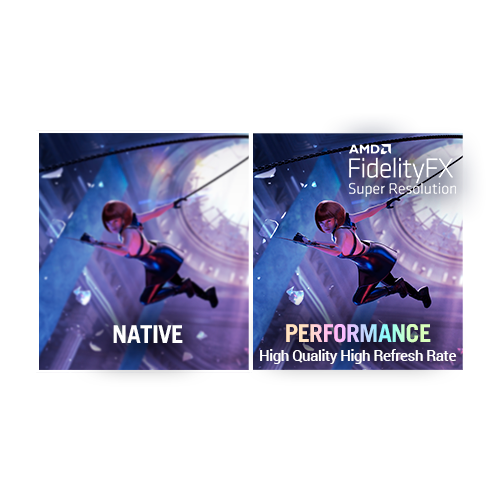 AMD FidelityFX™ Super Resolution
AMD FidelityFX™ Super Resolution (FSR) använder banbrytande uppskalningsteknik för att öka din bildhastighet i utvalda spel och leverera högkvalitativa, högupplösta spelupplevelser.

DDR5-bandbredd
Utnyttja den oöverträffade överföringshastigheten hos DDR5 för att få snabbare respons i spel och multitasking.

PCIe® Gen 4 SSD-lagring med hög hastighet
En PCIe SSD på 1 TB ger snabba uppstartstider, snabbare laddning i spel och generellt snabbare respons i hela operativsystemet.
pause
#TERMISKT
TA DET LUGNT

Kraftfull hårdvara kräver rejäl kylning, särskilt i ett kompakt chassi. Zephyrus G14 har en ångkammare för CPU:n och GPU:n, samt kylning med flytande metall för ultraeffektiv värmeöverföring för de komponenter som blir varmast. I tyst läge och under lätt belastning gör 0 dB-tekniken att fläktarna inaktiveras automatiskt, vilket ger en helt tyst upplevelse.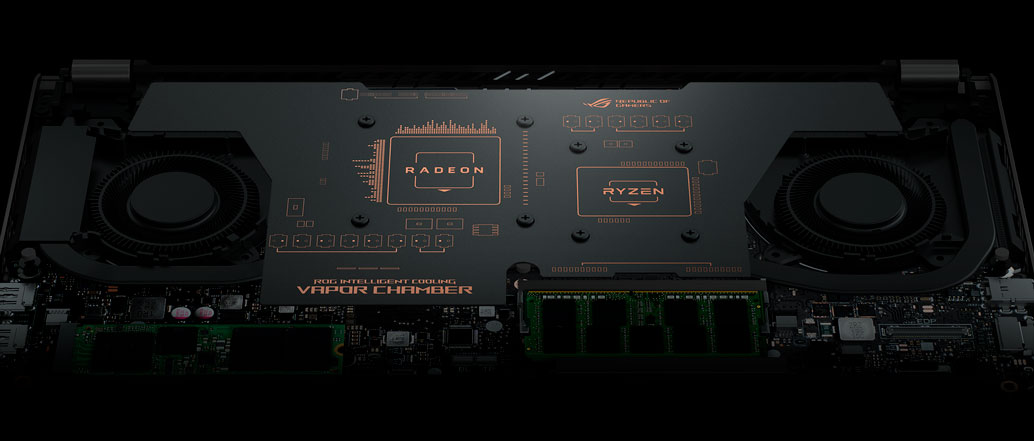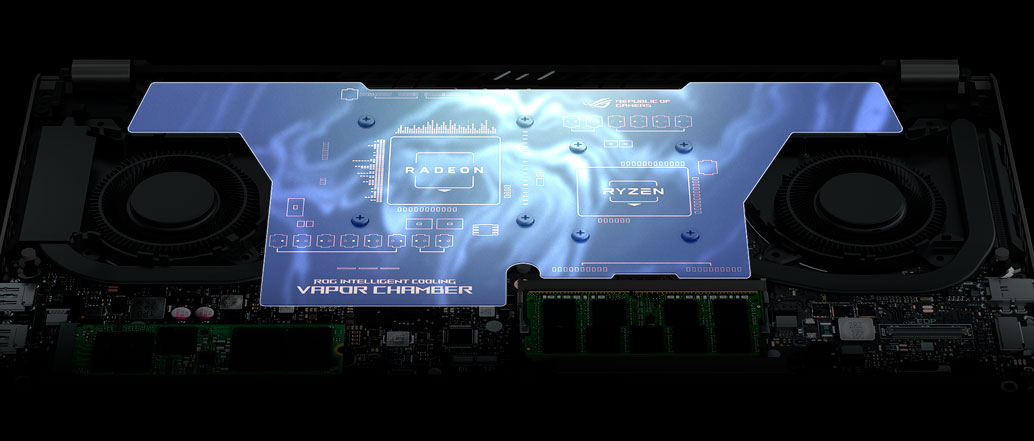 Ångkammaren

avleder värme snabbare

I motsats till vanliga kylrör som bara överför värme utmed sin axel så sprider ångkammare ut värmen över hela sin yta, vilket ger ett bredare område med snabb värmeavledning i små utrymmen. Att sänka temperaturen på strömförbrukande komponenter hjälper till att förbättra stabiliteten och tillförlitligheten på sikt.

25 W

MER UTRYMME TEMPERATURMÄSSIGT*

*Förbättringar jämfört med kylrör, testat i Turbo-läge av ASUS internt.
Håller din CPU och GPU sval med
flytande metall
Upp till
10° svalare
CPU-temperature
Upp till
14 x Bättre
Värmeledningsförmåga

*Temperaturförbättringar jämfört med förra generationens kylpasta, enligt ASUS interna tester. Värmeledningsförmåga jämfört med industristandard.
0 dB-teknik

,
Noll Distraktioner

Njut av knäpptyst kylning under lätt arbetsbelastning med teknik på 0 dB. I det tysta driftläget stänger kylsystemet av alla fläktar under lätta arbetsuppgifter för att avleda värme passivt. Det gör att du kan koncentrera dig på ditt arbete och fördjupa dig i film med färre distraktioner. Om CPU- eller GPU-temperaturen ökar så slås fläktarna automatiskt på igen.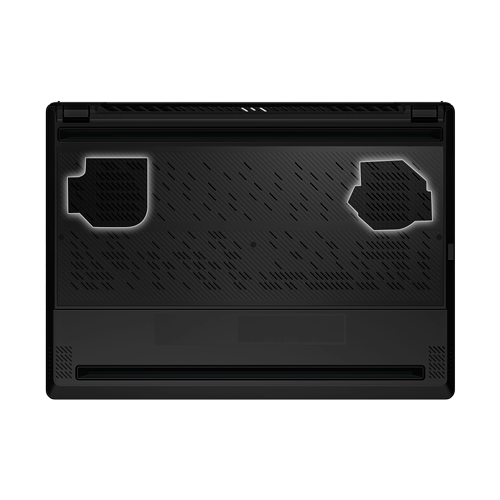 Luften som dras in filtreras. Dammet åker ut.
En nyhet för 2022 är att G14 nu har ett dammfilter för båda fläktarna. Ett filter hjälper till att förhindra att damm och fibrer dras in i chassit, vilket gör att CPU:n kan köras med 15 % mer kraft, och GPU:n med 4 % mer kraft efter lång tids användning, jämfört med datorer utan filter. Ju mindre damm, desto längre kan din dator köras med högsta prestanda utan att förlora effektivitet.
*Intern testning i en simulerad dammig miljö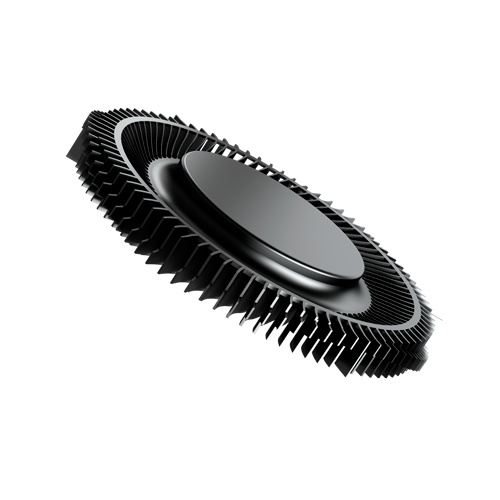 Uppgraderade
Arc Flow Fans™

flyttar mer luft med mindre ljud

Uppdaterade Arc Flow Fans™ har 84 krökta blad som är speciellt utformade för att maximera luftflödet med minimalt ljud. Blad med variabel tjocklek som avsmalnar till bara 0,1 mm vid spetsen gör att turbulensen minskar, eftersom fläkten accelererar luften med hjälp av centrifugalkraft, vilket ger upp till 32 %* högre luftflöde, samtidigt som ljudnivån blir 2 db tystare. Genom att minska fläktaxelns diameter får fläktarna i 2022 G14 5 % högre luftflöde än vanliga Arc Flow-fläktar med samma rotationshastighet.

*Förbättringar av luftflödet jämfört med ROG-fläkten med 71 blad, enligt ASUS interna tester.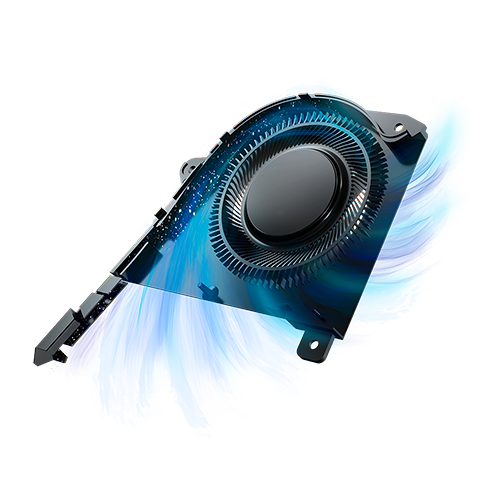 Anti-Dust Tunnels 2.0

ökar systemets livslängd

Vår uppgraderade värmemodul har kortare anti-dammtunnlar som ger mer utrymme runt fläkten, vilket förbättrar luftflödet med upp till 15 %. Att förhindra ansamling av damm ger ditt system långsiktig stabilitet och tillförlitlighet.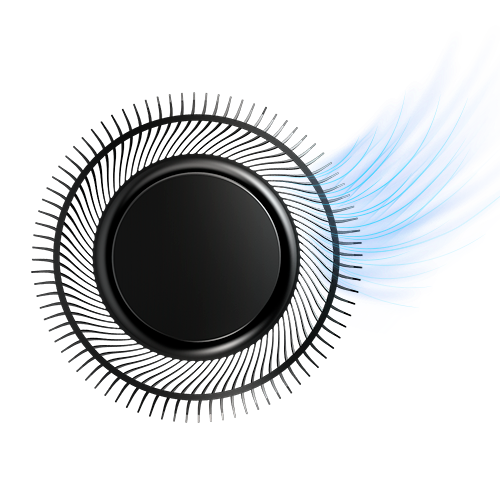 Blad med variabel tjocklek

minskar luftkollisionen

Våra fläktblad har varierad tjocklek och form, och övergår gradvis från ett område med högt till lågt tryck innan luften drivs ut. Det minskar turbulensen och maximerar luftflödet jämfört med traditionella fläktblad. Den här patenterade nya designen möjliggörs av de senaste bearbetningsteknologierna för flytande kristallpolymerer som gör att vi kan skapa supertunna, starka fläktblad som ger ökat luftintag.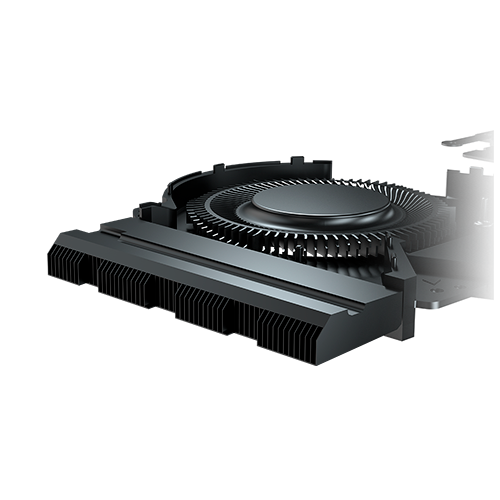 0,15 mm ultratunna blad hjälper

dig att vinna

Värmeenergi leds bort av fyra kylflänsar, var och en fodrad med ultratunna kopparblad så tunna som 0,15 mm. De här bladen är hälften så stora som vanliga lösningar, vilket möjliggör högre densitet för värmeavledning och lägre luftmotstånd med jämnare flöde. Det finns upp till 211 kylflänsar med totalt 75 368 mm² yta.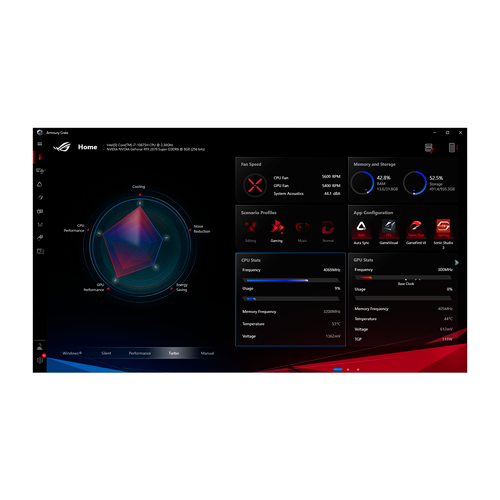 Scenarieprofiler

ger dig rätt kylning vid rätt tidpunkt

Lägena Silent, Performance och Turbo är bara början. Scenarieprofiler gör att ditt system automatiskt växlar mellan dem baserat på det program du kör, tillsammans med andra viktiga systeminställningar. Växla belysningskonfigurationer automatiskt, inaktivera Windows-tangenten och pekplattan när du spelar, och automatisera så mycket du vill. Armoury Crate gör justeringar på ett ögonblick för att bäst passa den uppgift du håller på med.
pause
#SKÄRM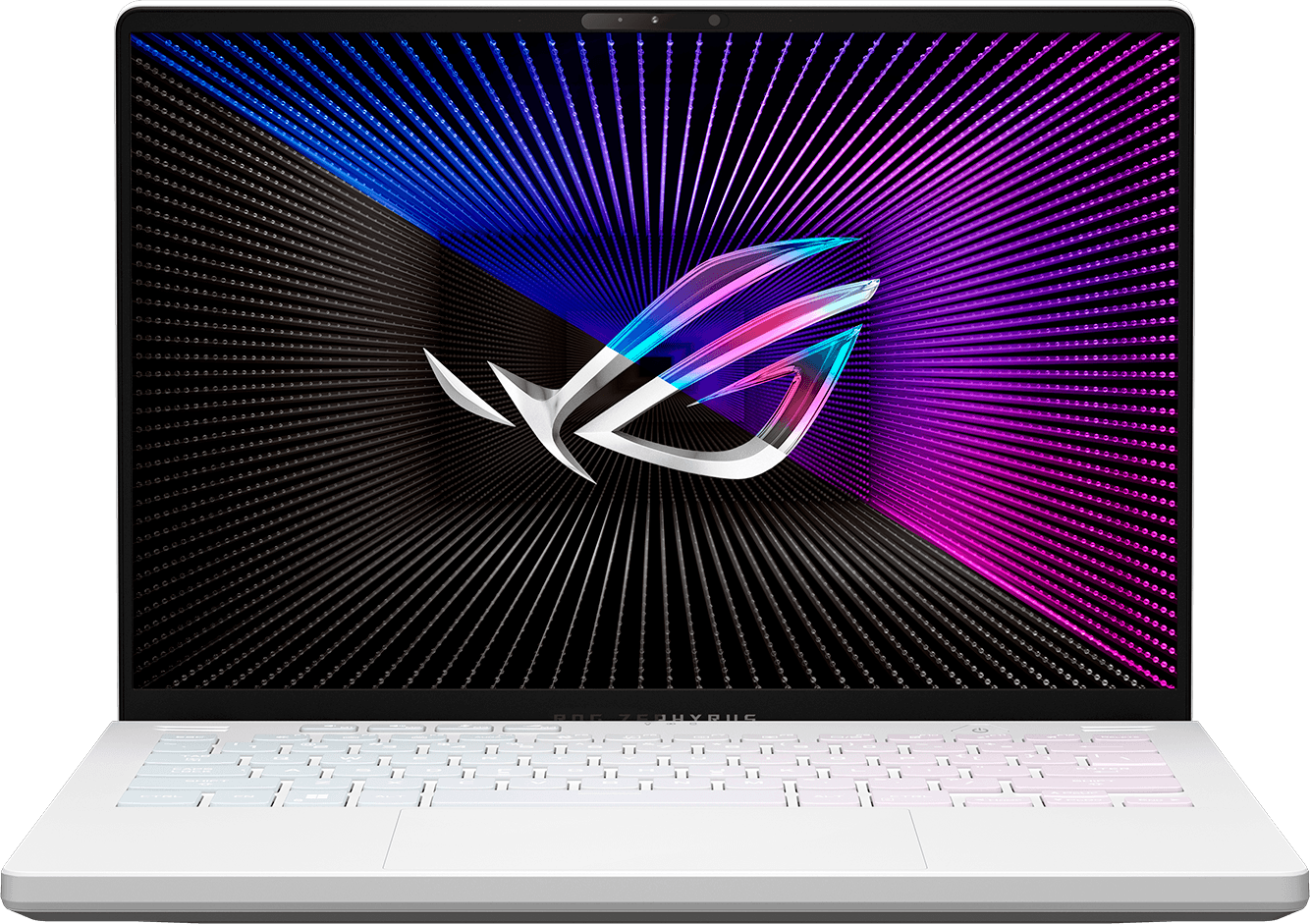 16:10
3 ms
Responstid
500nits ljusstyrka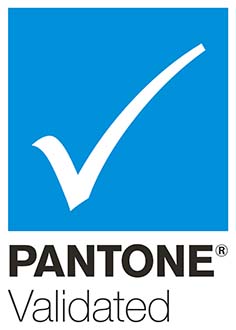 ENASTÅENDE GRAFIK
Din bärbara dators skärm är fönstret mot allt du gör på datorn. I år höjer vi nivån med en skärm med bildförhållande på 16:10, och ett förhållande mellan skärm och yttermått på enorma 91 %. Vår QHD 120 Hz-modell uppfyller också ROG Nebula-skärmstandarden med 100 % DCI-P3-täckning, Pantone®-validering, 500 nits ljusstyrka och en svarstid på bara 3 ms. Den här nästan kantlösa skärmen är i princip så uppslukande som det går att åstadkomma på en bärbar dator.
*Läs mer om ROG Nebula displays här
*Två fantastiska skärmalternativ – högupplösta, snabba 120 Hz QHD eller ultrajämna 144 Hz Full HD – gör att du blir uppslukad av grafiken med verklighetstrogna, Pantone®-validerade färger.
Upp till
500 nits
Ljusstyrka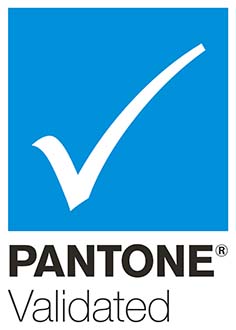 Dolby Vision®-teknik
Scen efter scen, bildruta efter bildruta - Dolby Vision® får media att se bättre ut. Tekniken förbättrar 4K-video med högt dynamiskt område (HDR) och justerar visningar dynamiskt för att göra varje bild framför dig fylligare, ljusare och livligare. Skapare kan filma och redigera sina strömningar, videor och annat innehåll i ett format som vanligtvis används av branschexperter.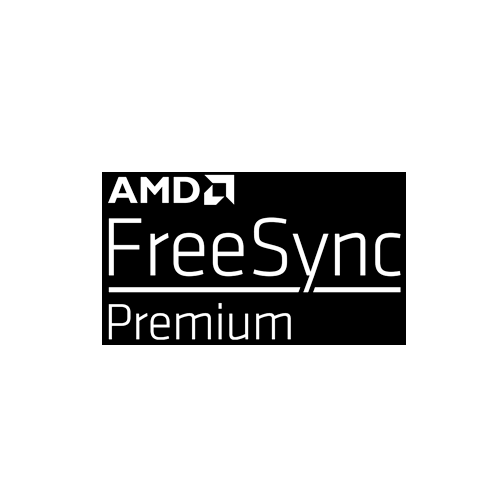 AMD FreeSync Premium-teknik
Inget bryter inlevelsen i ett spel som hackande bilduppdatering och screen tearing. GPU:er renderar bilder med varierande hastighet, men skärmar uppdateras vanligtvis med konstant flöde, så de kan hamna ur synk, vilket orsakar synligt hackande och artefakter som tar dig ur känslan. Med FreeSync synkroniseras skärmens uppdateringsfrekvens med GPU:ns bildhastighet, för att eliminera screen tearing, minimera hackande och minska ingångsfördröjning. Gör dig redo att uppleva spelande som både känns och ser mer naturligt ut än någonsin.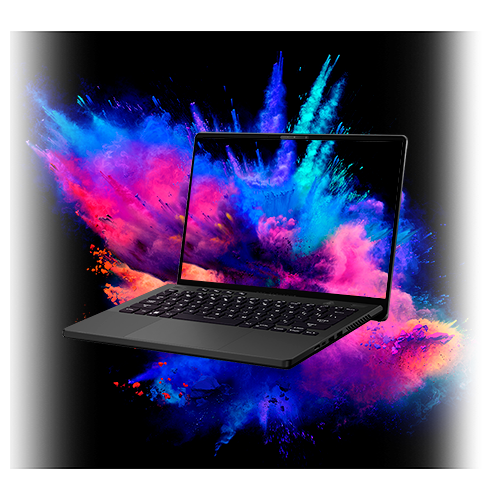 Pantone® Color Validation
Skärmarna på IPS-nivå är fabrikskalibrerade för att säkerställa att färgerna är korrekta enligt Pantone®-paletten. Konstnärer, designer och innehållsskapare kan utöka sina portföljer med högkvalitativt innehåll och njuta av rikare spelgrafik – allt på samma dator.
pause
#BÄRBARHET
#LJUD

KÄNN TAKTEN
Virtuellt 5.1.2-kanals surroundljud som drivs av Dolby Atmos®-teknik placerar dig i händelsernas centrum, med 1,78 gånger högre volym än föregående generation av G14. Dubbla diskanthögtalare spelar upp ljudet direkt mot dig, medan dubbla Smart Amp-bashögtalare studsar ljudet mot bordet under datorn. Växla mellan sex förinställda lägen som optimerar inställningarna baserat på typen av spel och media, eller gör manuella ändringar som passar dina egna preferenser. Tvåvägs AI-brusreducering filtrerar både in- och utljud, vilket gör streaming, chattar och inspelning klarare än någonsin.

Tvåvägs
AI-Baserad Brusreducering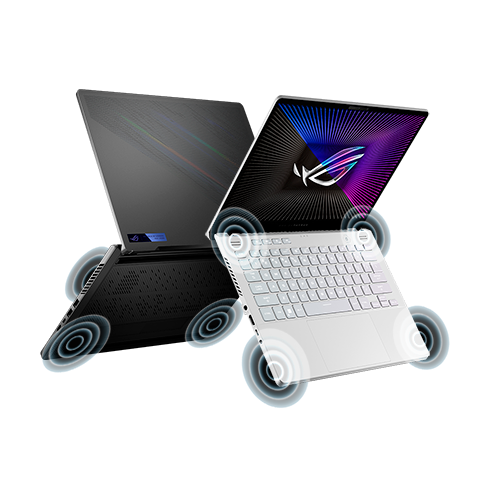 Dolby Atmos®
Oavsett om du använder hörlurar eller högtalare kommer Dolby Atmos®-tekniken att ge en bättre upplevelse, med ett djupare och mer nyanserat virtuellt surroundljud som kan optimeras ytterligare med speciella förinställda lägen för film och spel.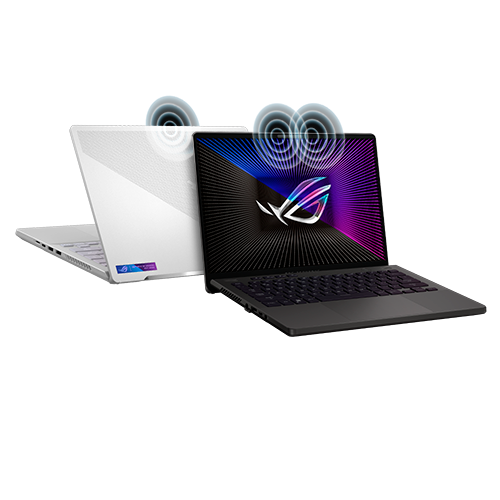 3D Mic Array
Tre lägen för det integrerade mikrofonsystemet ger dig större kontroll över din ingång. Cardioidläge fångar in ljud från precis framför den bärbara datorn, samtidigt som ingången från baksidan minimeras, vilket gör det idealiskt för streaming och spelande. Stereoläge använder höger och vänster kanal för att spela in ett bredare ljudlandskap för levande musik eller andra uppslukande upplevelser. Rundriktningsläge plockar upp ljud från alla håll lika för tydligare gruppkonferenssamtal.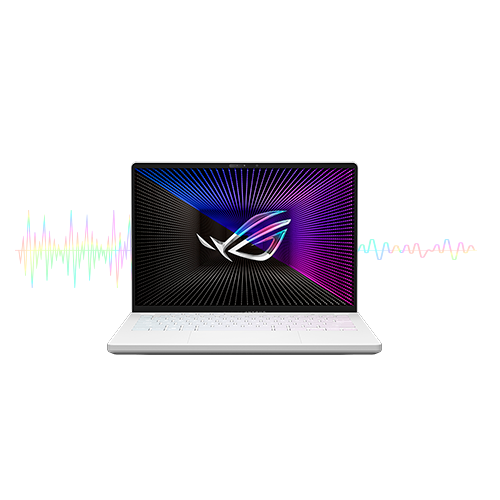 Tvåvägs AI-Baserad Brusreducering
Vår avancerade teknik för tvåvägs AI-brusreducering fungerar med alla inmatningsenheter och inkommande signaler så att bruset försvinner både från din egen mikrofon och från inkommande signaler. Den körs också på din CPU, vilket frigör GPU:n för att nå högre bildhastighet i spel. De brusreducerande inställningarna kan till och med anpassas efter olika program och filtrera specifika appar, som röstchatter, utan att påverka ljudet i t.ex. spel som du inte vill ska påverkas.
pause
#TANGENTBORD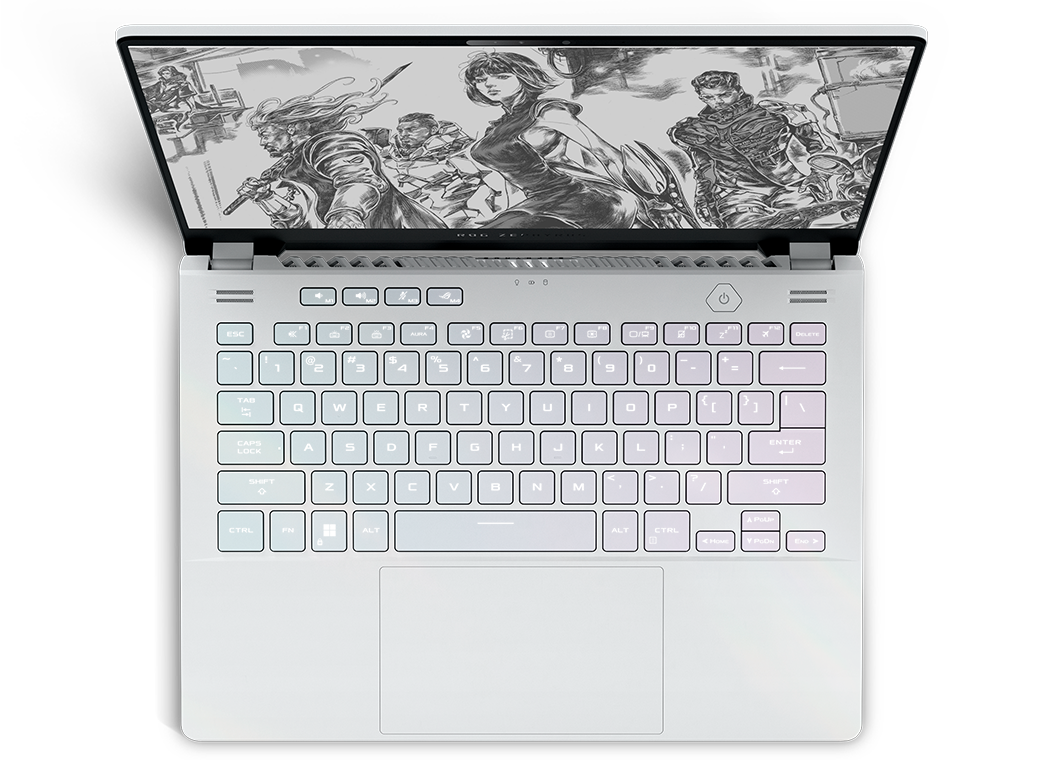 KOMBINERA
2022 Zephyrus G14 har en större pekplatta för att matcha det nya bildförhållandet på 16:10 och ge responsiv kontroll. Overstroke-tekniken triggar högre upp vid tangenttryckningar för snabbare respons, och ErgoLift-designen lyfter tangentbordet i en vinkel som gör det bekvämare att skriva. En glimrande prismaglans täcker tangentbordet som även har dedikerade snabbtangenter som gör att volym, mikrofonavstängning och ROG Armory Crate alltid är inom räckhåll. Snabbtangenterna är helt anpassningsbara och kan programmeras till att starta appar, ställas in som funktionstangenter eller användas för ett makro.
Inspirerad av stationära datorers
layout
Snabbtangenter
för spel
med makrofunktion
Snabbaktiverade
tangenter
#ANSLUTNING
NÄSTA GENERATIONS WI-FI
Wi-Fi 6E håller dig ansluten, även när det är många klienter på ett nätverk. När kompatibla nätverk är tillgängliga kan du njuta av hastigheter som närmar sig trådbundna hastigheter under spel och videosamtal.

ANPASSNINGSBARA ANSLUTNINGAR
Dubbla USB Type-C-portar, en med strömförsörjning och DisplayPort™ 1.4-stöd, och två USB 3.2 Type-A-portar ger gott om anslutningsmöjligheter. Den nya Micro SD-kortläsaren är ett perfekt tillägg för innehållsskapare som behöver överföra data när de är på resande fot.
#Programvara
STÄM UPP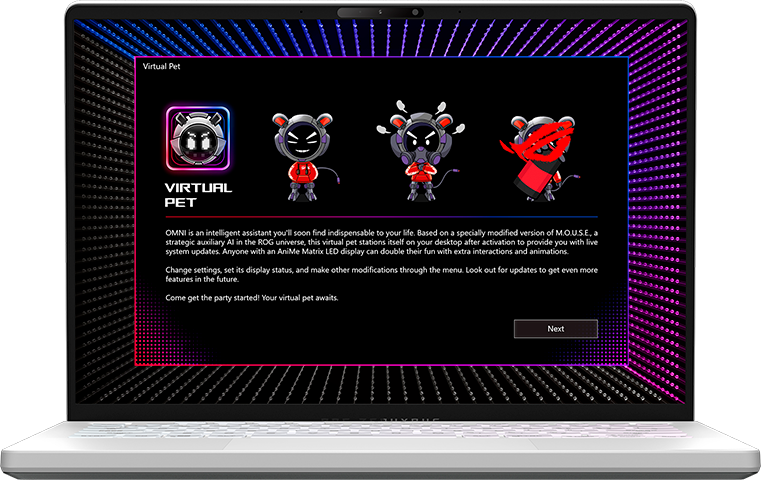 ROG:s egen OMNI-maskot fungerar som en rolig sidekick och interaktiv assistent. Efter aktivering finns OMNI på ditt skrivbord och reagerar i realtid på förändringar i systembelastning och batterinivå. Det virtuella husdjuret kan också konfigureras till att finnas på Zephyrus G14:s AniMe Matrix™-skärm.
Spela över 100 högkvalitativa spel med vänner på din PC, konsol, telefon eller surfplatta till en låg månadskostnad.* Det läggs till spel hela tiden, så det finns alltid något nytt att spela.
*Villkor och undantag gäller. Spelkatalogen varierar över tid, och mellan regioner och enheter. Se xbox.com/gamepass och https://www.ea.com/eaplay/terms för mer information. Xbox Cloud Gaming: Streaminggränser gäller. Kräver kompatibel handkontroll (säljs separat), en enhet som stöds och Xbox Game Pass-appen. Se systemkraven. Systemkraven varierar beroende på spelet; prestandan blir högre på mer avancerade system.
ROG GameVisual-programvaran erbjuder sex sakkunnigt inställda grafiska lägen som är utformade för att optimera din visuella upplevelse för specifika spelgenrer. First Person Shooter (FPS) -läge förbättrar till exempel synligheten i mörka miljöer, så att du får övertag på alla fiender som lurar i skuggorna. Använd GameVisual för att få den bästa upplevelsen för varje spel i ditt bibliotek.
Automatisk växling mellan läget Tyst, Prestanda och Turbo är bara början i fråga om scenarioprofiler. Du kan också definiera programspecifika preferenser för andra viktiga systeminställningar, till exempel för ljuskonfigurationen, huruvida Windows-tangenten eller pekplattan är aktiverade, och vilken GameFirst VI-profil som ska användas. Armoury Crate gör justeringar på ett ögonblick för att bäst passa uppgiften till hands, och du kan konfigurera dina profiler exakt hur du vill.
Ladda ner den kostnadsfria mobilappen Armoury Crate för Android eller iOS för enkel åtkomst till dina inställningar utan att det stör spelet. Finns nu på både Google Play™ och App Store.
VÄXLA UPP
ROG Zephyrus G14 kan kombineras med en mängd kringutrustning och speltillbehör. Navigera smidigt och exakt med spelmusen ROG Impact. Lätta din börda med en mindre 100 W-adapter som ger tillräckligt med ström för att du ska kunna vara produktiv var som helst. Och ge din bärbara dator lite extra trygghet på vägen i ett bekvämt fodral med perfekt storlek.
*Medföljande kringutrustning kan variera beroende på region. Kontakta lokala leverantörer för specifika erbjudanden.
Video Reviews
ROG Zephyrus G14 (2022) Gaming Laptop Unboxing + Gameplay
2022 ROG Zephyrus G14 Product Video
The Zephyrus G14 2022 is the best gaming laptop of the year. The specs are freakin' exceptional.
This year they just took it to a whole new level.
Not only is this gaming laptop a beast in performance, but it is also a master of memes. Is the Asus ROG Zephyrus G14 the gaming laptop of the year?
The 2022 Zephyrus G14 is back and more stylish than ever
The Radeon RX6800s makes any game you play smooth and enjoyable
The Zephyrus G14 is quite compact, featuring a sturdy and premium built. Its slim and lightweight, perfect for on-the-go users. The performance of the machine is also impressive and justifies the price of the product.
The look of the ASUS ROG Zephyrus G14 is really nice. It gives you that high end feel but at the same time, it's not too much. It's super portable and can be easily carried to schools and colleges.
I'm definitely impressed by the Zephyrus G14. One of the best options available currently for editing
Looking for power or mobility? Do you want it for something other than playing? Among these ROG laptops you will find the one that suits you
We face the final stretch of the review with a magnificent taste in our mouths, and there is no area in which the Asus ROG Zephyrus G14 2022 does not stand out, offering the best on the market, with the best materials, the most cutting-edge components and a system of cooling capable of keeping temperatures at bay with a more than acceptable loudness, without neglecting other aspects such as the keyboard, the panel or the aesthetics and maintaining a price that is quite contained within its range
This gaming laptop is the best for me not because of its performance, but because in general, it gives us a complete and balanced experience. It not only allows you to play games, but also work and consume multimedia content at the same level.
ROG Zephyrus G14 (2022) Gaming Laptop Unboxing + Gameplay
ROG Zephyrus G14 (2022) Gaming Laptop Unboxing + Gameplay
The newest gaming laptop from ASUS, ROG Zephyrus G14, is small, light, and powerful! We'll show you all the data, including benchmarks!
This beautiful white gaming laptop is very powerful [ROG Zephyrus G14]
The new laptop from the best-selling gaming laptop brand in Japan has arrived.
Here's what's so great about the ASUS ROG Zephyrus G14 GA402RK!
14인치 고성능 게이밍 노트북 ASUS ROG ZEPHYRUS G14 GA402 후기
【악플러들 상대로 1대1】어느 티어까지 이길 수 있을까?
Đánh Giá Chi Tiết Laptop Gaming ASUS ROG Zephyrus G14: Mẫu Laptop Gaming Mình Thích Nhất!
4 Lý do TẠI SAO mình chọn LAPTOP GAMING để LÀM ĐỒ HỌA!!
Đánh giá ROG Zephyrus G14 (2022): Sự lợi hại của AMD?
ROG Zephyrus G14 2022 (Ryzen 6800HS + RX6700S): Tò mò nhiều thứ về Laptop Gaming AMD
If you are looking for a lightweight notebook that can work, play games, ROG Zephyrus G14 is a good choice.
(2022) Asus ROG Zephyrus G14 // AMD Ryzen 9 6900HS + RX6700S
ASUS Zephyrus G14 (2022) – Jak dobrze to gra?
The New ASUS Zephyrus G14 is WAY Better!
ASUS Zephyrus G14 (2022) Review - The Best Laptop?
Asus ROG Zephyrus G14 Review - Is it ACTUALLY Any Good? [2022]
It Actually Got BETTER 🤯 - Zephyrus G14 2022 vs G14 2021
2022 ROG Zephyrus G14 - Every game is your game
Video review from the channel Konsumer
The Rise of Gamers - 2022 Brand New ROG Gaming Laptops
ASUS Goes Crazy With Gaming Laptop Updates in 2022!
These NEXT-GEN Gaming Laptops will Blow Your Mind!
ASUS Is Already Killing It!
ROG Zephyrus G14 (2022) Review: Still THE Best 14" Gaming Laptop
"This 14 portable gaming laptop offers offers far better value compared to other small gaming laptops... To name a few it is lighter, has a better screen, a better battery life and a better CPU performance, all while being cheaper."" "If you want the best battery life and gaming performance... then the ASUS Zephyrus G15 is the way to go." "If you want better CPU performance and a larger 16:10 screen which just looks better while also getting better performance in creator loads."
There is a webcam, but the resolution is only HD, no RJ45 port.
The back cover of the machine is a hole making it difficult to keep clean. Fan vents come out of the front of the screen. causing heat vapor to hit your hand while in use Ports are fairly close together, no RJ45 ports.
It is a complete notebook. Comes with a light body, beautiful note page, with features with AniMe Matrix lights. The camera can be used for about one.
The power management feature is quite good, the screen is beautiful, the game can be played smoothly.
Video review from the channel MrBegėdis
Product Comparison
Product added to comparison. Add up to 4 products or proceed to view compare products selected.
ASUS Footer