Du har inga produkter i din kundvagn.
Features
Tech Specs
Gallery
Support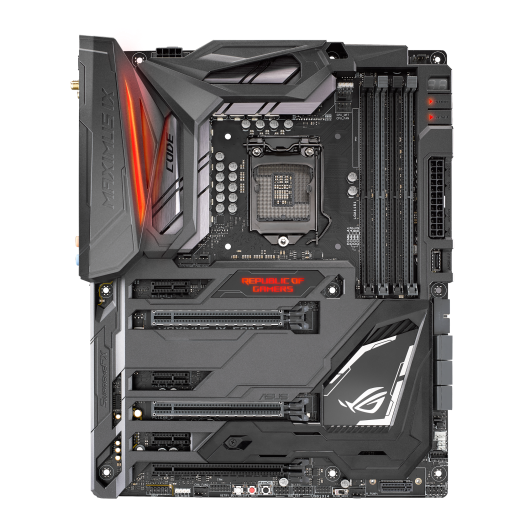 ROG MAXIMUS IX CODE
Intel Z270 ATX gaming motherboard with Water Cooling Zone, Aura Sync RGB LEDs, DDR4 4133MHz, 802.11ac Wi-Fi, dual M.2 and USB 3.1 Type-A/C
LGA1151 socket for 7th/6th Gen Intel® Core™ desktop processors
ROG Water Cooling Zone: Dominate your cooling system
Aura Sync RGB LED: Stunning synchronized light shows and an Aura 4-pin RGB-strip header
SupremeFX: Exclusive new codec plus intuitive Sonic Radar III and Sonic Studio III
5-Way Optimization: One-click system-wide overclocking.
Gaming networking: Intel Gigabit Ethernet, 2x2 802.11ac MU-MIMO Wi-Fi , LANGuard and GameFirst technologies
Gaming durability: ROG Armor and premium components
Gaming connectivity: Front-panel USB 3.1, dual M.2 and both USB 3.1 Type-A and Type-C
For more than a decade, Republic of Gamers has delivered exemplary design and performance to thrill the world's best players and PC enthusiasts. Our journey is a road without end. Now, it's time for competitors to be warned and for gamers and enthusiasts to push the limits: The packed and pumped ROG Maximus IX Code motherboard is ready to defeat all challengers.
1

Clr CMOS button
BIOS Flashback® button
2x2 MU-MIMO 802.11AC Wi-Fi
HDMI 1.4b
DP1.2

2

Intel I219-V Gb LAN

ROG GameFirst IV
Anti-surge LANGuard

USB 3.1

3

Multi-GPU SLI / CFX support

2 x PCIe 3.0 x16 SafeSlots (CPU)
1 x PCIe 3.0 x16 slot(PCH)
3 x PCIe 3.0 x1 slots(PCH)

4

SafeSlot

5

SupremeFX S1220 CODEC
‧ES9023P High Definition DAC
‧Impedance sense for front and rear
‧120dB SNR stereo playback output
‧113dB SNR recording input


Sonic Studio III & Sonic Radar III
6

Q-Code
START button
RESET button

7

Intel LGA1151

8

Multi-colored Q-LED

9

DDR4 4133MHz+ (OC)

‧4 DIMM Dual Channel
‧XMP Support


10

USB 3.1 front panel connector

11

12

6 x USB 3.0 ports (2 @ front)
6 x USB 2.0 ports (2 @ front)

13

6 x SATA 6G ports

14

Intel Z270 Chipset

15

W_IN/OUT, W_Flow headers

16

Dual M.2 Socket 3 Type M

‧1 x 2242~22110 (PCIe 3.0 x4 + SATA)
‧1 x 2242~2280 (PCIe 3.0 x4)
Maximus IX code
Born from the Formula, the Maximus IX Code gives gamers the aesthetic appeal of Aura Sync lighting, the convenience of onboard Wi-Fi, and the reliability of long-lasting components. It's christened Code to echo the defining layer of ROG Armor that protects and streamlines the board. Code has roots in codex, a Latin term describing the precursor to modern books that became popular due to its unique and durable cover. The Maximus IX Code seeks to set a new standard in motherboard design by making ROG Armor more accessible to gamers.
Fully dominate your water-cooling system
ROG Water Cooling Zone
ROG's innovative Water-Cooling Zone lets you monitor your cooling system like never before. ROG Water-Cooling Zone's dual water-temperature headers and flow-rate header feed information straight into ROG's intuitive Fan Xpert 4 utility ─ so you can stay on top of the heat and stay cool in every game!
best gaming

LIGHTING
Aura lighting control
Customize your own favorite LED effects with Aura, the intuitive lighting-control software, to cast a stunning multi-color glow across your build via the ROG Maximus IX Code's brilliant built-in RGB LEDs or attached RGB strips via the two onboard 4-pin headers ─ all lights will perform in perfect synchronization! Fire up Aura and enjoy the creative freedom of nine different lighting schemes.
Static Always on
Breathing Fades in and out
Strobing Flashes on and off
Color cycle Fades between the
colors of the rain-
bow
Music effect Pulses to the beat of
your music
CPU Temperature Changes color with
CPU load
Rainbow A rolling multi-color
glow
Comet A stream of light
with a tail
Flash & dash Single-color stepped
flashes
RGB header


*The Aura RGB-strip header supports standard 5050 RGB LED strips with a maximum power rating of 2A (12V). For maximum brightness, strip length should not exceed 2m.
* Two extension cables are included. RGB LED strips need to be purchased separately.
OUTSHINE THE COMPETITION
ASUS Aura Sync technology makes ROG Maximus IX Code the control hub for your illumination ambitions — so it's easy to synchronize incredible lighting effects between compatible components, including RGB LED strips, graphics cards, keyboards and even mice! Change all LEDs in unison or employ dynamic modes to flow the illumination effects smoothly across all synchronized devices.
*Visit the ASUS Aura microsite to learn more about
Aura Sync
best gaming

audio
exquisite audio, inside and out
New SupremeFX Codec
ROG's awesome SupremeFX audio technology has levelled up, delivering an exceptional 113dB signal-to-noise ratio on the line-in connection — and that means our best-ever recording quality! We've also added a low-dropout regulator for cleaner power delivery to the SupremeFX S1220 codec, an ESS® Sabre Hi-Fi ES9023P digital-to-analog converter for superior front-panel output, and a Texas Instruments® RC4850 op-amp for high gain with low distortion — which all adds up to audio that envelops you as never before.
Distortion-free for enhanced audio-signal input and output

ULTRA-DURABLE GOLD-PLATED AUDIO CONNECTORS

Provides the perfect current and voltage for true-to-life tonality and spacious sound imaging

RC4580 Buffer

Creates a perfect balance for top-tier audio clarity capable of -94dB THD

ESS® ESS9023P DIGITAL-TO-ANALOG CONVERTER

High-accuracy timing technology ensures ultra-low jitter, even when temperatures fluctuate

HIGH-PRECISION CLOCK SOURCE

Deliver the highest-quality sound resolution and expansion for especially warm and natural audio

NICHICON CAPACITORS

Unique design allows the codec's impedance-sensing function to be ported to either the front or rear headphone outputs

SWITCHING MOSFETs
intuitive audio-tuning suite
Sonic Studio III
ROG's Sonic Studio III audio effects station has been updated with an all-new routing feature to port streams to different outputs as well as app-level preferences for instant audio profiles and improved noise filtering for conversations with total clarity!
Routing
Easily assign different audio streams to different outputs, such as browser audio to headphones and game audio to speakers.
App-specific profiles

Apply customized audio settings to different applications, so everything you do is perfectly tuned to the way you want to listen.

Noise filter

Automatically detects and eliminates unwanted background noises, ensuring that communications are loud and clear.
scan and detect to dominate!
Sonic Radar III
Sonic Radar III is all-new – with an evolved audio engine that processes sounds more accurately than ever, ensuring you're always aware of what's going on around you. A new on-screen arrow has also been added to help you pinpoint the enemy position instantly!
Improved Audio Algorithm

The new Sonic Radar III audio algorithm is now even more accurate, allowing enemies to be located with pinpoint precision regardless of the surrounding noise and chaos.

3D Engine

Sonic Radar III is built around its all-new head-up display with an in-game three-dimensional arrow for a more intuitive experience.

Audio Boost

The new Audio Boost feature now allows enhanced audio to be heard directly.

Audio Radar

Redesigned radar based on adjustable sectors (4-16) makes the enemies' position clearer and more direct
best gaming

performance
OC DESIGN
ASUS PRO CLOCK TECHNOLOGY
A dedicated base-clock generator designed for 7th Generation Intel® processors allows overclocked base clock frequencies up to or beyond 425MHz*. This custom solution works in tandem with the ASUS TurboV Processing Unit (TPU) to enhance voltage and base-clock overclocking control — providing an exciting new way to boost performance to extreme heights.
* Base-clock overclocking range will vary according to CPU capabilities, cooling, motherboard support and tuning options. Ranges up to 650MHz are possible under some conditions.
Advantages of ASUS
Pro Clock:

Reduced boot time

Lower jitter under extreme conditions for higher overclocks

Increased stability under heavy overclocking
DDR4 OVERCLOCKING
STRENGTH IN NUMBERS
Third-generation ASUS T-Topology
With support for DDR4 memory you're able to drive memory frequencies to 4133MHz (and beyond when overclocked)! ASUS-exclusive T-Topology circuit design plus OC Socket provides superb memory-overclocking capability to unleash the full power of DDR4 by minimizing coupling noise and signal reflection. With innovative equidistant memory channels, it delivers the most balanced control and powerful overclocking compatibility. ASUS works with almost every DDR4 memory vendor to ensure the best compatibility.
ONE-CLICK OVERCLOCK AND COOLING, DONE!
Performance, efficiency, digital power, fan control and networking ─ tailored to the way you play
You don't need to be an expert to max out gaming performance on your ROG Maximus IX Code build — because 5-Way Optimization sorts all the complex settings with a click, for instant, highly controllable performance boosts! Exclusive ROG technology dynamically optimizes essential aspects of your system, based on real-time use — so you get superb CPU performance, everyday energy savings, ultra-stable digital power, cool and quiet fans and networking settings that are tailored for the apps that you are using. In short, 5-Way Optimization ensures that your PC is perfect for gaming, entertainment, and productivity!
Games run swiftly and smoothly with high-performance and prioritized bandwidth.

Fans stay whisper-quiet for everyday computing, and ensure extreme cooling efficiency when gaming.

Stutter is eliminated for smooth-running apps, even under heavy loads.

Energy waste is reduced so you'll save money and the earth.
CPU performance
boost

All-round
energy efficiency

Advanced
fan controls

Precise digital
power control

Game faster,
rank higher
Instant CPU performance boost
Crank up your PC instantly with the ASUS AI Suite 3 utility! The TurboV Processing Unit offers precise voltage control and advanced monitoring for the CPU and the graphics card, enabling the freedom to adjust CPU frequencies and ratios for optimized performance and maximize the potential of your graphics card*
*Please see the graphic cards QVL
All-round energy efficiency
With the Energy Processing Unit (EPU) you'll enjoy real-time, system-wide power savings — for gaming kicks that won't cost the earth! EPU automatically detects and adjusts power consumption according to your rig's needs, so you save money without compromising on thrills. EPU will also reduce CPU wattage to a set level and deliver even more savings with Away mode, creating an extreme energy-saving scenario that shuts down unused I/O controllers and reduces the power consumption of the graphics card. That means full power for your gameplay and then total energy efficiency when you step away!
Cooler by design
Play quieter and cooler with advanced fan and water-pump controls for the ultimate in undisturbed gaming. With onboard thermal sensors and hardware-level 4-pin/3-pin PWM/DC mode detection, Fan Xpert 4 makes sure every fan achieves the best balance of cooling performance and low noise ─ so you enjoy all the performance you demand with none of the racket!
next page
Fan Xpert 4
With high-end graphics cards being a significant source of heat in any build, the GPU has a bigger impact on case temperatures than any other component. With Fan Xpert 4 you're now able to set the GPU temperature as a fan-tuning source, enabling a dynamic cooling response to system power output!
prev page
Precise digital power control
To go faster than fast you need ultra-accurate power control — so ROG Maximus IX Code is kitted out with ASUS Digi+ Power Control for maxed-out overclocking potential, enhanced system stability and superb power efficiency. Digi+ Power Control is the industry's leading digital power controller and it's fully compliant with Intel's IMVP8 specifications, for smoother, safer power.
Game faster, rank higher
ASUS Turbo App is the intuitive tuning panel to boost everything to secure your victory in your favorite titles! Overclock your CPU and prioritize game data across your network. History is written by the victors, so don't go to war without Turbo App.
Media-acclaimed UEFI BIOS
The smoothest, slickest mouse-controlled graphical BIOS has been improved to make it even more gorgeous. Whether you're a PC novice or a seasoned overclocker, the EZ and Advanced modes help you find your way, quickly and easily.
The finest power, digitally controlled
ROG's revered digital power controller now delivers even-finer power, with Texas Instruments NexFET™ MOSFETs, MicroFine alloy chokes, Digi+ PWM controller and 10K black metallic capacitors — ensuring Extreme Engine Digi+ always delivers the smoothest core voltages.
MicroFine alloy chokes

More stable and greater efficiency at high currents

3x

finer than
standard

31%

cooler than
large granules

75%

hysteresis
reduction

10K

Japanese-made black
metallic capacitors


5x

longer
lifespan

20%

greater extreme
temperature enduance

50%

smaller NexFET™
MOSFETs

best gaming

connectivity
best gaming

networking
More throughput and less processing equals faster online play
Intel Ethernet
ROG Maximus IX Code features the very latest Intel® Ethernet (I219-V) for faster, smoother gaming. Intel's LAN has the serious double advantage of reducing CPU overhead and offering exceptionally high TCP and UDP throughput, so there's more power for your game and your gameplay.
Pumped-up throughput. Best surge protection
LANGuard
LANGuard means safer, more reliable connections for your battles! Advanced signal-coupling technology and premium surface-mounting processes join forces to protect your Maximus IX Code motherboard's connection, plus electrostatically guarded and surge-protected components (ESD Guards) for 1.9x greater tolerance to static electricity and 2.5x greater protection (up to 15kV) against surges!
2x2 802.11AC Wi-Fi with MU-MIMO
ROG Maximus IX Code has next-level 802.11ac Wi-Fi with 2x2 dual-band 2.4/5GHz antennas for up to 867 Mbps* transfer speeds — and the very latest Multi-User Multiple In Multiple Out (MU-MIMO) technology to ensure that every connected user** experiences the best wireless and online speeds!
*Actual speed varies, and Wi-Fi hotspot feature operates at 802.11a/b/g/n Windows 10 does not currently support Wi-Fi hotspot functionality
**Requires MU-MIMO-ready client
Team up to banish lag
GameFirst IV
GameFirst IV optimizes network traffic for faster, lag-free online gaming — and now we've added Multi-Gate Teaming to team up to 4 networks for maximum bandwidth and smooth gameplay. You'll also enjoy all-new Intelligent mode, which automatically compiles a database by parsing new app data to ensure that every game is optimized for the best performance.
best gaming

protection
ROG Armor
Strong ABS Top Cover
Stylish thermal protection that blocks heat from graphics cards and ensures lower system temperatures for better performance and chic looks!
3d printing
friendly
make it your own
ASUS is the first motherboard manufacturer to provide a wide range of 3D printable accessories, making it easy to customize your system's appearance and improve functionality. Easily print a 2-way SLI HB bridge cover or custom cable combs to help with wire management.
3D-printable accessories
As system parts are visible in custom PC builds, make yours stand out from the competition with 3D-printed accessories.
2-Way SLI HB bridge cover

Clip the cover onto the PCB SLI HB bridge to add style to your build. Multiple form factors — eATX, ATX and mATX — are available.

Fan grill

Add some style to your build.

Cable Combs

Keep cables organized with the multi-connector design. 3D design files are available for 24-pin, 8-pin, 8 + 6-pin, 6-pin and 4-pin PSU connectors.
ROG FONTS

Use ROG font files to print letters — then fully customize your build by adding your name or any other word or phrase! 

ROG KEYCHAIN

Print a 3D keychain and show your ROG passion to the world!
Guide to Start 3D Printing
Follow these steps to start printing your own 3D parts, and integrate them seamlessly into your PC build in no time!
Personalize

Adjust size or shape, add text or change other attributes.

Watch tutorial

Print

Use your own printer, or visit a local vendor or ASUS store with Shapeways.

Setup

Easily assemble and fit your 3D-printed parts.

Watch tutorial
learn more
roggivesyoumore
Stay in the game
Overwolf
A clever, unobtrusive overlay keeps you in the game and allows you to browse the Web, email, IM, stream or record while you play. The overlay is dressed in color-matched ROG skins to show you're part of an elite pack. Grab it now from Overwolf's app store!
In-game dock

In-game calling

Multi-IM support
5 customizable apps

0 missed calls during gaming

5+ clients in a single interface
image your drives, the smart way
ROG CloneDrive
All-new ROG CloneDrive is the smart, convenient cloning solution that quickly and efficiently replicates hard drives or SSDs. CloneDrive is so smart that it can clone one drive to two target drives at the same time, or image any file from your disk at breakneck speeds.
Speed your game loads
RAMCache II
ROG's uniquely intelligent technology effectively caches an entire storage device so that favorite games and apps launch at breakneck speeds: going to work the moment it's activated. RAMCache II turns milliseconds into microseconds to boost game-load times to stratospheric levels!
Automatically caches all your storage devices at the same time for optimal use of your system's caching resources.
The free keyboard upgrade – upgraded!
You can even use KeyBot II to boost your PC into a specific mode with two-second press
AI Suite 3

One-stop control panel

ROG CPU-Z

Shows your important system information with pride

Mem TweakIt

Dynamic timing monitoring, DRAM efficiency gauge

RAMDisk

Boost your favorite applications up to 20X faster than SSD with the junction function

Kaspersky® Anti-Virus (one year)

The best protection from viruses and spyware

DAEMON Tools

The leading tool for optical and virtual discs

PC Cleaner

Accelerate your PC by eliminating clogs with simple click
beyond VR ready
ROG Maximus IX Code isn't just VR Ready — it goes way beyond! The ASUS Beyond VR Ready marque means that Maximus IX Code has been tested with loads of class-leading components to ensure that your productivity, gaming and entertainment needs are tuned for maximum performance after you've taken off the headset. ASUS ROGBeyond VR Ready opens up a new way to configure and build your dream system with total confidence.
Learn more about ASUS VR Ready
the power of intel
Ready for 7th Generation and 6th Generation Intel LGA1151 Core i7/Core i5/Core i3/Pentium/Celeron processors
This motherboard supports 7th Generation and 6th Generation Intel Core™ i7/Core i5/Core i3/Pentium®/Celeron® processors in the LGA1151 package. Integrated graphics, memory and PCI Express® controllers support onboard graphics output with dedicated chipsets, two-channel (4-DIMM) DDR4 memory and 16 PCI Express 3.0/2.0 lanes for great performance.
Intel® Z270 chipset
The Intel® Z270 is a single-chipset design that supports 7th Generation and 6th Generation Intel LGA1151 Core™ i7/Core i5/Core i3/Pentium®/Celeron® processors. It provides improved performance by utilizing serial point-to-point links, allowing increased bandwidth and stability. Additionally, the Z270 chipset provides a maximum of 10 USB 3.0 ports, six SATA 6Gbps ports, and 32Gbps M.2 and PCIe 3.0 lane speed support, for faster data retrieval. Intel Z270 also supports integrated graphics, so you'll enjoy the very latest in graphics performance.
Product Comparison
Product added to comparison. Add up to 4 products or proceed to view compare products selected.
ASUS Footer