Funkcie
Technická špecifikácia
Ocenenie
Galéria
Podpora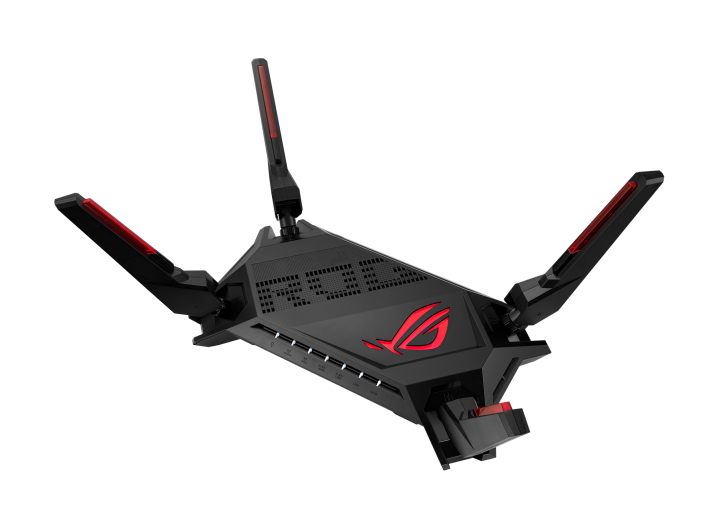 ROG Rapture GT-AX6000
Dvojpásmový herný router GT-AX6000 WiFi 6 (802.11ax), dva 2,5G porty, vylepšený hardvér, WAN agregácia, VPN Fusion, trojúrovňová herná akcelerácia, zabezpečenie siete zadarmo a podpora AiMesh
Vysoko efektívna WiFi 6 – Ultra rýchly dvojpásmový WiFi 6 router zvyšuje rýchlosť až na 6000 Mb/s, pričom 160MHz kanály zaisťujú lepšiu účinnosť a priepustnosť.
Dva 2,5G porty – Prevádzka prostredníctvom 2,5G portov má najvyššiu prioritu; flexibilná konfigurácia sieťových WAN/LAN portov.
Extrémny výkon štvorjadrového procesora – Vysoko výkonný štvorjadrový 64-bitový procesor s frekvenciou 2,0 GHz posúva výpočtové schopnosti na novú úroveň.
Väčší dosah – Exkluzívna technológia ASUS RangeBoost Plus zlepšuje dosah signálu a celkové pokrytie.
Trojúrovňová herná akcelerácia – Zrýchlite hernú prevádzku v každom okamihu, od zariadenia až k hernému serveru.
Video recenzia
WLAN performance on a TOP level, without question a high-end level. With 802.11ax wave2, the system is state-of-the-art. 2.5 GBit interfaces on the WAN and LAN side is a novelty and future-proof.
I build a 5000€ Gaming PC !
WE REMAKE YOUR GAMING ROOM ! (ft. Guillaume)
Still craving for heavenly speeds?😉 How about allowing Momoko to introduce you to the ASUS ROG Rapture GT-AX6000 😍
Enjoy ultra-wide coverage and fast transfer rate with 150 Mbps from 15m away. Up to 650 Mbps on the same floor from the wireless router. Double if you are using 4×4 connection devices. And enjoy lovely and attractive RGB lighting effects. Yes, this is what Asus ROG Rapture GT-AX6000 can do. The best WiFi 6 dual-band gaming router from Asus yet…
One of the best wifi routers that I personally tested.
Upgrading my Wi-Fi to ROG Rapture GT-AX6000
【WiFIルーター】2.5GbEポート搭載の高速ゲーミングWiFiルーター ASUS ROG RAPTURE GT-AX6000
【280fps】最新デバイスを揃えたのでまとめて紹介します!【フォートナイト/Fortnite】
【ラグ解消!880MゲーミングWi-Fiルーター】ROG Rapture GT-AX6000 レビュー 【ゲーム・投資にWi-Fiルーターおすすめ】
ROG Rapture GT-AX6000 is great both in terms of design and performance. Also it performs great when it comes to eliminate the internet problems of household, business and e-sports players.
Satellite rifles from Asus
Building a smart games room - Part #1
RT-Ax6000 is the best router for professional games
Video review from the channel ASUS ROG BALTICS
Video review from the channel ASUS ROG BALTICS
Product Comparison
Product added to comparison. Add up to 4 products or proceed to view compare products selected.
ASUS Footer