Genel Bakış
Teknik Özellikler
Ödüller
Galeri
Nereden Satın Alabilirim?
Destek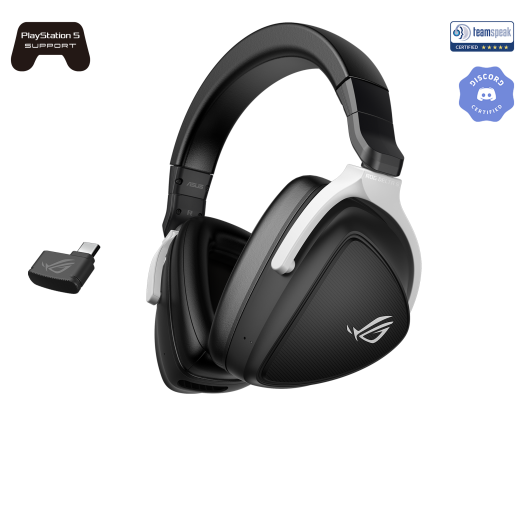 ROG Delta S Wireless
2.4 GHz ve Bluetooth bağlantısı, 50 mm ASUS Essence sürücüleri, Yapay Zeka Destekli Gürültü Engelleme özellikli AI Beamforming Mikrofon, PC, Mac, PlayStation® 5, Nintendo Switch™ ile uyumlu hafif yapılı kablosuz oyuncu kulaklığı
Düşük gecikmeli kablosuz 2.4 Ghz ve Bluetooth® bağlantıları daha büyük özgürlük sağlıyor.
Özel 50 mm ASUS Essence sürücüleri ve özel hava geçirmez bölme tasarımı etkileyici ses deneyimi sunuyor.
Yapay Zeka Destekli Gürültü Engelleme özelliğine sahip AI Beamforming Mikrofon 500 milyonda fazla türde arka plan gürültüsünü azaltarak oyunlarda kristal netliğinde sesli iletişim imkanı veriyor.
Hızlı şarj özelliği 15 dakikalık şarj ile 3 saate kadar kullanım sunarken, aralıksız oyun deneyimi için toplam pil ömrü 25 saate kadar ulaşıyor.
Ergonomik D biçimli kulak yastıklarıyla hafif tasarımı uzun süreli konfor sağlıyor.
PC, Mac, PlayStation®, Nintendo Switch™ ve mobil cihazların da dahil olduğu kapsamlı uyumluluk.
Video İncelemeleri
Asus ROG Smart Game Products from
Ultimate $5000 Gaming Setup 2022! [ASUS PG48UQ, RTX 3090, Peripherals & More!]
The Most Excessive Gaming Setup... Ever.
The Delta S Wireless is one of the latest additions to Asus' ROG range of peripherals. It's packed full of features like AI noise cancellation, fast charging, multiple connectivity options and 50mm drivers.
In conclusion, the ASUS ROG Delta S Wireless is a gaming headset that delivers good audio quality in a solidly-built wireless package.
[Review] The new ROG Delta S Wireless!
I'm TRYING TO MAKE TOP 1 MIRROR KEYBOARD AFTER 5 YEARS OF PLAYING HANDSET!
Wireless gaming peripherals terbaru dari ROG! Jom kita tengok
Saya uji keberkesanan Asus AI Noise Cancellation samada Gimik Marketing atau Betul-Betul Berfungsi. Guna Kipas gred industri untuk hasilkan bunyi bising!
The latest 2022 ROG gaming gear designed for gamers!
ROG Delta S Wireless, a headset with crystal-clear sound and unbeatable connectivity
クセが強いハイテクヘッドセット..君に使いこなせるか? ROG Delta S Wireless
Review ROG Delta S Wireless version Upgrade Support Bluetooth
The New ROG Gaming Gear Good design and Accurate response
Super compatible with any gaming platform, they can also be connected to the phone thanks to Bluetooth. The design is super ergonomic and the headset is really comfortable. The battery life is around 25 hours, perfect for long gaming sessions.
A large over-the-head model ASUS ROG DELTA S Wireless and also True Wireless earbuds ASUS ROG CETRA TRUE WIRELESS, which will not get lost even on the street!
Crime Boss 💰🚔 Gang game experience
Due to its performance, the ASUS ROG Delta S Wireless has earned the AX Platinum Award.
Delta S Wireless, as a model with a very small mass, has an excellent autonomy of 25 hours, and a fast charge option is also supported, where for e.g. 15 minutes of charging gives you 3 hours of normal use.
What is very important with gaming headsets is the sound quality, of course, and the Delta S Wireless has a very strong gaming DNA, when I say that I mean a completely flat or flat basic sound profile.
Ürün Karşılaştırma
Ürün karşılaştırmaya eklendi. 4 ürüne kadar ekleyin veya seçilen ürünleri karşılaştırmaya devam edin.
KARŞILAŞTIRMAYI GÖRÜNTÜLE
ASUS Footer