Genel Bakış
Teknik Özellikler
Ödüller
Galeri
Nereden Satın Alabilirim?
Destek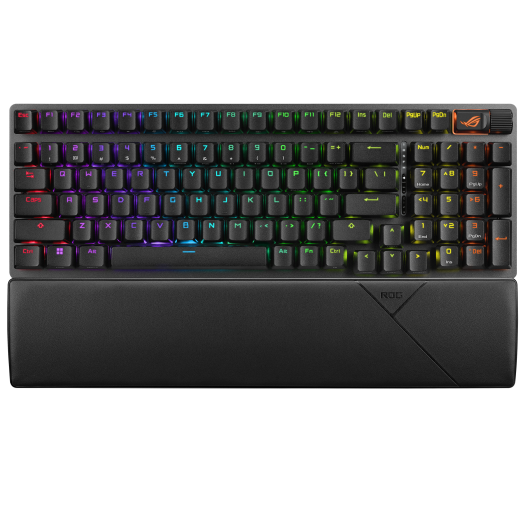 ROG Strix Scope II 96 Wireless
ROG Strix Scope II 96 Wireless oyuncu klavyesi, üç modlu bağlantı, yayıncılar için kısayol tuşları, çok işlevli kontroller, değiştirilebilen önceden yağlanmış ROG NX Snow & Storm mekanik anahtarlar, ROG klavye sabitleyici, PBT çift kalıplı tuş başlıkları, sönümleyici silikon köpük, üç farklı eğim açısı ve bilek desteği
%96 boyutlu düzen: %80 boyutlu klavyelerden yalnızca 1cm daha geniş olan bir form faktörüyle masaüstü alanından tasarruf etmek için tüm işlevleri ve numerik tuşları daha kompakt ve daha verimli bir düzene yerleştirir.
Üç modlu bağlantı seçeneği: Bluetooth® (üç cihaza kadar), ROG SpeedNova kablosuz teknolojisiyle 2,4 Ghz (1,500 saate varan pil ömrü) veya kablolu USB ile bağlanın.
Hızlı değiştirilebilen anahtarlar: Korumalı kök tasarımına sahip olan önceden yağlanmış NX Snow doğrusal anahtarlar ve ROG NX Storm dokunsal anahtarlar tuş vuruşlarındaki sallantıyı azaltır ve daha gelişmiş akustik sağlar.
Anahtar tamponlarına sahip ses sönümleyici köpük: Anahtar tamponlarına sahip bir yapı sunan benzersiz sönümleyici köpük, gelişmiş tuş vuruş akustiği için tıklama seslerini ve yankılanan sesleri sönümler.
Gelişmiş yazı yazma deneyimi: Önceden yağlanmış klavye sabitleyicileri, uzun tuşlar için daha az sürtünmeyle daha akıcı tuş vuruşları ve sabitlik sunar. Dayanıklı ROG PBT çift kalıplı tuş başlıkları veya UV kaplamalı ABS tuş başlıkları birinci sınıf bir his ve parlamaya karşı dayanıklılık* sağlar.
Kısayol Tuşları: F1-F5 tuşları, Xbox Game Bar ve kayıt işlevi için kısayol tuşu olarak programlandı.
Sezgisel denetimler: Çok işlevli düğme ve tekerlekler medya oynatmak, ses seviyesini ve klavye aydınlatmasını ayarlamak için kullanılabilir.
ROG Omni Reciever: Tek bir alıcı ile desteklenen birden fazla cihaza kablosuz olarak bağlanın.
Benzersiz ROG temalı Spacebar tuşu: ROG temalı ve alt kısmında üç adet RGB LED'e sahip UV kaplamalı Spacebar tuşu.
Ergonomik tasarım: Üç farklı eğim açısı ve çıkarılabilir bilek desteği.
*Tuş başlıklarında kullanılan malzeme bölgeye göre farklılık gösterebilir.
Video İncelemeleri
So Asus just made their BEST Wireless gaming keyboard, but is it really that good? They sent me one to test. Here are the results.
Anyway, I'm really excited about it, I think it looks super sleek.
While we were at Computex 2023, we managed to drop by Asus' booth for the Asus ROG Strix Scope II 96 Wireless keyboard; yes, it's a mouthful. Nonetheless, we tried out the keyboard briefly at the trade show, and we're quite impressed with the overall refinement of the Strix Scope II.
This is one of the best wireless gaming mechanical keyboards that I've tried with a numpad.
The keyboard is very cool. First of all, I liked the typing - thanks to the two sound-absorbing layers and the candles themselves - they are lubricated, the stabilizers are lubricated. Everything here is done as it should be - well done, ASUS!
This PC does NOT have cables ****
ROG Strix Scope II 96 Wireless
A bunch of coolers for your processors! A 96 mechanical keyboard ROG Strix Scope II 96 Wireless
Review Asus ROG Strix Scope II 96 with NX Snow Switches | Full-featured compact gaming keyboard
Unboxing the ROG Strix Scope II 96 Wireless premium keyboard
What actually excels the most in our opinion is the comfort of long-term work and the quiet mechanical switches with a great feel. That's why we recommend her!
Strix Scope II 96 Wireless comes with hot-swappable coated ROG NX Snow & Storm mechanical switches and a unique design with silicone cushioning foam that has built-in cushioning pads for the switches, providing a great typing experience.
So to sum it up - this is the so-called 96% format, squeezed into 80% of keyboards, so it's only a little wider than the TKL model, and at the same time it has a full numeric part. It brings probably the best gaming switches on the market, factory lubricated with a complete sound dampening system.
Ürün Karşılaştırma
Ürün karşılaştırmaya eklendi. 4 ürüne kadar ekleyin veya seçilen ürünleri karşılaştırmaya devam edin.
KARŞILAŞTIRMAYI GÖRÜNTÜLE
ASUS Footer