Genel Bakış
Teknik Özellikler
Ödüller
Galeri
Nereden Satın Alabilirim?
Destek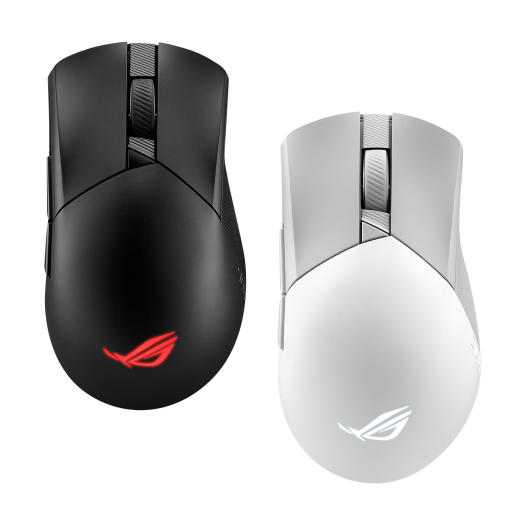 ROG Gladius III Wireless AimPoint
ROG Gladius III Wireless AimPoint 79 gramlık hafif bir yapıya sahip kablosuz RGB oyuncu mouse'udur, 36,000 dpi ROG AimPoint optik sensör, üç modlu bağlantı seçeneği, ROG SpeedNova kablosuz teknolojisi, değiştirilebilir mouse anahtarları, ROG Micro Anahtarlar, 0 ms'lik tıklama gecikmesi için dikey düğme mekanizması, ergonomik tasarım, ROG Paracord, %100 PTFE mouse ayağı, programlanabilir altı adet düğme ve mouse kavrama bandı.
Harika hassasiyet: 650 ips ve 50 g ivmelenme oranıyla 36,000 dpi ROG AimPoint optik sensör ve 1000 Hz sorgu oranı.
Hafif yapılı klasik görünüm: Gladius serisinin ünlü asimetrik estetiği ile yalnızca 79 gram ağırlığındadır.
Üç modlu bağlantı: Düşük gecikmeli 2.4 GHz RF açıkken 119 saate kadar oyun deneyimi yaşayın, Bluetooth® modu ile üç adet cihaza kadar eşleyin ya da kablolu USB modu ile şarj edip oyun oynayın.
ROG SpeedNova kablosuz teknolojisi: 2.4 GHz RF modu ile düşük gecikme, güvenilir kablosuz performansı ve optimize güç çözümü sunar.
Push-Fit II Anahtar Soketi: Değiştirilebilir anahtar tasarımıyla kolay özelleştirme; Gladius III Wireless AimPoint, ROG Micro Anahtarlara sahiptir ve diğer 3 pimli mekanik ve 5 pimli optik mikro anahtarlar ile uyumludur.
ROG desenli kaymaz mouse kavrama bandı: Şık görüntüsüyle kullanıcılara daha sağlam bir kavrama sağlar.
Akıcı ve hızlı hareketler: ROG Paracord ve %100 PTFE mouse ayakları
Ayrıca Moonlight White renk seçeneği de mevcut.
NVIDIA® Reflex: Mouse'un yanıt hızını gözlemlemenize olanak sağlayan NVIDIA Reflex Latency Analyzer için resmi olarak doğrulandı - Daha fazla bilgi
Video İncelemeleri
I also like the fact that the mouse comes with user-replaceable switches, as well as extensive set of accessories
To sum up, the ROG Gladius III Wireless AimPoint is deserving of its status as a premium wireless gaming mouse, where it sports an industry-leading 36000 DPI optical sensor in a well-built package. Throw in an extensive set of accessories, and user-replaceable mouse switches, and you have a package that is hard to beat.
If you are not someone that really cares too much about having the lightest mouse, then defnitely consider the ROG Gladius III Wireless Aimpoint and ROG Keris Wireless Aimpoint.
Everyone defines the perfect gaming setup differently - this combo is definitely pretty cool!
ASUS ROG: I tested the ultimate keyboard/mouse kit for gamers
I'M DOING AN €8500 SETUP CONTEST!!! 😱 (incredible)
Playing good games need to buy "expensive mouse"?
Gaming Mouse upgrade Accurate response with ROG Aimpoint 36,000 dpi
Review ROG Gladius III Wireless & Keris Wireless Upgrade ROG AimPoint OPTICAL SENSOR
Personally, I think the updates in these mice are very timely and necessary. If you have a larger hand and you hold the mouse with your entire palm, take Gladius.
In the first place I have convenience and ergonomics, and I am sure that in this parameter it will suit a lot of people.
ASUS ROG GLADIUS III - AimPoint edition! | 4K REVIEW
Reear development in Rog Gladius III WIRELESS AIMPOINT games
Preview 3 professional giming mouse
ROG GAMING MICE - 3 Ultimate
Both mice earned our highest accolade – AXetraordinary.
Ürün Karşılaştırma
Ürün karşılaştırmaya eklendi. 4 ürüne kadar ekleyin veya seçilen ürünleri karşılaştırmaya devam edin.
KARŞILAŞTIRMAYI GÖRÜNTÜLE
ASUS Footer