Features
Tech Specs
Gallery
Where to Buy
Support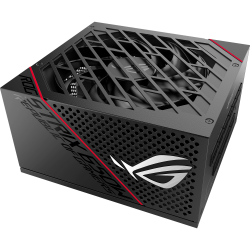 DC Output Voltage
+3.3V +5V +12V -12V +5Vsb
Cable Connectors
MB 24/20-pin x 1 CPU 4+4-pin x 2 PCI-E 6+2-pin x 4 SATA x 8 Peripheral x 3
Package Contents
Power Cord x 1 Motherboard Power cable x 1 (610mm) CPU Cable x 2 (1000mm) PCIE 1-to-2 Cable x2 (675+75mm) SATA 1-to-4 Cable x1 (410+150+150+150mm) SATA 1-to-4 Cable x1 (450+120+120+120mm) Peripheral 1-to-3 Cable x1 (450+120+120mm) Join the ROG badge x 2 ROG logo magnet x 1 ROG label x 3 *MB/ CPU/ PCI-E cables come with embedded capacitors in the middle.
Cybenetics Noise Level Certification
ROG-STRIX-650G
Product Comparison
Product added to comparison. Add up to 4 products or proceed to view compare products selected.
Disclaimer
Products certified by the Federal Communications Commission and Industry Canada will be distributed in the United States and Canada. Please visit the ASUS USA and ASUS Canada websites for information about locally available products.
For pricing information, ASUS is only entitled to set a recommendation resale price. All resellers are free to set their own price as they wish.
Price may not include extra fee, including tax、shipping、handling、recycling fee.
ASUS Footer