Features
Tech Specs
Awards
Gallery
Where to buy
Support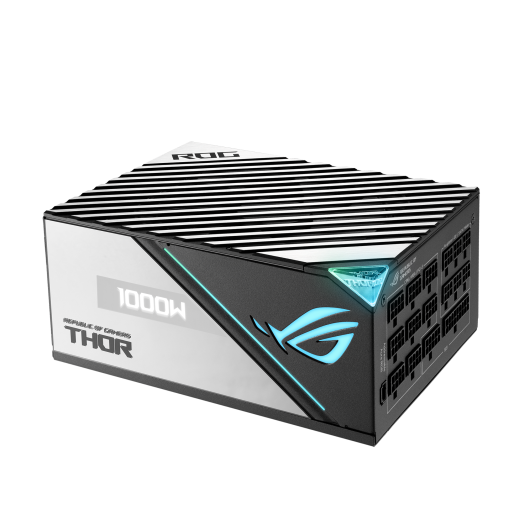 ROG-THOR-1000P2-GAMING
ROG Thor 1000W Platinum II is the quietest PSU in its class.
Lambda A++ Certification confirms the latest Thor wields menacing power in absolute stealth.
ROG heatsinks cover critical components, delivering lower temperatures and reduced noise.
A 135mm Axial-tech fan with PWM control delivers lower noise and keeps thermals in check.
Built with low-ESR capacitors and other premium components to achieve 80 Plus Platinum Certification.
OLED display monitors power draw in real time.
Aura Sync compatibility lets you customize and sync lighting effects with other compatible hardware.
Video Reviews
The Ultimate 4090 PC?! | ROG GR701 HYPERION Gaming PC Build | ASUS Strix 4090, i9 13900K Custom Loop
TO START THE YEAR OFF RIGHT!
Like Shox, trust ROG and NVIDIA to perform in competitive games!
I offered him a 6500€ Setup GAMER !
I offer him a 4200€ GAMING PC
MY NEW ASUS ROG PC FOR 5000€! (+200 fps on Warzone)
WE REMAKE YOUR GAMING ROOM ! (ft. Guillaume)
I build a 5000€ Gaming PC !
Holy smokes, they sent some cool stuff.
【自作PC】AMD今までありがとう。今年はintel CPUで快適にゲームします!| パーツ構成紹介編
【自作PC】強すぎる白いゲーミングPC作る! RTX4080 + 13900K ROG TUF APEX 240fps【初心者向け 組み立て解説付き】
【驚異の91万円】白いRTX4090を搭載した現行最強のゲーミングPCを組んでみました。
The power supply is 80 Plus Platinum certified and also has a nice power meter. It had no problem feeding the RTX 4090.
Black smart gaming room collection
The monster that prevails all 🔥
ROG Full Games Collecting
Maherco Assembly #1: New Game 2022
Video review from the channel HDTanel. Rating 6/10
Product Comparison
Product added to comparison. Add up to 4 products or proceed to view compare products selected.
ASUS Footer