Caractéristiques
Caractéristiques techniques
Récompenses
Galerie
Support
ROG-STRIX-RX6700XT-O12G-GAMING
ROG Strix Radeon™ RX 6700 XT OC Edition avec mémoire GDDR6 de 12 Go - Un poids lourd du refroidissement et de la puissance
Ventilateurs axiaux : design optimisé, plus de pales et nouveau schéma de rotation
Slot de 2,9'' : surface de refroidissement élargie pour une meilleure répartition de la chaleur
Super Alloy Power II : bobines en alliage spécial, condensateurs ultra-robustes en polymère et phases d'alimentation à courant élevé.
Structure externe renforcée : protège le circuit imprimé contre des torsions excessives
MaxContact : un dissipateur de chaleur offrant deux fois plus de contact avec le GPU pour améliorer les transferts de thermiques
FanConnect II : un connecteur hybride pour ventilateur permettant d'optimiser le refroidissement du système
Ouvertures d'aération sur la plaque arrière qui empêchent l'air chaud de recirculer à travers le système de refroidissement
Revues vidéo
.. And if you want to buy a RX 6700 XT, this(ROG Strix Radeon RX 6700 XT OC) is the one to go for.
ROG Strix Radeon 6700 XT vs. Geforce RTX 3070
Beating the RTX 3070 with 12 GB? Review summary of the AMD Radeon RX 6700 XT
The best Graphics Card for QHD gaming ?
Although it is not a card with very low TDP values, the temperature values ​​were really great. The reason of this is the perfect cooling system.
We mentioned that the card has 3 fans, the left and right fans turn to the left and the middle fan to the right. ASUS's goal here is to reduce turbulence, and it really works. The firm has done a nice cooling.
The card looks gorgeous, the execution is top notch.
I really liked the 6700XT performed by ASUS.
I have to admit, I was convinced by the ROG Strix RADEON RX 6700XT at first glance.
Viewed through AXE awards, this model deserves pure AXE Diamond award.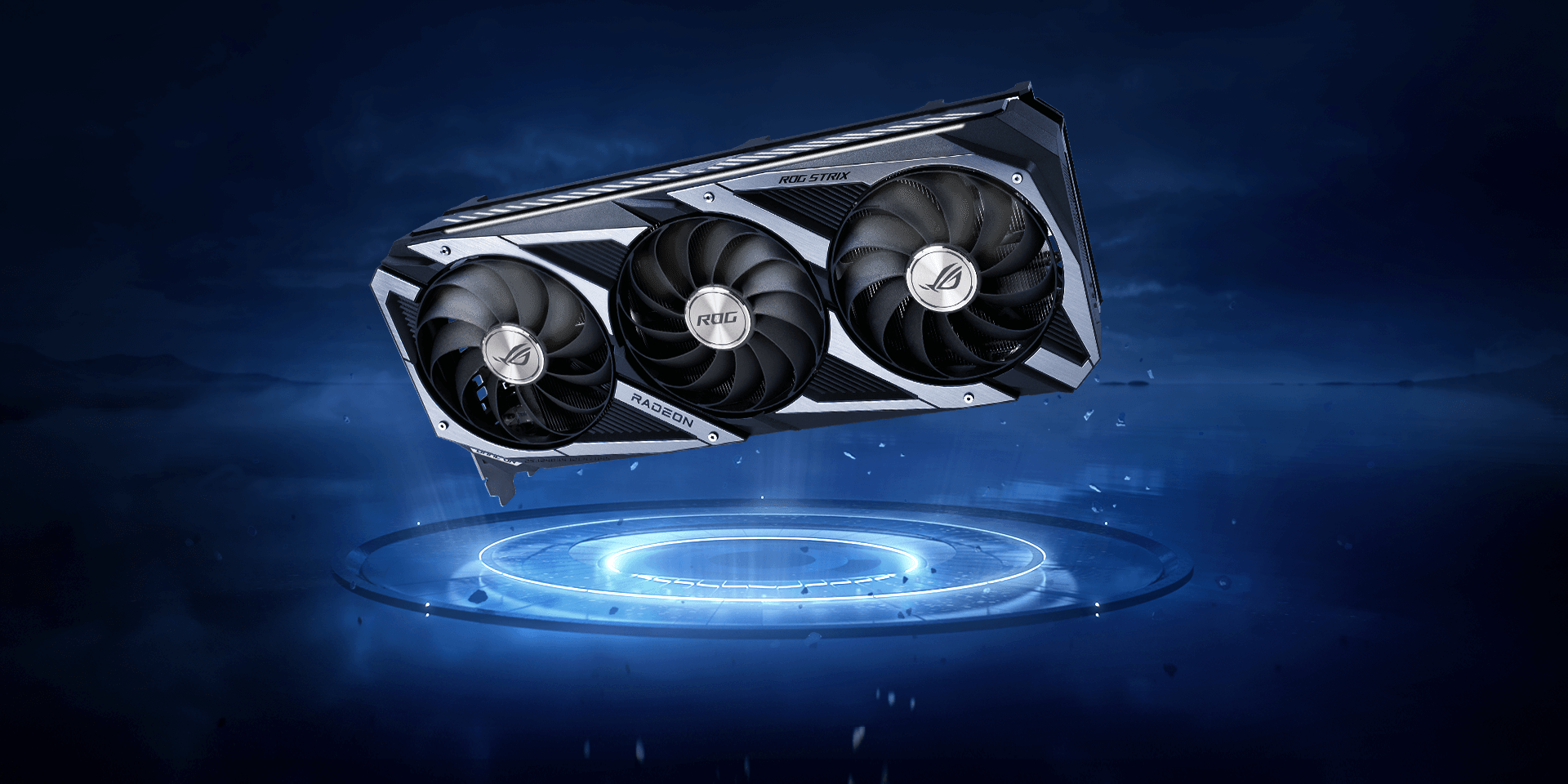 ROG STRIX
Radeon™ RX 6700 XT
ROG STRIX
Radeon™ RX 6700 XT
Prenez votre envol
La ROG Strix Radeon™ RX 6700 XT réunit une solution innovante pour le refroidissement et des performances graphiques haut de gamme en plus d'offrir à l'utilisateur des fonctionnalités supplémentaires qui rehausseront leur expérience de jeu. Sous la surface, un grand radiateur est refroidi par un trio de ventilateurs axiaux qui utilisent un nouveau schéma de rotation et ont chacun un rôle attribué : le trio est donc composé d'un ventilateur central et de deux ventilateurs axiaux. Au cœur de la carte se trouvent des condensateurs, bobines et MOSFET de qualité premium pour fournir des centaines de watts en une milliseconde. De nombreuses autres fonctionnalités y ont été ajoutées telles qu'un switch Dual BIOS, des connecteurs PWM FanConnect et une plaque arrière métallisée qui font de cette carte graphique le choix de prédilection des amateurs de montage PC.
Ventilateurs
Refroidissement maximisé
Pour cette génération de cartes graphiques, nous avons voulu augmenter le nombre de pales sur nos trois ventilateurs axiaux : Le ventilateur central compte désormais 13 pales contre 11 pour les ventilateurs auxiliaires. Les pales supplémentaires du ventilateur central et son anneau de taille identique fournissent une meilleure pression statique, pour propulser l'air directement sur le dissipateur de chaleur du processeur graphique. L'anneau de ceux-ci a vu sa taille réduite pour une meilleure circulation latérale de l'air et dans toute la surface de refroidissement.
Ventilateurs
Bruit réduit
Pour renforcer encore les rôles propres aux ventilateurs central et auxiliaires, nous avons inversé la direction de rotation du premier. Cela a permis de réduire les variations de flux d'air dans la zone de refroidissement afin de booster les performances thermiques globales. Par ailleurs les ventilateurs ne s'activent que lorsque la température du GPU atteint les 60 °C, et se désactivent automatiquement lorsque la température repasse en deçà des 55 °C. Ainsi le bruit généré par votre système est atténué lorsque vous faites fonctionner votre GPU à charge moyenne !
Radiateur
MaxContact
Pour faire remonter la chaleur en dehors du circuit intégré vers le radiateur, la surface du dissipateur thermique a été polie à l'aide de la technologie MaxContact pour plus de fluidité. Cette surface extra-plate améliore son contact avec le circuit imprimé afin d'améliorer les transferts de chaleur.

Hauteur augmentée
Radiateur
Slot de 2,9''
Le dissipateur de chaleur envoie la chaleur dans des caloducs qui la transportent dans des ailettes sur une surface de 2,9 pouces.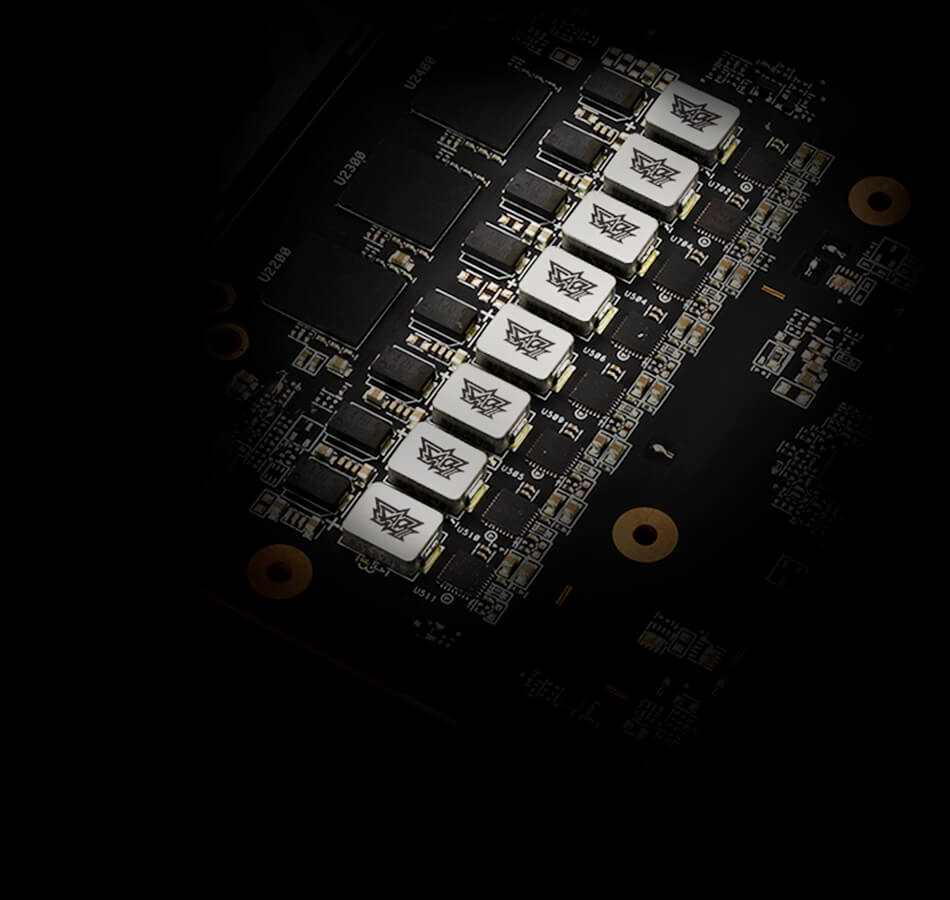 Circuit imprimé
Composants premium
Nous avons sélectionné des condensateurs, bobines et MOSFET de qualité premium pour fournir des centaines de watts en une milliseconde. Les composants Super Alloy Power II sont soudés au circuit imprimé à l'aide de nos processus de fabrication automatisés sophistiqués Auto-Extreme. Les joints lisses sur l'arrière du circuit imprimé et l'absence d'erreurs humaines permettent de garantir que chaque carte graphique respecte nos spécifications.
Circuit imprimé
FanConnect II
L'arrière de la carte graphique ROG Strix possède deux connecteurs PWM FanConnect, pour une flexibilité encore plus poussée. Les ventilateurs du châssis peuvent être directement connectés au processeur graphique et adaptés selon une courbe basée sur la température du processeur ou du processeur graphique, pour une meilleure circulation de l'air lors des tâches en 3D les plus exigeantes.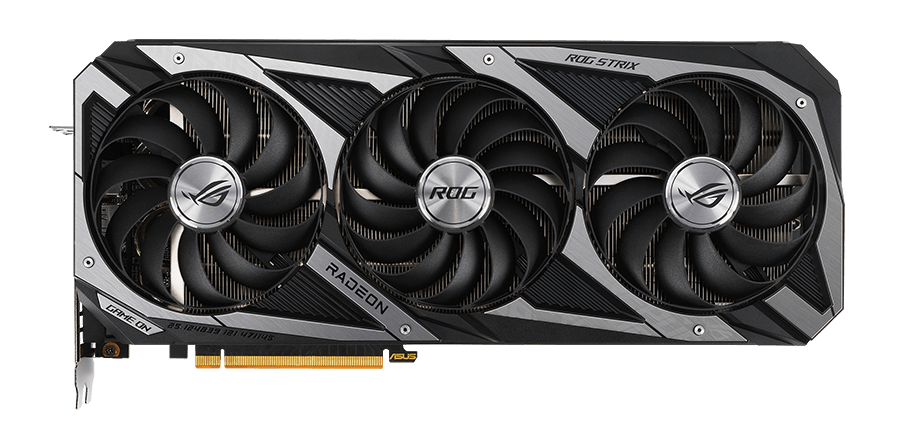 Design
Protection redoutable
En complément des modifications internes, la ROG Strix possède une nouvelle structure métallique qui reflète l'esthétique des cartes-mères ROG et ROG Strix. Ce mélange de textures et de matériaux affiche un rendu impressionnant une fois monté à la verticale et éclairé par des LED. Pour ceux qui préfèrent un look plus racé et subtil, les coloris gris permettront au cadran de se fondre dans son environnement.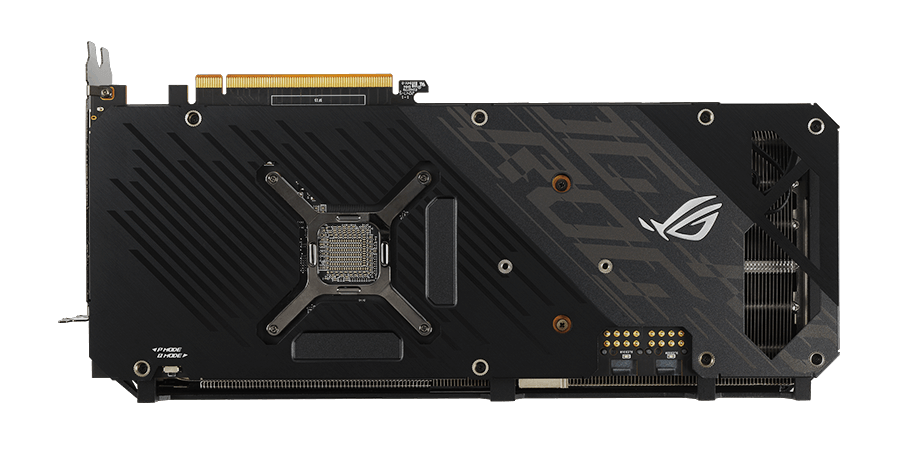 Design
Revêtement arrière renforcé
Retournez la carte et vous découvrirez encore une série d'améliorations. La partie arrière des cartes est recouverte d'une plaque de métal renforcé doté d'une grande ouverture d'aération. Cette dernière permet à l'air chaud d'être expulsé en direction des ventilateurs d'évacuation plutôt que d'être recyclé dans le refroidisseur GPU. Le support du processeur graphique fournit une stabilité encore renforcée à l'assemblage essentiel entre la puce et le dissipateur de chaleur. Un alliage d'acier inoxydable a été utilisé dans la fabrication du support E/S pour protéger les ports et améliorer la sécurisation des fixations. Une fois actionné, le switch Dual Bios permet de régler les performances par défaut de la carte sans avoir besoin de passer par un logiciel.

Design
Design impeccable
Le connecteur RGB adressable à l'avant de la carte peut être personnalisé via l'interface Armoury Crate pour créer un look uniforme avec les autres composants ROG de votre setup. Pour remplir les exigences en matière de puissance de la Radeon RX 6700 XT, deux connecteurs d'alimentation à 8 broches sont inclus, ainsi qu'un circuit intégré qui contrôle la tension du rail. Celui-ci est suffisamment rapide pour détecter les transitoires qui entraînent une chute de tension du rail. Lorsque cela arrive, un voyant lumineux rouge s'allumera pour indiquer qu'il y a un problème au niveau de l'alimentation. Le cadre métallique renforcé de la Strix est également visible, pour une durabilité encore plus grande.
Sélection de la couleur
En fonction de
la température GPU
Température minimale : ℃

Température maximale : ℃
Sélection du
mode
Statique

Pulsation

Stroboscopique

Arc-en-ciel

Cycle de couleurs

Nuit étoilée

Intuitif

Pénombre
Logiciels
GPU Tweak II
L'utilitaire ASUS GPU Tweak II fait monter d'un cran le niveau de personnalisation des performances de votre carte graphique. Il vous aide à ajuster les principaux paramètres de votre carte tels que la fréquence d'horloge des cœurs du GPU, la fréquence mémoire et les réglages de tension. En outre vous pouvez tout contrôler en temps réel à l'aide d'une interface personnalisable affichée à l'écran. Des contrôles avancés pour ventilateurs sont inclus aux côtés de nombreuses autres fonctionnalités innovantes afin de vous aider à exploiter votre carte graphique au maximum de ses capacités.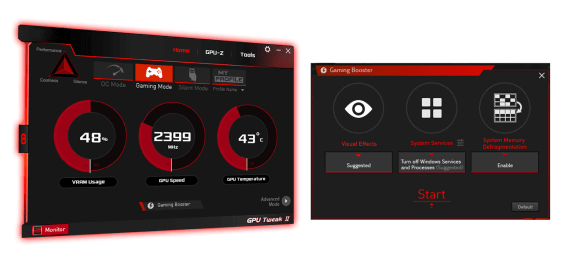 Logiciel Radeon
Le nouveau logiciel Radeon™ Software Adrenalin 2020 Edition exploite le plein potentiel de votre carte graphique avec des pilotes ayant obtenu la certification Day Zero afin de profiter au plus vite des toutes dernières sorties de jeu et personnaliser à l'extrême son expérience gaming.
Nous avons collaboré avec WTFast pour vous proposer des jeux sans lag ni latence ou perte de paquets. En souscrivant à un abonnement de 6 mois au GPN WTFast, vous profitez d'une réduction du ping pour des jeux en ligne plus fluides. Obtenez votre carte graphique et n'attendez plus lorsque vous jouez !

En savoir plus sur WTFast

Quantumcloud is a simple and secure service that lets you effortlessly earn extra money by putting your idle GPU to work. Earnings are automatically transferred to your WeChat or PayPal account, and your privacy remains intact because Quantumcloud doesn't collect your personal data. Get started making money today!

Learn more about Quantumcloud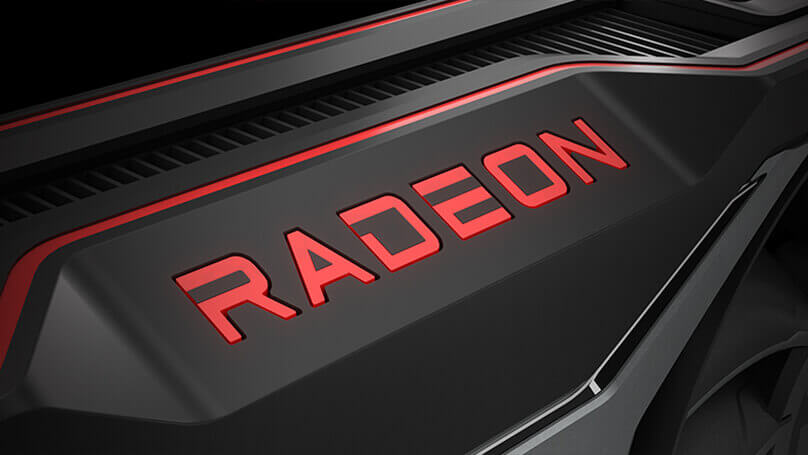 Puissance colossale pour 1440p
Les cartes graphiques AMD Radeon™ RX 6700 XT Series fournissent des fréquences de rafraîchissement ultrarapides et une définition de 1440p. Vivez une expérience de jeu inoubliable avec une nouvelle unité de traitement graphique, la technologie AMD Infinity Cache et jusqu'à 12 Go de mémoire GDDR6 dédiée. Par ailleurs la technologie AMD Smart Access Memory amplifie la qualité de l'expérience lorsqu'elle est couplée au processeur AMD Ryzen™ 5000 Series sur nos cartes graphiques AMD Radeon™ RX 6700 XT.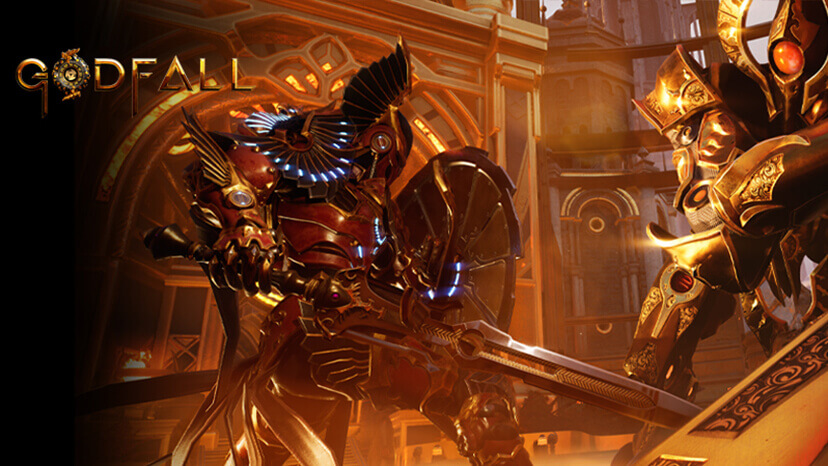 Graphismes vibrants
Les cartes graphiques AMD Radeon™ RX 6700 XT Series vous plongent au cœur de l'action via des technologies de pointe dont DirectX® 12 Ultimate. Faites l'expérience d'un jeu d'ombres/lumières et reflets réalistes avec de nombreux détails grâce aux technologies DirectX® Raytracing (DXR), Variable Rate Shading (VRS) et AMD FidelityFX qui ont été optimisées pour l'architecture AMD RDNA™ 2.
Expérience renouvelée
Vivez une expérience de jeu plus rapide et fluide que jamais avec les technologies à faible latence AMD Radeon™ Anti-Lag and AMD Radeon™ Boost.1, 2 Rehaussez encore un peu plus la qualité de votre jeu grâce à la technologie HDMI™ 2.1 VRR disponible sur plus de 1300 moniteurs gaming AMD FreeSync™3, ainsi que grâce à la technologie de carte mère PCIe® 4.0.
Radeon™ Anti-Lag est compatible avec DirectX 9 et DirectX 11, ainsi qu'avec Windows 7 et 10. La compatibilité matérielle avec cette technologie inclut l'architecture GCN ainsi que les APU dGPUs Ryzen 2000 et générations suivantes qui comportent des configurations graphiques à la fois hybrides et détachables. Pas de compatibilité mGPU. GD-157
Radeon™ Boost est uniquement compatible avec Windows 7 et 10 sur une sélection de jeux. La compatibilité matérielle avec cette technologie inclut l'architecture RX 400 ainsi que les APU dGPUs Ryzen 2000 et générations suivantes qui comportent des configurations graphiques à la fois hybrides et détachables. Pas de compatibilité mGPU. Voir la liste complète des jeux compatibles : https://www.amd.com/fr/technologies/radeon-boost. GD-158
La technologie AMD FreeSync™ nécessite l'utilisation d'une carte graphique AMD Radeon™ et d'un moniteur compatible certifié AMD. La technologie AMD FreeSync™ Premium s'ajoute à l'offre de base de la technologie FreeSync pour offrir des avantages supplémentaires comme la compensation de fréquence d'images faible (low framerate compensation/LFC) obligatoire et une fréquence de rafraîchissement d'au moins 120 hz en résolution FHD. Les écrans utilisés doivent être certifiés compatibles avec la technologie AMD FreeSync™ Premium Pro. Consultez la page https://www.amd.com/fr/technologies/free-sync pour plus de détails. Veuillez vérifier la compatibilité auprès de vos appareils auprès du fabricant avant l'achat. GD-127
© 2021 Ubisoft Entertainment. Tous droits réservés. Assassin's Creed, Ubisoft, et le logo Ubisoft sont des marques déposées de Ubisoft Entertainment aux États-Unis et dans d'autres pays. Basé sur le jeu Far Cry développé par Crytek.
World of Warcraft®: Shadowlands ©2020 Blizzard Entertainment, Inc. World of Warcraft et Blizzard Entertainment sont des marques déposées de Blizzard Entertainment, Inc., aux États-Unis et dans d'autres pays.
GODFALL™ est un jeu développé et diffusé par Gearbox Publishing. Gearbox et le logo Gearbox sont des marques déposées. le logo Gearbox Publishing est une marque déposée de Gearbox Enterprises, LLC. ©2020 Counterplay Games Inc. Tous droits réservés.
© 2020 Advanced Micro Devices, Inc. Tous droits réservés. AMD, le logo AMD Arrow, FreeSync, Radeon, RDNA, Ryzen et leurs déclinaisons sont des marques déposées de Advanced Micro Devices, Inc. HDMI, le logo HDMI et l'appellation High-Definition Multimedia Interface sont des marques déposées de HDMI Licensing, LLC aux ֤États-Unis et/ou dans d'autres pays. USB Type-C® et USB-C® sont des marques déposées de USB Implementers Forum. Les appellations de produits sont utilisées à des fins d'identification uniquement et sont possiblement des marques déposées issues de leurs sociétés respectives.
Comparaison de produits
Produit ajouté pour la comparaison. Vous pouvez ajouter jusqu'à quatre produits supplémentaires ou directement commencer à comparer les produits sélectionnés.
ASUS Footer