Sie haben keine Artikel in Ihrem Warenkorb.
Übersicht
Technische Daten
Awards
Galerie
Händler finden
Support
Jedes Spiel, an jedem Ort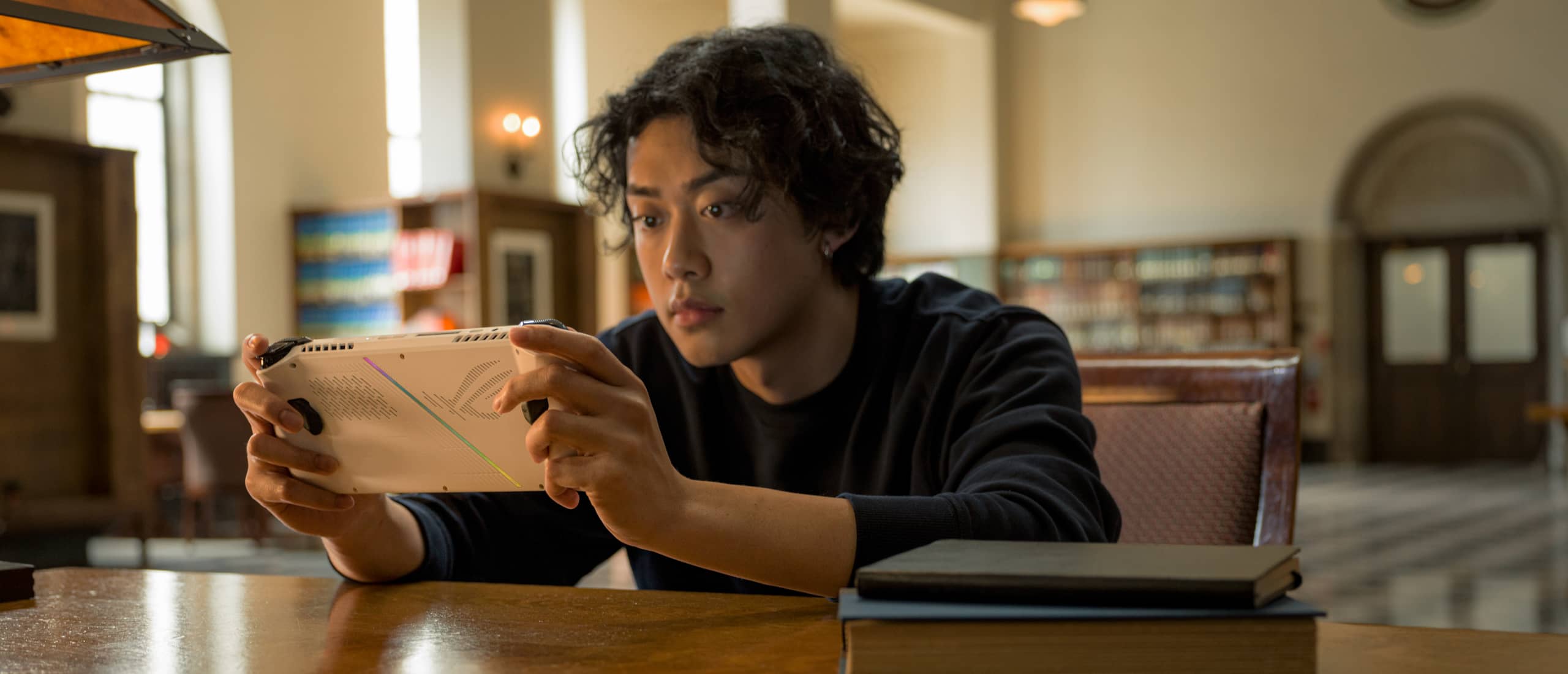 Me Time:
Gaming Handheld
Versinke tief in Deine Lieblings- AAA- oder Indiespiele und siehe zu, wie die Stunden mit dem großen Full-HD 120Hz Display und der unglaublich komfortablen Ergonomie dahinschmelzen.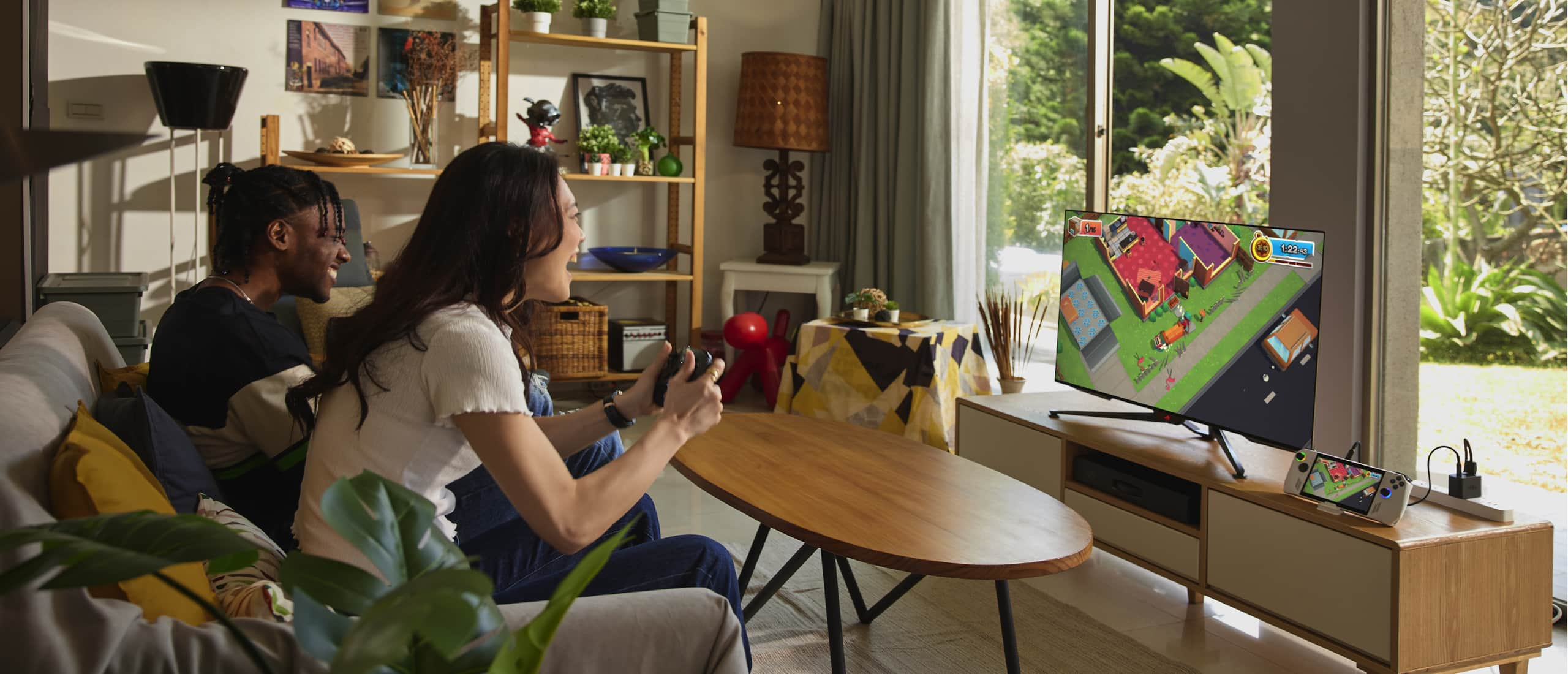 We Time:
Home Entertainment System
Du kannst den Spaß teilen, indem Du die Ally an einen Fernseher anschließt und mit mehreren Controllern koppelst, was sie sofort in eine beeindruckende Couch Spielkonsole verwandelt.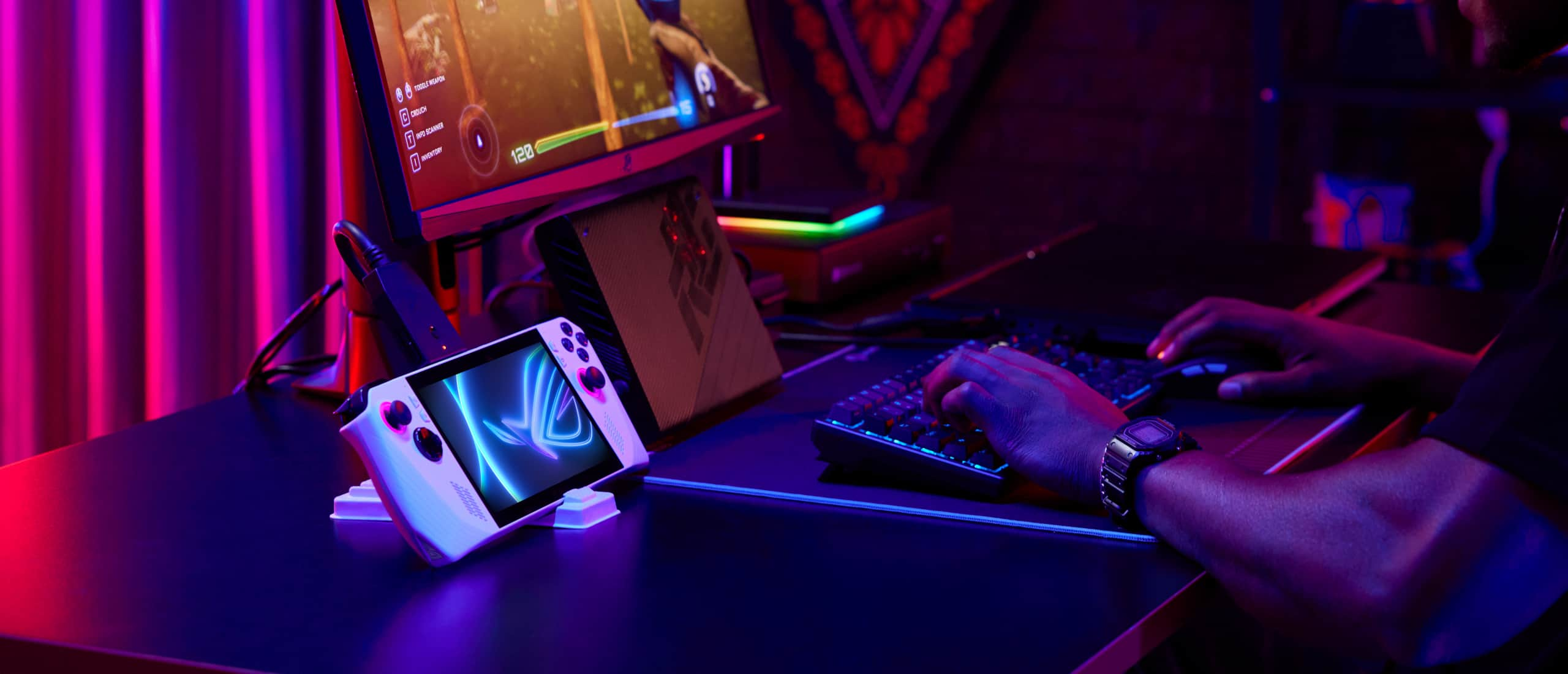 Pro Time:
Vollgas Spielen
Für ein wirklich erstklassiges Erlebnis kannst Du die Ally mit einer externen XG Mobile GPU, einem Monitor, einer Maus und einer Tastatur für Esports und High-Fidelity 4K Gaming kombinieren.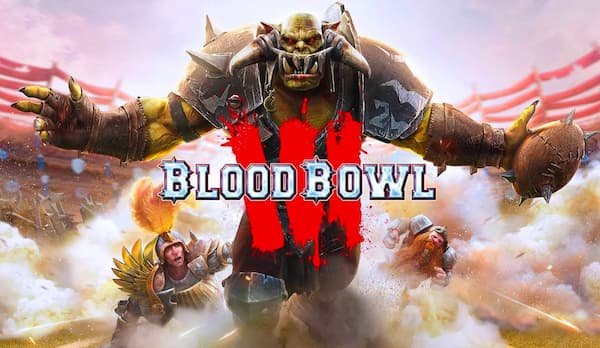 Blood Bowl 3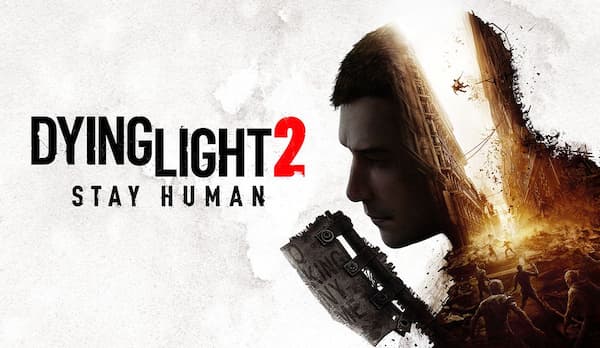 Dying Light 2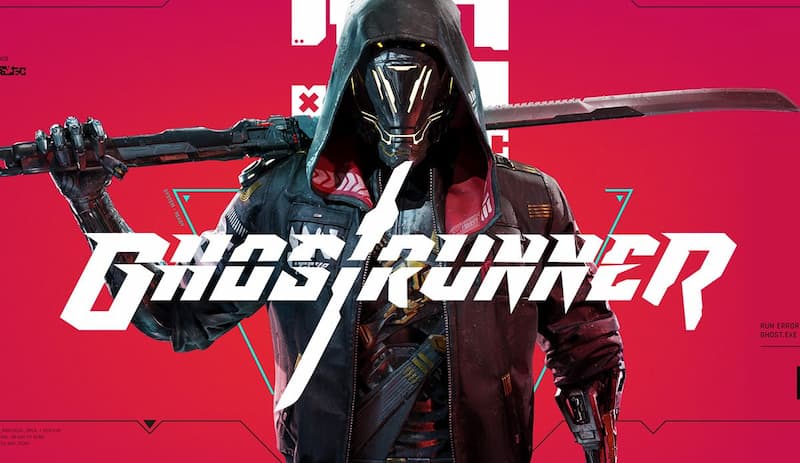 Ghostrunner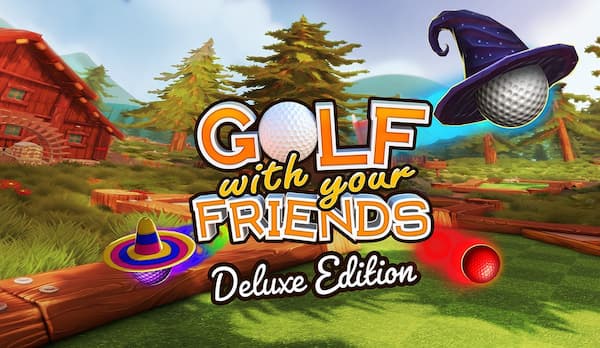 Golf with Your Friends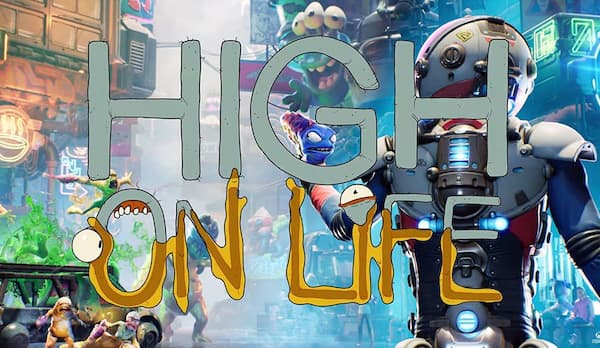 High on Life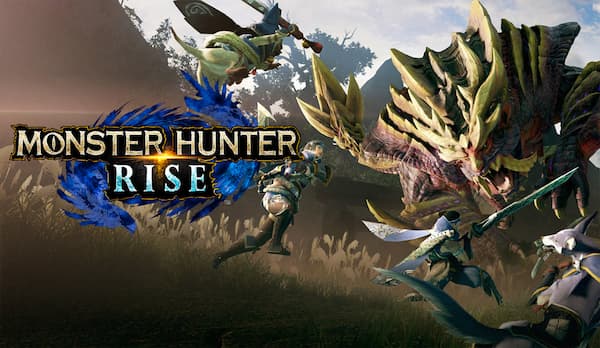 Moster Hunter Rise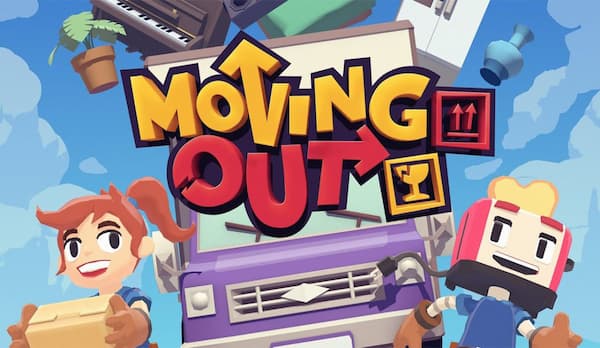 Moving Out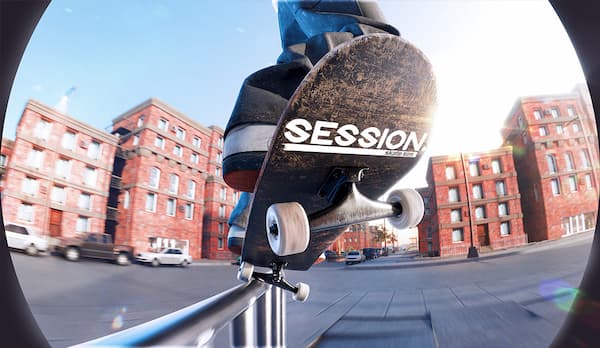 Session: Skate Sim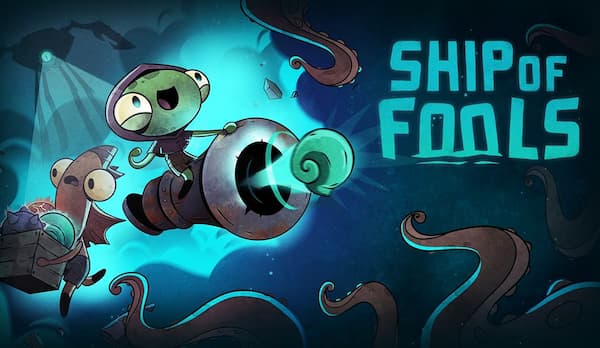 Ship of Fools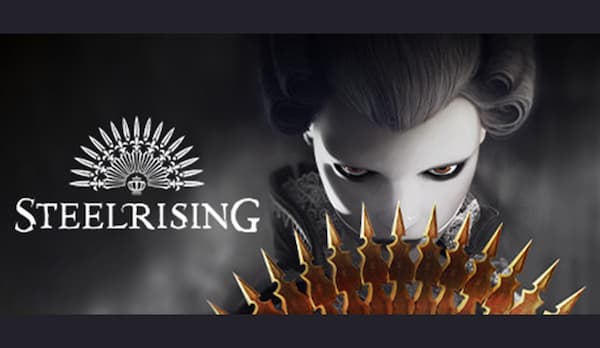 Steelrising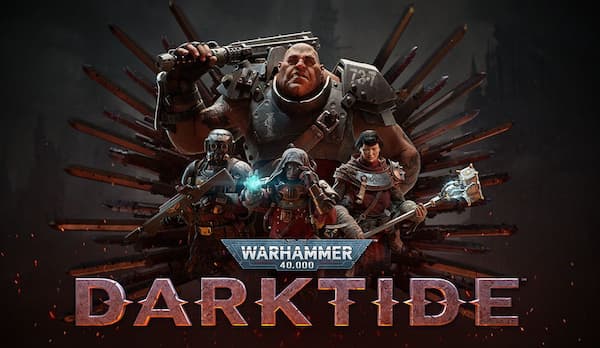 Warhammer Darktide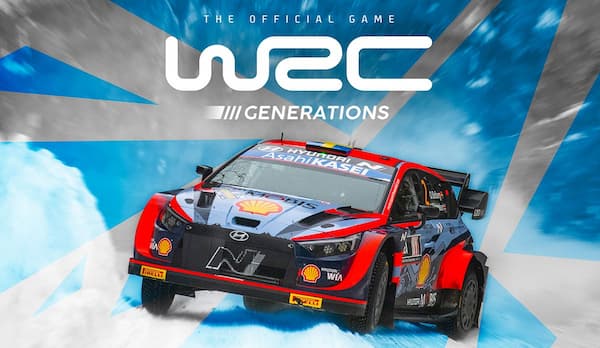 WRC Generations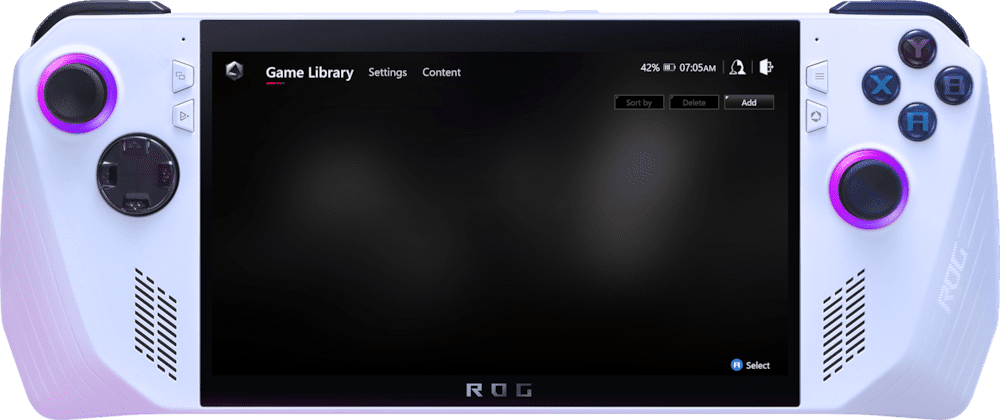 Spiele zu Deiner Spielebibliothek hinzufügen
Wenn Dein installiertes Spiel nicht in der Bibliothek erscheint, wähle bitte "Hinzufügen", um das Spiel manuell hinzuzufügen.
Wenn Du noch keine Spiele installiert hast, wähle unter Einstellungen > Spieleplattformen
#playALLYourgames
Mehrere Bibliotheken, ein Gerät. Die ROG Ally ist vollständig kompatibel mit Steam, Xbox Game Pass, Epic, GOG und mehr, so dass Du Deine Spiele auf der Ally spielen kannst, egal wo Du sie kaufst.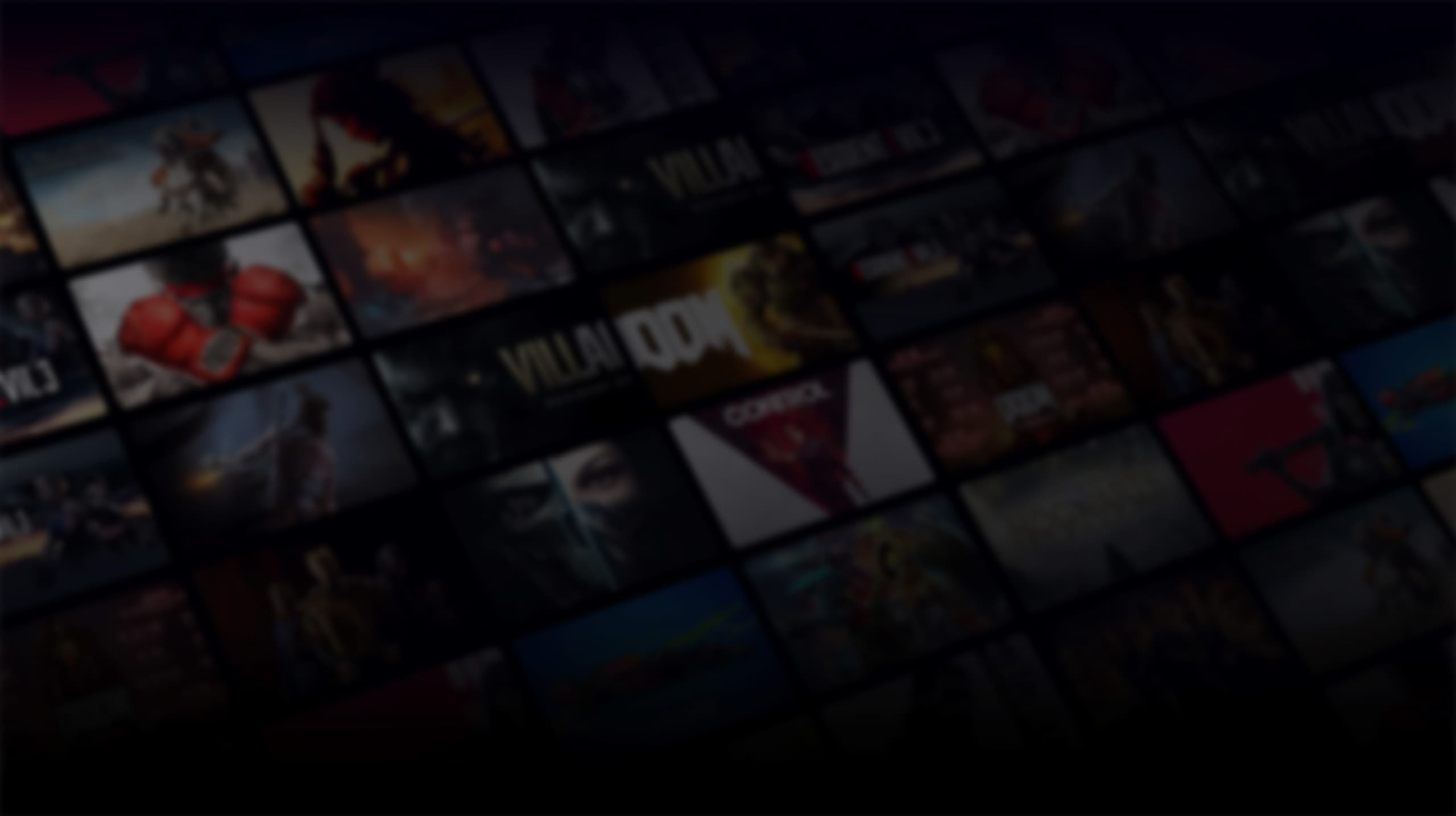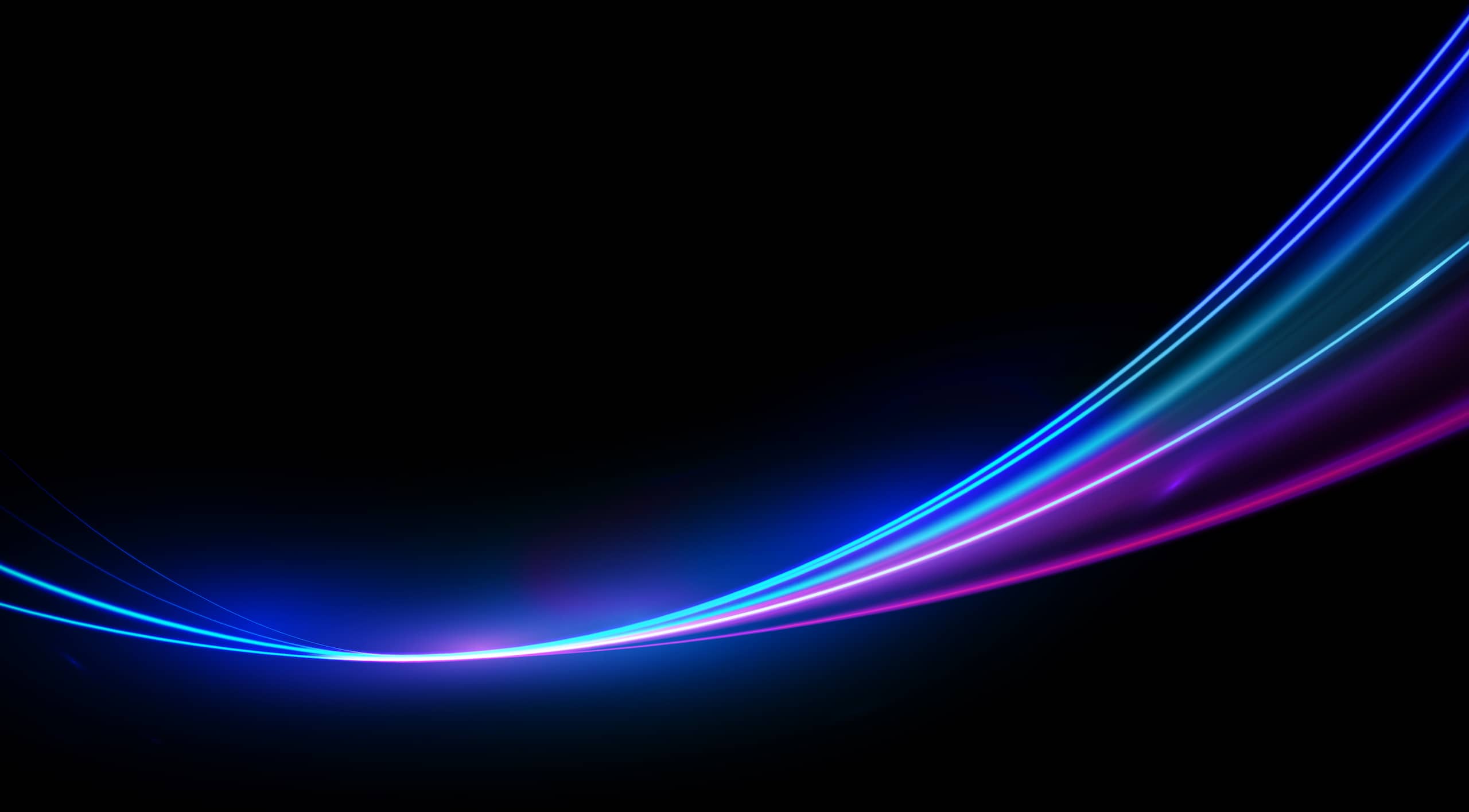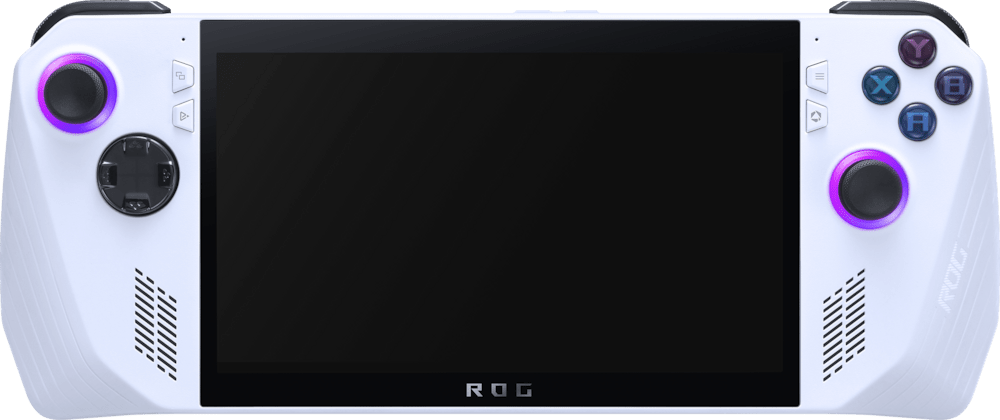 Spielbibliothek

Spiele von verschiedenen Launcher können schnell zu einer frustrierenden, unübersichtlichen Spielebibliothek führen. Wir haben eine Special Edition von Armoury Crate nur für die Ally entwickelt, um alle Deine Spiele zu sortieren und nahtlos von einem Ort aus zu starten, egal, wo sie installiert sind.

Command Center

Für eine mühelose Kontrolle Deines Spielerlebnisses ist das Command Center nur einen Fingertipp entfernt. Ändere die Leistungsmodi, schau Echtzeit Überwachungsdaten, aktiviere einen FPS Limiter und vieles mehr mit einem einzigen Tastendruck.

Personalisierung

Jede Taste auf einem Handheld Gaming Gerät ist wertvoll, und wir wissen, dass nicht jeder Gamer auf die gleiche Weise spielt. Deshalb haben wir dafür gesorgt, dass Du die Tasten nach Deinem Geschmack neu belegen und anpassen kannst. Zwei zusätzliche Paddles auf der Rückseite der Ally können als In-Game Tasten oder als Modifier verwendet werden, um noch mehr Optionen freizuschalten.
Entdecke Dein nächstes Lieblingsspiel
Spiele Minecraft Legends und hunderte von anderen Spielen auf der ROG Ally mit 3 Monaten Xbox Game Pass Ultimate*, damit Du sofort mit den neuesten Spielen loslegen kannst. Da ständig neue Spiele hinzukommen, gibt es immer etwas Neues zu spielen.
*Es gelten die allgemeinen Geschäftsbedingungen.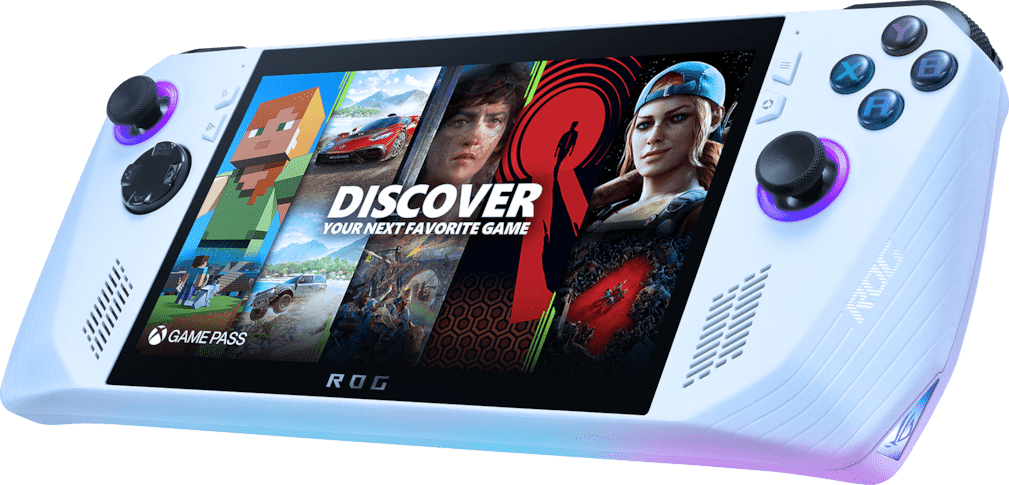 Moderne Sicherheit
Windows Hello
Melde Dich schnell und sicher bei der Ally an - mit einem in die Einschalttaste integrierten Windows Hello Fingerabdruckleser, ohne PIN. Wenn Du Deine Ally versehentlich unbeaufsichtigt lässt, sind Deine Daten sicher.
Elterliche Kontrolle
Bei jüngeren Nutzern können Eltern die App- oder Bildschirmzeit begrenzen, Ausgabenübersichten anzeigen und die Standorte ihrer Kinder mit leistungsstarken elterlichen Kontrollen verfolgen.
Windows Defender
Windows Defender bietet zuverlässige Sicherheit für Dein Gerät, mit ständig aktualisiertem Viren- und Malware-Schutz.
Geboren für Handheld Spiele
Die brandneue Ryzen™ Z1 Extreme APU von AMD treibt diese unglaubliche Gaming Maschine an. Das im innovativen 4nm Prozess hergestellte Silizium verfügt sowohl über die Zen 4 Architektur als auch über die brandneue RDNA™ 3 Grafik. Mit unglaublichen Upscaling-Technologien wie FidelityFX™ Super Resolution und Radeon™ Super Resolution kann die Ally die Framerate erhöhen und dabei eine hervorragende Bildqualität beibehalten. Wähle zwischen drei verschiedenen Betriebsmodi, um Leistung und Stromverbrauch auszubalancieren, von 9W im Silent Mode über 15W im Performance Mode bis hin zu 25W im Turbo Mode (oder 30W bei Anschluss an das Stromnetz). ROG hat eng mit AMD zusammengearbeitet, um das volle Potenzial dieser hochmodernen Hardware zu entfesseln, und der Ryzen™ Z1 Extreme ist hier, um die Gaming Welt im Sturm zu erobern.
Der Hochleistungsprozessor der Spitzenklasse für Handheld Spiele
Zen4
Architektur
RDNA™ 3
Grafiken
8
Kerne
4nm
Prozess
8.6
Teraflops
16
Threads
Der Hochleistungsprozessor für Handheld Spiele
Zen4
Architektur
RDNA™ 3
Grafiken
6
Kerne
4nm
Prozess
2.8
Teraflops
12
Threads
Butterweiches
Full-HD Gameplay

Drei Gaming-Rigs in einem
Reibungsloses AAA-Spiel in
1080P
Call of Duty®
ModernWarfare® II 2022
75-80
*Turbomodus, Auflösung 1920x1080, Standard Grafikeinstellungen, FSR in der Standardeinstellung aktiviert.
ROG Cetra True Wireless
Drahtloses Audio mit niedriger Latenz
Aktive Geräuschunterdrückung (ANC)
Bis zu 27 Stunden Akkulaufzeit
ROG ALLY REISEKOFFER
Wasserabweisendes, beschichtetes PU-Gewebe
Stauraum für Zubehör
Integrierter Ständer
Sport & Partyspiele in
1080P
*Turbomodus, Auflösung 1920x1080, Standard Grafikeinstellungen, FSR in der Standardeinstellung aktiviert.
rog raikiri pro
Tri-Mode Konnektivität: USB-C®, 2,4GHz RF oder Bluetooth®
Eingebautes OLED Display
Umfangreiche Anpassungsmöglichkeiten über Armory Crate
Authentisches
Esports- und 4K-Spielerlebnis
League of Legends
150-180
4K mit Raytracing + DLSS3 eingeschaltet
The Witcher® 3: Wild Hunt
60-80
Spider-Man Miles Morales
60-80
*Turbomodus, Auflösung 1920x1080, Standard Grafikeinstellungen
ROG XG MOBILE (GC33)
GeForce RTX™ 4090 Laptop GPU
Eingebauter I/O-Hub: USB Typ-C & Typ-A,
SD-Kartenleser, Ethernet, HDMI 2.1
Integrierter 330W Adapter
ROG XG MOBILE (GC32)
AMD Radeon™ RX 6850M XT-GPU
Eingebauter I/O-Hub: USB Typ-A, SD-Kartenleser,
Ethernet, HDMI 2.1
Integrierter 330W Adapter
MicroSD Erweiterung
Wenn Du eine größere Spielesammlung hast, ist die Ally genau das Richtige für Dich. Ein dedizierter UHS-II microSD Kartensteckplatz ermöglicht das mühelose Hinzufügen von Hochgeschwindigkeitsspeicher zu Deinem Gerät, sodass Du mehr Deiner Spiele installieren und spielen kannst. Mit nahezu den gleichen Ladezeiten wie bei der dedizierten PCIe Gen 4 SSD musst Du Dir keine Gedanken mehr darüber machen, wo Du Deine Spiele speicherst.
Tatsächliche Ladezeit des Spiels
27,92 Sekunden
ROG ALLY mit SD-Karte
Cyberpunk 2077
34,52 Sekunden
ROG ALLY mit SD-Karte
Control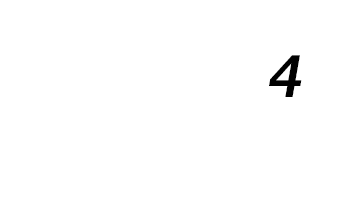 PCI Express 4.0 SSD
Mit bis zu 512GB blitzschnellem PCIe Gen 4 Speicher dank einer M.2 2230 SSD hast Du jede Menge Platz für all Deine Spiele und ultraschnelle Boot Zeiten.

Leistungsstarker LPDDR5 6400 Speicher
Der LPDDR5 6400 Speicher der Ally versorgt die Ryzen™ APU im Handumdrehen mit Daten und lässt den Z1 Extreme sein ganzes Können zeigen.
Spiel für unterwegs
Spiele Deine Lieblingsspiele und -inhalte stundenlang, ohne Dich um ein Ladegerät kümmern zu müssen. Genieße bis zu 2 Stunden Spielzeit lokal auf dem Gerät, mit bis zu 6,8 Stunden für Cloud-Gaming und Videowiedergabe. Die Ally unterstützt außerdem die Schnellladefunktion, mit der sie in nur 30 Minuten von 0 auf 50 % aufgeladen werden kann.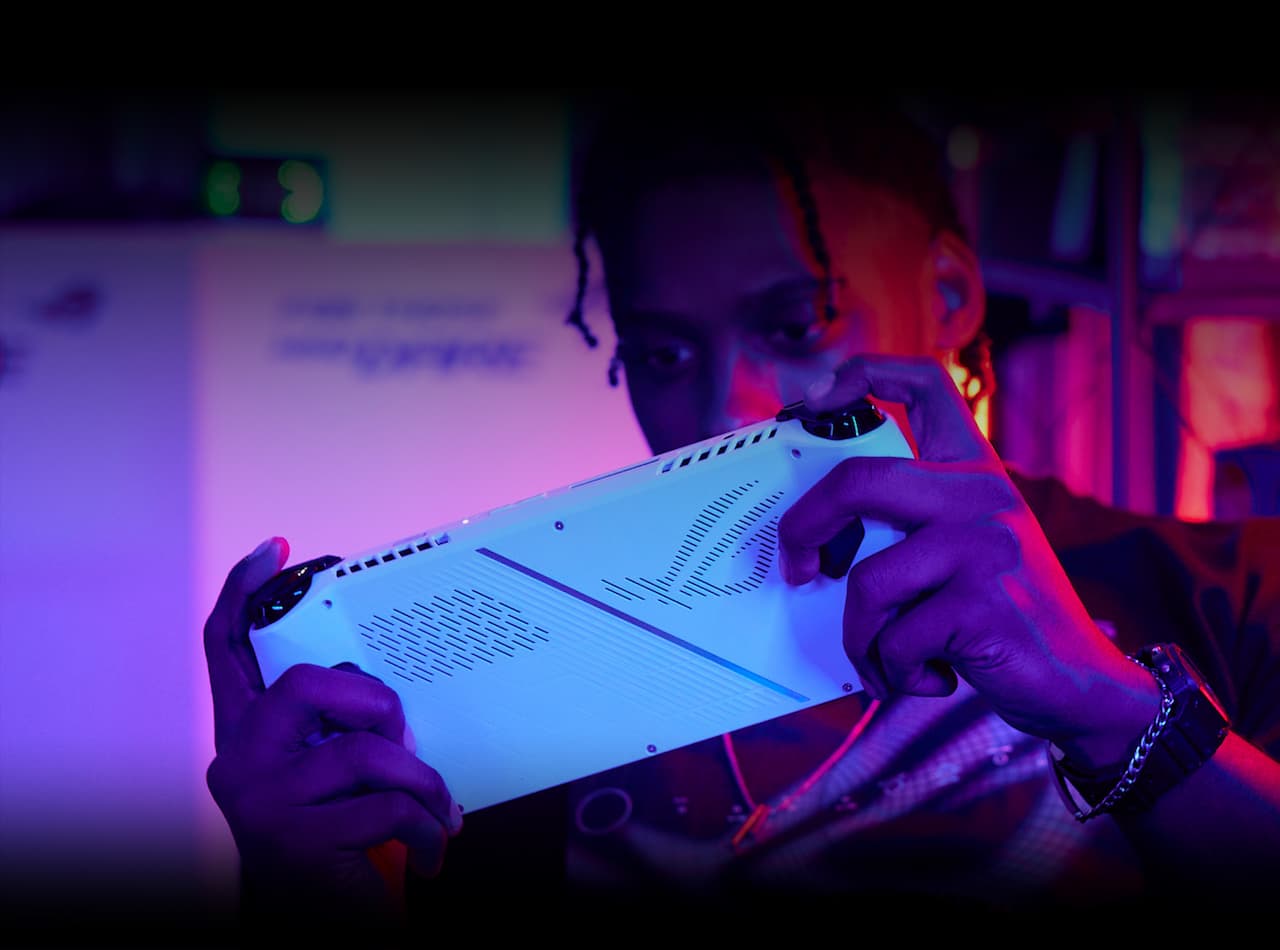 Power Gaming
bis zu
2 Stunden
Performance Modus (15W)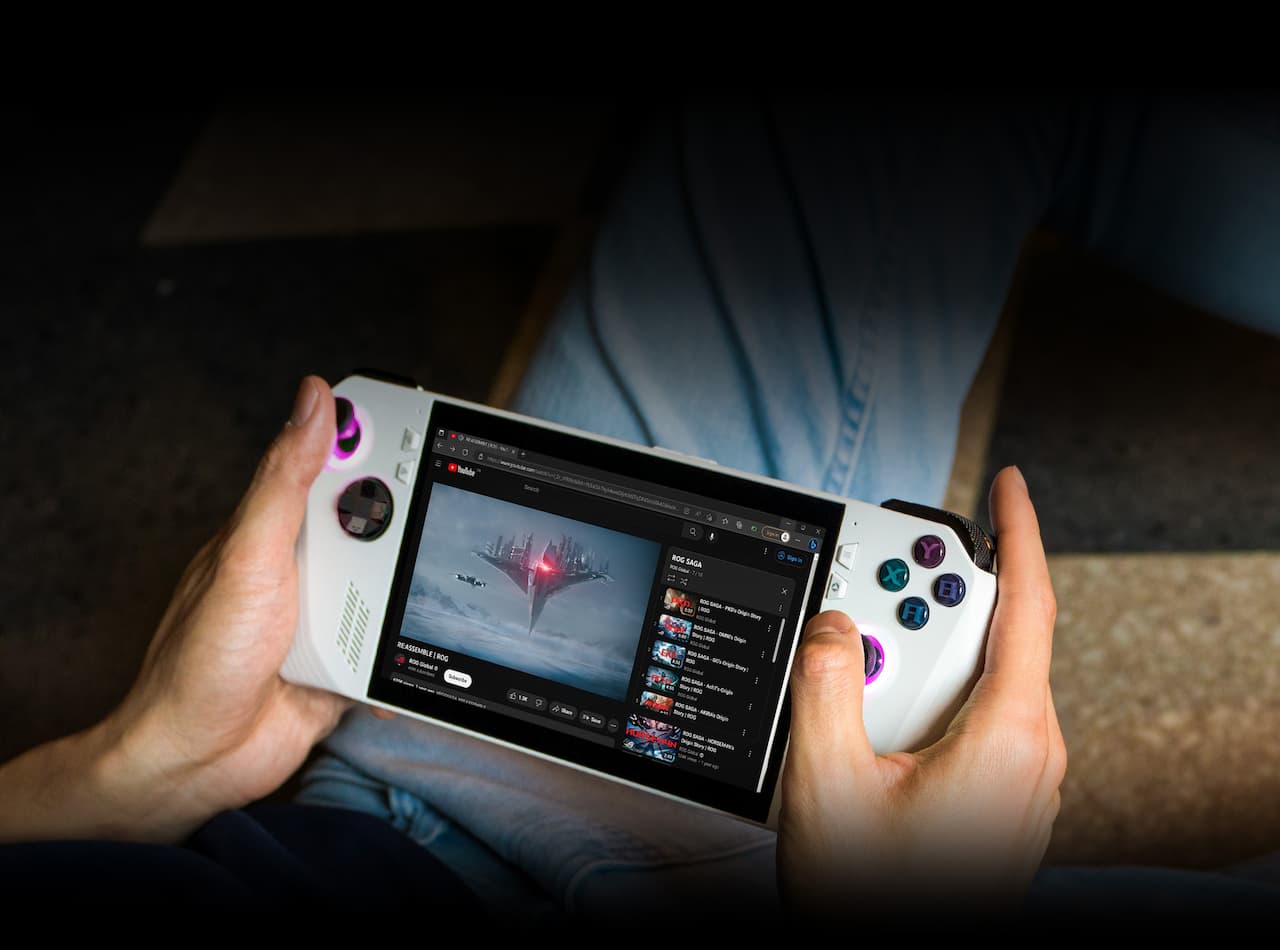 Netflix & Youtube
bis zu
6,
8 Stunden
Silent Modus (9W)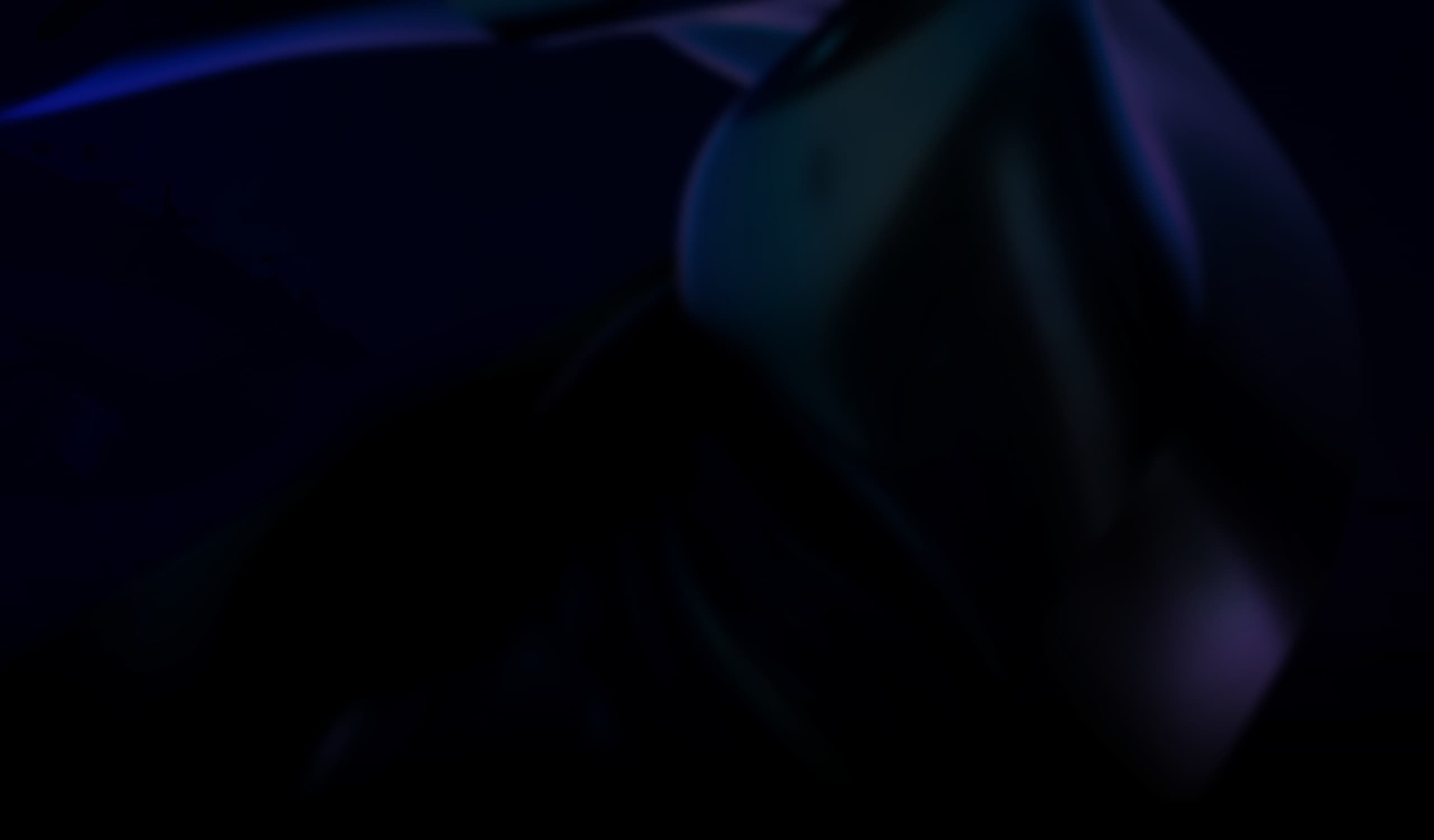 Null Gravitation, Null Ablenkung, 100% Leistung
Null Gravitation Kühlsystem
Das ROG Ally ist so konzipiert, dass Du überall spielen kannst, also brauchte es auch eine entsprechende Wärmelösung. Herkömmliche Wärmelösungen verlassen sich auf die Schwerkraft, um die Wärme über Heatpipes aus dem System zu leiten, aber mit einem speziell konstruierten Rohr, das ein Netz verwendet, trotzt die Ally wirklich der Schwerkraft.
Anti-Gravitations Heatpipes
Anti-Gravity Heatpipes verbessern die Wärmeübertragung durch die Verwendung eines Netzes für den Docht, das den Kapillardruck um mehr als 15 % erhöht. Dadurch kann die Kühlungslösung der Ally auch dann wirksam bleiben, wenn sie auf dem Kopf steht.
Dynamische Flüssigkeitslager
Beide Lüfter sind mit Flüssigkeitslagern ausgestattet, einer bewährten Bauart, die die Ally über Jahre hinweg wie einen Kreisel drehen lässt. Flüssigkeitsgelagerte Lüfter haben auch bei unüblichen Ausrichtungen eine geringe Reibung, so dass Du den Ally ohne Bedenken in jede Richtung halten kannst.
Null Ablenkung
Während sich viele Handhelds auf dem Markt für einen einzelnen Lüfter entscheiden, wissen wir, dass ein zusätzlicher Luftstrom immer von Vorteil ist. Der Ally ist mit zwei Lüftern ausgestattet, die eine bessere Kühlung bei niedrigeren Geschwindigkeiten ermöglichen, um die Geräuschentwicklung auf ein Minimum zu beschränken.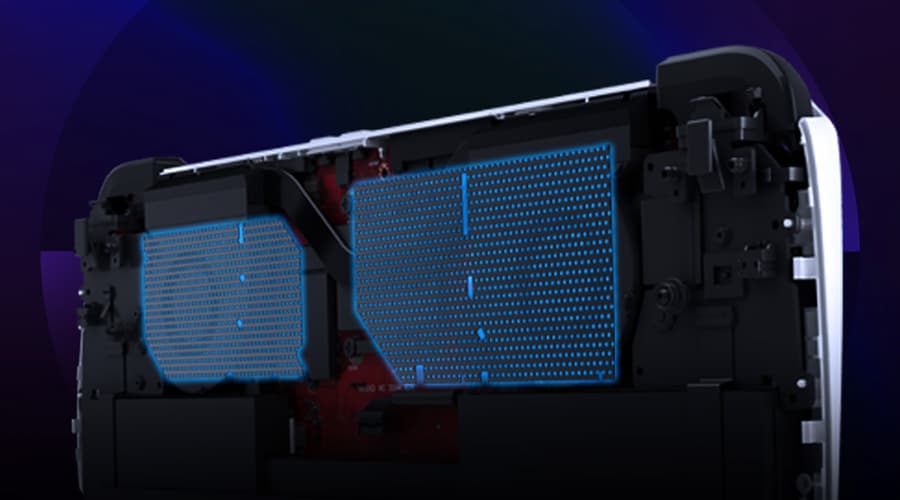 ROG Staubfilter
Staubfilter decken beide Lufteinlassöffnungen ab und halten Fremdkörper von den Lüftern fern. Weniger Staub bedeutet eine effizientere und leisere Kühlung für die nächsten Jahre.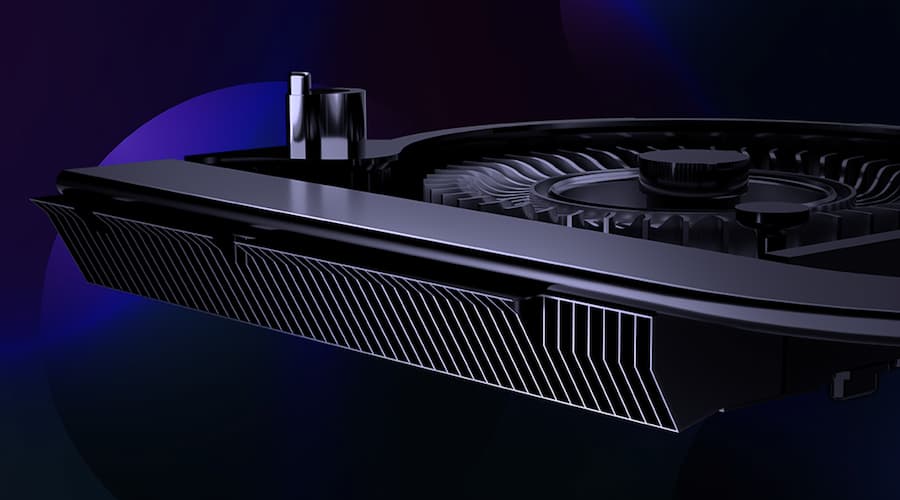 0,1mm ultradünne Kühlrippen
Die Wärmeenergie wird von zwei Kühlkörpern abgeleitet, die jeweils mit ultradünnen, nur 0,1mm dünnen Aluminiumrippen ausgekleidet sind. Die höhere Dichte der Kühlrippen ermöglicht eine bessere Wärmeableitung und einen geringeren Luftwiderstand für eine gleichmäßigere Strömung. Es gibt bis zu 102 Kühlkörperlamellen mit einer Gesamtfläche von 12.173mm2.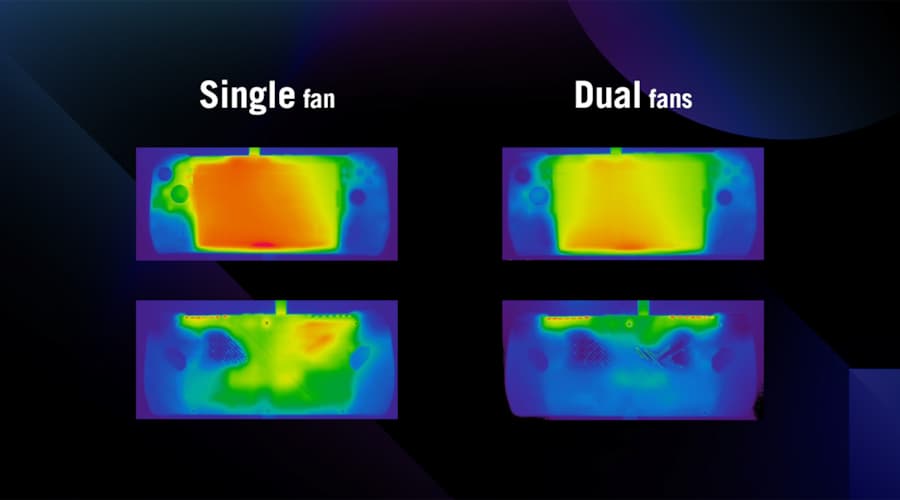 Zwei Lüfter Dominierung
Zwei Lüfter halten das Gerät und das Gehäuse kühler, leiser und angenehmer in der Hand als eine Lösung mit nur einem Lüfter. Gib Dich niemals mit weniger zufrieden als mit ROG Intelligent Cooling.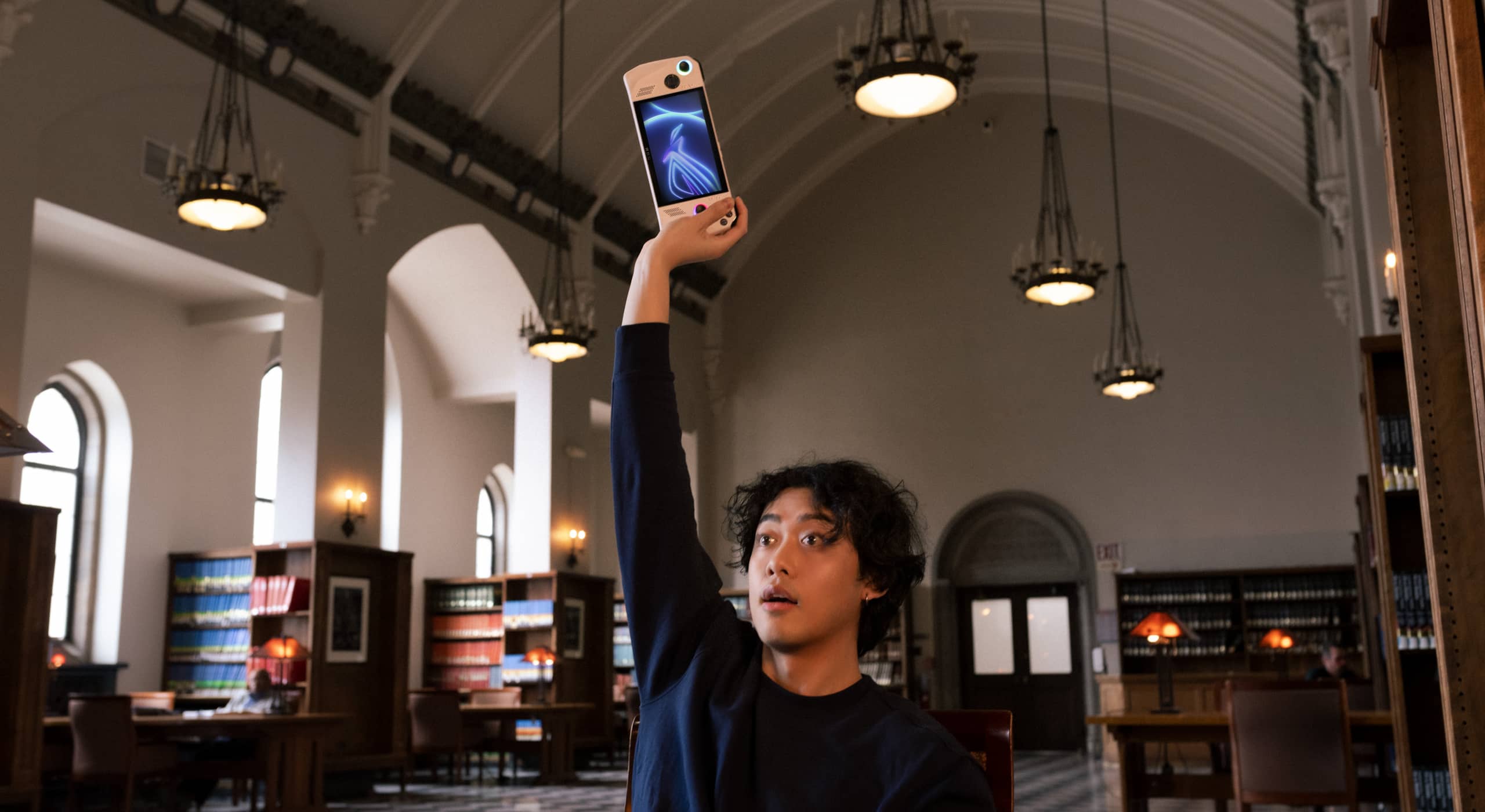 Der Fliegengewicht Champion
Mit einem Gewicht von nur 608 Gramm fühlt sich die ROG Ally auch bei längeren Gaming Sessions angenehm an und wird nie eine Last im Rucksack sein.
Wie wir 608 Gramm erreichen
Blende
Topcase
Doppellüfter System
Batteriehalterung
0,1mm verschlankte Kühlrippen
Ausgehöhlte Oberseite des Gehäuses
Leichtes Aluminium
Leichtes Aluminium
608 Gramm reine Spielfreude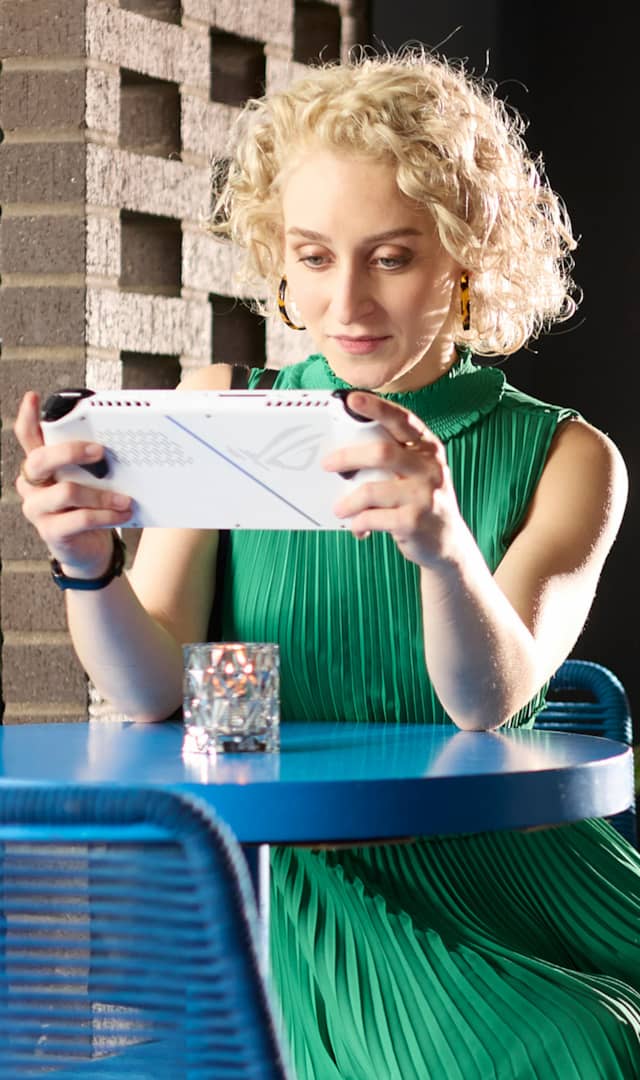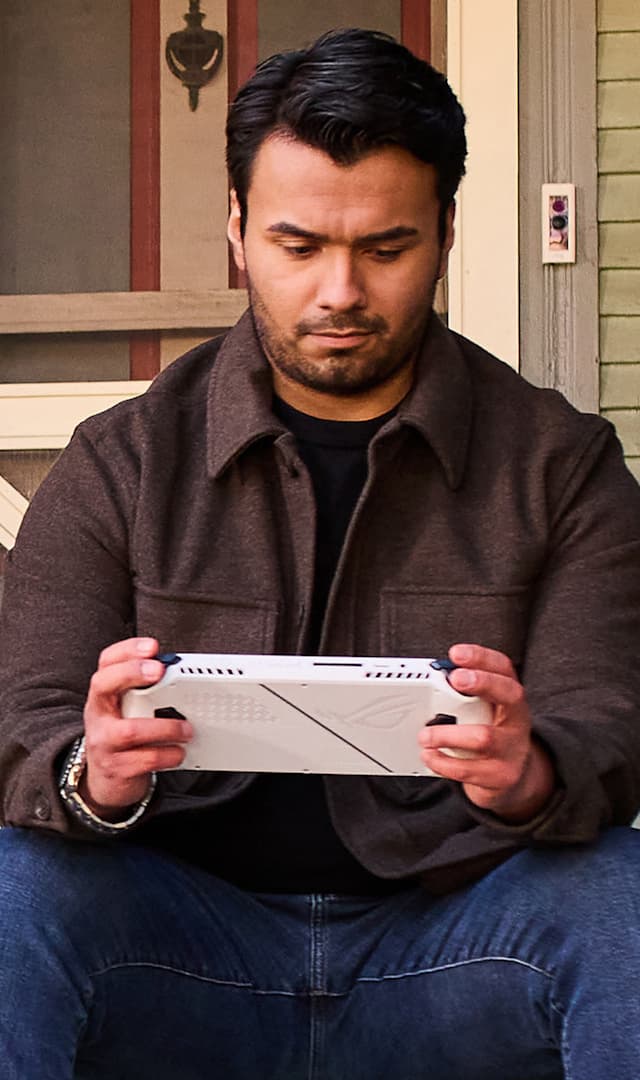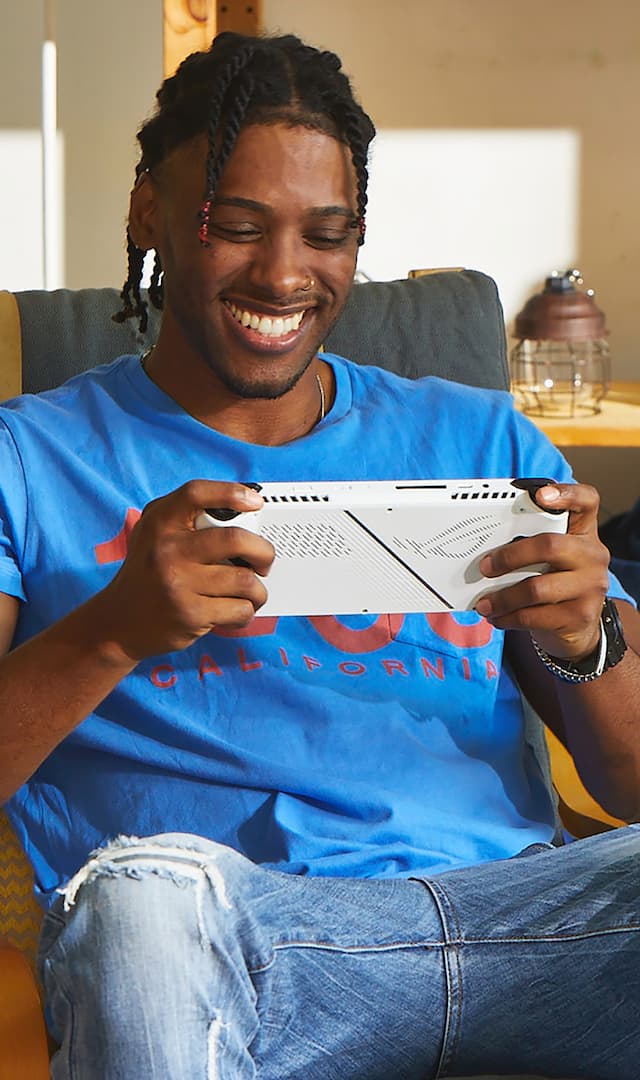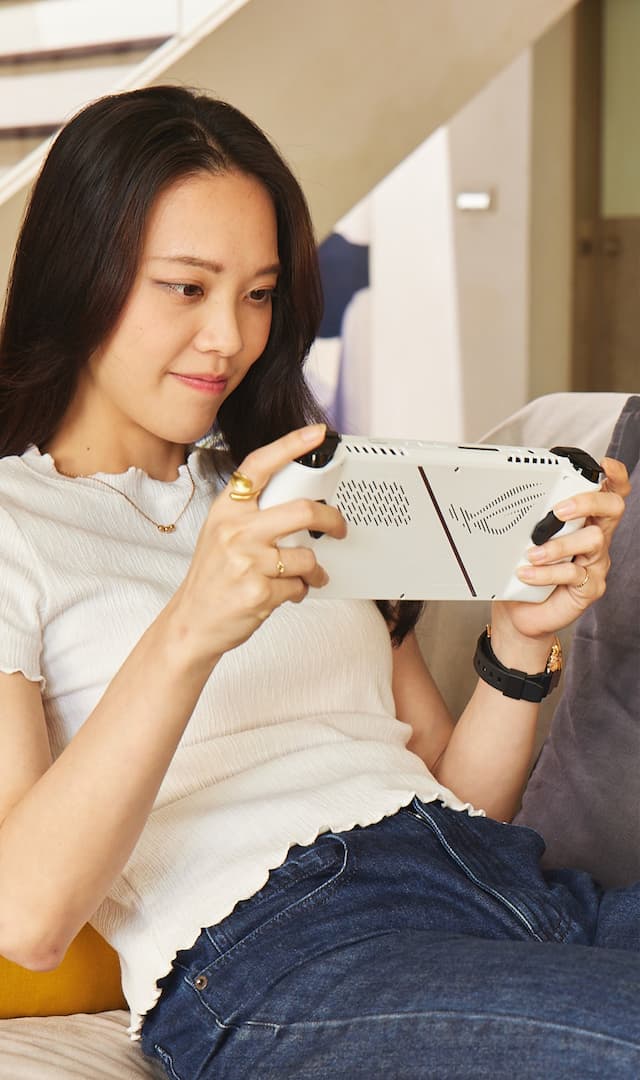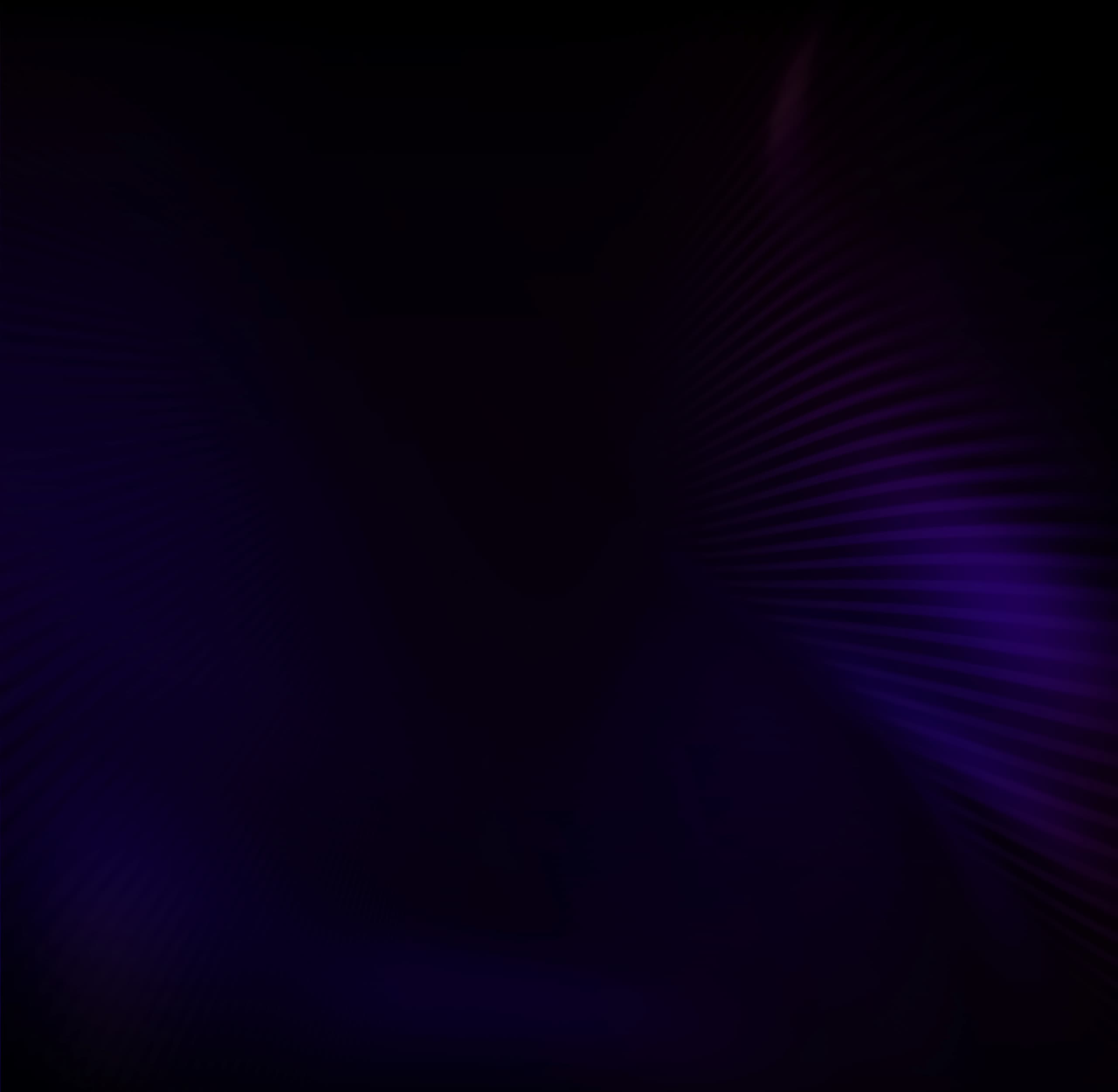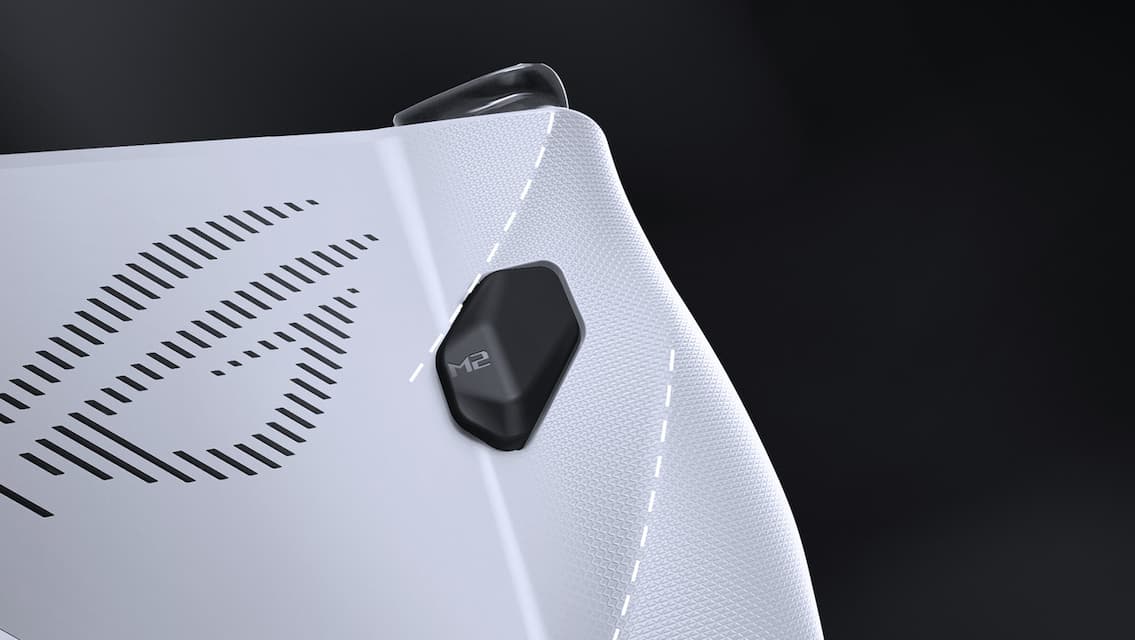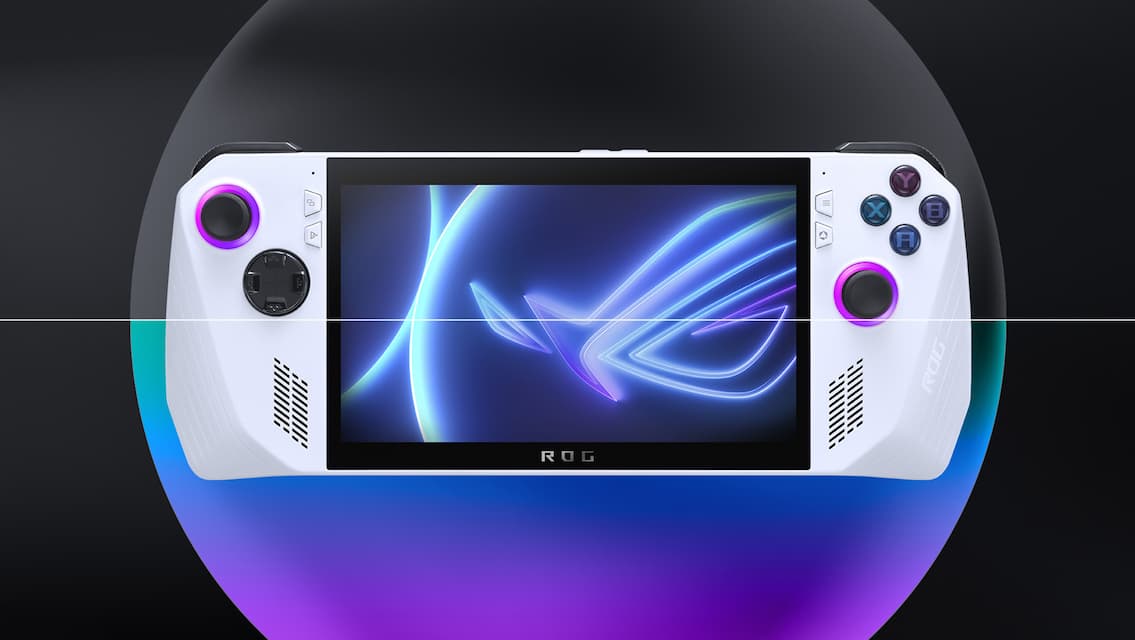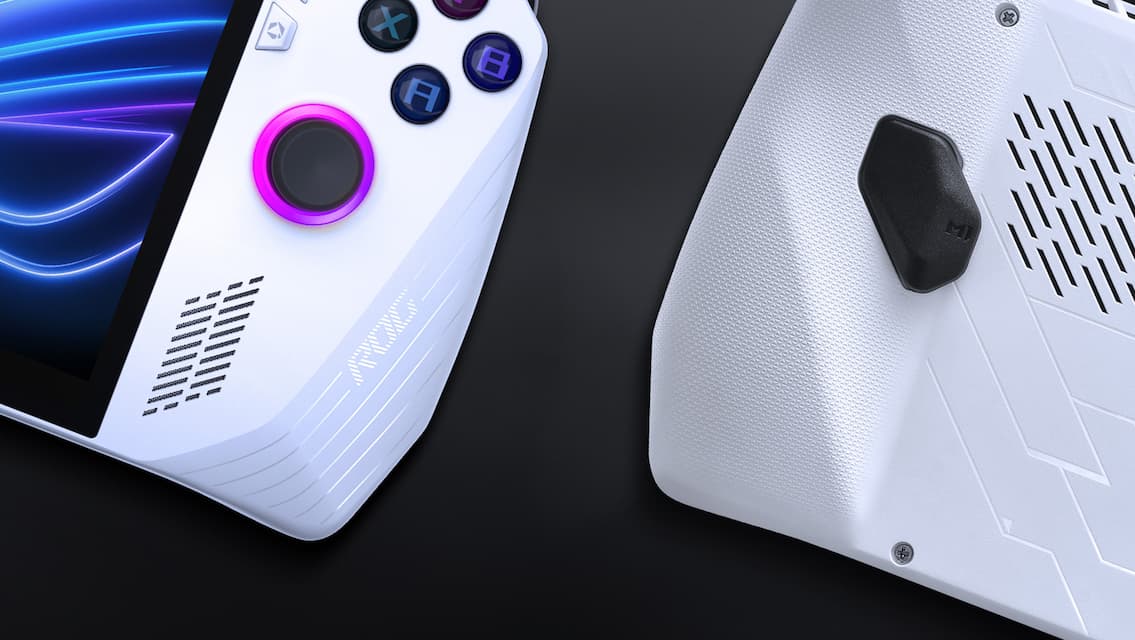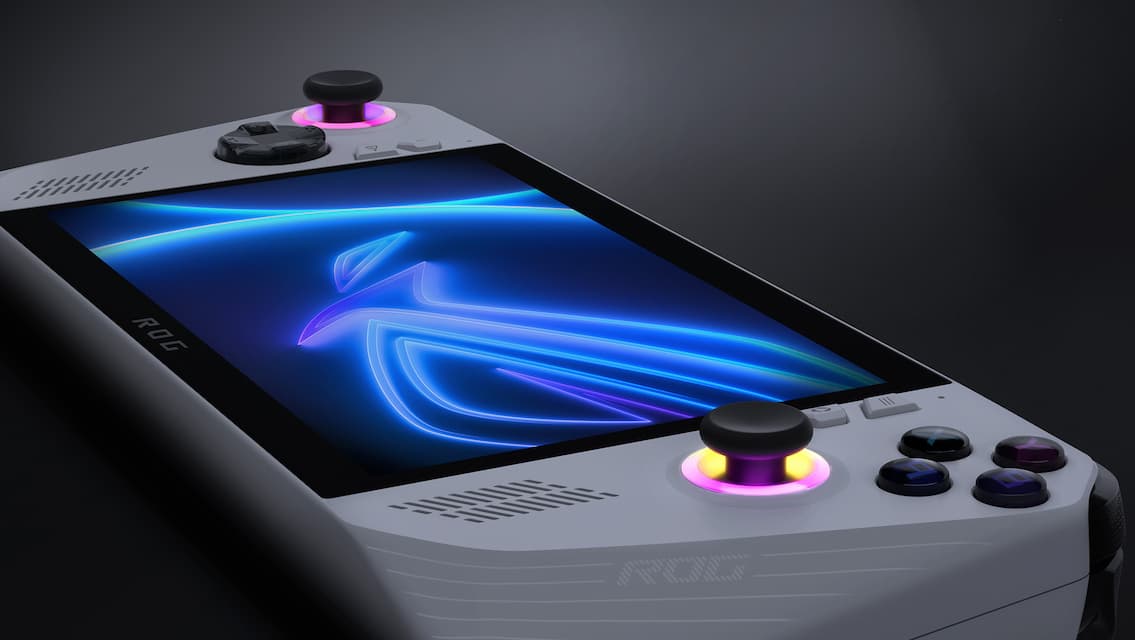 Präzision und Komfort
Maßgeschneiderte 2°- und 14°-Slants sorgen dafür, dass die Ally in jeder Hand gut liegt.
Fester Halt
Die geschwungenen Griffe des Ally sind perfekt geformt und passen sich der natürlichen Form Deines Griffs an.
Spielend leichte Kontrolle
Die Tasten befinden sich auf der oberen Hälfte des Ally, so dass die Bedienelemente immer leicht zu erreichen sind.
Rutschfestes Design
Die ROG Mikro Dreieck-Textur an den Griffen und die ROG Zierlinien auf der Vorderseite sorgen für sicheren Halt.
RGB-Beleuchtung
Stilbolles RGB um beide Joysticks herum sorgt für ein besonderes Flair und synchronisiert sich mit den unterstützten Spielen, wodurch Du noch mehr in die Action hineingezogen wirst.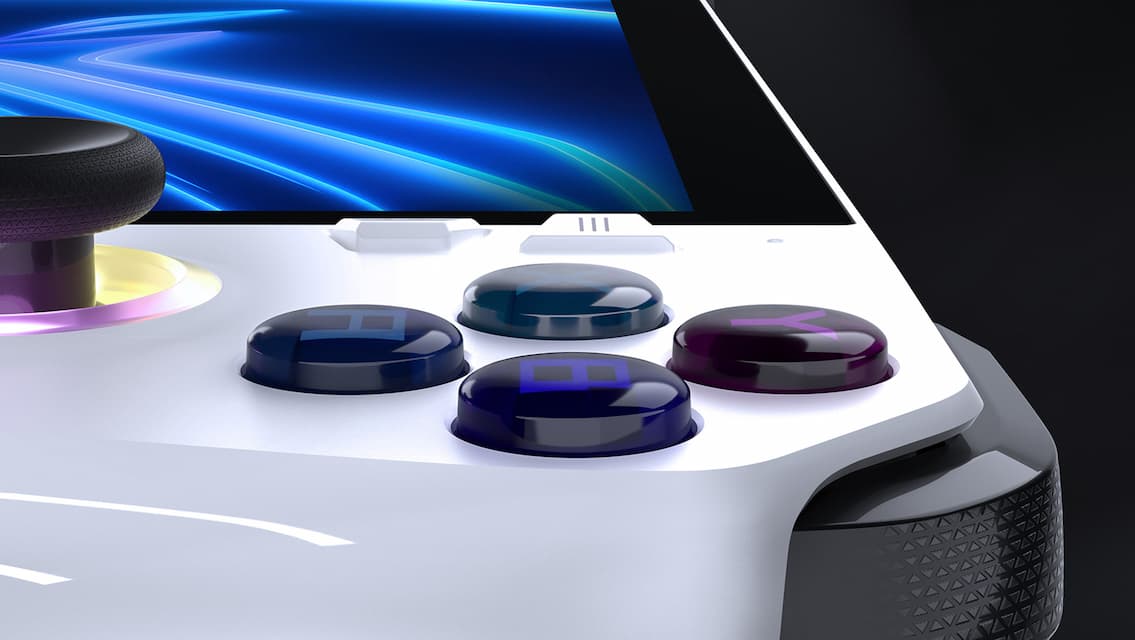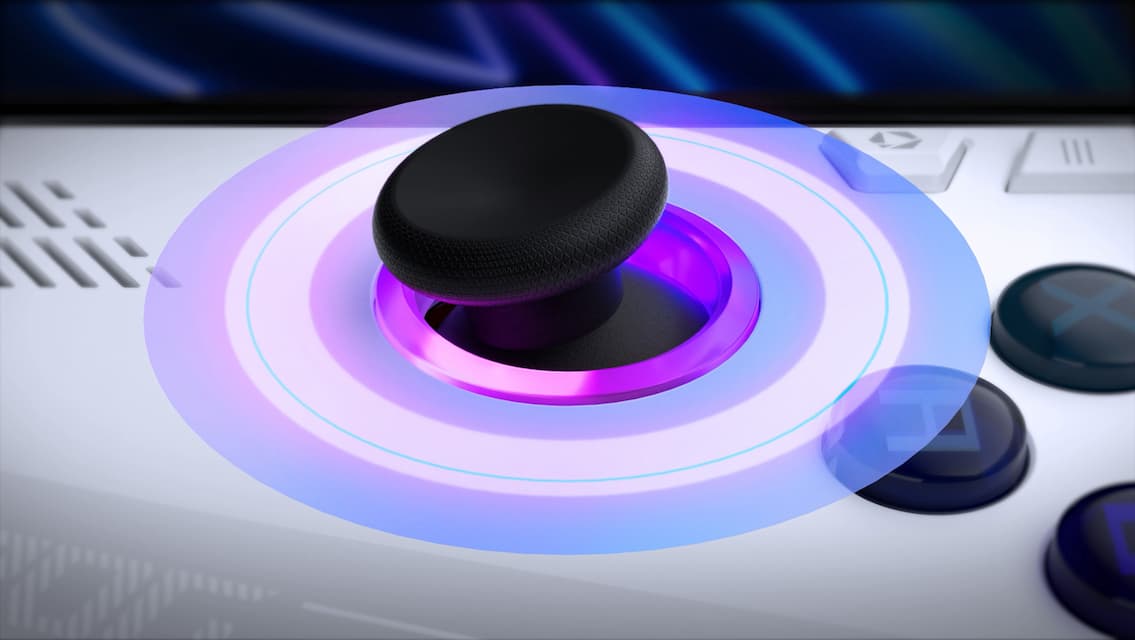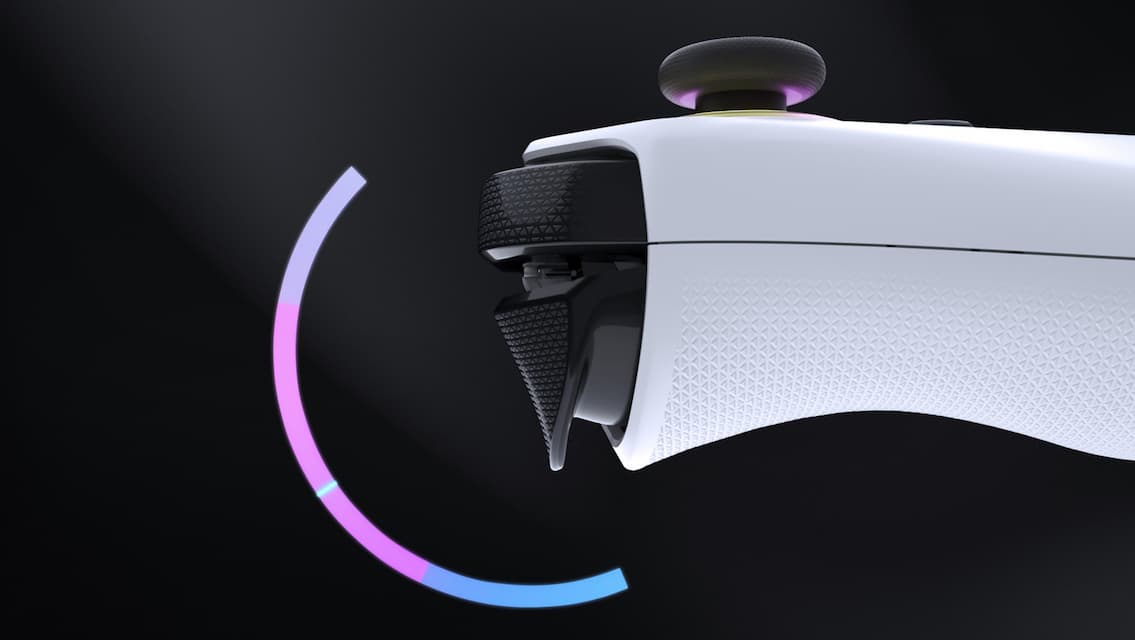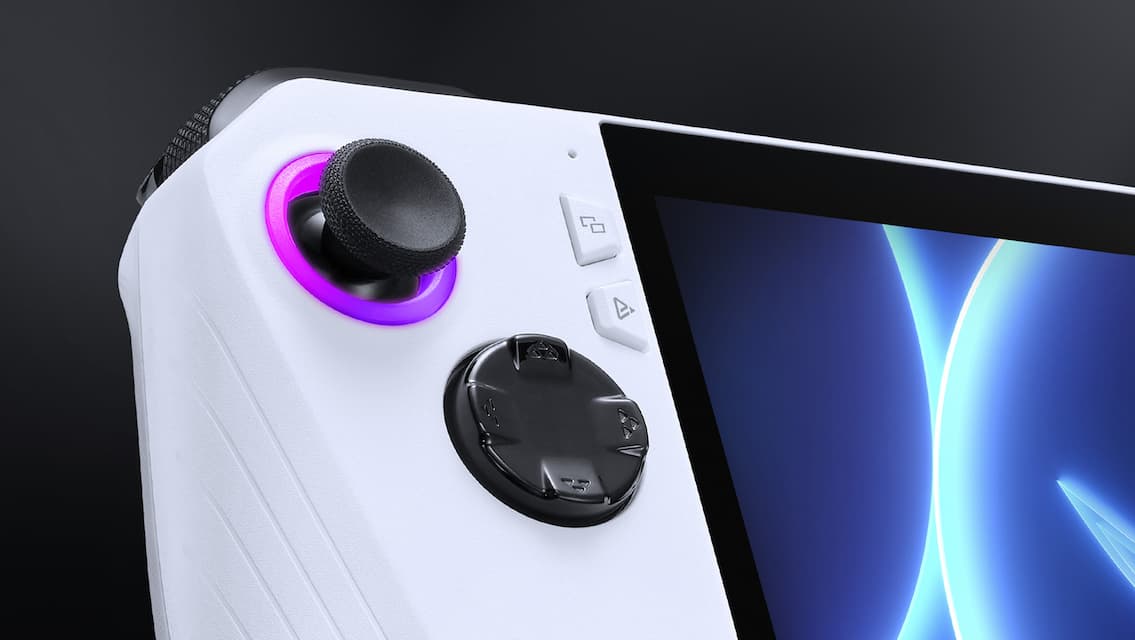 Mühelose Tastenbetätigung
Die frontalen Tasten haben eine flache Kuppelform, wodurch sie sich besonders angenehm drücken lassen.
Joystick
Joysticks sind bei einem Controller von entscheidender Bedeutung, daher bietet die Ally umfassende Anpassungsmöglichkeiten, einschließlich der Einstellung der Dead Zones.
Trigger
Hallsensoren erkennen selbst kleinste Bewegungen präzise und nutzen sich mit der Zeit nicht ab, so dass die Ally über Jahre hinweg einsatzbereit bleibt.
Makrotaste
Die Ally ist mit einem Paar leicht erreichbarer Tasten auf der Rückseite ausgestattet, die als Standardtasten oder als Modifikatoren für benutzerdefinierte Shortcuts verwendet werden können.
D-Pad
Das D-Pad hat die Form einer erhöhten Scheibe und wurde so angepasst, dass Du mühelos aufeinanderfolgende Tastendrücke ausführen kannst, ohne die Position Deines Daumens aus den Augen zu verlieren.
Blitzschnell. Kristallklar.
Ein leistungsstarkes Gerät braucht ein entsprechendes Top Display und die Ally verfügt über Spezifikationen, die noch vor ein paar Jahren mit um Vielfaches größere Gaming Laptops konkurriert hätten. Mit einem 1080p Touchscreen Panel mit einer Bildwiederholfrequenz von 120Hz und FreeSync™ Premium Unterstützung ist dieses 7 Zoll Display ein wahrer Genuss beim Spielen. Mit 100% sRGB Farbraumabdeckung kannst Du Dich darauf verlassen, dass alle Deine Inhalte genau so aussehen, wie es die Spielehersteller beabsichtigt haben.
7 Zoll
Toucscreen Display
Großer Farbraum
sRGB 100%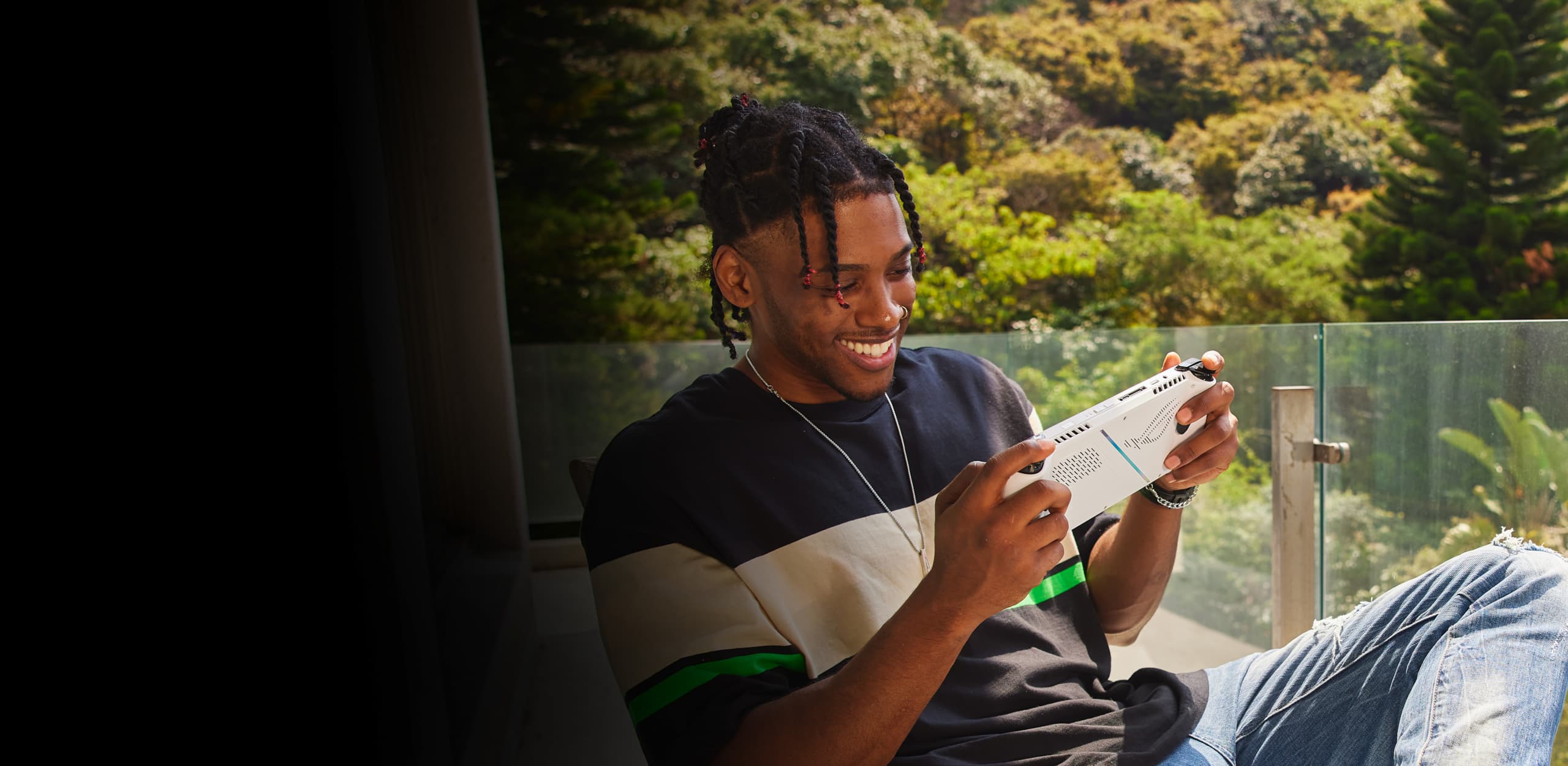 Großartige Outdoor Spielerlebnisse
Herkömmliche LCD Displays haben in der Regel eine maximale Helligkeit von 200-300 Nits, aber die Ally verfügt über eine maximale Helligkeit von 500 Nits. Dank der höheren Helligkeit kann die Ally das Geschehen auf dem Bildschirm auch in anspruchsvollen, hellen Umgebungen wie im Freien klar und deutlich darstellen. Zum Schutz vor täglicher Abnutzung sorgt Corning® Gorilla® Glass Victus® dafür, dass der Touchscreen wie neu aussieht.
Bessere Sichtbarkeit im Freien mit Corning® DXC
Die Corning® Gorilla® Glass DXC Beschichtung reduziert Oberflächenreflexionen und erhöht gleichzeitig die Härte um über 40% für eine verbesserte Kratzfestigkeit. Weniger Reflexionen bedeuten, dass Du auch in hellen Umgebungen oder im Freien den Überblick über das Geschehen auf dem Bildschirm behalten kannst.
Blankes Glas
Corning® DXC-Beschichtung
Spiegelbildliche Reflexion <0,6%
Durchlässigkeit ~99%
Spiegelbildliche Reflexion ~4%
Fesselnder Stereo Klang
Zwei Smart-Amp Lautsprecher mit Dolby Atmos an der Vorderseite sorgen für eine verzerrungsfreie Lautstärke und lassen Dich direkt in Deine Spiele eintauchen. Die Zwei-Wege AI Geräuschunterdrückung verarbeitet sowohl eingehende als auch ausgehende Audiosignale, um störende Hintergrundgeräusche aus Deinen Voice Chats herauszufiltern.
Zwei-Wege
AI-Geräuschunterdrückungstechnologie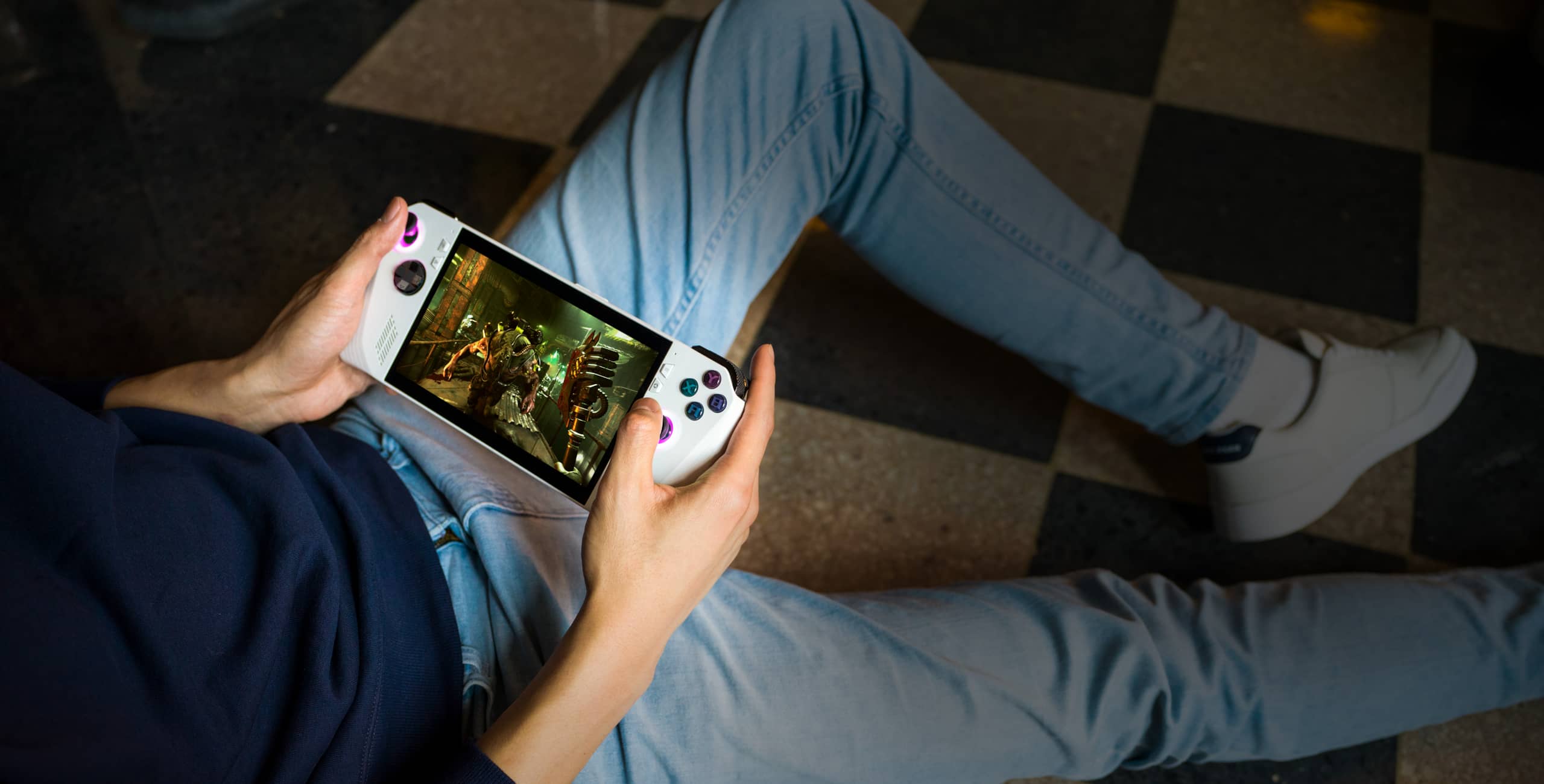 Erreiche die Wolken mit Wi-Fi 6E
Die Ally wurde für die Reise entwickelt und ist daher mit dem ultraschnellen Wi-Fi 6E Netzwerk ausgestattet. Wi-Fi 6E unterstützt eine viermal höhere Netzwerkkapazität und eine um 75% geringere Latenz als Wi-Fi 6, sodass die Ally selbst in überfüllten Netzwerken mühelos Videos streamen, auf Cloud-Gaming Dienste zugreifen und Spiele herunterladen kann.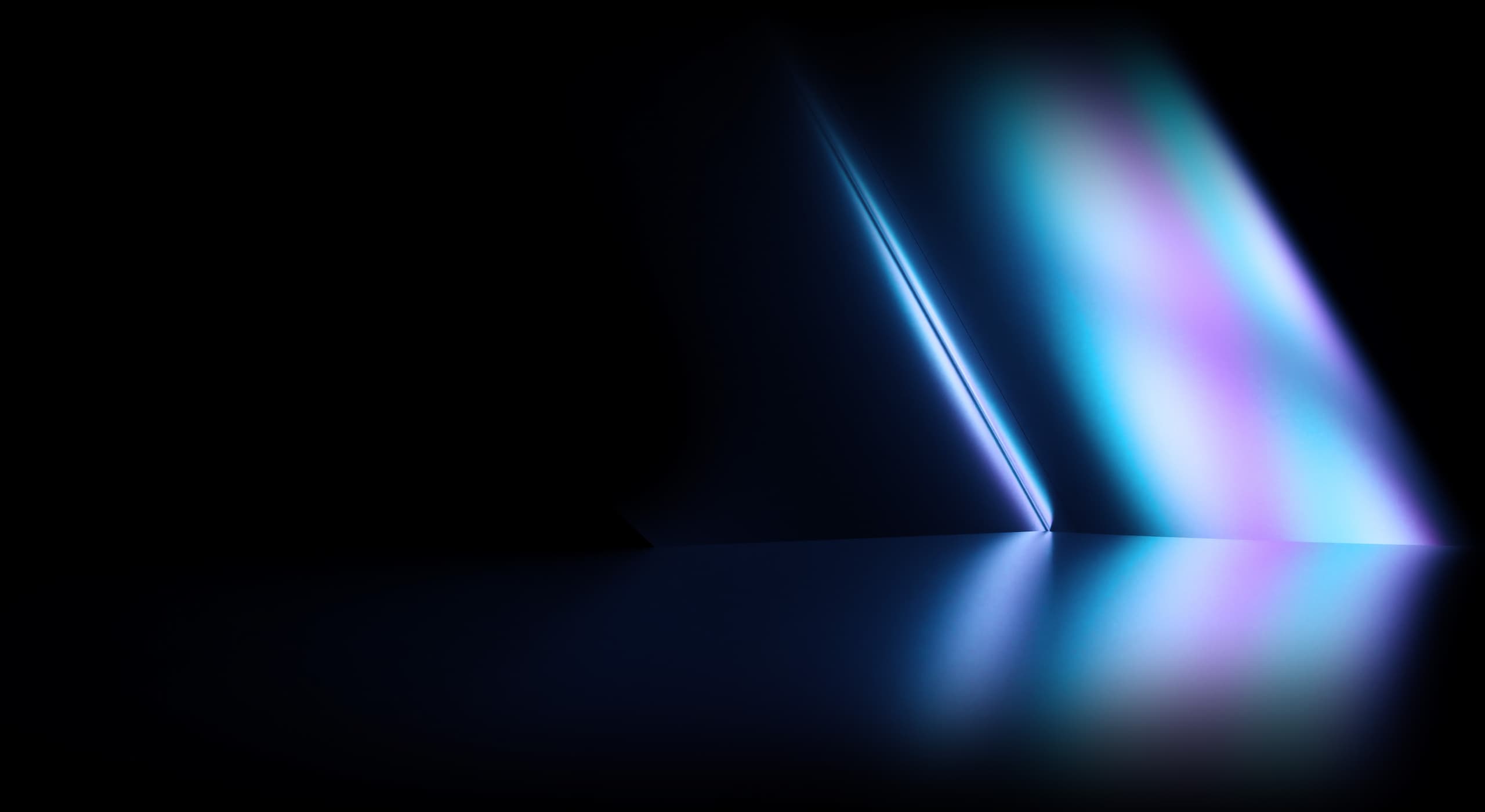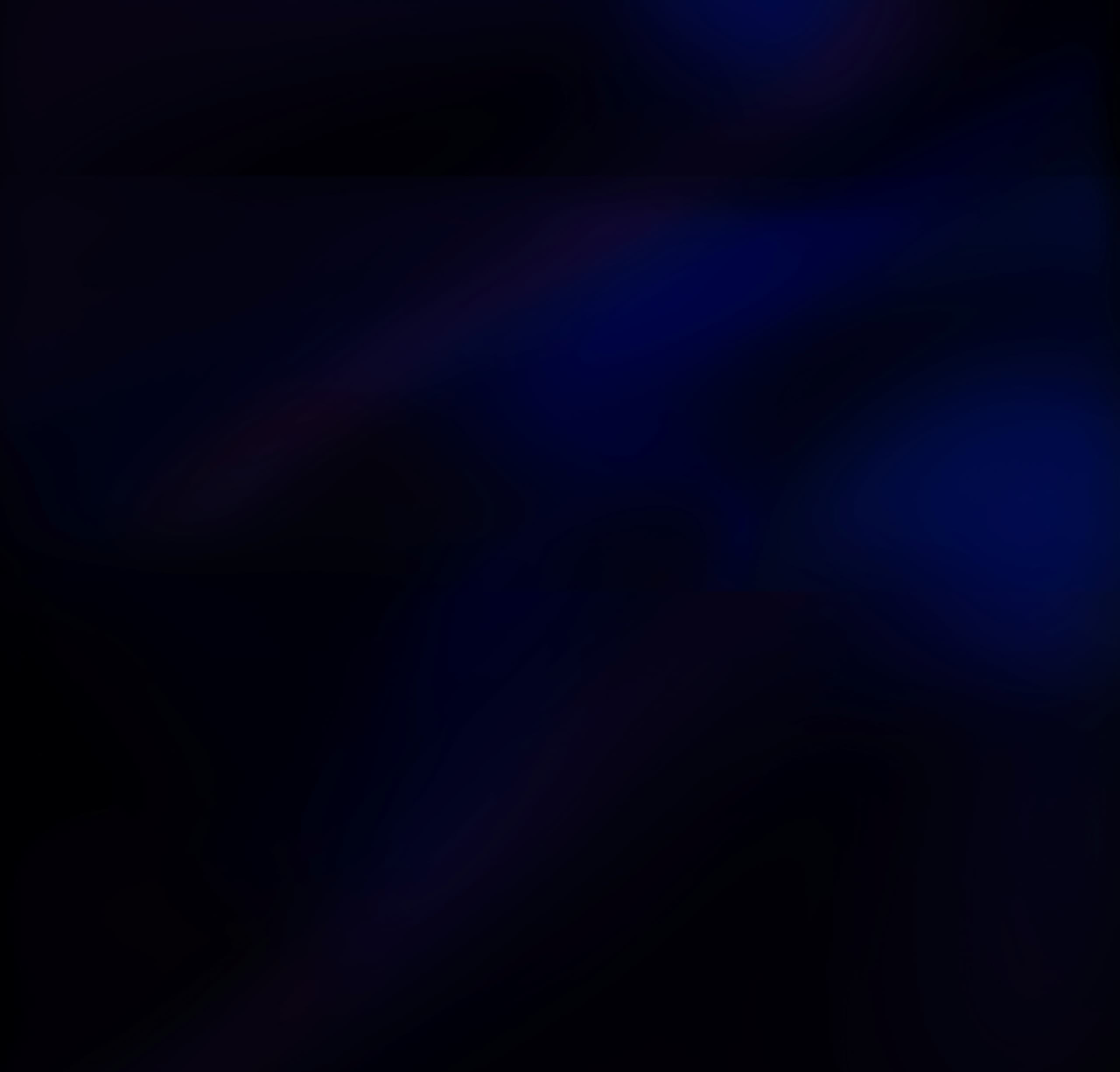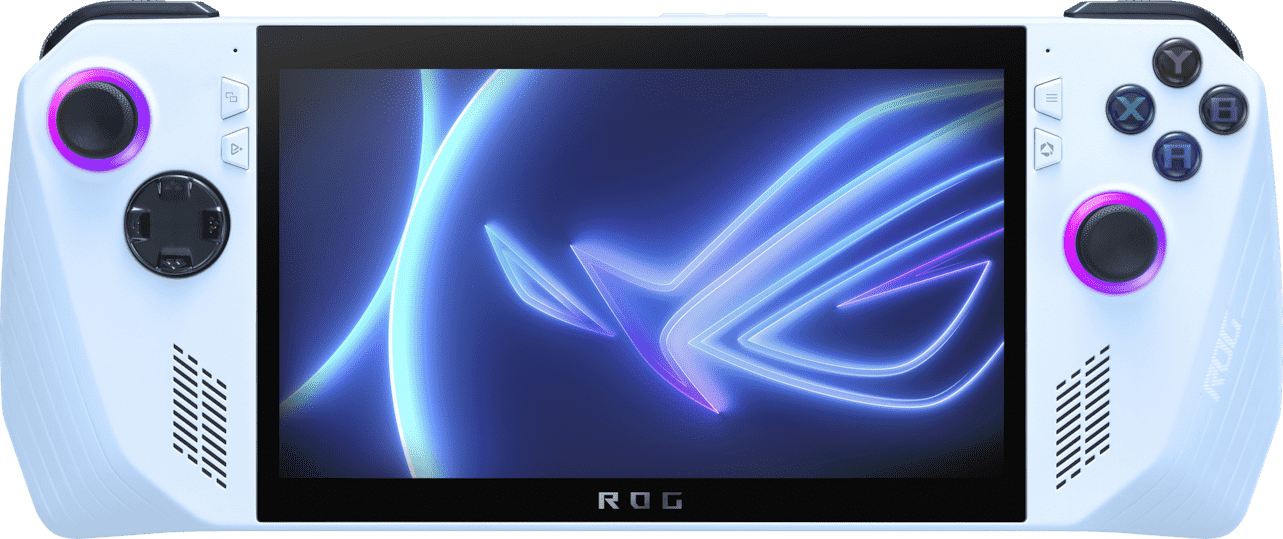 Linker Stick

Richtungstasten

Audio Lautsprecher

Array Mikrofone

Ansichtstaste

Command Center

Taste

Armory Crate Taste

Menü Taste

Array Mikrofone

A/B/X/Y-Tasten

Rechter Stick

Audio Lautsprecher

Touchscreen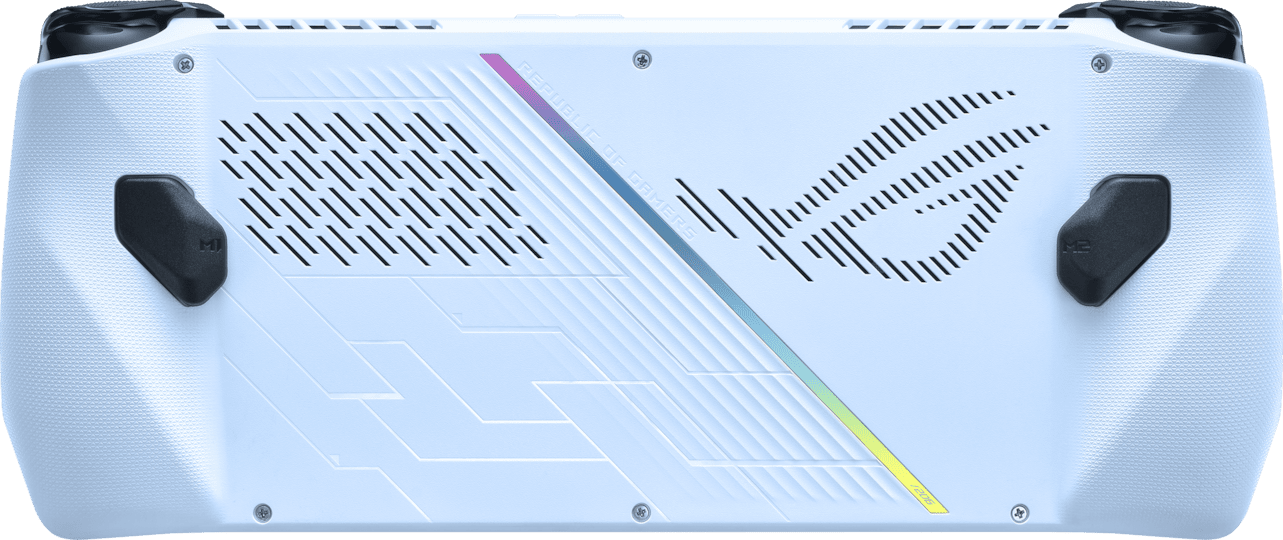 Entlüftungsöffnungen

Makro 1-Taste

Makro 2-Taste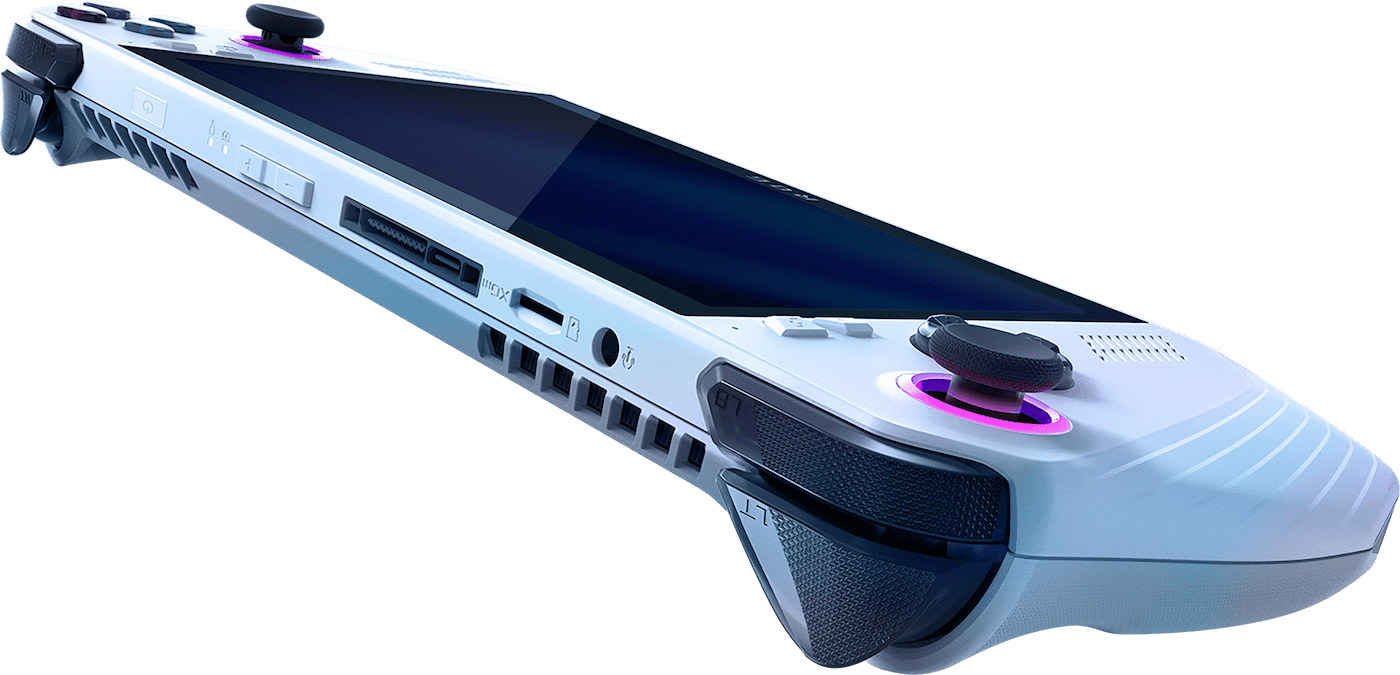 Rechter Bumper

Rechter Trigger

Einschalttaste / Fingerabdrucksensor

Betriebsanzeige

Zweifarbige Batterieladeanzeige

Lautstärketasten

ROG XG Mobile Schnittstelle

Kombianschluss USB 3.2 Gen 2 Typ-C® / DisplayPort 1.4 / Stromeingang (DC)

UHS-II MicroSD Kartensteckplatz

3,5mm Kombo Audiobuchse

Linker Trigger

Linke Bumper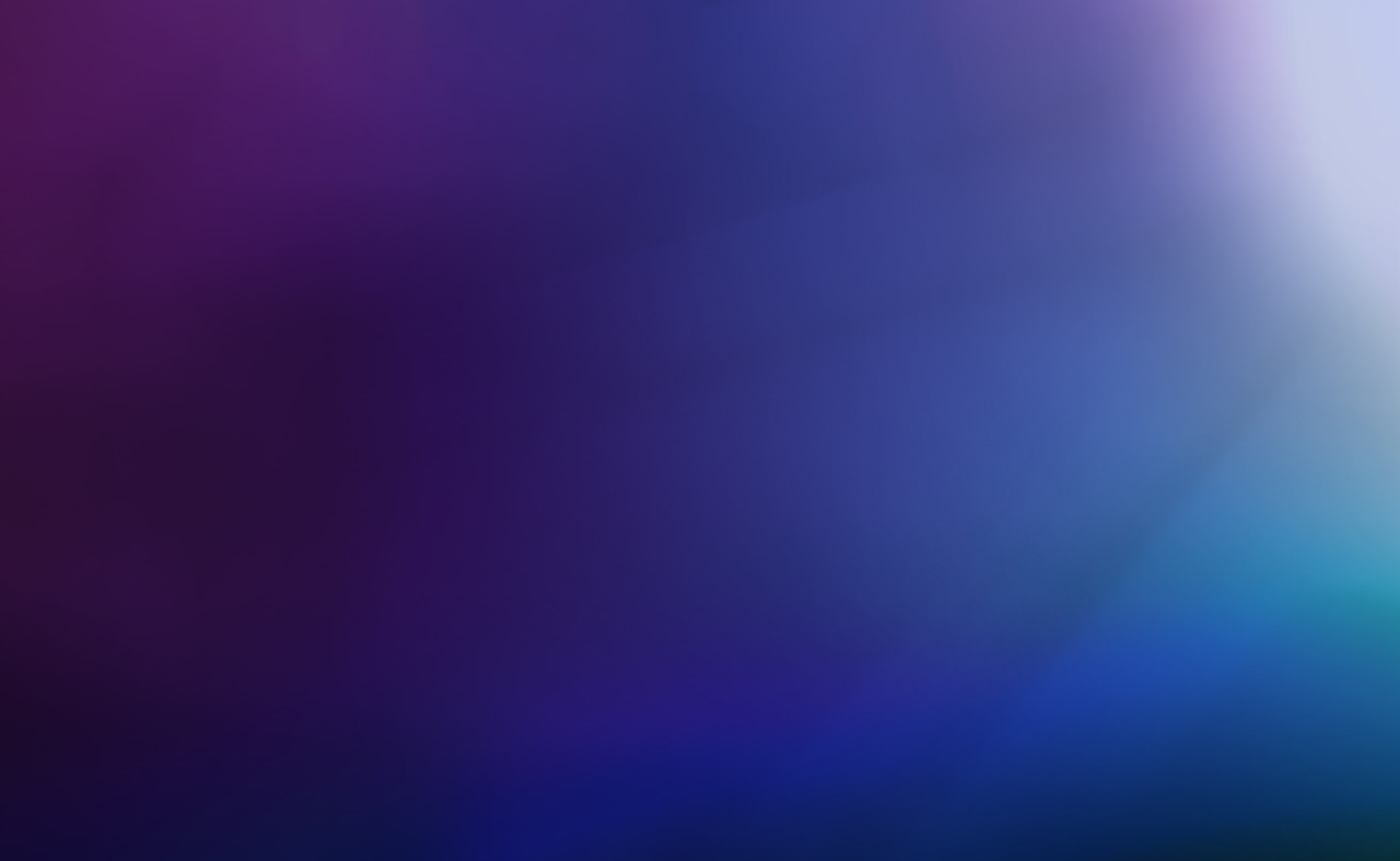 Power Up
Optionales Zubehör für die ROG Ally bringt Dein Spiel auf ein ganz neues Niveau. Wenn Du viel unterwegs bist, kannst Du Dein Gerät mit dem ROG Ally Travel Case schützen. Für ein nahtloses Couch Gaming-Erlebnis bietet das ROG Gaming Charger Dock HDMI 2.0 Unterstützung, während das ROG Raikiri Pro der perfekte Begleiter ist, wenn Du mit Freunden auf der Couch spielen möchtest. Für das ultimative Spielerlebnis kannst du die Ally an eine XG Mobile anschließen, das die Grafikleistung einer NVIDIA® GeForce RTX™ 4090 Laptop GPU sowie alle erforderlichen Anschlüsse für deine Peripheriegeräte und einen externen Monitor bietet.
Video Reviews
ROG Ally - New Windows Gaming Handheld Launch Event
In-depth analysis in Spanish of the BEST Steam deck KILLER to date, ASUS ROG ALLY EXTREME.
It has more power than the Steam Deck. Beat other consoles of the same style
We tested the ROG ALLY, Asus' answer to Valve's Steam Deck video game console. With ALLY you can connect to your favorite video game streaming services Steam, Xbox, EA, GoG, Ubisoft...
We cannot understand how such wonder can exist in so little space.
With a dock, mouse, and keyboard, you have a PC anywhere.
ROG Ally có thể nói là một thiết bị chơi game cầm tay (gaming handheld) tốt nhất ở thời điểm hiện tại. Nó hội tụ nhiều yếu tố, nhiều điểm mạnh khác nhau từ những đối thủ để tạo ra một thiết bị phục vụ nhu cầu chơi game và dĩ nhiên cả công việc nữa một cách gần như trọn vẹn.
So với SteamDeck, khác biệt về hệ điều hành, màn hình Full-HD vs 720p sẽ là những điểm khiến SteamDeck gặp khó khi cạnh tranh với ROG Ally.
ROG Ally được trang bị vi xử lý AMD Ryzen™ Z1 Series mới nhất, màn hình cảm ứng, cho trải nghiệm chơi game mượt mà cả trong nhà lẫn ngoài trời.
ROG Ally được trang bị vi xử lý Ryzen™ Z1 Series – dòng APU 8 nhân 16 luồng mới nhất của AMD dựa trên kiến trúc Zen 4 với nhân đồ hoạ RDNA™ 3. Người dùng sở hữu sẽ được sở hữu gói trải nghiệm PC Game Pass 3 tháng miễn phí tặng kèm.
Đây là video mình sẽ chia sẻ với anh em về build, về hiệu năng và màn hình của máy chơi game cầm tay mới nhất của ASUS - ROG Ally.
Trên tay và đánh giá nhanh ROG Ally - Tính năng hay ho - Nhiệt độ - FPS cao không?
Trên tay máy chơi game cầm tay Asus ROG Ally: Đánh bật Steam Deck, mở ra chu kì mới!!!
[HTV9] Thiết bị trò chơi điện tử cầm tay đầu tiên của ASUS - ROG Ally chính thức ra mắt
Đánh giá chi tiết ROG Ally, máy chơi game cầm tay đầu tiên của ASUS với hệ điều hành Windows và chip AMD Ryzen Z1 Extreme
The performance really stands out on this device
This is a strong portable gaming competitor
I've had some serious fun with this.
I think this is going to be a real winner
This is basically the device I've dreamed of, ever since I was 10 years old!
Twice as fast as the Steam Deck and it's pretty much handled everything that I've thrown at it.
Wow, this is like playing on my main PC!
Test of the Asus ROG Ally: TWICE as powerful as the STEAM DECK
After the Steam Deck a year ago, it's Asus' turn to enter the market of PCs that think they are portable consoles with the ASUS ROG Ally. With its performance and ergonomics, the ROG Ally is made to win the game.
This new console made me leave the PS5
TEST ASUS ROG ALLY - NEW CONSOLE | GOODBYE STEAMDECK & SWITCH
TEST ASUS ROG ALLY: the portable console that buries the Switch and the Steam Deck
Produkt-Vergleich
Produkt wurde zum Vergleich hinzugefügt. Fügen Sie bis zu 4 Produkte hinzu oder lassen Sie sich die ausgewählten Produkte zum Vergleichen anzeigen.
ASUS Footer