Caracteristicas
Especificaciones Técnicas
Premios
Galería
Soporte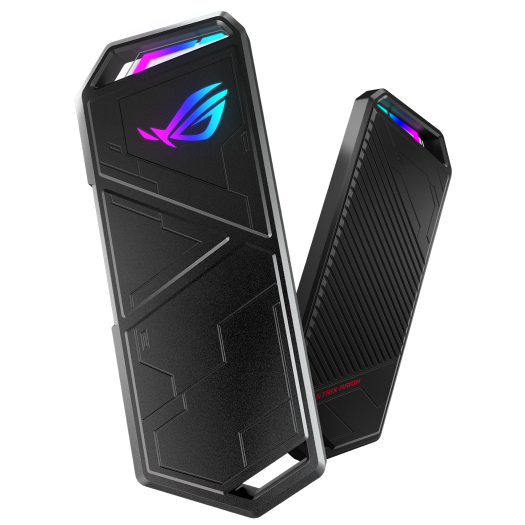 ROG STRIX ARION
ROG Strix Arion M.2 NVMe SSD Enclosure: USB 3.2 Gen 2x1 Type-C (10 Gbps), Dual USB-C a C y USB-C a Cables A, sin destornillador, almohadillas térmicas incluidas, se adapta a PCIe 2280/2260/2242/2230 M key / B+M Key
USB-C™ 3.2 Gen. 2x1 para velocidades de hasta 10 Gbps.
Compatible con unidades SSD M.2 PCIe NVM Express® de formatos 2230/2242/2260/2280.
Instalación sencilla sin utilizar destornilladores.
La carcasa de aleación de aluminio y las almohadillas térmicas proporcionan una disipación de temperatura agresiva.
Incluye una cinta para colgarlo con seguridad.
Incluye cables USB-C a C y USB-C a A.
Diseño futurista con efectos de iluminación ASUS Aura Sync.
Video Reseñas
Which hard drive to pick from for the fastest video editing ?
...then you will have a very fast external SSD for not too much money.
ROG Strix Arion SSD Enclosure Review by NicholasKit
Innovative, easy-to-use screwdriver-free installation Aluminum alloy case and thermal pads deliver aggressive heat dissipation Futuristic design features ASUS Aura Sync lighting effects
Access your files from your M.2 NVME SSD directly with the help of ROG Strix Arion and it can save you a lot of money. It also has RGB
If you keep moving from device to device and require data portability at a very fast speed this SSD enclosure could be the perfect option for you.
For Laptop reviews, there a lot of benchmark files that we need to carry around and transferring that from a HDD to a laptop was a very time consuming process. The Strix Arion serves as my high speed drive and for benchmark back ups.
Dikirimin ROG ini, biar makin betah di Rumah.
Mana yang TERBAIK ?! Hardisk External Atau SSD External
Mana yang TERBAIK ?! Hardisk External Atau SSD External
How many machines are tested to test games? | Gearvn #shorts
ASUS made a good job for two reasons: the first is the super-resistant metal case and the second in terms of heat dissipation which allows for consistency in performance.
ROG Strix ARION has earned Advanced Design recognition.
VALORACIÓN DE LOS CLIENTES
Comparación de productos
Producto agregado para comparación. Agregue hasta 4 productos o proceda a ver los productos seleccionados.
Footer ASUS