Features
Tech Specs
Awards
Gallery
Where to buy
Support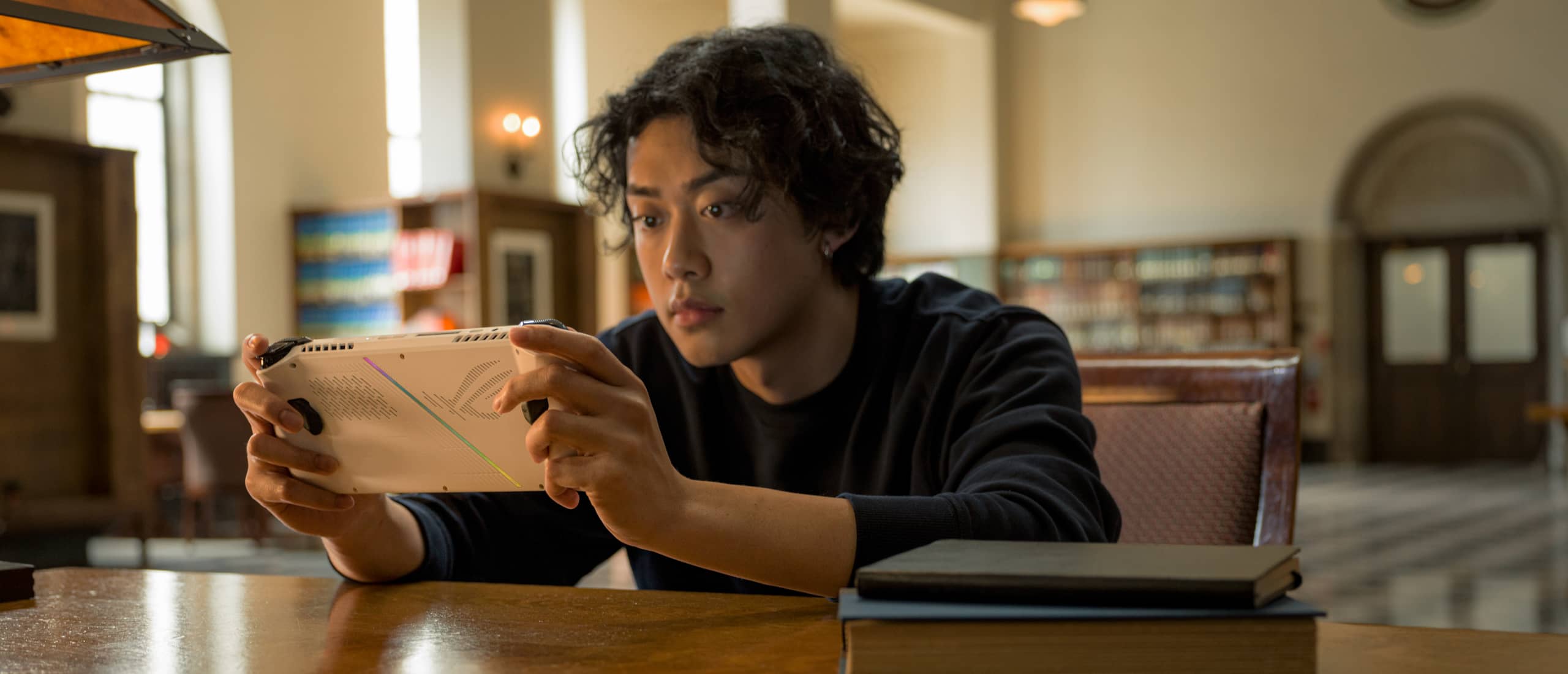 Me Time:
Gaming Handheld
Sink deep into your favorite AAA or indie games and watch the hours melt away with an expansive Full HD 120Hz display and incredibly comfortable ergonomics.The ROG Ally is a true Windows 11 gaming machine, and comes bundled with 3 months of Xbox Game Pass Ultimate for free.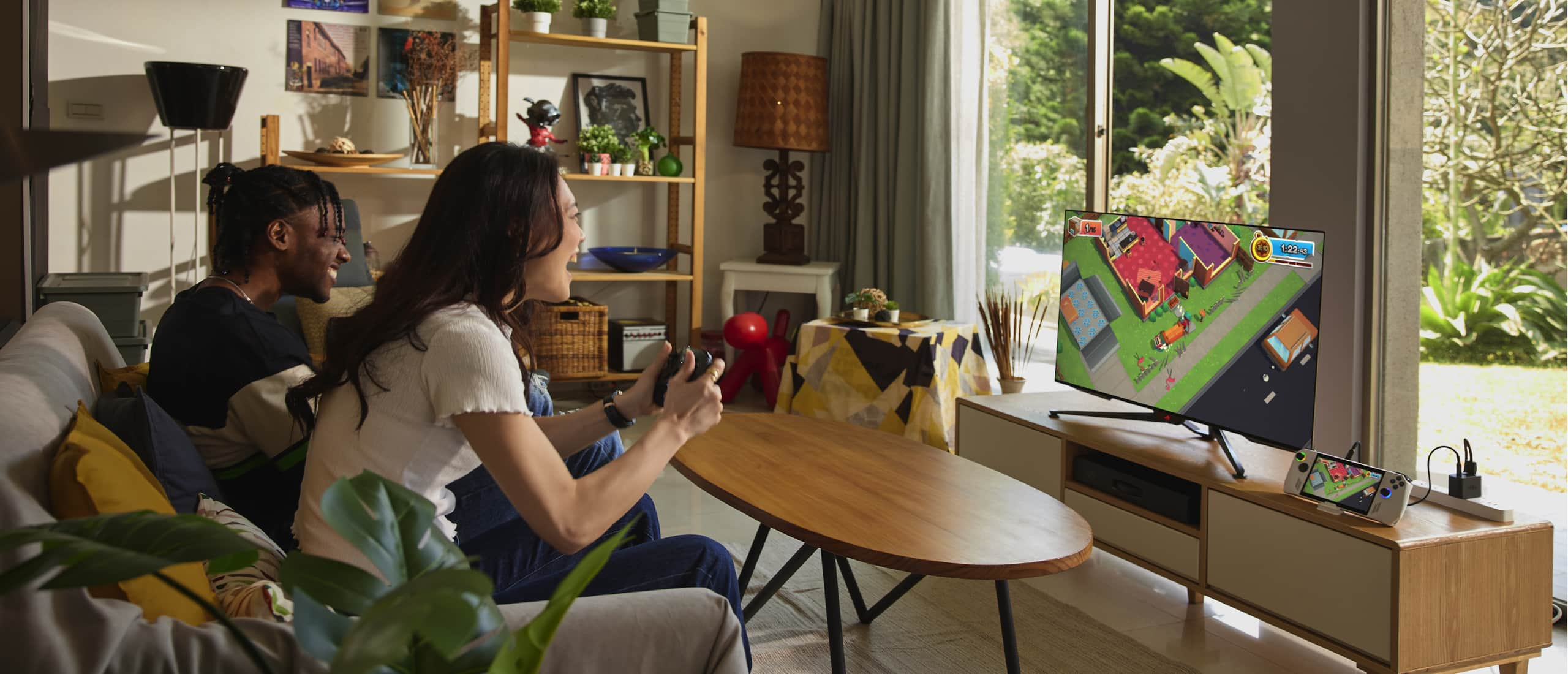 We Time:
Home Entertainment System
Share the fun by connecting to a TV and pairing multiple controllers, instantly transforming the Ally into a formidable couch multiplayer console.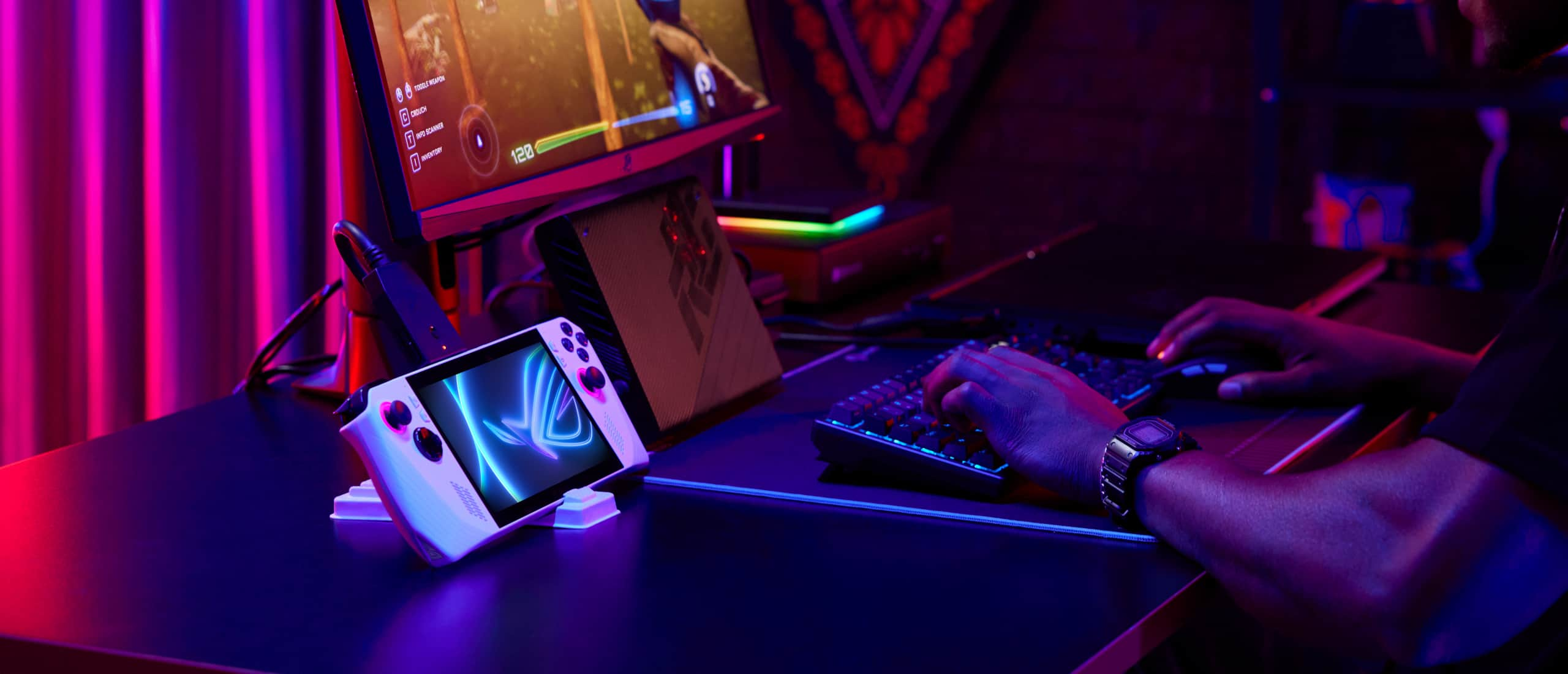 Pro Time:
Full Throttle Gaming
For a truly top-tier experience, pair the Ally with an XG Mobile external GPU, monitor, mouse, and keyboard for esports and high-fidelity 4K gaming.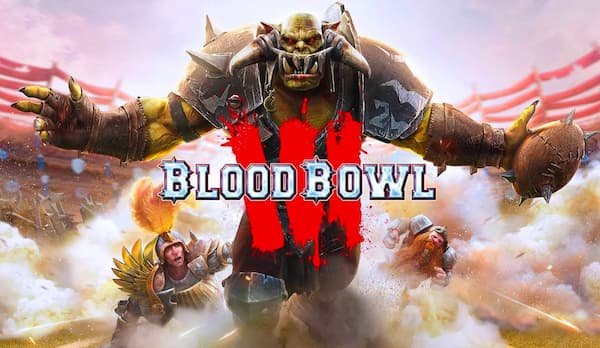 Blood Bowl 3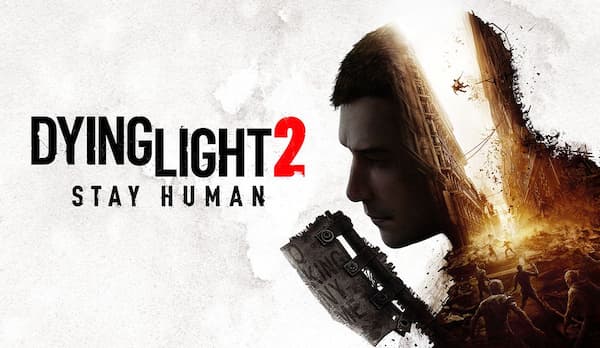 Dying Light 2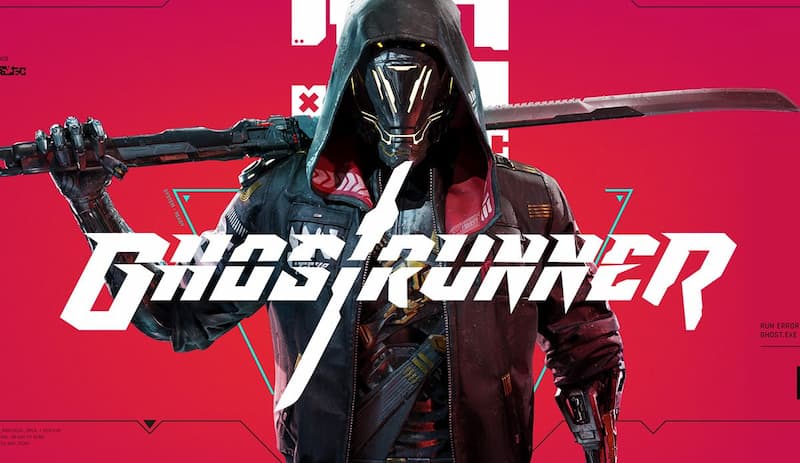 Ghostrunner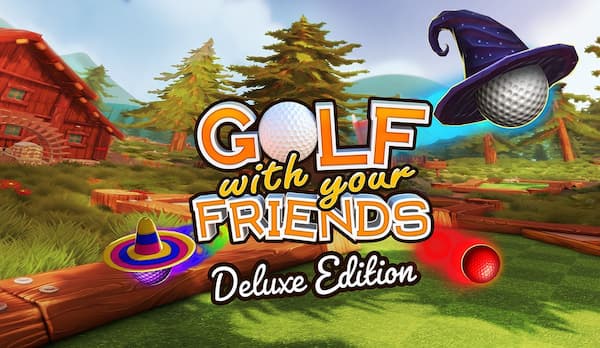 Golf with Your Friends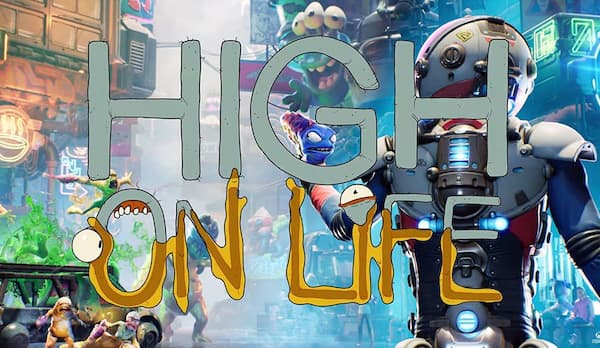 High on Life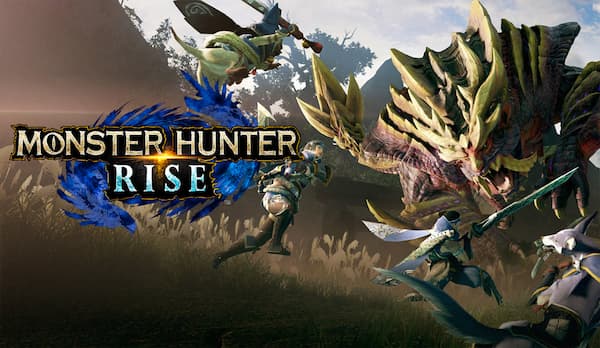 Moster Hunter Rise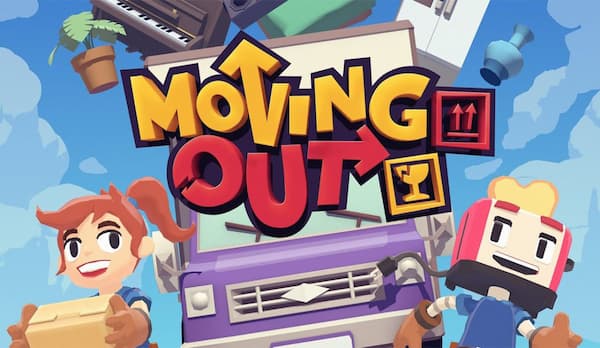 Moving Out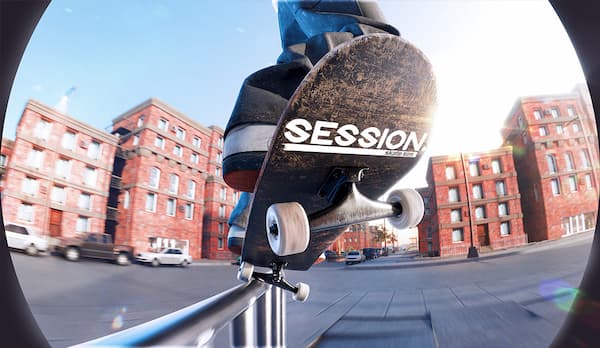 Session: Skate Sim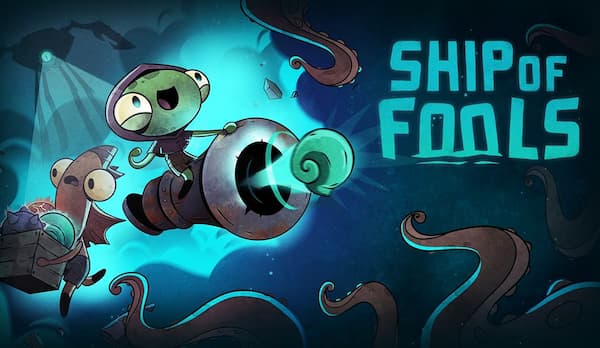 Ship of Fools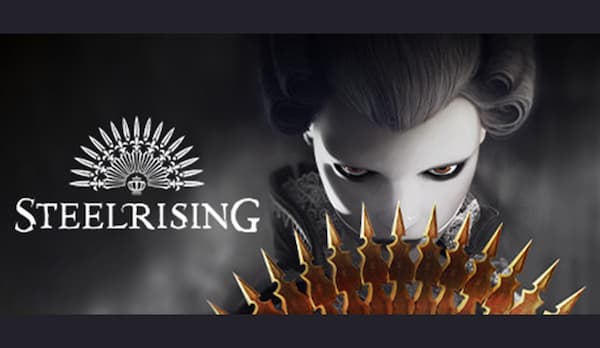 Steelrising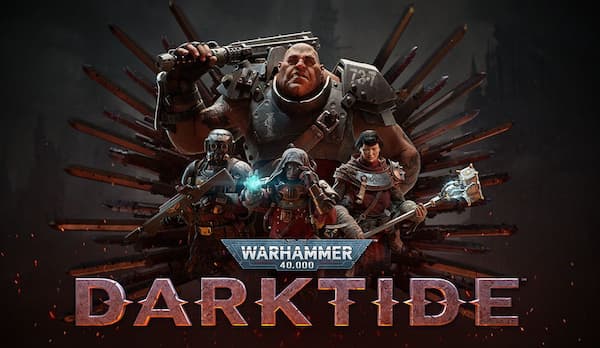 Warhammer Darktide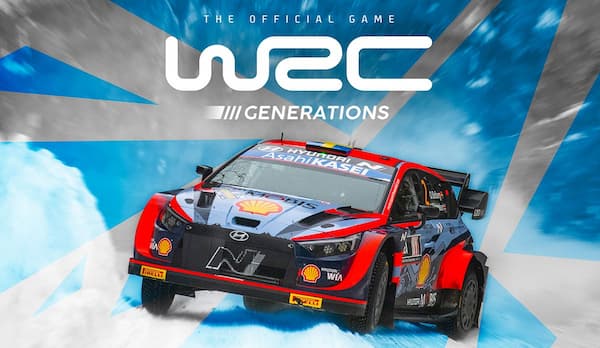 WRC Generations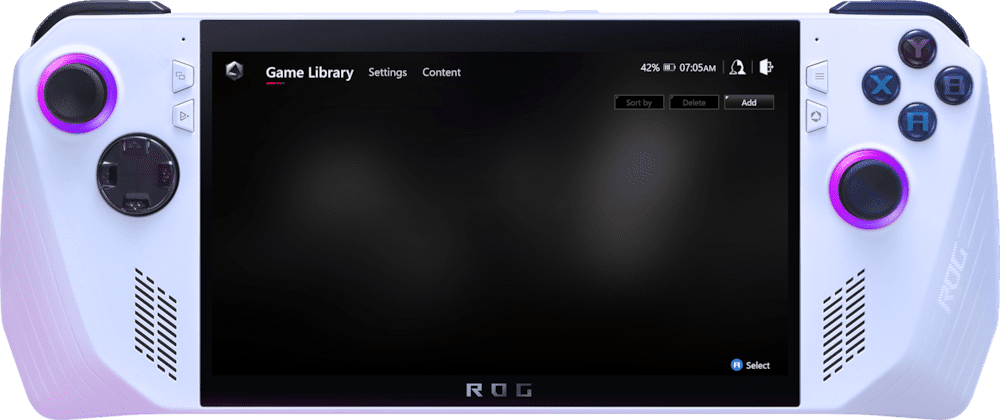 Add games to your Game Library
If your installed game does not appear in the library, please select "Add" to add the game mamually
If you have not installed any games yet, check out from Setting > Game Platforms
#playALLYourgames
Multiple libraries, one device. The ROG Ally is fully compatible with Steam, Xbox Game Pass, Epic, GOG, and more, ensuring that no matter where you buy your games, you can play them on the Ally.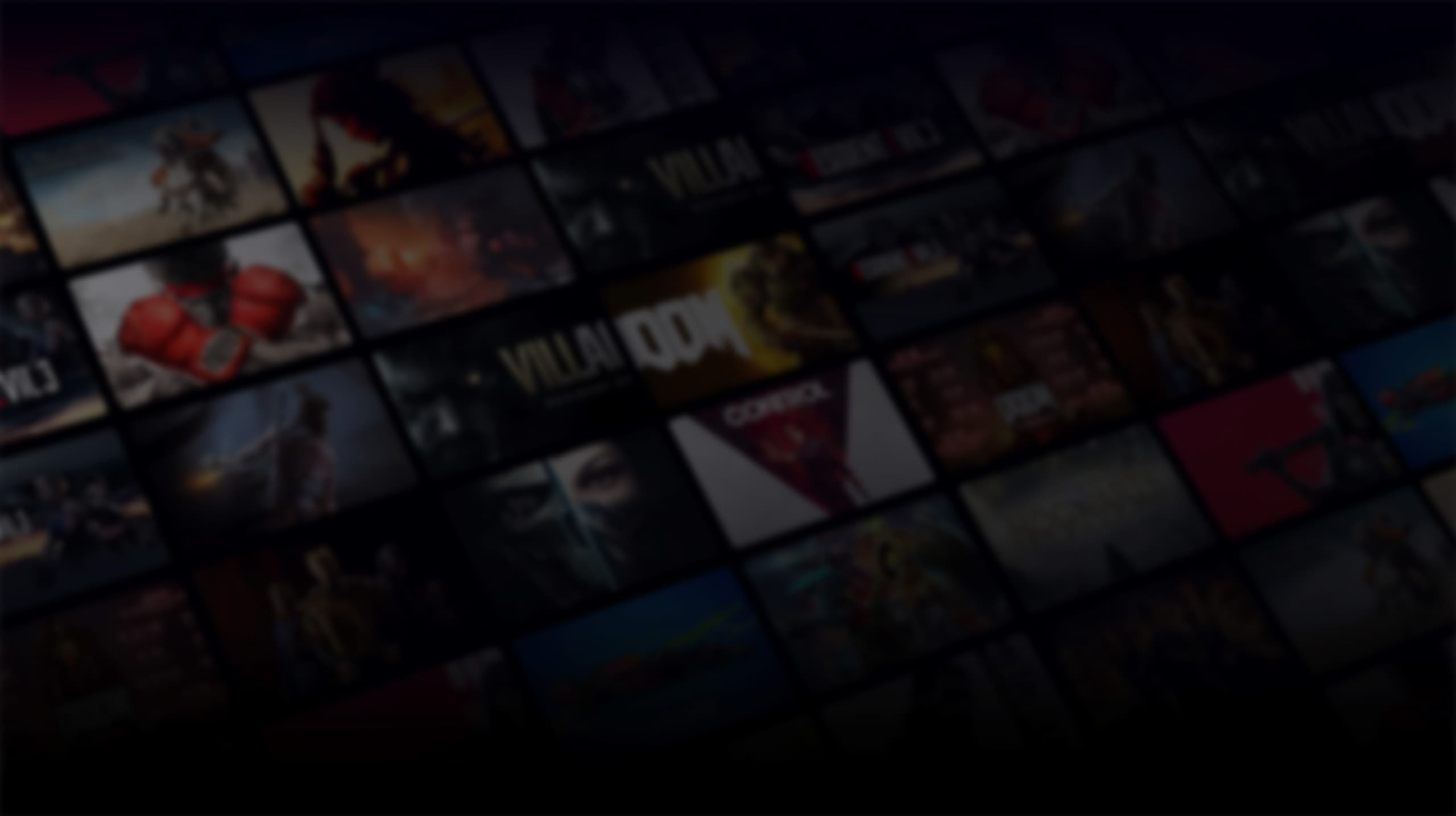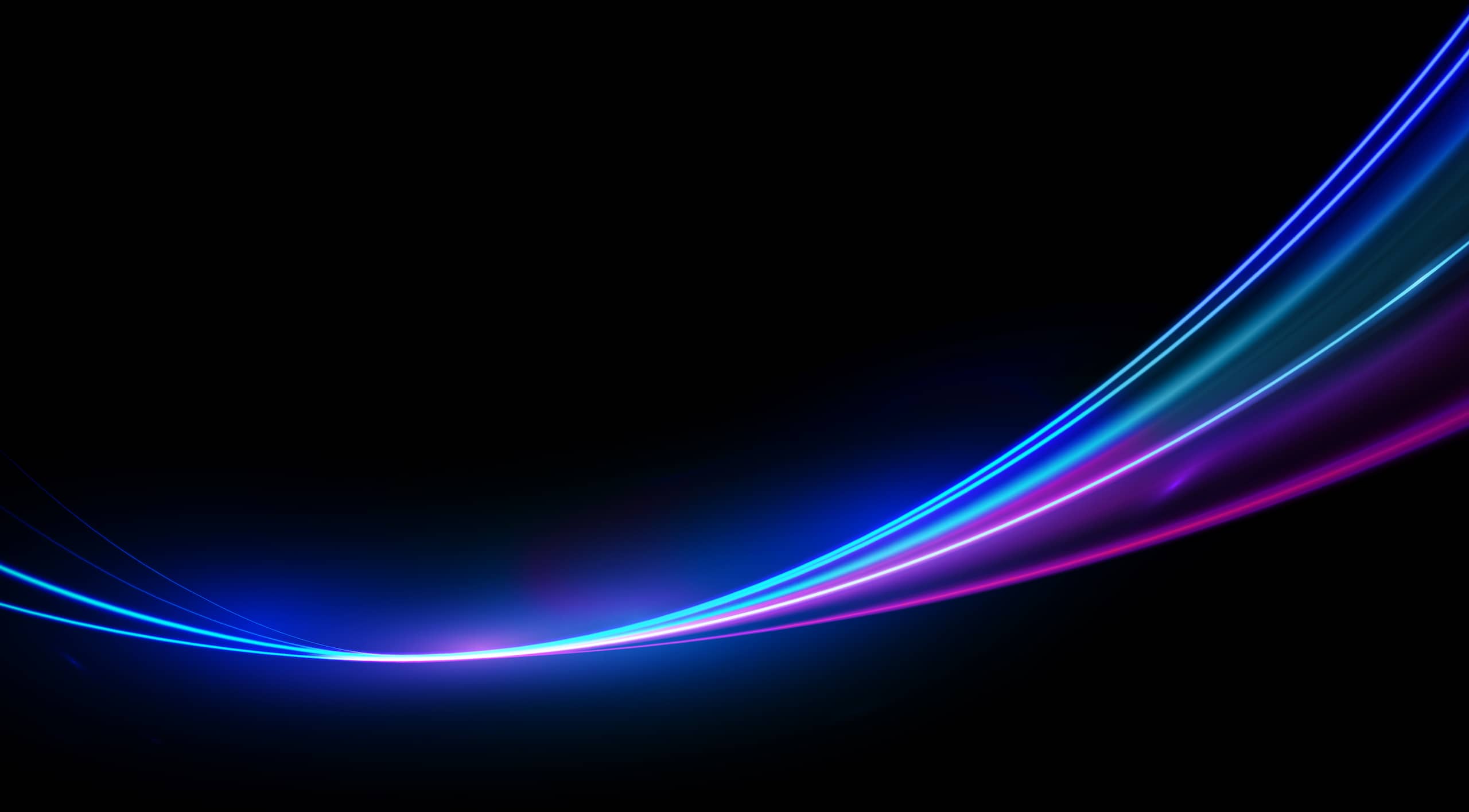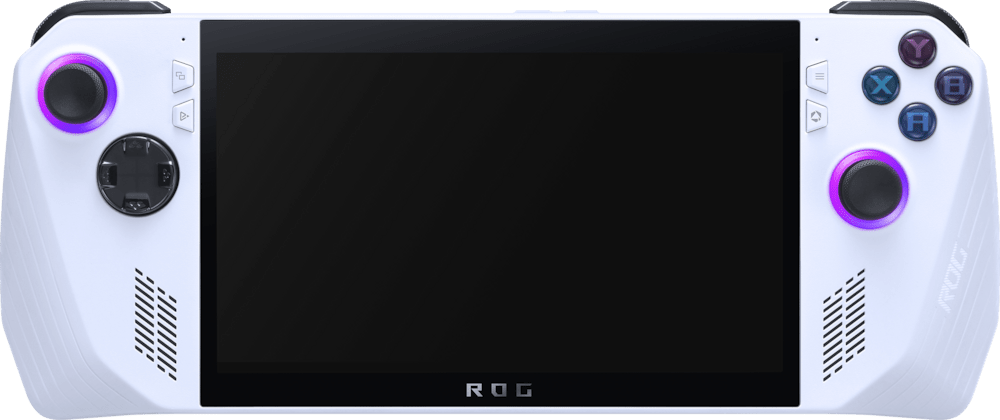 Game Library

Owning games in multiple launchers can make for a frustrating, fractured library. We designed a Special Edition of Armoury Crate just for the Ally, designed to sort and seamlessly launch all of your games from one place, no matter where they're installed.

Command Center

For effortless control of your experience in-game, Command Center is just one tap away. Change performance modes, see real-time monitoring data, enable an FPS limiter, and more with one quick toggle.

Customization

Every button on a handheld gaming device is precious, and we know that not every gamer plays the same way. So we made sure that you can remap and customize the buttons to suit your particular taste. Two additional paddles on the rear of the Ally can be used as in-game buttons or as modifiers to unlock even more options.
3 Months of Xbox Game Pass Ultimate Included
Play Minecraft Legends and hundreds of other games on ROG Ally with 3 months of Game Pass Ultimate.*
*Terms apply.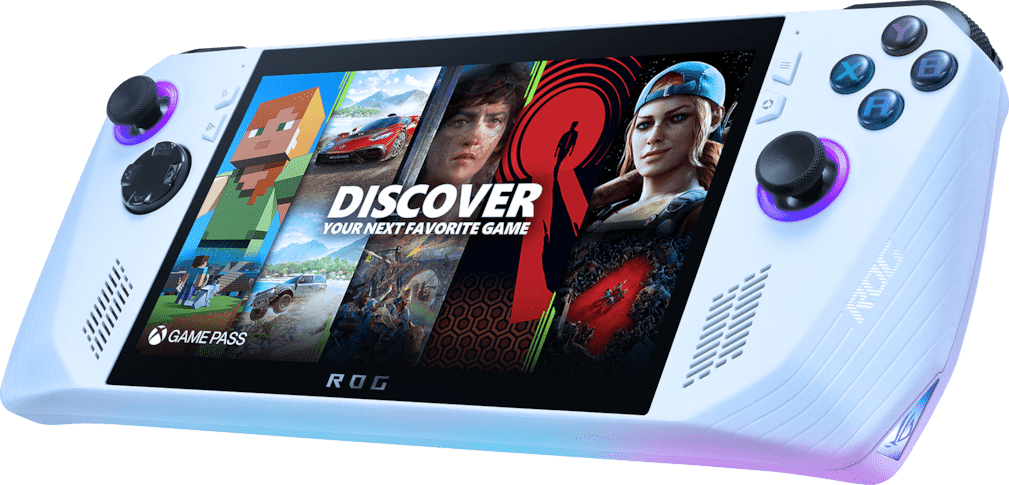 Modern Security
Windows Hello
Log in to the Ally quickly and securely with a Windows Hello fingerprint reader integrated with the power button, no PIN required. If you accidentally leave your Ally unattended, your data is secure.
Parental Control
For younger users, parents can limit app or screen time, see spending summaries, and track their kids' locations with powerful parental controls.
Windows Defender
Windows Defender provides robust security for your device, with constantly updated antivirus and malware protection.
Born for Handheld Gaming
AMD's brand-new Ryzen™ Z1 Extreme processor powers this incredible gaming machine. Built on the cutting edge 4nm process, this silicon features both the Zen 4 architecture and brand new RDNA™ 3 graphics. Featuring incredible upscaling technologies like FidelityFX™ Super Resolution and Radeon™ Super Resolution, the Ally can boost framerates while retaining excellent image quality. Choose from three different operating modes to balance performance and power usage, from Silent Mode's 9W to Performance Mode's 15W all the way up to Turbo Mode's 25W (or 30W when connected to AC power). ROG worked in close collaboration with AMD to unleash the full potential of this cutting-edge hardware, and the Ryzen™ Z1 Extreme is here to take the gaming world by storm.
The elite high-performance processor for handheld gaming
Zen4
Architecture
RDNA™ 3
Graphics
8
Cores
4nm
Process
8.6
Teraflops
16
Threads
The high-performance processor for handheld gaming
Zen4
Architecture
RDNA™ 3
Graphics
6
Cores
4nm
Process
2.8
Teraflops
12
Threads
Butter Smooth
FHD Gameplay

Three Gaming Rigs In One
Smooth AAA Gaming in
1080P
Call of Duty®
Modern Warfare® II 2022
75-80
*Turbo mode, 1920x1080 resolution, default graphics settings, with FSR enabled at the default setting.
ROG ALLY TRAVEL CASE
Water-repellent coated PU fabric
Storage space for accessories
Integrated stand
Sports & Party Games in
1080P
*Turbo mode, 1920x1080 resolution, default graphics settings, with FSR enabled at the default setting.
rog raikiri pro
Tri-mode connectivity: USB-C®, 2.4 GHz RF, or Bluetooth®
Built-in OLED display
Extensive customization via Armoury Crate
Authentic
Esports & 4K Gaming
Experience
League of Legends
150-180
4K with Ray tracing + DLSS3 on
The Witcher® 3: Wild Hunt
60-80
Spider-Man Miles Morales
60-80
*Turbo mode, 1920x1080 resolution, default graphics settings
ROG XG MOBILE (GC33)
GeForce RTX™ 4090 Laptop GPU
Built-in I/O hub: USB Type-C & Type-A,
SD card reader, Ethernet, HDMI 2.1
Integrated 330W adapter
MicroSD Expansion
If you have a larger game library, the Ally has you covered. A dedicated UHS-II microSD card slot allows you to effortlessly add high-speed storage to your machine, letting you keep more of your games installed and ready to play. Boasting nearly the same load times as the dedicated PCIe Gen 4 SSD, you'll never need to worry where you store your games.
Actual Game Loading Time
27.92sec
ROG ALLY with SD card
Cyberpunk 2077
34.52sec
ROG ALLY with SD card
Control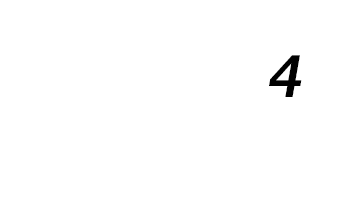 PCI Express 4.0 SSD
Featuring up to 512GB of lightning-fast PCIe Gen 4 storage courtesy of an M.2 2230 SSD, you'll have plenty of space for all your games and ultra-fast boot times.

Powerful LPDDR5 6400 Memory
The Ally's LPDDR5-6400 memory keeps the Ryzen™ processor fed with data at a moment's notice, letting the Z1 Extreme put its best foot forward.
Game on the go
Play your favorite games and content for hours without worrying about a charger. Enjoy up to 2 hours of gaming locally on the device, with up to 6.8 hours of video playback. The Ally also supports fast charging, enabling it to charge from 0-50% in just 30 minutes.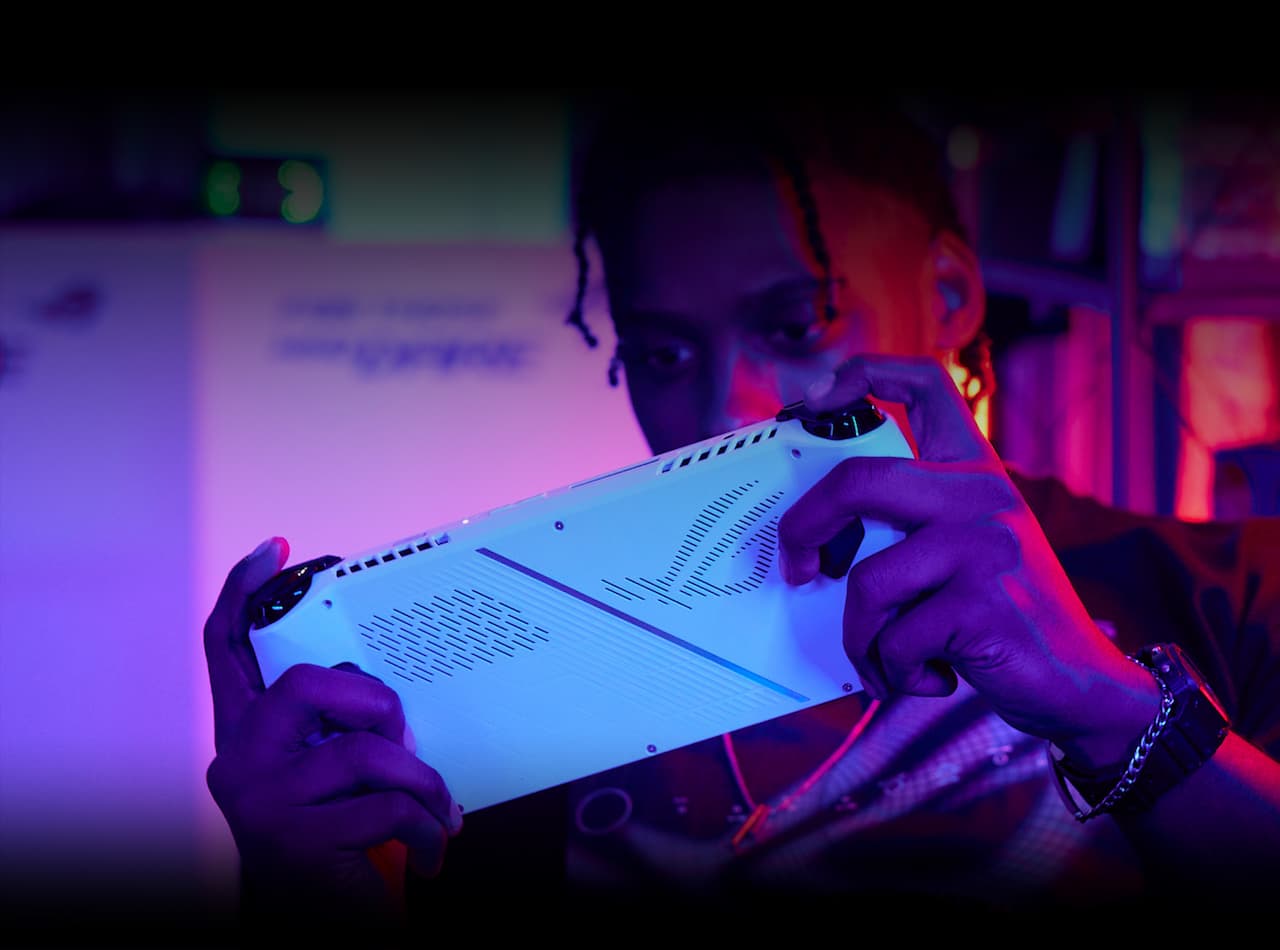 Performance Mode (15w)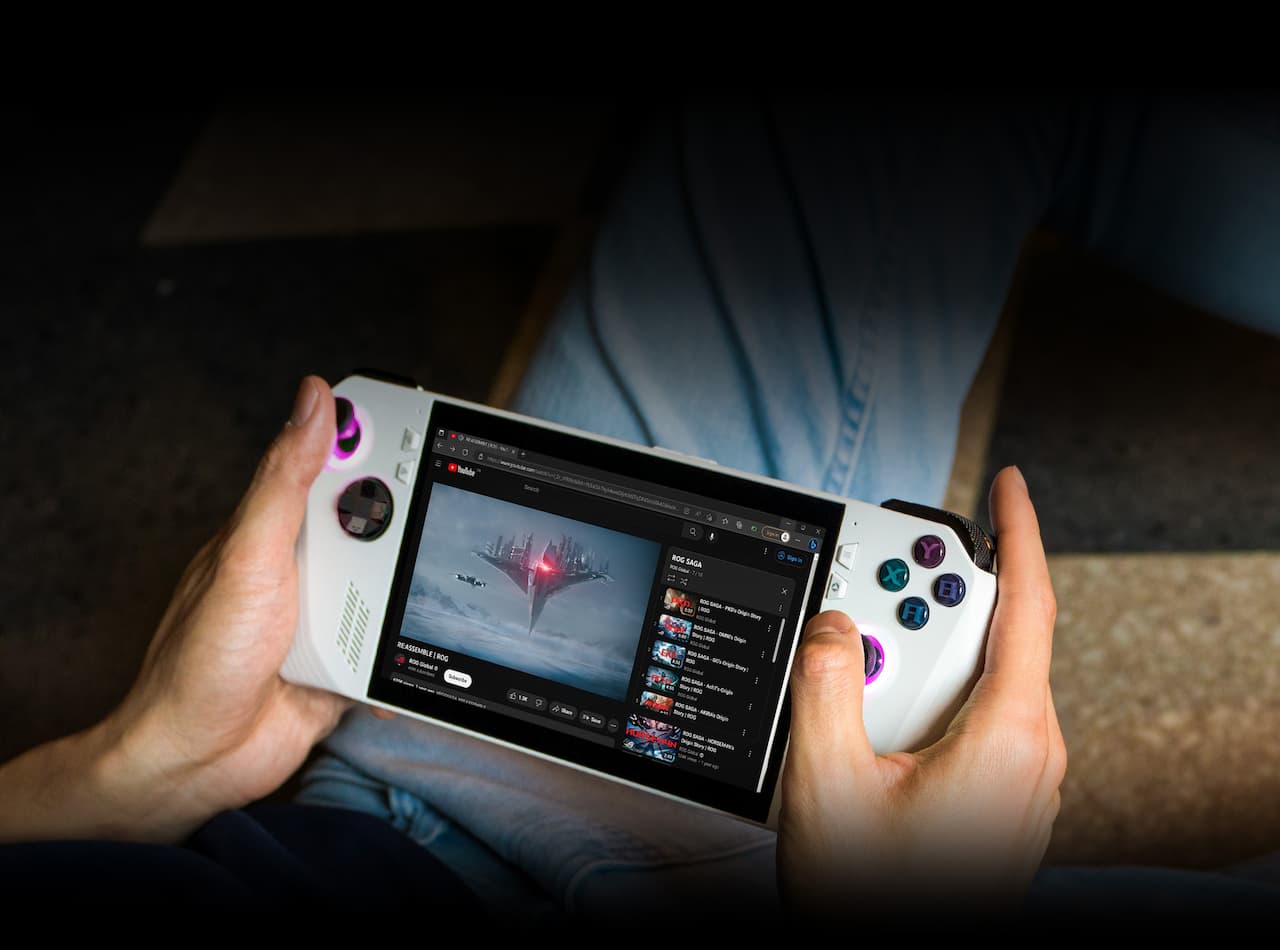 Netflix & YouTube
up to
6.8
hrs
Silent Mode (9w)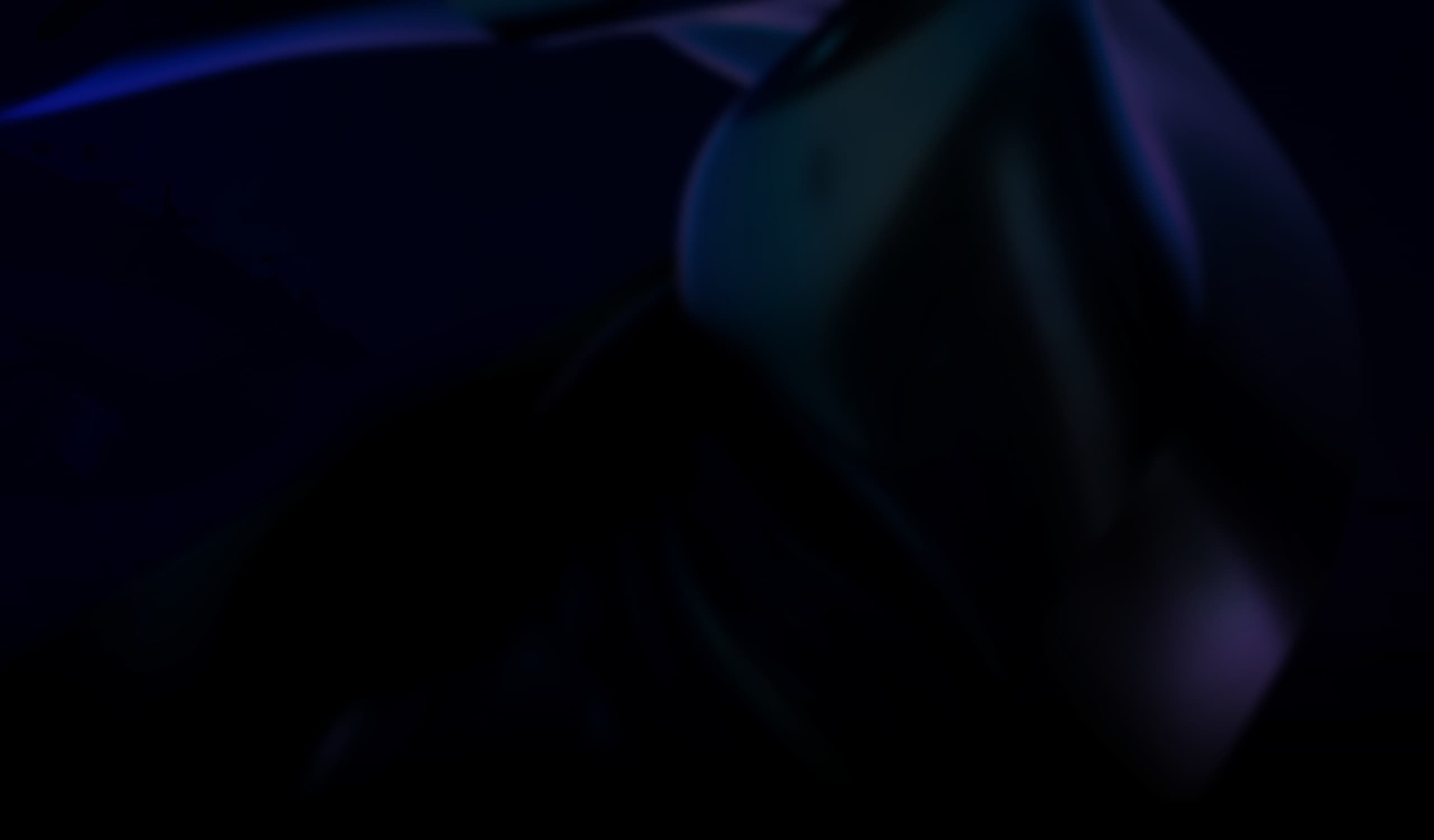 Zero Gravity, Zero Distraction, 100% Performance
Zero Gravity Thermal System
The ROG Ally is designed to let you play anywhere, so it needed a thermal solution to match. Traditional thermal solutions count on gravity to help heat pipes cycle heat out of the system, but with a specially constructed pipe that uses a mesh, the Ally truly defies gravity.
Anti-Gravity Heat Pipes
Anti-Gravity heat pipes improve thermal transfer by using a mesh for the wick, increasing capillary pressure by more than 15%. This allows the Ally's cooling solution to maintain effectiveness even when upside-down.
Fluid Dynamic Bearing
Both fans have a fluid bearing design, which is a tried and tested style that will keep the Ally spinning like a top for years to come. Fluid bearing fans also are low friction even when run in non-traditional orientations, letting you hold the Ally in any direction without worry.
Zero Distraction
While many handhelds on the market opt for a single fan, we know that extra airflow is always beneficial. The Ally is equipped with two fans, allowing better cooling at slower speeds to keep noise to a minimum.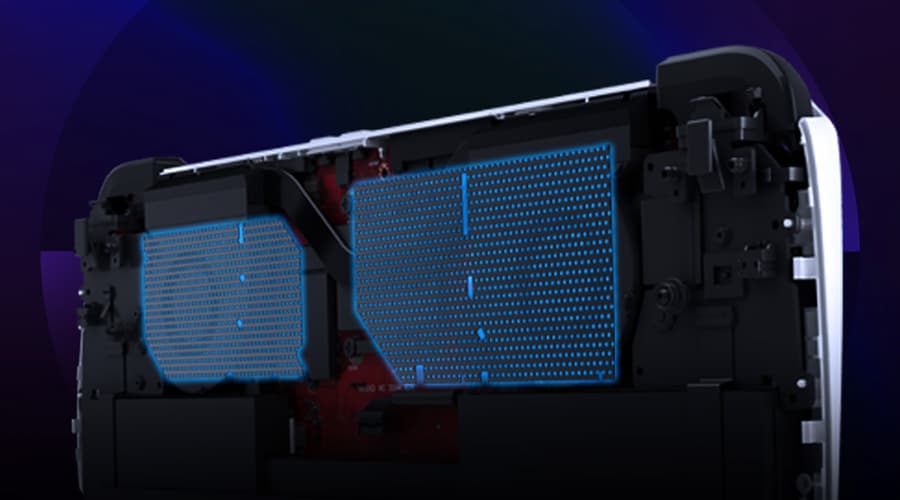 ROG Dust Filter
Dust filters cover both air intake vents, keeping foreign debris out of the fans. Less dust means more efficient and quiet cooling for years to come.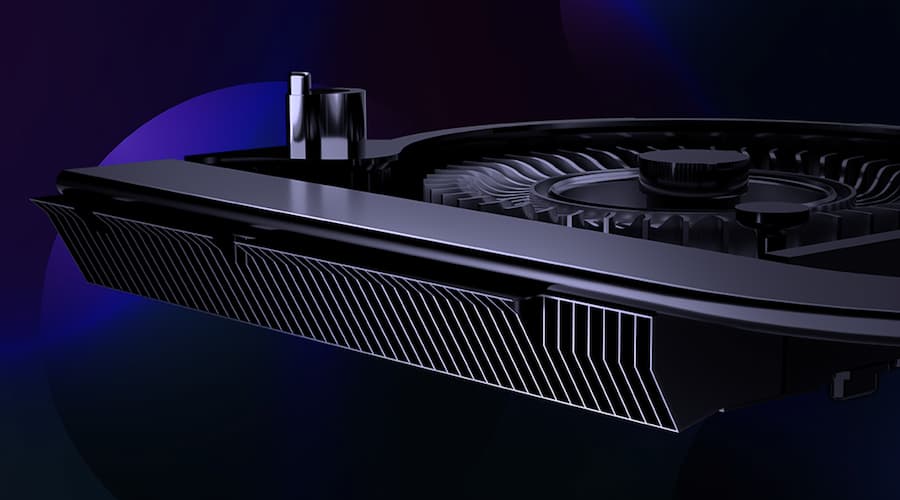 0.1mm Ultra-Thin Fins
Thermal energy is dissipated by two heatsinks, each lined with ultra-thin aluminum fins as slim as 0.1mm. Higher density fins allow for increased heat dissipation and lower air resistance for smoother flow. There are up to 102 heatsink fins totaling 12,173mm² of surface area.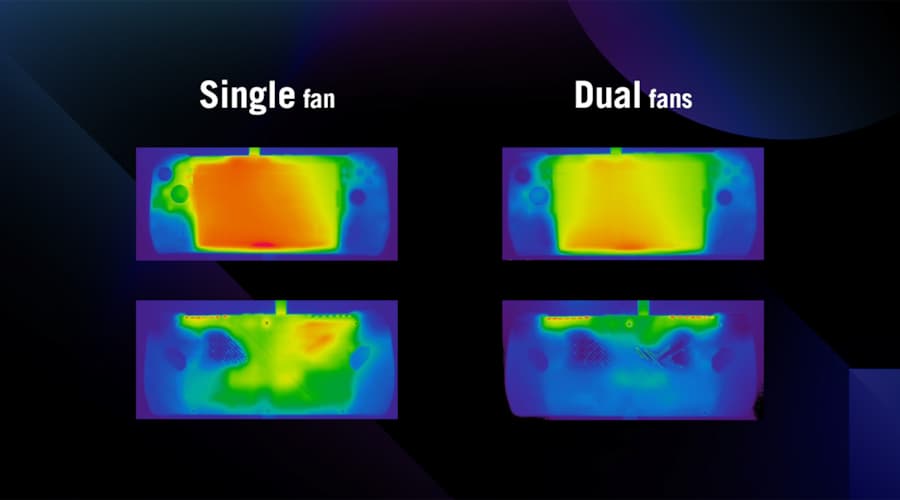 Dual Fan Domination
Dual fans keep the machine and the chassis cooler, quieter, and more comfortable to hold compared to a single-fan solution. Never settle for anything less than ROG Intelligent Cooling.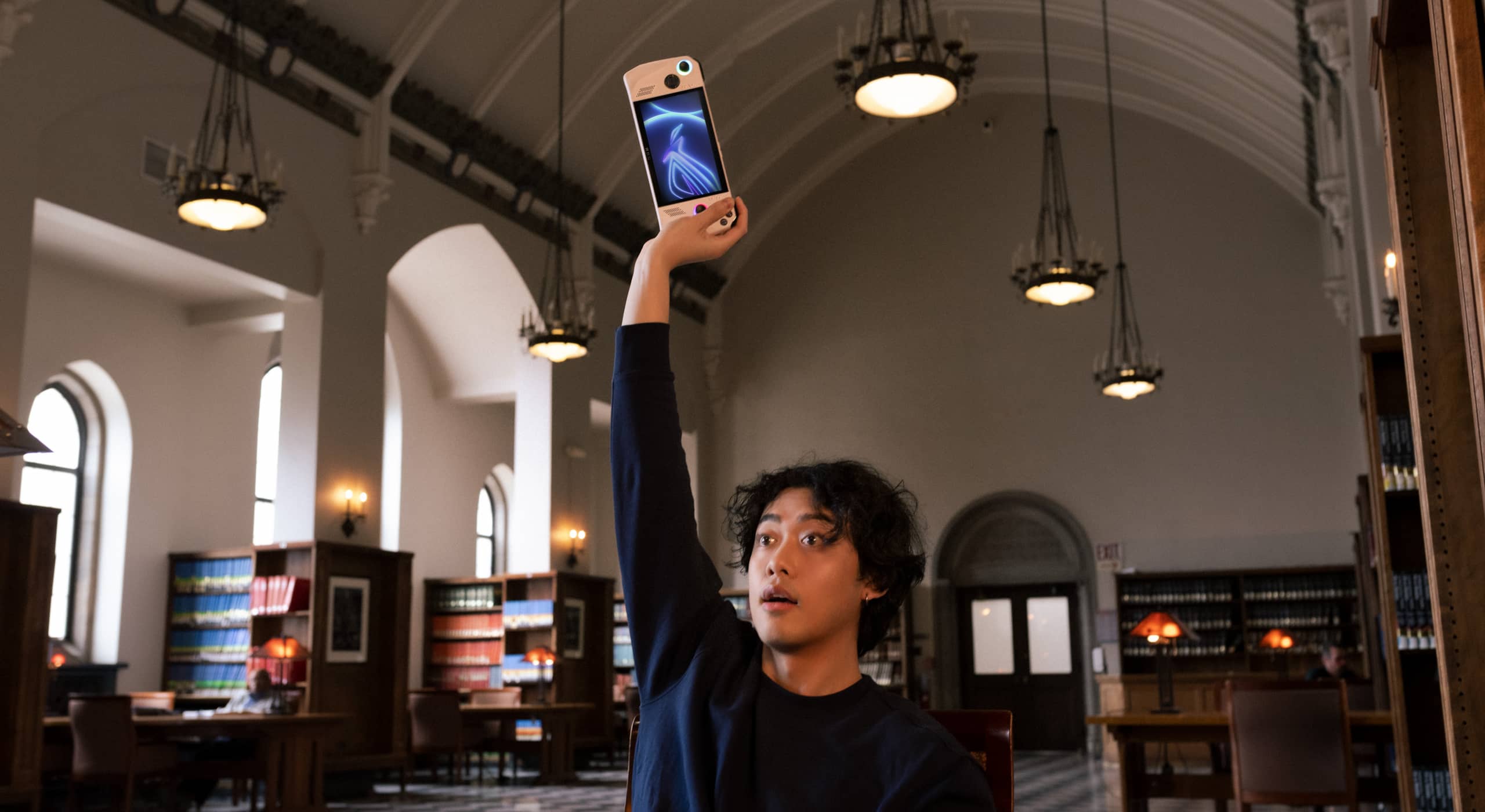 The Featherweight Champion
Weighing in at just 608 grams, the ROG Ally feels comfortable even during extended gaming sessions, and will never be a burden in your backpack.
How We Achieve 608 Grams
Panel Bezel
Top Case
Dual Fan System
Battery Bracket
Lightweight Aluminum​
Lightweight Aluminum​
608 Grams of Pure Gaming Joy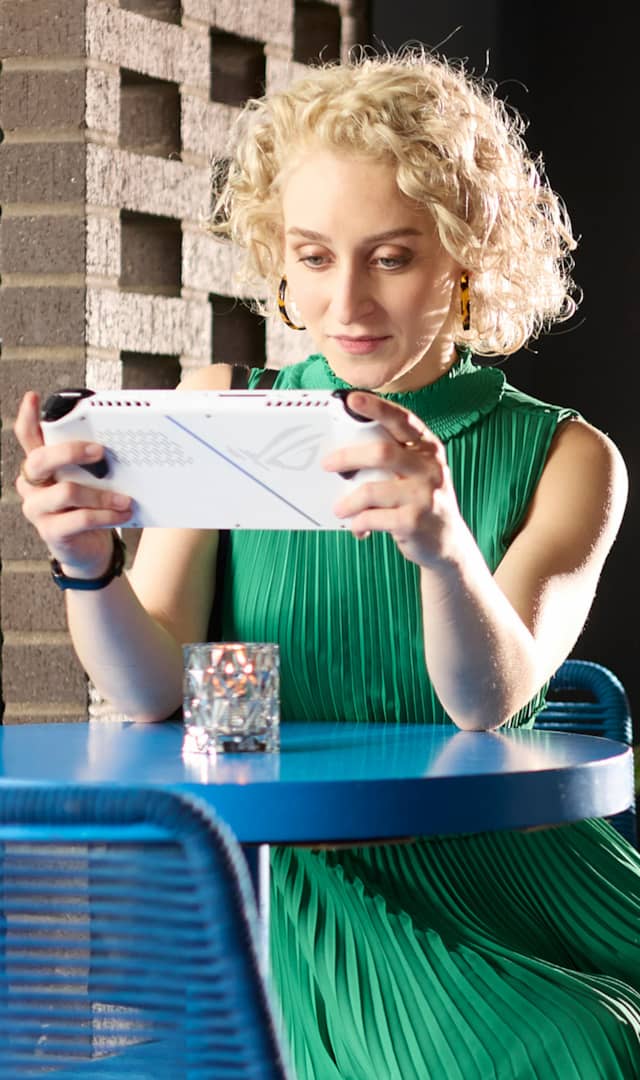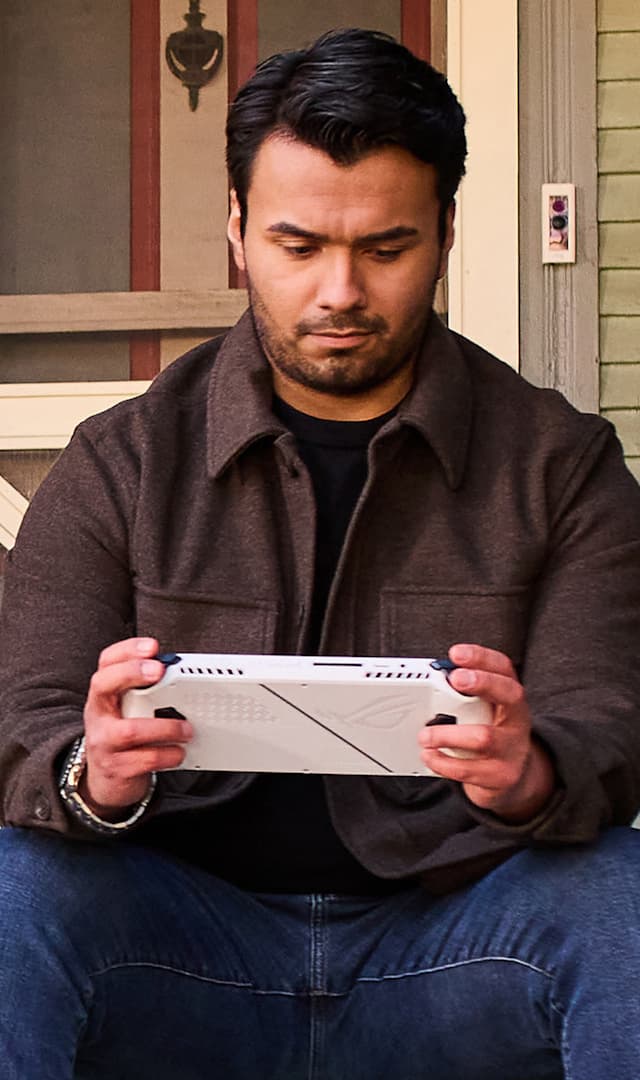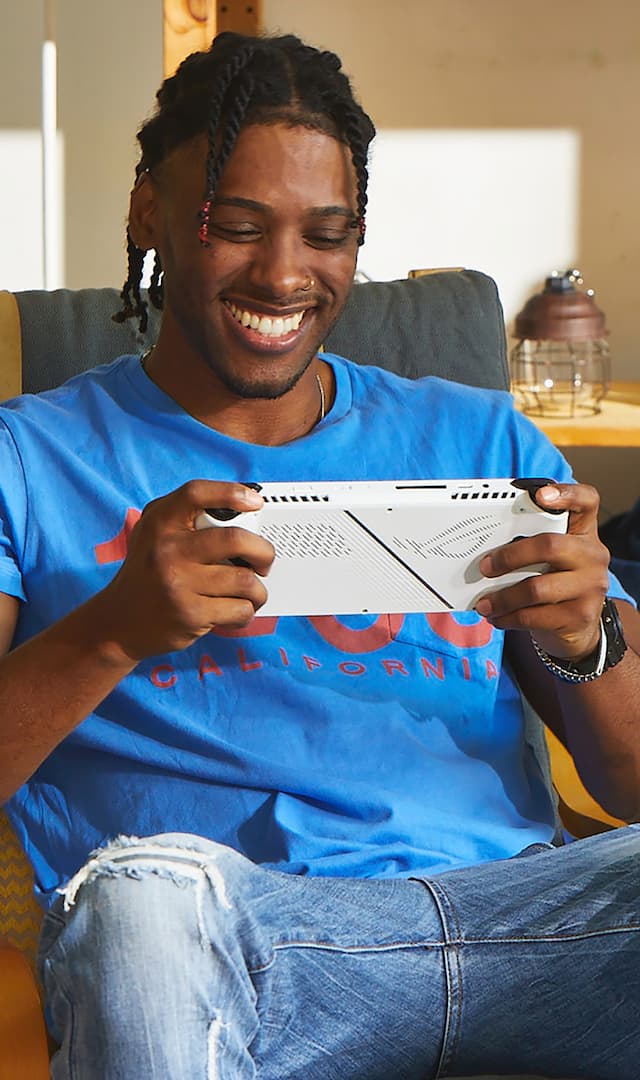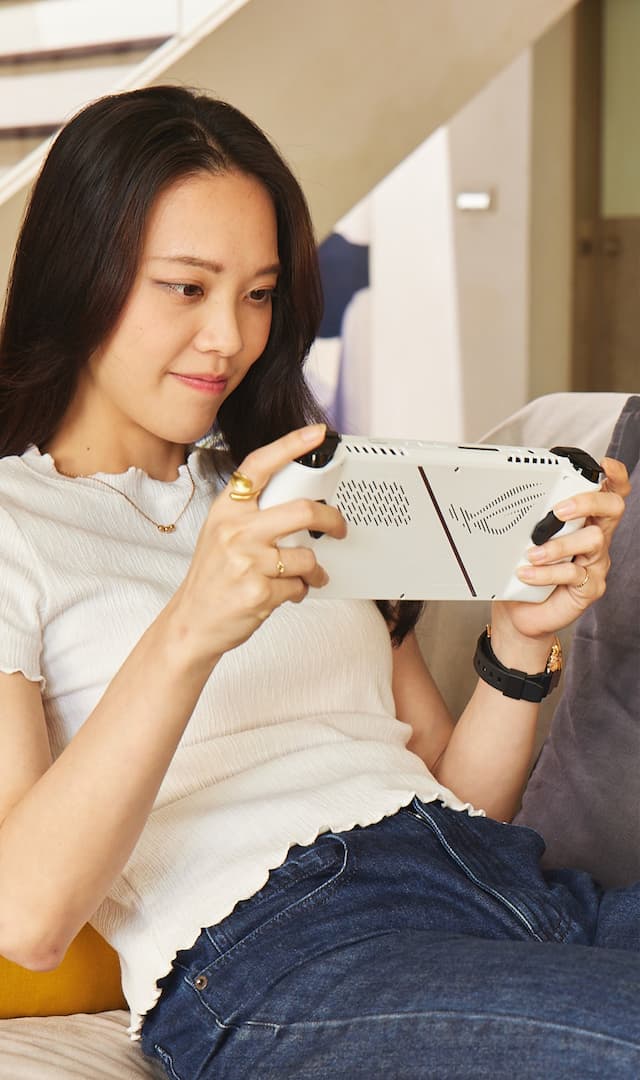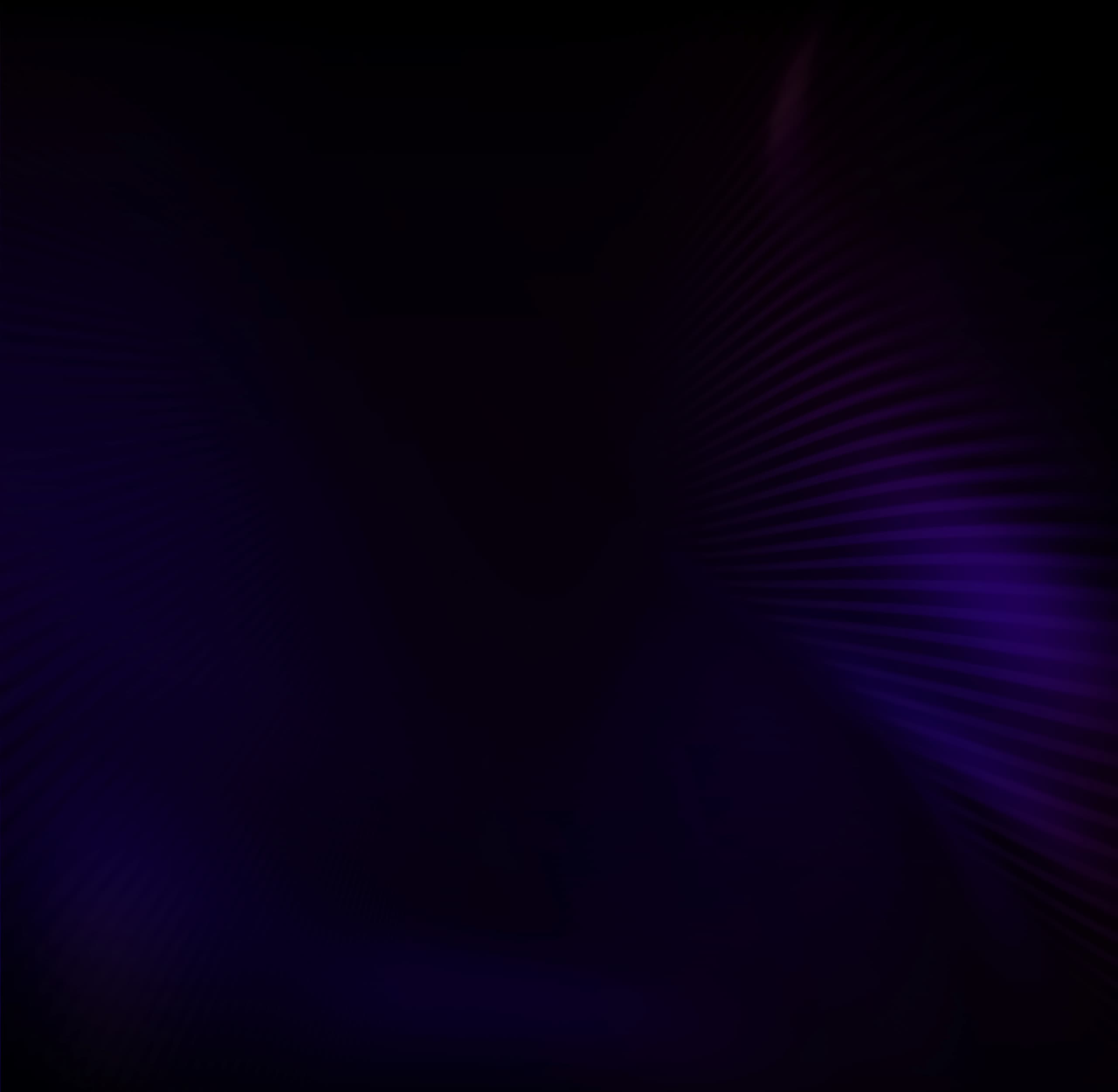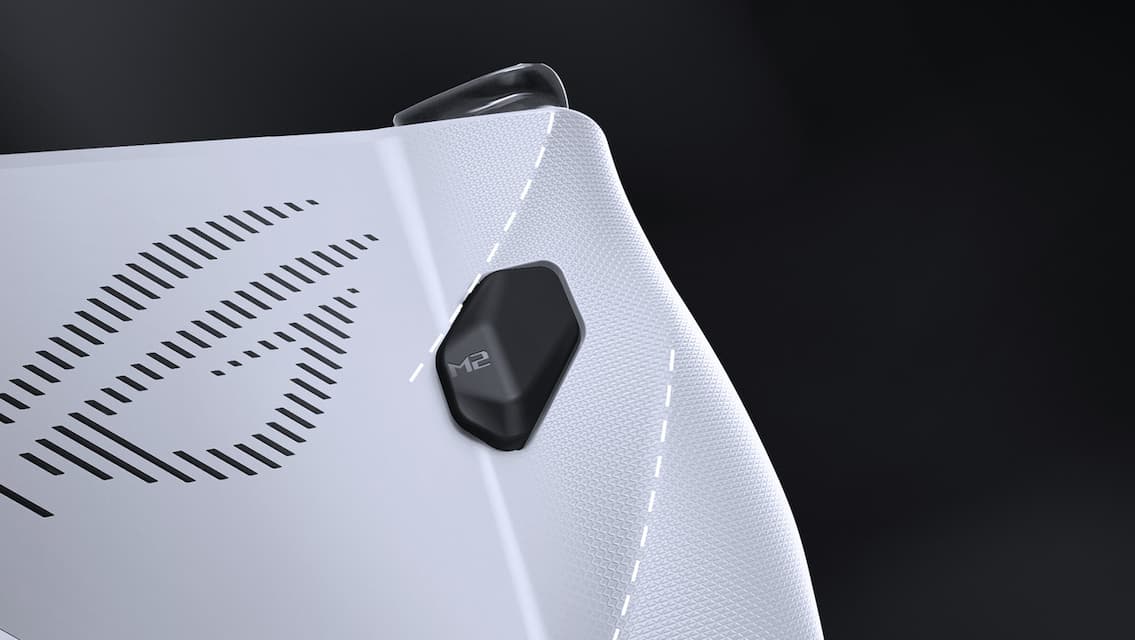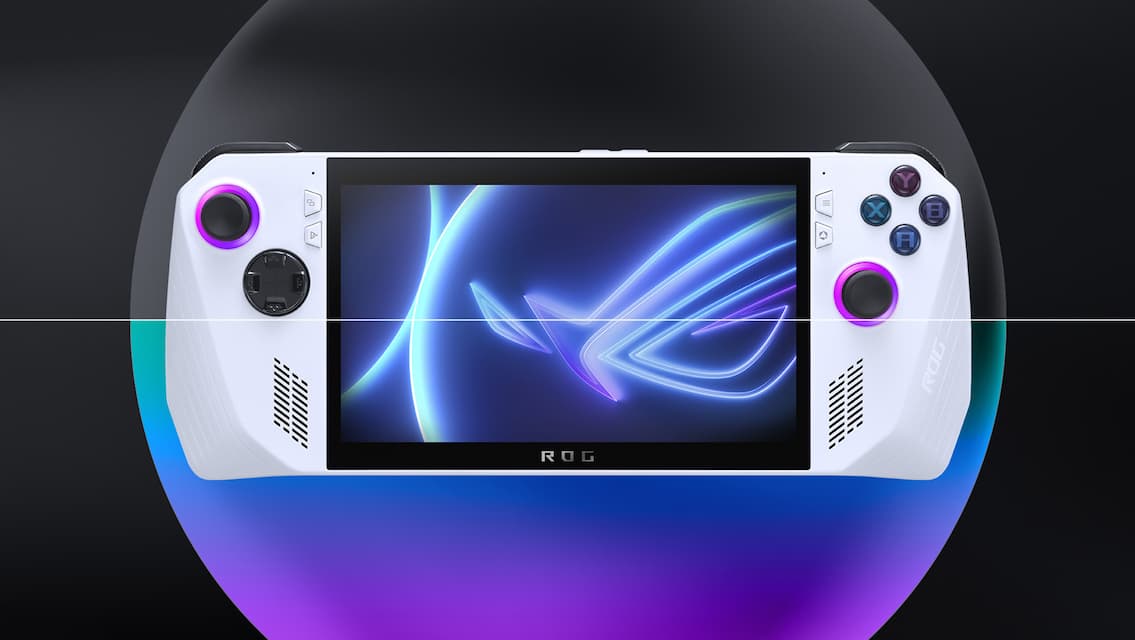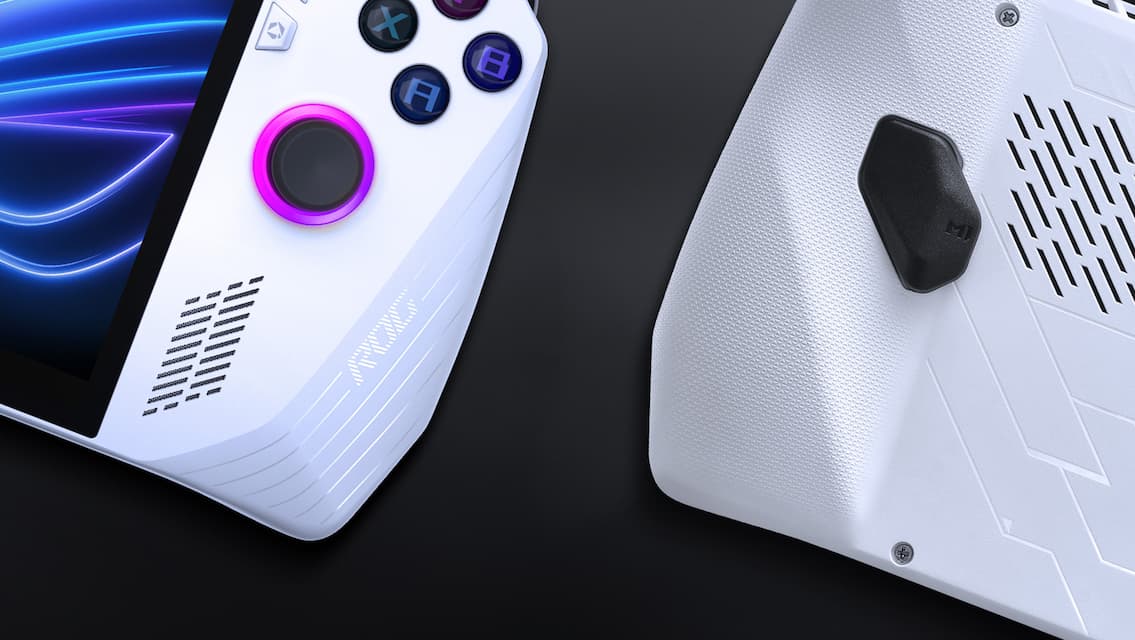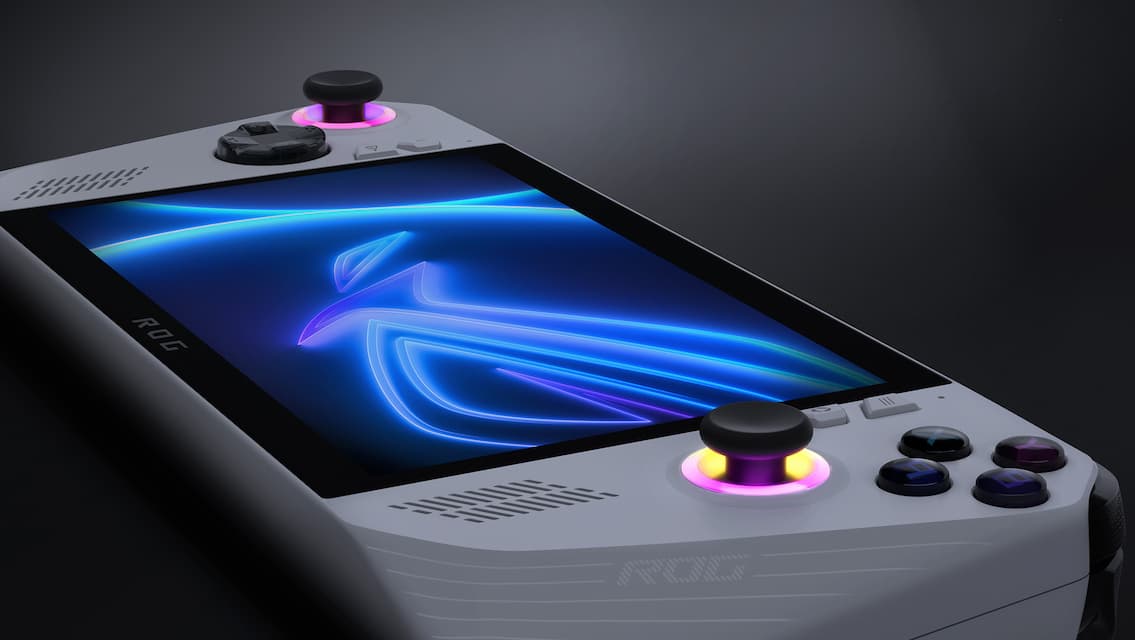 Precision Comfort
Custom-tailored 2° and 14° slants keep the Ally comfortable in every hand.
Hold On
The curved handles of the Ally are perfectly molded to fit the natural shape of your grip.
Effortless Control
Buttons are placed on the top half of the Ally, making sure the controls are always easy to reach.
Slip-resistant Design
ROG micro-triangle texture on the handles and ROG decoration lines on the front secure your grip.
RGB Lighting
Tasteful RGB around both joysticks adds flair and syncs with supported games, pulling you further into the action.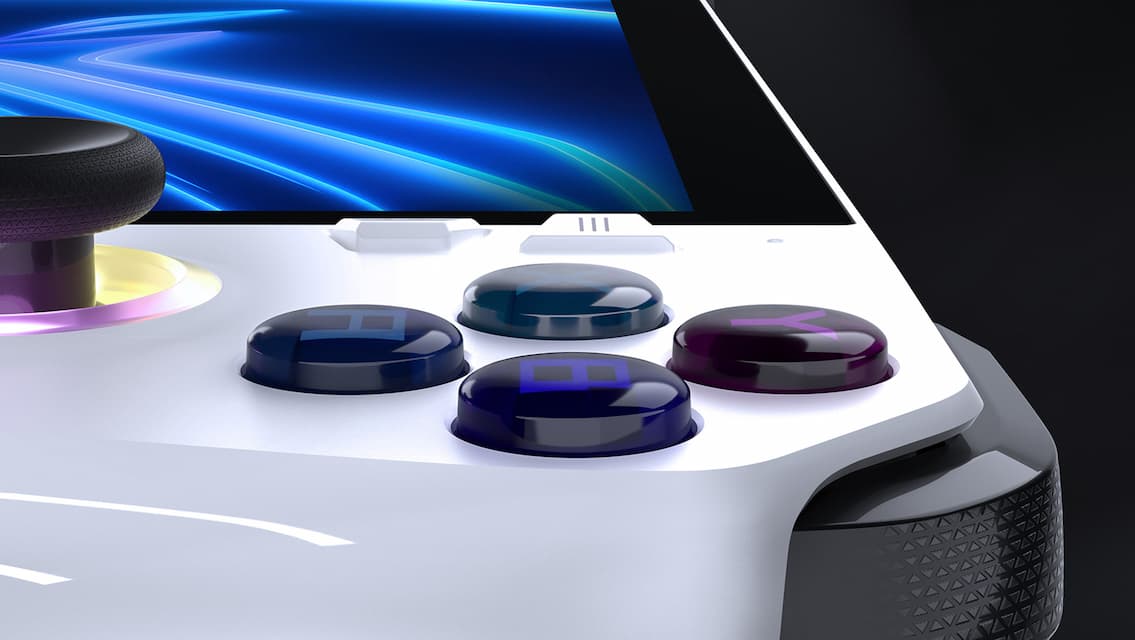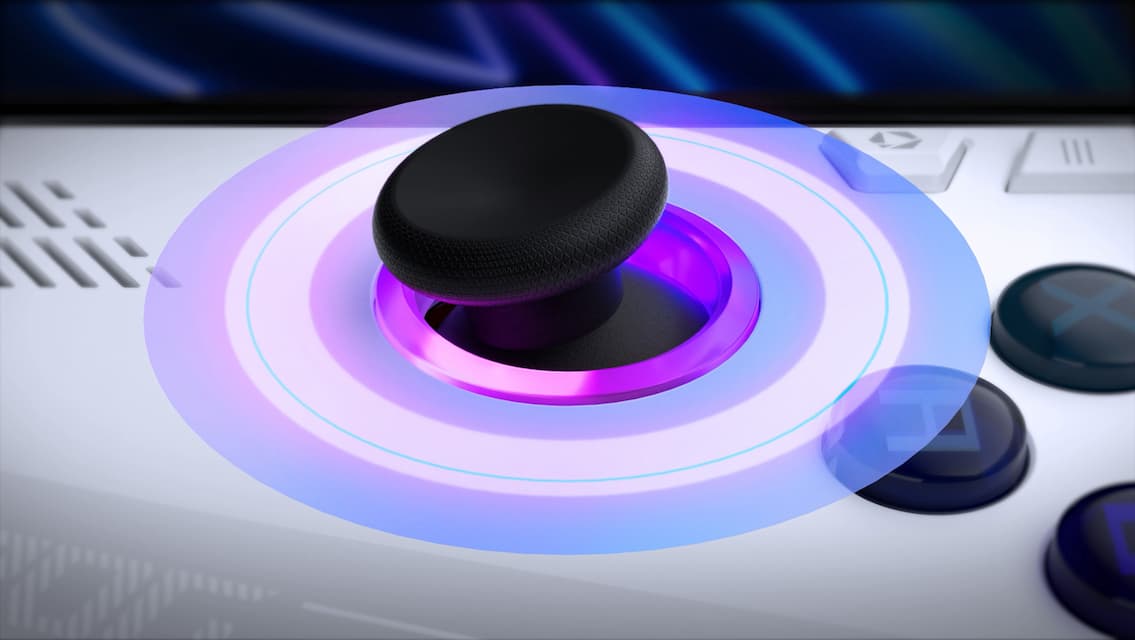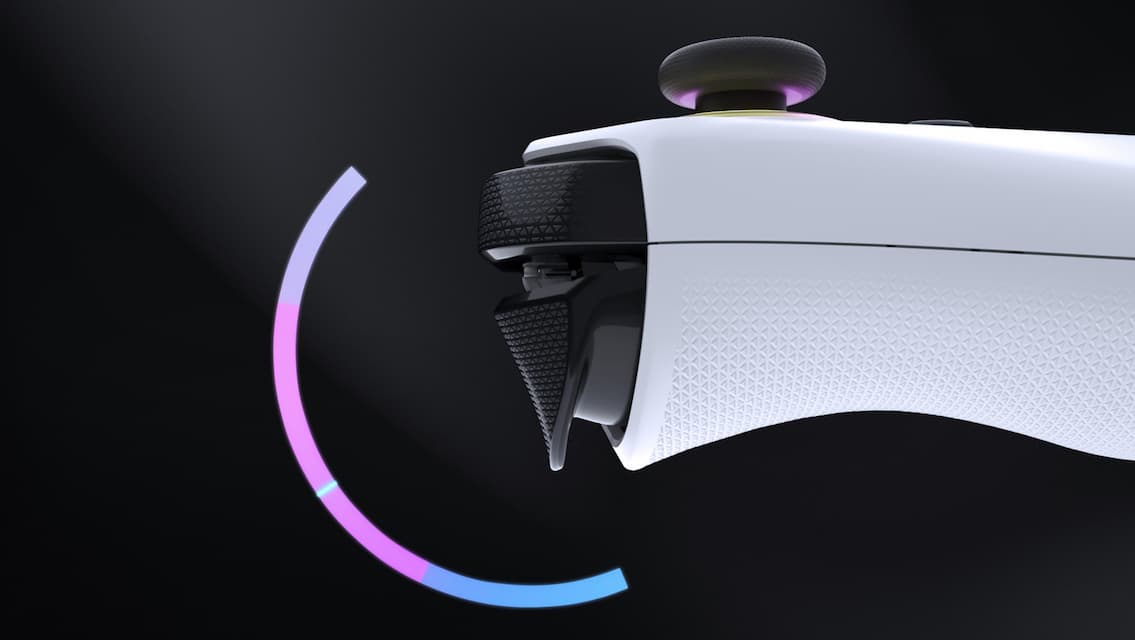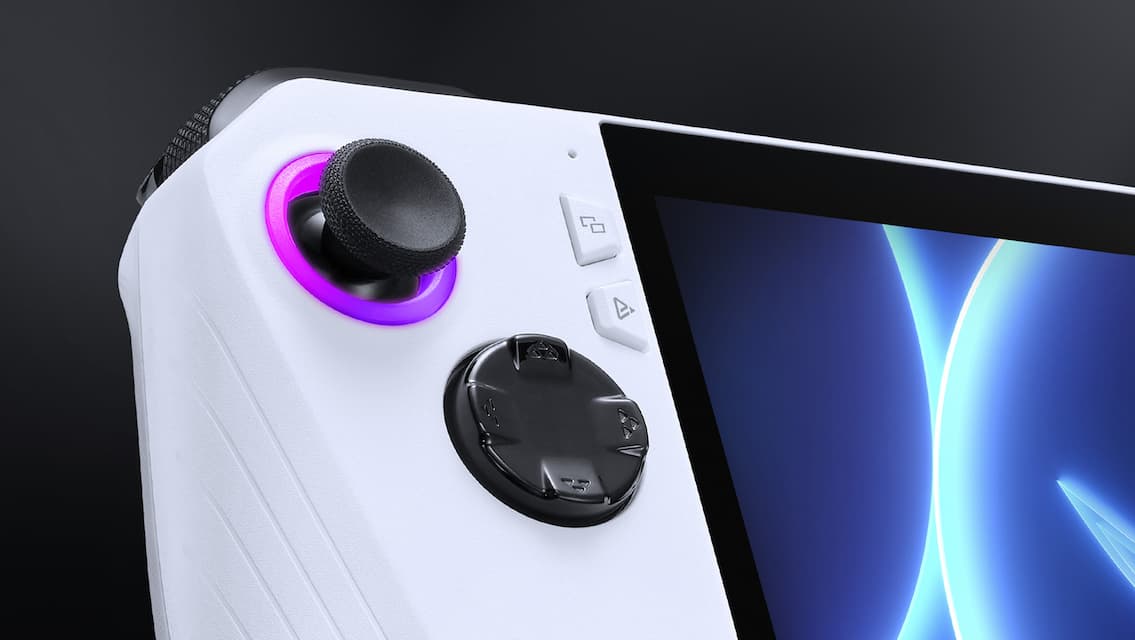 Effortless Button Pressing
The face buttons feature a flat dome shape, making them supremely comfortable to press.
Joystick
Joysticks are critical on a controller, so the Ally offers deep customization, including dead zone adjustment.
Trigger
Hall sensors detect even the tiniest motion accurately, and don't wear down over time, keeping the Ally ready for battle for years to come.
Macro Key
The Ally comes equipped with a pair of easy-to-reach buttons on the rear that can be used as standard buttons or modifiers for custom shortcuts.
D-pad
With a raised disc shape, the D-Pad has also been customized to effortlessly execute consecutive button presses without losing track of your thumbs position.
Lightning Fast. Crystal Clear.
A high-powered machine needs a top-spec display to match, and the Ally has specifications that just a few years ago would have rivaled gaming laptops many times its size. Sporting a 1080p touchscreen panel with a 120Hz refresh rate and FreeSync™ Premium support, this 7-inch display is truly a joy to game on. With 100% coverage of the sRGB color space, you can trust that all of your content looks exactly as the game makers intended.
Wide Color Gamut
sRGB 100%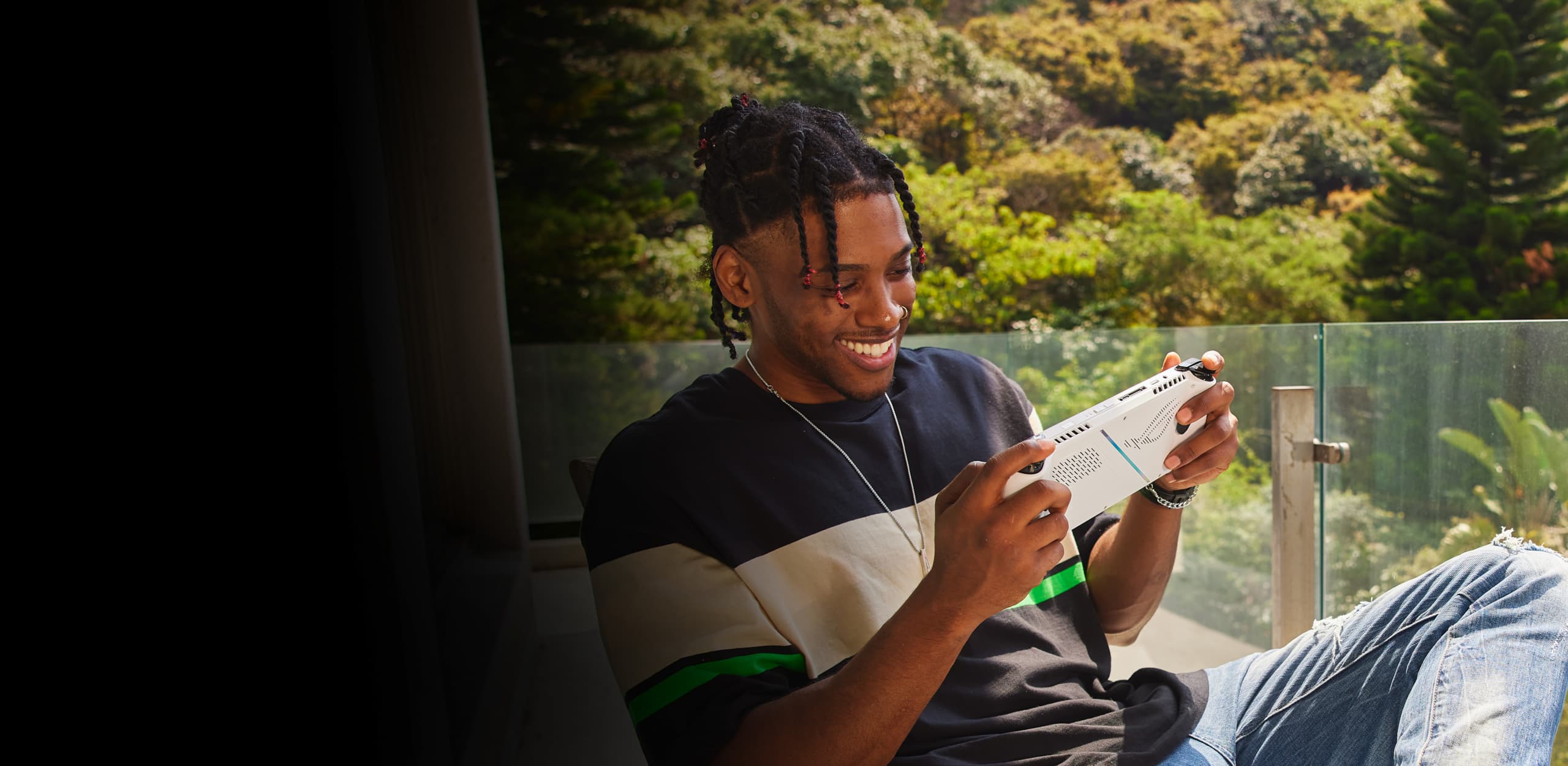 Great Outdoor Gaming Experiences
Common LCD displays generally have a max brightness of 200-300 nits, but the Ally boasts a max brightness of 500 nits. A higher brightness allows the Ally to clearly display the action on screen when in challenging brighter environments like the great outdoors. To protect against everyday wear and tear, Corning® Gorilla® Glass Victus® keeps the touchscreen looking factory new.
Better Outdoor Visibility with Corning® DXC
A Corning® Gorilla® Glass DXC coating reduces surface reflections while also increasing hardness by over 40% for improved scratch resistance. Fewer reflections mean you can keep track of what's happening on-screen in bright or outdoor environments.
Bare Glass
Corning® DXC Coating
Specular reflection <0.6%
Transmittance ~99%
Specular reflection ~4%
Immersive Stereo Sound
Dual front-firing Smart Amp speakers with Dolby Atmos pump up the volume without distortion and immersing you directly in your games, while Two-Way AI Noise Cancelation processes both incoming and outgoing audio to filter any errant background noises from your voice chats.
Two-way
AI Noise Cancelation Technology​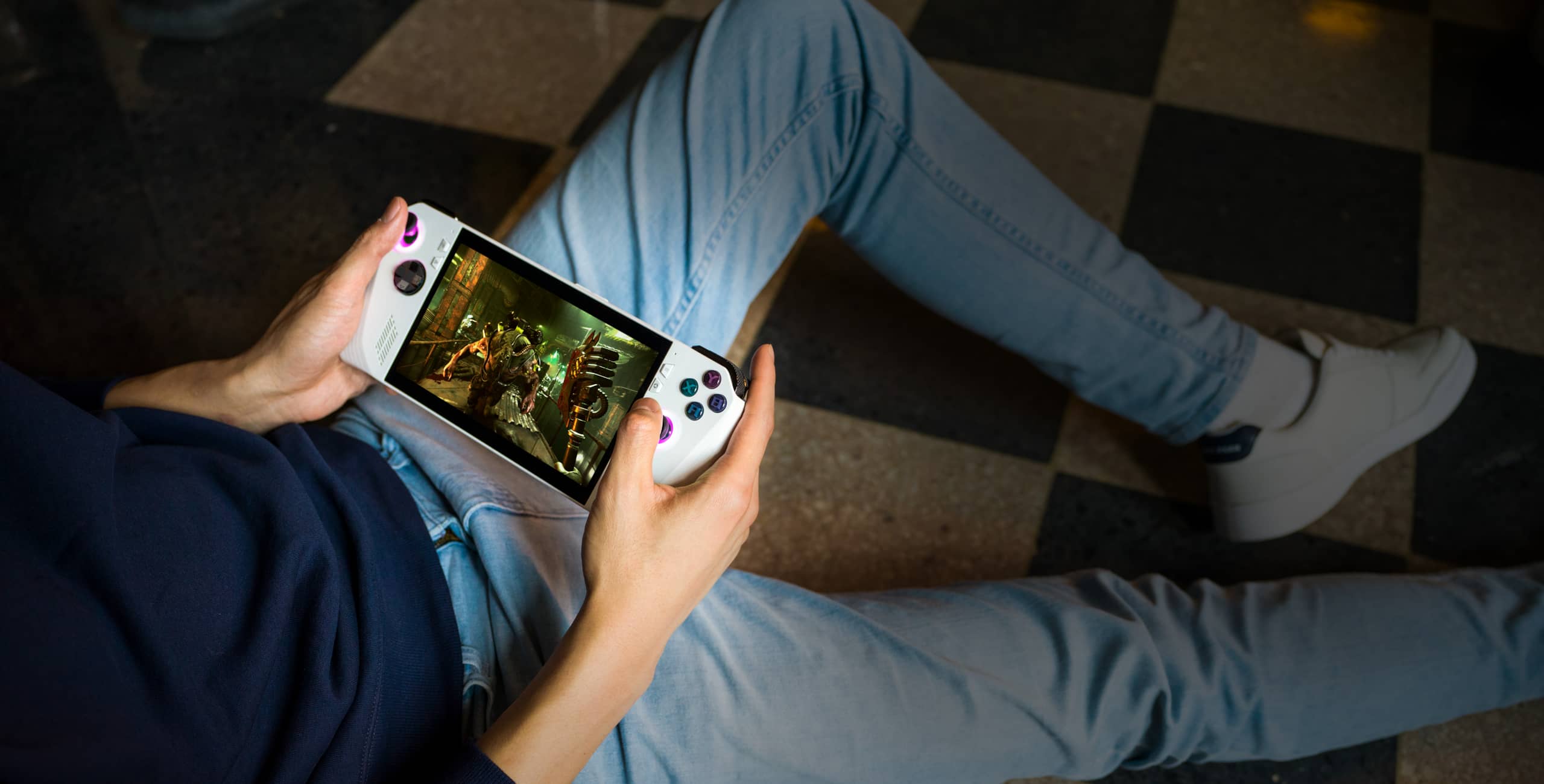 Reach the Clouds with Wi-Fi 6E
The Ally was built to travel, so it comes equipped with ultra-fast Wi-Fi 6E networking. Wi-Fi 6E supports 4X more network capacity and 75% lower latency than Wi-Fi 6, letting the Ally stream videos, access cloud gaming services, and download games effortlessly even on crowded networks.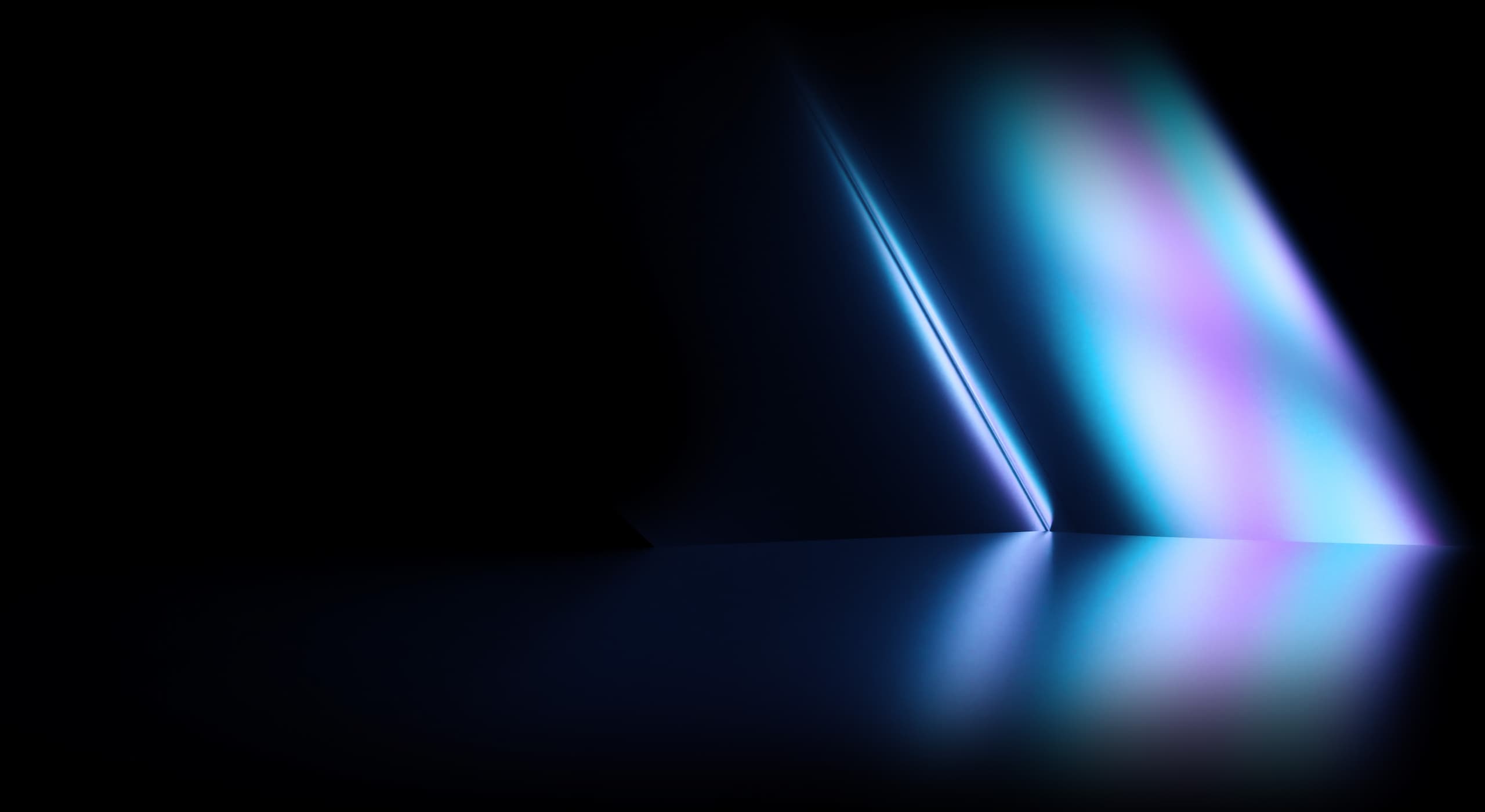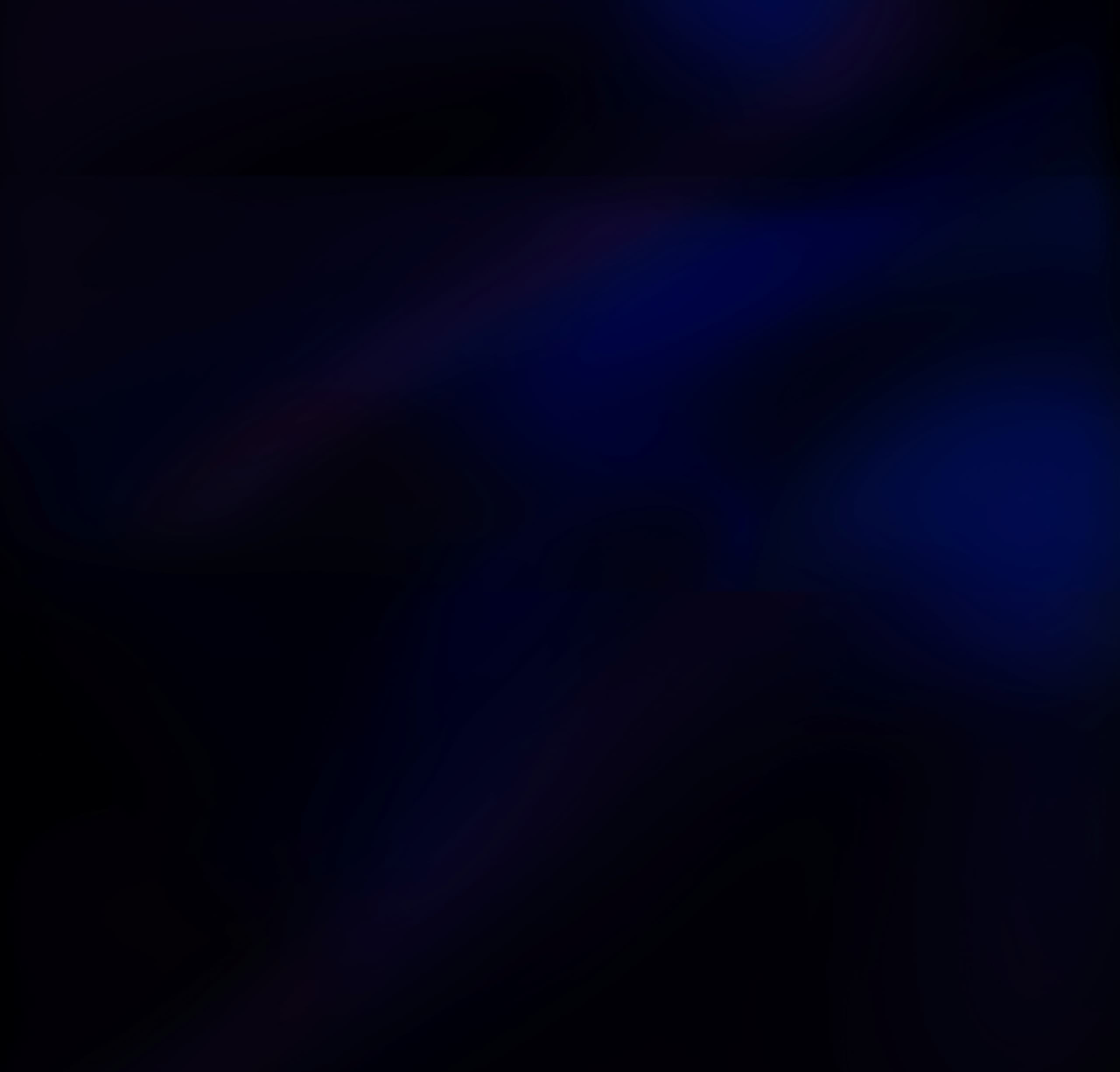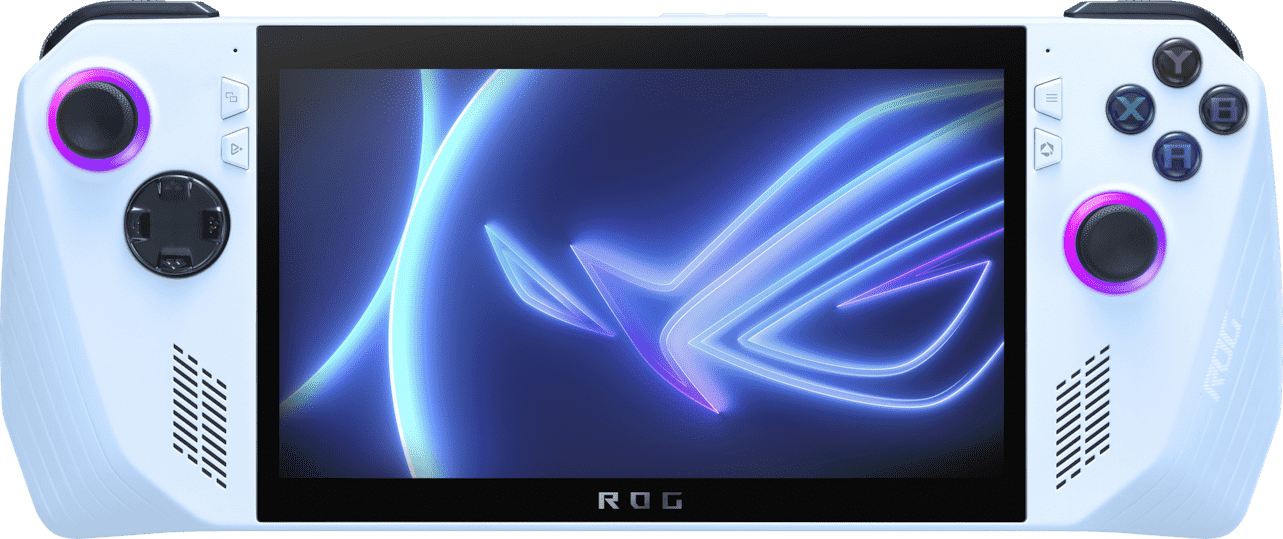 Left stick

Directional buttons

Audio speakers

Array microphones

View button

Command Center button

Armoury Crate button

Menu button

Array microphones

A/B/X/Y buttons

Right stick

Audio speakers

Touch screen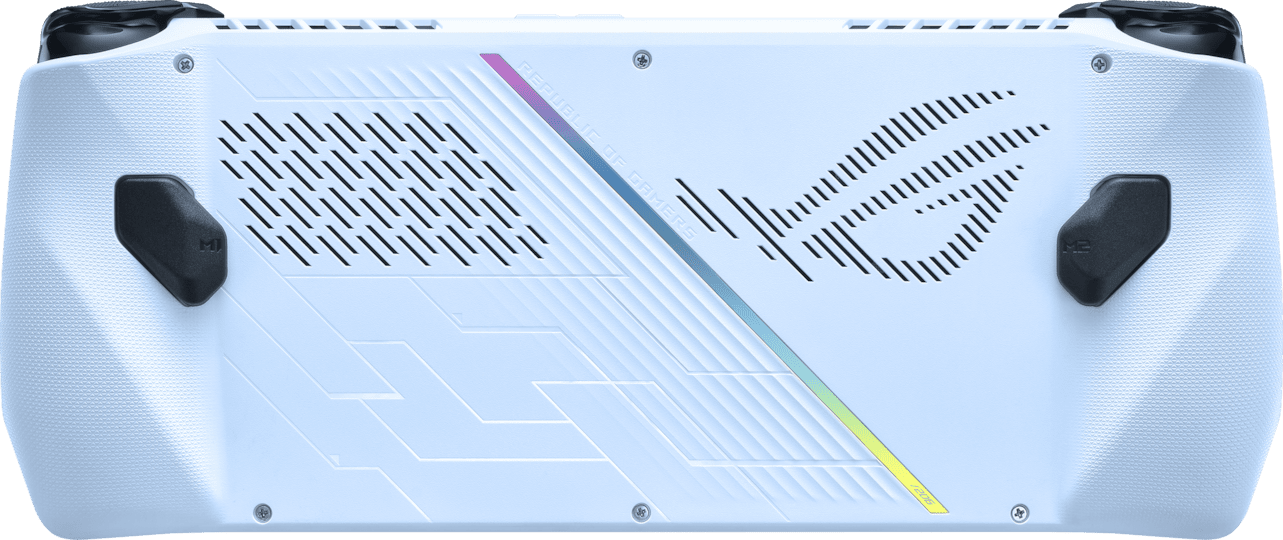 Air vents

Macro 1 button

Macro 2 button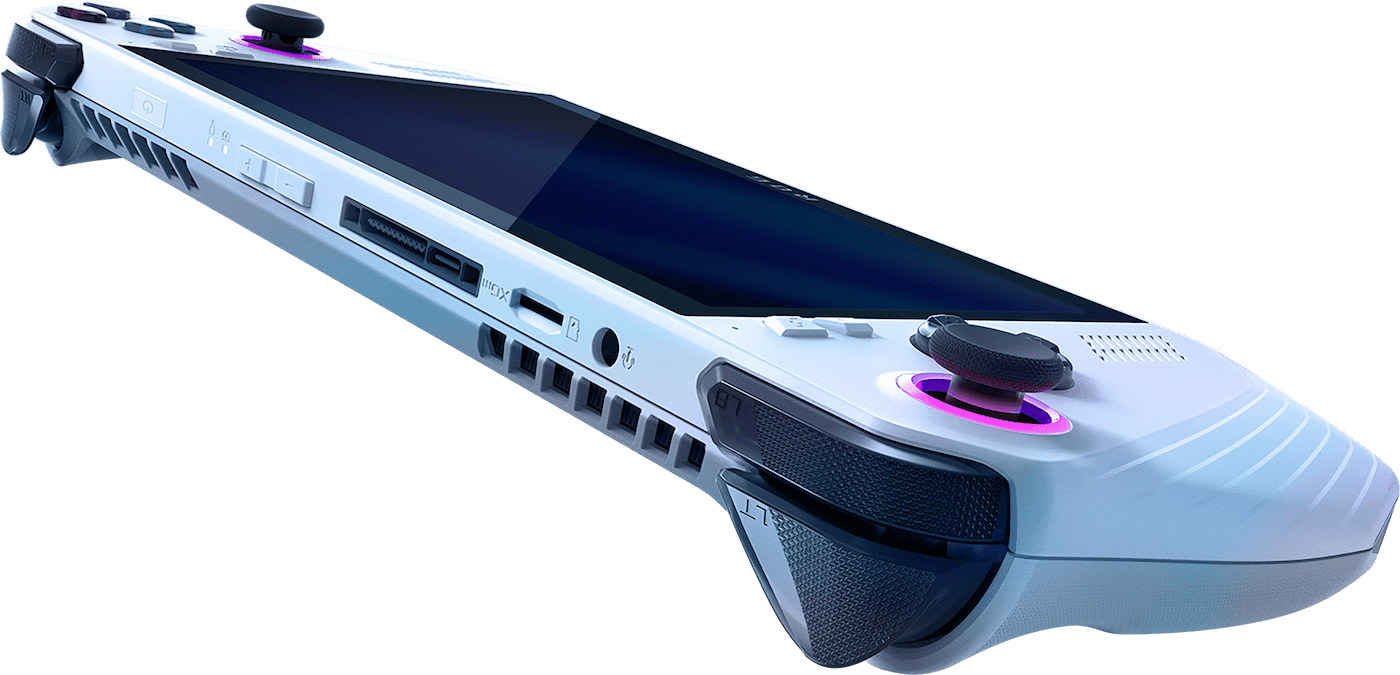 Right bumper

Right trigger

Power button / Fingerprint sensor

Power indicator

Two-color battery charge indicator

Volume buttons

ROG XG Mobile interface

USB 3.2 Gen 2 Type-C® / DisplayPort 1.4 /​ Power (DC) input combo port​

UHS-II MicroSD card slot​

3.5mm Combo audio jack​

Left trigger

Left bumper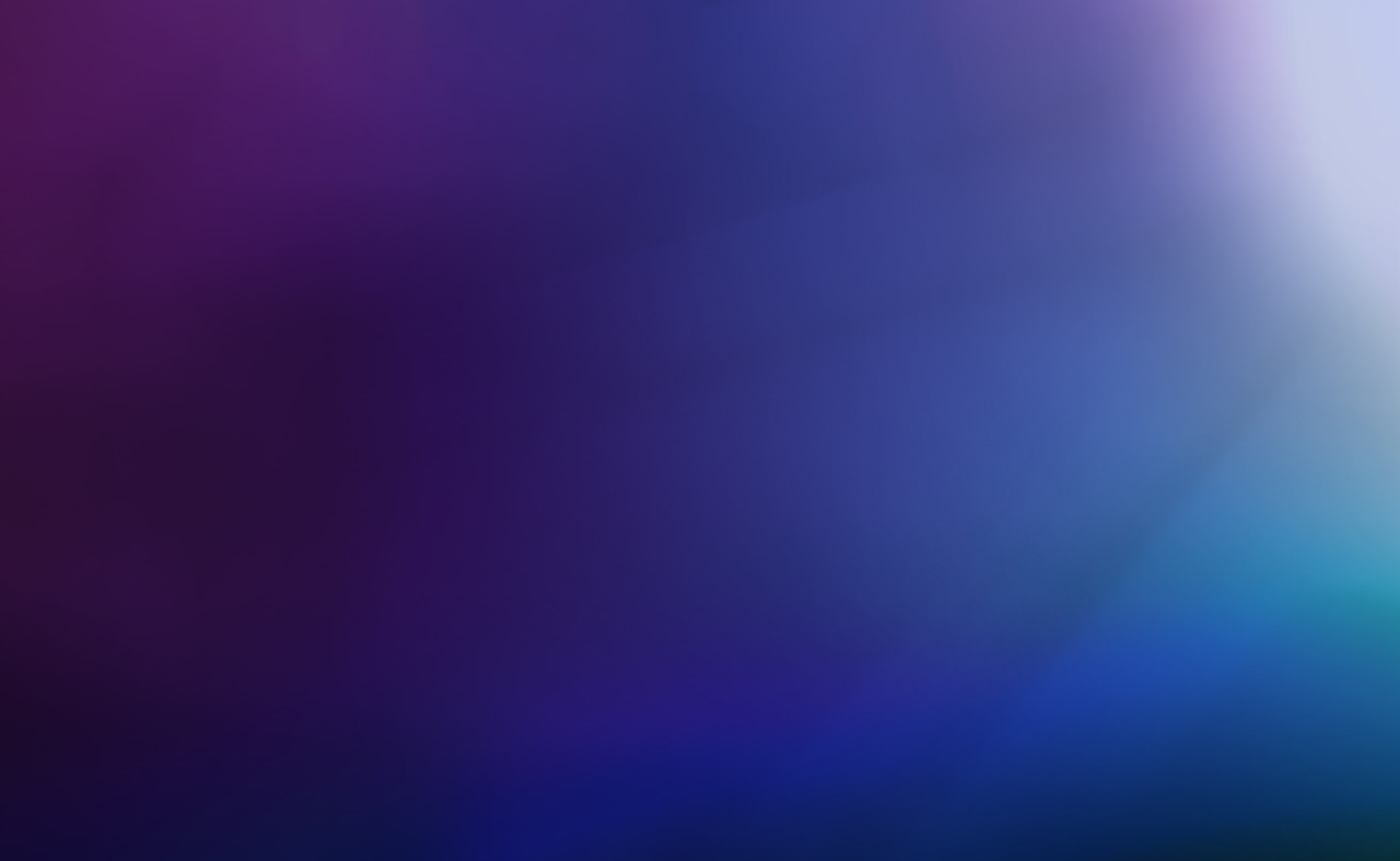 Power Up
Optional accessories for the ROG Ally take your game to a whole new level. For those frequently on the move, you can protect your device in transit with the ROG Ally Travel Case. For a seamless couch gaming experience, the ROG Gaming Charger Dock provides HDMI 2.0 support, while the ROG Raikiri Pro is the perfect companion when you want to game on the couch with friends. To crank up the ultimate gaming experience, connect the Ally to an XG Mobile, providing the graphics power of up to an NVIDIA® GeForce RTX™ 4090 Laptop GPU, along with all the ports needed to connect your peripherals and an external monitor.
Video Reviews
A strong competitor to SteamDeck
ROG Ally - New Windows Gaming Handheld Launch Event
The performance really stands out on this device
This is a strong portable gaming competitor
I've had some serious fun with this.
I think this is going to be a real winner
This is basically the device I've dreamed of, ever since I was 10 years old!
Twice as fast as the Steam Deck and it's pretty much handled everything that I've thrown at it.
Wow, this is like playing on my main PC!
ROG Ally First Impressions
Is The ROG Ally Really An Upgrade? | ROG Ally vs Steam Deck
We Played Diablo IV On The ROG Ally And Its Performance Slayed!
ROG Ally Unboxing and Full Review: Better than Steam Deck
After the Steam Deck a year ago, it's Asus' turn to enter the market of PCs that think they are portable consoles with the ASUS ROG Ally. With its performance and ergonomics, the ROG Ally is made to win the game.
This new console made me leave the PS5
TEST ASUS ROG ALLY - NEW CONSOLE | GOODBYE STEAMDECK & SWITCH
Test of the Asus ROG Ally: TWICE as powerful as the STEAM DECK
TEST ASUS ROG ALLY: the portable console that buries the Switch and the Steam Deck
"...The ASUS ROG Ally is the most powerful handheld gaming console right now, but you can push it to the extreme by connecting Nvidia RTX 4090 laptop graphics with ASUS's XG Mobile!"
Sesi Disk-Aksiz kali ini kami berbincang mengenai pengalaman menggunakan ROG Ally
ROG Ally = Nintendo Switch Dengan Spesifikasi PC Kelas Pertengahan
ROG出了掌上游戏机啊!我去试玩了:7寸、Windows 11系统、白色美!TAKE MY MONEYYY
ROG ALLY 掌上游戲機最詳細評測全面TALK - 解析優缺點及個心得分享【全字幕】
ASUS ROG Ally Dah Sampai! – Handheld Gaming Paling Berkuasa
Konsol Gaming PC Mudah Alih Paling Power 2023 Dah Masuk Malaysia🔥 - Asus ROG Ally
Asus ROG Ally Malaysia review: My new favourite gaming accessory
Can you play Diablo IV on the ROG Ally? | Ask Us Anything ROG Ally Edition
Aksesori-Aksesori Best Untuk Asus ROG Ally,Steamdeck dan Nintendo Switch
Semua Tentang Asus ROG Ally,Seriously Anda WAJIB Beli! Review Asus ROG Ally
Asus ROG Ally vs Steamdeck vs Ayaneo Air vs Nintendo Switch OLED
This is not a Steamdeck. I repeat. This is not a Steamdeck. ROGer that, Ally?
Sesi Disk-Aksiz kali ini kami berbincang mengenai pengalaman menggunakan ROG Ally.
ROG Ally = Nintendo Switch Dengan Spesifikasi PC Kelas Pertengahan
Mainan baru untuk diuji - Asus ROG Ally
ROG Ally merupakan salah satu peranti yang menjadi keinginan ramai sejak ia diumumkan.
ROG Ally merupakan salah satu peranti yang menjadi keinginan ramai sejak ia diumumkan
the value proposition of the Asus ROG Ally is very, very good. Not only is it quite a bit more powerful than the Steam Deck, it's also a very refined handheld gaming PC
ROG Ally coming to Malaysia! Here's a quick look
A closer look at a fully dismantled ROG Ally gaming handheld
Testing Elden Ring on the new ROG Ally at Computex 2023
Cyberpunk 2077 gameplay test on the new ROG Ally!
Valorant gameplay on the new ROG Ally
Here's what the ROG Ally looks after being dismantled
Many of us are curious - does Tiny 11 improve the performance and battery life of the ROG Ally? We put it to the test today.
Since Genshin Impact is made for keyboard and mouse on PC, here's how you set it up on the ROG Ally to make use of the controllers instead.
We need to be critical in this review because we wanted ROG to continue improve the Ally. Do not settle down just because they launched a more powerful handheld than the Steam Deck.
Take FULL advantage of the ROG Ally with Armoury Crate SE
Teardown - ROG Ally | Is it easy to replace any of the parts?
Can you repair or upgrade the ROG Ally?
Asus ROG Ally Malaysia: Everything you need to know
ASUS ROG Ally: The power of a PC gaming computer, in your hands
ROG Ally murah! Selamat tinggal Steam Deck dan Nintendo Switch
ROG Ally上手玩!Cyberpunk 2077跑得很流畅,手感比想象中还要好!
Our review of the ASUS ROG Ally, the best Windows handheld console out there!
PC Gaming in your pocket - ROG Ally Review
The stunning display of this device gives you smooth gaming experience. Every feature of this console is top notch. This will be my go to partner wherever I go
This device is going to change the dynamic in the gaming world. The ROG Ally is one of the ultimate device with powerful hardware
There is no doubt, that this is one of the most powerful window gaming device with ultimate display and smooth button. The gaming experience is pretty exciting
I would say this is a great entertainment package in a very small and compact form factor and the best part is it runs on battery you don't need a charger all time to carry, if you love gaming on the go
If you love gaming and you want something more powerful than a mobile phone so this ROG Ally is one of the most portable yet powerful device in the market.
One of the powerful, lightweight gaming console which is portable. The build quality and the button design is amazing which makes the holding perfect for a long time
This device is absolutely amazing, not only perfect for gaming this handheld is also perfect for entertainment purpose. No doubt, this device is going to reform the online gaming and e-sports
If you love gaming and you want something more powerful than a mobile phone so this ROG Ally is one of the most portable yet powerful device in the market.
ROG Ally proved that handheld are no longer a gimmick.. The design of this device is pretty impressive. The raw performance of the Ally is extremely impressive
We analyze the ASUS ROG Ally, a very complete portable console with brutal specifications and a candidate for the best laptop on the market
The time of computers with powerful processors encapsulated in laptops for gamers has arrived. Asus Rog Ally come with some heart-stopping features
WE FACE the Valve STEAM DECK vs Asus ROG ALLY to discover their DIFFERENCES
In the Asus Rog Ally video review we tell you what is special about this new portable gaming pc, its technical characteristics, how some of the latest and most demanding PC games perform, or what its commitment to Windows implies when installing any other program
A computer in the palm of your hand, and it outperforms the competition in every way
I installed the ASUS ROG XG MOBILE rtx 4090 on the ASUS ROG ALLY and the result has been incredible, BRUTAL power
Is the ASUS ROG ALLY EXTREME an EMULATOR BEAST? In this video we will see if this Steam Deck Killer is also powerful with emulators
DISASSEMBLY the new ASUS ROG ALLY!
ROG Ally VS Steam Deck | Comparison of Performance & Load Times
This is the fashionable ASUS ROG ALLY VIDEO CONSOLE
In-depth analysis in Spanish of the BEST Steam deck KILLER to date, ASUS ROG ALLY EXTREME.
It has more power than the Steam Deck. Beat other consoles of the same style
We tested the ROG ALLY, Asus' answer to Valve's Steam Deck video game console. With ALLY you can connect to your favorite video game streaming services Steam, Xbox, EA, GoG, Ubisoft...
We cannot understand how such wonder can exist in so little space.
With a dock, mouse, and keyboard, you have a PC anywhere.
It is a brutal machine and a dream for any player
The new ERA of PC GAMING.
ROG Ally VS Steam Deck | Definitive Comparison | Performance, Battery, Display & Charging Times
For a desktop experience, pair Ally with an external XG Mobile GPU, dedicated monitor, mouse, and keyboard for esports and high-fidelity 4K gaming.
A very good construction and the possibility of using windows
ROG Ally 這個第一代的ROG電競掌機還是讓我很著迷的,全白機身好看又富有巧思,大廠出品售後不需要過代理,更有保障。整合ROG筆電技術開發出多種使用情境,散熱、操作感受都有顧及到玩家實際體驗,最重要的,幀數來到了3A遊戲1080P也可以玩的地步。
它可以說是超級加強版的電競掌機,外觀更帥,螢幕更漂亮,然後解析度更高,更新率更高,使用的處理器圖形性能又更好,各方面來說都大大的進步。
Review of the ASUS ROG ALLY, a portable gaming PC with too much performance. I looked twice at the outrageous performance!
Advance Review] Real thoughts on ROG ALLY, a true portable PC game console!
ASUS ROG Ally Advance Review - Best Performance and Cost Performance Compared to Competitors
Review of ROG Ally: What I found out after a week of playing the game.
ASUS finally releases the "ROG Ally", a portable gaming console! Cost-effective, "do-anything" Windows-based PC
Released on 6/14! ROG ALLY: Unboxing and operation check delivery
Video to learn about ROG ALLY. (ASUS new product preview explanation)
【Portable Gaming PC】ASUS ROG Ally【Product Review】
ASUS "ROG Ally" Evaluation! Super powerful specs of "Zen 4" CPU + "RDNA 3" GPU for just under 100,000 yen! The real competitor to the Steam Deck! Portable Gaming PC
ROG Ally Z1 Extreme 국내 정발 성능테스트 결과 99만9천원? UMPC 킬러 등극 장단점은? 구매전 꼭 보세요
진성 겜덕들이 만든 미친 휴대용 게임기 ASUS ROG ALLY 언빡싱&첫 인상
Trên tay và đánh giá nhanh ROG Ally - Tính năng hay ho - Nhiệt độ - FPS cao không?
So với SteamDeck, khác biệt về hệ điều hành, màn hình Full-HD vs 720p sẽ là những điểm khiến SteamDeck gặp khó khi cạnh tranh với ROG Ally.
Product Comparison
Product added to comparison. Add up to 4 products or proceed to view compare products selected.
ASUS Footer