Features
Tech Specs
Awards
Gallery
Support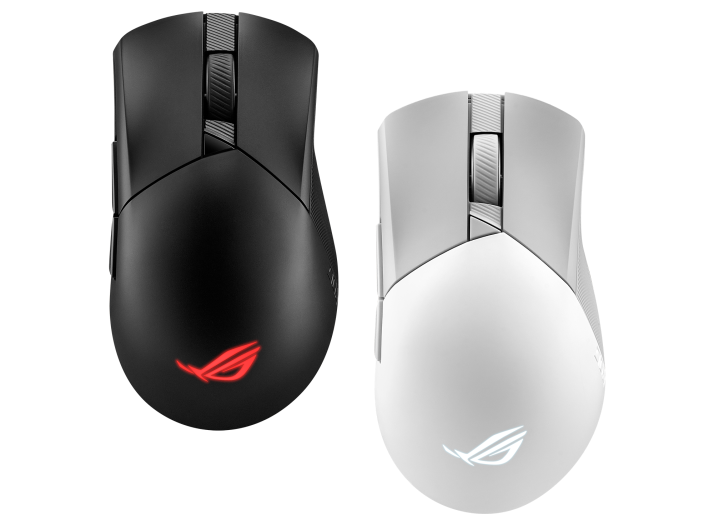 ROG Gladius III Wireless AimPoint
The ROG Gladius III Wireless AimPoint is a lightweight 79-gram wireless RGB gaming mouse that features a 36,000-dpi ROG AimPoint optical sensor, tri-mode connectivity, ROG SpeedNova wireless technology, swappable mouse switches, ROG Micro Switches, pivoted button mechanism for 0 ms click latency, ergonomic design, ROG Paracord, 100% PTFE mouse feet, six programmable buttons, and mouse grip tape.
Perfect precision: 36,000‑dpi ROG AimPoint optical sensor with 650 ips and 50 g acceleration rate, plus 1000 Hz polling rate
Classic look, with added lightness: Renowned asymmetrical aesthetic of the Gladius series, pared down to just 79 grams
Tri-mode connectivity: Game on for up to 119 hours with low-latency 2.4 GHz RF, pair up to three devices via Bluetooth® mode, or charge and play with wired USB
ROG SpeedNova wireless technology: Delivering low-latency, reliable wireless performance and an optimized power solution in the 2.4 GHz RF mode.
Push-Fit Switch Socket II: Swappable switch design for easy customization; Gladius III Wireless AimPoint includes ROG Micro Switches and is compatible with other 3-pin mechanical and 5-pin optical micro switches
Anti-slip ROG patterned mouse grip tape: Provides users with a more secure grip and an added bit of flair
Smooth and fast movements: ROG Paracord and 100% PTFE mouse feet
Also available in Moonlight White
NVIDIA®Reflex: Officially verified for NVIDIA Reflex Latency Analyzer to monitor mouse responsiveness – Find out more
Video Reviews
To sum up, the ROG Gladius III Wireless AimPoint is deserving of its status as a premium wireless gaming mouse, where it sports an industry-leading 36000 DPI optical sensor in a well-built package. Throw in an extensive set of accessories, and user-replaceable mouse switches, and you have a package that is hard to beat.
I also like the fact that the mouse comes with user-replaceable switches, as well as extensive set of accessories
ROG GAMING MICE - 3 Ultimate
Reear development in Rog Gladius III WIRELESS AIMPOINT games
Preview 3 professional giming mouse
Both mice earned our highest accolade – AXetraordinary.
Product Comparison
Product added to comparison. Add up to 4 products or proceed to view compare products selected.
ROG Footer