Features
Tech Specs
Awards
Gallery
Where to buy
Support
&lt/Zephyrus G14&gt #DISPLAY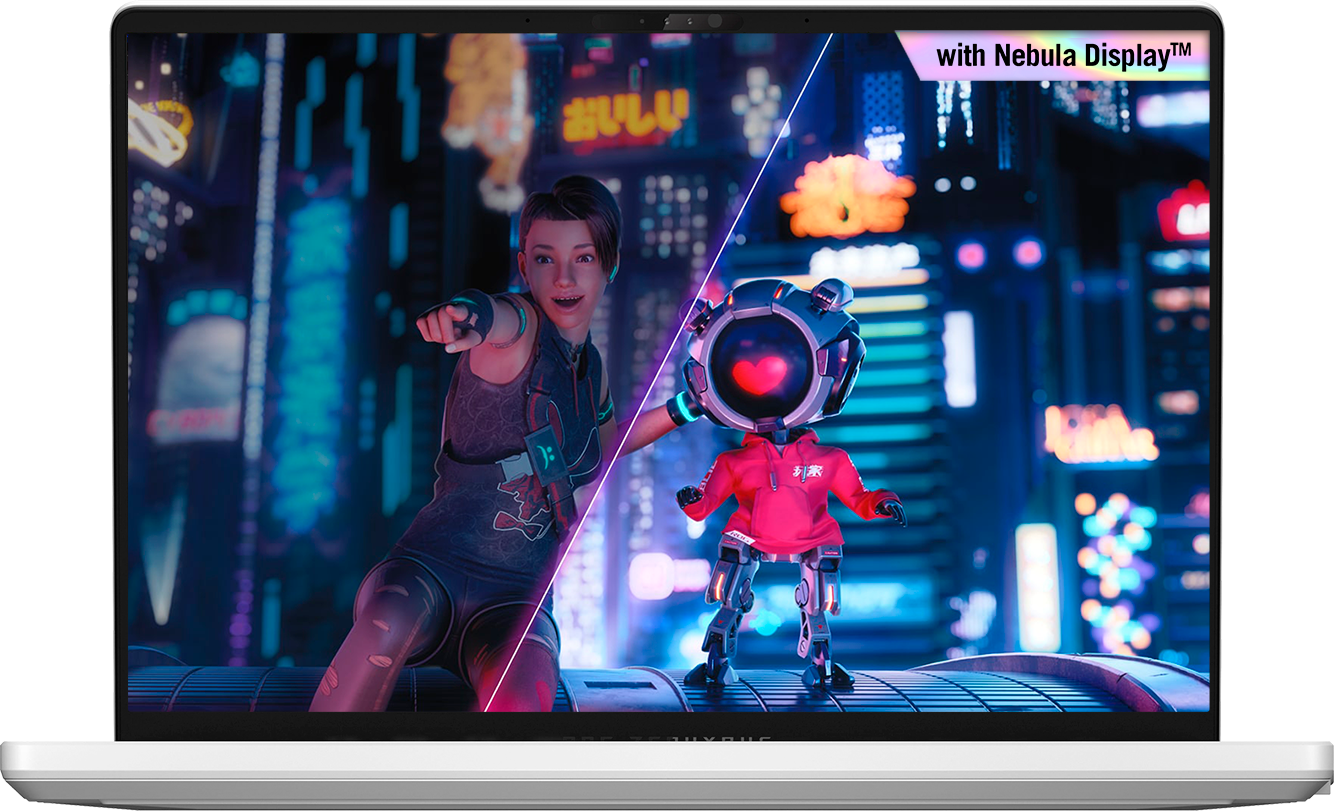 Mini LED QHD
165Hz/3ms
16:10
aspect ratio
600 nits peak brightness
504 dimming zones
Nebula HDR Engine

For gamers who demand unbelievable motion and image clarity, the Zephyrus G14 offers an incredible Nebula HDR Display with a 165Hz refresh rate, 100% DCI-P3 coverage, and 600 nits of peak brightness for stunning HDR gameplay. The 14-inch, 16:10 Mini LED panel provides incredibly deep blacks for content that jumps right off the screen, whether you're watching a movie or playing a fast-moving arena shooter. Or opt for a QHD 165Hz Nebula Display with 500 nits peak brightness, or a Full HD 144Hz display. All models share an incredible 91% screen-to-body ratio.
Learn more about ROG Nebula displays here
*AniMe Matrix™ equipped models are not available with Nebula HDR Mini LED panel.
Up to
165Hz/3ms
refresh rate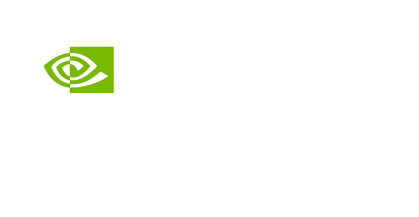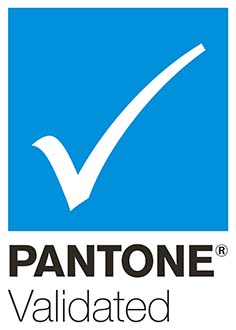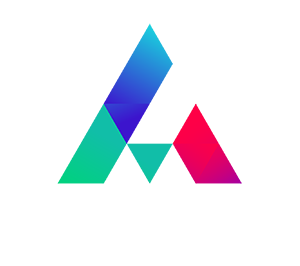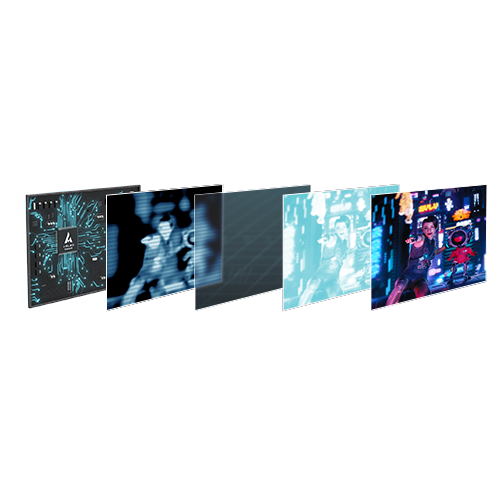 Nebula HDR Engine
The Nebula HDR engine is a purpose-built local dimming algorithm that produces stunning highlights with unparalleled depth. Trained on an instruction set of more than 150 videos and over 2000 still photos, the algorithm can dynamically adjust the HDR lighting needed to minimize blooming around individual dimming zones by 25%.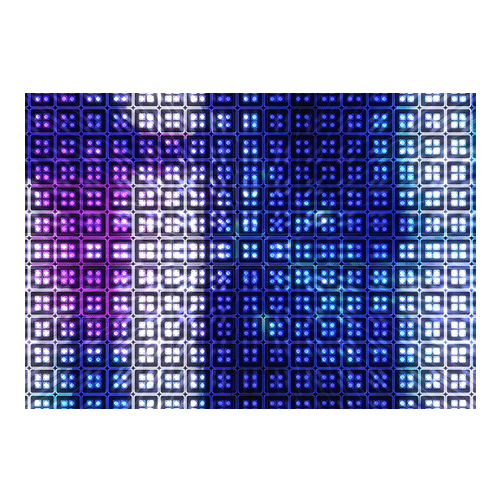 Mini LED Technology
Mini LEDs are much smaller than typical LEDs, with diodes smaller than 0.2mm. Display engineers can pack these diodes in much more densely than on typical displays, allowing for 504 separate zones of Mini LEDs that can dim themselves individually.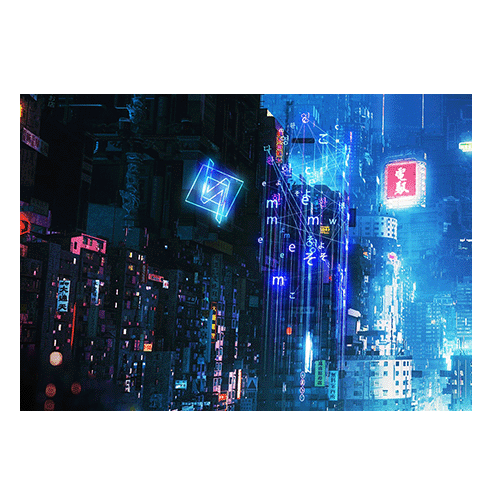 100,000:1 High Contrast Ratio
Thanks to the high pixel density afforded by Mini LEDs, our Nebula HDR panels have a much higher contrast ratio than standard laptop displays. This creates darker blacks and brighter highlights, for a stunning image that truly pops.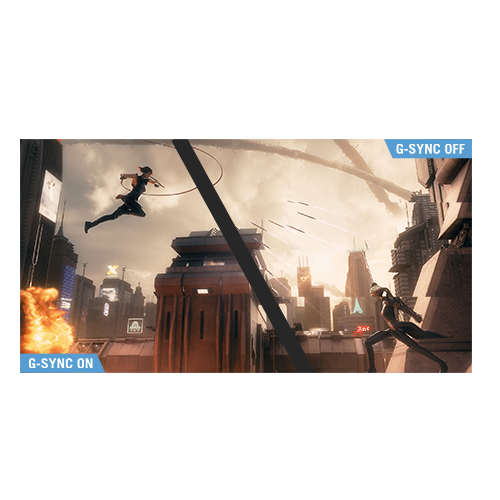 G-SYNC Technology
Nothing breaks in-game immersion like stuttering and tearing. GPUs render frames at variable rates, but displays usually refresh at a constant clip, so they can get out of sync, causing visible hitching and artifacts that pull you out of the action. With NVIDIA® G-SYNC, the refresh rate of the display synchronizes with the GPU's frame rate to eliminate visual tearing, minimize stuttering, and reduce input lag. Get ready to experience gameplay that looks and feels more natural than ever.
Dolby Vision® Technology
Scene to scene, frame to frame, Dolby Vision® makes media look better. The technology improves on standard high dynamic range (HDR) 4K video, dynamically adjusting visuals to make every image in front of you richer, brighter, and livelier. Creators can film and edit their streams, videos, and other content in a format commonly used by industry professionals.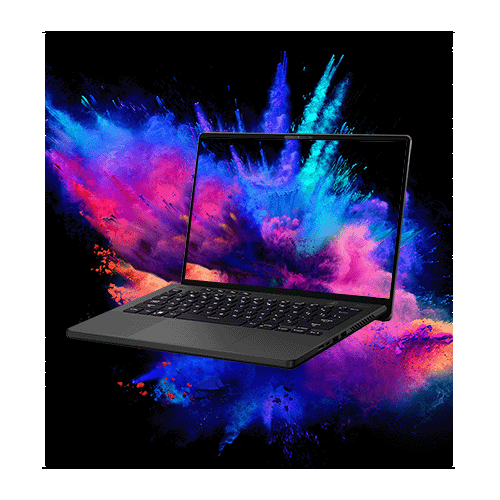 Pantone® Color Validation
Each IPS-level display is factory-calibrated to ensure that colors are accurate to the Pantone® palette. Artists, designers, and content creators can add high-quality content to their portfolios and enjoy richer gaming visuals all on the same machine.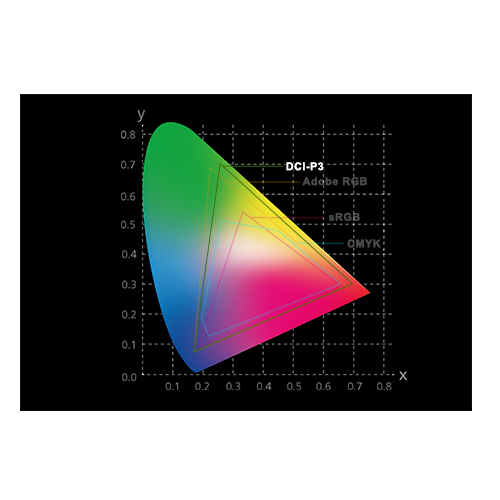 100% DCI-P3 Color Coverage
While the sRGB color space is the standard for most digital visuals, it only represents about 75% of the DCI-P3 spectrum used for professional filmmaking. Displays with complete DCI-P3 coverage offer a wide color gamut and rich color, and let you see films and other media exactly the way they were meant to be experienced.
#PERFORMANCE
Next gen power
The 2023 Zephyrus G14 is powered by the best of AMD and NVIDIA® for a stellar Windows 11 Home gaming experience out of the box. Featuring up to the new AMD Ryzen™ 9 7940HS processor and up to an NVIDIA® GeForce RTX® 4070 Laptop GPU with up to a 125W TGP, as well as a MUX Switch and NVIDIA® Advanced Optimus support, this 14-inch powerhouse is ready for any gaming or multitasking you can throw at it.
Up to AMD
Ryzen™ 9 7940HS
CPU
Up to NVIDIA® GeForce
RTX™ 4070
Laptop GPU
Up to
1TB PCIe® 4.0
SSD storage
Up to
32GB 4800Hz
DDR5 memory
Up to
125W
GPU power with Dynamic Boost
AMD CPU
Power through any game or project with up to an AMD Ryzen™ 9 7940HS processor, boasting 8 cores and 16 threads. Whether you need single core power for gaming or multithreaded muscle for multitasking, the Zephyrus G14 is ready and able to deliver.
GPU Power Unleashed
Top-tier components require power, especially when it comes to maximizing your GPU's gaming performance. Powered by NVIDIA DLSS 3, ultra-efficient Ada Lovelace arch, and Max-Q Technologies. The NVIDIA® GeForce RTX™ 4070 Laptop GPU features an impressive max TGP of 125W, thanks to the extra 25W available with Dynamic Boost. Higher power limits allow the card to boost higher for longer, squeezing the absolute most performance out of your machine, ensuring you have the highest framerates possible.
Up to NVIDIA® GeForce
RTX™ 4070
Laptop GPU
Max TGP
125W
with Dynamic Boost
GeForce RTX 40 Series Laptops
Beyond Fast for Gamers and Creators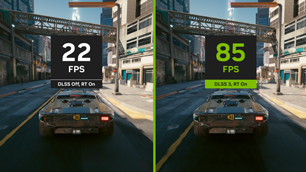 AI-Powered Performance and Lifelike Graphics*
Get a quantum leap in performance in games and creative apps with AI-powered DLSS 3 and enable lifelike virtual worlds with full ray tracing.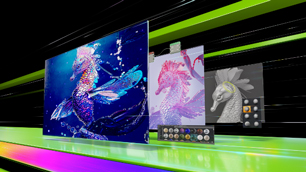 Accelerate Your Ideas
NVIDIA Studio takes your creative projects to the next level. Unlock RTX and AI acceleration in top creatives apps, NVIDIA Studio drivers for max stability, and a suite of exclusive tools to fast-track your creativity.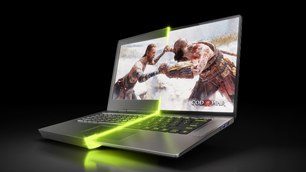 Optimized Power and Performance
NVIDIA Max-Q is an advanced suite of AI-powered technologies that optimize your system for peak efficiency. This enables blazing-fast laptops that are thin, quiet, and have amazing battery life.
*Cyberpunk 2077 image captured on a desktop with new Ray Tracing: Overdrive Mode ON, shown for illustrative purposes only. Actual performance varies by system.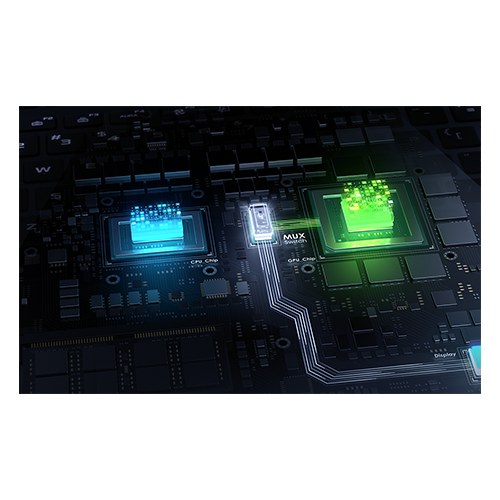 MUX Switch with NVIDIA Advanced Optimus
With NVIDIA® Advanced Optimus, the laptop can automatically route frames from the discrete GPU directly to the display using a MUX Switch, bypassing the integrated graphics. This pathing improves performance by 5-10% compared to machines without a MUX Switch, making sure you get the absolute best gaming experience — all without needing touch a single button.

Energy-Efficient DDR5 Memory
Boasting up to a 32GB capacity normally reserved for high-end workstation, ultra-fast 4800MHz memory allows the Zephyrus G14 to multitask with ease. One SO-DIMM is accessible for future upgrades.

Spacious Storage
Games, applications, and large files load at warp speed on an ultrafast PCIe® 4.0 SSD. Up to 1TB of storage leaves loads of room for creative apps and tons of games, with space to spare for your professional portfolio.
Game. Stream. Create.
The Zephyrus G14 is built from the ground up for gamers — and, of course, game developers. The Zephyrus G14 can run all of the latest game engines like Unity and Autodesk, enabling you to unlock your creativity and try your hand at making something new. Whether you're a digital artist, streamer, video editor, or dabble with animation and game development, the Zephyrus G14 has all the horsepower you need to take your creations to the next level.
#THERMAL

Powerful hardware requires robust cooling, especially in a compact chassis. The Zephyrus G14 packs a vapor chamber for the CPU and GPU with Thermal Grizzly's liquid metal thermal compound for ultra-efficient heat transfer from the hottest parts of the machine. With coverage of 48.2% of the heat generating components, the vapor chamber allows the G14 to have a 25W higher power budget, pushing performance to the limit without increasing fan noise or chassis size.
In the Silent operating mode during low power tasks, 0dB technology allows the fans to be automatically disabled for a truly silent experience.
25W
higher thermal headroom

Liquid Metal
Up to
14X better
thermal conductivity
0dB Ambient Cooling, Zero Distractions
Enjoy truly silent cooling under light workloads with 0dB Ambient Cooling Technology. In the Silent operating mode, the cooling system switches off all fans during everyday tasks to dissipate heat passively. This lets you concentrate on your work and immerse yourself in movies with less distraction. If CPU or GPU temperatures increase, the fans automatically switch on again.
Vapor Chamber dissipates heat faster
Compared to conventional heat pipes that only transfer heat along their axis, vapor chamber designs spread heat across their entire surface, creating a wider area for rapid heat dissipation in small spaces. Reducing the temperature of these power components helps improve long-term stability and reliability.
25W
higher thermal headroom*
*Improvements compared to using heatpipes, as tested in Turbo mode internally by ASUS.
Keep your CPU cool with Liquid Metal
Liquid metal compound from Thermal Grizzly reduces CPU temperatures by up to 13°C compared to standard thermal paste. Applying it onto CPUs is delicate work, so ROG commissioned custom equipment to automate the process with mechanical precision and designed a patented internal fence to contain the compound.
Up to
14X better
thermal conductivity

*Temperature improvements compared to the previous gen thermal compound, as tested internally by ASUS. Thermal conductivity compared to industry standard.
Dust Filter
The G14 features a dust filter for both of its fans. A filter helps to keep dust and fibers from being sucked into the chassis, allowing the CPU to run with 15% more power and the GPU 4% more power compared to machines without a filter. The less dust, the longer your computer can run at peak performance without throttling.
*Internal testing in a simulated dusty environment
Arc Flow Fans™ move more air with less noise
Our Arc Flow Fans™ feature 84 curved blades specially shaped to maximize airflow with minimal noise. This patented new design is made possible by the latest liquid-crystal-polymer processing technologies, allowing us to create ultra-thin and strong fan blades. Variable thickness blades, which taper down to just 0.1mm at the tip, reduce turbulence as the fan accelerates air with centrifugal force, giving you a quieter overall experience without reducing performance. 
*Airflow improvements compared to the 71-blade ROG fan design, as tested internally by ASUS.
Anti-Dust Tunnels 2.0 sustain system longevity
Our upgraded thermal module design features shorter anti-dust tunnels that leave more space around the fan, improving airflow by up to 15%. Preventing the buildup of dust ensures the long-term stability and reliability of your system.
0.15mm Ultra Thin Fin for the win
Thermal energy is dissipated by four heatsinks, each lined with ultra-thin copper fins as slim as 0.15mm. These fins are half the size of typical solutions, allowing for higher density for heat dissipation and lower air resistance to allow for smoother flow. There are up to 211 heatsink fins totaling 75,368mm² of surface area.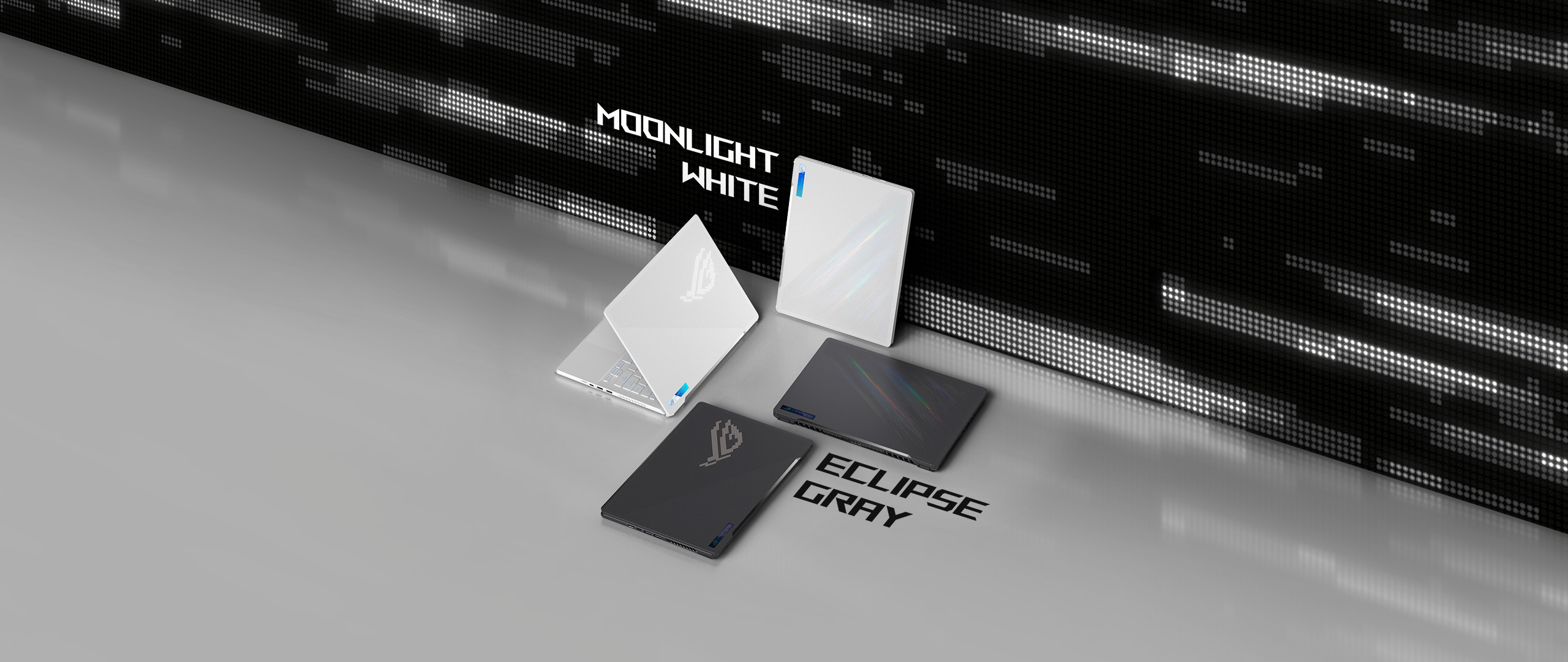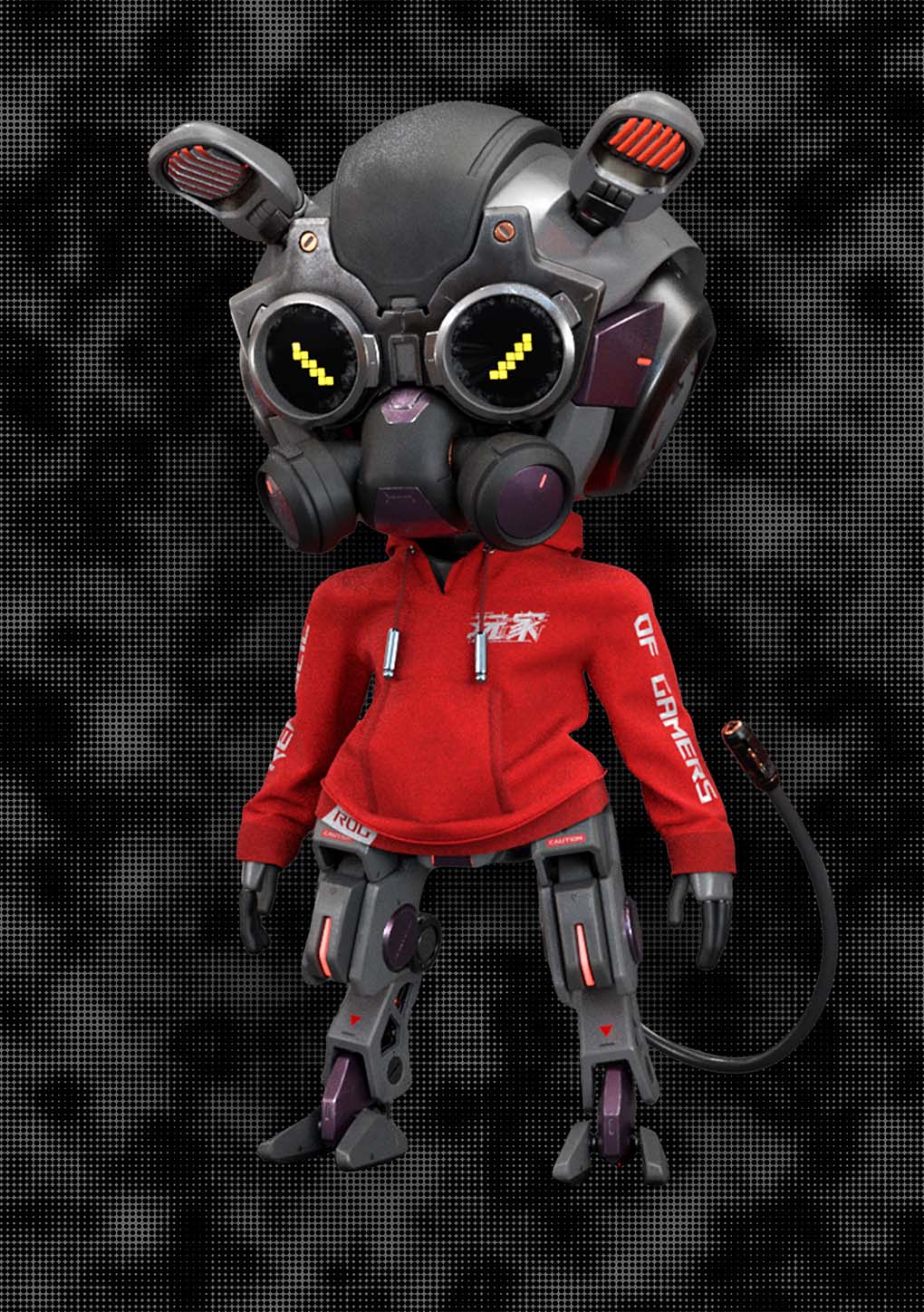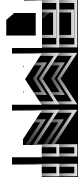 #AniMe Matrix
Explore the matrix
AniMe Matrix™ and Virtual Pet OMNI have both gotten an upgrade. More LEDs mean more animation possibilities, and OMNI returns with a whole host of mini games, like the Slot Machine, Shoot'em Up and Whack-A-Mole. The games will also light up the AniMe Matrix™ as you progress, and getting high scores will unlock more animations for OMNI as he joins you on the desktop.
Endless personalization
Make the Zephyrus G14 uniquely yours with customizable animation options. Display text messages or system notifications, set the matrix to respond in real time to your audio source, or create a custom animation of your very own.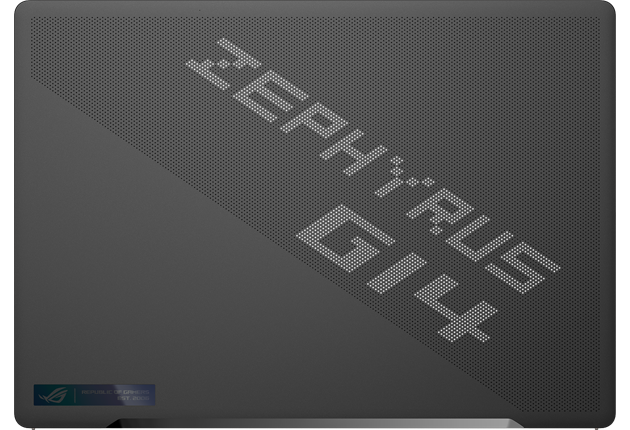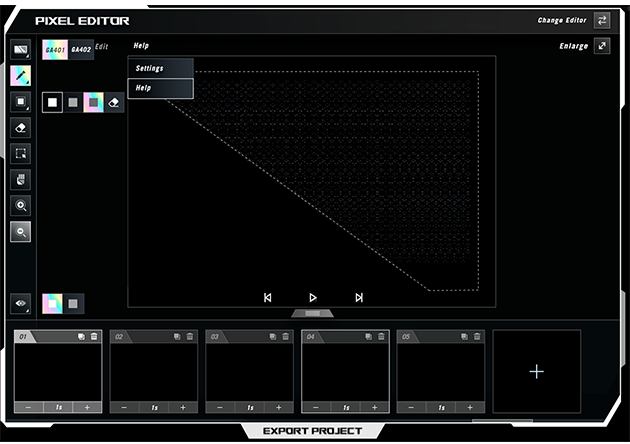 *PC required to save custom animations
#Software
TUNE UP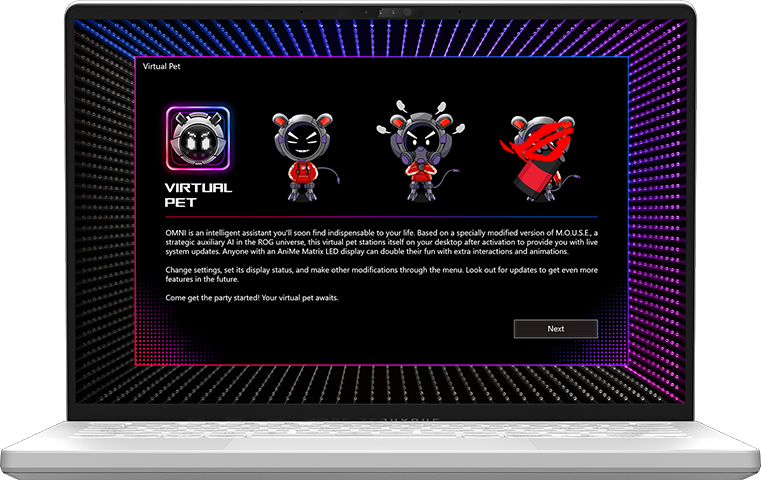 ROG's own OMNI mascot acts as a fun sidekick who doubles as an interactive assistant. OMNI lives on your desktop after activation and reacts in real time to changes in system load and battery level. The virtual pet can also be configured to hang out on the Zephyrus G14's AniMe Matrix™ display.
When you want to tweak settings, monitor temperatures, or tinker with your laptop, Armoury Crate is your command center. Real-time monitoring allows you to see what your GPU, CPU and memory are doing. RGB can be adjusted on a game-by-game basis with Aura Sync. Fan and power profiles allow you to change the acoustics, power delivery, and thermal characteristics of the laptop on the fly. And exclusive game deals keep your library topped off at all times.
ROG GameVisual software offers six expertly tuned graphic modes designed to optimize your visual experience for specific game genres. First Person Shooter (FPS) mode, for example, enhances visibility in dark environments, allowing you to get the drop on any enemies lurking in the shadows. Use GameVisual to get the best experience for every game in your library.
Automatic switching between Silent, Performance, and Turbo modes is just the beginning for Scenario Profiles. You can also define application-specific preferences for other vital system settings, like the lighting configuration, whether the Windows key or touchpad are enabled, and which GameFirst VI profile to use. Armoury Crate makes adjustments in an instant to best fit the task at hand, and you can configure each profile exactly how you want.
#PORTABILITY


#AUDIO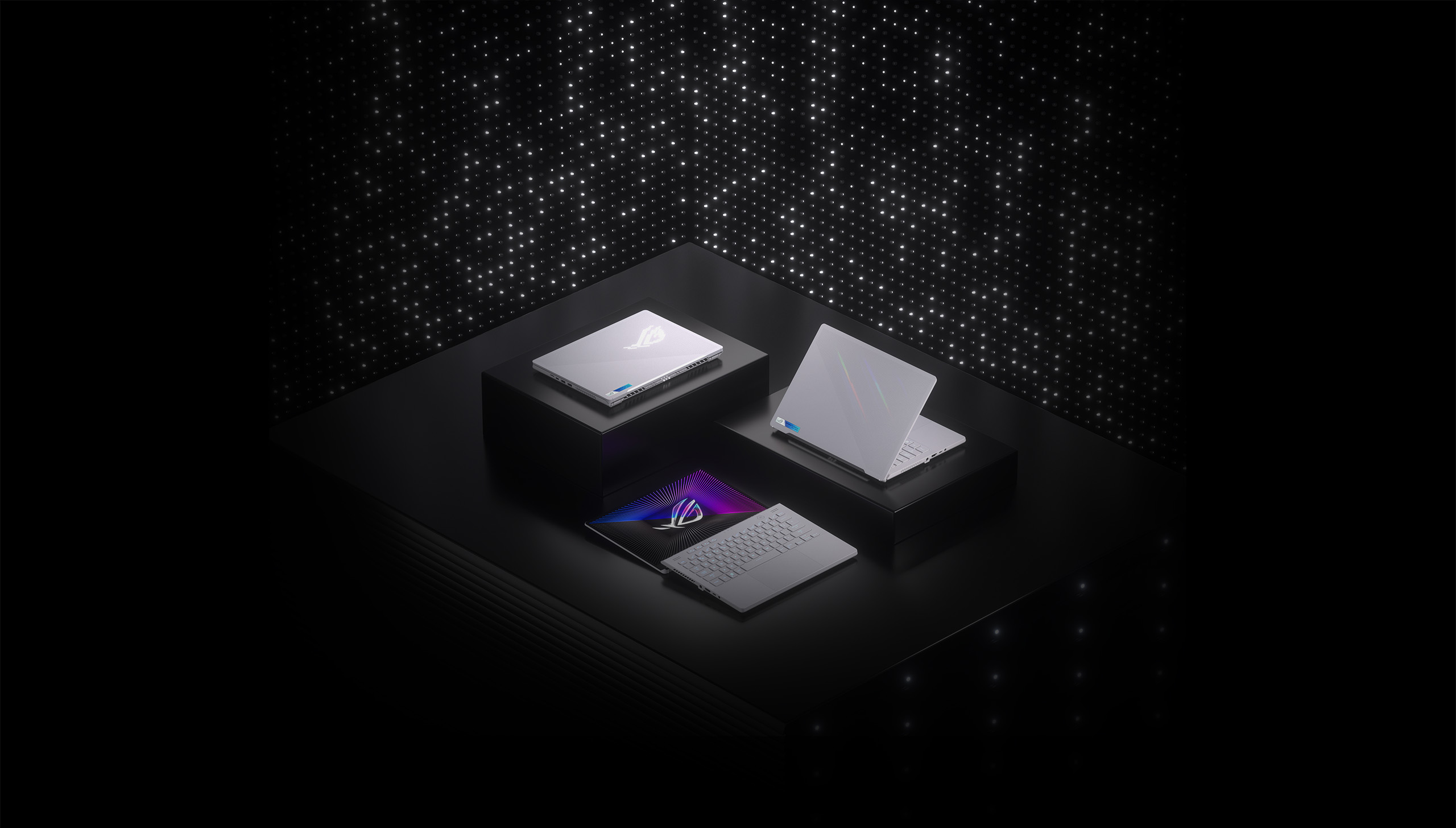 Feel the beat
Virtual 5.1.2-channel surround sound powered by Dolby Atmos® technology puts you in the center of the action, with volume 1.78x louder than the 2021 Zephyrus G14. Twin tweeters fire sound directly at you, while dual Smart Amp woofers bounce sound off the table underneath the machine. Switch between 6 preset modes that optimize settings based on the type of game and media, or make manual modifications that fit your preferences. Two-Way AI Noise Cancelation filters both input and output audio, making streams, chats, and recording clearer than ever.

Two-Way
AI Noise Cancelation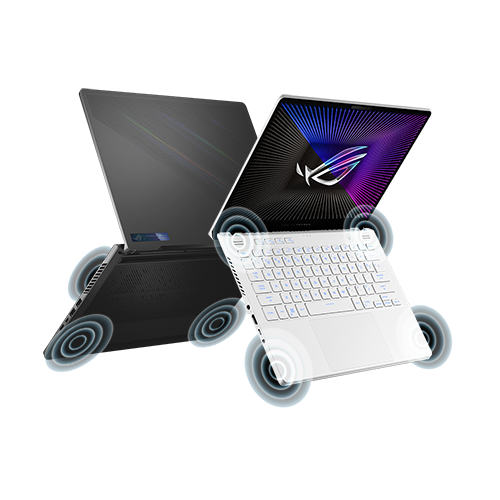 Dolby Atmos®
Whether you're using headphones or speakers, Dolby Atmos® technology enhances spatial immersion with more nuanced and layered virtual surround sound effects that can be further optimized with specially tuned preset modes for movies and games.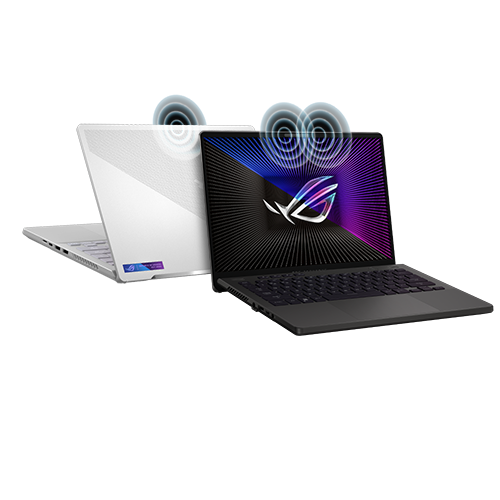 3D Mic Array
Three modes for the integrated microphone array give you greater control over your input. Cardioid mode captures sound from right in front of the laptop, while minimizing input from the back, making it ideal for streaming and gaming. Stereo mode uses right and left channels to record a wider soundscape for live music or other immersive experiences. Omnidirectional mode picks up sound from all directions equally for clearer group conference calls.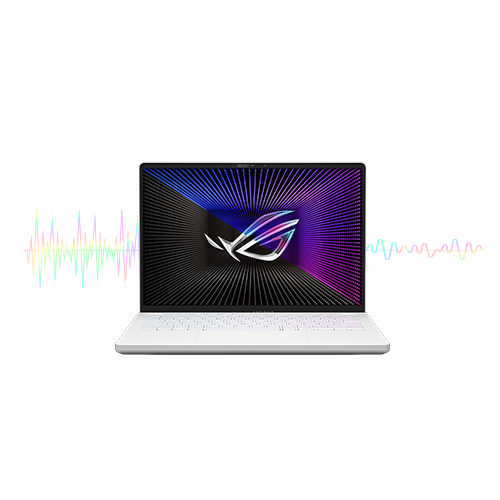 Two-Way AI Noise Cancelation
Our advanced Two-Way AI Noise Cancelation technology works with any input device and with downstream connections, letting you remove noise from both your own mic and incoming feeds. It also runs on the CPU, which frees up the GPU to hit higher FPS in-game. Noise-canceling settings can even be customized per program, filtering specific apps like voice chat without affecting game audio you want to remain untouched.
#KEYBOARD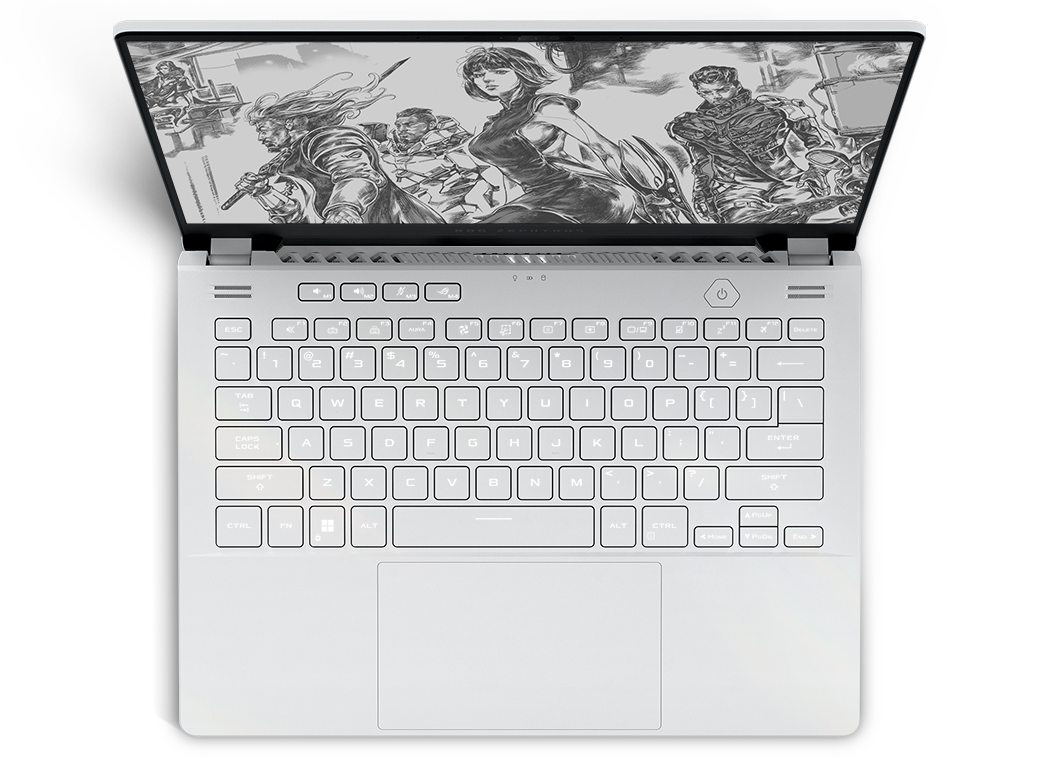 Mash up
The 2023 Zephyrus G14 features a desktop-inspired keyboard layout to match the larger 16:10 aspect ratio display. Overstroke technology triggers higher in each keystroke for faster responsiveness, and the ErgoLift design raises the keyboard at an angle to make typing more comfortable. Volume, microphone mute, and ROG Armoury Crate hotkeys keep critical commands within easy reach. The hotkeys are also fully customizable, and can be programmed to launch apps, set as a function key, or used as a macro.
Gaming
hotkeys
with macro function
Fast-actuating
key switches

#CONNECTIVITY
Adaptable connectivity
Dual USB Type-C ports, one with power delivery and DisplayPort™ 1.4 support, as well as a pair of USB 3.2 Type-A ports provide ample connectivity options. The brand-new addition of a Micro SD card reader is perfect for creators who need to transfer data while on the move.
Gear up
Bundle the ROG Zephyrus G14 with an array of gaming peripherals and accessories. Navigate smoothly and precisely with the ROG Impact gaming mouse. Lighten your load with a smaller, 100W adapter that offers enough power for you to stay productive anywhere. And give your laptop a little extra security on the road in a convenient, perfectly sized sleeve.
*Bundled peripherals may vary according to regions. Please check with local vendors for exact offers.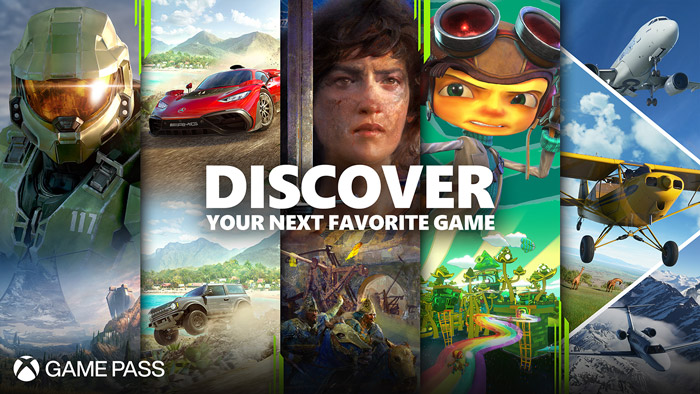 Xbox Game Pass Ultimate
Discover your next favorite game
Play over 100 high-quality games with friends on your PC, console, phone or tablet for one low monthly price.* With games added all the time, there's always something new to play.
*Terms and exclusions apply. Game catalog varies over time, by region, and by device. See xbox.com/gamepass and https://www.ea.com/eaplay/terms, for details. Xbox Cloud Gaming: Streaming limits apply. Requires compatible controller (sold separately), supported device and Xbox Game Pass app; see system requirements. System requirements vary by game; performance scales with higher-end systems.
Video Reviews
It is a high-performance gaming laptop in a light, easy-to-carry size. multitasking
It is a small gaming notebook that is easy to carry. Small screen, but light weight, the back cover has AniMe Matrix lights, beautiful screen, straight colors, the device is quite hot. battery running out
- when used hard The heat was still high. But it has no effect on overall usability. - If you look at the content creator point of view, the device does not have an SD Card Reader. - In the price range of 6x, xxx baht, you can buy a bigger gaming notebook that is stronger than this.
The machine is not heavy, strong, straight color screen
ROG Zephyrus G14 is a powerful gaming notebook. Light weight, suitable for carrying
New ASUS Gaming Laptops in 2023 are CRAZY!
Asus Zephyrus G14, RTX 4090 125W, Ryzen 9 7940HS, Hands On Overview
2023 ROG Zephyrus G14 - Every game is your game.
ASUS G14 - The LONG Term Review!
Product Comparison
Product added to comparison. Add up to 4 products or proceed to view compare products selected.
ASUS Footer