Nie masz żadnych produktów w koszyku.
Funkcje
Specyfikacja
Nagrody
Galeria
Wsparcie klienta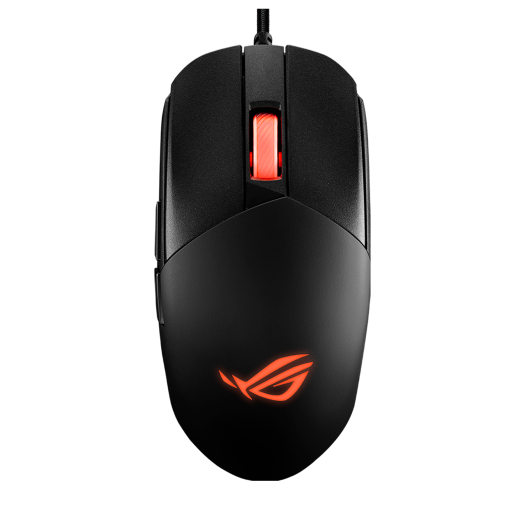 ROG Strix Impact III
ROG Strix Impact III to lekka mysz przewodowa dla graczy praworęcznych i leworęcznych, wyposażona w oświetlenie RGB, ważąca 59 gramów, nadająca się do gier FPS. Urządzenie jest wyposażone w sensor optyczny 12 000 DPI i oferuje prawie zerowe opóźnienie w rejestracji kliknięcia, wymienne gniazda przełączników myszy, mikroprzełączniki ROG, kabel ROG Paracord, a także nóżki wykonane w 100% z tworzywa PTFE i wytrzymałą konstrukcję.
Precyzyjne śledzenie ruchu: 12 000 DPI z wiodącym w tej klasie sprzętowej poziomem odchyleń 1%, sensorem optycznym 300 IPS oraz częstotliwością raportowania 1000 Hz.
Ultralekkie and ergonomiczne urządzenie: ważąca 59 g konstrukcja o ergonomicznym kształcie zapewnia wygodę podczas intensywnej, długotrwałej rozgrywki.
Prawie zerowe opóźnienie reakcji na kliknięcie: unikalny mechaniczny system naprężania przycisków gwarantuje natychmiastową aktywację przycisku bez ryzyka niepożądanych kliknięć.
Doskonałe wrażenia przycisków "klikających": mikroprzełącznik ROG oferują stabilną siłę wymaganą do kliknięcia oraz żywotność na poziomie 70 milionów kliknięć.
Gniazdo przełącznika Push-Fit: możliwość wymiany przełączników mechanicznych pozwala zmienić siłę wymaganą do kliknięcia i zastąpić zużyte przełączniki w celu wydłużenia żywotności myszy.
Płynny i szybki ruch: kabel ROG Paracord i nóżki myszy wykonane w 100% z PTFE.
Regulacja DPI w trakcie używania: dzięki regulacji kółkiem przewijania można wygodnie dostosować poziom DPI w trakcie rozgrywki.
Łatwa konfiguracja: oprogramowanie Armoury Crate umożliwia łatwą konfigurację i spersonalizowanie kolorów.
NVIDIA®Reflex: oficjalna certyfikacja w zakresie obsługi NVIDIA Reflex Latency Analyzer do monitorowania reakcji myszy – Dowiedz się więcej
Porównanie produktów
Produkt został dodany do porównania. Dodaj maks. 4 produkty lub wyświetl porównanie wybranych produktów.
ASUS Footer