Nie masz żadnych produktów w koszyku.
Funkcje
Specyfikacja
Nagrody
Galeria
Wsparcie klienta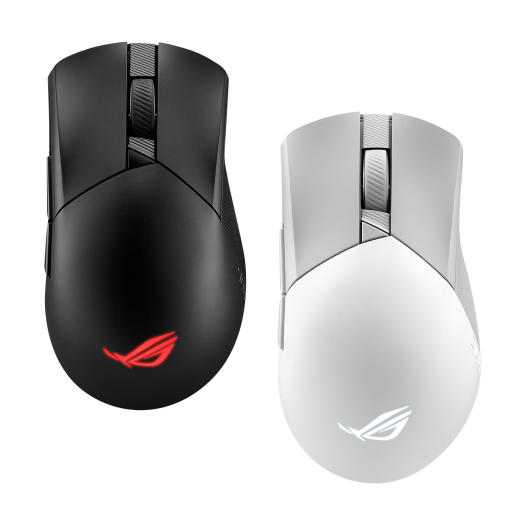 ROG Gladius III Wireless AimPoint
ROG Gladius III Wireless AimPoint to lekka, ważąca 79 gramów bezprzewodowa mysz gamingowa z oświetleniem RGB. Oferuje ona sensor optyczny ROG AimPoint o rozdzielczości 36 000 DPI, trzy tryby połączenia, technologię bezprzewodową ROG SpeedNova, wymienne przełączniki, mikroprzełączniki ROG, podniesiony mechanizm przycisków zapewniający opóźnienia w rejestracji kliknięć 0 ms, ergonomiczną konstrukcję, przyciski z PBT, kabel ROG Paracord, nóżki wykonane w 100% z PTFE, sześć programowalnych przycisków, a także taśmę do myszy poprawiającą chwyt.
Idealna precyzja: sensor optyczny ROG AimPoint o rozdzielczości 36 000 DPI z maksymalną szybkością 650 IPS i akceleracją 50 g, a także częstotliwością raportowania 1000 Hz
Klasyczny wygląd, a dodatkowo lekka konstrukcja: asymetryczna konstrukcja, z której są znane modele z serii Gladius, została tutaj zredukowana do wagi zaledwie 79 gramów
Trzy tryby połączenia: możesz grać przez maksymalnie 119 godzin przy połączeniu bezprzewodowym RF na paśmie 2,4 GHz o niskim poziomie opóźnień, sparować do trzech urządzeń przez Bluetooth®, a także ładować akumulator i grać przy przewodowym połączeniu przez USB
Technologia bezprzewodowa ROG SpeedNova: niski poziom opóźnień, niezawodna wydajność połączenia bezprzewodowego i zoptymalizowane rozwiązanie zasilania w trybie RF 2,4 GHz
Gniazdo przełącznika Push Fit II: konstrukcja z wymiennymi przełącznikami dla łatwego dostosowania, mysz Gladius III Wireless AimPoint zawiera mikroprzełączniki ROG i jest kompatybilna z innymi 3-pinowymi mechanicznymi i 5-pinowymi optycznymi mikroprzełącznikami
Antypoślizgowa taśma do myszy z wzorem ROG: zapewnia użytkownikom bardziej pewny chwyt i stanowi stylistyczny akcent
Płynny i szybki ruch: kabel ROG Paracord i nóżki myszy wykonane w 100% z PTFE
Model dostępny również w odcieniu Moonlight White
NVIDIA®Reflex: oficjalna certyfikacja w zakresie obsługi NVIDIA Reflex Latency Analyzer do monitorowania reakcji myszy – Dowiedz się więcej
Recenzje wideo
I also like the fact that the mouse comes with user-replaceable switches, as well as extensive set of accessories
To sum up, the ROG Gladius III Wireless AimPoint is deserving of its status as a premium wireless gaming mouse, where it sports an industry-leading 36000 DPI optical sensor in a well-built package. Throw in an extensive set of accessories, and user-replaceable mouse switches, and you have a package that is hard to beat.
If you are not someone that really cares too much about having the lightest mouse, then defnitely consider the ROG Gladius III Wireless Aimpoint and ROG Keris Wireless Aimpoint.
Everyone defines the perfect gaming setup differently - this combo is definitely pretty cool!
ASUS ROG: I tested the ultimate keyboard/mouse kit for gamers
I'M DOING AN €8500 SETUP CONTEST!!! 😱 (incredible)
Playing good games need to buy "expensive mouse"?
Gaming Mouse upgrade Accurate response with ROG Aimpoint 36,000 dpi
Review ROG Gladius III Wireless & Keris Wireless Upgrade ROG AimPoint OPTICAL SENSOR
Personally, I think the updates in these mice are very timely and necessary. If you have a larger hand and you hold the mouse with your entire palm, take Gladius.
In the first place I have convenience and ergonomics, and I am sure that in this parameter it will suit a lot of people.
ASUS ROG GLADIUS III - AimPoint edition! | 4K REVIEW
Reear development in Rog Gladius III WIRELESS AIMPOINT games
Preview 3 professional giming mouse
ROG GAMING MICE - 3 Ultimate
Both mice earned our highest accolade – AXetraordinary.
Porównanie produktów
Produkt został dodany do porównania. Dodaj maks. 4 produkty lub wyświetl porównanie wybranych produktów.
ASUS Footer