PCIe 5.0
Blazing fast storage is at your command with two PCIE 5.0 M.2 slots and two PCIE 4.0 M.2 slots. Push speeds even further, create a mirrored backup, or both; NVMe and SATA RAID configurations (0/1/10) are available through AMD RAID Xpert2. PCIe 5.0 support also extends to the top x16 extension slot, which includes SafeSlot to support heavy graphics cards and Q-release for easy upgrades.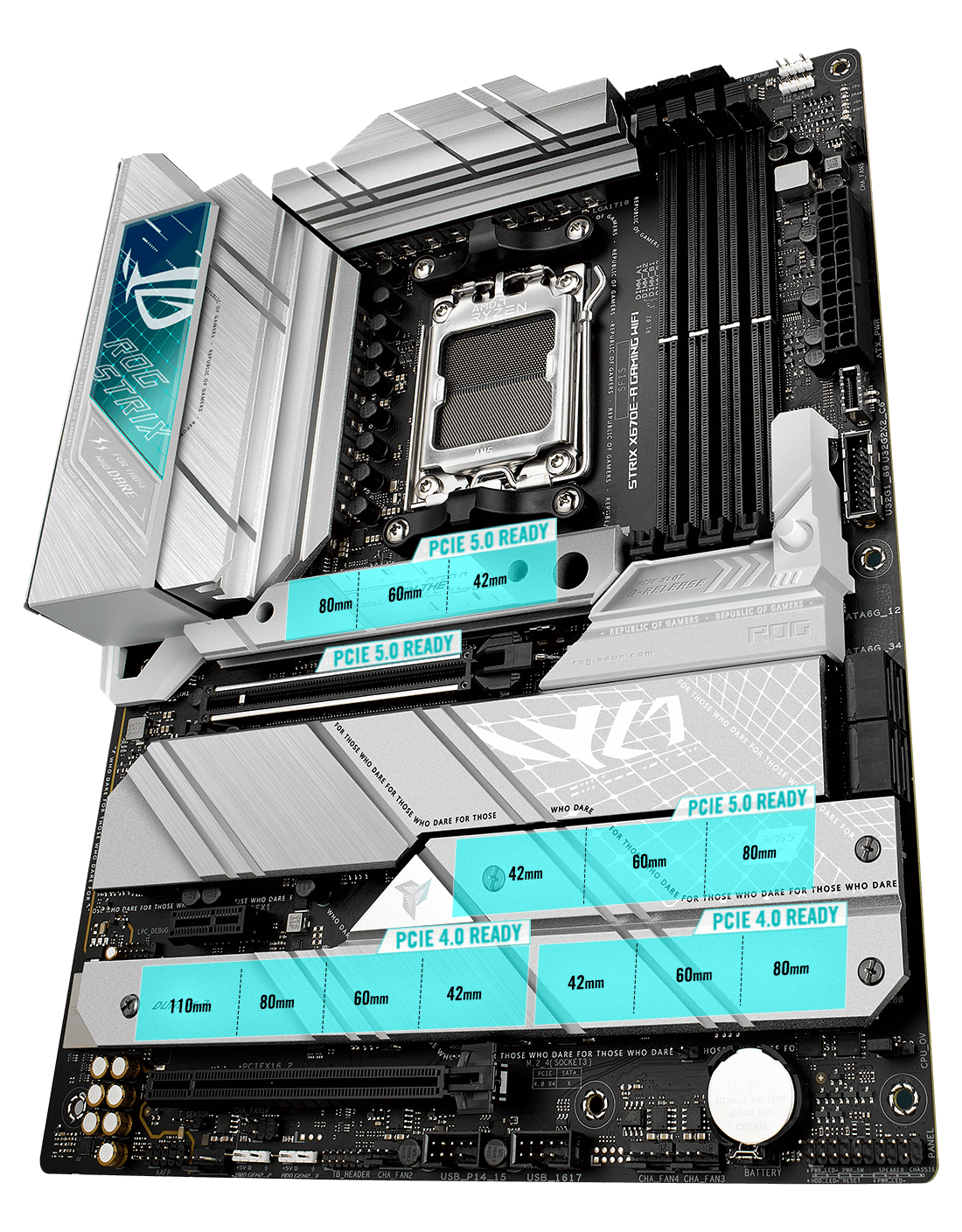 AI Overclocking

Dynamic OC Switcher

Core Flex

PBO Enhancement
AI OVERCLOCKING
Tuning is now faster and smarter than ever before. ASUS AI Overclocking profiles the CPU and cooling to predict the optimal configuration and push the system to its limits. Predicted values can be engaged automatically or used as a launching ground for further experimentation.
How to use AI Overclocking?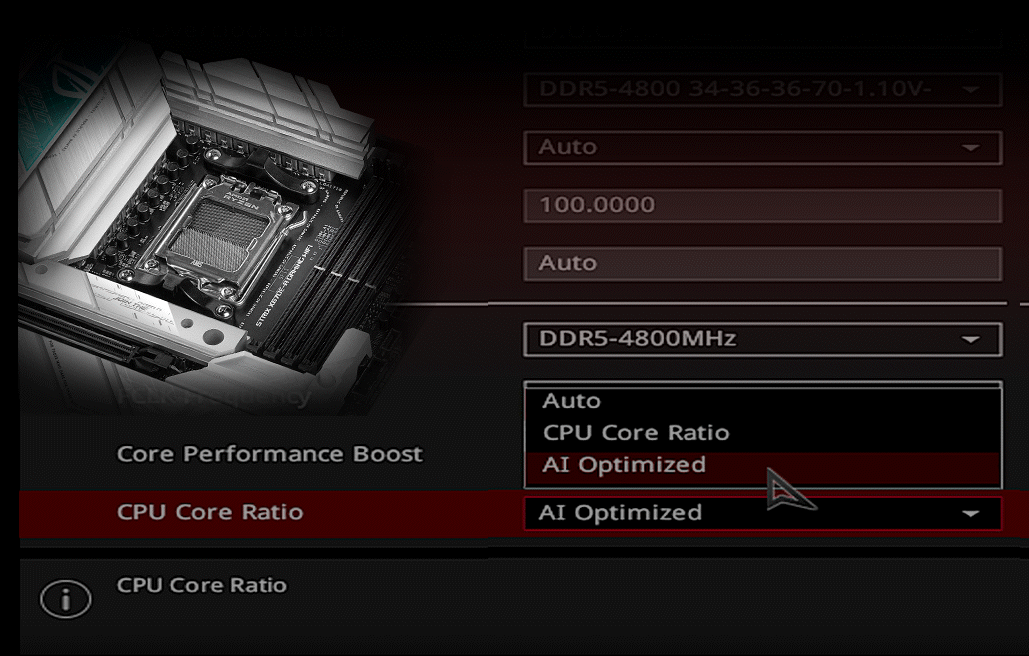 DYNAMIC OC SWITCHER
Lightly-threaded tasks get fantastic uplift using AMD Precision Boost Overdrive (PBO), but all-core frequencies can be pushed higher via traditional overclocking. The Dynamic OC Switcher dynamically engages PBO or your preferred settings based on the CPU current or temperature, giving you the best of both worlds. Core Flex and PBO Enhancement can also be deployed to work in tandem with the Dynamic OC Switcher and further bolster performance on both sides of the aisle.
The best way to overclock Ryzen 7000 with ROG's Dynamic OC Switcher.
Dynamic
OC Switcher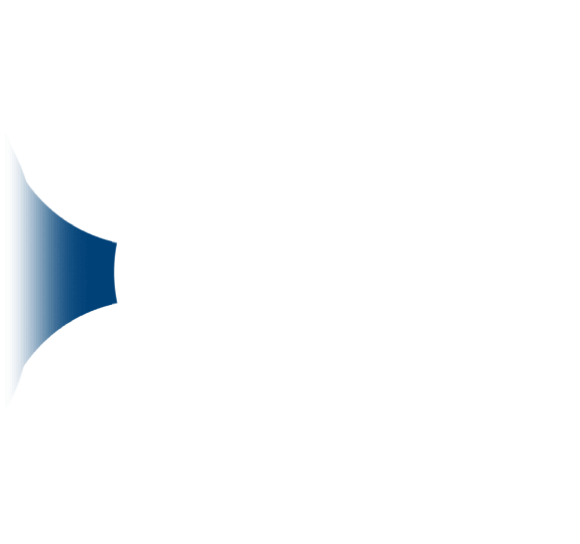 CORE FLEX
Core Flex empowers you to smash limits farther than ever before by letting you control current, power, and thermals in creative new ways. In its simplest form, you can let your system run unrestricted during lighter loads and set breakpoints to gradually reduce power consumption as temperature increases. But the system is extremely adaptable, supporting multiple user-controlled functions that can manipulate parameters independently so that you can bend CPU performance to your will.
Core Flex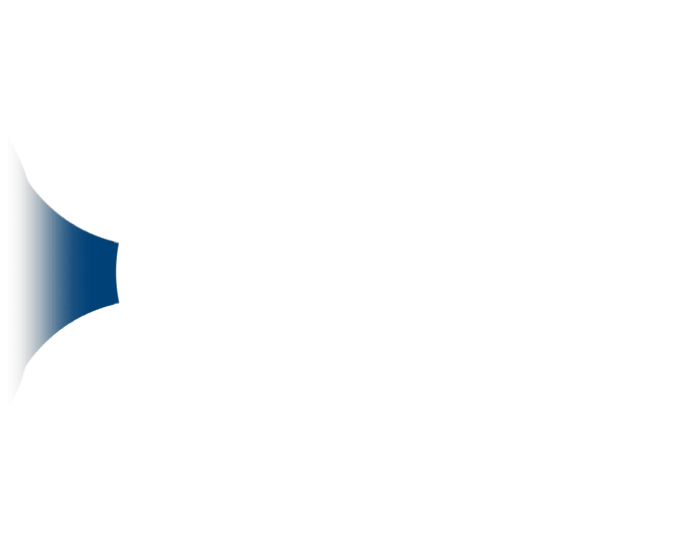 PBO ENHANCEMENT
AMD Precision Boost Overdrive (PBO) pushes the CPU current and voltage budget to opportunistically increase performance. By aggressively tuning the PBO parameters, AMD's algorithm can leverage the motherboard's robust power solution to ramp up performance even higher.
Click to learn more about PBO Enhancement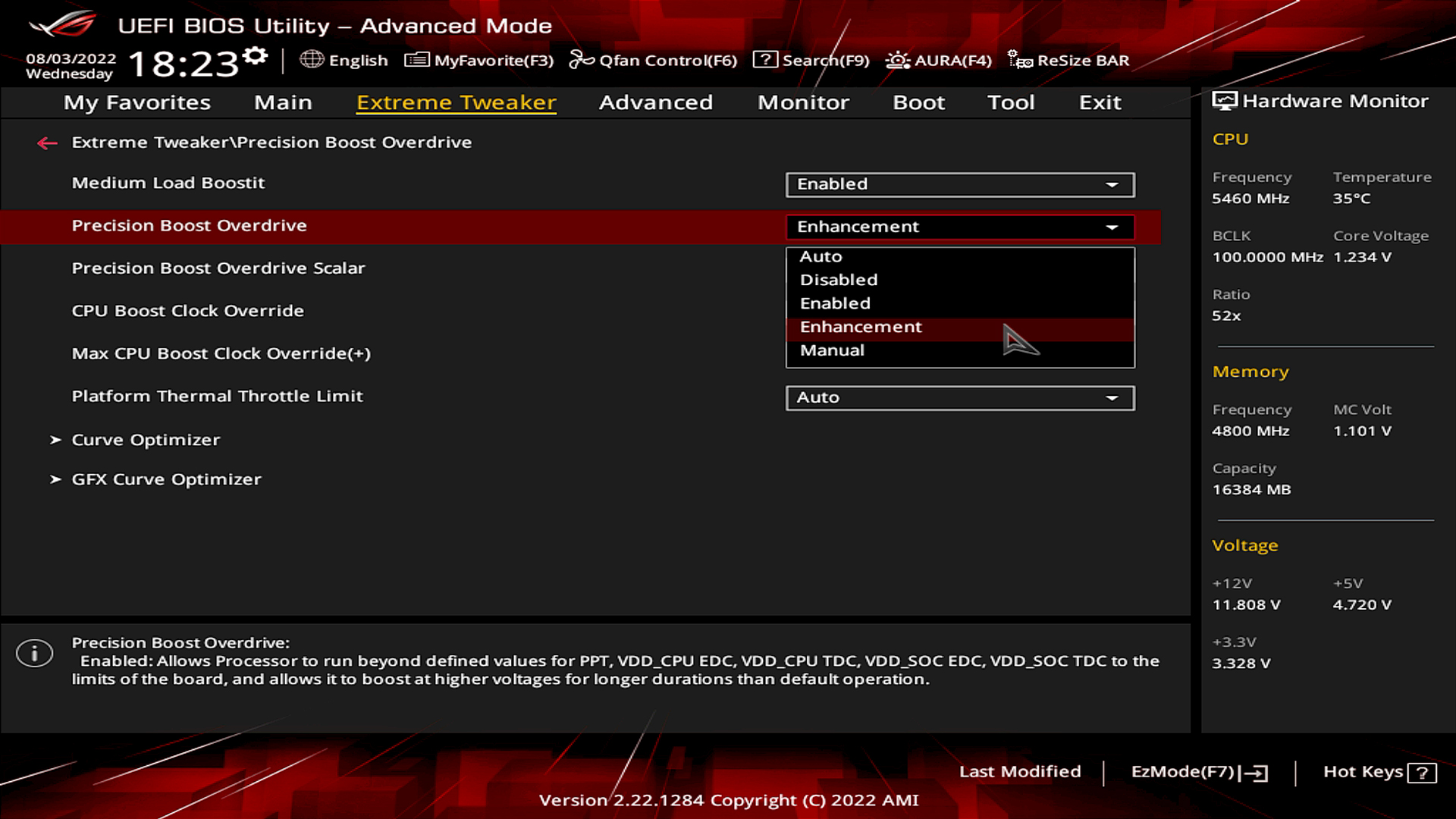 WHAT'S NEW?
As the first foray of AI Overclocking on an AMD architecture, the set of parameters has changed substantially, but voltage and clock speeds are still the primary targets for adjustment, with every core having a recommended VID and frequency.
Predictive settings in the utility are designed to work in tandem with Precision Boost Overdrive (PBO), but they go one step further by enhancing the values for EDC, TDC, and PPT, as well as tuning the curve optimizer.
Finally, by enabling the Dynamic OC Switcher, AI Overclocking ensures that the CPU is using ideal settings whether in single- or multi-threaded workloads.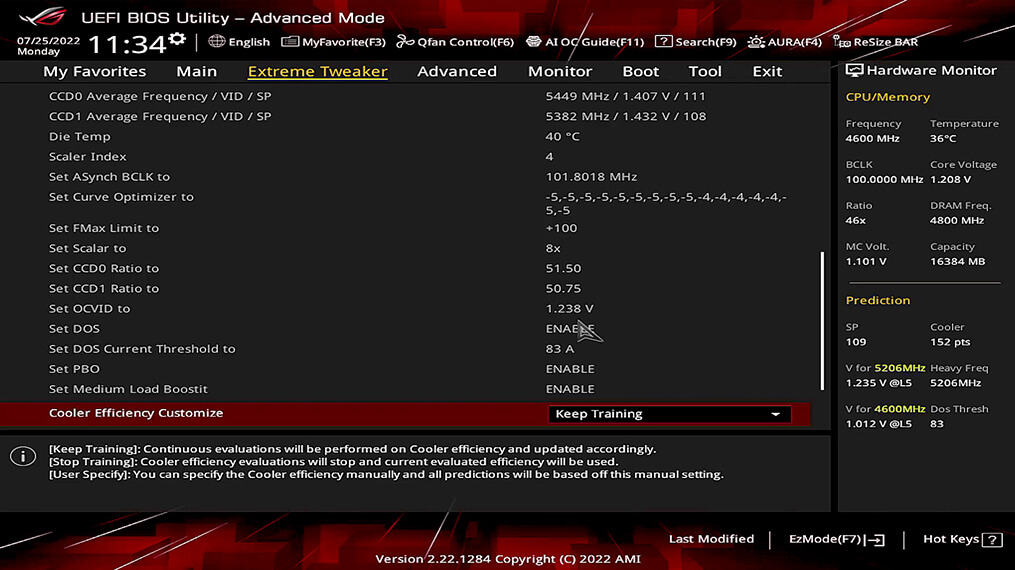 EXAMPLE: BASE CLOCK
For this CPU, the base clock (BCLK) can be stably increased to give an extra boost during lightly threaded workloads.
At Level 1, the BCLK is set to 104, and it remains at that frequency until the current reaches 35A.
Then the BCLK drops down to 102, and stays in that Level 2 range up until 55A.
From that point on, the CPU is using most or all of its threads, so the BCLK scales back to the default 100.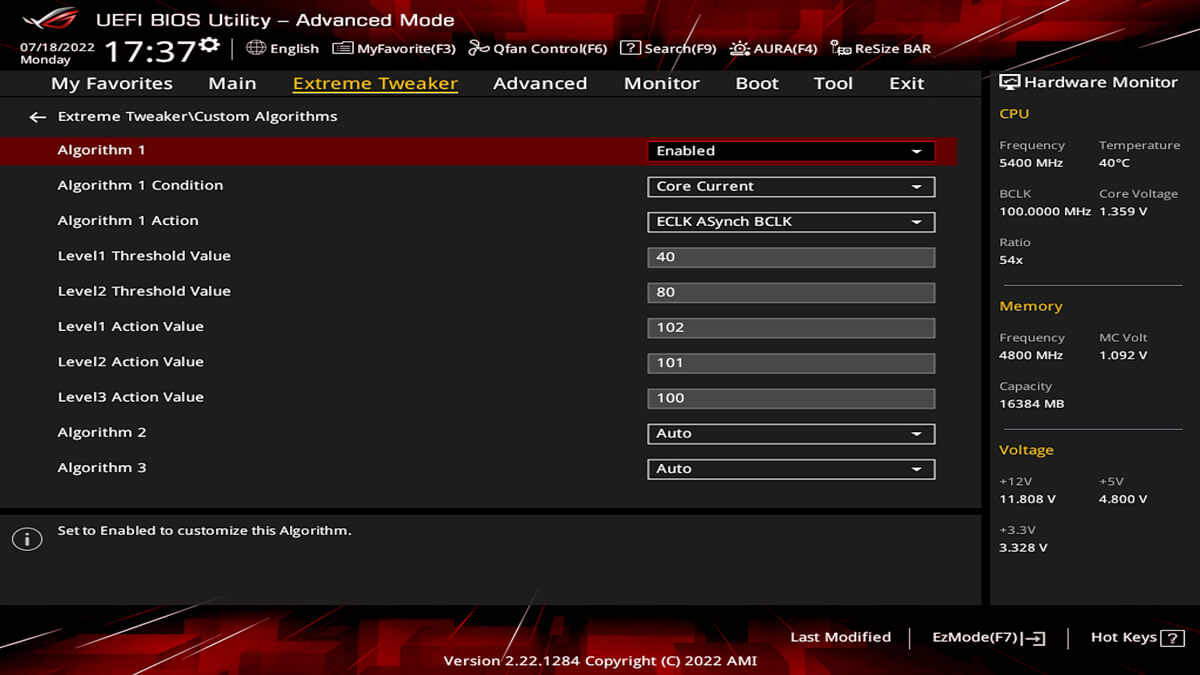 EXAMPLE: EDC
By managing the Electrical Design Current (EDC) in tandem with the total current, this CPU can gain extra performance for short, demanding bursts.
During lightly threaded workloads, below 35A, the Level 1 EDC is set to a low value, in this case 60.
As more cores are needed, the EDC is set to 120, which was found by this user to be a sweet spot for performance.
Once the CPU passes 70A, it is in multi-threaded territory, where it was found that a high EDC of 250 gave optimal performance.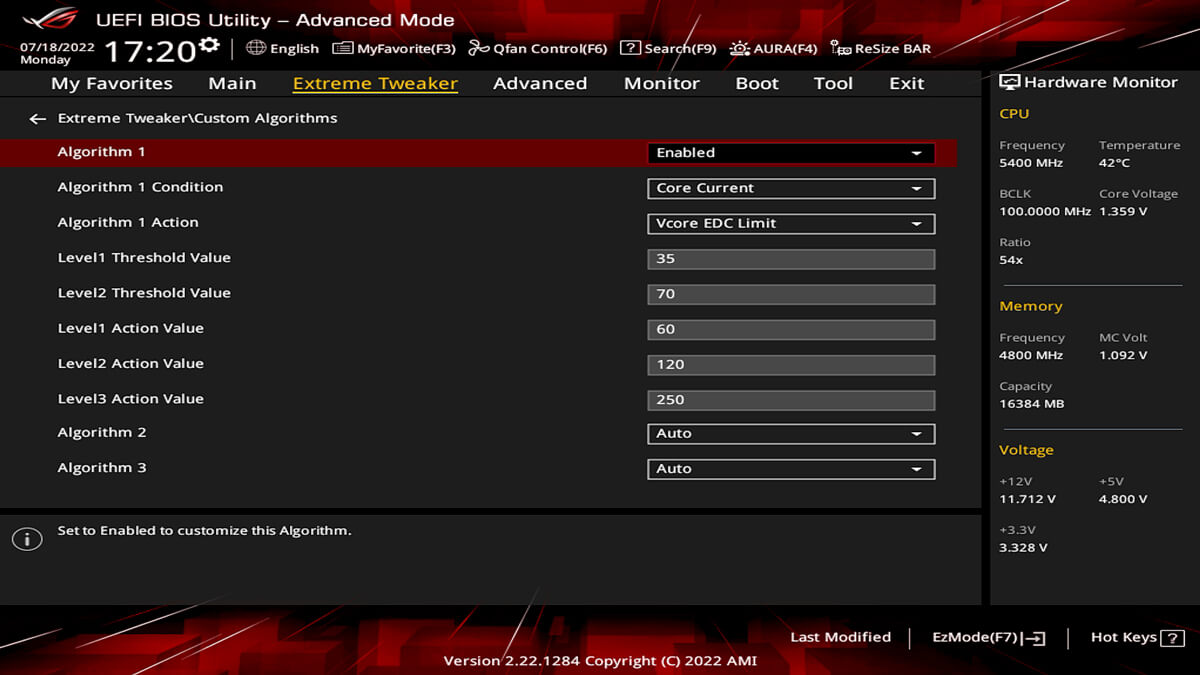 EXAMPLE: PPT
In order to let the CPU cool off if its temperatures go too high, this user constrains the Package Power Target (PPT) when thermals increase. Specifically the short-term value ("Fast") is used.
Until the CPU reaches 70°, it can run at full performance, so 350W is set to give plenty of overhead.
At that point, the power limit reduces to 220W, to let the CPU start reducing heat.
If it is still under sustained load and keeps getting hotter, then a more stringent 165W PPT is set at 85°.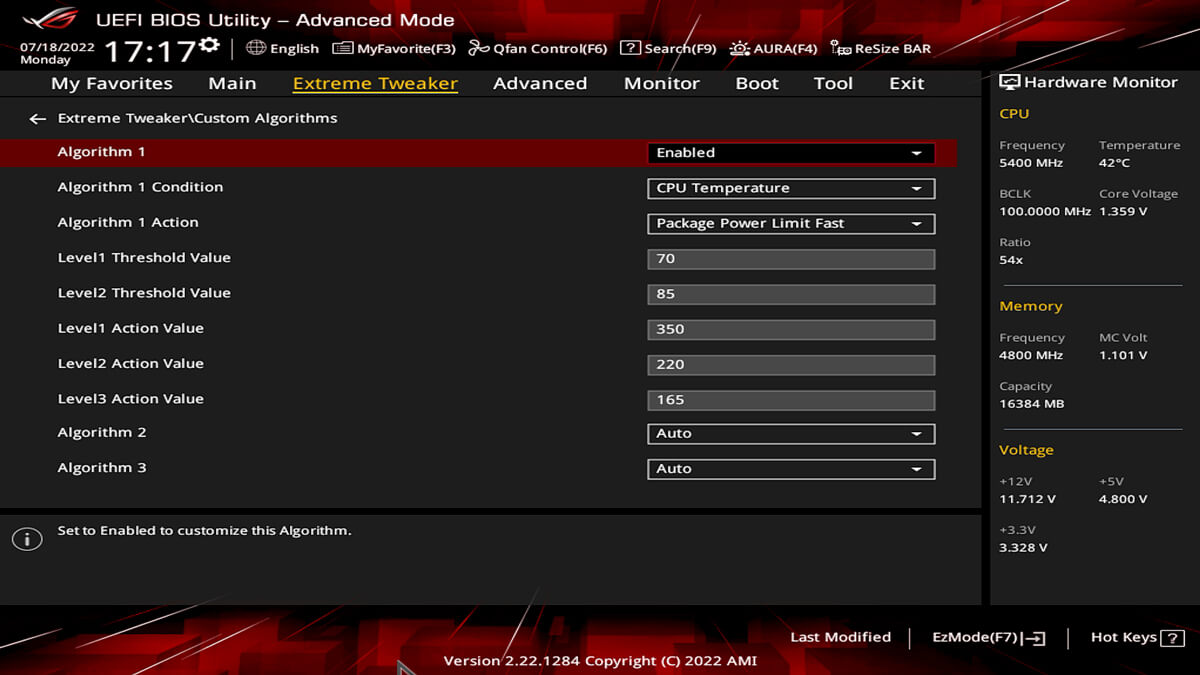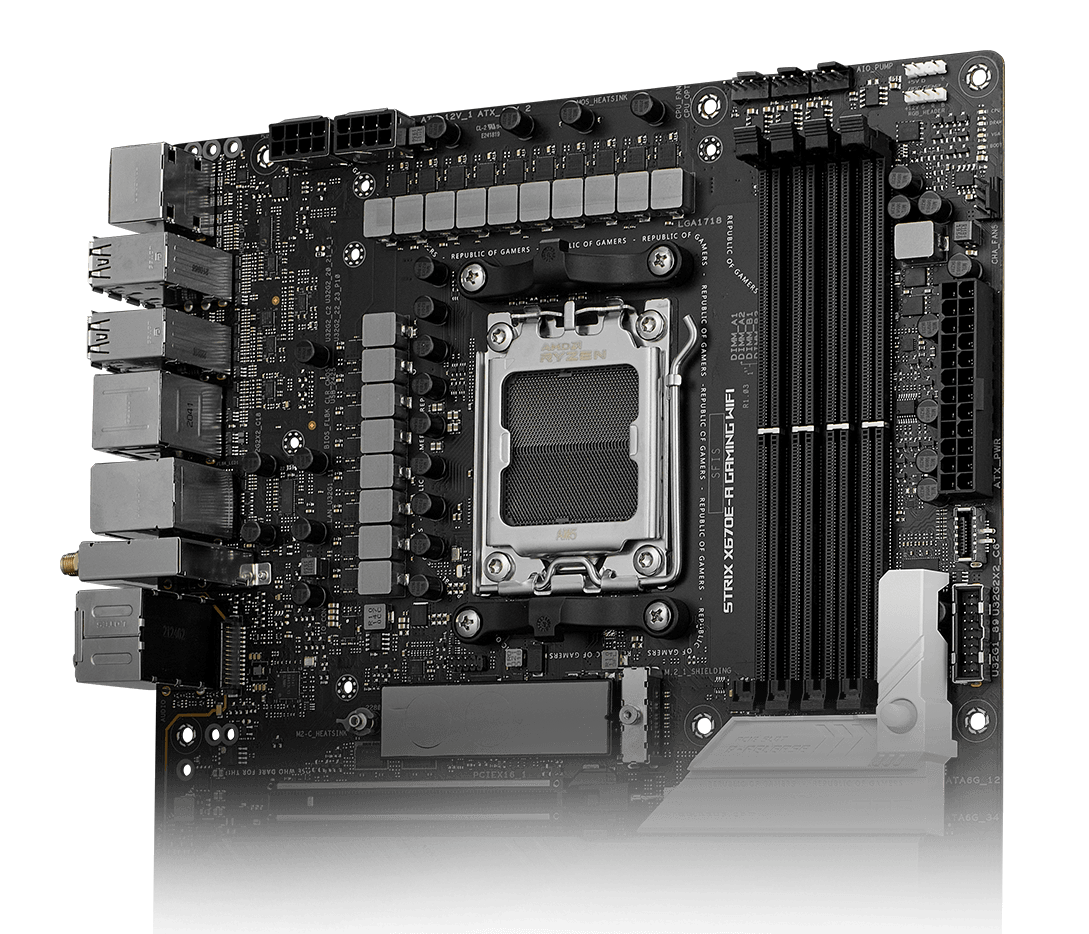 TEAMED POWER ARCHITECTURE

16 + 2 power stages, strategically teamed to rapidly respond to load changes and drive Ryzen™ 7000 through any workload.

ALLOY CHOKES AND DURABLE CAPACITORS

Hi-end chokes and durable capacitors are engineered to resist extreme temperatures, enabling performance that exceeds industry standards.

2 x 8-PIN PROCOOL II POWER CONNECTORS

ProCool II connectors are precision-built to ensure flush contact with PSU power lines. A metal sheath improves heat dissipation and lowers electrical impedance.

DIGI+ POWER CONTROL

The Digi+ voltage-regulator module (VRM) delivers real-time control over voltage droop, switching frequency, and power-efficiency settings, allowing you to fine-tune CPU voltage regulation for ultimate stability and performance.

Eight-Layer PCB

A multi-layered printed circuit board design quickly dissipates heat around the voltage regulators to improve overall system stability and provide the CPU with more overclocking headroom.
DDR5 STRENGTH
For those who want to fly past stock DDR5 speeds, the Strix X670E-A is primed and ready for enthusiast-grade kits courtesy of vast AMD EXtended Profiles for Overclocking (EXPO) support. Seasoned veterans can further tweak performance via the extensive array of settings in the UEFI.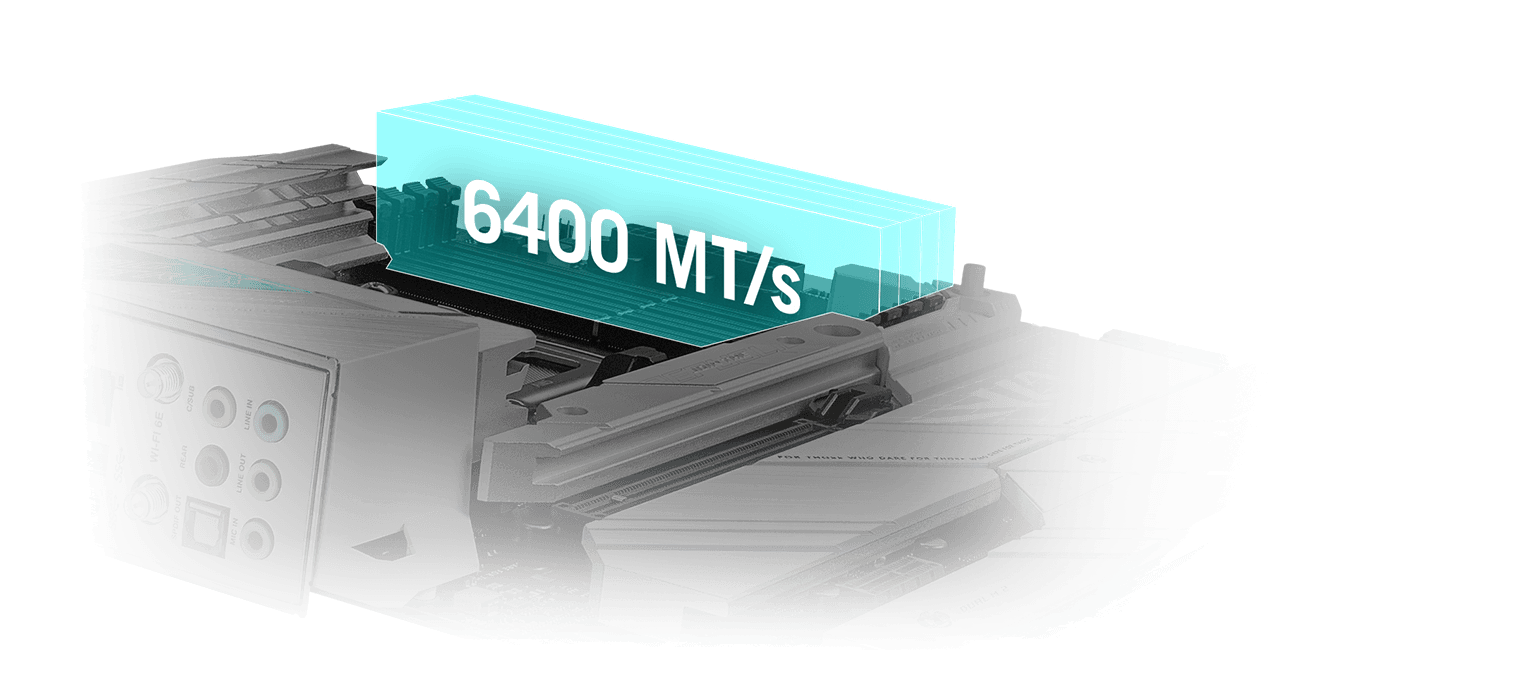 AEMP
ASUS Enhanced Memory Profile (AEMP) is an exclusive firmware feature for PMIC-restricted memory modules. AEMP automatically detects the memory chips on your kit and then presents optimized frequency, timing and voltage profiles that you can effortlessly apply to unleash performance.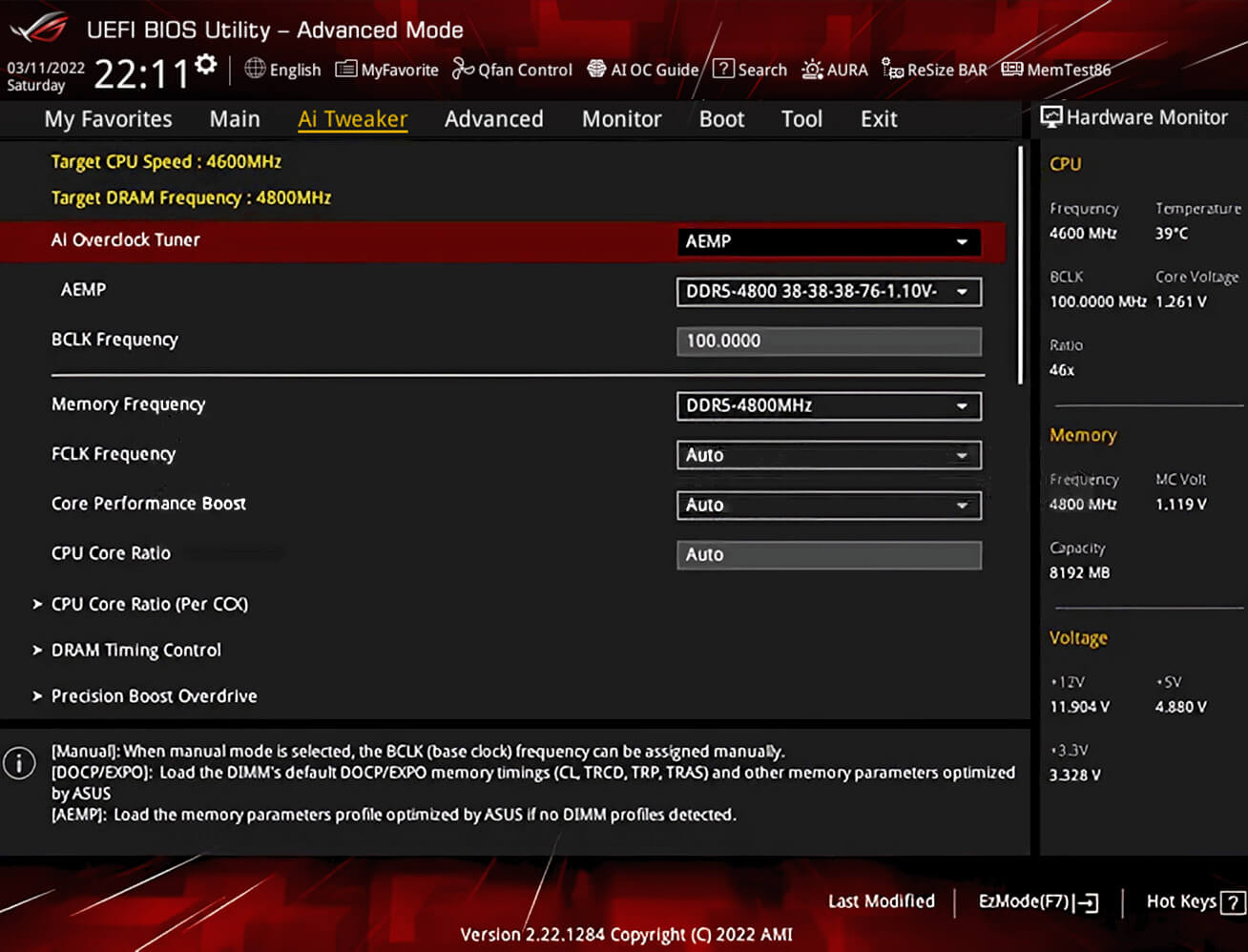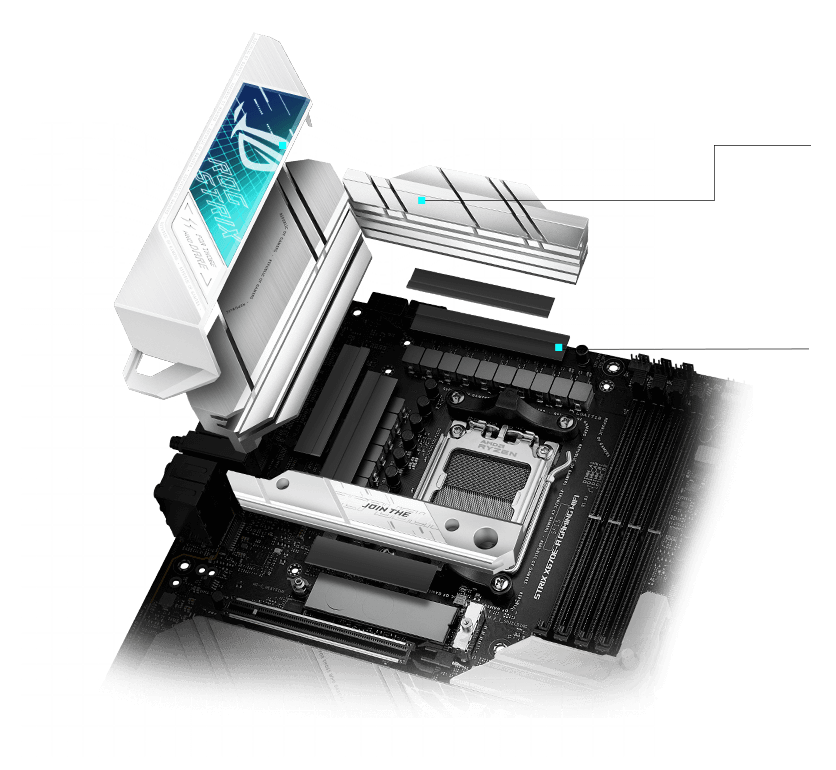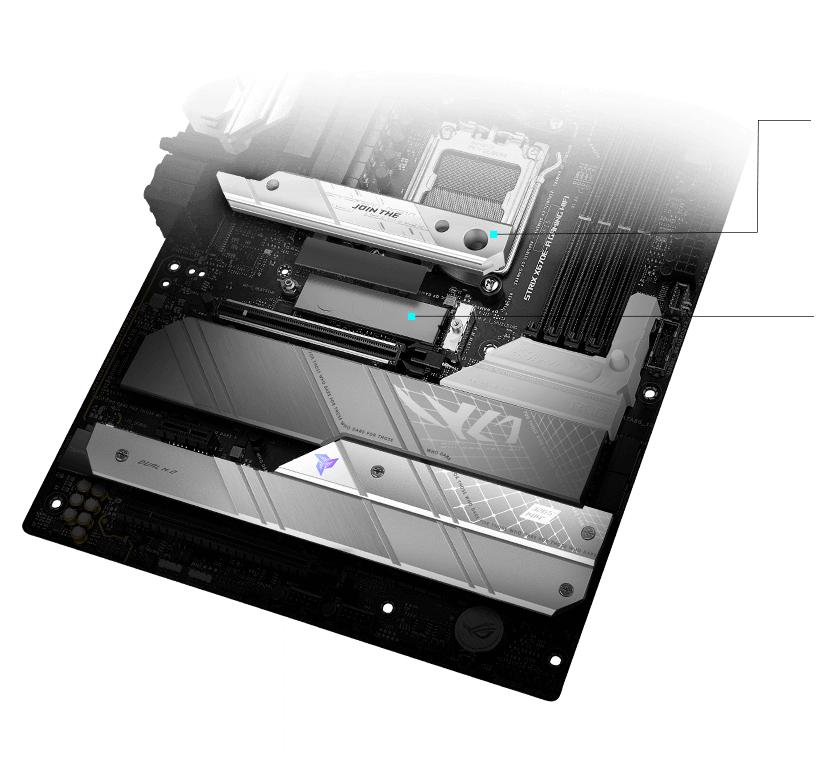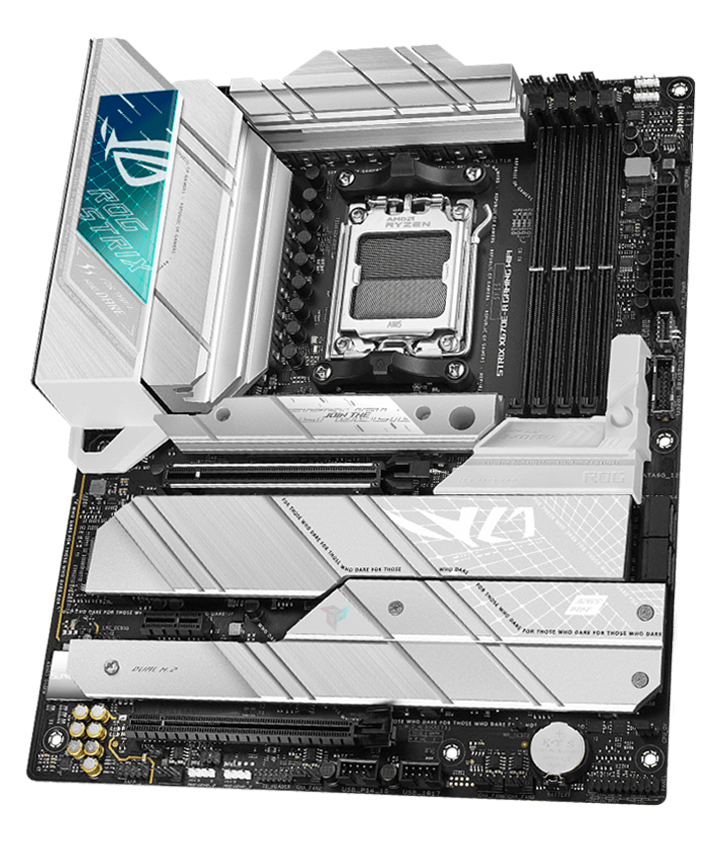 CPU FAN HEADERS

A dedicated pair of PWM/DC fan headers provides easy access to CPU coolers.

AIO PUMP FAN HEADER

A dedicated PWM/DC header connects self-contained water-cooling setups.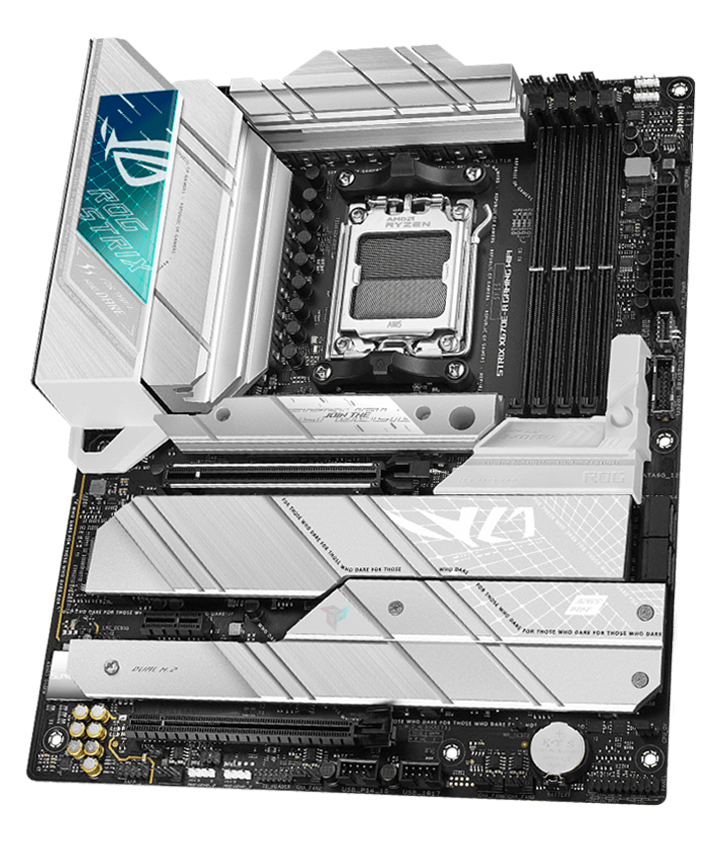 4-PIN PWM/DC FAN HEADERS

Each header supports auto-detection of PWM or DC fans.