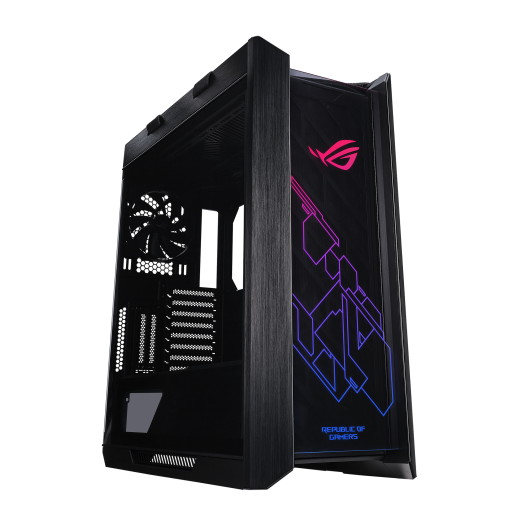 ROG Strix Helios
ROG Strix Helios ATX / EATX RGB 中塔式電競機箱 搭載燻黑鋼化玻璃、鋁合金框架、GPU 固定器、支援420mm 散熱器和 Aura Sync 燈效同步
卓越的設計與美學:配備三片鋼化玻璃面板、髮絲紋鋁合金結構及整合式前面板 Aura Sync RGB 燈效,專為展現玩家精彩的DIY組裝而打造
輕鬆建構俐落內裝:搭載GPU 固定器、兩件式PSU 護罩及半透明後纜線蓋的多功能外蓋,提供最完善的纜線管理系統
多樣的 GPU 安裝: 使用隨附托架以標準方向安裝三張顯示卡或垂直安裝兩張顯示卡,創造絕佳展示風格
高效率散熱配置:最高支援EATX 主機板、420mm 前散熱器,更保留了安裝水冷幫浦及水箱的空間
先進的 I/O 面板: USB 3.1 Gen 2 Type-C™ 連接埠、四個 USB 3.0 連接埠、RGB 燈光控制按鈕和風扇轉速控制按鈕
舒適的機箱把手:兼具人體工學及設計感的織物把手,讓玩家輕鬆地將珍貴的電競配備帶到LAN PARTY
影片評論
Doigby discovers his new 4000€ Gaming PC
My dad is building a Gaming PC for the first time !
I offered him a 6500€ Setup GAMER !
I build a 5000€ Gaming PC !
WE REMAKE YOUR GAMING ROOM ! (ft. Guillaume)
Holy smokes, they sent some cool stuff.
Have you checked out Zizan Razak 's latest all ROG PC build lately!? 🤩 If you haven't, click on the link and admire this absolute beauty of a build!
You've GOTTA check out the 1.77" LiveDash OLED display on this motherboard! Let Summerr take you on a quick tour ;)
Must be a strong build cause it's got both a Hero AND the Avengers in it, right? 🤭 Anyway, let Xiaoting Miaomiao tell you more about this super-powered build with the ASUS Republic of Gamers Z590 Maximus XIII Hero!
ROG Strix Helios is a beast!
Perakitan ini dibantu channel Denny PC. Kalian bisa subscribe Denny PC di end screen belakang
Impressed with this ASUS AMD machine in the CPU part, but the graphics card is not much. Overall, it works great.
I'm excited because I've been dreaming of doing a collaboration with Asus for years and we're finally here! Today we will assemble my new computer for the one million special. I can't wait then to try this ORG Wingwall, I think I'm one of the first to try it and it looks super cool.
It is definitely a very special model among the RTX 3080 Ti models. A very successful graphics card has emerged with its stylish design and excellent cooling that does not exceed 60 degrees.
Space, of course, but also expensive.
I really enjoyed playing in 4K resolution, and this PC build provided 120 frames at ultra settings.
The monster that prevails all 🔥
A strong, strong assembly for games, all pieces of Asus
Video review from the channel Uldons TV
ROG Strix Helios - Not your average gaming chassis. Sleek design, dust-filter protected fans, easily detachable side panels and multi functional cover make this chassis an absolute beast ROG Ryujin 360 Cooler - It allows for a quick glimpse at your PC's current health while looking awesome all at the same time ROG Zenith Extreme Alpha - Monster of a Motherboard, smooth performance and the brains of any pc
The review from the channel Texnoplov
產品比較
產品已新增至比較列表中, 至多可選擇四個產品,或重新選擇想比較的產品。
ASUS Footer