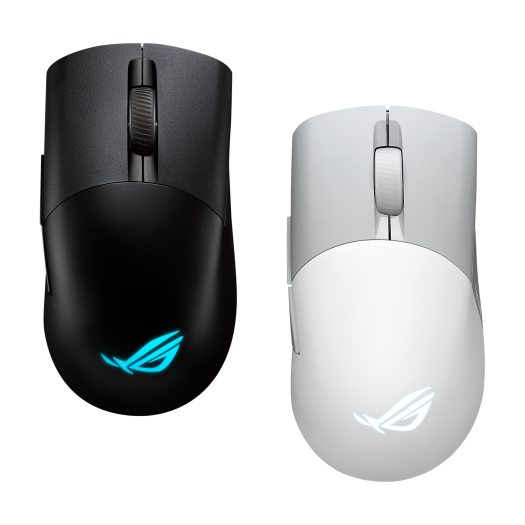 ROG Keris Wireless AimPoint
75g 輕量無線 RGB 電競滑鼠,配備 36,000-dpi ROG AimPoint 光學感測器、具備三模連線(2.4 GHz、藍牙、有線 USB 2.0)、ROG SpeedNova 無線技術、新一代獨家可更換微動開關插槽 II、ROG 微動開關、PBT 按鈕、ROG Paracord、100% PTFE 滑鼠腳、五個可編程按鈕和滑鼠防滑貼。
完美精準: 36,000‑dpi ROG AimPoint 光學感測器具備 650 ips 和 50 g 加速度速率,以及 1000 Hz 輪詢率
三模連線:使用低延遲 2.4 GHz RF 進行長達 119 小時的遊戲,透過藍牙®模式配對最多三個裝置,或使用有線 USB 進行充電及遊戲
ROG SpeedNova 無線技術:在 2.4 GHz 射頻模式下提供低延遲、可靠的無線效能和優異的電量
輕量化結構:耐用的內部結構設計,將滑鼠重量降至 75 公克
全新一代獨家可更換微動開關插槽 II 設計:微動開關設計易於DIY;Keris Wireless AimPoint 搭載的ROG 微動開關,相容於其他 3-pin 機械和 5-pin 光學微動開關
PBT 左 / 右按鍵:耐用防滑表面,可抵抗磨損
ROG 圖騰防滑貼:提供使用者更完善的操控力並增添特色風格
靈活移動:ROG Paracord 連接線和 100% PTFE 滑鼠腳
亦提供月光白款式
影片評論
If you are not someone that really cares too much about having the lightest mouse, then defnitely consider the ROG Gladius III Wireless Aimpoint and ROG Keris Wireless Aimpoint.
Build PC GAMER ROG Full White Powered by ASUS à 5000 €
The ROG Keris Wireless AimPoint gaming mouse has the same ROG design but is updated and feels more refined. The Aimpoint sensor is exciting and a step in the right direction too!
In this video, I take a look at the best wireless ROG gaming setup! The ROG Cetra True Wireless, ROG Keris Wireless Aimpoint, and the ROG Strix Scope RX TKL Wireless Deluxe
あの名作ゲーミングマウス&キーボードの新作が登場しました。
【ガチ勢発狂w】ASUSの最新ゲーミングキーボードとゲーミングマウスがヤバすぎてワロタw
【ガチ勢発狂w】ASUSの最新ゲーミングキーボードとゲーミングマウスがヤバすぎてワロタw
This is an excellent mouse whose attractive design, precision and light weight have rightfully earned it a more than deserved place of honor in its price range.
Preview 3 professional giming mouse
ROG GAMING MICE - 3 Ultimate
Rog Strix IIII III and Keris Wireless Aimpointgames
The review from the channel HDTanel (score 8/10)
There are even three-mode connections, ROG SpeedNova wireless technology, replaceable switches, ROG micro switches (switches), PBT buttons, ROG Paracord, 100% FE feet, five programmable keys, as well as a ROG mouse strap.
產品比較
產品已新增至比較列表中, 至多可選擇四個產品,或重新選擇想比較的產品。
ASUS Footer