Features
Tech Specs
Gallery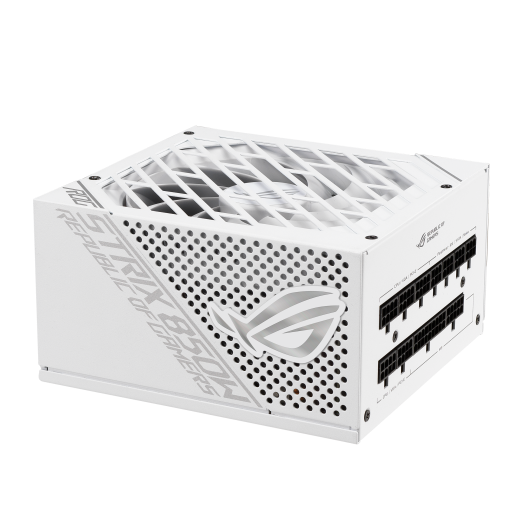 ROG STRIX 850W Gold White Edition (16-pin cable)
The ROG Strix 850W Gold White Edition PSU brings premium cooling performance to the mainstream
16-pin PCIe cable: Bundled with a 12VHPWR cable that is compatible with PCIe Gen 5.0 graphics card.
ROG heatsinks cover critical components. Lower temps result in a longer lifespan and reduced noise.
Axial-tech fan design features a smaller fan hub that facilitates longer blades and a barrier ring that increases downward air pressure.
Dual ball fan bearings can last up to twice as long as sleeve bearing designs.
0dB Technology lets you enjoy light gaming in relative silence.
An 80 Plus gold certification is the result of Japanese capacitors and other premium components.
Cosmetic customization is enabled by a magnetic logo and stickers that help you reskin the visible side to your liking.
Fully modular cables keep your rig neat and tidy.
10-year warranty included.

Pristine Chilled Power
The ROG Strix 850W White Edition PSU features sleeved modular cables, a variety of decals, and is dressed to compliment the aesthetics of a white gaming rig. Massive ROG heatsinks trickle down from the mighty ROG Thor series and Axial-tech fan design from our premium NVIDIA RTX™ graphics cards also make an appearance. Below the surface, low RDS (on) MOSFETs and premium Japanese capacitors take on power delivery with ease. The result is an incredibly quiet and efficient power supply with the reserves to handle the most intense gaming scenarios.
COOLING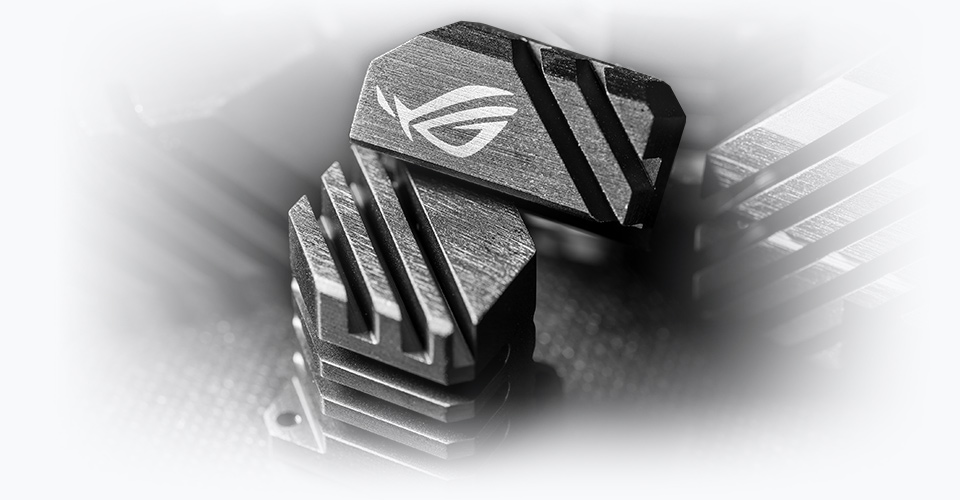 ROG Heatsinks
Let it sink in
The integrated ROG heatsinks have 2x more volume than traditional designs, resulting in significantly lower temperatures inside Strix PSUs. This extends the lifespan of components and allows 0dB operation for a longer duration than standard designs. The heatsinks are so effective that fan noise stays whisper quiet, even under full load.
Axial-tech Fan Design
Better, faster, stronger
Originally developed for top-end ROG graphics cards, Axial-tech fan design features a smaller fan hub that facilitates longer blades and a barrier ring that increases downward air pressure. For ROG Strix series power supplies, we've scaled that design to 135mm so it keeps things cool at low RPMs while producing less noise.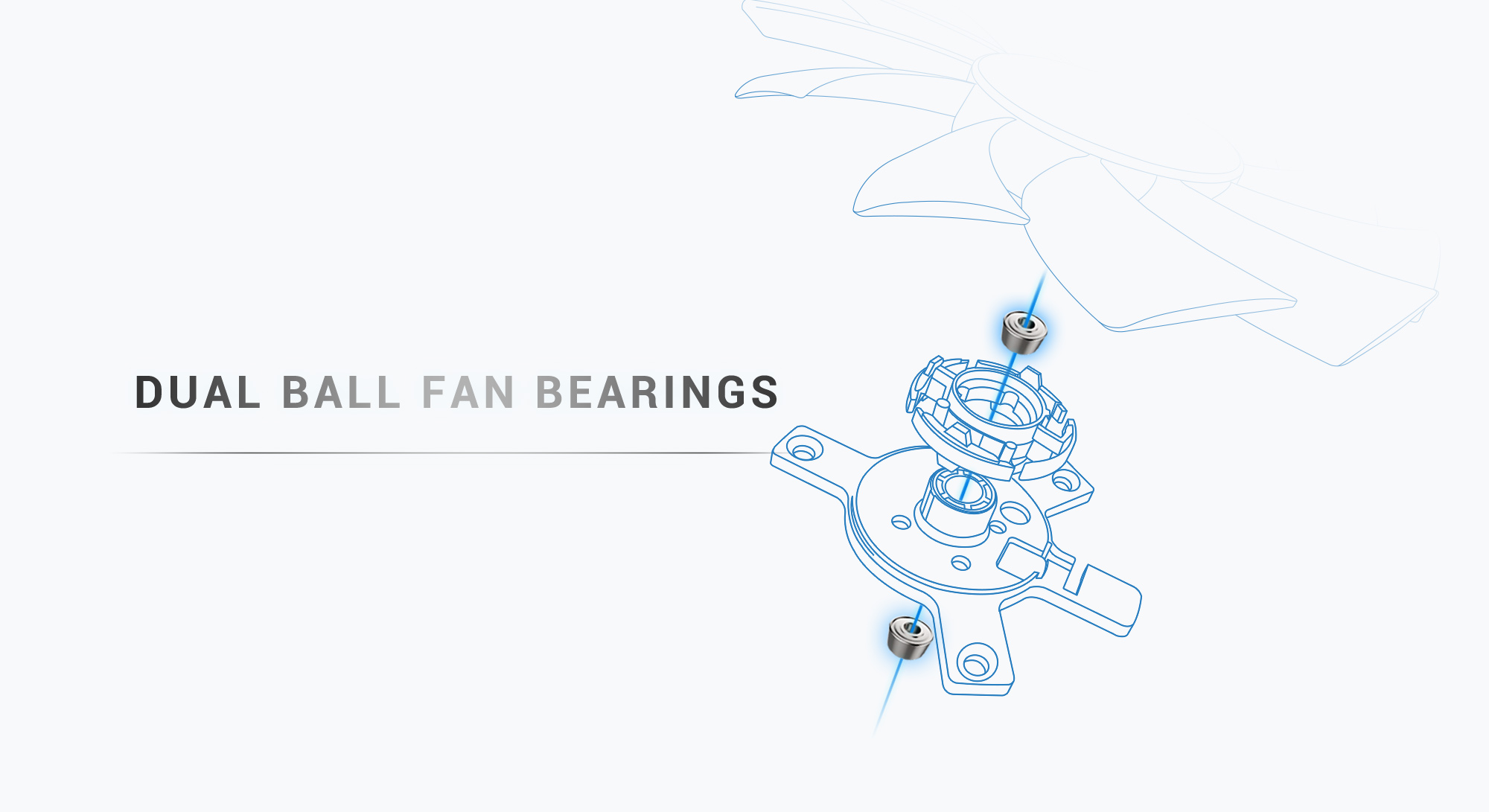 Dual Ball Fan Bearings
2x longer lifespan
Different bearing types have unique pros and cons. In a PSU, durability is paramount, so we built a dual ball bearing setup that will last up to twice as long as a sleeve bearing design.
0dB Technology
Quiet intelligence
An onboard controller brings the 135mm fan to a standstill when thermal design power (TDP) is below 40%, letting you enjoy light gaming in relative silence. Above 40% TDP, the fans automatically start up again.
ENGINEERING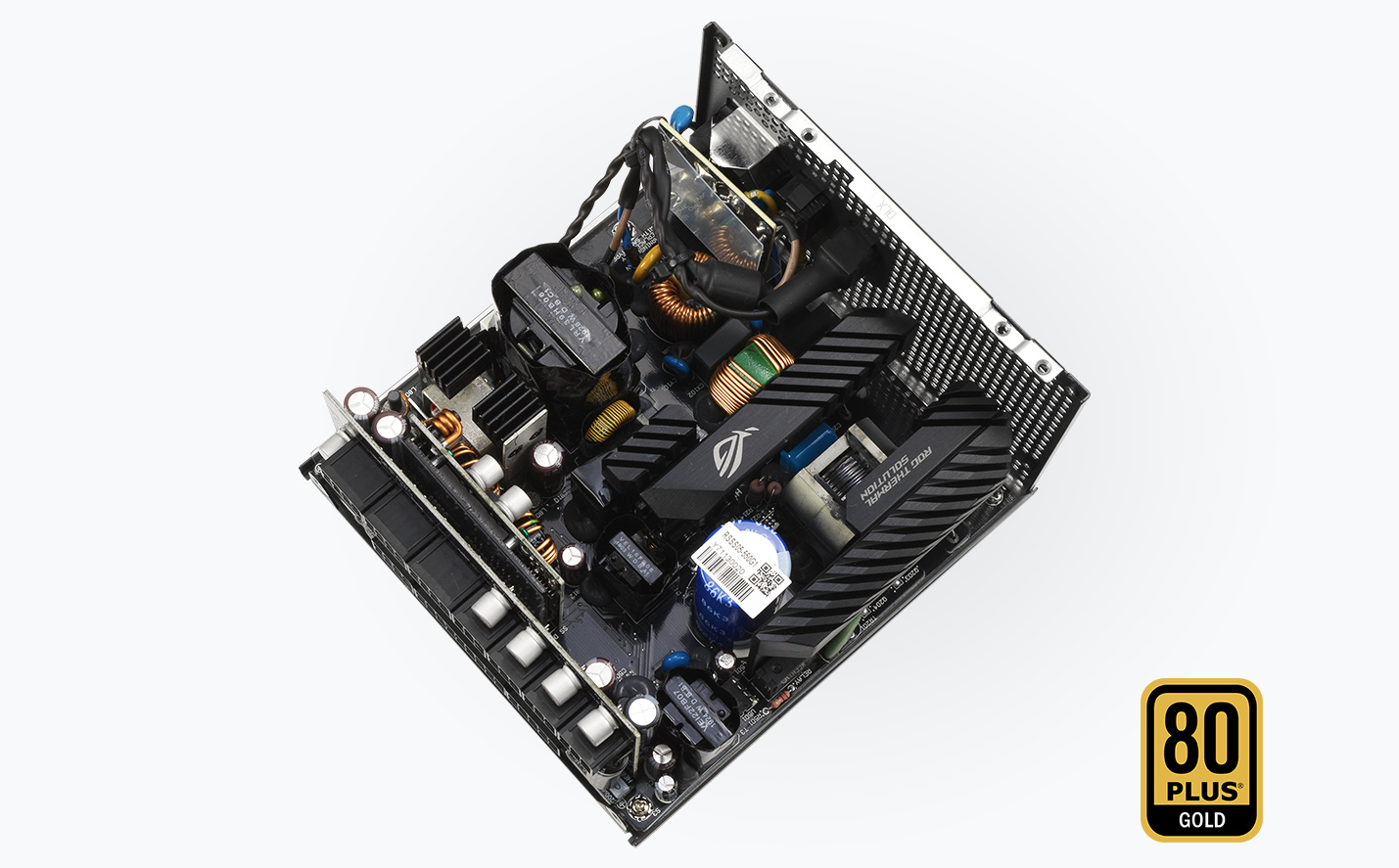 80 Plus Gold Certification
Heart of gold
Top-end Japanese capacitors ensure efficient operation and have helped the Strix earn an 80 PLUS Gold certification. The increased efficiency also results in less heat, reducing noise and increasing reliability.
SOFTWARE
GPU TWEAK III
Monitor, tweak, and tune
ASUS GPU Tweak III is more intuitive and feature-rich than ever before. A revamped interface offers greater accessibility by integrating core functions into a centralized dashboard, and our Voltage-Frequency tuner has been overhauled to make overclocking even easier. Additional goodies like 0dB fan technology, automatic profile swapping, a fully customizable on-screen display, and logging capabilities ensure that you get the most out of your graphics card.
Learn more about GPU Tweak III >
EXPERIENCE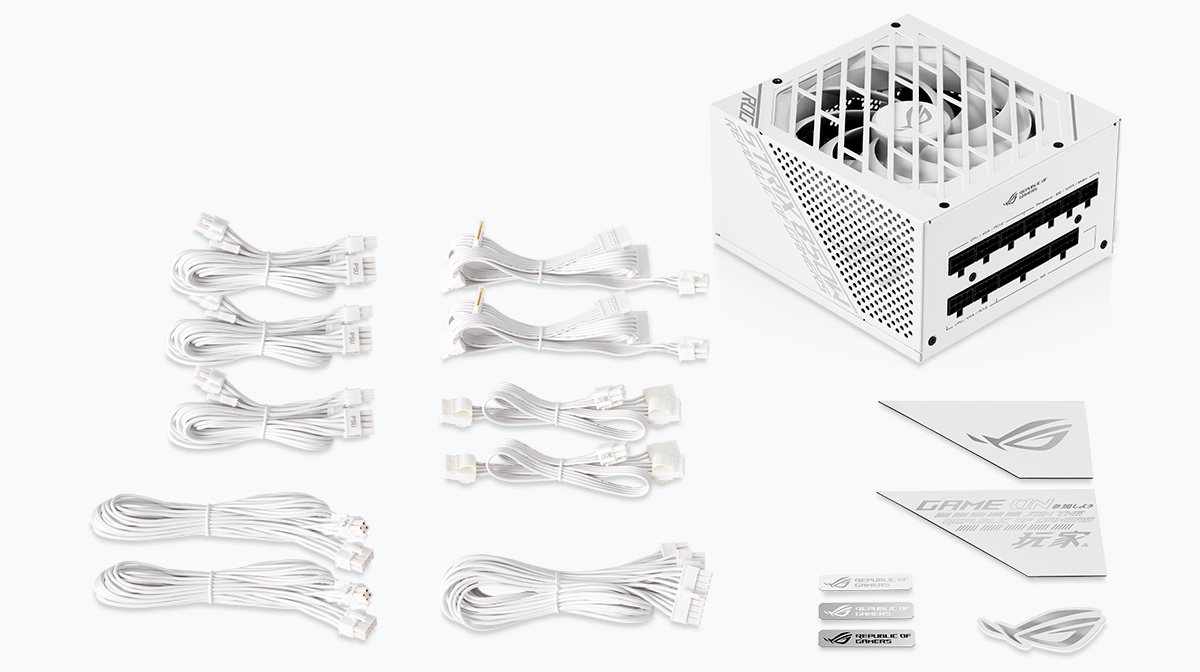 White Edition Design
Tabula rasa
White components can easily achieve a clean aesthetic or adopt ambient RGB colors for greater customization than their darker or painted counterparts. With a white case, modular cables, stickers, and magnets, this white edition PSU is a perfect fit for any white gaming rig.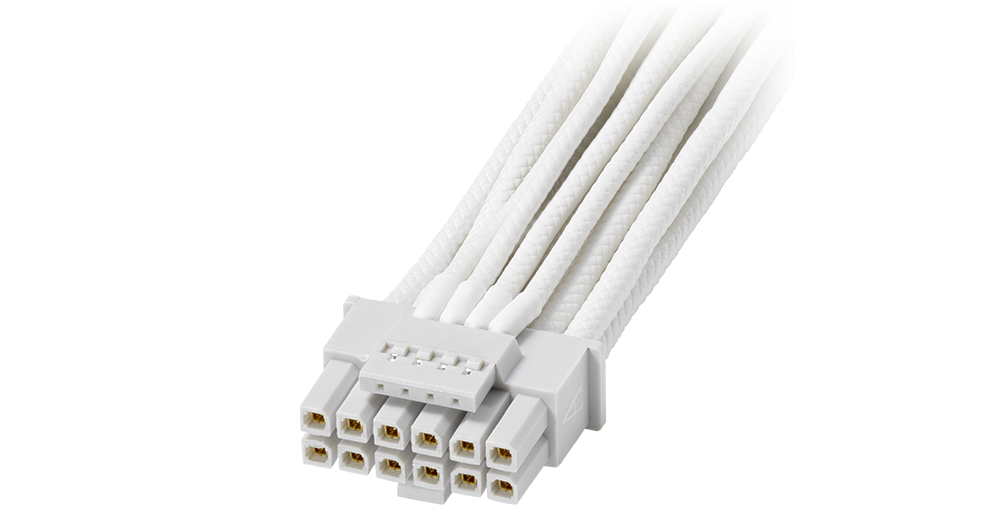 PCIe Gen 5.0 Ready
Step into the future
A 16-pin PCIe cable that is compatible with PCIe Gen 5.0 graphics cards is bundled with the ROG Strix 850W Gold White Edition, bringing large-scale capabilities.
Get ready for the future of power delivery.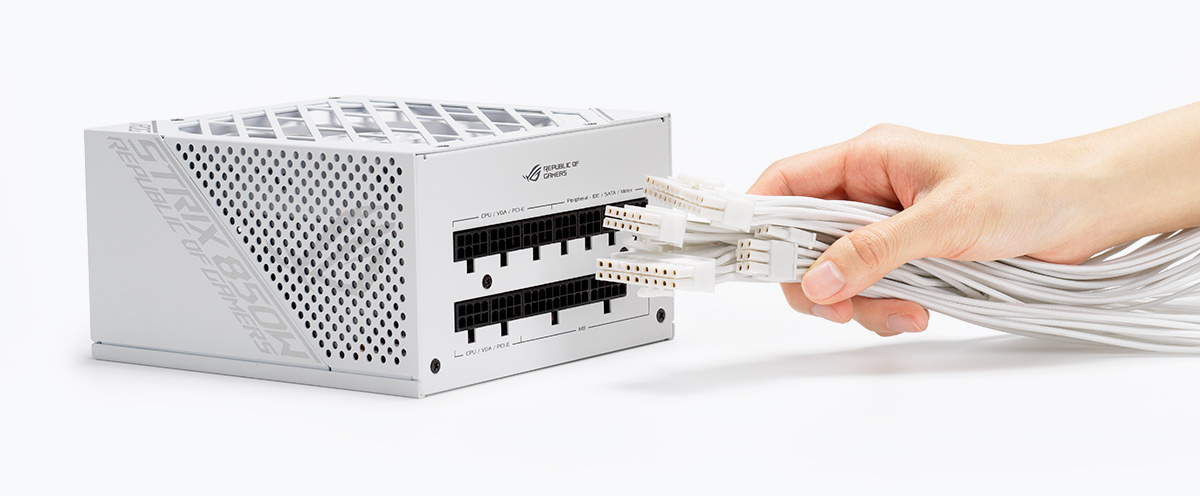 Fully Modular Cables
Plug in
Maintain a tidy and organized rig with fully modular cables, while the provided CableMod coupon unlocks opportunities for next-level customization.
More info >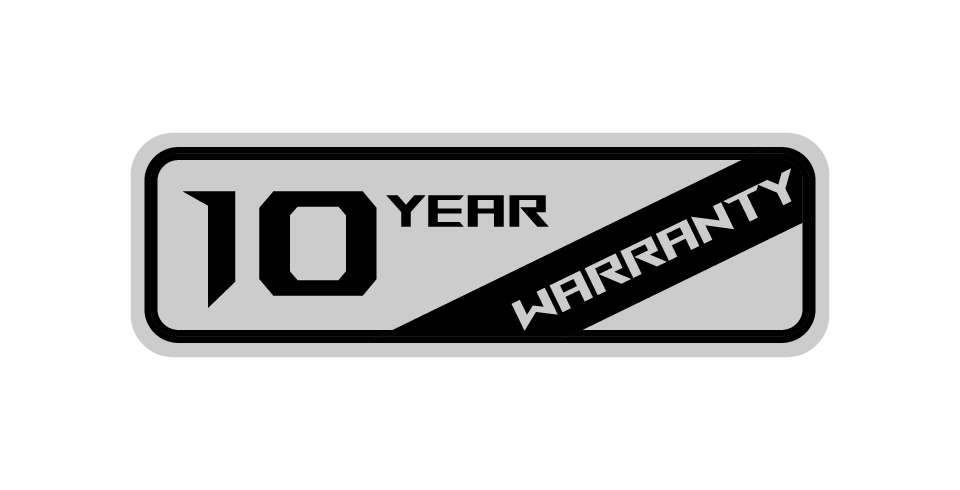 10-Year Warranty
A decade of power
We're so confident about the reliability of the ROG Strix Series PSUs that we back them with a 10-year worldwide warranty.
Related Products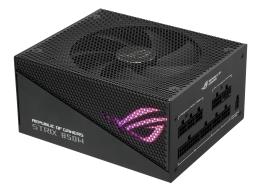 ROG STRIX 850W Gold Aura Edition
ROG Strix 850W Gold Aura Edition is a cool, quiet and powerful PSU, engineered for efficiency in striking style.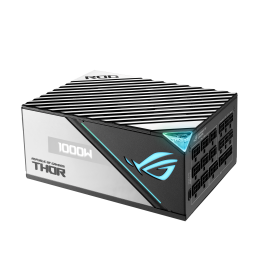 ROG Thor 1000W Platinum II
ROG Thor 1000W Platinum II is the quietest PSU in its class.
Disclaimer
Products certified by the Federal Communications Commission and Industry Canada will be distributed in the United States and Canada. Please visit the ASUS USA and ASUS Canada websites for information about locally available products.
For pricing information, ASUS is only entitled to set a recommendation resale price. All resellers are free to set their own price as they wish.
Price may not include extra fee, including tax、shipping、handling、recycling fee.
Product Comparison
Product added to comparison. Add up to 4 products or proceed to view compare products selected.
ASUS Footer