Features
Tech Specs
Awards
Gallery
Support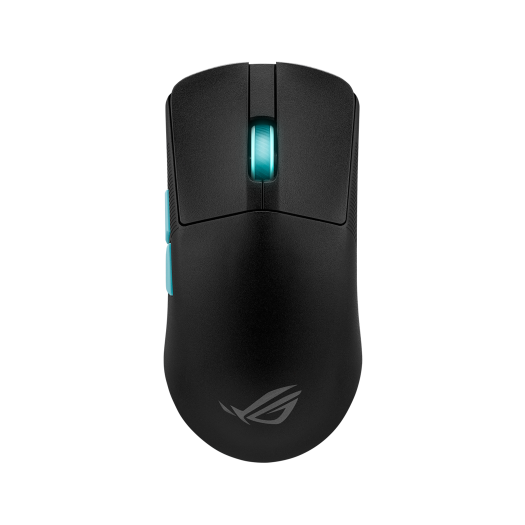 ROG Harpe Ace Aim Lab Edition
The ultra-lightweight ROG Harpe Ace Aim Lab Edition is a 54-gram wireless gaming mouse with a pro-tested form factor, 36,000-dpi ROG AimPoint optical sensor, ROG SpeedNova wireless technology, tri-mode connectivity, ROG Micro Switches, five programmable buttons, and synergy profile setting functions with the Aim Lab Settings Optimizer.
Pro-Tested Form Factor: Mouse shape co-developed with esports professionals to ensure maximum stability and control when flicking and tracking
Aim Lab Settings Optimizer: Synergistic software analyzes user strengths and play styles to tailor mouse settings uniquely to the player
Lightweight 54-gram design: Extreme weight reduction through meticulous engineering and innovative bio-based nylon material construction
ROG AimPoint optical sensor: Next-gen 36,000‑dpi optical sensor with industry-leading < 1% cpi deviation for ultimate precision
Tri-mode connectivity: Unmatched flexibility with wired USB, low-latency 2.4 GHz RF, plus Bluetooth® mode to pair up to three devices
ROG SpeedNova wireless technology: Low-latency, reliable wireless performance and optimized energy efficiency in the 2.4 GHz RF mode
Onboard control: Allows frequently used mouse settings to be adjusted directly by pressing different combinations of mouse buttons
ROG Micro Switches: Provides 70-million-click lifespan and controlled, consistent click feel
Anti-slip mouse grip tape: Assures grip and adds a bit of flair
ROG Paracord and 100% PTFE mouse feet: Quality materials facilitate smooth and fast movements
NVIDIA®Reflex: Officially verified for NVIDIA Reflex Latency Analyzer to monitor mouse responsiveness – Find out more
Video Reviews
AIM LAB made an INSANE 54g GAMING MOUSE?
These could be my new favourite ROG products.
I WAS CHALLENGED to PLAY Mouse Keyboard again after 5 years and a half of playing with a controller! ⌨️🖱️
HOW TO GET BETTER at FPS with an app (Harpe ACE Mouse by Asus ROG x AIM Lab)
【潜入】ASUS ROG 初のE-Sportsコレクション「ACE SERIES」発表会に行ってきた【自作PC】
【ASUS本気出しすぎて草】エイムの世界記録保持者が作った最強ゲーミングデバイスが発売されました。 [ROG Harpe Ace/Horn Ace AimLab Edition]
【超軽量54g】ASUS ROGとAim Labが作ったE-Sports向け、新しいゲーミングマウスとゲーミングキーボードを使ってみた【ROG Ace】【自作PC】
【軽量54g】ROGが本気で作ったEsports向ゲーミングデバイス / ROG ACE
Among the strengths of the ROG Harpe Ace Aim Lab Edition are its light weight and, on a quality level, its solidity. In fact, the build quality is fantastic and the shape is also well thought out. The level of this mouse is definitely high. The only negative note is the high price.
If you play competitive FPS games and prefer light mice, you can easily choose Asus ROG Harpe Ace Aim Lab Edition mouse and ROG Hone Ace Aim Lab Edition mouse pad.
The mouse is so light that when Asus sent the box, it looked like there was nothing in it.
The mouse is better ultraweight than Logitech's in my opinion. So for me it is the best mouse I have tested so far and also the cooperation with Aimlab will set the mouse values really well into the 5th profile of the mouse memory.
This time I tested a hot new product from ASUS. It's an ultra-lightweight ROG Harpe wireless mouse specialized for esport games. Better yet, it was developed in collaboration with AimLab.
THE ONLY CURRENT MOUSE ?! |ASUS HARPE ACE x ASUS HONE ACE AIMLAB EDITION!
Harpe Ace Aim Lab Edition is a very complex and very good gaming mouse. It offers an extremely fast and precise sensor, a small body and software that allows changing many parameters through the Armory Crate software. The small body will not suit everyone, but that makes it light for quick maneuvers.
ROG and Aim Lab have joined forces to raise the bar for esports gaming with the ROG Harpe Ace Aim Lab Edition wireless mouse. Designed for esports and aspiring gaming professionals, this ultralight 54 gram mouse includes the Aim Lab Settings Optimizer feature that measures and analyzes user performance to create the best possible combination of settings.
Product Comparison
Product added to comparison. Add up to 4 products or proceed to view compare products selected.
ROG Footer