Visión general
Especificaciones técnicas
Premios
Galería
Dónde comprar
Soporte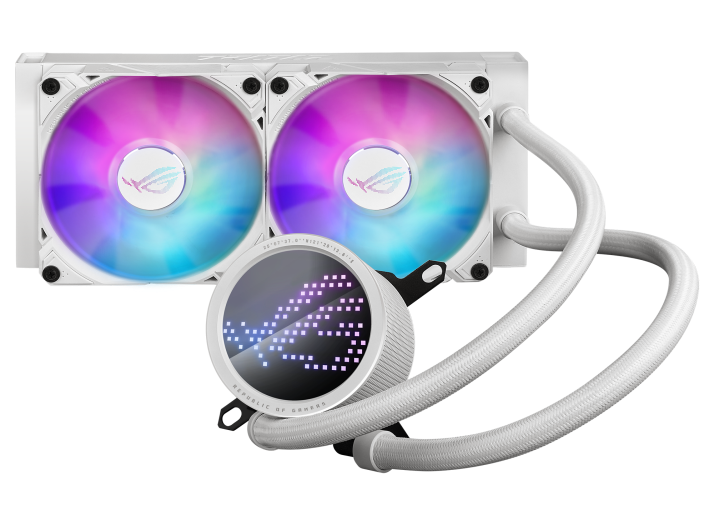 ROG RYUO III 240 ARGB WHITE EDITION
Enfriamiento de CPU líquido todo en uno ROG Ryuo III 240 white edition con solución de bomba Asetek de 8.ª generación, pantalla LED Anime Matrix™ y ventiladores ROG ARGB
La última bomba Asetek de 8.ª generación está equipada con un motor trifásico que ofrece el máximo rendimiento de refrigeración con mayor flujo y menor impedancia.
El Anime Matrix™ exclusivo de ASUS es un conjunto de mini LED que puede mostrar contenido de anime exclusivo de ROG, estadísticas del sistema central y animaciones personalizadas.
Los ventiladores premium ROG ARGB ofrecen un alto flujo de aire y niveles de ruido optimizados.
Los componentes de aluminio y el recubrimiento al vacío brindan una alta durabilidad y una estética emblemática.
La serie ROG Ryuo está diseñada para complementar las tarjetas madre ROG en el corazón de una construcción de alta gama.
Video Reseñas
ASUS' RYOU III AIOs are up there with the best AIOs that we have ever tested
The waterblock is very distinctive aesthetically and extremely functional. I really liked the fans, I must admit that you can see that they have treasured the collaboration with Noctua for build quality, solidity and aesthetics. They are very performant both at full speed and idle.
The AniMe Matrix LED screen is a convenient addition, but as we wrote before, it is not of crucial importance. However, there are definitely users who will like it a lot because it can show different animations and information, and perhaps the most interesting ones are about hardware temperatures. In addition, the Armory Crate software can be synchronized with other Asus hardware and adjusted to your own preferences.
CALIFICACIONES DE CLIENTES
Comparación de productos
Producto agregado a la comparación. Agregue hasta 4 productos o continúe para ver los productos seleccionados.
ASUS Footer