Nie masz żadnych produktów w koszyku.
Funkcje
Specyfikacja
Nagrody
Galeria
Wsparcie klienta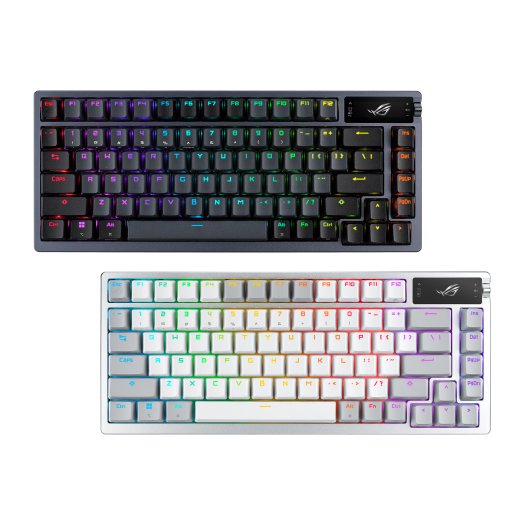 ROG Azoth
Klawiatura gamingowa ROG Azoth o formacie 75%, instalacja na uszczelkach, trzywarstwowa pianka tłumiąca i metalowy panel górny, zaawansowane możliwości konfiguracji – z fabrycznie nasmarowanymi przełącznikami mechanicznymi ROG NX z możliwością wymiany podczas pracy, stabilizatorami klawiatury ROG, nasadkami klawiszy wykonanymi z tworzywa PBT w procesie podwójnego wtrysku i zestawem do smarowania, ponadto trzy tryby połączenia z technologią SpeedNova 2,4 GHz, wyświetlacz OLED, trzydrożne pokrętło do sterowania, trzy kąty nachylenia i obsługa komputerów Mac
Wyjątkowy system instalacji na uszczelkach: instalacja na silikonowych uszczelkach wraz z trzema warstwami pianek tłumiących zapewnia niezrównane wrażenia podczas pisania.
Trzy tryby połączeń: możesz skorzystać z technologii Bluetooth®, aby sparować z jednocześnie trzema urządzeniami i przełączać miedzy nimi, użyć technologii bezprzewodowej ROG SpeedNova zapewniającej nawet ponad 2000 godzin rozgrywki z niskim poziomem opóźnień w trybie połączenia bezprzewodowego RF 2,4 GHz (z wyłączonym oświetleniem OLED i RGB), czy też podłączyć za pomocą standardowego połączenia przewodowego przez USB
Wyświetlacz OLED i intuicyjne opcje sterowania: możesz sprawdzać informacje dotyczące pracy systemu i ustawienia klawiatury, a wbudowane trzydrożne pokrętło umożliwia szybkie dostosowanie ustawień.
Mechaniczne przełączniki ROG NX z możliwością wymiany podczas pracy urządzenia: przełączniki są fabrycznie nasmarowane, co zapewnia bardziej płynny proces klikania i eliminuje odgłosy odbijania klawisza. Ponadto szybka aktywacja i dostrojone przez ROG krzywe siły wymaganej do aktywacji gwarantują doskonałe wrażenia i spójność procesu naciskania klawiszy.
Lepsze wrażenia podczas pisania: dzięki fabrycznie nasmarowanemu stabilizatorowi klawiatury zmniejsza się tarcie, co zapewnia bardziej płynny proces naciskania klawiszy i stabilność dłuższych klawiszy. Wytrzymałe nasadki klawiszy ROG doubleshot PBT gwarantują wrażenia sprzętu wysokiej jakości.
Zestaw do smarowania przełączników: w zestawie zawarte są podstawowe elementy, w tym smar Krytox™ GPL-205-GD0, ułatwiające początkującym użytkownikom samodzielne dostosowanie klawiatury
Ergonomiczna konstrukcja: dwie pary nóżek o różnych wysokościach umożliwiają trzy różne kąty nachylenia.
Obsługa MacOS: łatwe przełączanie między trybami Windows i MacOS
Recenzje wideo
The most powerful keyboard in the world + fastest mouse / Rog Harpe Ace + Rog Azoth
75% Keyboard with OLED Display!
ROG Azoth Review - 2,000 Hours Of Battery Life?!
This Might Be Our Favorite 75% Keyboard Yet #shorts
This is one hell of a keyboard!
ROG Azoth Unboxing (ASMR) #shorts
I Made The New ASUS Keyboard Better.
With the ROG Azoth mechanical custom gaming keyboard, customising your keyboard has never been easier. Decide for yourself which switches you want to use and how "Thock" your keyboard will be.
Kabellose Custom Gaming-Tastatur: Asus ROG Azoth im Hands-On #ces2023
I WAS CHALLENGED to PLAY Mouse Keyboard again after 5 years and a half of playing with a controller! ⌨️🖱️
Asus ROG is entering the world of custom mechanical keyboards for the first time with their Asus ROG Azoth which is a customizable gaming keyboard in 75% format and wireless! For a brand specialized in gaming that decides to venture into an unknown territory, a bold move!
ASUS ROG: I tested the ultimate keyboard/mouse kit for gamers
Very surprised that ROG took this approach to enter the customizable mechanical keyboard market.
The Asus ROG Azoth could just be Asus' most refined pre-built keyboard yet. Packed with some features typically found on custom keyboards, the Azoth even has an OLED display on the top right corner.
This is our take on the newly launched ASUS ROG Azoth 75% Mechanical Keyboard which is hot swappable, wireless and luxurious. There are sound tests at the end of the video, the Oil Kings are further modded with the tempest tape mod besides being filmed and lubed.
This is the lightest mouse I have reviewed with amazing performance while gaming and doing productivity tasks
異常な拘り。狂気に満ちたキーボード、ROG Azothを紹介するぞ!静音性・打鍵感への追及も最高レベル。しかも分解できるキーボード!?やりたい事全部セットキーボード、誕生。
【競合不在】最近はピカピカ光るキーボードよりもこういうデバイスに惹かれるようになってきました。|ASUS ROG Azoth
【分解する】便利な機能も全部盛り!DIYツール付き75%キーボード【ROG Azoth】
【潜入】ASUS ROG 初のE-Sportsコレクション「ACE SERIES」発表会に行ってきた【自作PC】
公式が分解推奨?分解が最高に楽しそうなキーボード ASUS ROG AZOTH を買ってみたので開封分解配信をやってみる!【新製品】【商品レビュー】
Gaming Keyboard Freedom to Custom Accurate response with ROG NX
Gaming Keyboard Freedom to Custom Accurate response with ROG NX
The New ROG Gaming Gear Good design and Accurate response
Here is the ROG Azoth, a keyboard that went beyond my expectations. It takes a lot from the world of custom keyboards and adds a lot of gaming features like the small monitor and wireless connectivity. I look at this keyboard from a gamer's perspective, it has its flaws but I consider it a good keyboard and a cool one. The price is a bit high but justified for the performance and build.
The ROG SWIFT PG259QN 360HZ is a top-of-the-line monitor with excellent performance. In fact, what is excellent is not only the image quality but the monitor also passed the color texture test.
This is a gaming keyboard. Overall, it is a good keyboard, targeting a specific audience, ROG enthusiasts. The switch sound is not bad for commercial use, but the stabilizers are unconvincing in both sound and tactile feedback. Strengths include the triple connectivity and the Oled screen, which provides a good experience. An additional strength is the accompanying keyboard kit for its care and customization.
ASUS accessories just keep getting better - and the company has decided to offer us the ultimate gaming keyboard. That means not only the best materials, but a fully modular design and a mountain of accessories that let you tweak your keyboard literally down to the last switch!
ROG Azoth detachable keyboard | Ryzen 7 7800X3D in action!
An incredible gaming keyboard.
ASUS ROG Azoth Review | ASUS Flagship. TOP 75% Gaming Wireless Mechanical Keyboard
Crime Boss 💰🚔 Gang game experience
The strongest modification and dye keyboard and the result is shocking !! Rog Azote
Video review from the channel ASUS ROG CIS
Video review from the channel Starlinecomp
Video review from the channel Warkey
Porównanie produktów
Produkt został dodany do porównania. Dodaj maks. 4 produkty lub wyświetl porównanie wybranych produktów.
ASUS Footer