Features
Tech Specs
Awards
Gallery
Where to Buy
Support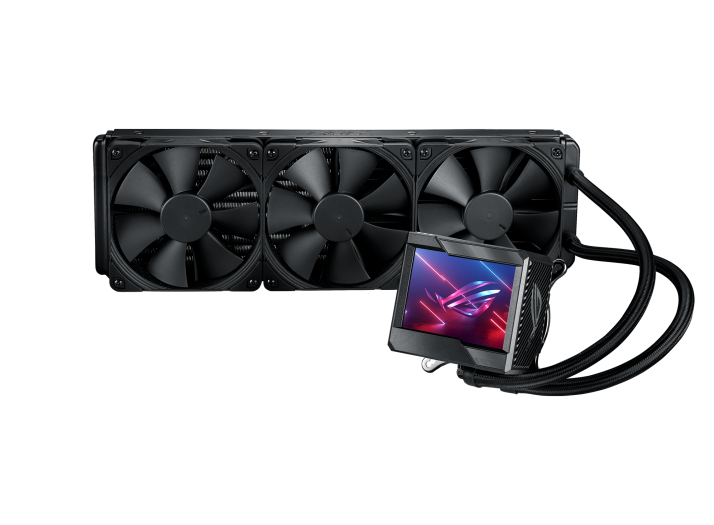 ROG RYUJIN II 360
ROG Ryujin II 360 all-in-one liquid CPU cooler with 3.5" LCD, embedded pump fan and 3x Noctua iPPC 2000 PWM 120mm radiator fans
Seventh Gen Asetek pump delivers exceptional cooling and minimal noise with an operating range starting at 840 rpm.
3.5" LCD Display for real-time system stats and personalized logos or animations
Quality Noctua Industrial PPC PWM fans deliver high airflow and minimal noise
Pump embedded fan that helps to cool VRM and M.2 area
Reinforced, sleeved tubing for increased durability
Styled to complement ROG motherboards, at the center stage of your build
Video Reviews
Ultimate $5000 Gaming Setup 2022! [ASUS PG48UQ, RTX 3090, Peripherals & More!]
For those who are planning to do some overclocking, the fan near the pump helps with cooling the VRM. Generally ASUS seems to have a dynamic line-up for most people.
Display in PC: unique style thanks to ROG Ryujin II
ASUS ROG RYUJIN II 360 - What a piece!!!
First look at Z690 and DDR5 !
The best gaming processor ?
I build a 5000€ Gaming PC !
WE REMAKE YOUR GAMING ROOM ! (ft. Guillaume)
I offer him a 4200€ GAMING PC
Holy smokes, they sent some cool stuff.
First attempt in ASMR, unboxing the new ASUS ROG Ryujin II 360 AIO CPU Cooler.
Have you checked out Zizan Razak 's latest all ROG PC build lately!? 🤩 If you haven't, click on the link and admire this absolute beauty of a build!
【Huan】 Intel你終於回來了!! 當今最強的遊戲處理器: i9-12900K feat. ROG MAXIMUS Z690 HERO&CORSAIR DOMINATOR PLATINUM
新世代 AMD Ryzen 9 7950Xがついに降臨!! いろんな意味でアツい!! [超猫拳]
AMD最後のラスボス!Zen3最強ゲーミングCPU? 強いのはFPSだけじゃない!Ryzen 7 5800X3D [超猫拳]
ASUSの提供で「Ryzen 9 7950X」をもらう生粋のインテル信者の動画です。
ASUS ROG RYUJIN II 360 Review [Simple Water-Cooling] [Homebrew PC] Air-Cooled 12900K with 360mm Water-Cooler! ASUS ROG RYUJIN II 360 Review [Simple Water Cooling
150Wで最強になるCPU「Ryzen 9 7950X」
Standar Middle-Budget Terbaru? - Intel Core i5 12600K
By far the best of all worlds, packed into this in this water cooler that deserves three awards.
A great addition to everything is the fan built into the base of the cooler, above the pump itself, which ensures that the section, which of course rests on the processor itself and suffers large amounts of heat, is also perfectly cooled during its lifetime.
Product Comparison
Product added to comparison. Add up to 4 products or proceed to view compare products selected.
ASUS Footer