Features
Tech Specs
Awards
Gallery
Where to Buy
Support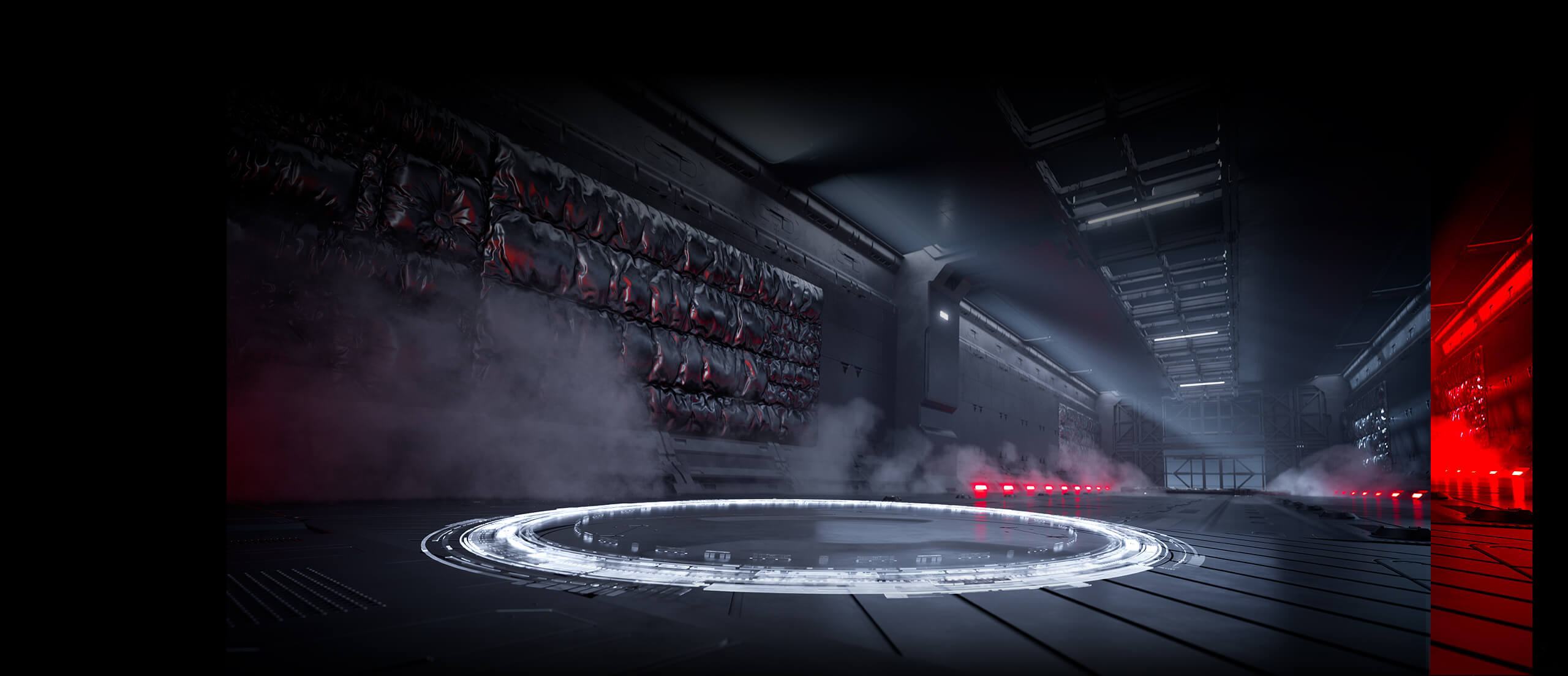 Unrivalled Speed and Precision
Rule over the battlefield with the ROG Chakram X gaming mouse. Its 36,000 dpi optical sensor and 8000 Hz polling rate give you unmatched precision, and superior control is at your fingertips with seven buttons and a 4-directional joystick. Take the ROG Chakram X gaming mouse in hand ― and be a force to be reckoned with. Product Video
Precision.
Performance.
Perfection.
The new ROG AimPoint optical sensor on the ROG Chakram X tracks your every movement with unrivalled precision at sensitivity levels ranging from 100 to 36,000 dpi. It registers movement at speeds of up to 650 inches per second (ips) at up to 50 g acceleration, so your strikes are swift and effective. Carve your path to victory with industry-leading < 1% CPI deviation and up to an 8000 Hz polling rate*.
*8000 Hz polling rate only available in wired mode.
36,000 DPI RESOLUTION

650 IPS MAX SPEED

8000 HZ POLLING RATE
Tri-Mode Connectivity
Connect the ROG Chakram X any way you want: go with the ultrafast wireless RF 2.4 GHz mode, pair up to three devices with Bluetooth® fast pairing technology, or fast-charge while dominating a game with the wired USB mode.
Bluetooth

Wired USB

RF 2.4 GHz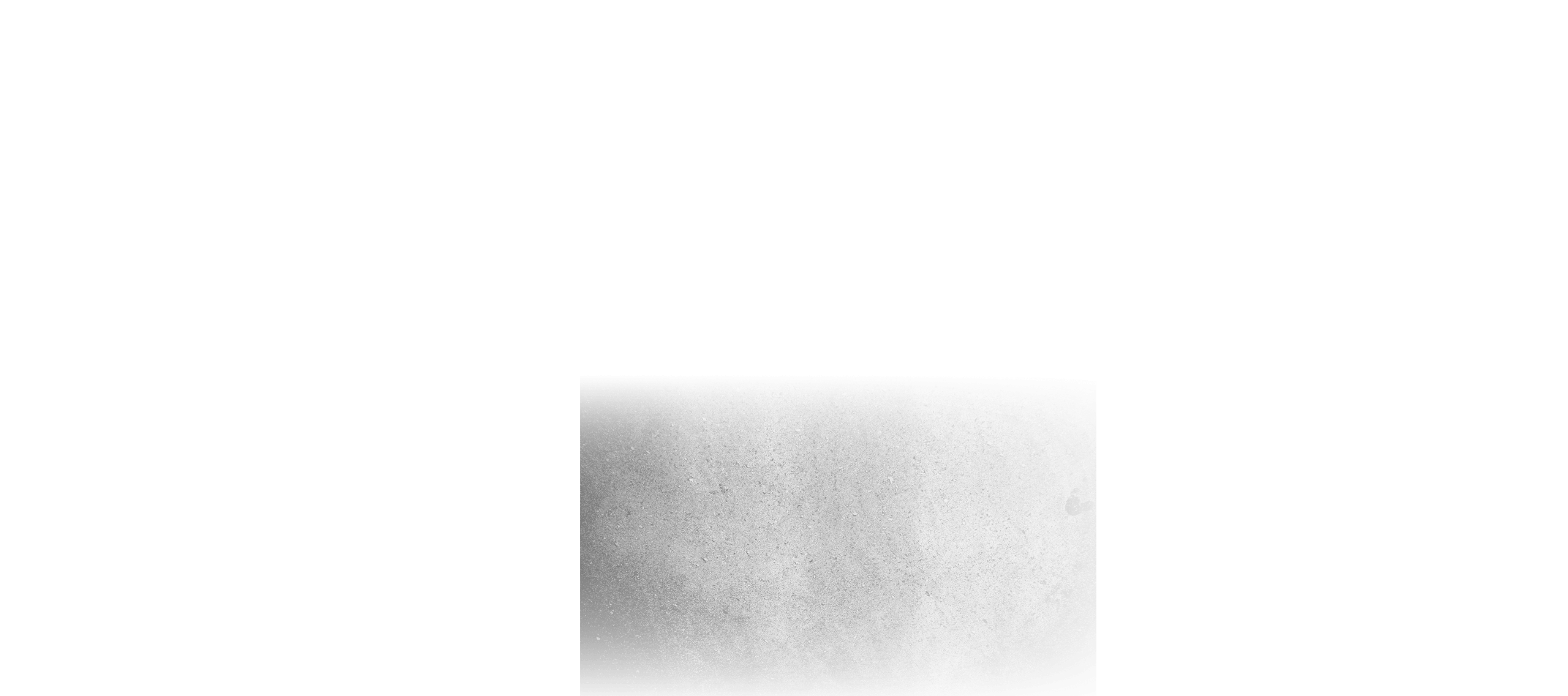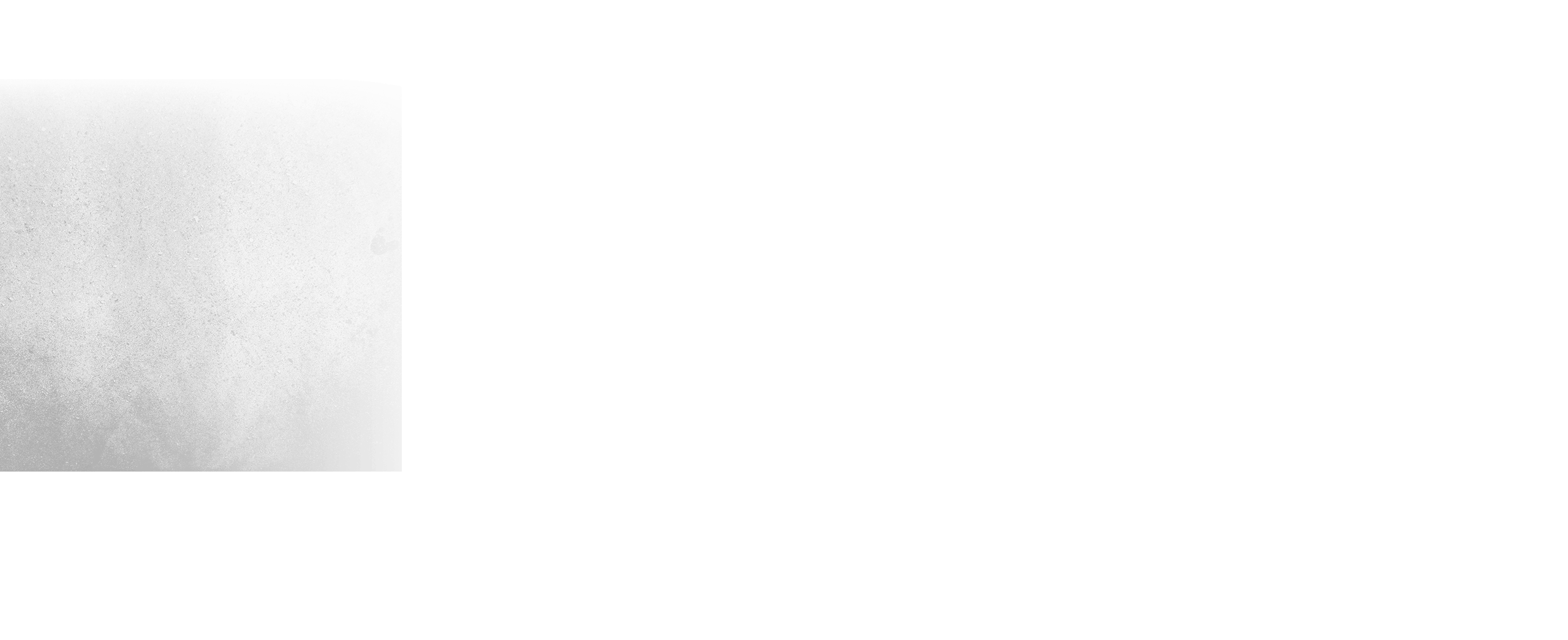 New Programmable Joystick
The new joystick* design featured on the ROG Chakram X lets you offload keyboard commands to your right hand, and can be used in analog or digital mode to suit your play style. This larger joystick has a concave shape and is repositioned closer to the palm for better reach and control.
ANALOG MODE

DIGITAL MODE

CUSTOMIZABLE
Analog mode simulates a real analog joystick or gamepad thumbstick, making it possible to roam the gaming worlds with one hand. Climb, dive or run with the slightest movement of your thumb.

Digital mode turns the joystick into a button with four programmable directions, so it's perfect for commands to reload, switch weapons, tilt, talk, summon a map, scroll web pages or to set almost any other action.

Both a long and a short joystick are included to accommodate different hand shapes and play styles. For times when the stick isn't needed, simply remove it and fit the included socket cover for a flush finish.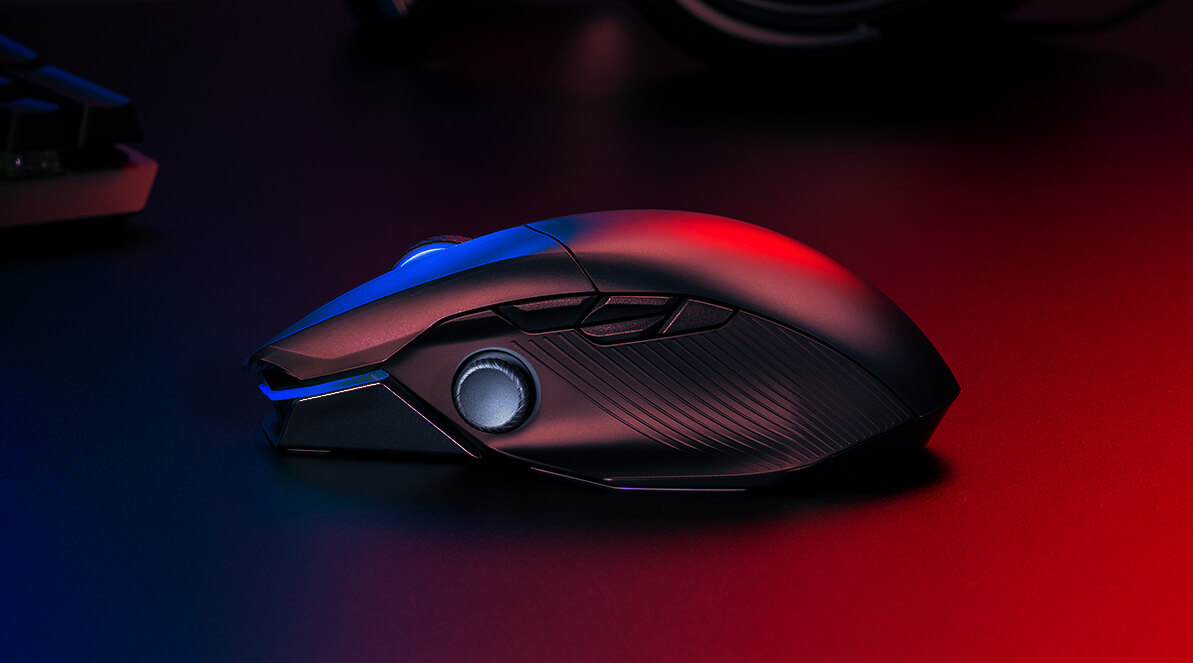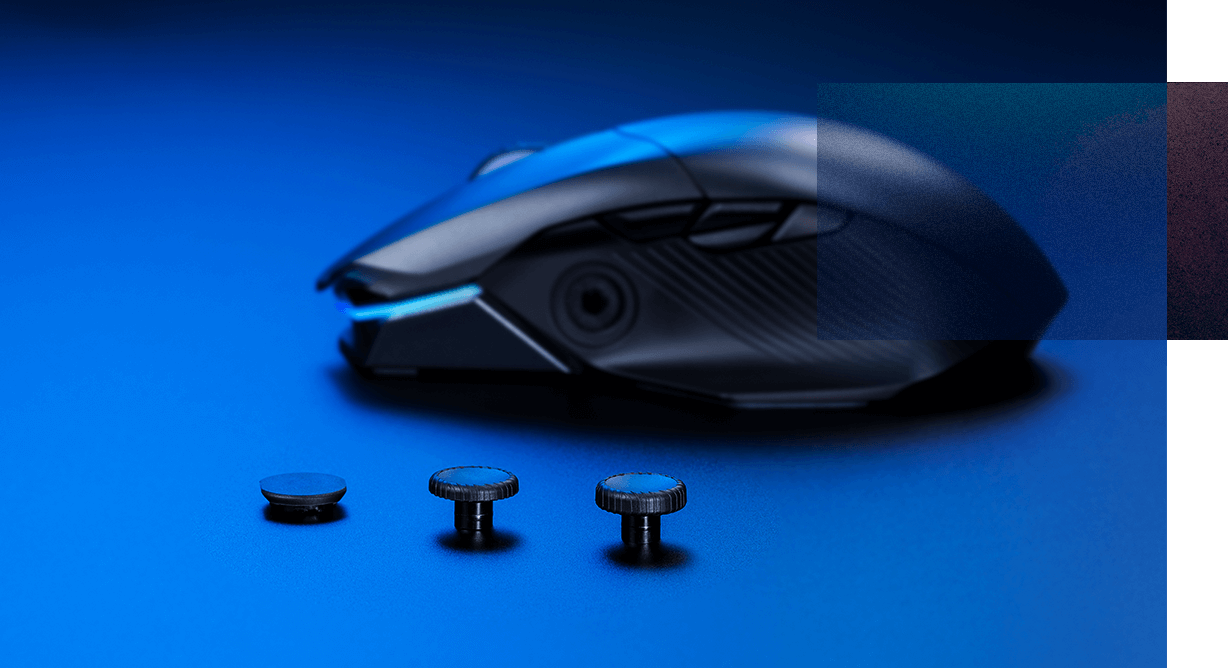 Joystick Installing Steps
1Choose your joystick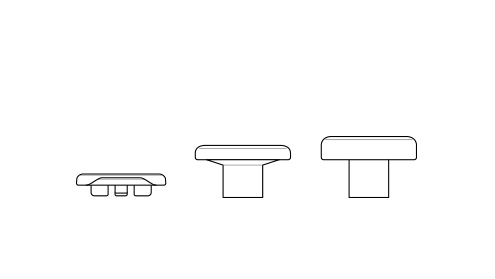 2Ensure the hole is vertical before installing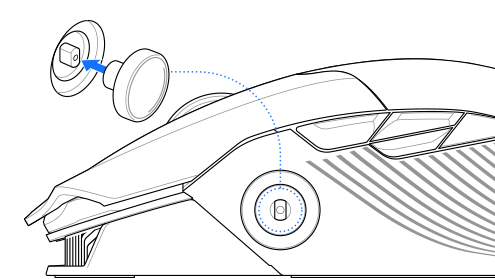 3Align and push into place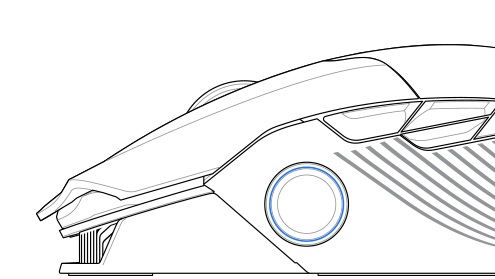 Note: For smooth installation and to avoid damage, please ensure correct orientation when inserting the joystick into the socket.
More Commands at Your Fingertips
Program up to 11 functions on the ROG Chakram X for tactically customized controls for different games or tasks. You can also save up to five profiles on the onboard memory for personalized settings wherever you go.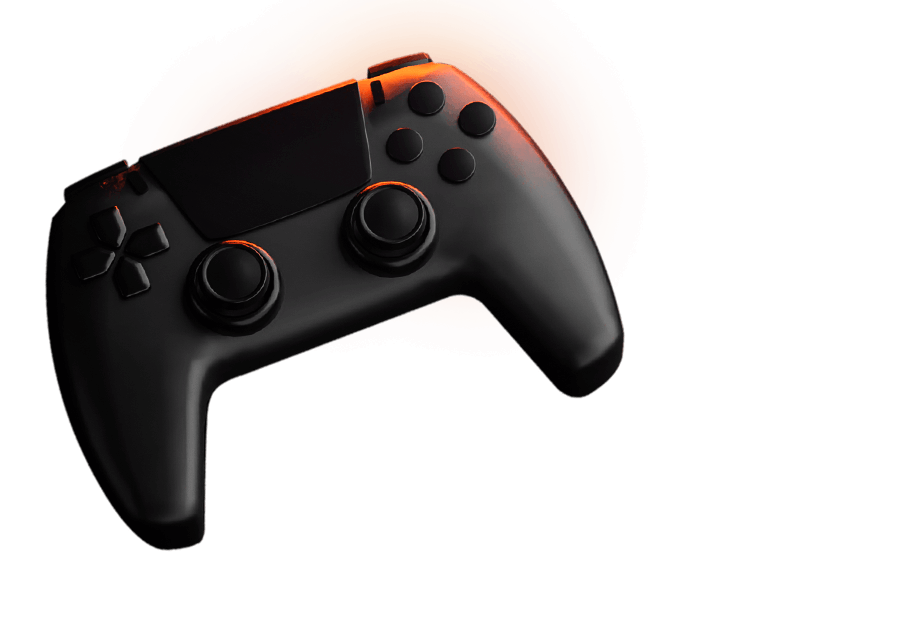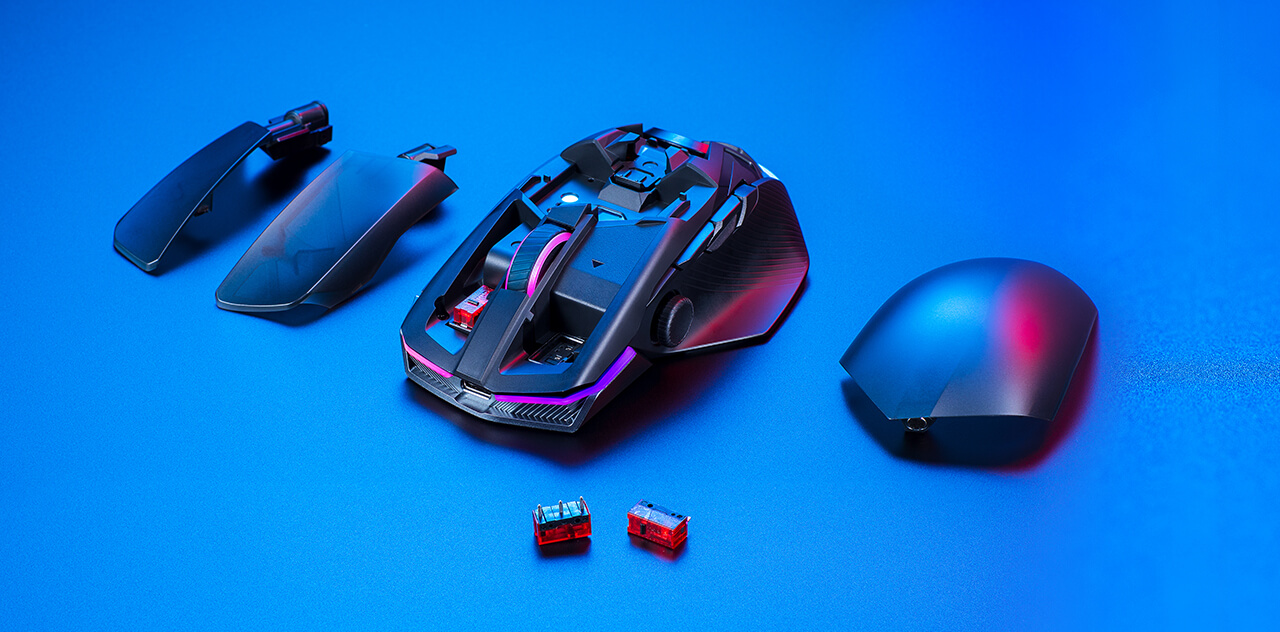 Push-fit Switch Socket II
The ROG-exclusive push-fit switch socket design makes it easy to drop in 3-pin mechanical switches or 5-pin optical micro switches — so you can tailor operating force and feedback to preference, or replace worn or broken switches.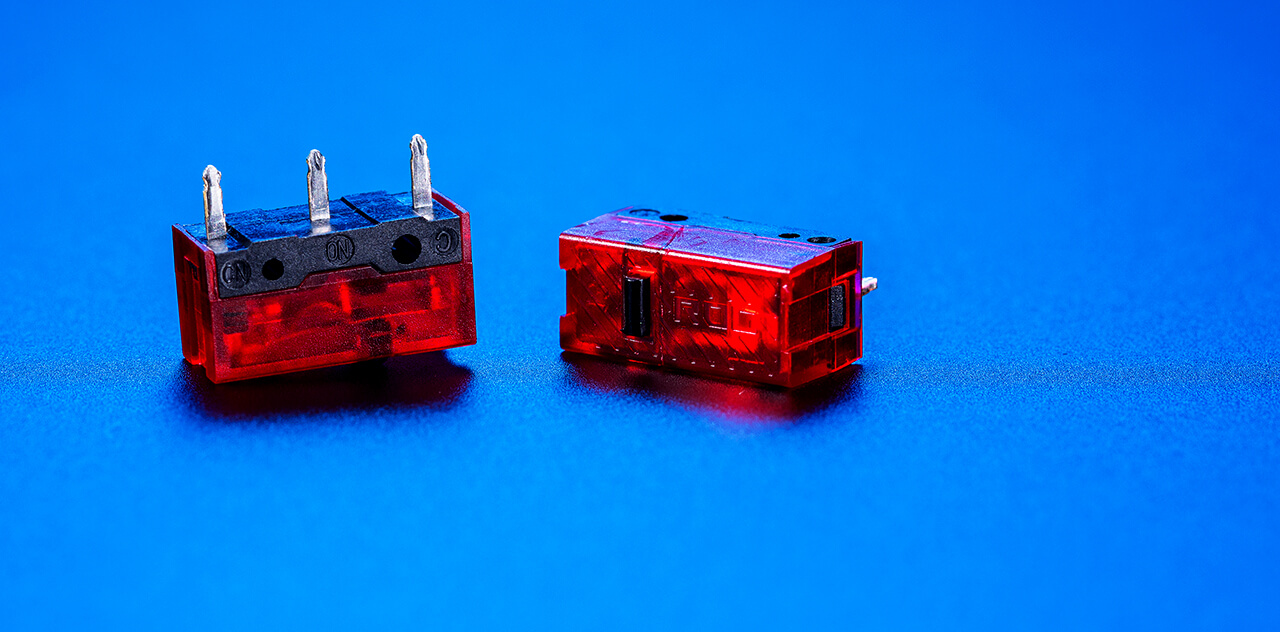 Superb Click Feel
The ROG Micro Switch features a 70-million-click lifespan and a gold-plated electro-junction to improve durability. The pivoted button mechanism of the Chakram X ensures superb speed, responsiveness and consistency for the very best performance.
1
2
3
4

DPI On-the-scroll
The DPI On-The-Scroll feature enables on-the-fly mouse sensitivity adjustments. Alternatively, you can click the button to cycle through up to four different DPI levels.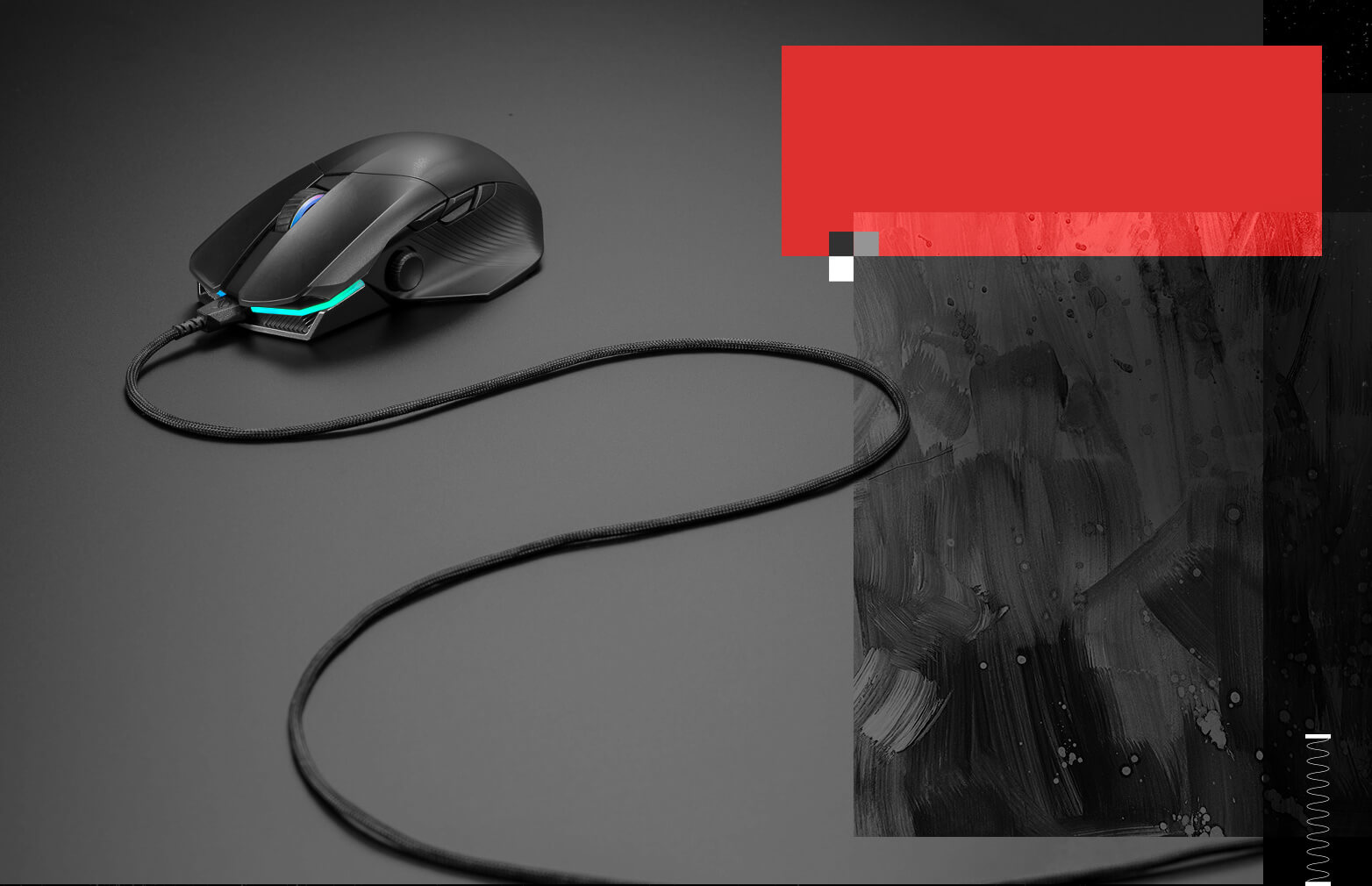 Smooth and Fast Glide
The ROG Chakram X is equipped with the extremely flexible and lightweight ROG Paracord to minimize drag and snags, plus 100% PTFE mouse feet to provide an ultra-smooth glide.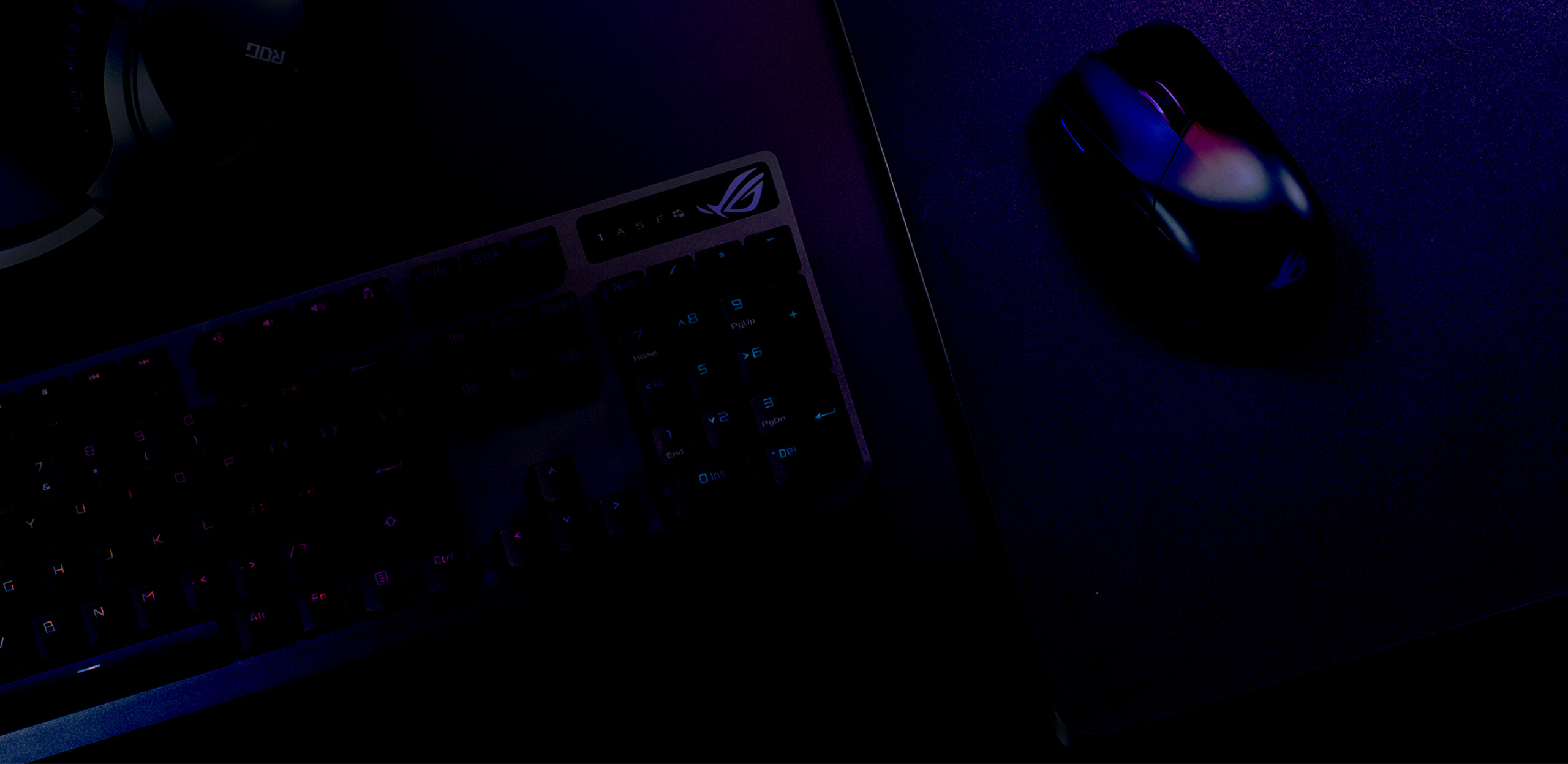 Versatile Charging Options
Charge up the Chakram X when playing with a wired connection, or via Qi wireless charging.
FAST CHARGING*

QI CHARGING

EXCEPTIONAL BATTERY LIFE
USB-C charging gives you up to 25 hours of gameplay from just a 15-minute fast charge.

*Requires USB 3.0 connector or applicable power adapter.

Charge wirelessly with a Qi-compatible charging surface, such as the ROG Balteus Qi RGB gaming mouse pad.

The ROG Chakram X offers exceptional battery life of up to 114 hours on a full charge, making you an unstoppable force through days of gameplay.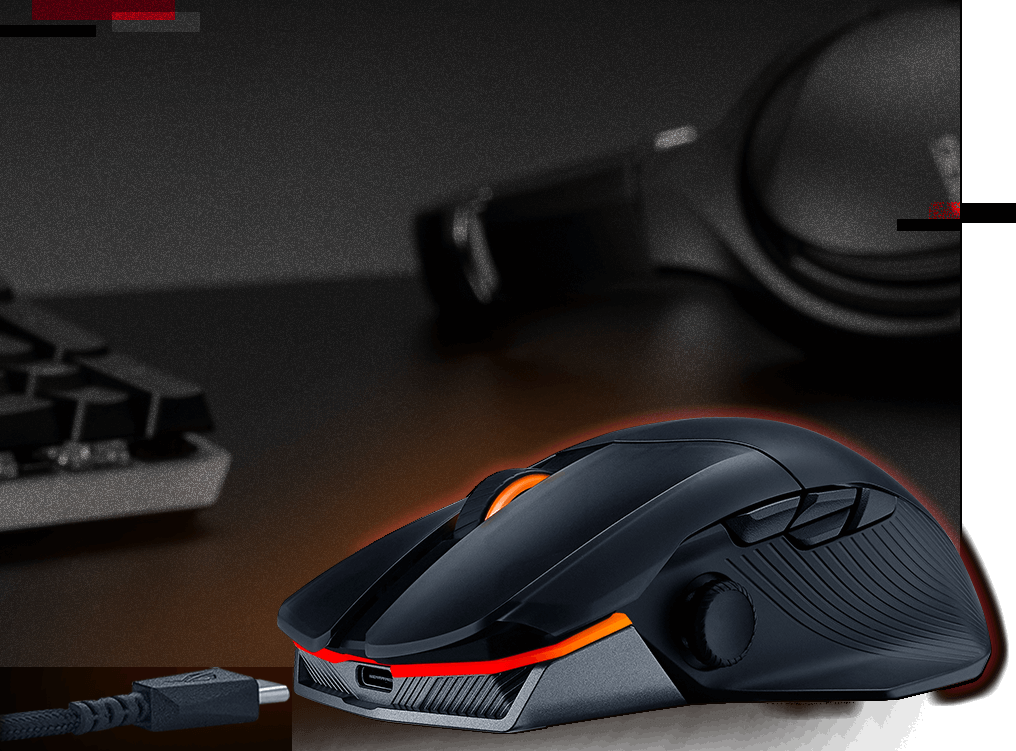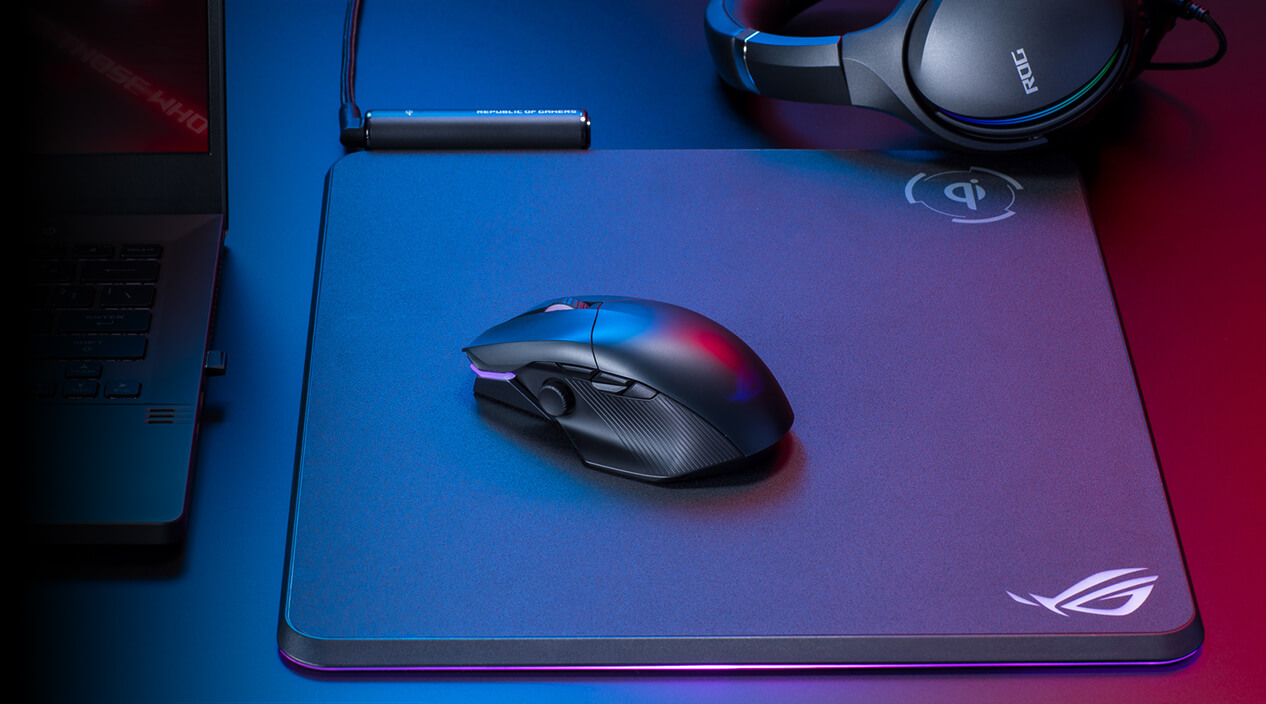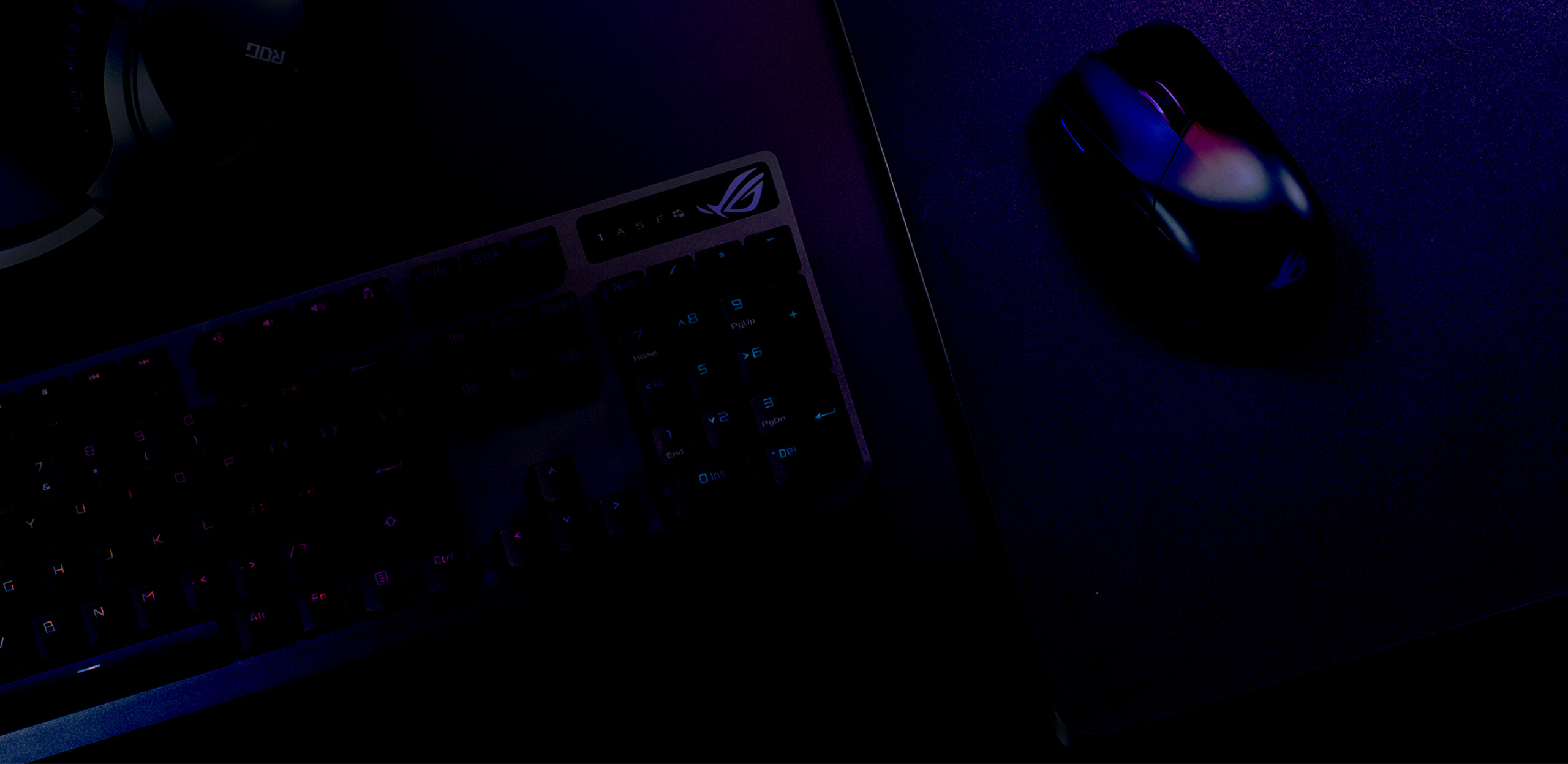 Easy. Effortless. Exclusive.
The ROG Chakram X features screw-less magnetic buttons and top cover for easy access, giving you the freedom to customize click feel or insert a personalized insignia.

1

Screw-less Magnetic Buttons

The mouse buttons also detach magnetically, enabling fast access to the swappable switches without a screwdriver.

2

Exclusive Push-Fit Switch Socket

It takes just a moment to hot swap the switches, making it easy to drop in ones that fit your preferred operating force and feedback, and replace worn or broken switches to extend lifespan.

3

Screw-less Magnetic Cover

The detachable magnetic top plate slides off quickly and easily, no tools required.

4

Customizable Badge

The ROG logo is proudly displayed and we've also included a customizable blank badge, ready for you to make your ROG Chakram X truly unique.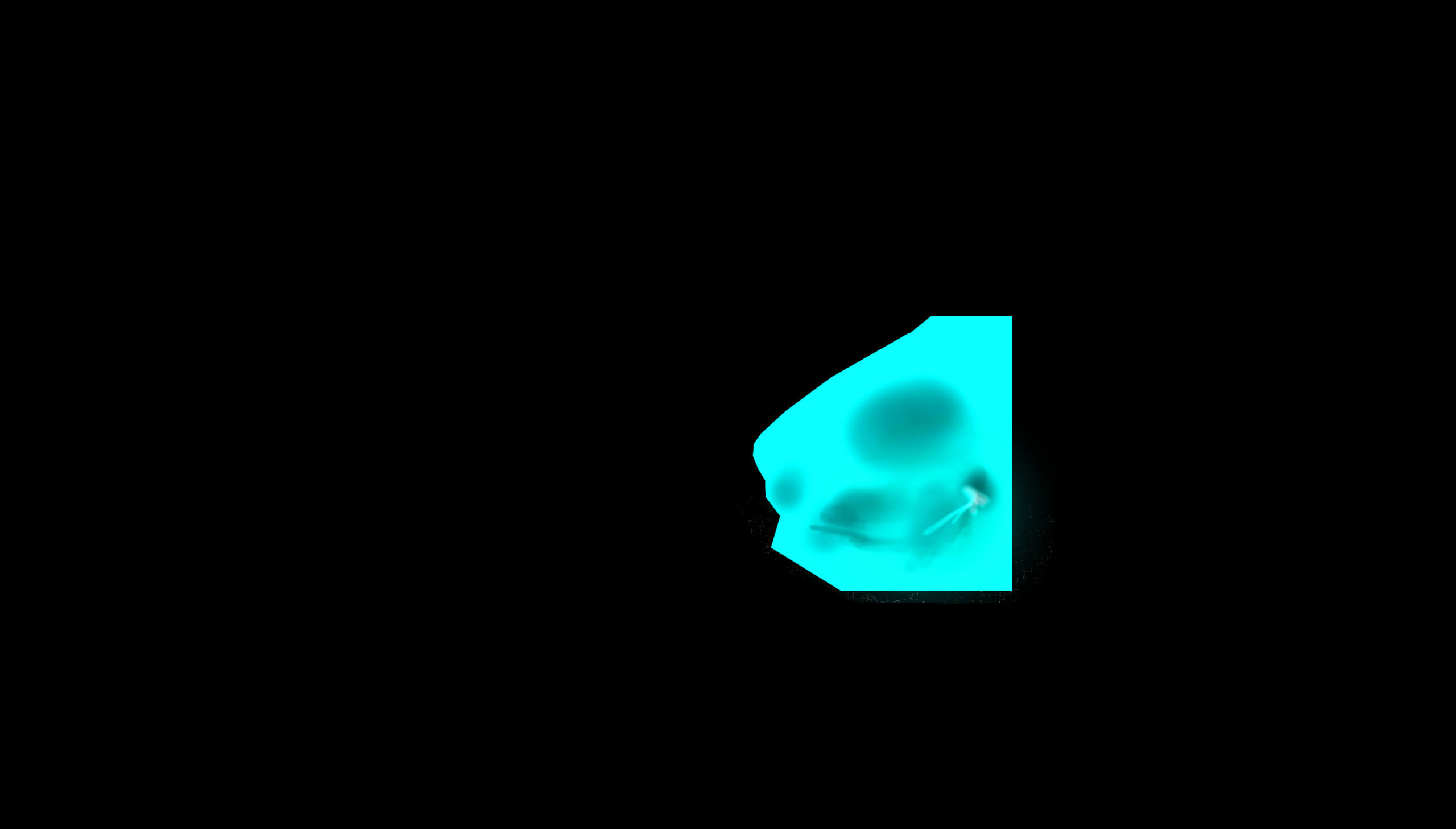 Aura Lighting
Take style to the next level with Aura Sync RGB lighting. Fully customize the nine lighting zones of your Chakram X gaming mouse using an endless spectrum of colors or preset effects.
STATIC

BREATHING

COLOR CYCLE

REACTIVE

RAINBOW

COMET

PARTITION

BATTERY MODE
Armoury Crate
Armoury Crate's intuitive UI lets you easily tune the ROG Chakram X to suit your play style. Adjust performance and surface calibration settings, program and map buttons, customize lighting effects, and more.

Compare the ROG Chakram Series
ROG Chakram X

ROG Chakram

ROG Chakram Core

Connectivity

Wireless RF 2.4 GHz

Bluetooth LE (up to 3 paired devices)

Wired USB

Wireless RF 2.4 GHz

Bluetooth LE (1 paired device)

Wired USB

Wired USB

Sensor

Optical (<1% Deviation)

Optical

Optical

Max DPI / Speed / Acceleration

36,000 DPI / 650 IPS / 50 g

16,000 DPI / 400 IPS / 40 g

16,000 DPI / 400 IPS / 40 g

Polling Rate

8,000 Hz (wired) / 1,000 Hz (RF) / 250 Hz (BT)

1,000 Hz (wired) / 1,000 Hz (RF) / 125 Hz (BT)

1,000 Hz

Programmable Joystick

360 degree analog mode

4 directional digital mode

360 degree analog mode

4 directional digital mode

360 degree analog mode

4 directional digital mode

Programmable Buttons

11
(7 + 4 digital buttons on joystick )

9
(5 + 4 digital buttons on joystick )

9
(5 + 4 digital buttons on joystick )

Dedicated DPI Button

2, 3, 4 levels adjustable

4 levels

4 levels

Exclusive Push-Fit Switch Socket Design

Push-Fit Socket II
(Mechnical / Optical)

Yes
(Mechanical)

Yes
(Mechanical)

RGB Lighting

9-zone RGB

3-zone RGB

2-zone RGB

Cable Type

Detachable 2.0 m Paracord cable

Detachable 1.8m USB cable

1.8 meter braided USB cable

Weight

127g (Excluding cable)

122g (Excluding cable)

97g/111g (with adjustable weight)

Battery Life

114 hrs (RF) / 150 hrs (BT)

79 hrs (RF) / 101 hrs (BT)

-

Armoury Crate support under BT

Yes

No

-

Joystick support under BT

Yes

No

-

Independent X-Y DPI Adjustment

Yes

No

No

Onboard Memory Profiles

5

3

3

Joystick Compatibility Mode

Yes (Wired & USB only)

No

No

Mousepad Calibration

Yes

No

No
8000 Hz polling rate only available in wired mode. Some games may not support polling rate above 1000 Hz.
NVIDIA Reflex Latency Analyzer supports 1000 Hz polling rate.
Some functions such as macros, Stealth, and Rapid-Fire cannot be saved onto onboard memory. Onboard memory does not support macros and Windows shortcuts.
Fast charging the Chakram X requires a USB 3.2 port or applicable power adapter.
Related Products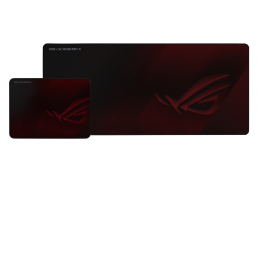 ROG Scabbard II gaming mouse pad (medium and extended sizes) with protective nano coating for a water-, oil-and dust-repellent surface, with anti-fray, flat-stitched edges and a non-slip rubber base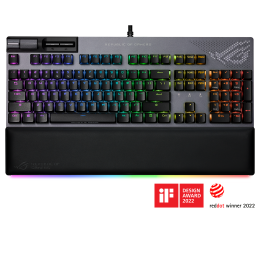 ROG Strix Flare II Animate
ROG Strix Flare II Animate gaming mechanical keyboard with AniMe Matrix™ LED display, 8000 Hz polling rate, ROG NX mechanical switches or Cherry MX switches, swappable switches, metal media controls,and a wrist rest with light diffuser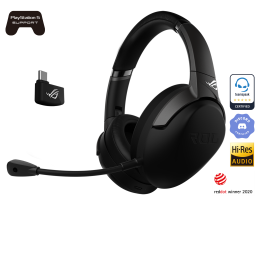 ROG Strix Go 2.4 is a USB-C® 2.4 GHz wireless gaming headset equipped with an included 3.5 mm cable and an AI Noise-Canceling Microphone that provides low-latency performance across PC, Mac, Nintendo Switch™, PS5 and smart devices.
Disclaimer
Products certified by the Federal Communications Commission and Industry Canada will be distributed in the United States and Canada. Please visit the ASUS USA and ASUS Canada websites for information about locally available products.
For pricing information, ASUS is only entitled to set a recommendation resale price. All resellers are free to set their own price as they wish.
Price may not include extra fee, including tax、shipping、handling、recycling fee.
Product Comparison
Product added to comparison. Add up to 4 products or proceed to view compare products selected.
ASUS Footer