No tienes productos en tu cesta.
Visión general
Especificaciones técnicas
Premios
Galería
Soporte
Cualquier juego, en cualquier lugar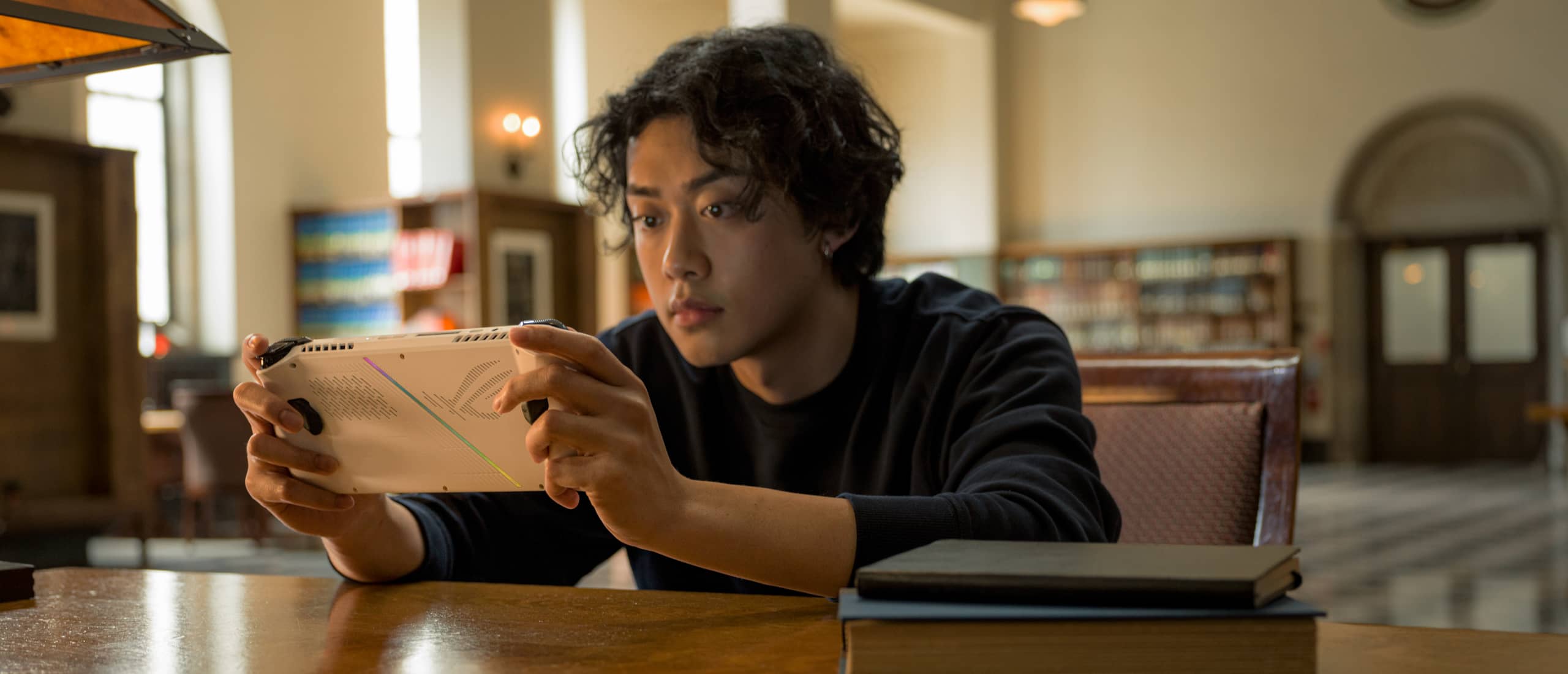 Ahora me toca a mí:
un mundo gaming en tus manos
Sumérgete de lleno en tus juegos AAA o indie favoritos y deja que el tiempo vuele gracias a una amplia pantalla Full HD de 120 Hz y una ergonomía increíblemente cómoda.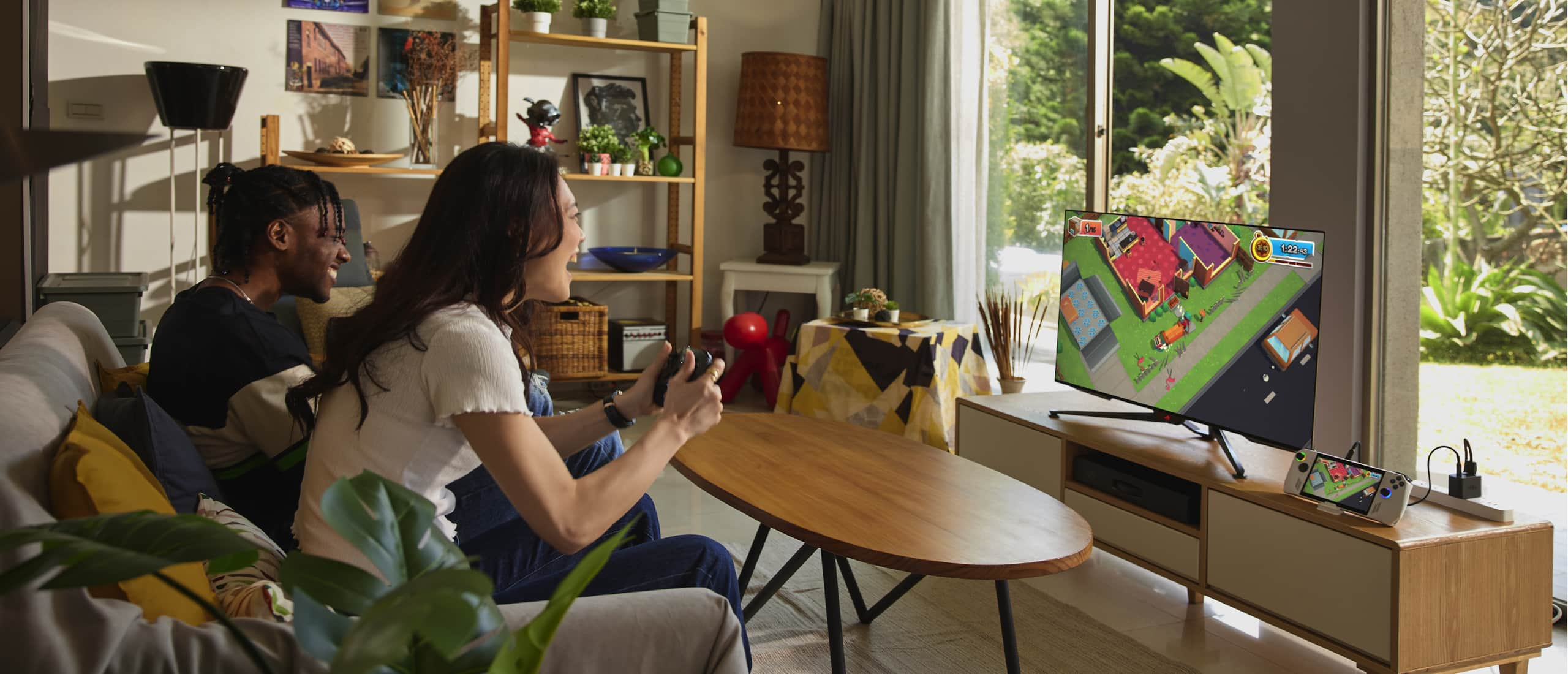 Ahora nos toca a nosotros:
Sistema de entretenimiento en casa
Ahora nos toca a nosotros: sistema de entretenimiento en casa Para compartir la diversión, conecta la consola a un televisor, empareja varios mandos y transforma al instante la Ally en un dispositivo gaming de sofá excepcional.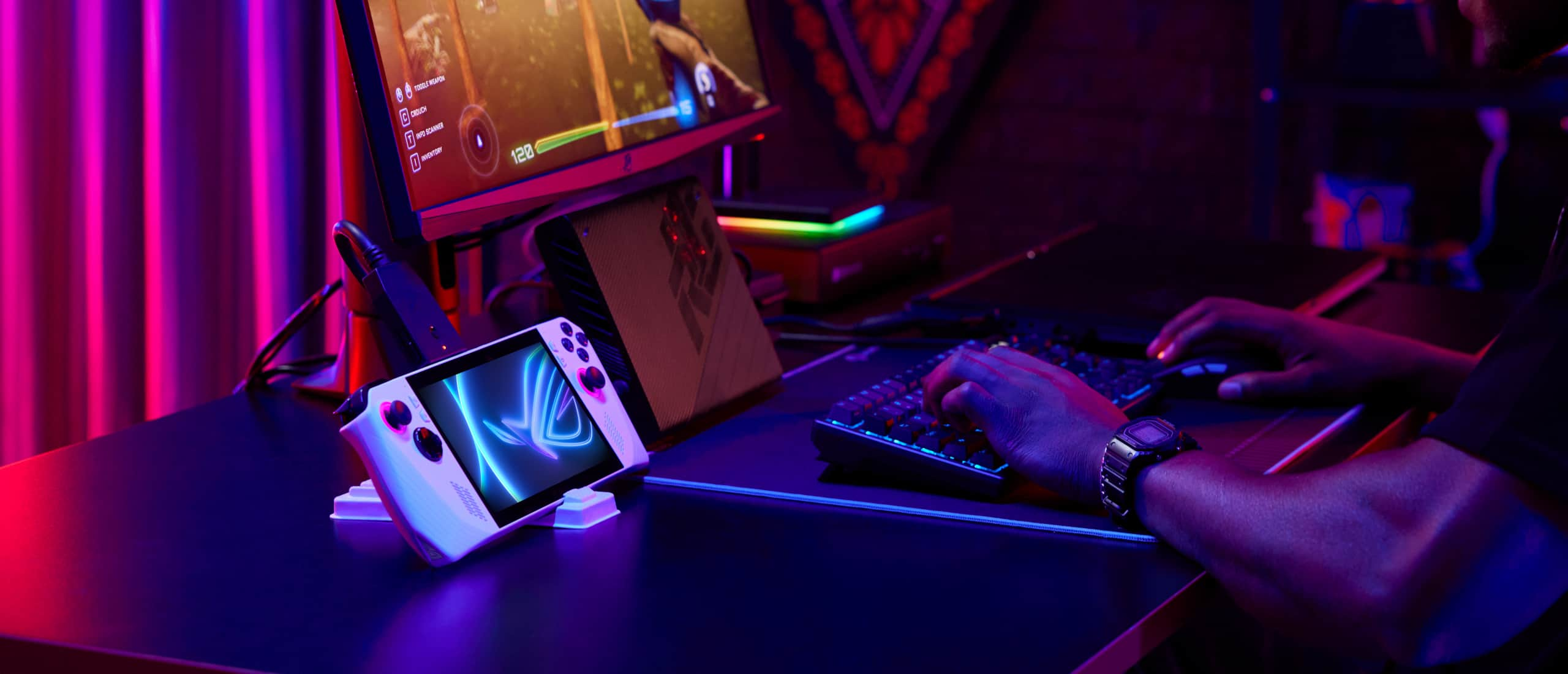 Ahora les toca a los pros:
un sustituto de escritorio
Para una experiencia de escritorio, combina la Ally con una GPU externa XG Mobile, un monitor, un ratón y un teclado especiales para esports y juegos en 4K de alta fidelidad.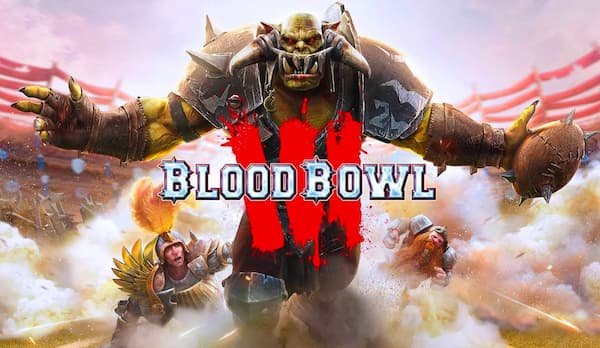 Blood Bowl 3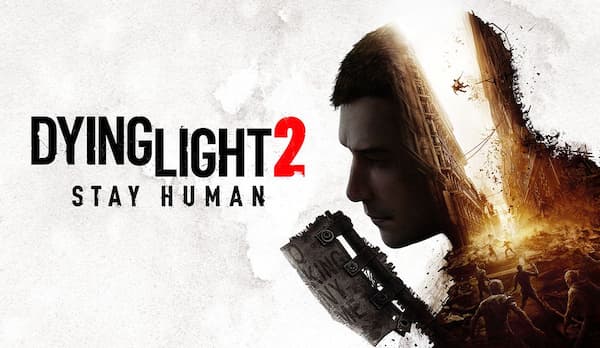 Dying Light 2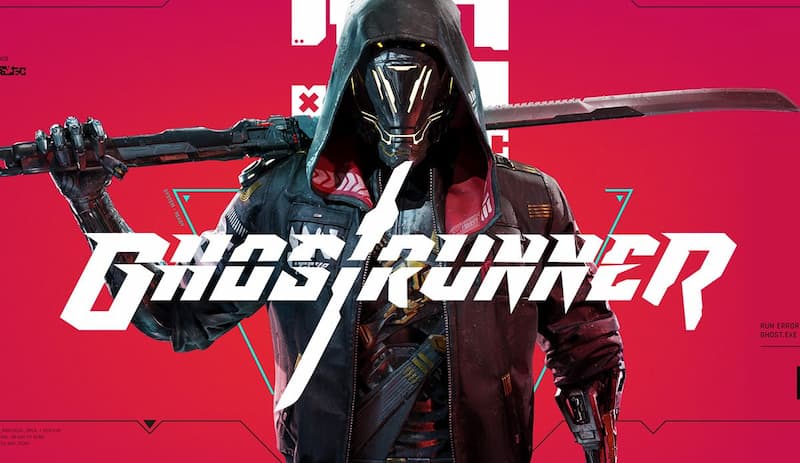 Ghostrunner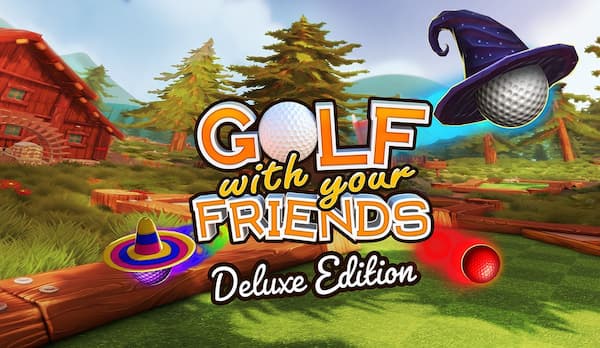 Golf with Your Friends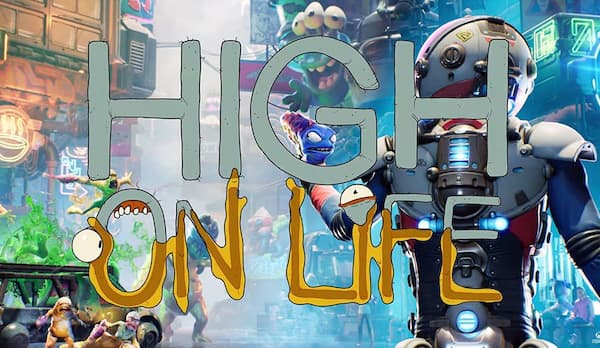 High on Life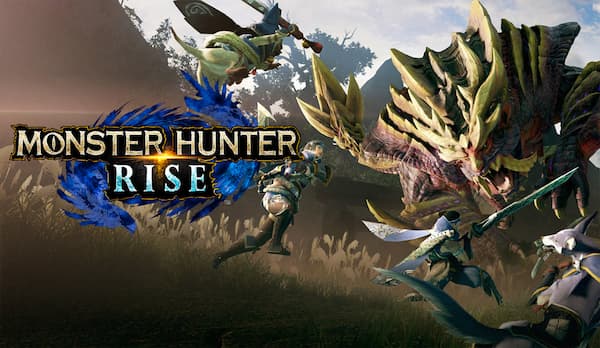 Moster Hunter Rise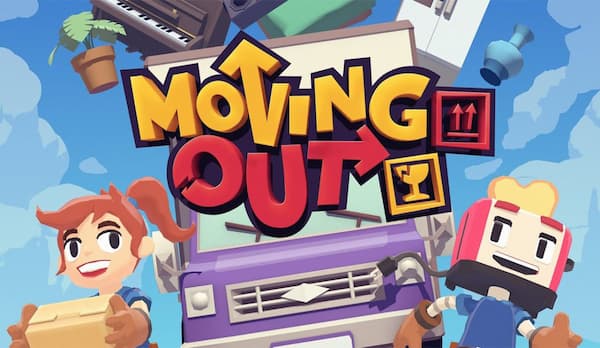 Moving Out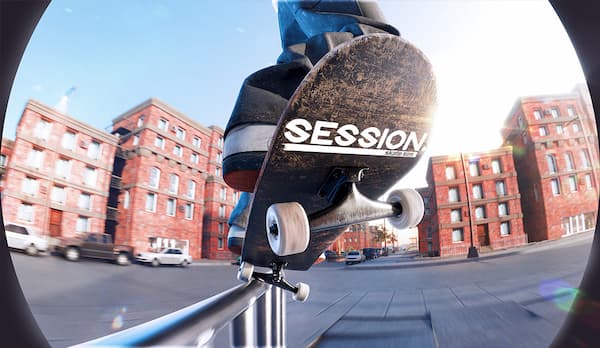 Session: Skate Sim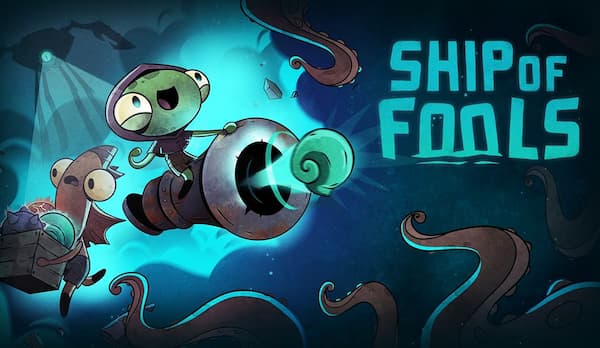 Ship of Fools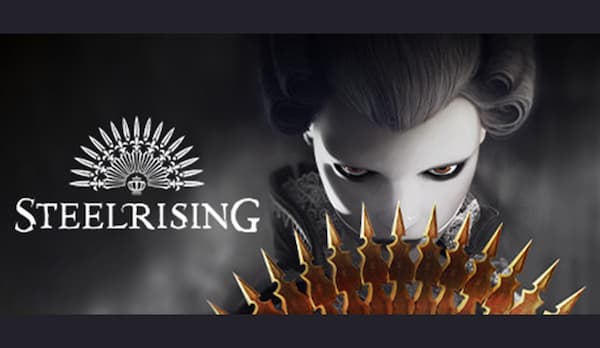 Steelrising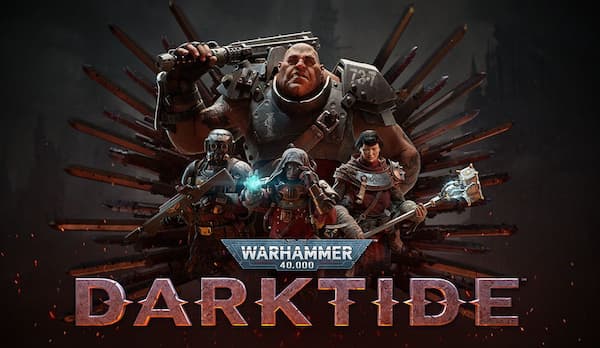 Warhammer Darktide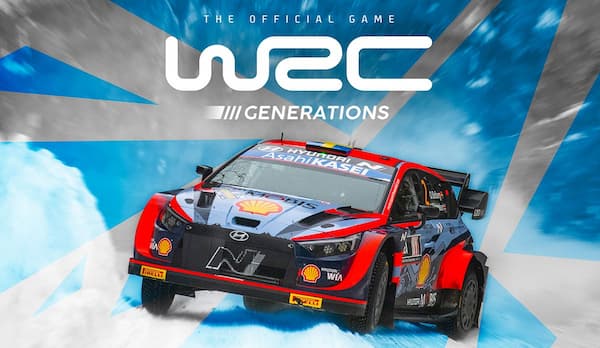 WRC Generations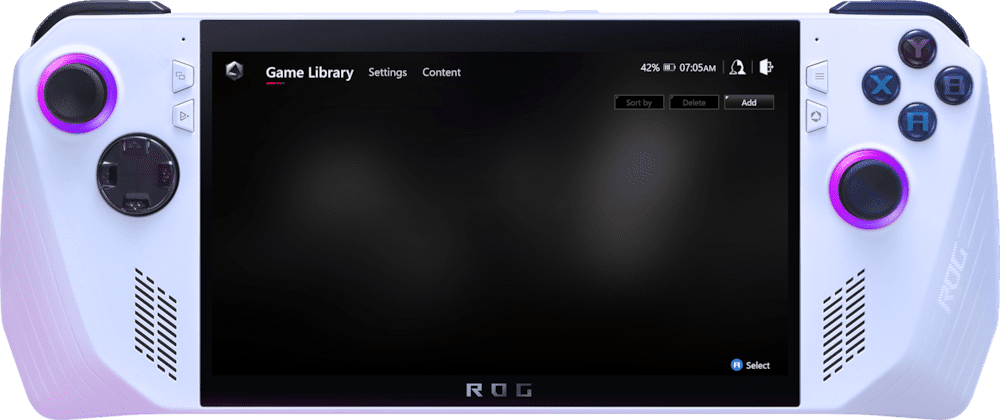 Agrega juegos a tu biblioteca de juegos
Si tu juego instalado no aparece en la biblioteca, selecciona "Agregar" para agregar el juego manualmente.
Si aún no ha instalado ningún juego, consulte desde Configuración > Plataformas de juegos
#playALLYourgames
Múltiples bibliotecas, un dispositivo. ROG Ally es totalmente compatible con Steam, Xbox Game Pass, Epic, GOG y más, lo que garantiza que no importa dónde compres tus juegos, puedes jugarlos en Ally.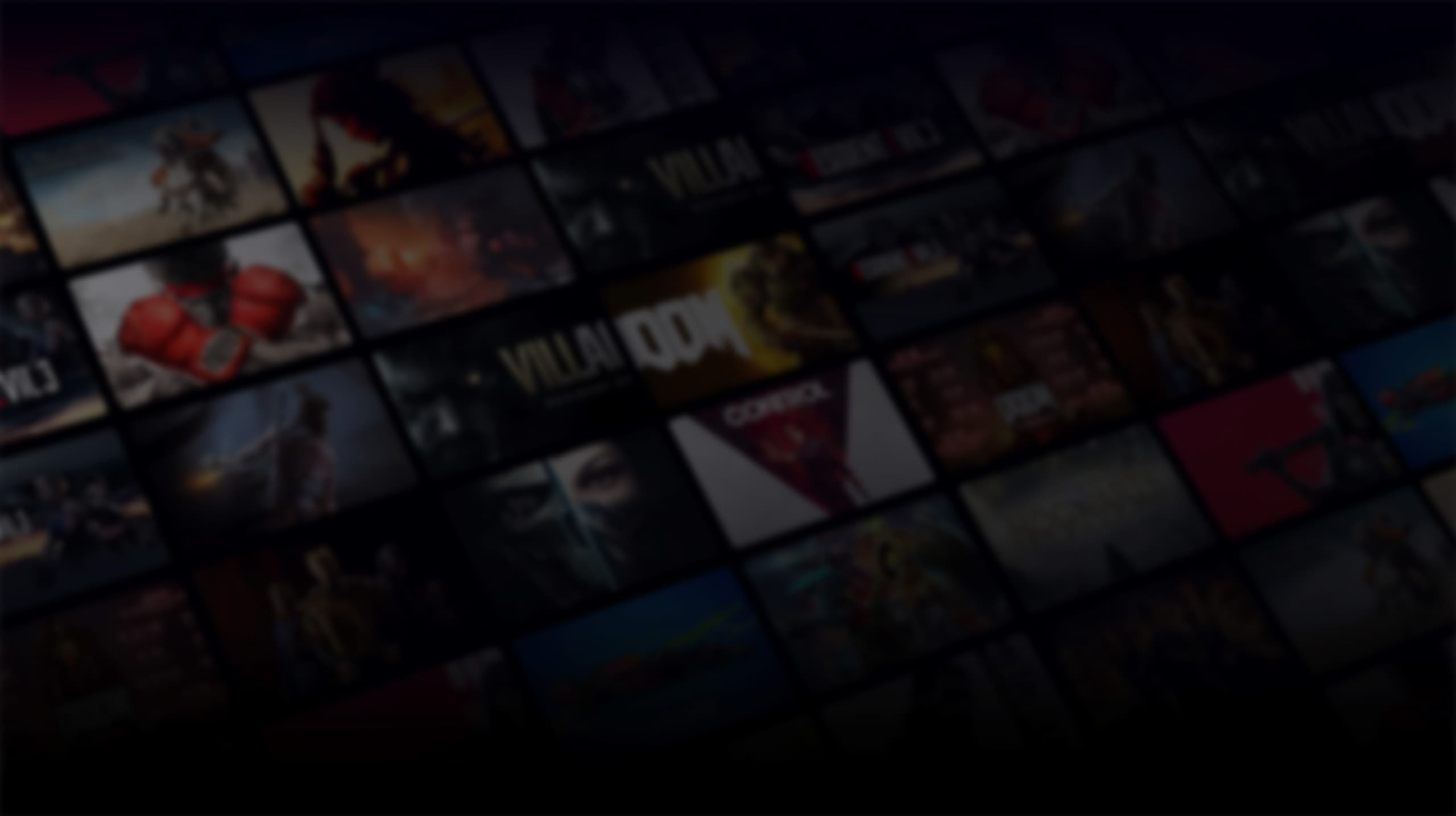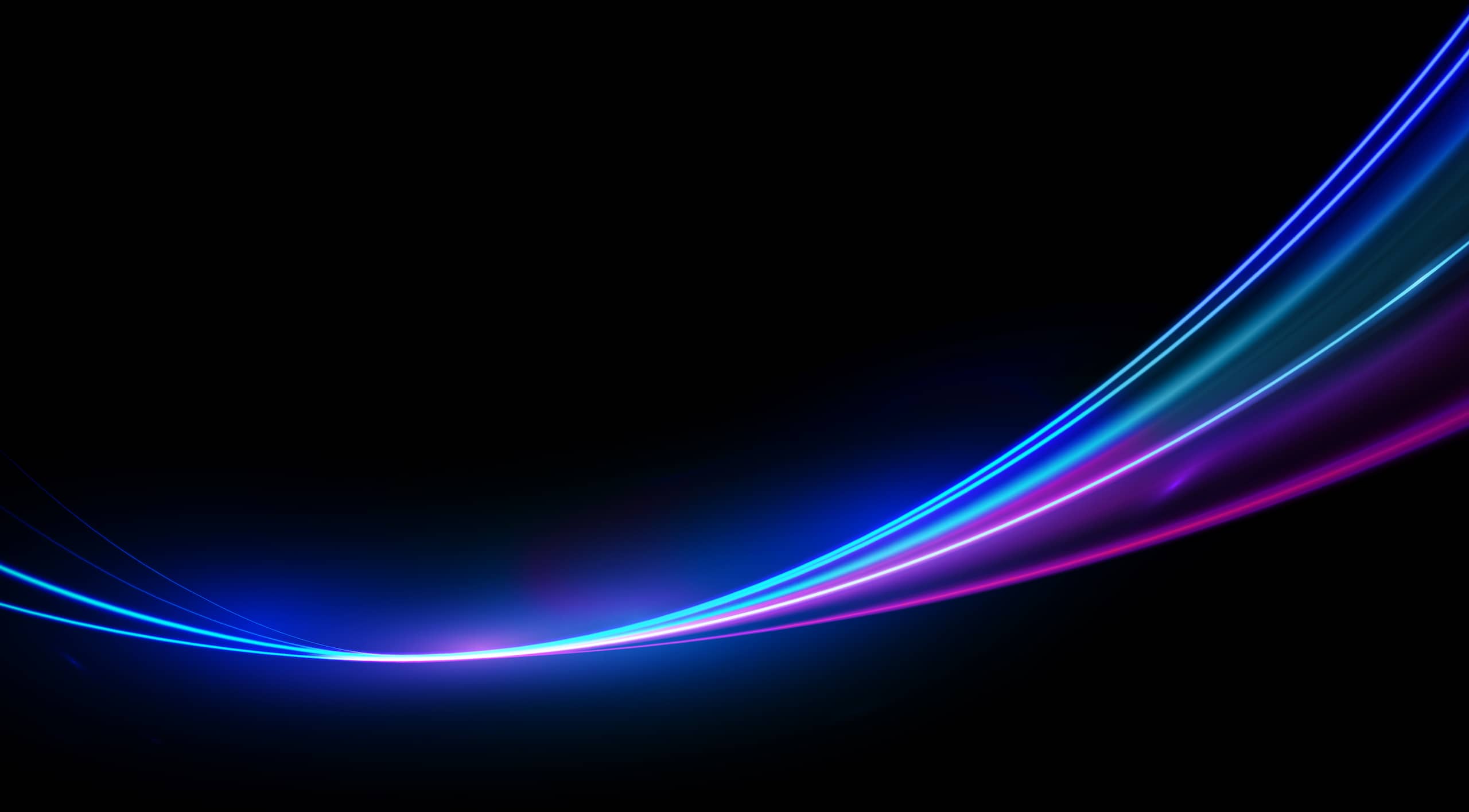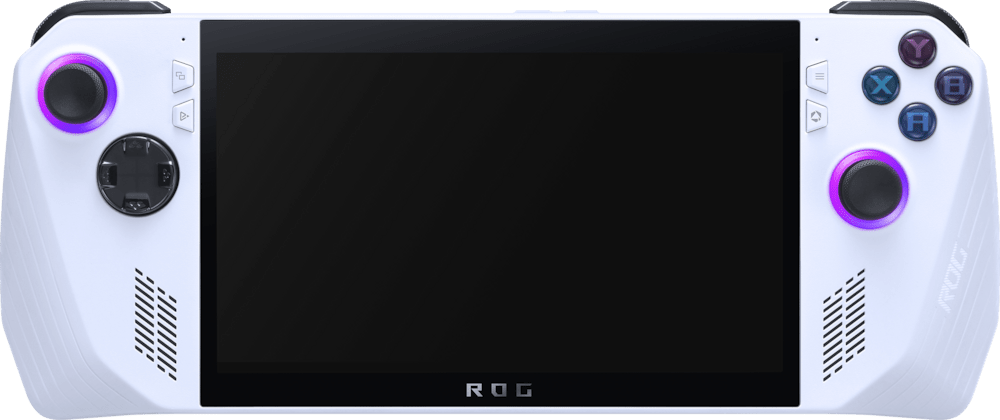 Biblioteca de juegos

Tener juegos en varias plataformas puede crear una biblioteca frustrante y dividida. Hemos diseñado una edición especial de Armoury Crate solo para la ROG Ally, diseñada para ordenar y ejecutar sin problema todos tus juegos desde un solo lugar, sin importar dónde estén instalados.

Centro de mando

Para controlar sin esfuerzo tu experiencia en juego, el Centro de mando está a un solo toque. Cambia los modos de rendimiento, consulta los datos de monitorización en tiempo real, activa un limitador de FPS y mucho más con solo pulsar un botón.

Personalización

En un dispositivo gaming portátil, cada botón es muy importante, y sabemos que no todos los jugadores juegan igual. Por eso nos hemos asegurado de que puedas reasignar y personalizar los botones para adaptarlos a tus preferencias. Los dos botones adicionales de la parte trasera de la ROG Ally se pueden usar como botones en partida o como modificadores para desbloquear aún más opciones.
Descubre tu siguiente juego favorito
Juega Minecraft Legends y cientos de otros juegos en ROG Ally con 3 meses de Xbox Game Pass Ultimate*, lo que te permite comenzar a trabajar con todos los juegos más recientes. Con juegos agregados todo el tiempo, siempre hay algo nuevo para jugar.
* Se aplican condiciones y exclusiones.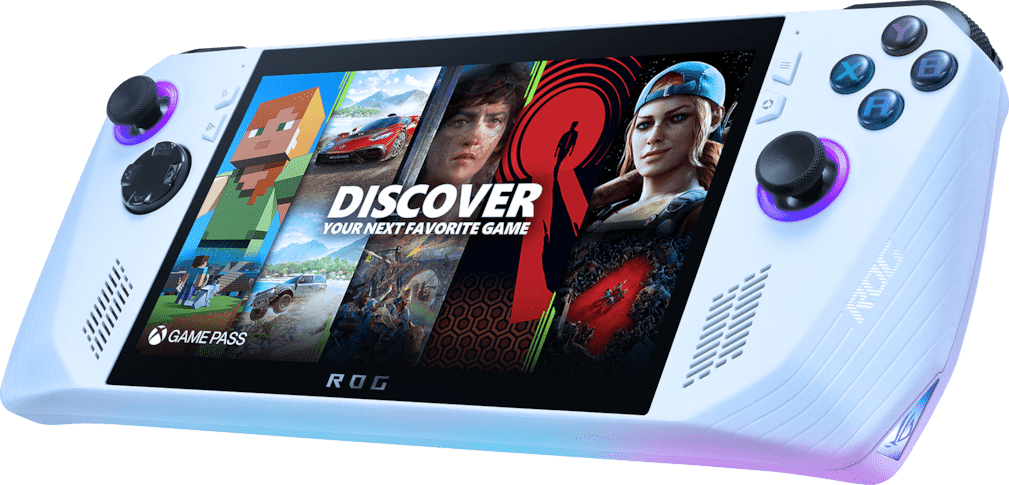 Más seguridad. Más diversión.
Windows Hello
Inicia sesión en tu Ally de forma rápida y segura con un lector de huellas dactilares Windows Hello integrado con el botón de encendido, sin necesidad de PIN. Si dejas tu Ally desatendida por accidente, tus datos están seguros.
Control parental
Para los usuarios más jóvenes, los padres pueden limitar el tiempo de uso de aplicaciones o pantallas, ver resúmenes de gastos y rastrear la ubicación de sus hijos con potentes controles parentales.
Defender
Windows Defender proporciona una sólida seguridad para tu dispositivo, con protección antivirus y contra malware constantemente actualizada.
La puerta a un mundo gaming en tus manos
La nueva Ryzen™ Z1 Extreme de AMD potencia esta increíble máquina gaming. Se ha fabricado con el moderno proceso de 4 nm, con un silicio que incorpora tanto la arquitectura Zen 4 como los últimos gráficos RDNA™ 3. La consola ROG Ally, con increíbles tecnologías de escalado como FidelityFX™ Super Resolution y Radeon™ Super Resolution, puede aumentar la velocidad de fotogramas sin perder la excelencia de su calidad de imagen. ROG ha trabajado en estrecha colaboración con AMD para liberar todo el potencial de este hardware de tecnología punta con el poder de transformar por completo el juego portátil.
El procesador de élite de alto rendimiento para juegos portátiles
Zen4
Arquitectura
RDNA™ 3
Gráficos
8
Nucleos
4nm
Proceso
8,6
Teraflops
16
Subprocesos
Juegos FHD increíblemente fluidos
Zen4
Arquitectura
RDNA™ 3
Gráficos
6
Nucleos
4nm
Procesos
8.6
Teraflops
16
Suprocesos
Butter Smooth
FHD Gameplay

Tres estilos gaming en una sola consola
Juegos AAA fluidos en
1080P
Call of Duty®
Modern Warfare® II 2022
75-80
*Modo turbo, resolución de 1920 × 1080, configuración de gráficos predeterminada.
ROG Cetra True Wireless
Audio inalámbrico de baja latencia
Cancelación activa de ruido (ANC)
Autonomía de hasta 27 horas
Juegos de fiesta y deportes en
1080P
* Modo turbo, resolución de 1920 × 1080, configuración de gráficos predeterminada.
ROG raikiri pro
Tres modos de conectividad: USB-C®, 2.4 GHz RF, o Bluetooth®
Pantalla OLED integrada
Personalización completa con Armoury Crate
Auténtica experiencia de
Esports y Gaming en 4K
League of Legends
150-180
4K con Ray tracing + DLSS3 en
The Witcher® 3: Wild Hunt
60-80
Spider-Man Miles Morales
60-80
*Modo turbo, resolución de 1920 × 1080, configuración de gráficos predeterminada.
ROG XG MOBILE (GC33)
GPU GeForce RTX™ 4090 para portátiles
Concentrador de E/S integrado: USB de tipo C y tipo A, lector de tarjetas SD, Ethernet, HDMI 2.1
Adaptador de 330 W integrado
ROG XG MOBILE (GC32)
GPU AMD Radeon™ RX 6850M XT
Concentrador de E/S integrado: USB de tipo A, lector de tarjetas SD, Ethernet, HDMI 2.1
Adaptador de 330 W integrado
Ampliación microSD
Si tienes una biblioteca de juegos más grande, la ROG Ally te cubre las espaldas. Una ranura dedicada para tarjetas microSD UHS-II te permite añadir sin esfuerzo más almacenamiento de alta velocidad a tu máquina, para que puedas tener más juegos instalados listos para jugar. Gracias a los tiempos de carga solo un 4% más lentos que los de una SSD PCIe Gen 4 dedicada, nunca tendrás que preocuparte de dónde guardas tus juegos.
Tiempo real de carga del juego
27.92sec
ROG ALLY con SD card
Cyberpunk 2077
34.52sec
ROG ALLY con SD card
Control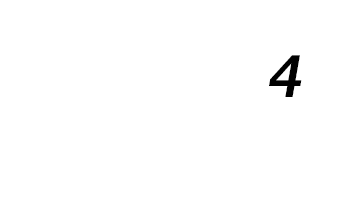 SSD PCIe Gen 4
La ROG Ally cuenta con hasta 512 GB de almacenamiento PCIe Gen 4 ultrarrápido con una SSD M.2 2230, por lo que tendrás espacio de sobra para todos tus juegos y tiempos de arranque ultrarrápidos.

Potente memoria LPDDR5 6400
La memoria LPDDR5-6400 de tu Ally transmite datos a la APU Ryzen ™ en todo momento para que la Z1 Extreme pueda dar lo mejor de sí misma.
Juega a donde vayas
Juega a tus juegos y contenidos favoritos durante horas sin preocuparte por el cargador. Disfruta de hasta 2 horas de juego local en el dispositivo, con hasta 6.8 horas tanto para juegos en la nube como para reproducción de vídeo. Además, esta consola admite carga rápida, lo que te permite cargarla de 0 al
50 % en solo 30 minutos.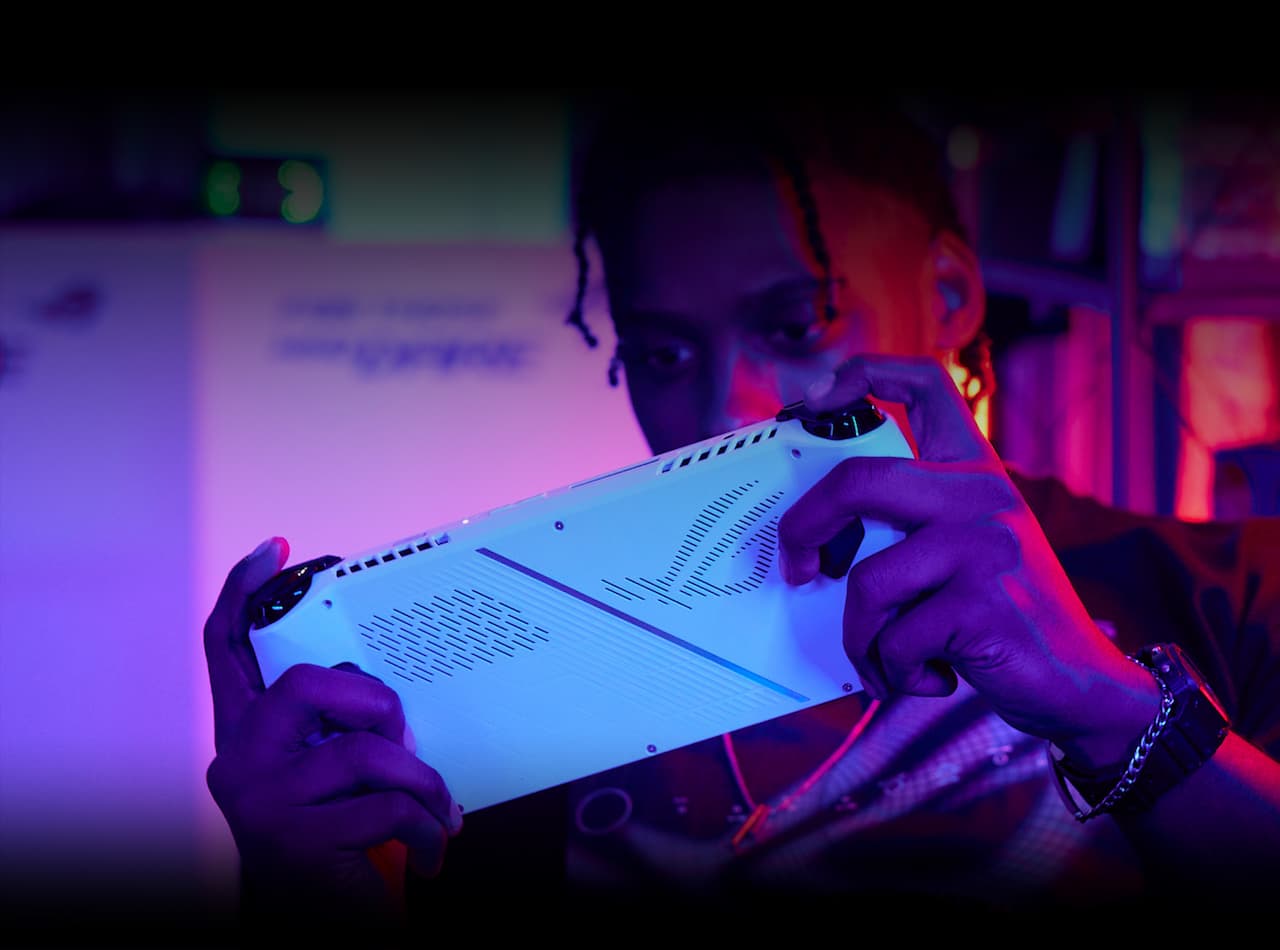 Jugar en la nube
hasta
2
h
Modo de rendimiento (15 W)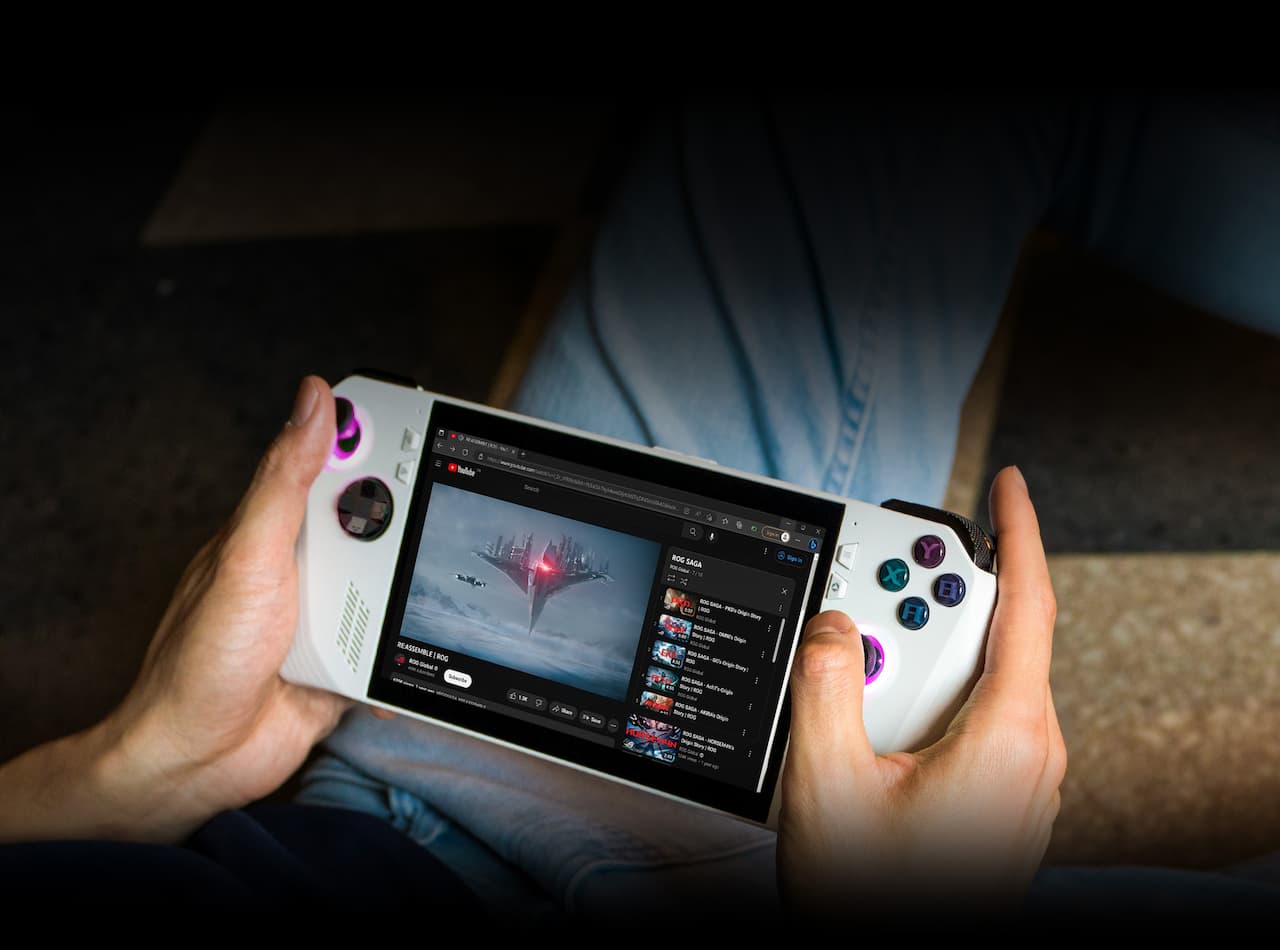 Netflix y Youtube
hasta
6.8
h
Modo silencioso (9 W)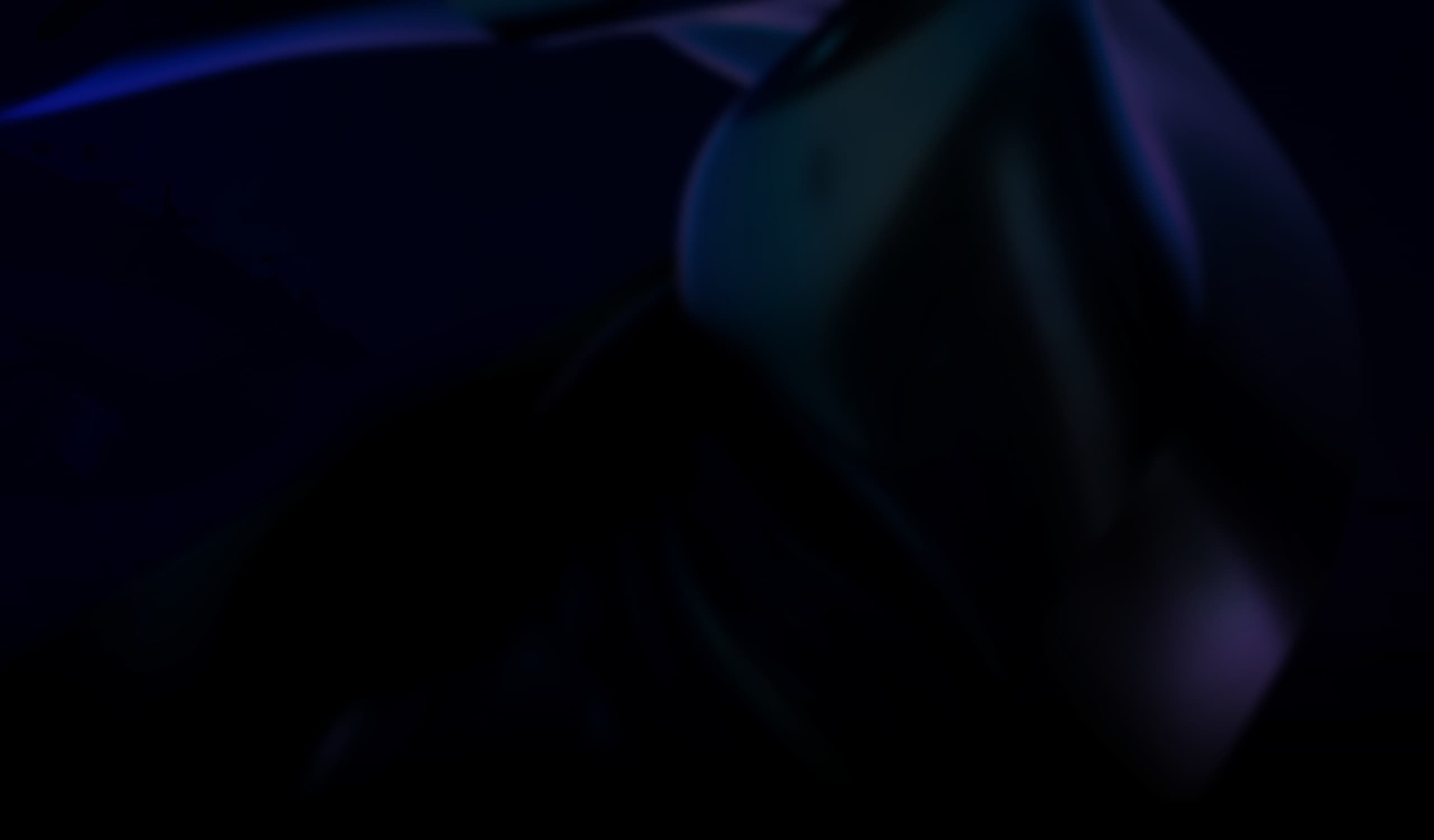 Zero Gravity: cero calor, cero distracciones, 100 % de rendimiento
Sistema térmico Zero Gravity
La ROG Ally está diseñada para permitirte jugar en cualquier lugar, por lo que necesitaba una solución térmica a la altura. Las soluciones térmicas tradicionales cuentan con la gravedad para ayudar a los caloductos a expulsar el calor fuera del sistema, pero con un caloducto especialmente construido con malla, esta consola sí que desafía la gravedad.
Caloductos antigravedad
Los caloductos antigravedad mejoran la transferencia térmica mediante una malla para la disipación, lo que aumenta la presión capilar en más de un 15 %. Esto permite que la solución de refrigeración de la ROG Ally mantenga su eficacia incluso cuando está boca abajo.
Rodamiento dinámico de fluido
Ambos ventiladores tienen un diseño de rodamiento de fluido, un estilo de eficacia probada que mantendrá a la ROG Ally a todo gas durante años. Los ventiladores de rodamiento de fluido también son de baja fricción, en cualquier posición, lo que te permite manejar tu Ally en la orientación que prefieras sin preocupaciones.
Sin distracciones
Aunque muchas consolas portátiles del mercado optan por un solo ventilador, sabemos que un flujo de aire adicional siempre viene bien. ROG Ally está equipada con dos ventiladores, lo que permite una mejor refrigeración a velocidades más lentas para mantener el ruido al mínimo.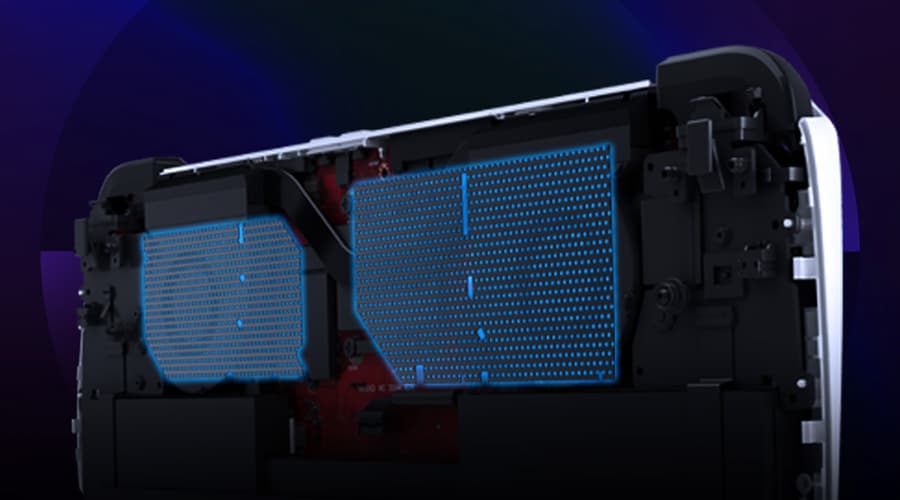 Filtro de polvo ROG
Los filtros de polvo cubren ambos orificios de entrada de aire y mantienen los residuos externos fuera de los ventiladores. Menos polvo se traduce en una refrigeración más eficiente y silenciosa durante años.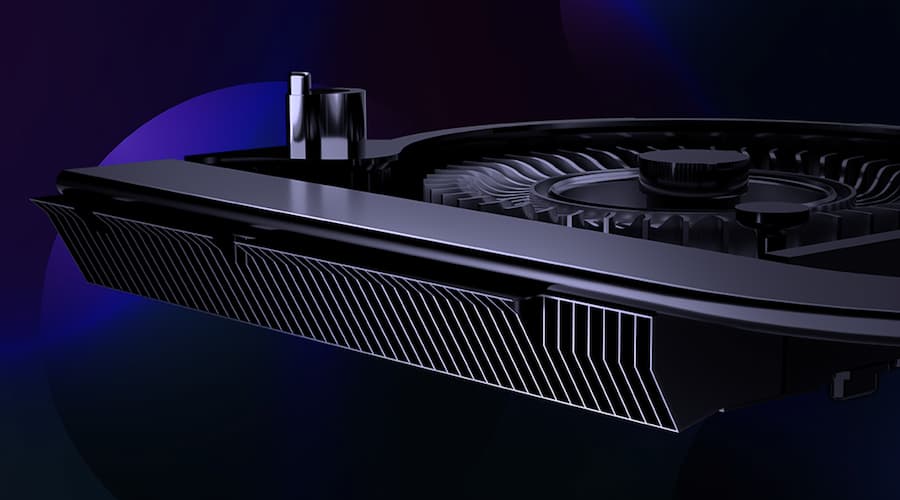 Aletas de 0,1 mm
La energía térmica se disipa mediante dos disipadores, cada uno con aletas de aluminio ultrafinas de solo 0,1 mm. Estas aletas tienen la mitad de tamaño que las de las soluciones habituales, lo que permite mayor densidad para la disipación de calor y menor resistencia al aire para un flujo más fluido. Las 102 aletas de los disipadores térmicos suman una superficie total de 12,173mm².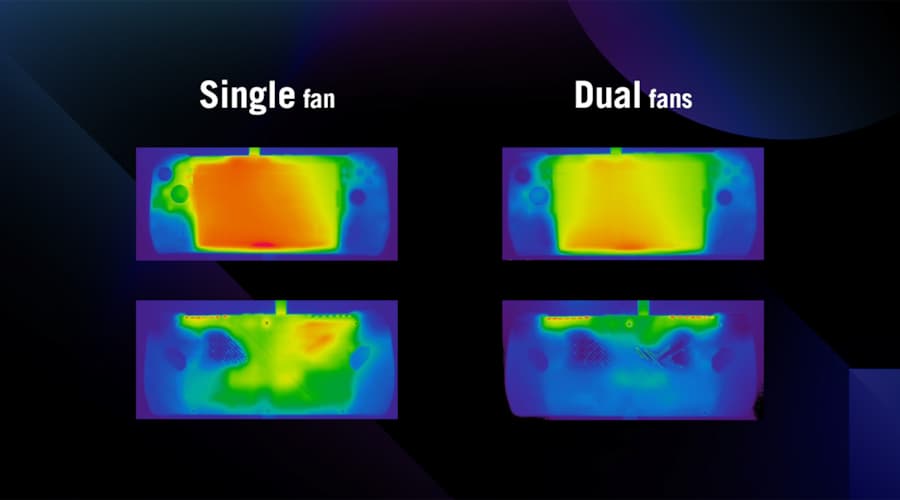 Doble ventilador
Los ventiladores dobles mantienen la máquina y el chasis más fríos, silenciosos y cómodos de sostener en comparación con un solo ventilador. Nunca te conformes con nada menos que ROG Intelligent Cooling.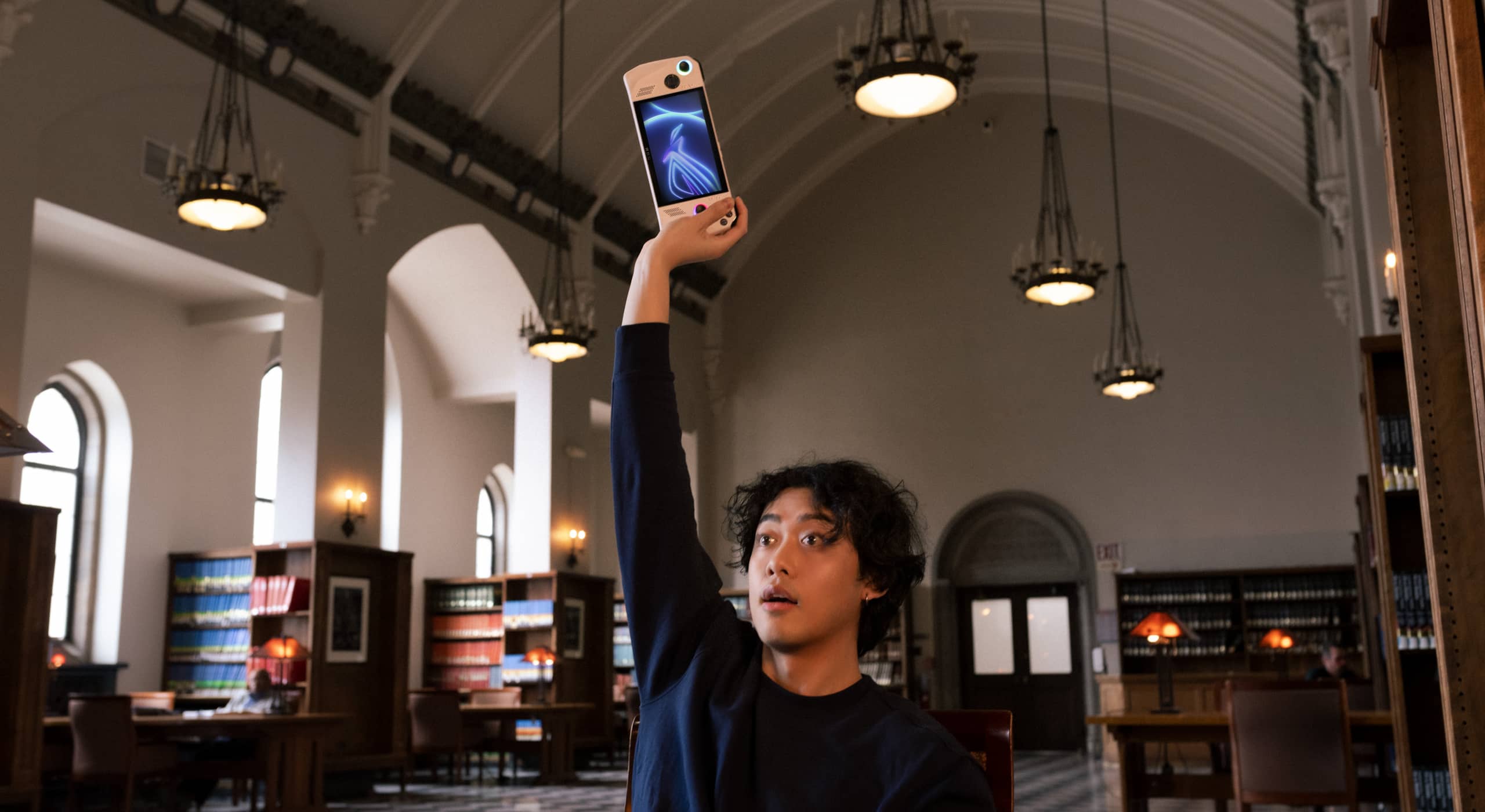 El campeón del peso pluma
Con un peso de solo 608 gramos, ROG Ally es cómoda incluso durante largas sesiones de juego, y nunca te pesará en la mochila.
Cómo logramos los 608 gramos
Paneles viselado
Carcasa más ligera
Sistema de doble ventilador
Soporte de batería
Aluminio ligero
Aluminio ligero
608 gramos de puro placer gaming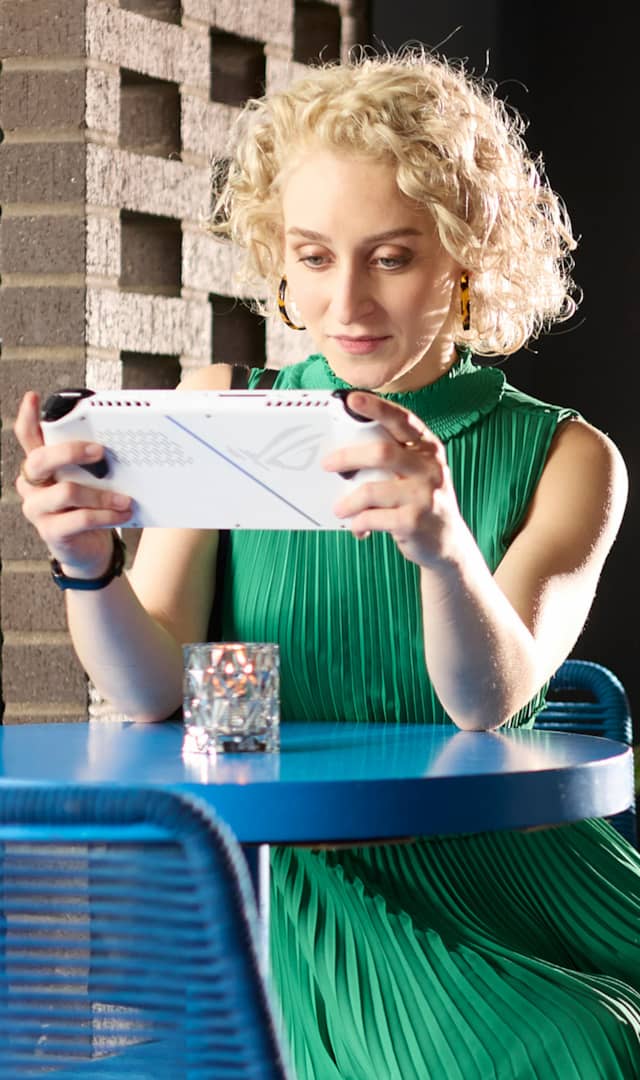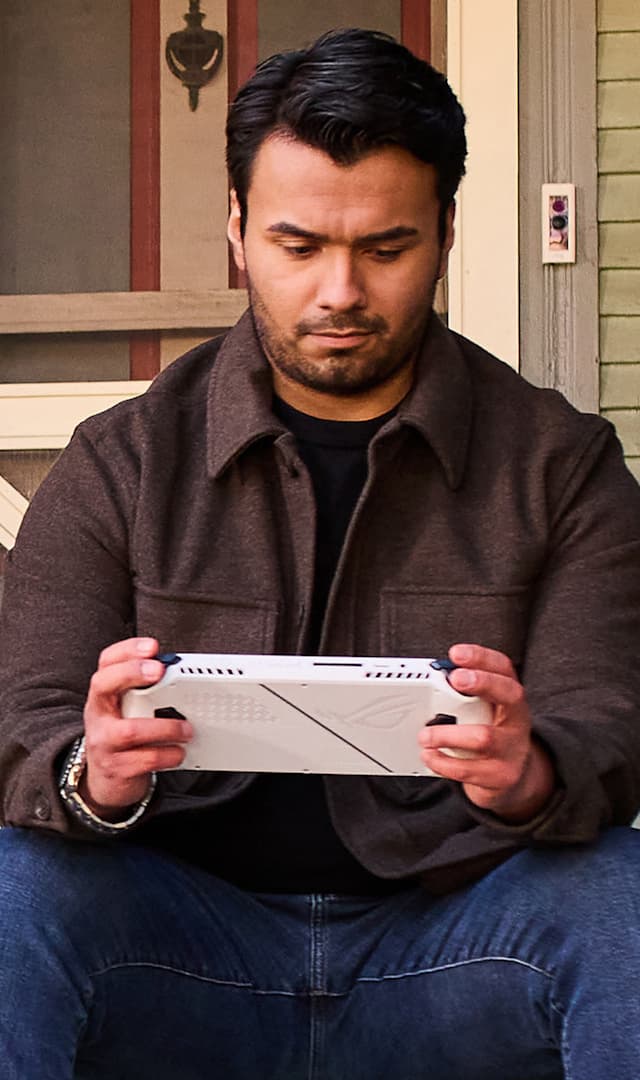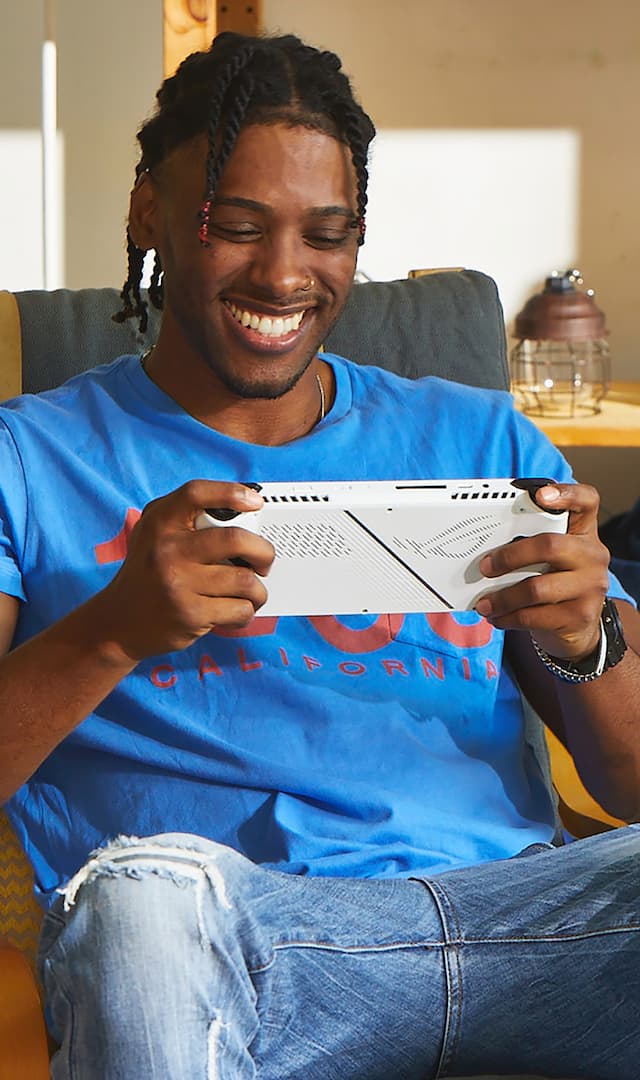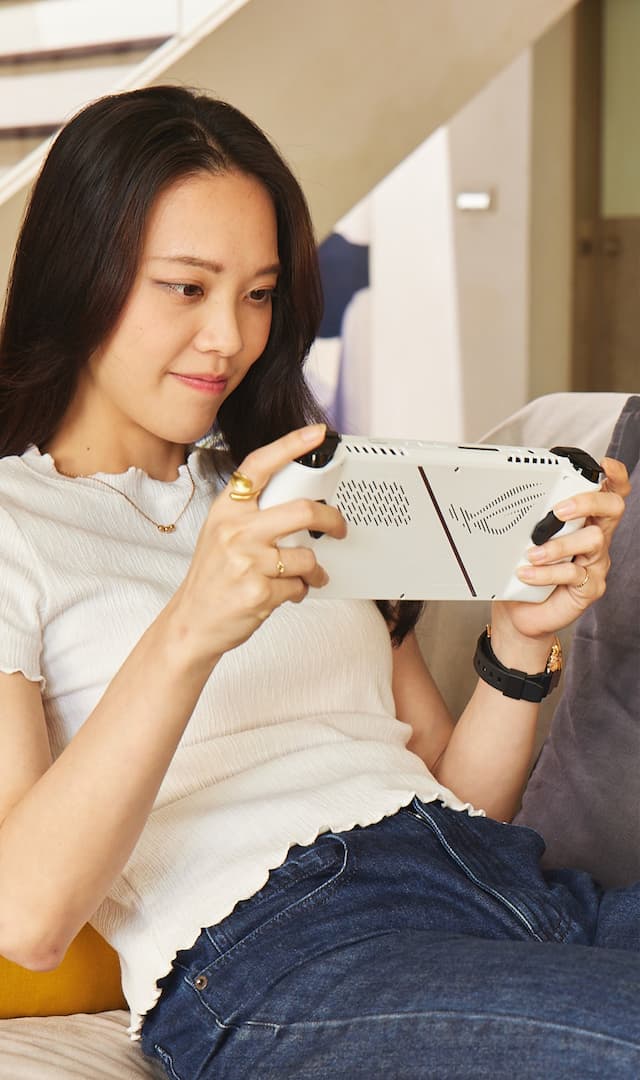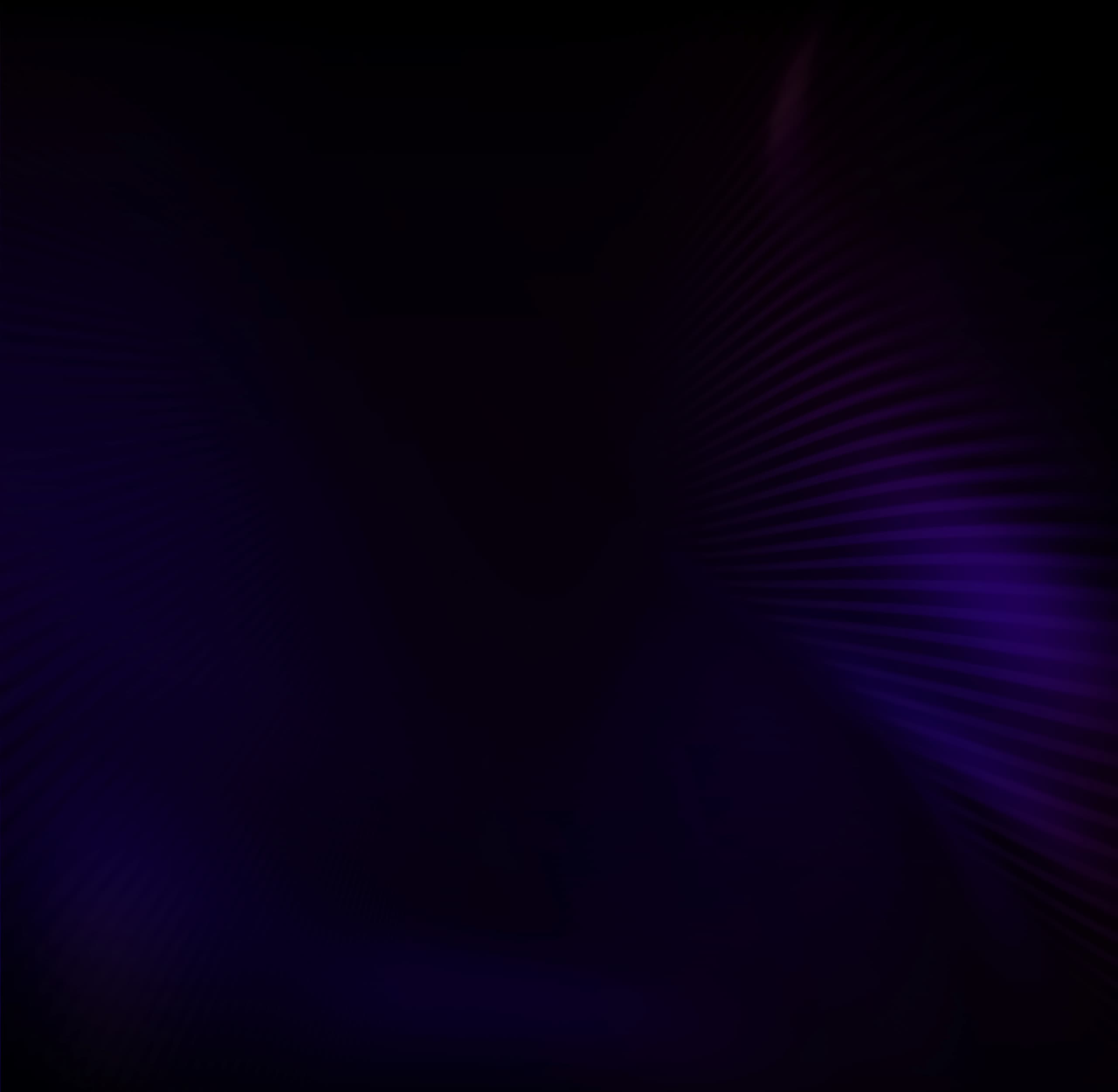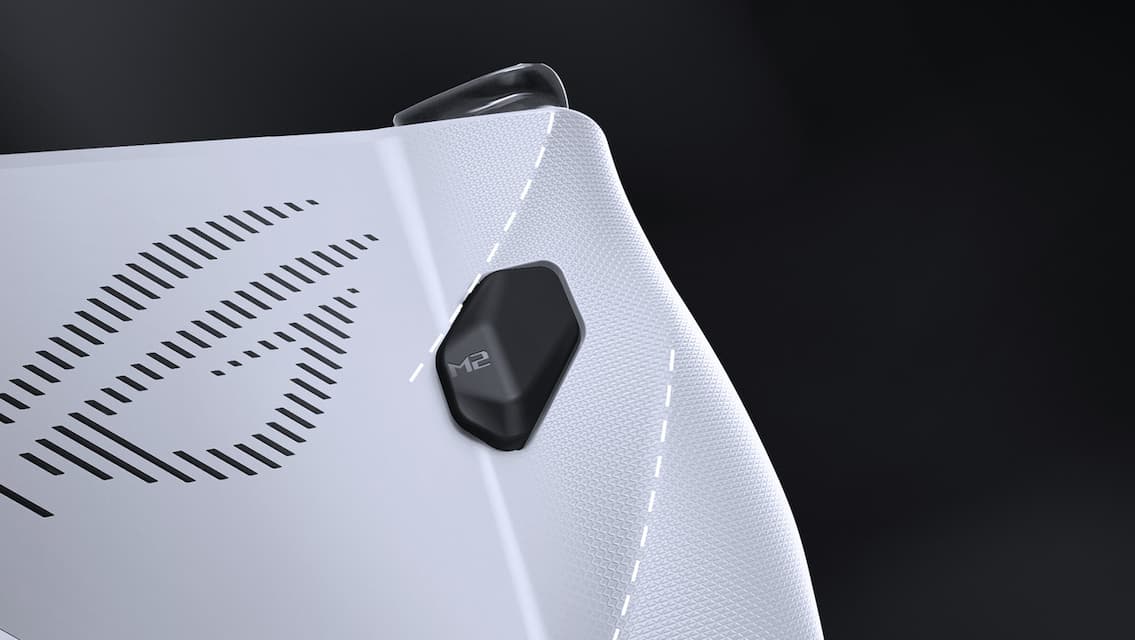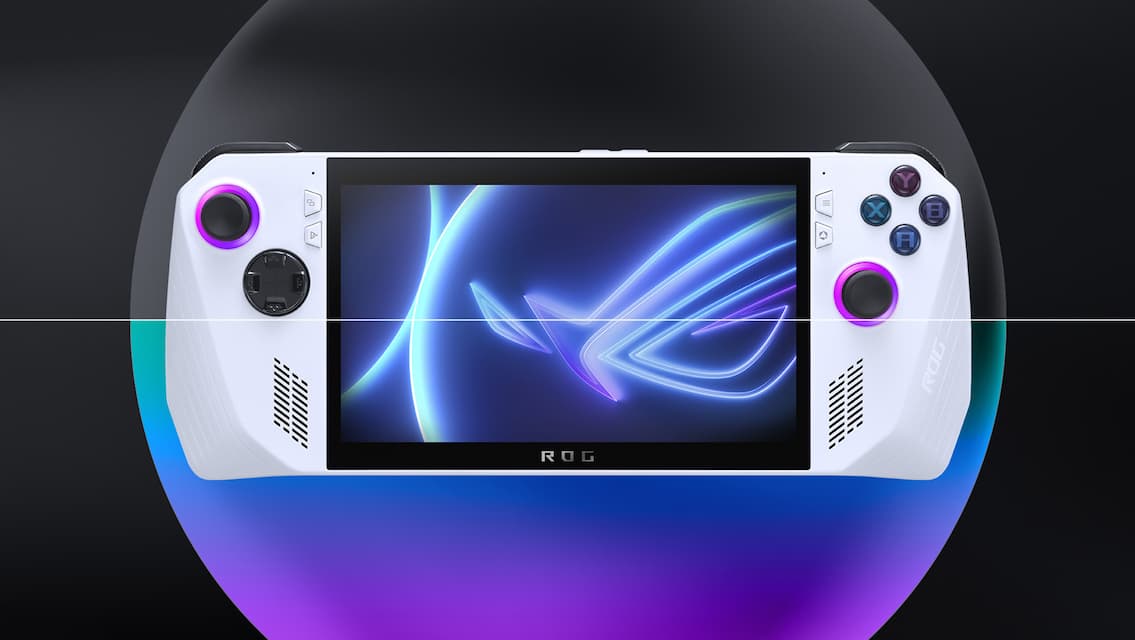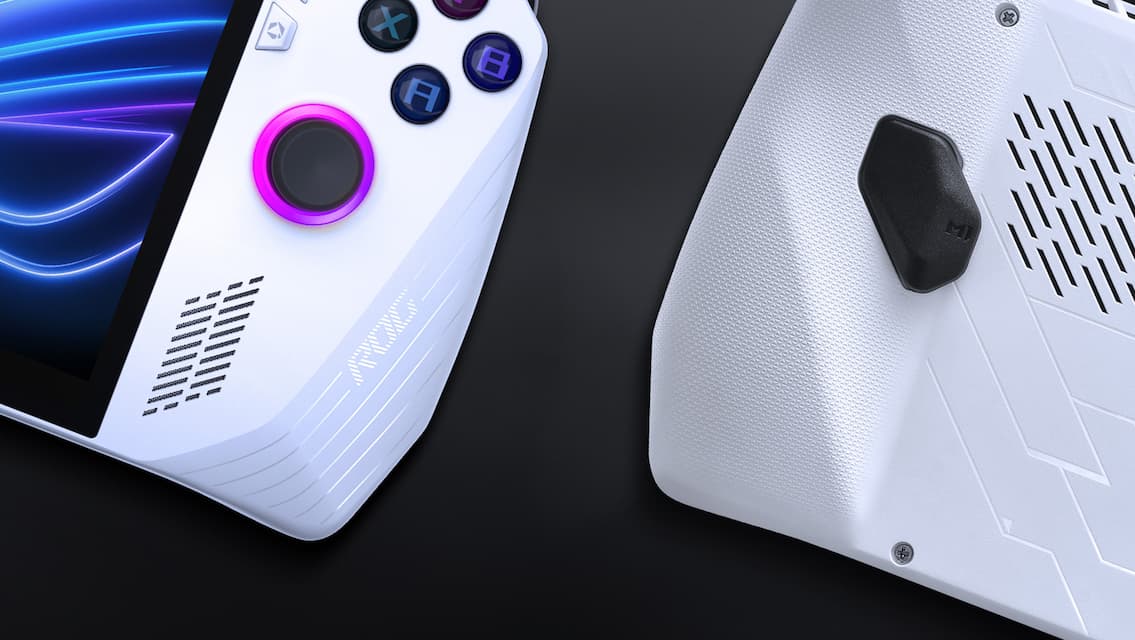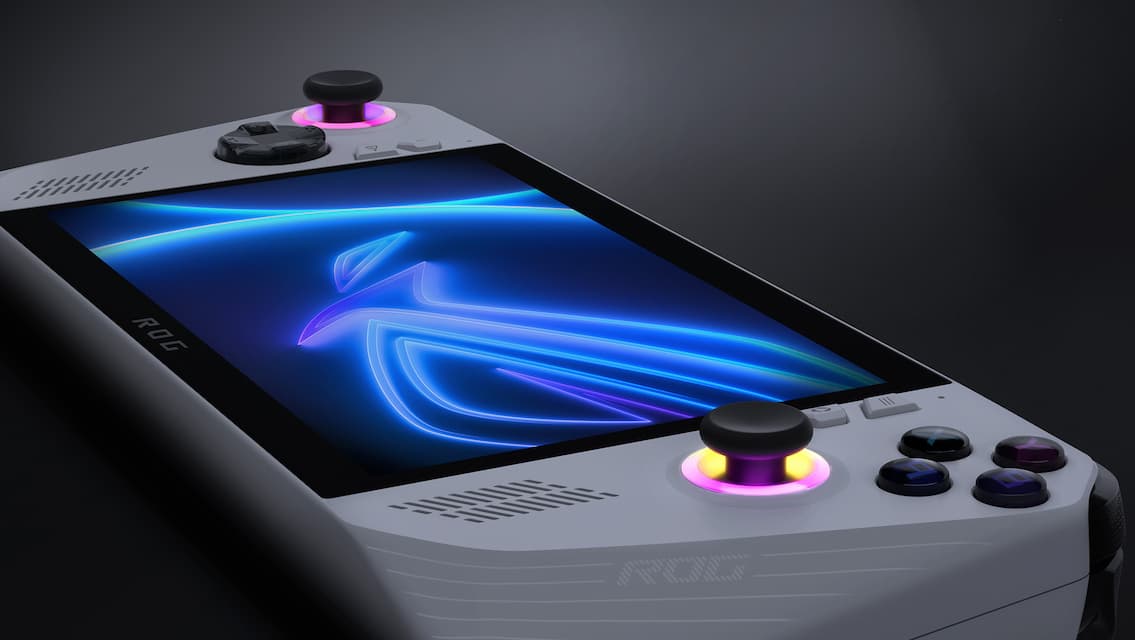 Comodidad y precisión
Las inclinaciones de 2° y 14° a medida garantizan que la ROG Ally sea cómoda para cualquier mano.
Agarre
Los agarres curvos de la Ally están perfectamente moldeados para adaptarse a la forma natural de tu mano.
Control
sin esfuerzo
Los botones están situados de la mitad superior de la ROG Ally aseguran que los controles estén siempre al alcance de la mano.
Diseño
antideslizante
La textura de microtriángulos de ROG en los agarres y las líneas de decoración ROG en la parte frontal aseguran la sujeción.
Iluminación
RGB
La iluminación RGB de buen gusto alrededor de ambos joysticks añade estilo y se sincroniza con los juegos compatibles, lo que te sumerge aún más en la acción.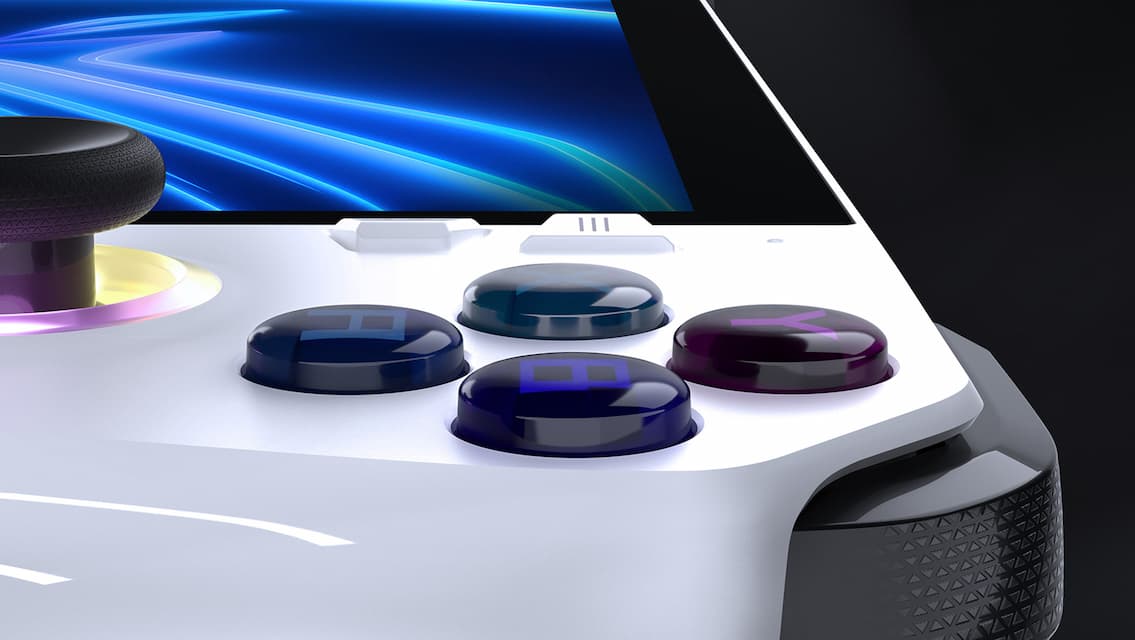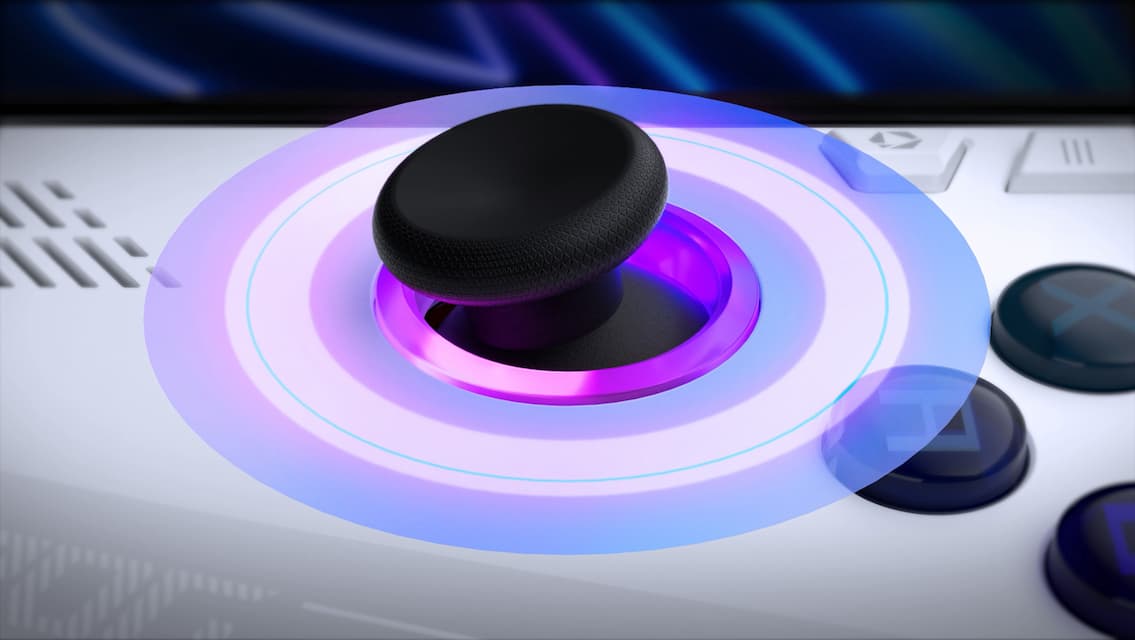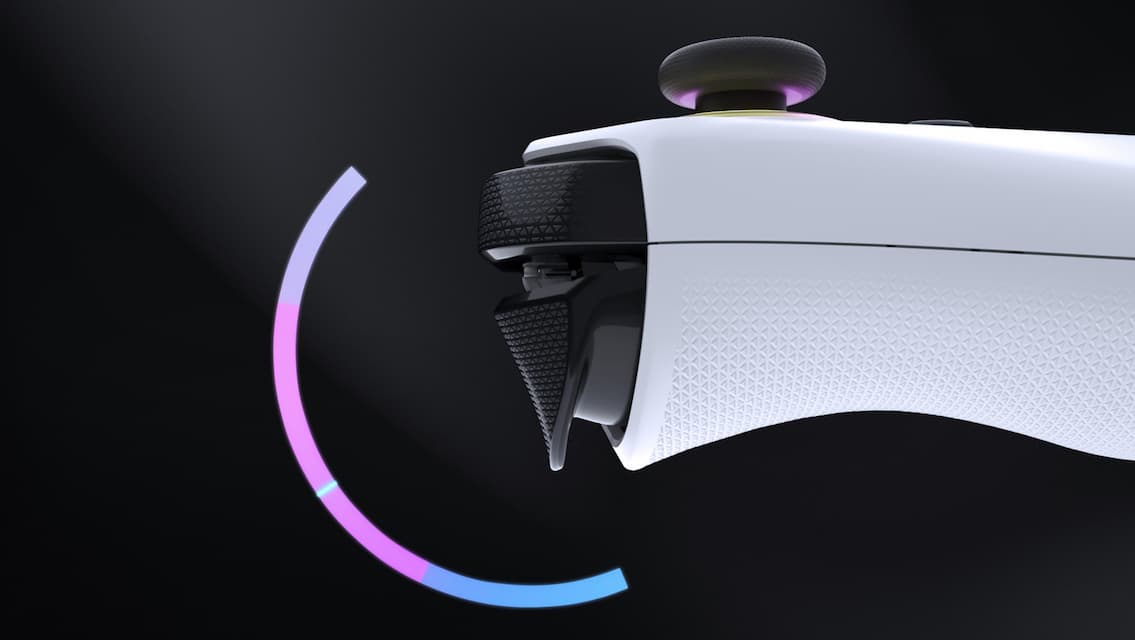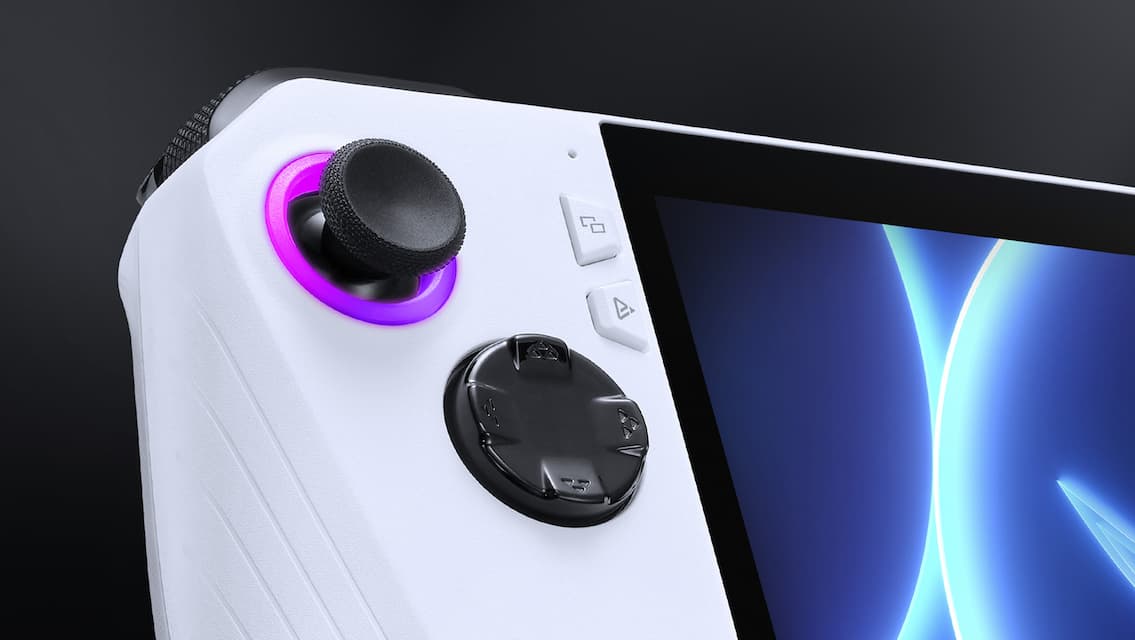 Pulsación de los botones sin esfuerzo
Los botones frontales tienen forma de cúpula plana, lo que los hace muy cómodos de pulsar.
Joystick
Los joysticks son fundamentales en un mando, por lo que la ROG Ally ofrece una gran personalización, incluido el ajuste de la zona muerta.
Gatillo
Los sensores Hall detectan con precisión hasta el más mínimo movimiento y no se desgastan con el tiempo, por lo que la Ally estará lista para la batalla durante muchos años.
Gatillo Macro
La ROG Ally viene equipada con un par de botones de fácil acceso en la parte trasera que pueden utilizarse como botones estándar o modificadores para accesos directos personalizados.
Cruceta
La cruceta, con forma de disco en relieve, también se ha personalizado para llevar a cabo pulsaciones consecutivas de botones sin esfuerzo y mantener la referencia de la posición de los pulgares.
Claridad increíble
Una máquina de gran potencia necesita una pantalla de especificaciones de calidad a la altura, y la Ally tiene unas especificaciones que hace solo unos años habrían rivalizado con portátiles gaming de muchas veces su tamaño. Con una pantalla táctil de 1080p con una frecuencia de actualización de 120 Hz y compatibilidad con FreeSync™ Premium, jugar con esta pantalla de 7 pulgadas es un auténtico placer. Para protegerla del desgaste diario, el cristal Corning® Gorilla® Glass Victus® mantiene la pantalla táctil como nueva.
7" - 17,78 cm
Pantalla táctil
Amplia gama de colores
sRGB 100%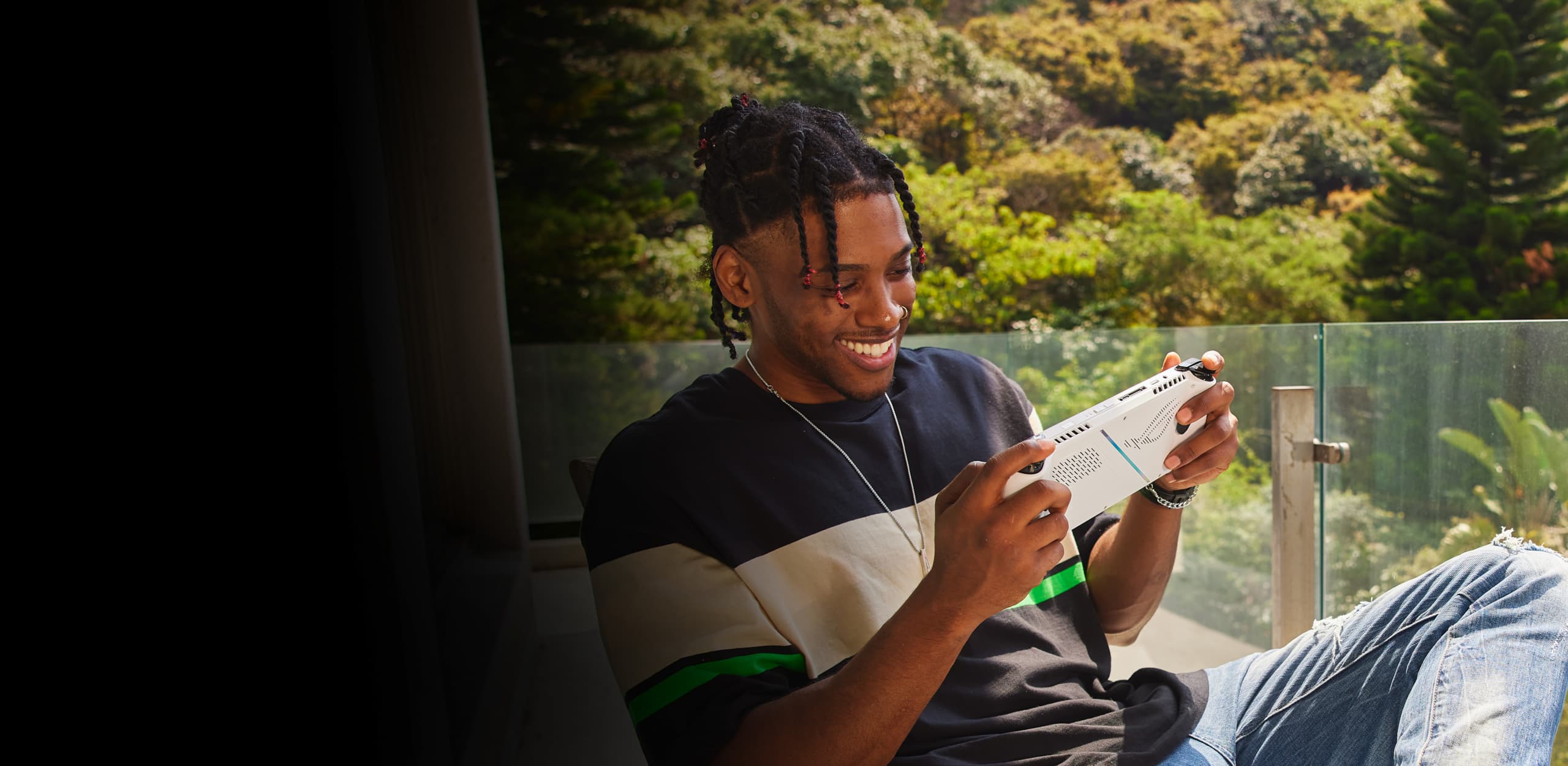 Grandes experiencias de
juego al exterior
Las pantallas LCD comunes suelen tener un brillo máximo de 200-300 nits, pero la Ally presume de un brillo máximo de 500 nits. El brillo más alto permite que la consola muestre claramente la acción en la pantalla cuando se encuentra en entornos más brillantes y desafiantes, como al aire libre. Para proteger contra el desgaste diario, cubierta ® Gorilla® Glass Victus® mantiene la pantalla táctil como nueva.
Mejor visibilidad al exterior con Corning® DXC
El recubrimiento Corning® Gorilla® Glass DXC reduce los reflejos de la superficie a la vez que aumenta la dureza en más de un 40 % para una resistencia a los arañazos mejorada. Menos reflejos significa que puedes seguir mejor lo que ocurre en la pantalla en entornos con mucha luz o al aire libre.
Vidrio
Cobertura Corning® DXC
Reflexión especular <0.6%
Transmitancia ~99%
Reflexión especular ~4%
Sonido estéreo envolvente
Los parlantes Smart Amp duales frontales con Dolby Atmos aumentan el volumen sin distorsión y lo sumergen directamente en sus juegos, mientras que la cancelación de ruido AI bidireccional procesa el audio entrante y saliente para filtrar cualquier ruido de fondo errante de sus chats de voz.
Doble atltavoz con
Amplificador inteligente
Dos modos de
cancelación de ruido por IA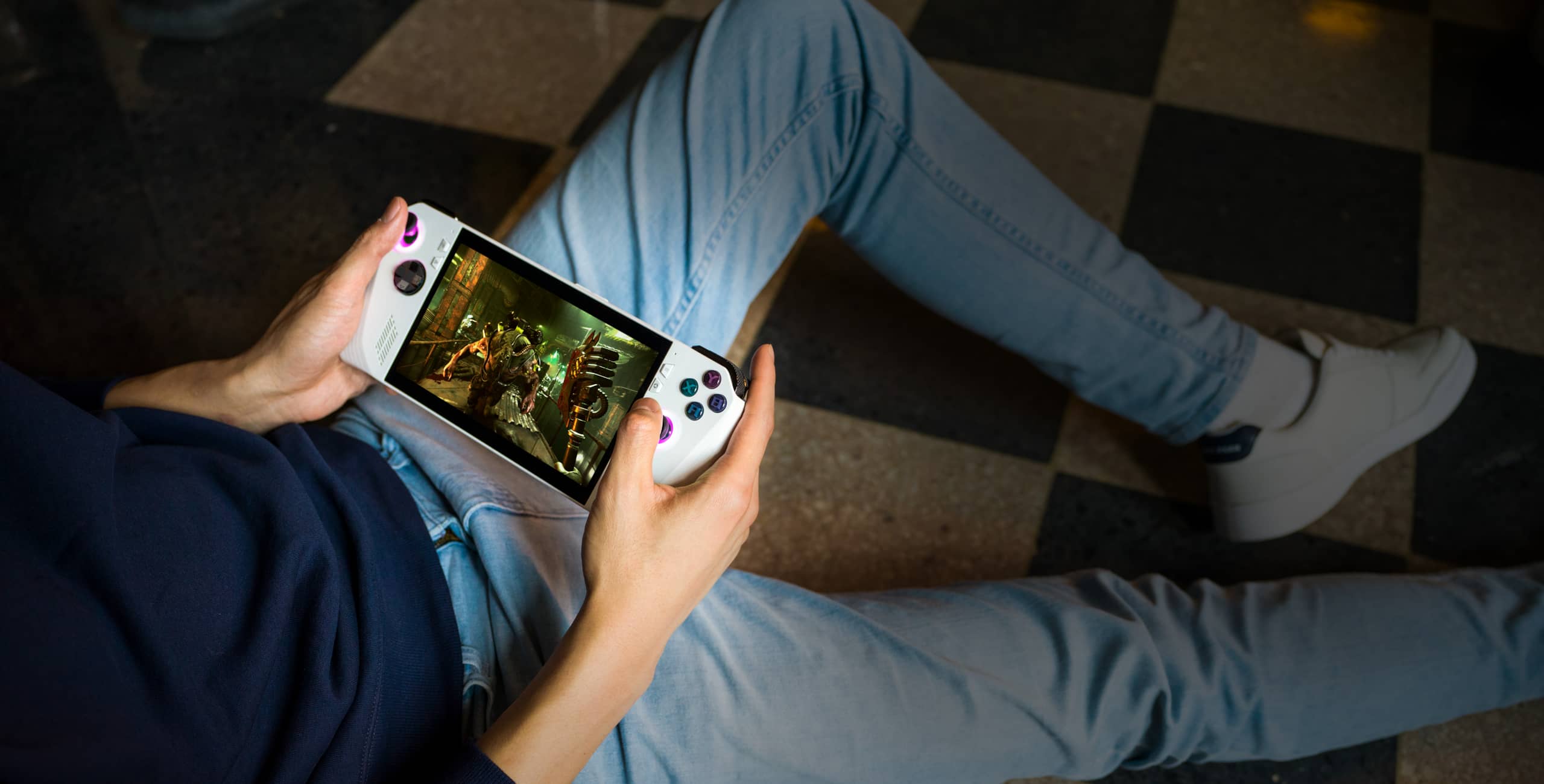 Llega a las nubes con WiFi 6E
La Ally se ha diseñado para viajar, por lo que viene equipada con una red WiFi 6E ultrarrápida. El WiFi 6E admite 4 veces más capacidad de red y un 75 % menos de latencia que el WiFi 6, lo que permite a la ROG Ally transmitir vídeos, acceder a servicios gaming en la nube y descargar juegos sin esfuerzo incluso en redes saturadas.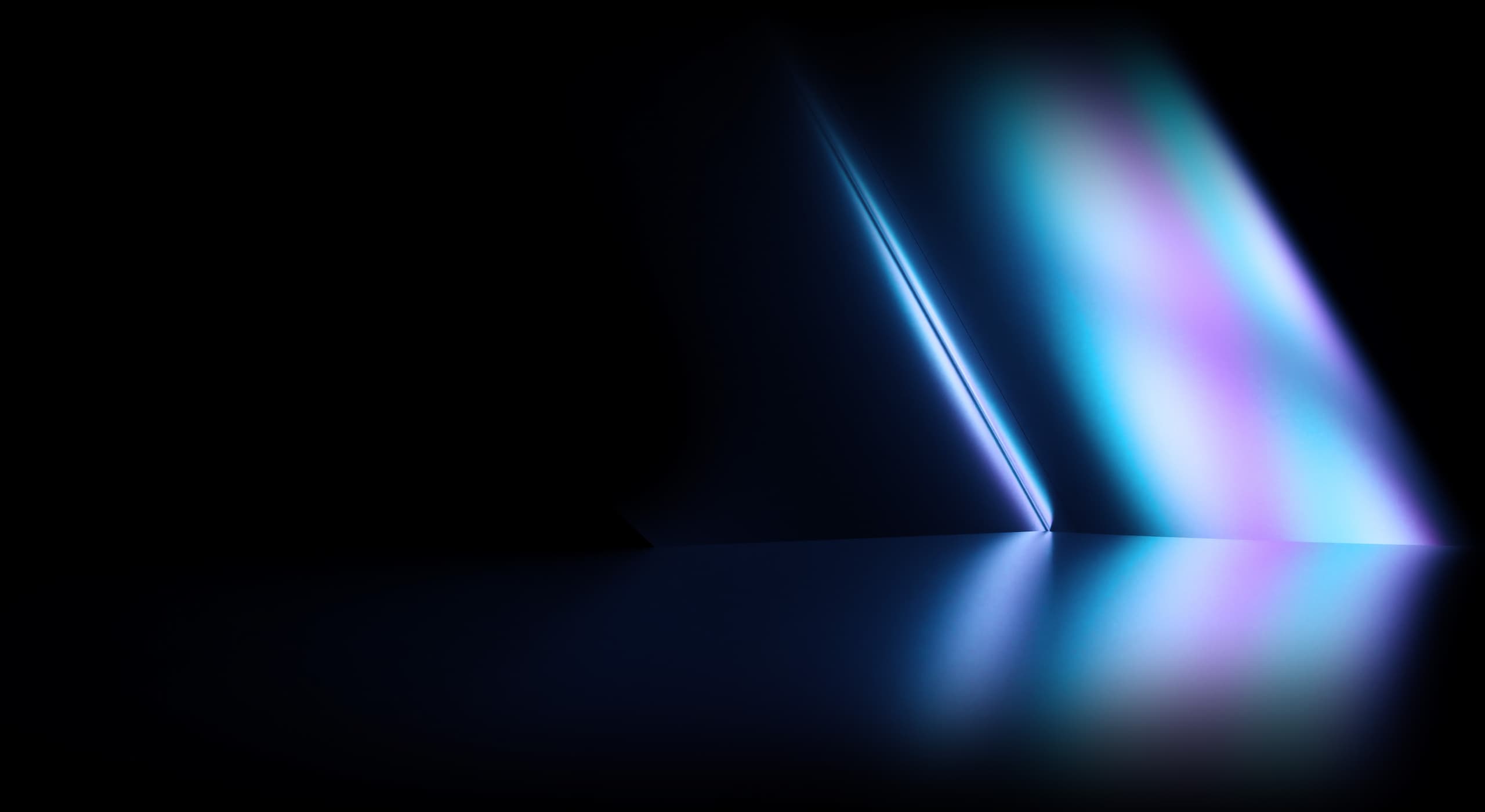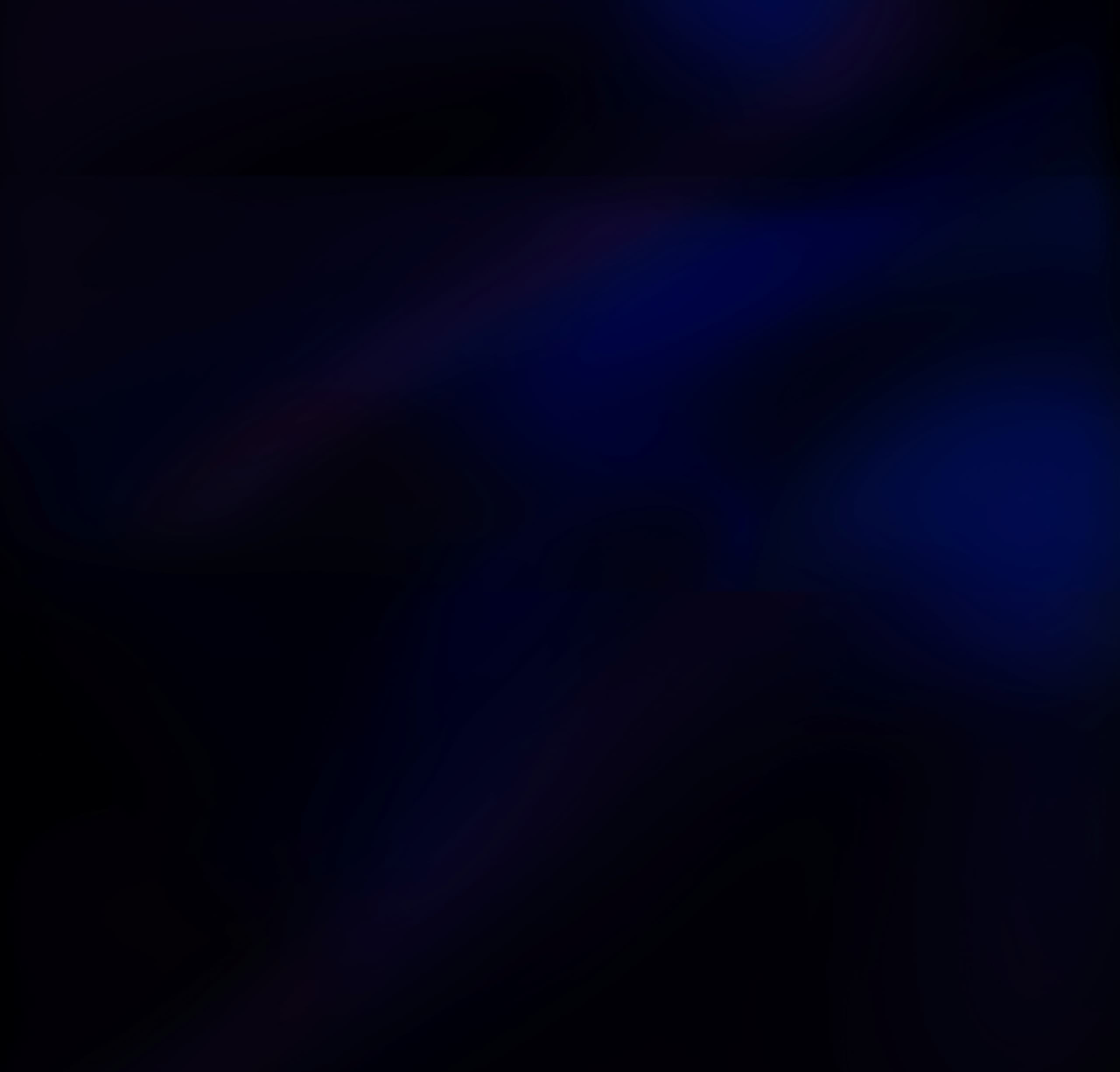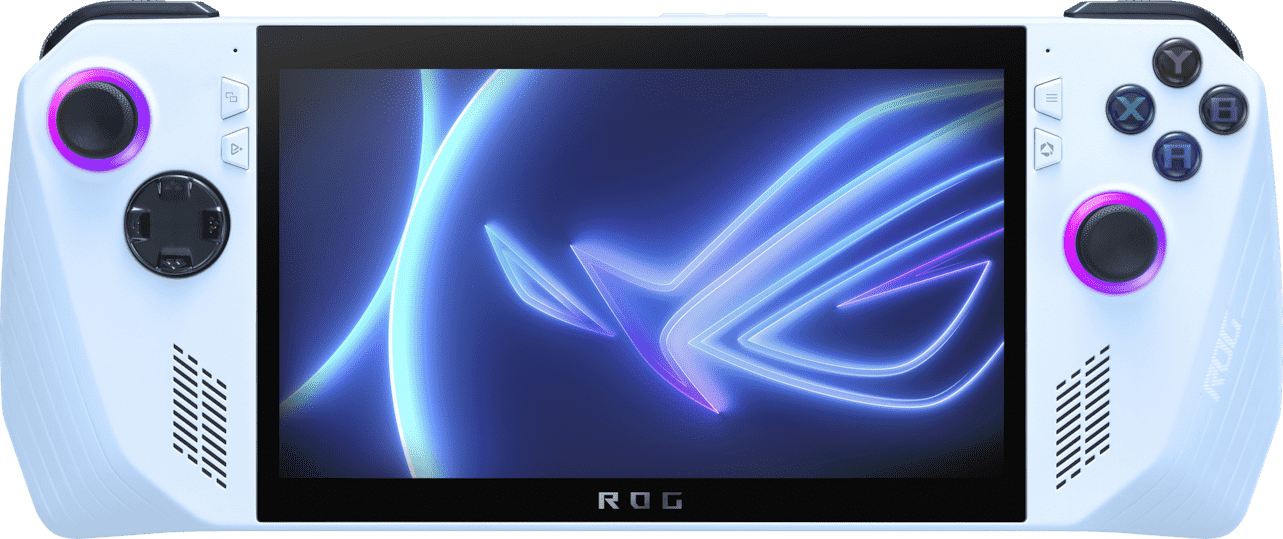 Joystick izquierdo

Cruceta direccional

Altavoces

Micrófono

Botón Vista

Botón de comando central

Botón Armoury Crate

Botón de Menú

Micrófono

Botones A/B/X/Y

Joystick
derecho

Altavoces

Pantalla táctil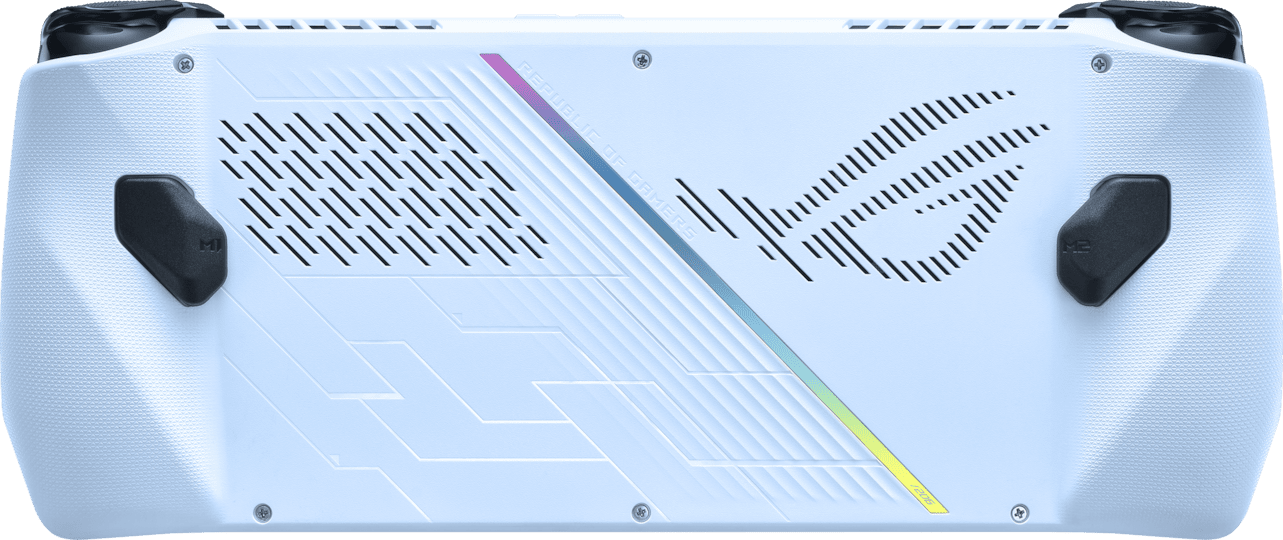 Salidas de aire

Gatillo Macro 1

Gatillo Macro 2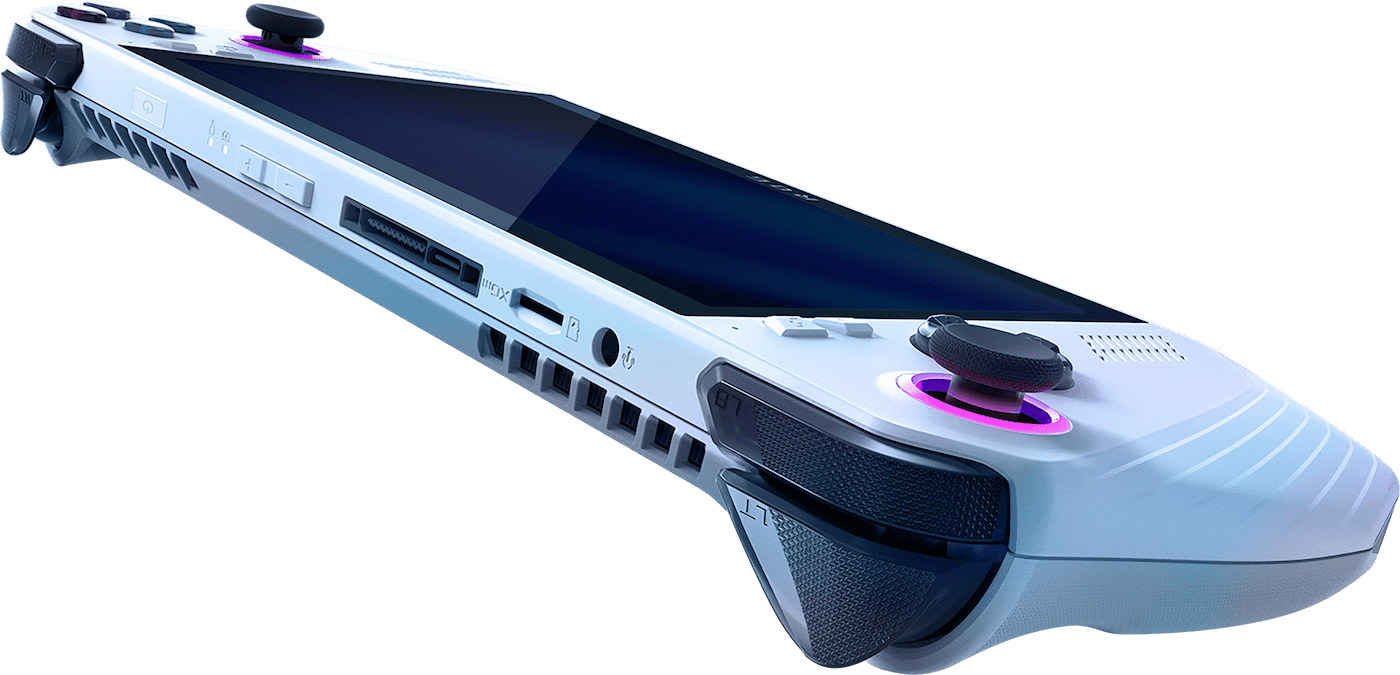 Gatillo derecho RB

Gatillo derecho RT

Botón de encendido / Sensor de lector de huella

Indicador de batería

Indicador de carga de batería de dos colores

Botones de volumen

Conector ROG XG Mobile

Conectores USB 3.2 Gen 2 Tipo C® / Puerto 1.4 /​ Alimentación​

UHS-II lector de tarjetas MicroSD

3.5mm de entrada de audio

Gatillo izquierdo LT

Gatillo izquierdo LB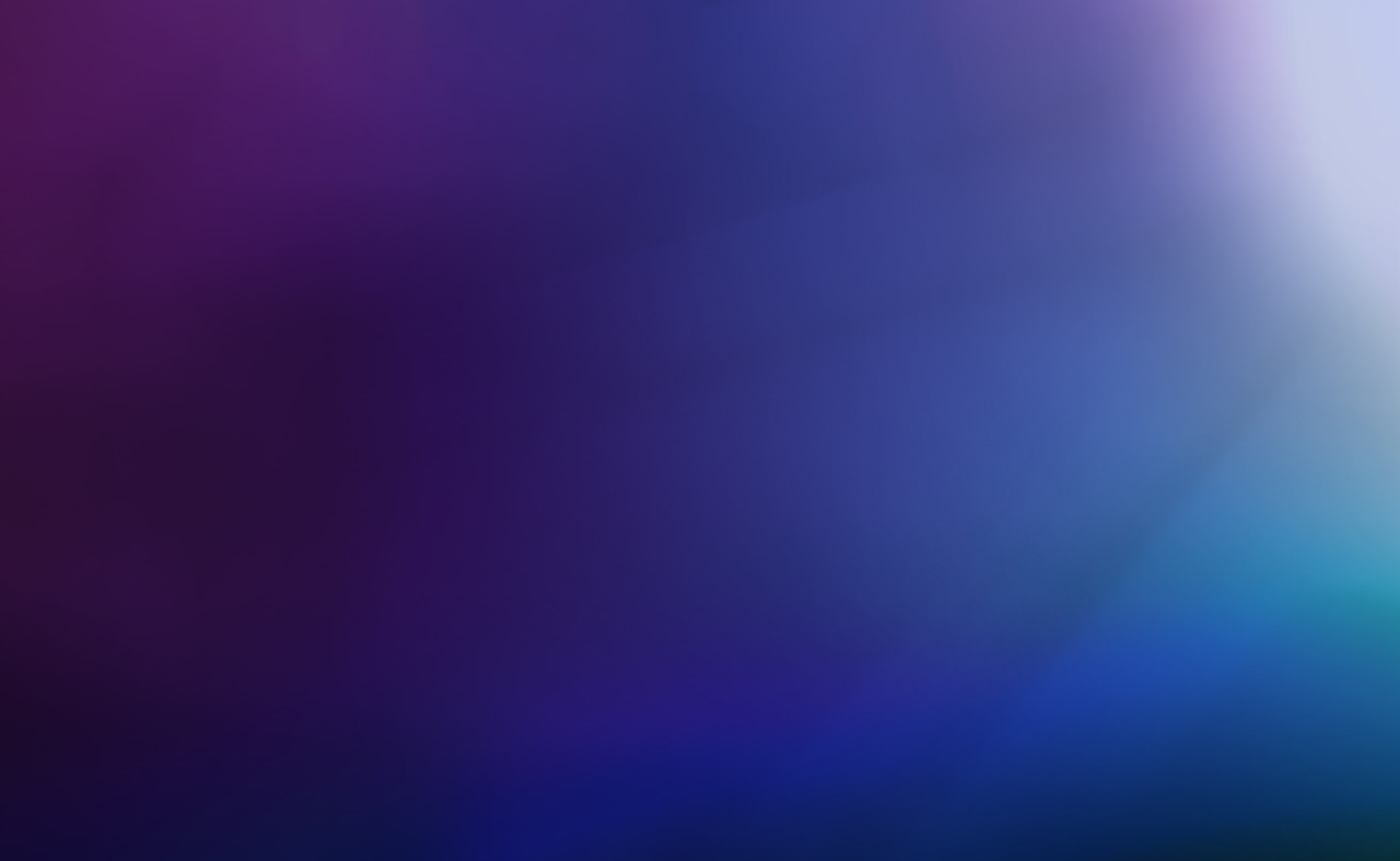 Sube de nivel
Los accesorios opcionales para la ROG Ally llevan tu juego a un nivel completamente nuevo. Para aquellos que se desplazan con frecuencia, puedes proteger tu dispositivo con la funda de viaje de ROG Ally. Para una experiencia de juego en el sofá, el ROG Gaming Charger Dock proporciona compatibilidad con HDMI 2.0, mientras que el ROG Raikiri Pro es el compañero perfecto cuando quieres jugar en el sofá con tus amigos. Para aumentar la experiencia de juego definitiva, conecta la Ally a una XG Mobile, que proporciona la potencia gráfica de hasta una GPU NVIDIA® GeForce RTX™ 4090 para portátiles, junto con todos los puertos necesarios para conectar tus periféricos y un monitor externo.
Video Reseñas
ROG Ally - New Windows Gaming Handheld Launch Event
Wow, this is like playing on my main PC!
The performance really stands out on this device
Twice as fast as the Steam Deck and it's pretty much handled everything that I've thrown at it.
This is a strong portable gaming competitor
I think this is going to be a real winner
This is basically the device I've dreamed of, ever since I was 10 years old!
I've had some serious fun with this.
Test of the Asus ROG Ally: TWICE as powerful as the STEAM DECK
After the Steam Deck a year ago, it's Asus' turn to enter the market of PCs that think they are portable consoles with the ASUS ROG Ally. With its performance and ergonomics, the ROG Ally is made to win the game.
This new console made me leave the PS5
TEST ASUS ROG ALLY - NEW CONSOLE | GOODBYE STEAMDECK & SWITCH
TEST ASUS ROG ALLY: the portable console that buries the Switch and the Steam Deck
It has more power than the Steam Deck. Beat other consoles of the same style
We tested the ROG ALLY, Asus' answer to Valve's Steam Deck video game console. With ALLY you can connect to your favorite video game streaming services Steam, Xbox, EA, GoG, Ubisoft...
In-depth analysis in Spanish of the BEST Steam deck KILLER to date, ASUS ROG ALLY EXTREME.
We cannot understand how such wonder can exist in so little space.
With a dock, mouse, and keyboard, you have a PC anywhere.
So với SteamDeck, khác biệt về hệ điều hành, màn hình Full-HD vs 720p sẽ là những điểm khiến SteamDeck gặp khó khi cạnh tranh với ROG Ally.
ROG Ally được trang bị vi xử lý AMD Ryzen™ Z1 Series mới nhất, màn hình cảm ứng, cho trải nghiệm chơi game mượt mà cả trong nhà lẫn ngoài trời.
ROG Ally được trang bị vi xử lý Ryzen™ Z1 Series – dòng APU 8 nhân 16 luồng mới nhất của AMD dựa trên kiến trúc Zen 4 với nhân đồ hoạ RDNA™ 3. Người dùng sở hữu sẽ được sở hữu gói trải nghiệm PC Game Pass 3 tháng miễn phí tặng kèm.
Đây là video mình sẽ chia sẻ với anh em về build, về hiệu năng và màn hình của máy chơi game cầm tay mới nhất của ASUS - ROG Ally.
Trên tay và đánh giá nhanh ROG Ally - Tính năng hay ho - Nhiệt độ - FPS cao không?
ROG Ally có thể nói là một thiết bị chơi game cầm tay (gaming handheld) tốt nhất ở thời điểm hiện tại. Nó hội tụ nhiều yếu tố, nhiều điểm mạnh khác nhau từ những đối thủ để tạo ra một thiết bị phục vụ nhu cầu chơi game và dĩ nhiên cả công việc nữa một cách gần như trọn vẹn.
Trên tay máy chơi game cầm tay Asus ROG Ally: Đánh bật Steam Deck, mở ra chu kì mới!!!
[HTV9] Thiết bị trò chơi điện tử cầm tay đầu tiên của ASUS - ROG Ally chính thức ra mắt
Đánh giá chi tiết ROG Ally, máy chơi game cầm tay đầu tiên của ASUS với hệ điều hành Windows và chip AMD Ryzen Z1 Extreme
CALIFICACIONES DE CLIENTES
Comparación de productos
Producto agregado a la comparación. Agregue hasta 4 productos o continúe para ver los productos seleccionados.
ASUS Footer